It's October which means if you haven't already decided, your mind is probably spinning about what you're going to be dressing up in this Halloween! You can take a deep breath though- we've got you! We're like your comfy Halloween safety net.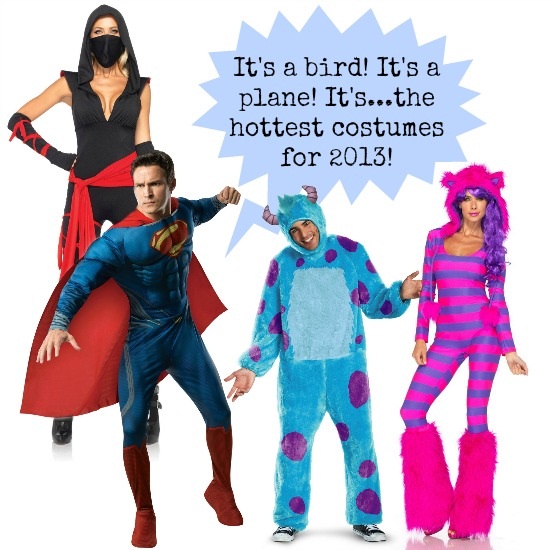 We've compiled a list of costume ideas that will have you set to be 'in the know' of what is both brand spanking new and really hip. You've got to impress your friends, after all, and we know how to do it. All of these costumes are on trend and brand new for 2013, both facts which ensure that your garb will grab everyone's attention and make for an epic Halloween, no matter how you will be celebrating!
MEN
Monsters University
This year saw the return of Mike and Sully to the big screen with the tale of their college days. In Monsters University we got to witness these two monsters becoming roommates and learning how to be the best scarers ever. So if you're looking to rekindle your college days while also being on 2013 trend, turn yourself into either Mike Wazowski or James P. Sullivan with our officially licensed Monsters Inc Costumes.
Trend alert: fur and bright colors are a great ways to turn your "come talk to me" vibe on high.
Two of these costumes are tunic style, which means you can easily slide on the top half while feeling at home in your own favorite pair of pants on the bottom. That added comfort will help you last the entirety of your Halloween celebrations, which tend to be all-night affairs!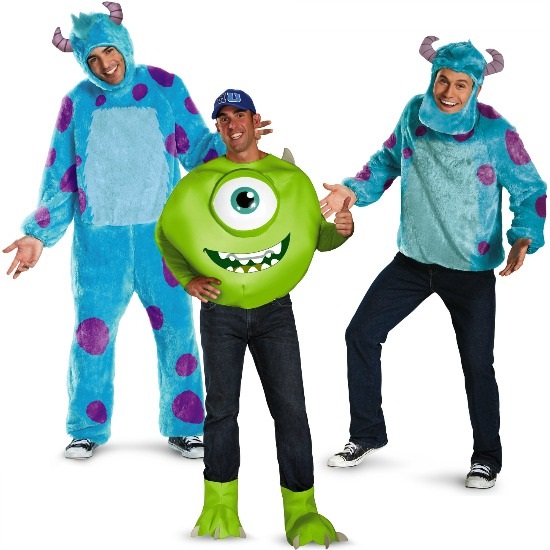 Adult Sulley Costume Inflatable Sulley Costume
Mens Mike Costume - Shop
Television Favorites
If you have spent most of 2013 glued to the small screen you'll be happy to know that dressing up like a character from your favorite show is a big trend this year. Some of the most popular shows that people have been buzzing about are The League, Doctor Who, Breaking Bad, Duck Dynasty, and Futurama.
For fans of the show The League we have the costume based on Mr. Mcgibblets so you can look just like Taco did when he stole some of Kevin's things from his home.
Looking for something to wear while traveling through time and space? Then our Doctor Who 11th Doctor jacket will prepare you for either the 50th anniversary or a trip around the universe in the TARDIS.
If you want to become the one who knocks then we have a Breaking Bad toxic suit costume that will help you go full on Heisenberg.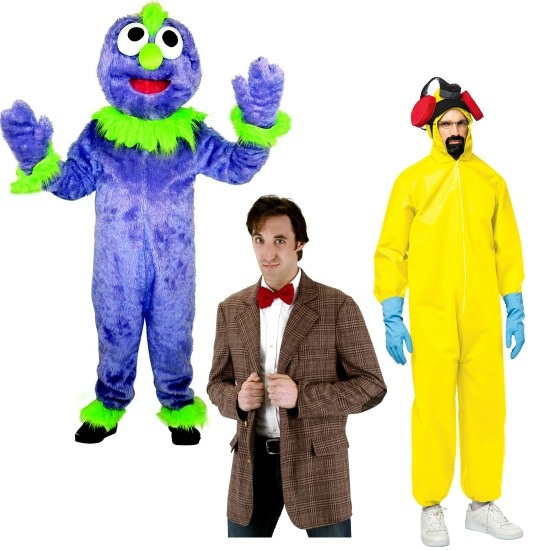 Mr. Micgibblets - Shop Doctor Who Jacket - Shop Breaking Bad Suit - Shop
Grab a glass of iced tea and consider creating your own Duck Dynasty. You'll be ready for the hunt this Halloween night in our officially licensed Willy and Si costumes.
Finally, you could pay homage to Futurama's last season, while showing those humanoids who's boss in our brand new exclusive Bender costume.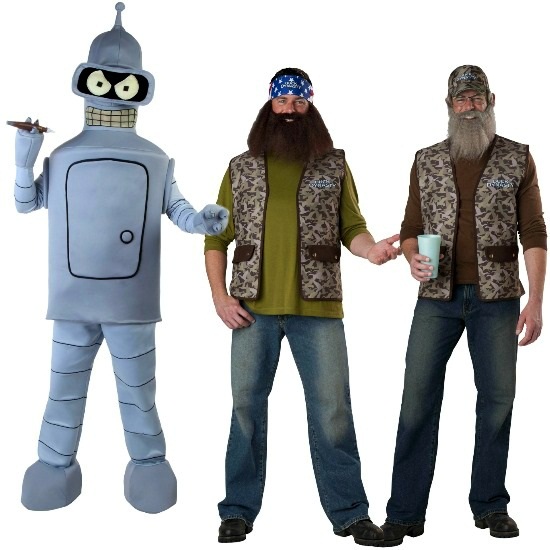 Comic Book Heroes
Comic heroes are a hit year after year but this year you can distinguish yourself with new characters, or new costume silhouettes of classic characters! You'll look like you hopped straight out of a comic book page when you wear either one of these new 2013 costumes.
For those who want to look just like Superman we have a Man of Steel costume that will ensure people will mistake you for the last son of Krypton all night.
For those looking for something a bit more Marvel [and way more meta], then we have just the thing: a Deadpool costume. When you slip this on on you may feel like shattering the 4th wall while talking in yellow speech bubbles. Watch out though, you may find yourself on Reddit the next day!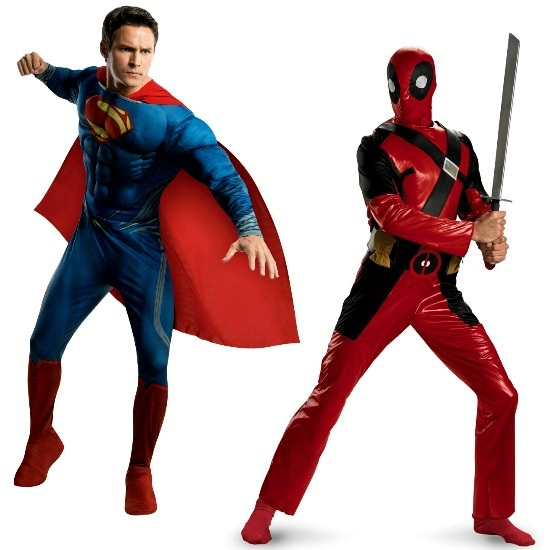 Men's Superman Costumes Deadpool Costume
Video Game Stars
Gamers, how many hours have you spent playing the Assassin's Creed games? Hundreds? Thousands? No matter the amount (though now we're kind of curious...) you no doubt have had dreams of jumping off of tall buildings into hay bales or meeting up with the founding fathers. While we can't recommend jumping off buildings, we CAN recommend these great Assasin's Creed looks.
We have officially licensed styles for both Ezio and Connor, and the detailing is what will truly make these looks stand out from the rest of the pack! Hood up, party down.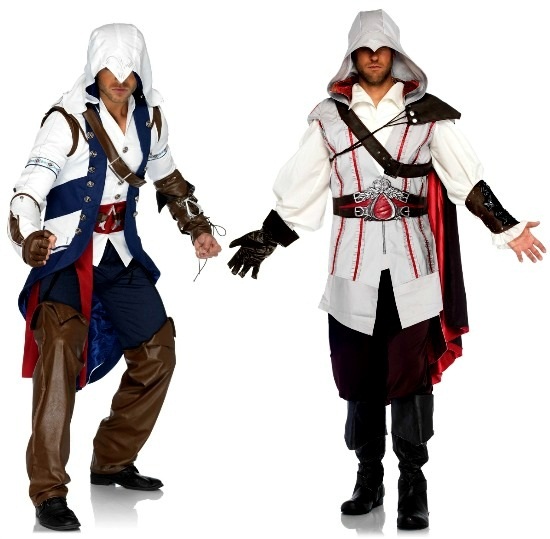 Assassin's Creed Connor Assassin's Creed Ezio
Funny Pop Culture Fare
Funny never goes out of style, and each and every year men are on the lookout for something clever and interactive. We have two ideas in particular that fit the bill, and are new for 2013.
Have a good friend with you this Halloween? You could go as Dumb and Dumber or Ace and Gary, but if you want to show off your impressive sense of humor with something 2013 specific, why not team up to wear our awesomely ridiculous exclusive two-person camel? What better way to annoy and entertain a crowd than by asking everyone, "what day is it?" (Halloween falls on a Thursday this year, so don't be too bummed if people don't automatically answer, "Hump Day!")
Speaking of a Halloween full of topical and annoying sounds, why not go as The Fox from Ylvis' smash single of 2013? Just add a fox ear/tail set to our fox mascot costume, throw some black paint on your nose, and you're good to go! You can bet the question, "what does the fox say?" will be met with a slew of entertaining answers, all of which will surely become less decipherable as the evening's festivities rage on...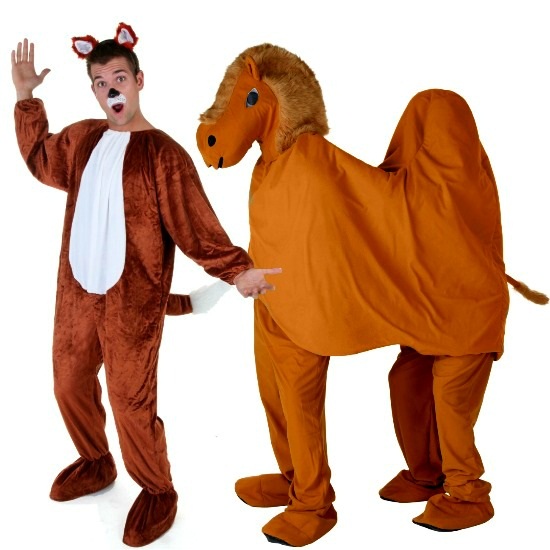 Fox Mascot Costume Two-Person Camel
WOMEN
Sexy Furry Friends
Halloween is a time for dressing up and looking your best, and while you're at it you might as well make some jaws drop. The fur in these costumes makes them playful, and the saturated hughes make them pop! Plus they will lend to the credibility of your fashion prowess, as these styles are all brand new for this year.
One of our newest styles, Sexy Cheshire Cat, will send you straight to Wonderland in a trend-setting catsuit silhouette.
Two of our other newest costumes get a bit monstrous. For the more unruly ladies we have a sassy rebellious monster costume, and for the more chic girls we have a purple posh monster. Both of them feature full tutu skirts, aka full fashion bliss.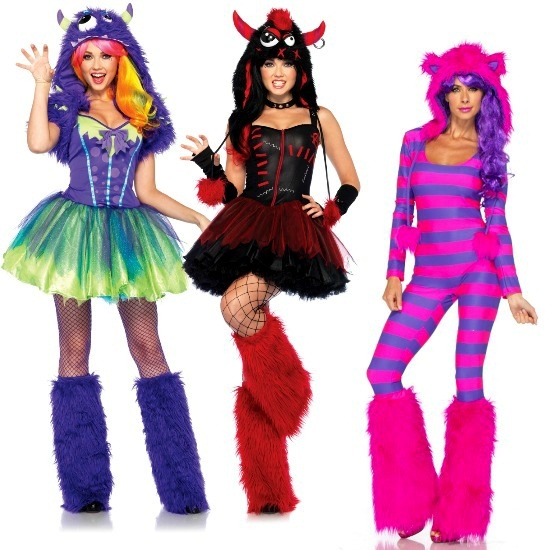 Dastardly Darlings
Cuddly and bright isn't every girl's jam, and luckily for those of you looking for something darker, "twisted sexy" is in! Dark colors with worn and distressed details will keep you right on the edge of cool, plus you get to experiment with some wicked creepy makeup.
For those looking to become a stealthy assassin we have a Sexy Deadly Ninja costume. The catsuit style ensures that you can sneak up on anyone...maybe you could even swipe a friend's drink!
Searching for something a little more grim and spooky? Try our voodoo costume, which will transform you into one scary doll that is ready to do some dark magic. Ex-boyfriends beware!!
And of course we have a skeleton-chic look, for those who have always been 'dying' to try awesome skull makeup. The costume comes with attachable garter style leggings, which will draw instant attention to your great gams.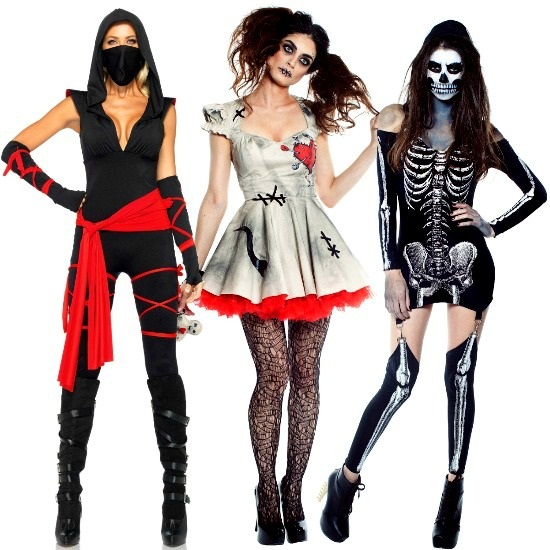 Womens Deadly Ninja Voo Doo Doll
Pop Culture Divas
For the pop culture junkies out there we have some slick brand new costumes based on classic movies, new movies, and geeky icons!
If you're looking for something elegant but still flashy we have a deluxe sequin Hollywood singer costume that will make you look just like a lounge singer from the 40s. The dress is full length with a thigh-high cut out, making for a memorable va-va-voom detail.
Wanting to give people a shock this Halloween? Then pick up one of our sexy Clockwork Orange costumes. Film buffs are sure to be impressed...or disturbed...or both. Either way you will be remembered!
For the science fiction fans out there we have a great futuristic element costume that is truly out of this world. Cut-outs are one of this season's hottest trends and this outfit has plenty of them to show off. Mul-ti-pass!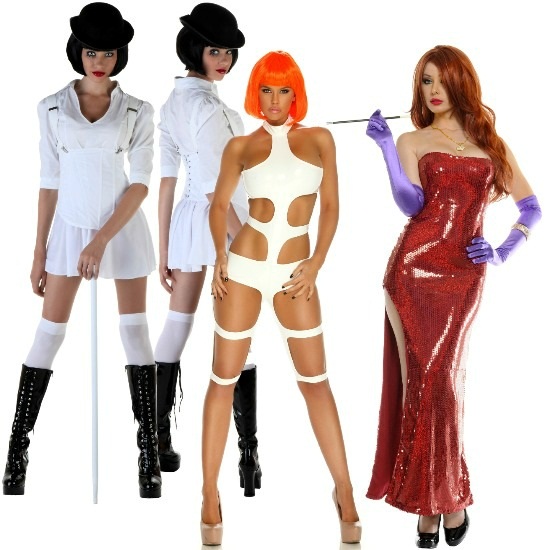 The Despicable Me sequel was a hit this summer, and Minion costumes for all ages are flying off shelves. This is especially true of this Minion dress for women. Perhaps it's because these funny yellow fellows make such a great group costume option!
Finally, The Joker had his day as a Halloween trend over the last few years and now it is Harley's time to shine! This particular Miss Quinn style includes a tutu skirt, another trendy must-have this Halloween season.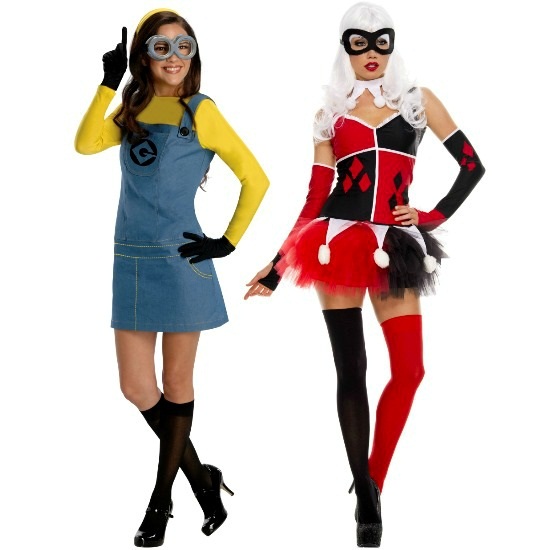 Women's Minion Costume Harley Jester Costume
Girly Costumes for Halloween 2013
If your little girl is going to go out trick-or-treating this year, she'll need the latest Halloween costume to help her earn the most ooh's, ahh's, and candy! We can certainly help with a few of our latest 2013 options.
For a the young lady who is retro at heart we have a totally rad costume straight from the '80s. Pile on the accessories for even more gaudy glam!
If your little girl wants something that goes even further back in time, then how about this striking red poodle skirt, part of our red '50s sweetheart costume? Belt and scarf included - the devil is in the details!
We also have something perfect for a young Dragon Ball Z fan, an exclusive officially licensed Bulma costume. (There's no such thing as 'too soon' when it comes to developing your geekiness, especially as nerd culture and pop culture become increasingly synonymous!)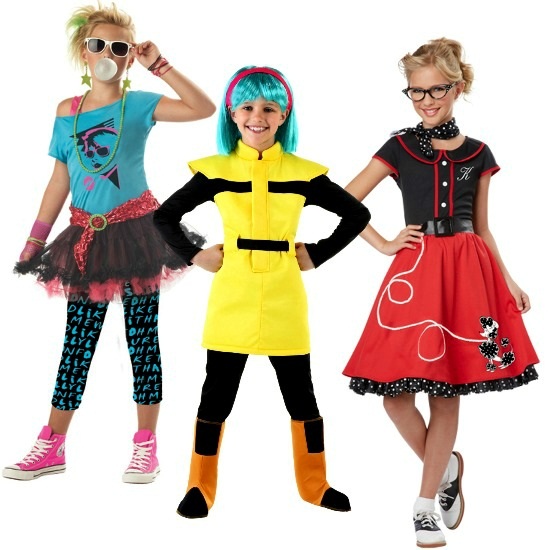 Valley Girl Costume Girls Bulma Costume
Boys Costumes for Halloween 2013
Prepare your child for an epic night of action packed trick-or-treating with the help of one of our brand new boys Halloween costumes. For the guys, it's all about combat, and a super fun accessory to aid said combat. From nunchucks, to swords, to grenades, and everytyhing in between, if the real version of it could blow something up, your little one will love it.
If your kid is a huge fan of the army then he'll get a kick (and a punch) out of wearing our camo trooper costume. It even comes with a rad skull bandana to help conceal his identity.
If your child is looking to be even sneakier while hunting for candy this Halloween, he could wear our white stealth ninja costume. He'll be able to collect all the chocolate he wants. No questions asked.
If you're little guy feels that a ninja costume needs a bit more green, he will certainly love our brand new deluxe Ninja Turtle costumes. It's also the perfect costume to attend a Halloween pizza party in! Be sure and add the appropriate toy weapon to each turtle's ensemble - you wouldn't want your child to have to correct you...that would be embarassing for your nostalgia bone.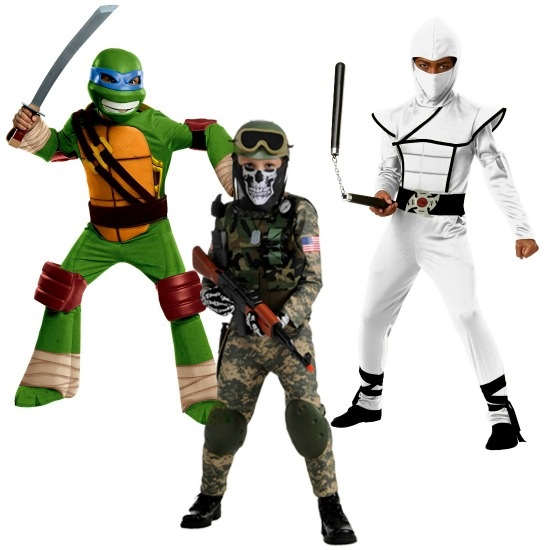 Boys Ninja Turtle Costumes White Stealth Ninja
This post was co-authored by Thomas Lokhorst and Aleksandra Sobic of HalloweenCostumes.com