Grim Reaper Costumes
The entire month of October is a time to celebrate all the scary entities that go bump in the night. From collecting candy in the neighborhood to playing harmless pranks on friends, Halloween allows people to embrace their scary side. (We all have one!) Traditional spooky costumes are always a hit because they're easily recognized by people of all ages. Wearing witch costumes and ghost costumes are Halloween classics, but if you want a disguise that sends shivers down the spine, become the personification of Death with a capital D by shrouding yourself in any of these Grim Reaper Costumes.
The Grim Reaper is often depicted as a solemn-looking skeleton carrying a scythe who unexpectedly drags souls down to the Underworld. Imagine grabbing your trick-or-treat pail then suddenly looking up to find a haunting all-black figure summoning you with one long boney finger. Yikes! Take a peek at these Grim Reaper costumes for men, women and children then start devising an evil plan to harvest as many souls as possible this Halloween. Keep reading on for bone chilling Reaper tips and tricks, if you dare…
Grim Reaper Halloween Costumes
One of the Grim Reaper's most notable traits is the ability to seemingly glide on top of a thick cloud of fog. It's miraculously creepy! The Grim Reaper appear to do this is because they always wear a black hooded ritual robe exuding eeriness, masking their identity and creating the illusion of floating. (Perhaps it's not an illusion at all!) All of the Grim Reaper Halloween costumes feature some form of a black hooded robe and it's a good idea to add a toy weapon to the look to create a more menacing costume. The following adult costumes to disguise you as the soul-sucking entity rule the afterworld because there's nothing wrong with wanting to inspire a few screams every now and then.
Adult Dark Reaper Costume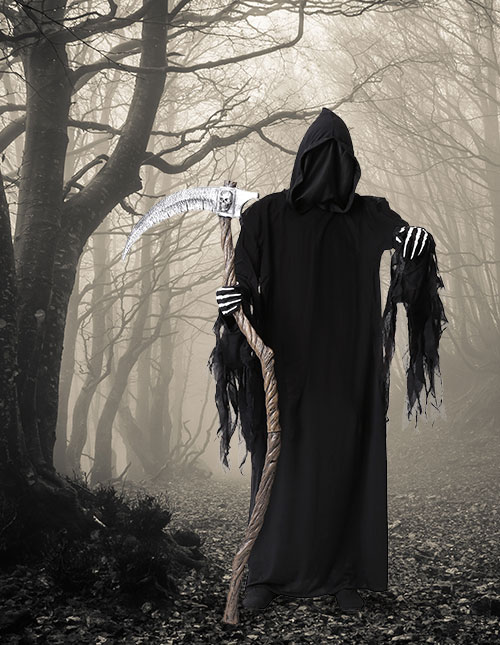 Step out of the shadows in a soul taker Halloween costume to let the living know their days on earth are numbered. The costume consists of a black hooded robe to completely cover all identifiable physical features. This costume is an exclusive, so you can only get it right here! The all-black hood makes it impossible for outsiders to see who you truly are while the draped sleeves are reminiscent of gothic costumes. Another key aspect of this adult dark reaper costume is the included skeletal gloves that look particularly creepy when motioning for strangers to follow you into the darkness.
Women's Dark Reaper Costume
Not all women want to dress in a pretty fairy costume for Halloween. Sometimes, women want to be feared. The women's Dark Reaper costume is the perfect way to be mysterious and stylish simultaneously. One of the costume's key components is the pair of wings hauntingly hanging down in the back. The floor-length dress features slits in the midriff and shoulders which fashionistas love. All of the lady Grim Reaper costumes are perfect to wear for spooky photoshoots, especially this women's dark reaper costume. Put it on and start reminding people that life is precious.
Adult Grim Reaper Costume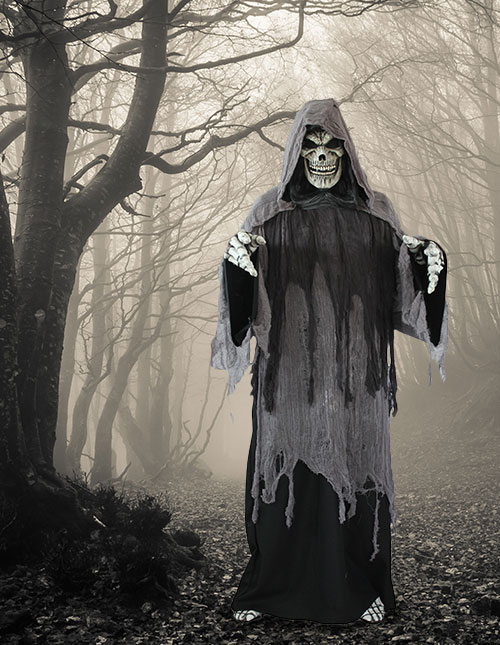 This phantom costume is ideal to wear if you're going to be a part of a haunted house because the included mask will scare people stiff. This adult grim reaper costume. is one of our scariest. The latex mask depicts a cold and ominous scowl. The men's hooded black robe features layers of grey and black mesh creating a creepy vibe.
Scary Grim Reaper Costume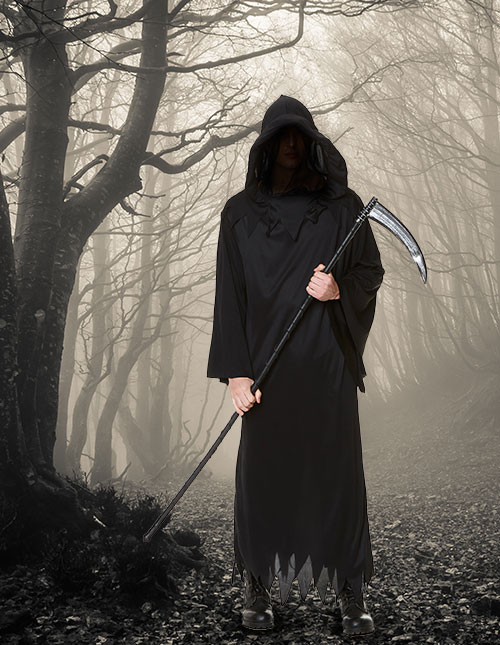 One of our favorite parts about these Grim Reaper costumes is remaining anonymous underneath the shroud. No makeup application is necessary but you'll still look undeniably horrifying with a featureless face. The scary grim reaper costume features a robe with a tattered hemline, draped sleeves and an oversized hood. We suggest checking out the reaper animatronics so outdoor decorations can enhance the scariness of your already-very-scary grim reaper costume.
Black Hooded Robes
If you're going to be roaming a cemetery looking for fresh souls to snatch, get your hands on a unique soul taker costume that's unlike any other Grim Reaper costume. It's true, many Grim Reaper Halloween costumes are almost identical to one another but constructing your own costume will ensure it's completely different from the others. Assemble your own one-of-a-kind howling horror costume by selecting one of our black hooded robes and adding the appropriate accessories like a mask and a pair of gloves. Also, any hooded black robe you pick will be comfortable and allow for the layering of warm clothes underneath. Use your imagination and check out the following robes to concoct your very own personification of death!
Women's Hooded Robe
This costume is half robe, half dress, and 100% stylish. You'll want to keep this women's hooded robe in your closet because it can (and will) be used for future Halloweens. Like many black hooded robe costumes, this one features belled sleeves and an attached cozy hood. However, corset detailing is featured at the middle to set this robe apart from others. Usually, women are attracted to the sweetheart neckline because it's flattering on all shapes and sizes. Spice up your Miss Reaper costume by adding a wig and a skeletal makeup application.
Black Hooded Robe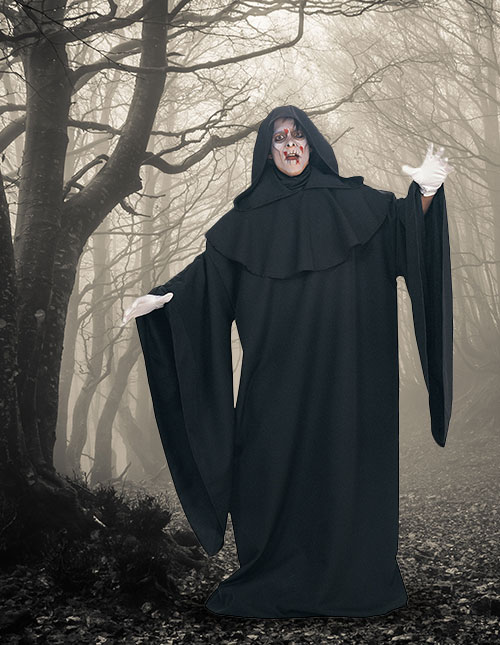 Drape yourself in darkness both literally and figuratively. The black hooded robe is a great idea for men who want both a horrifying and comfortable phantom costume. The sleek over-the-head costume features long, foreboding sleeves and an oversized cowl hood. The hood guarantees that your upper half stays completely covered so only your eyes can peer out from the hood. Make your black hooded robe stand out by adding a weapon prop to finish the intimidating look. Your intense stare coupled with a knife prop creates the power to make onlookers run away in fear.
Phantom Costumes
Phantoms are much like Grim Reapers because people believe both are figments of the imagination until one of these dark entities is standing right in front of you. You'll look undeniably frightening when bestrewn in a black veil and matching frock, especially if you ride onto the scene in a rickety horse-drawn carriage. Major props if you happen to stumble upon a dilapidated carriage and a black horse, because it boosts your costume's scare factor up a couple notches. Don't stress out if you can't find a horse because you can always persuade your best friend to come dressed as a noble steed. We have a vast selection of horse costumes, so jump on your friend's back and start wreaking havoc. It will be a spooky and silly spectacle that's perfect for attending a costume party!
Phantom Zombie Costume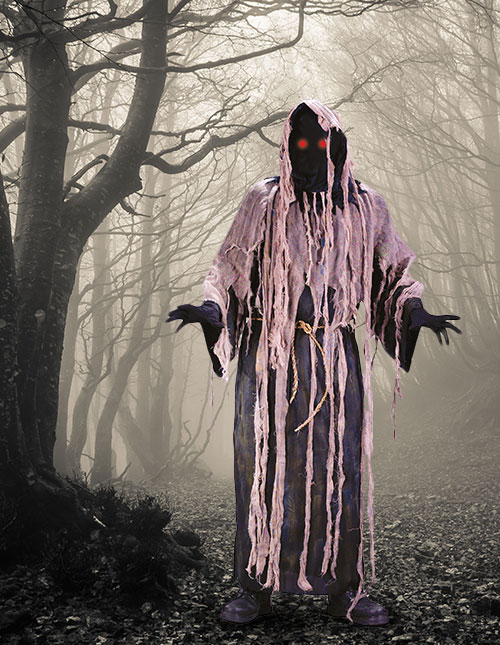 There are going to be plenty of werewolves creeping around the graveyard and naturally some zombies too, so stand out from the scary entities in a phantom costume which incorporates aspects of the undead. The phantom zombie costume comes with a white gauze robe. You'll also receive a pair of light-up glasses which glow red, creating a stark contract against the night sky. We recommend skulking around a dark forest wearing the light-up glasses to startle anyone who dares doing the same.
Soul Taker Costume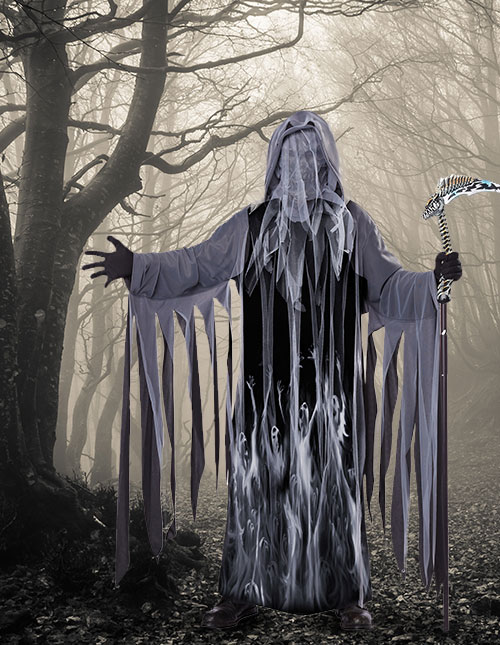 Death is a natural part of life and the Grim Reaper understands this sentiment well. Although you're not looking forward to seeing the Reaper because of what he represents, prepare for this inevitable date with destiny by wearing the soul taker costume. Made unisex to fit both men and women, this costume comes with the hooded robe which features fringe along the underside of the sleeves as well as a frightening mask to completely conceal your appearance. Some say that death has no face and you'll prove them right.
Grim Reaper Deluxe Costume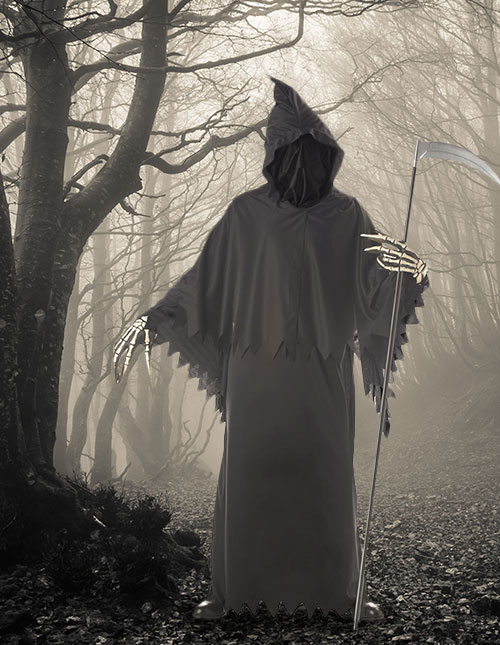 You're the Angel of Death and you should be very proud of it, even though the job gets a bad rep because of hauling people off to the Underworld . (Hey, every job has its downfalls.) You traded your wings in for a bad rep and a razor-sharp sickle and the makeover truly suits you, especially because you're wearing the Grim Reaper deluxe costume. It's given the title 'deluxe' because it comes with a robe, attached cape, hood with face cover and vinyl skeleton hands.
Fade in Fade Out Phantom Costume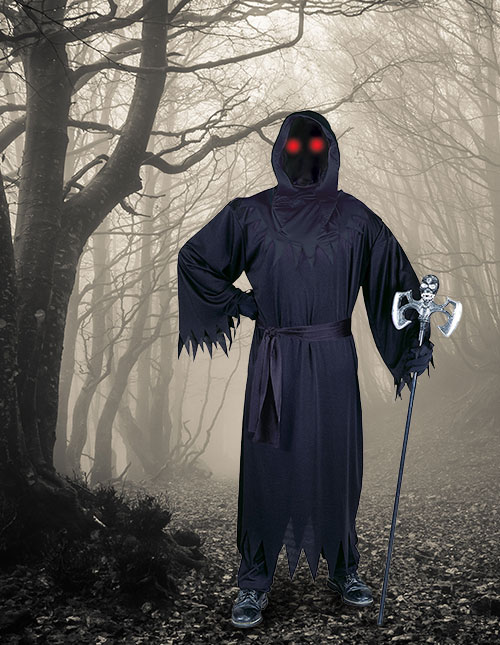 Get a brand new lease on death with the fade in fade out phantom costume! This costume comes with a pair of glasses that are actually capable of emitting a bright red glow to make people stop dead in their tracks. Play a sinister and simple prank on your best friend by tapping on their bedroom window and watch them jump out of bed in pure terror.
Kids Grim Reaper Costumes
Children drawn to the dark and eerie won't enjoy dressing up in a uniform costume. They want a scary look and we don't blame them! If your little one is interested in being slightly creepy (okay, very creepy) this October, then allow him or her to don the signature dark hooded cloak so they can begin their evil bidding, even if their "evil bidding" only involves collecting candy from every neighbor on the block.
Grim Reaper Costume for Child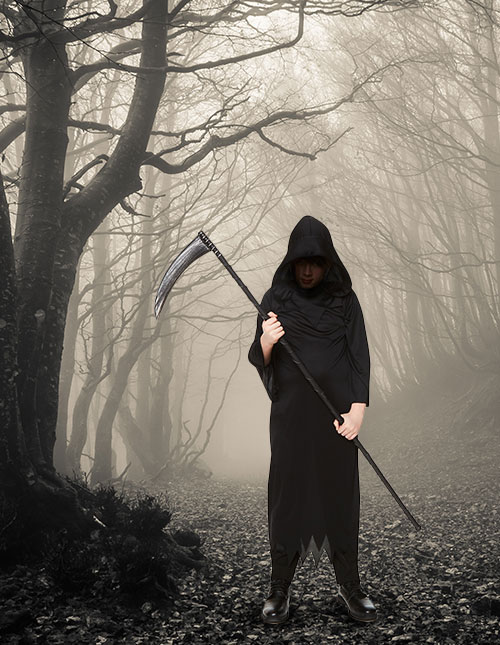 Is he scowling or smiling underneath the hood? We guess there's only one way to find out! Boys and girls who desire a macabre disguise will love dressing up in a Grim Reaper costume for a child. The ebony frock is soft; it feels comfortable while you're wearing it. Kids who are finicky about dressing in certain fabrics will love this particular costume aspect. Wearing their favorite clothing underneath is possible since the opaque costume conceals it all.
Howling Horror Costume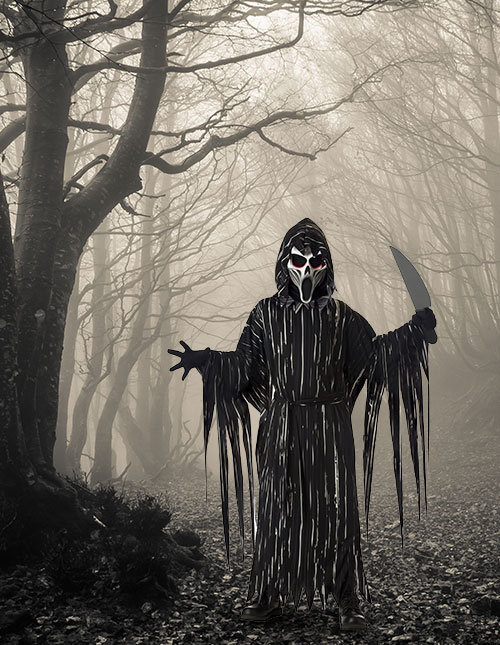 What do you get when you mix Ghostface from the Scream movies with the Grim Reaper from your nightmares? You get this howling horror costume.
The waist tie cinches the white-striped robe together while strips of fabric spookily hang down from the sleeves. The mask is made from rubber with mesh eyes and fastens around the head with an elastic strap. Pick up a bloody cleaver, (a plastic one of course), to finish out the look.
The Phantom Costume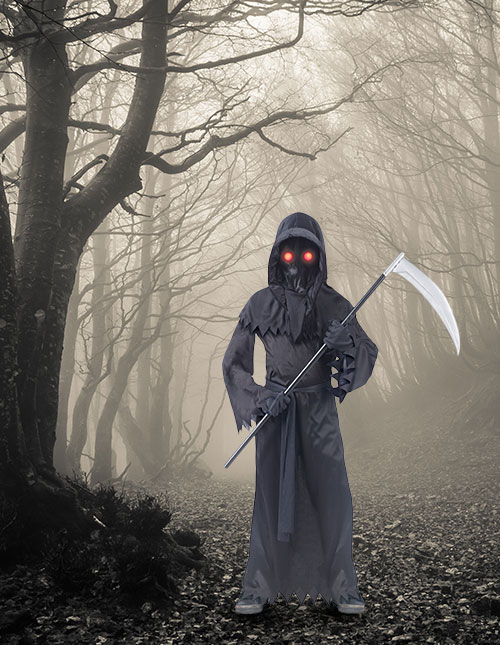 Death is a terrifying concept but this kid makes it look cool. The only color shown on this otherwise ghastly costume is the piercing red eyes that light up once 3 AA batteries are inserted into the glasses. Kids will look like they are guarding the gates of Hades while wearing the phantom costume, even though they're just guarding the candy inside their buckets!
Child Soul Taker Costume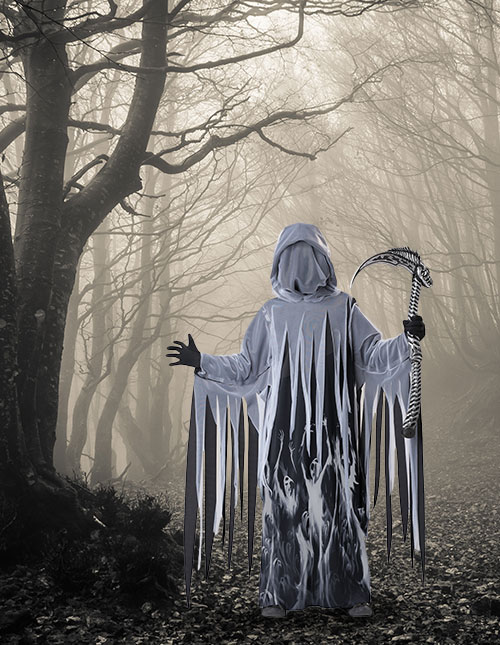 Attention, all lost souls! Please report to the nearest cemetery because the Grim Reaper is ready to take you now. If your child loves ghost stories and has become interested in all things macabre, then he'll love pretending to harvest souls in a child soul taker costume. An updated version of an otherwise completely black costume, this hooded robe features a sheer white overlay with illustrated ghosts reaching up from the depths of a dark abyss.
Girl Grim Reaper Costumes
Not all little girls want to wear frilly pink princess costumes on Halloween. Some girls want to take the edgier route and be scary. If you know a youngster who would rather scare than sparkle, then show her these girl grim reaper costumes. They are very similar to our boy Grim Reaper costumes but feature extra little details that girls will love.
Reaper Girl Costume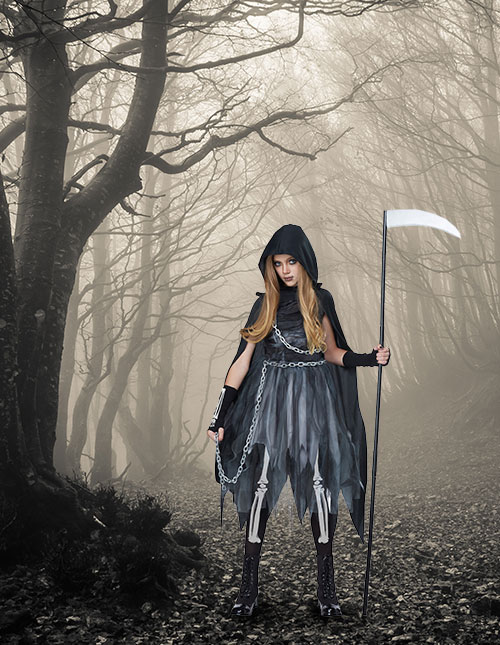 Whoever said not to fear the Reaper couldn't have been more wrong. (Fun fact, it was the band Blue Oyster Cult.) If you want to appear grim instead of girly this fall season then leave your tiara at home and grab your sickle. The Reaper girl costume is a stylish way for little ladies to morph into the Angel of Death. They'll love giving off major creepy vibes when they put their hood up and run off into the night with their best "ghoul-friends."
Miss Reaper Costume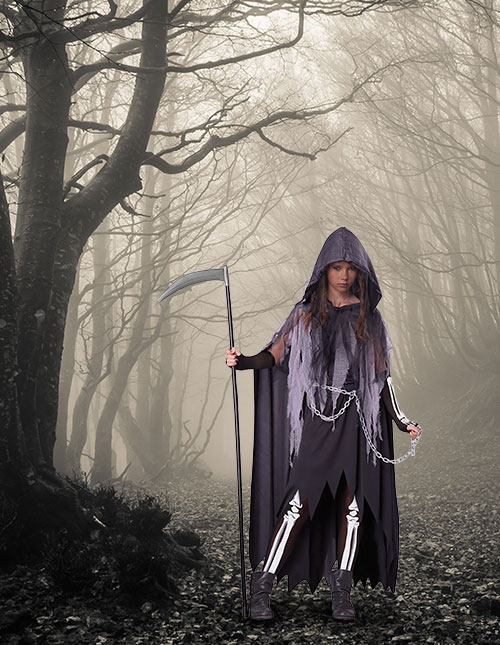 Being a teenager is a scary time so wearing a Miss Reaper costume is fitting, don't you think? Mixing style with spookiness, the costume comes with a hooded cape that looks particularly mysterious whenever the chilly October wind blows. The costume comes with all the accenting accessories needed to elevate the costume like a pair of skeleton tights, matching gloves and a waist chain belt. It's a great costume for a brooding teenage girl who isn't interested in the typical cutesy Halloween look.
Inflatable Grim Reaper Costume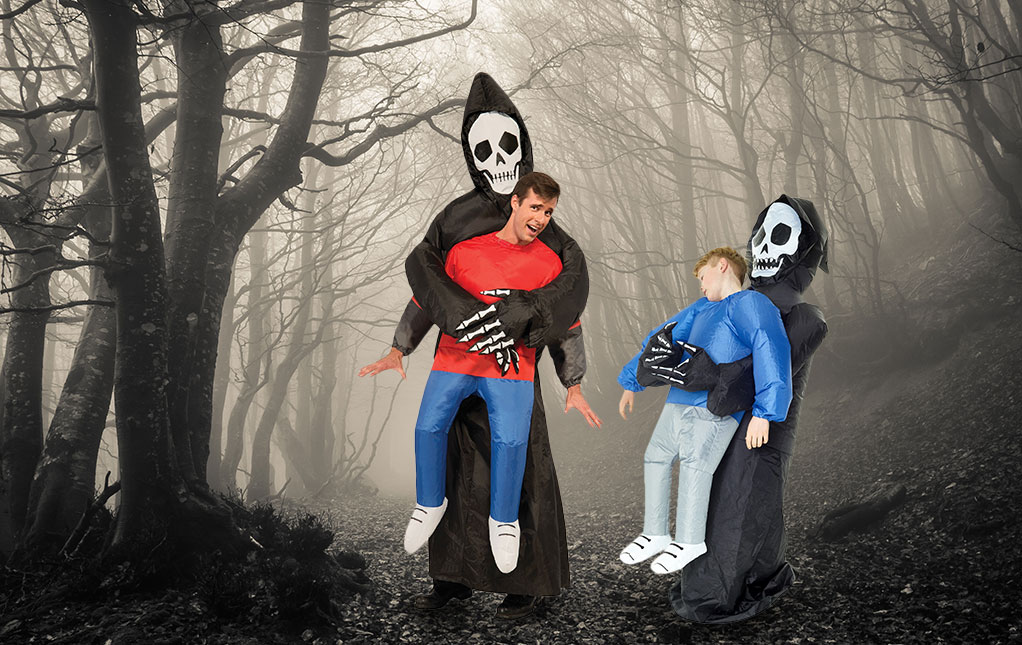 Whoever said that the Grim Reaper doesn't have a sense of humor has never met the guy! It turns out the Grim Reaper has a funny side and loves surprising people by picking them up unexpectedly. Okay, we guess that's a little creepy but the guy means well. Get a little silly with your Grim Reaper look by wearing an inflatable Grim Reaper costume. Once the costume is completely blown up, it creates an illusion that the Reaper is whisking you away. Team up with a friend wearing a Headless Horseman costume and have a scary-good time this Halloween! Also, don't forget to check out all of our inflatable costumes too.