Animated Halloween Decorations
Spooky, scary, or sweet styles aside, you want Halloween decorations with real spirit! Luckily, you've come to the right place! So, there's no need to break out the Ouija board to summon friendly ghosts and devilish divas. Leave that fun for the costume parties and shop our selection of Halloween animatronics to liven up your Halloween décor! With everything from classic candy bowls to gruesome giants that can't wait to cast a shadow from your front door, we've got the animated décor you've been looking for!
Maybe you're not ready to pick, though. Have no fear—unless that's why you're here. We've put together a quick guide that aims to help you discover the animatronics right for your playful or petrifying scene. We'll address scary Halloween animatronics that'll turn your home into a haunted house, and inspire pop culture frights ripped right out of your kiddo's favorite Five Nights at Freddy's video game. After you explore animatronics ranging from licensed décor to whimsical prop, you'll be more than ready to cast a spell this Halloween!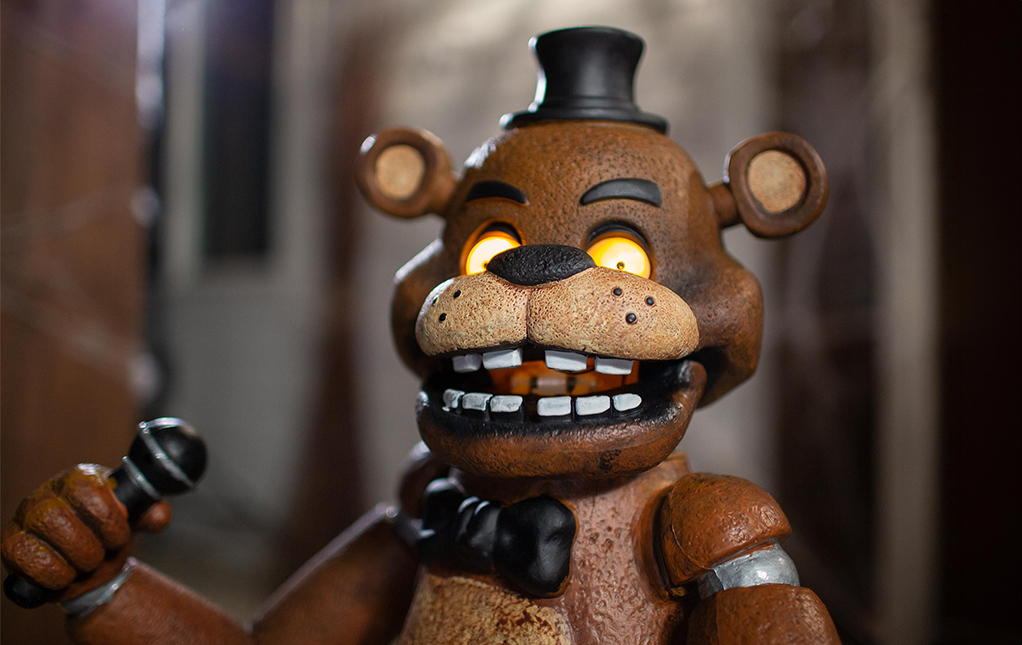 Scary Animatronics
Now, if you're in the "Halloween is for causing frights" mindset, our scary Halloween décor is a perfect place to start your holiday display. With help from our selection, you'll find yourself staring at a cobweb-covered cemetery in your front yard. You'll see shadows reach into your lawn from backlit windowpanes that you decorated with window cling specters. Or perhaps you'll find a more animated way to frighten the neighbors and send chills down the spines of your costume party guests!
Pumpkin Animatronics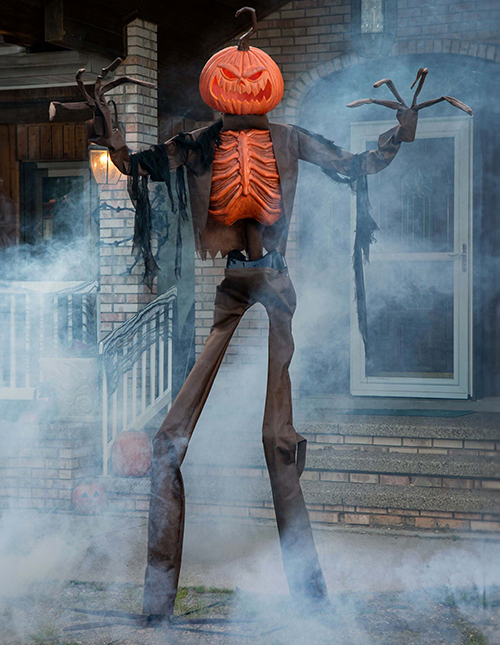 Diverting expectations can be an excellent way to cause a stir, and as most people don't find pumpkins scary, they're ripe for the picking! While your neighbor stacks glittering gourds on countertops and lines their front walk with glowing grins, you can carve an entirely different path. Towering above your own little pumpkin patch, our exclusive 8-foot pumpkin man protects jack-o-lanterns from smashers. As its eyes light up with something more than tealight flame this and all our animated pumpkins promise to be tricks that are quite the treat!
Ghost Animatronics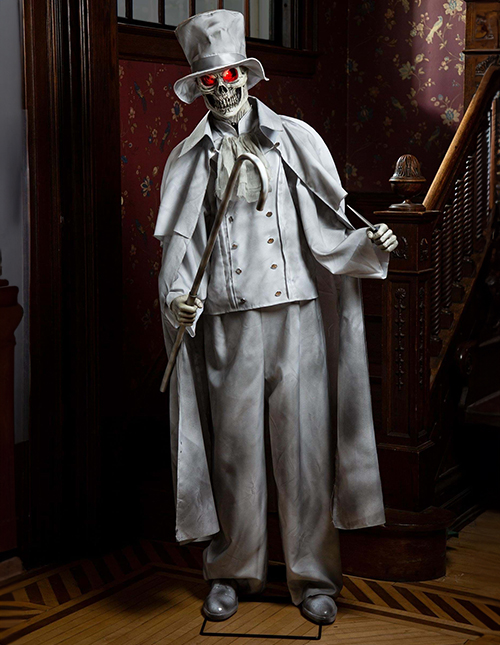 Imagine strolling down a low-lit street. Dim shapes and shadows, your only company, and at the end of your path a figure stands like a statue, a perfect gent. Until its eyes go red, and the hunter speaks! Possessed dolls riding rocking horses in dark and dusty rooms might be the only thing creepier! Then again, terrible twins lingering in hallways are also rather alarming. Fortunately, whichever hair-raising scene you believe is scarier can be brought to life when you pose our available animatronic specters inside your home!
Animated Skeletons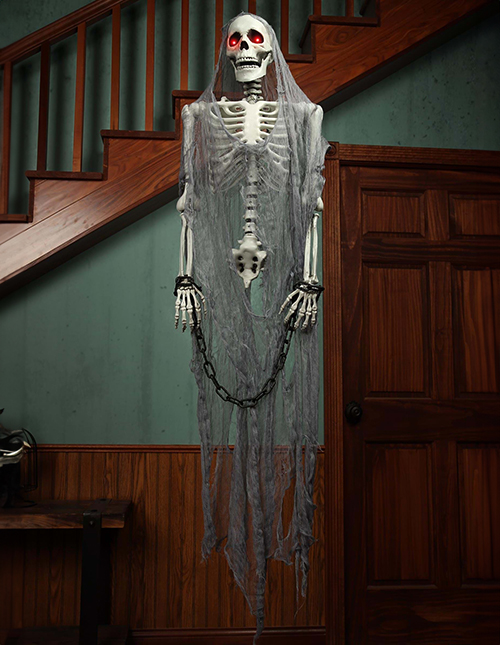 Skulls and skeletons might be the most versatile Halloween characters. As costumes, skeletons tickle funny bones with goofy grins and colorful bones. But as a pair of hands popping out of a sleepy graveyard, they leave people feeling spineless. Luckily, you'll find both options living in our selection! Dig up some scares or sweet surprises with animated skeletons and their calmer companions! Poseable pals sat at your front step should make trick-or-treaters feel right at home when they come knocking. Meanwhile, a petrified prisoner is happy to prove even the bravest soul a liar.
Witch Animatronics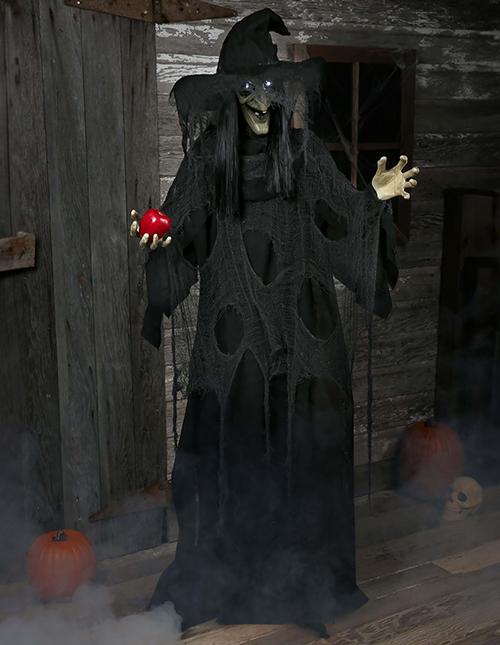 Maybe it was great auntie Agnes wearing a witch costume that convinced everyone witches are good for a scare. More likely it's the generations of grim fairytales that cast the witch as a villain. But either way, when you're looking for classic dread décor, witches are ready to cast their best curse. Add real magic to your display with a Halloween witch animatronic from our selection! From this exclusive sinister sorceress to sickly green sisters ready and willing to offer candy to children, there's only one thing to decide. So, which witch will you choose?
Life Size Halloween Animatronics
If a small hanging decoration started hollering or shaking, it'd be a proper shock. But if a ghoul the size of a man did the same, you couldn't keep hearts from pounding! We like to think it's the realism that does it. After all, if you see an elderly lady in need, you'd approach. Which is exactly what the hungry hag wants! And watching kids singing in a circle is so cute you may join in! Who are we kidding? That's terrifying! Thanks horror movies! The point? Shop life-sized animatronics to find friend and fiend!
Animated Scarecrows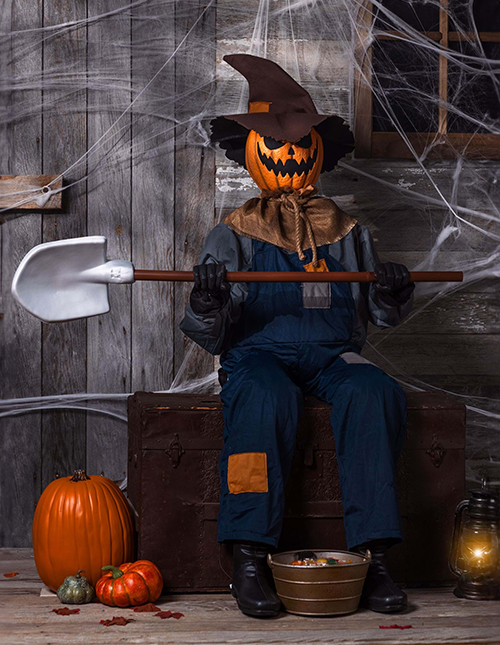 Scarecrows are inherently good. Unfortunately, they also exist to frighten. While birds are the intended audience for their macabre masks, however, we humans have also found reasons enough to fly away from the straw-filled fellows. When you explore our animated scarecrow selection, though, you get to choose if their patched jacket is for tricking or treating! Can't decide? The life-like guardian pictured here is happy to serve both roles with a bucket of candy at his feet distracting from his jagged jack-o-lantern teeth!
Halloween Clown Animatronics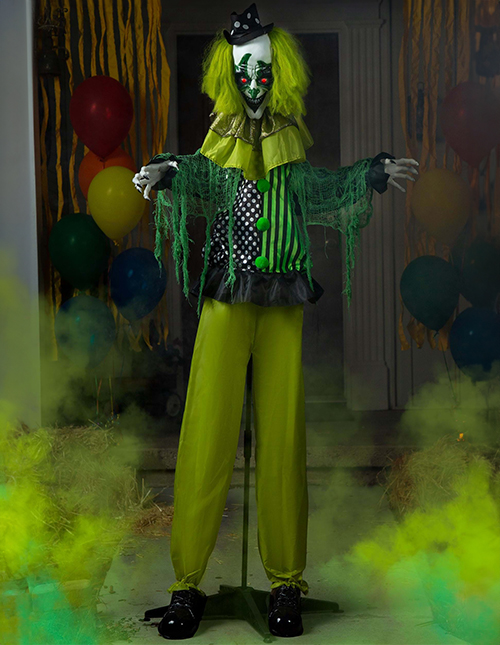 Some people like to claim a neutral opinion about clowns. But we say there's no way! Bozo is either a terrifying clown or charming comedian. There is no in-between! Just look at this Halloween animatronics clown! Standing tall as an adult, it's sure to get a mix of giggles and screams. Meanwhile, a kid in clown costume even with pleasant polka-dots, a big nose, and fluffy rainbow wig hears the same! We guess that means it's true. You can't please everyone. But you can please you! So, choose the animated antics that're right for your Halloween display!