Scary Halloween Costumes
How to Be Scary For Halloween
Here at Halloweencostumes.com we always appreciate seeing a really scary Halloween costume. A horrifying Frankenstein, a mangled witch, a decaying zombie—we love them all, because being a little spooked on Halloween makes the experience far more fun. That's what Halloween is all about!
With all of the funny and pop culturally relevant costumes to choose from, it's all too easy to forget that sometimes the best recipe for fun is to be a little scary. Trust us, it's fun to hear family and friends let out an ear-splitting shriek when they see you all done up in prosthetic makeup, or a freaky mask, or a classic fright-inducer like Dracula. That's why we're encouraging you to embrace your inner scary... you scare because you love! So, if you decide to take our advice and bring the terror back to your town, you've found just the right spot for the creepiest costumes anywhere. Take a peek at this illustrated guide for some quick inspiration, and if one of these looks doesn't quite work for you, it's still a sure fire way to get your diabolical ideas flowing!
Scary Clown Costumes
Do you know someone who has coulrophobia, otherwise known as an intense fear of clowns? If they get nauseous, sweaty, and their heart starts to beat fast when they know a clown is walking around the mall, it's safe to say that your friend has coulrophobia. We get it though. There's just something about a clown's bright red nose, over-sized shoes, and bright colored curls that makes us cringe. Gone are the days where the terrifying jokers made kids giggle at birthday parties, now they just make adults run in fear. So if you're in the mood to make lots of people tremble with dread, we recommend wearing a scary clown costume!
Pennywise Clown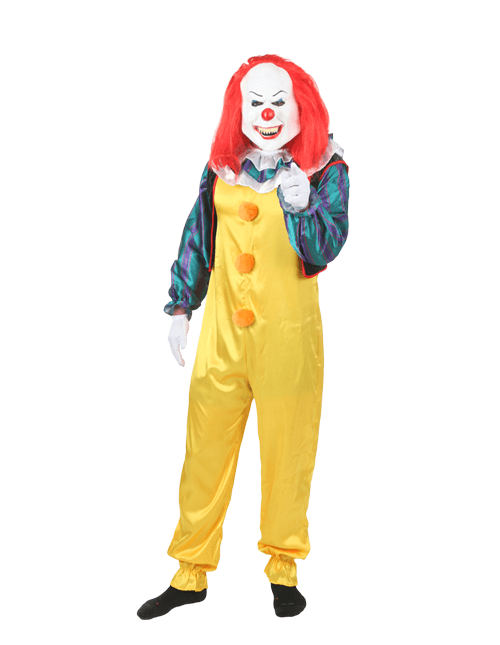 Did Tim Curry embody the most terrifying clown ever created? It's possible because Pennywise still gives us nightmares. That receding hairline, those yellow, jagged teeth, and that eerie balloon he carries are all reasons why the evil clown still makes us shudder. After all, Stephen King is one of the best horror novelists of all time so of course his brain would conjure up a character as wicked as Pennywise, and dressing up as this clown means that you'll become one of the most horrifying fictionalized characters ever conceptualized. Don the costume and experience what it's like to become Pennywise the Dancing Clown (more like deranged clown, if you ask us.)
Dark Jester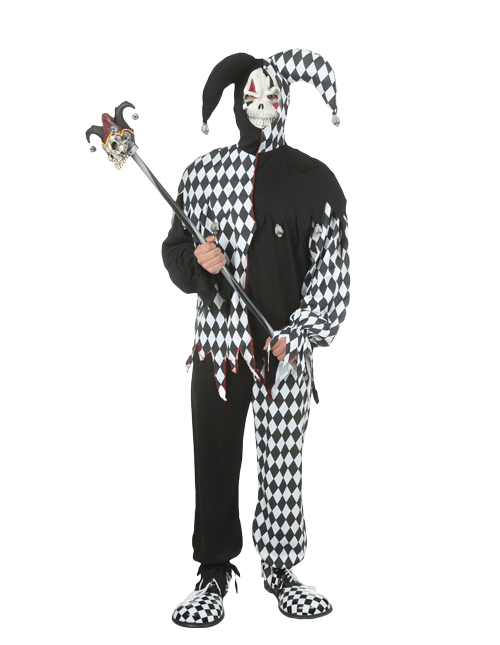 Hear-ye, hear-ye! It is time to announce the most sinister member of the royal court... the one and only, Dark Jester! Whatever you do, don't call this jester a clown. He's much more than some dope who tells jokes and juggles; this jester entertains the king but not in ways that you'd think. He performs macabre style magic and entertains the court with creepy dark comedy that will make your skin crawl. If you're looking for a medieval style costume that will make people say, "yikes," rather than, "wow," this Dark Jester costume is the one for you.
Killer Clown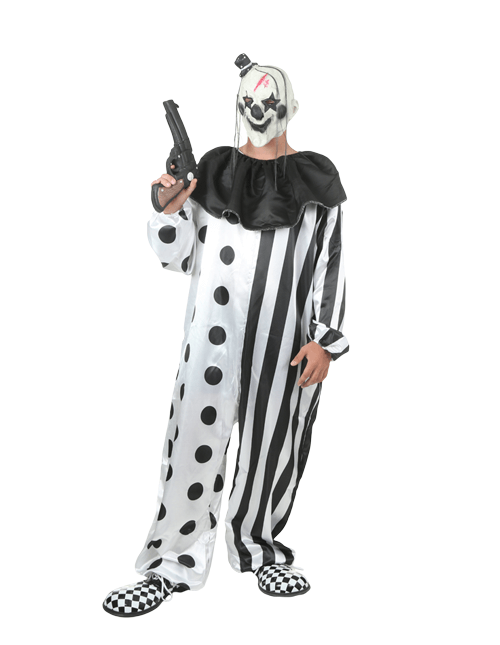 Clowns aren't really intended to cause nightmares, but we suspect that a lot of them end up creating a few to say the least. However, it wasn't until Hollywood came up with the concept of killer clowns that people began to fear them. We don't know about you, but we kind of enjoy the new and scary take on clowns. So get ready to channel the crazy jokesters when you dress in this black and white costume. Complete your horrifying look by picking up a makeup kit or a mask to create an appearance that will make people cower in fear. We have a feeling that you'll love giving fellow party-goers a bone-chilling Halloween experience!
Killer Clown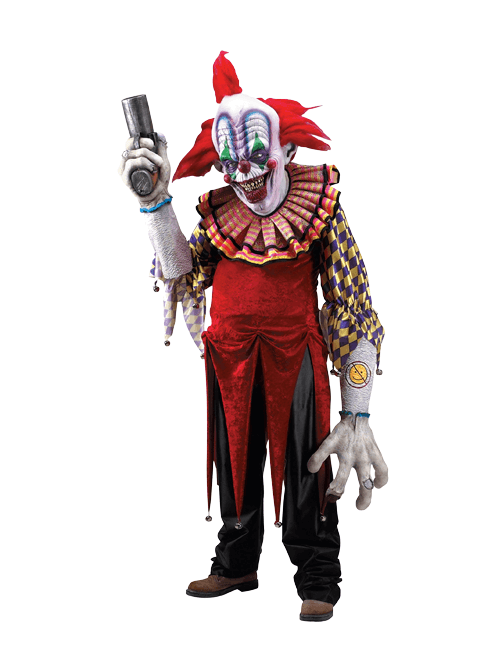 Meet Giggles. He's half clown, half monster and 100% terrifying. With larger than life hands and a gruesome grin, you'll have a frighteningly good time dressed as the one and only Giggles. This redheaded psychopath holds a big barrel gun in one hand while reaching out to grab a few innocent souls with the other hand. So, what kind of experience will you have when you dress as Giggles? It'll be an adventure that will have people shrieking in terror while you giggle underneath your creepy mask. So it's easy to see why this clown is named Giggles, isn't it?
Scary Masks
Do you want to know the easiest way to make a person's blood run cold? Put on one of our scary masks. Yup, that's it. You'll terrorize the whole neighborhood when you're wearing one of these creepy creations. This is a great option for people who want a scary look but prefer not to wear a full costume. A mask gives you the freedom of still being frightening with a minimal amount of effort. Just slip the mask over your head and you'll be ready to hear shrill shrieks. We have ghastly masks that will appease all types of horror fans, so just pick out your favorite and let the terrorizing begin!
Chiller Zombie Mask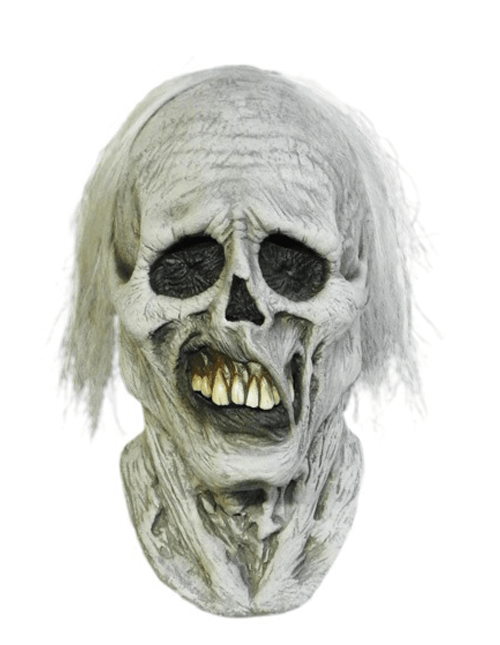 Whoa, it looks like this guy has been dead a long time, but yet he's still up for some walking around the living! Fans of zombie movies will love this Chiller Zombie Mask because of the intricate gruesome details. The decaying teeth, the thinning gray hair, and the wrinkled white skin create a look that will make your blood run cold.
Scary Monster Mask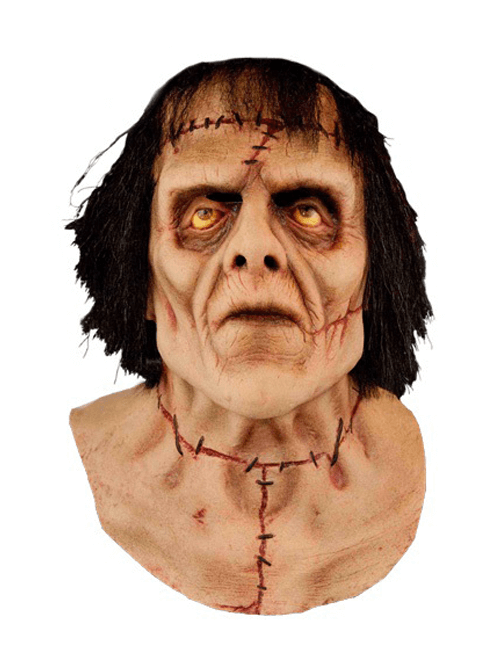 Now you can look like a science experiment that has gone horribly wrong! Move over Frankenstein, this realistic monster is really ready to start some chaos. This Latex mask has realistic details. For instance, the stitching, wrinkles, and yellow eyes create a look you'd see in a classic horror film. You'll send chills down everyone's spine no matter where you're stomping off to!
Scary Scarecrow Costume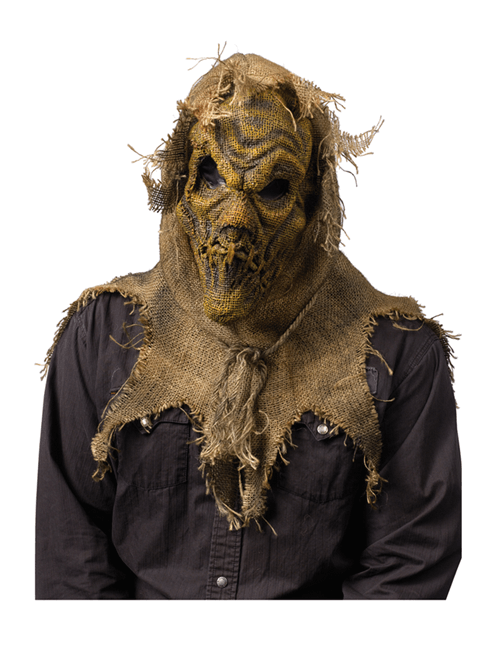 Be careful if you venture out into the cornfields... this evil scarecrow might be lurking in the shadows and he doesn't care about scaring crows... he loves to scare people! That's right, this particular scarecrow isn't looking for a brain, he's looking to eat a brain! This latex mask is enshrouded in a burlap sack-style hood that attaches in the back with Velcro, so you can ensure that it stays on your head all throughout the night while you chase after people.
In Stitches Ripper Mask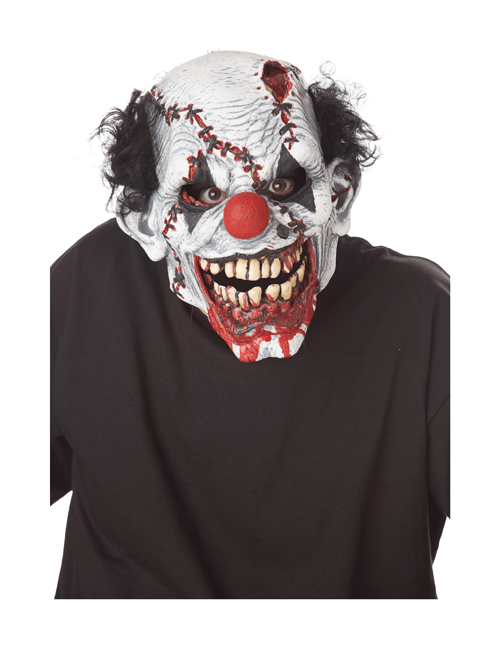 If you really want to go all out when it comes to your mask selection, we recommend purchasing this ripper mask. This clown mask is so unique because the left side of the mask can rip off to show some seriously gory details. When it's torn off, a bloody skeleton clown face is revealed underneath. This particular mask is great for those who can't decide between an evil clown mask and a spooky skeleton mask. Get ready to hear some pretty serious screams once you unveil the gory skull underneath.
Scary Makeup Ideas
When it comes to any kind of scary costume, special effects makeup is key. Plus, it's easy to create movie style magic at home as long as you have the proper utensils. You'll be surprised to see that a simple wound or gash will transform your already scary look. You can make yourself look dead, burnt, or severely injured and you'll leave people wondering, "Whoa, is that person okay?" Make people do a double-take by working with basic prosthetics and liquid latex. Although the final result looks complicated, we promise that these gruesome looks are very simple to recreate at home! Get ready to take your creepy costumes to the next level!
Face Cut Makeup Tutorial
Adding a gash to your neck is a great and easy way to look as scary as possible. This makeup application is fairly easy, just make sure you have all the supplies listed. You'll need extra flesh and Fixative A to keep the fake skin sealed. A bruise color-ring and 8-color palette are necessary for the discoloration around the wound. Next, you'll need lots of blood of course! Make sure to pick up coagulated blood, stage blood, and squirt blood. Finally, you need some sponges and brushes to complete the application. Have your triangle sponge and medium makeup brush handy. A pen cap or similar object should be nearby because you need to create a cut in the fake flesh.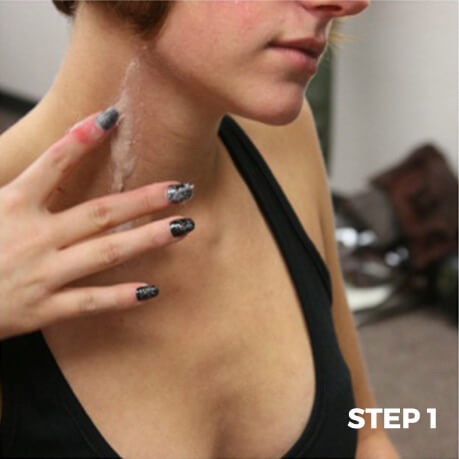 Step 1: You'll need to decide the placement of the gash. When you've picked the perfect spot, put your extra flesh on the entire spot you've mapped out. Make sure it's as long as you want it to be.
Step 2: Now it's time to slice your extra flesh! Take your pen cap or a similar sharp object and make a cut in the extra flesh. This will be used as a marker to indicate where the blood will go.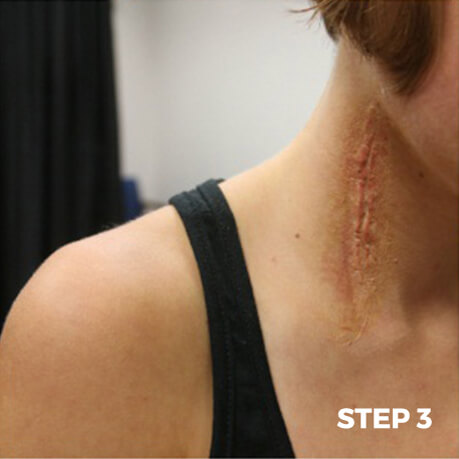 Step 3: It's time to seal the extra flesh. Get out your Fixative A and put it on the piece of extra flesh, now wait for it to harden.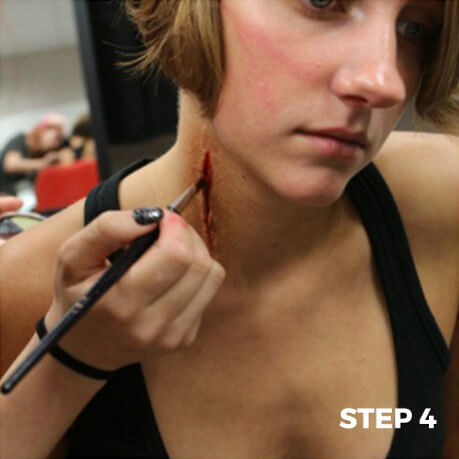 Step 4: Take out your triangle sponge and 8-color palette because you'll need to blend the gash to match your skin tone. Begin to stipple the colors from the palette over the extra flesh. We recommend using the green, yellow, and red from the bruise color-ring to make the wound look realistic and gross!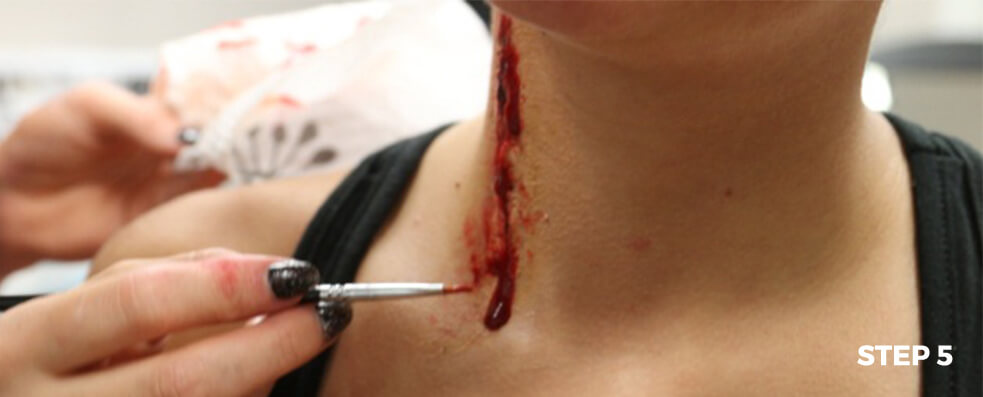 Step 5: Here comes the blood! Use the medium brush to paint on the coagulated blood. You'll want to paint inside the indent you've made with your pen cap or other sharp object. Use the stage blood on top of the coagulated blood and place it around the fake skin too.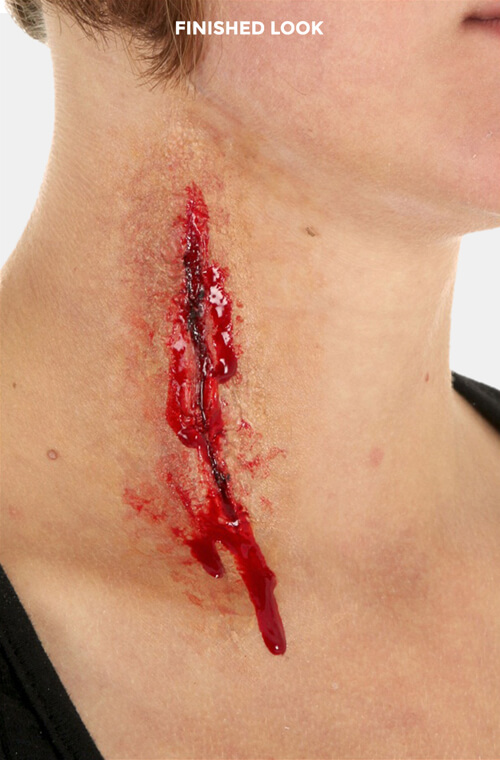 Finished Look: Last but not least, it's time for the "squirt blood." Let this blood drip down your neck as a cool makeup effect. Put as much as you want!
Fake Wounds and Gashes Makeup Tutorial
There are even more cool wounds and types of gashes that you can create. These makeup looks are bound to gross out all of your friends. Again, this makeup application doesn't take a lot of effort; just make sure that you have all the necessary supplies. To recreate both the bullet hole and claw mark wounds, you'll need the appropriate prosthetics which you can buy on our site. Again, the liquid latex and bruise color-ring are vital to create the wounds. Dig in your makeup bag for a skin tone foundation. Stage blood, tissue, and a triangle sponge will also be needed!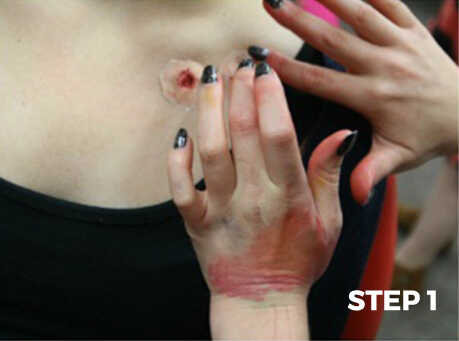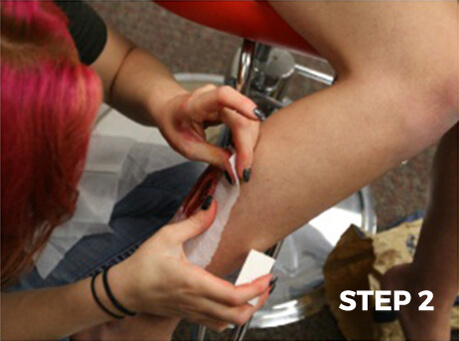 Steps 1 and 2: It's time to indicate where you want your prosthetics to go. Place dots on your skin with an eyeliner pencil so makeup placement will be easy. Keep your package handy because you'll need those instructions too. Find the adhesive that comes in the package and use that to glue the prosthetic pieces to your skin.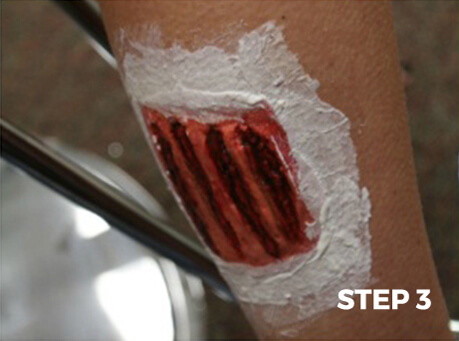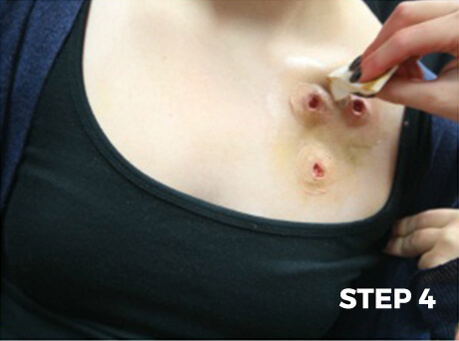 Steps 3 and 4: Next, you'll need to use the liquid latex. Around the edges of the prosthetic pieces, apply the liquid latex and be sure to smooth out the creases. Use the tissue to blend in the edges of the wound on your real skin. Remove any excess tissue that isn't glued onto the liquid latex. Be sure to let it dry out. Take your foundation and apply is around the edges of the prosthetic piece. Make sure to cover all of the liquid latex.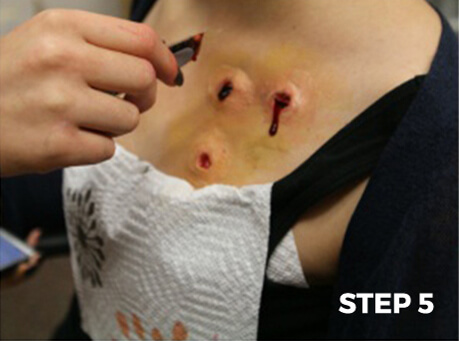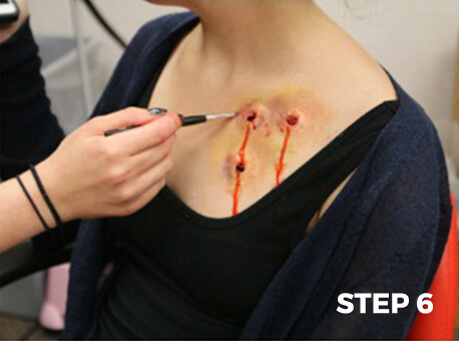 Steps 5 and 6: Now you will need to get your bruise color palette. Use the green, yellow, brown, and red to make your wound look nasty and bruised. Last but not least, add as much stage blood as you want!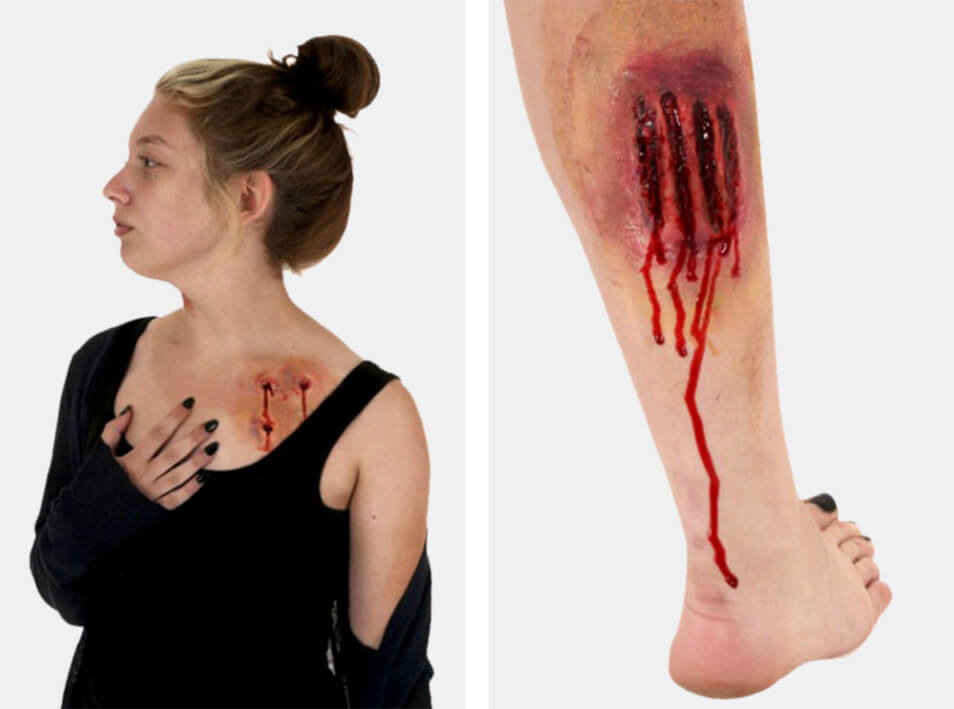 Finished Look: As you can see your finished look will transform your appendage into a bloody, disgusting mess! Ass ample amounts of fake blood and you'll have everyone thinking you've been bitten, beaten, or shot, or maybe all three at the same time.
Zombie Bite Makeup Tutorial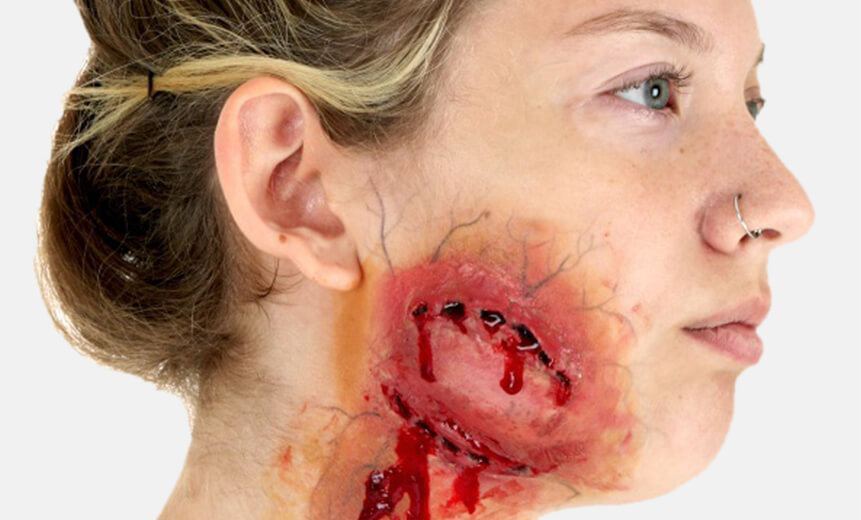 Have you ever wondered what would happen if a zombie actually bit you? Of course you would turn into a zombie, but what would the bite look like? We're going to teach you how to create a vicious looking zombie bite from the comfort of your own home. All you'll need is to pick up a few things. Make sure you have some rigid collodion, extra flesh, and a bruise color-ring. For the bruising and the oozing blood, pick up some squirt blood, stage blood, and a color palette. Go to your makeup bag for a stipple sponge, a triangle sponge, gray eye shadow, and small and medium makeup brushes. Now you're ready to create a zombie bite!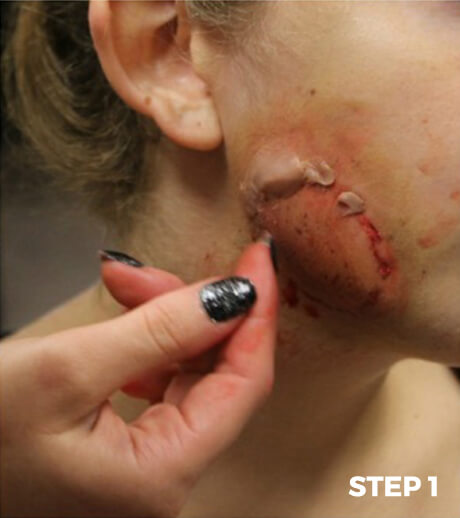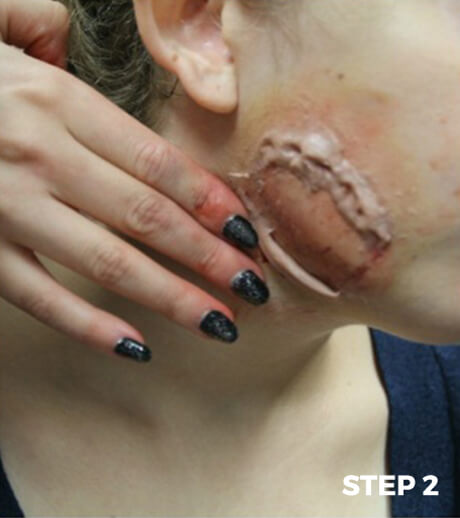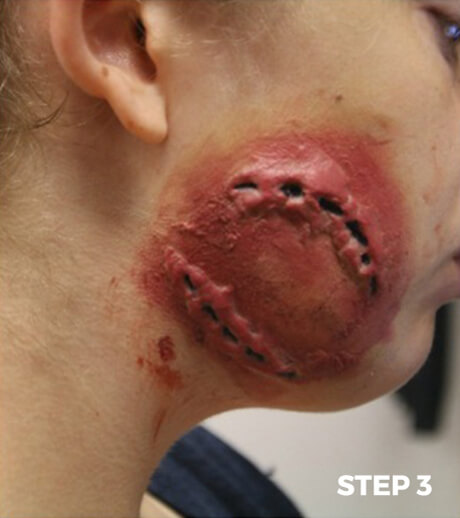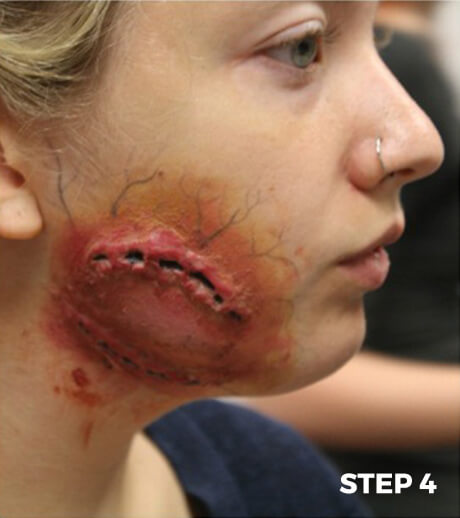 Steps 1 through 4: Decide where you want your zombie bite mark to be. Take the rigid collodion and use it to mark the teeth placement. Dab the stipple sponge in the yellow and green colors in the palette and place it around the bite. Put the green closer to the wound and the yellow farther away to make the bruising look real. Next, grab the extra flesh in small pieces and manipulate two lines where the bottom and the top of the bite mark would be. Indent with a pen cap along these lines and then use the black from the color palette to paint inside each indentation. Now it's time to blend with the triangle sponge. Stipple and blend the wound with the red face paint. Add some yellow and green if you want!

Step 5: Here come the veins! The veins make the wound look really creepy. Use the small makeup brush and gray eye shadow to paint on the veins. Try to make them look like they are popping out of the wound.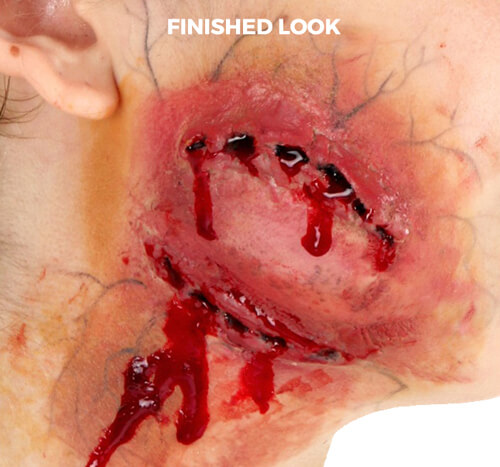 Finished Look: Finally, add as much blood as you want! What kind of zombie will you be once the wound is intact? Will you still have an intense hankering for pizza, or will you only want to feast upon brains and intestines. Let us know what zombie life is like!
Peeling Scorched Skin Makeup Tutorial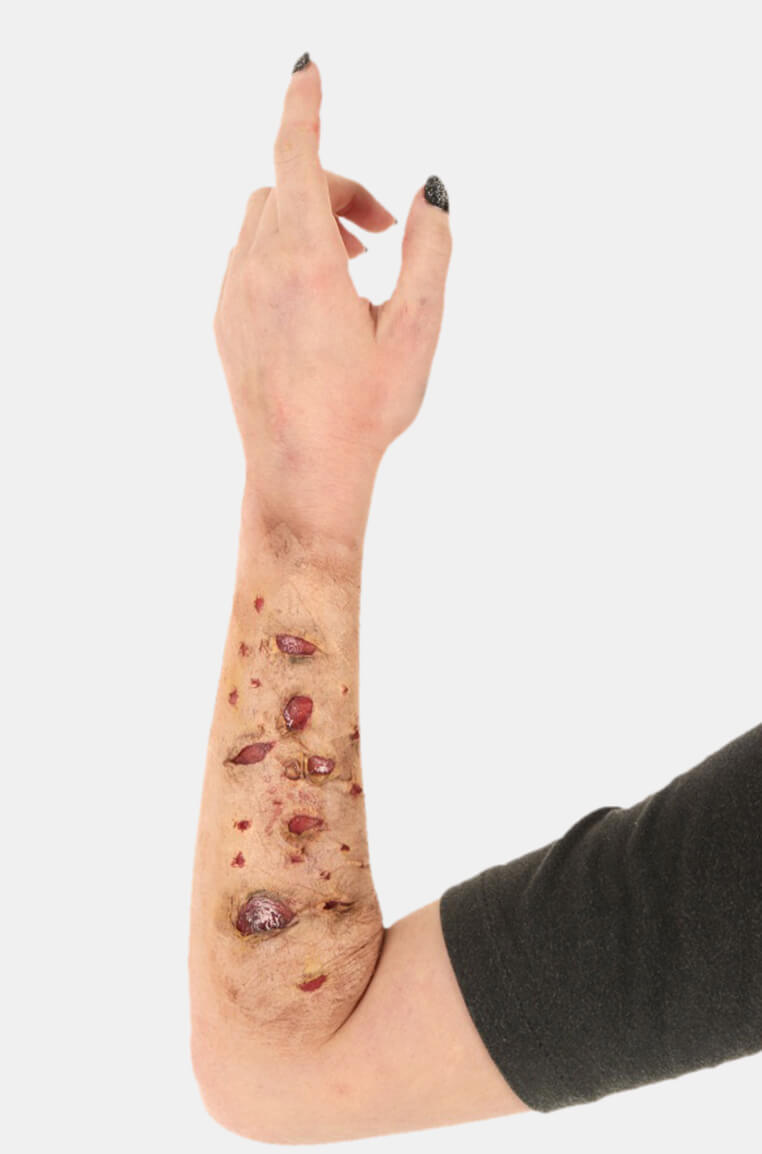 Is there anything scarier than burned flesh? We don't think so! Now you can make your skin look like it has been scorched by flames. You just need a few supplies to make this happen. Grab liquid latex, some tissues, a medium makeup brush, and a triangle and stipple sponge. The bruise color-ring is a must as well as well as some clear lip gloss and your trusty tweezers. Now, we're ready to make magic happen!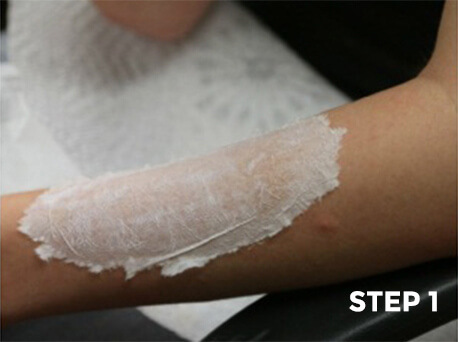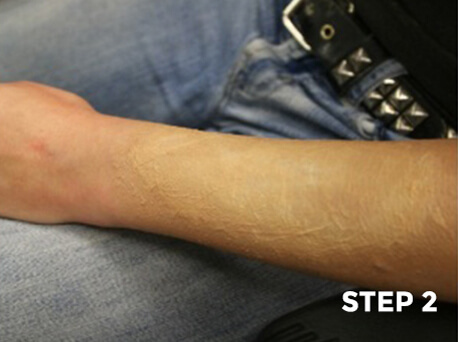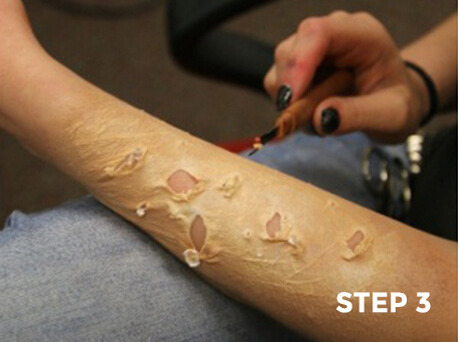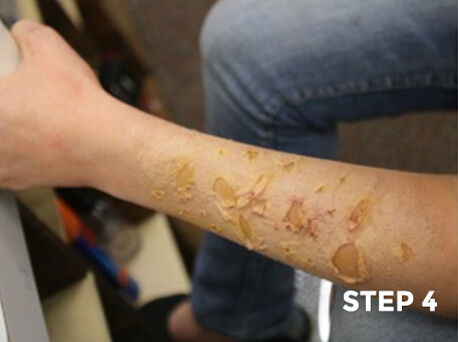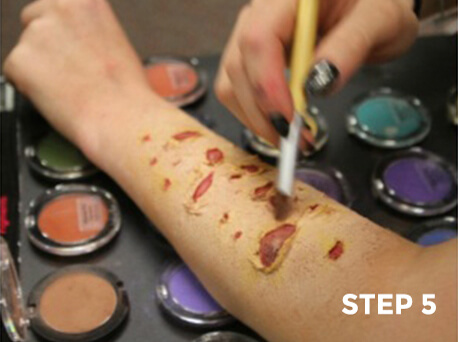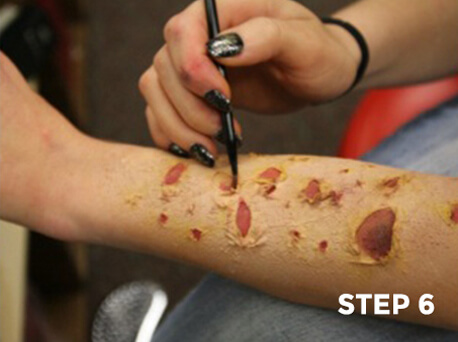 Steps 1 through 6: Put a thin application of liquid latex where you want the burn to be and place one tissue on top of that. Rip off access tissue and let it dry completely, then use your foundation and triangle sponge to cover the area once it's fully dry. Rip small holes in the latex with a seam ripper and then apply yellow makeup inside the holes. Dab your stippling sponge in the brown color and drag it across the entire piece of latex for a dirty look. Paint the holes with red paint from the color-ring. Finally, take your clear gloss and glide it over the wound to make the burn look shiny and fresh.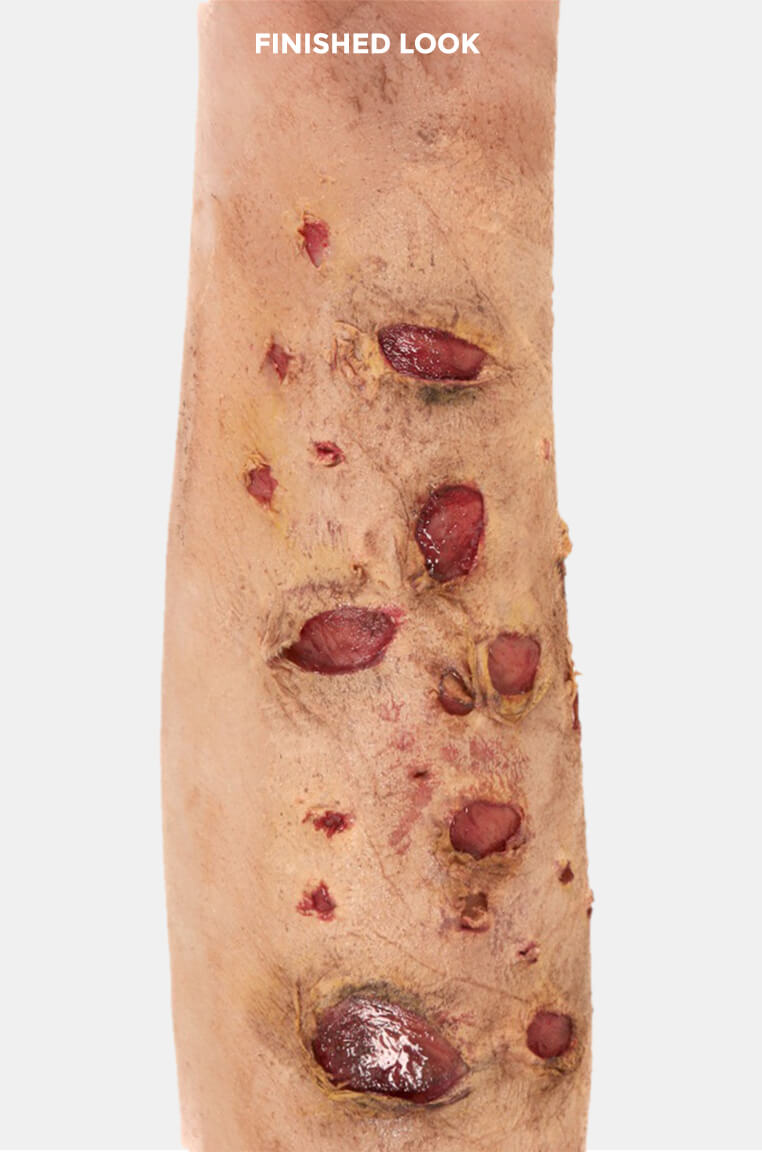 Finished Look: Ta-dah! You are all done with your scorched skin look and now you're ready to show it off. People will be both amazed and horrified at how realistic your makeup application looks and they won't believe that you did it all by yourself. You'll look like you're ready to star in your own horror movie once you have all the gruesome prosthetic pieces in place. Remember, you can make any part of your body look burnt just by following these aforementioned steps. Be sure to let us know about all the people you scared with this special effects makeup look.
Jeff the Killer Makeup Tutorial
In order to do a correct Jeff the Killer makeup application you'll need to round up all the supplies listed in the video. Once you have all of the necessary utensils, you can begin the makeup process. First, roll the scar wax into a tube shape and apply it alongside both sides of the face to create an elongated creepy smile. Take a sharp object and cut slits into the scar wax where a smile would go. You will need to seal the fake skin and the slits you made with Fixative A. Next, cover the nose in a thin layer of liquid latex and single sheets of tissues. Keep applying until you're happy with the consistency. You may need to do many applications of this step until you get the consistency that you want. The third step is to cover the face in white makeup followed by white powder. Don't forget to do the eyebrows! Do more than one application if necessary. You can also put in the white contact lenses at this time. Apply the red shade inside the mouth slit that you created and cover the eyes in black cream makeup. After this is done, you can add the coagulated blood gel inside the slits of the face. If you want to, you can add dripping blood down the mouth but that part is up to you. Finally, tease the black wig for a messy look and place it on your head. Now get out there and start terrifying people with your Creepypasta style makeup application!