Miles Morales Halloween Costumes
The classic Spider-Man came out all the way back in 1962. He was a nerdy teenage kid who loved science and photography. After a chance encounter with a radioactive spider, he became one of the most popular superheroes of all time. He fought against some of the worst villains that Marvel comics could throw at him, he did some stylish web-slinging, and he grew up a bit. But little did he know that…there was another (as Yoda might say)!
Yep! When Marvel started up their Ultimate universe, they did plenty of reimagining of characters. While most of the characters took on classic details of their main universe counterparts, some key differences emerged. The Ultimate universe's version of The Avengers was called the Ultimates. The Ultimate Captain America was a little grittier and he ditched the antennae-like wings on his mask. And, Spider-Man had a successor, Miles Morales!
Mile Morales started out as a typical teenager. He's a science nerd who lives in New York, just like Peter Parker. Unlike Peter, he's got a slightly more outgoing personality and an artistic streak. His new take on the superhero game, and on the classic Spider-Man outfit, has turned him into a unique addition to the Marvel Universe. If you or your child is ready to take on the mantle of Spidey, then a Miles Morales-style Spider-Man costume is an easy choice! Let's just take a look at some of the best options for any Mile Morales fans.
Miles Morales Spider-Man Costume for Adults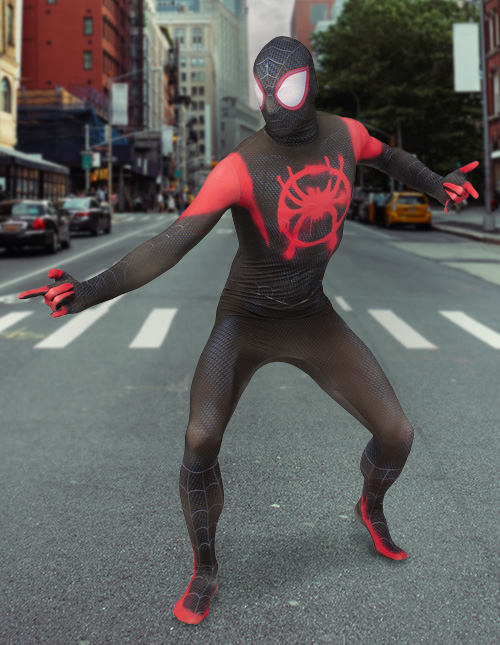 Although Miles is a teenager, it's pretty easy for adults to relate to him. He has superpowers, but he's trying hard to juggle his everyday life with his secret life as Spider-Man. He has to make sure he has his homework done and he has to make sure that the Hobgoblin doesn't destroy the city. He has to manage his friendships while also keeping on good terms with some of his fellow superheroes. It's all a pretty tough order for a teenage kid to keep up with, and as adults trying to get by in a stressful world, we totally get his plight. Our Miles Morales Spider-Man Costume for adults is an excellent way for you to transform into the iconic character.
Miles Morales Costume for Kids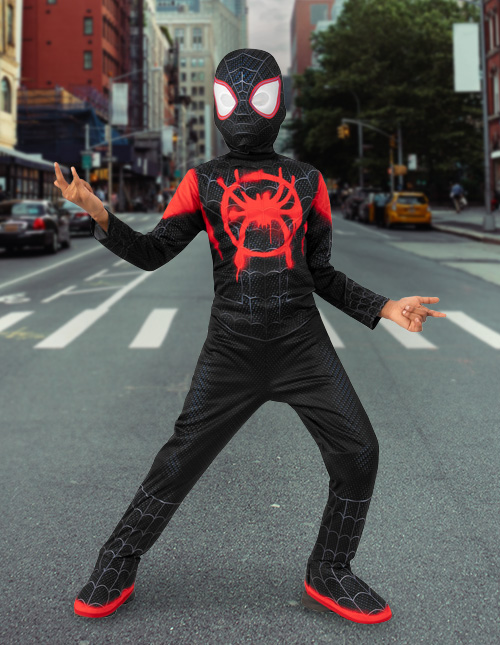 One of the coolest things about Miles Morales is his truly unique take on the Spider-Man costume. Spidey has had a ton of different outfits over the years. Despite all of the different iterations, Peter Parker always returns to the classic red and blue. Miles isn't really bound by the traditional look, so he brings a modern sensibility to the costume. His version keeps the webbing details but swaps out the colors for black and red. He also has a brand new symbol on the front of the chest. Your child can adopt this new look by wearing one of our Miles Morales Halloween costumes for kids. It's a fun way for any young fan to become their favorite superhero!
Child Miles Spider-Man Suit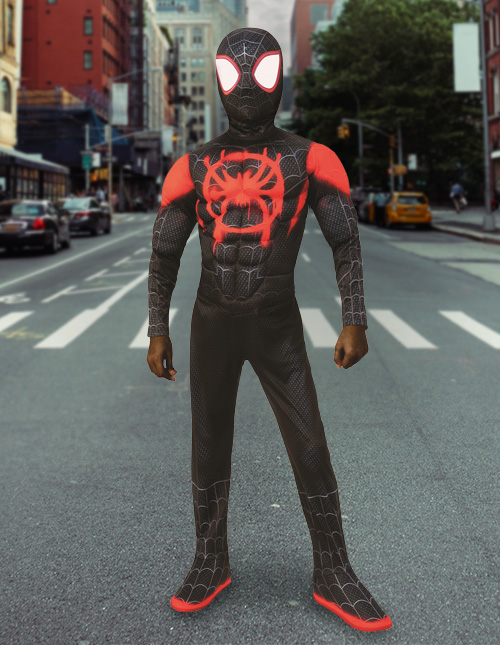 Some kids want the whole superhero experience! They don't want to just look like their favorite superhero. They want to FEEL like them! That's when one of our deluxe Miles Morales Spider-Man costumes comes into play. This is basically an upgraded version of the standard costume, but it has some fantastic additions, like muscle padding in the chest and arms and a full face mask that will help your little one keep their identity secret from deadly foes. When they're wearing a costume as fully decked out as this one, we guarantee that they'll feel like a real superhero. Just make sure to check out our full selection of Spider-Man accessories to accompany the costume.
Miles Morales Toddler Costume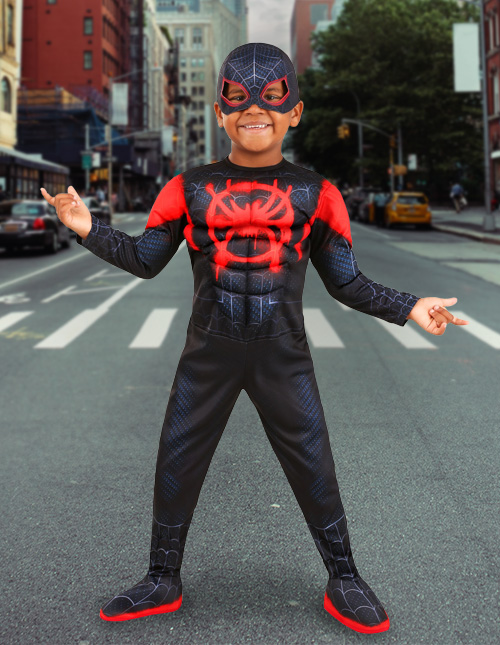 Every toddler boy goes through a Spider-Man phase. It generally happens sometime between the ages of 2 and 8, and it can last anywhere from a few months to a whole lifetime! (We know plenty of adults who never got over their Spider-Man phase). The movie Into the Spiderverse has created a whole bunch of young new fans. The stunning visuals are captivating for both young and old Spidey fans, and that means your toddler might already be talking about Mile Morales! If your child is one of them, then they're going to need his new, updated suit. One of our Miles Morales toddler costumes is the best option. It has the spray-painted style symbol on the chest, along with a simple face mask that's easier to wear than some of our other costumes with full masks.
Miles Morales FAQ
Just need a little more info on Miles? Well, these are some of the most frequently asked questions about the character. Hopefully, this info will make you feel even more excited about dressing up as the amazing Marvel superhero!
Who is Miles Morales?
Miles Morales is Spider-Man! He began as an alternate dimension Spider-Man and has been around since 2011. In the comics, Miles took over Peter Parker's mantle after he died, and has been thrust into the main Marvel Universe through a big multi-comic event. He was also the main character in Sony's hit film, Into the Spiderverse.
How old is Miles Morales?
Miles Morales's age varies from story to story. He first showed up as a 13-year-old kid the comic books. In the movie, Miles is a 14-year-old high-schooler attending a new school for gifted students. In the later comic books, he's portrayed as 16 years old.
Where is Miles Morales from?
Miles Morales is from Brooklyn in New York. Miles's mother is Puerto Rican and his father is African American, making him of black and Latino descent.
How did Miles Morales get his powers?
Miles Morales received his powers in a similar manner to the way Peter Parker received his powers. Miles was bitten by a genetically altered spider, which gave him a wide array of superpowers. He even has a few powers that the original Spider-Man never had.