Superhero Costume Ideas
Have you ever wanted to have super powers? Sure you have. It's one of the most common (and satisfying) daydreams there ever was. While we can't say you'll have superpowers when you dress yourself in one of our superhero outfits, we do think you'll feel super, look incredible, and inspire others to pursue truth, justice, and the American partying way. A good hero starts at a good costume and that's exactly where we come in! We carry adult superhero costumes as well as styles for kids and toddlers, so you can find superhero family costumes for the whole clan. If you're already impressed by our staggering collection of superhero suits and gear and need just a little extra help in making your decision, we've gone the extra mile to assemble a few tips and tricks to help you come to the right conclusion. This guide will give you a run down on taking the best photos with your little ones and finding the best superhero or superheroine to be this year. We have all of the top choices for female superhero costumes for the ladies, and styles that will transform any man into a muscled do-gooder. And for good measure. we've included the top hero groups if you've got a team in mind for your mission. Just check out the best superhero costumes and get some ideas below for the ultimate costume inspiration!
Superhero Halloween Costumes
When it comes to choosing a hero costume, it seems like there's an endless number of superheroes to choose from. You could be the kind of hero who comes from another planet, or maybe one who gains their super abilities from some extraordinary set of circumstances right here on Earth. Or you could even be the kind of hero who had their mutant powers from birth. Whatever kind of hero you'd like to be, our selection of men's superhero costumes is sure to have a choice that will suit your tastes. Check out some of these curated choices for our favorite and most popular costume selections!
Wolverine Costume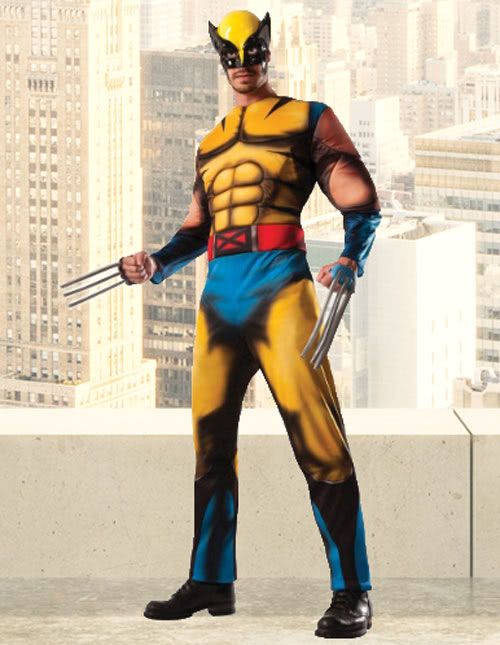 "Hey Bub!" Nothing beats going as the most famous X-Man, Wolverine, by choosing this classic costume . When you have those adamantium plastic claws hanging by your side, you're sure to feel just like a legendary superhero. Watch out world, Logan is on the hunt!
Spiderman Costume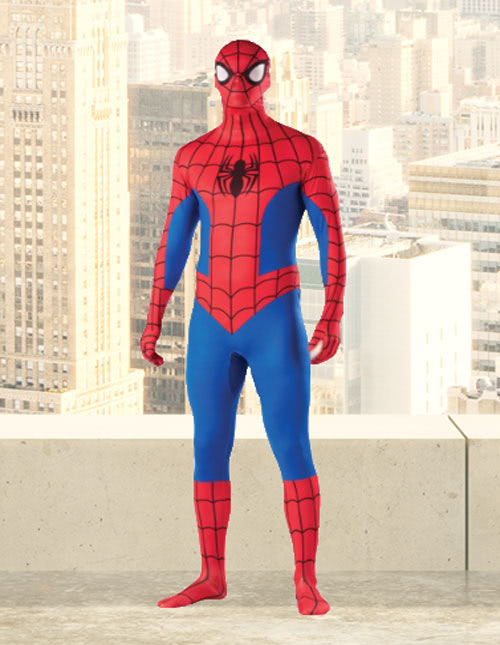 Spidey never minds hanging around, and no matter which series of movie or comic you love, if you're a Spidey fan, we have a wide selection of Spiderman costumes to suit your needs. Try this second skin costume on for size for the next movie premiere!
Robin Costume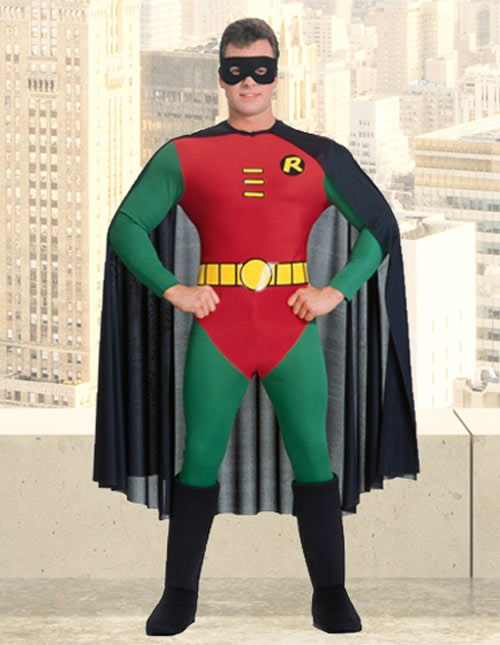 Sometimes a sidekick can be the main attraction, and if you don't mind heading out without your BFF, Batman, we totally suggest going in this Robin costume . A DC Comics classic, this spandex suit will have you ready for primetime action!
Hawkeye Costume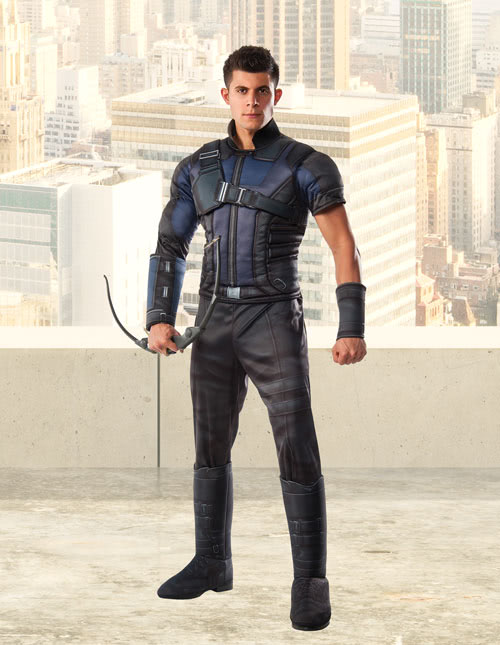 Sure, the other Avengers get all of the credit, but when it comes to coolness and laser-like aim, no superhero is going to match up with Hawkeye . This deluxe costume is padded for extra effect just as actor Jeremy Renner portrayed the character in the series of blockbuster Marvel movies.
Superhero Costumes for Women
You don't have to be a feminist to understand that the superhero game isn't exclusively for men. Ladies have been busting up the bad guys for years in the pages of the comics, and they've started making a splash on the screen in a big way. If you have your eye on women's superhero costumes , we're sure you'll be amazed with our selection. Check out some of these top picks and see if they give you inspiration in making your choice!
Superwoman Costume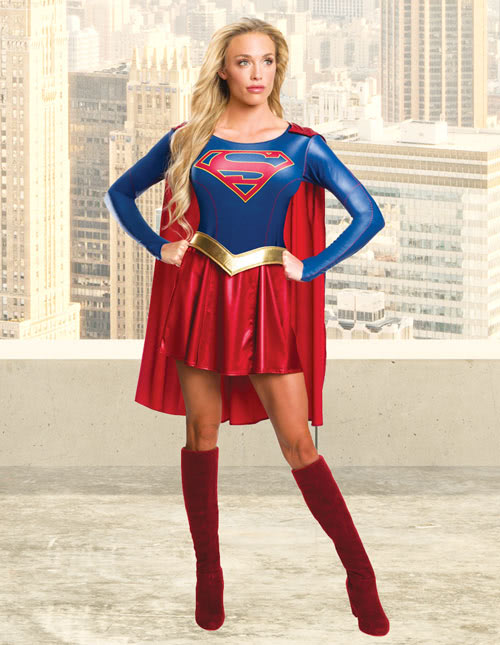 Supergirl might have been a sidekick for Superman when she was created, but as the star of Supergirl TV show on the CW, she's become a legend in her own right. You can go as this timeless character by trying this women's costume . It doesn't come with the power of flight, but you're sure to feel capable of leaping tall buildings in a single bound!
Black Widow Costume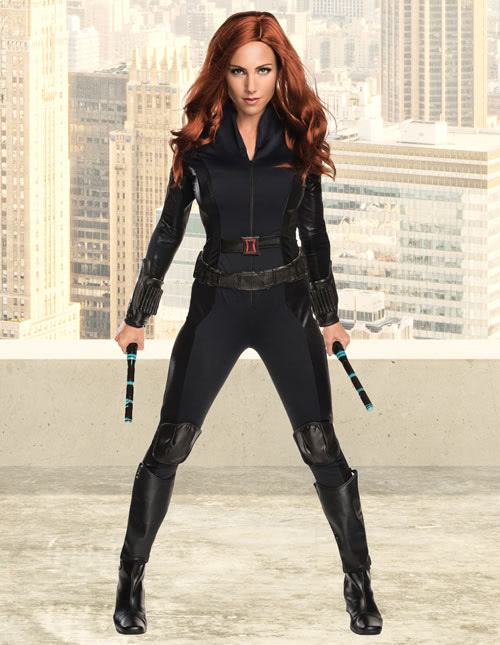 Black Widow of the Avengers knows a thing or two about kicking butt and taking names, and it doesn't matter if she's teaming up with the Cap, Hawkeye, or just striking out solo. When she's ready to throw down, it's time to put all villains on notice. Recreate her Captain America: Civil War look with this stunning movie costume ; all you'll need to complete the style is a wig for her signature long red hair.
Spider Woman Costume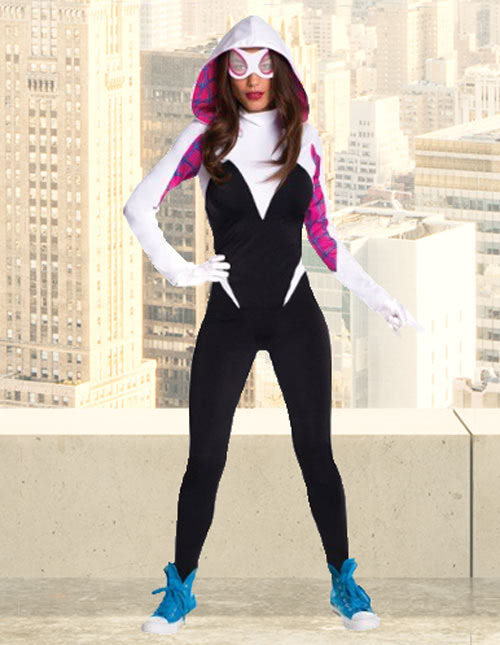 Spider Woman a.k.a. Spider-Gwen might be from an alternate universe, but with her stylish look we think she'd be right at home on any planet. With this costume's sleek hoodie and dynamic color scheme we're sure you're going to love pretending you're the one who got bit by a radioactive spider. Give this cool costume a try to bring this up-and-coming superhero to life!
Wonder Woman Costume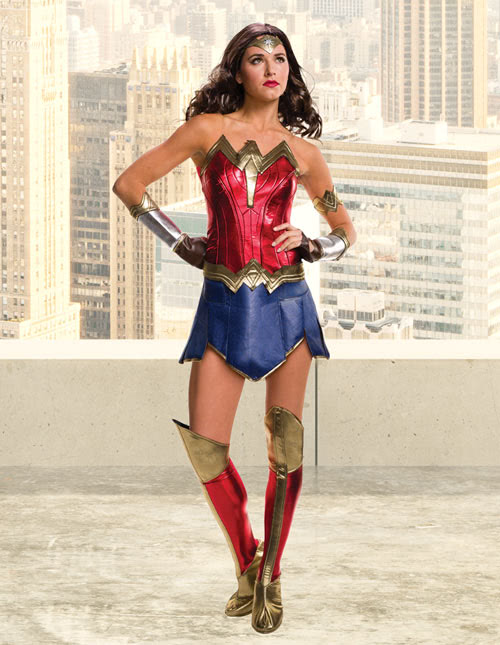 Gal Gadot finally brought the iconic Wonder Woman to the screen with her appearance in 2016's Batman v Superman: Dawn of Justice. You can now recreate her movie look with this cool updated style. This superheroine costume is inspired by ancient Greek armor, but you can rest assured that you will look thoroughly modern in this popular movie look!
Superhero Costumes for Groups
Choosing a superhero costume for yourself is always great, but when you can team up with a friend or partner to form a dynamic duo couple's costume, that's even better. And when you have a whole group to form a superhero group theme? Well, that's what we call a force multiplier! If you have a gang ready to unite to save the world (or just to conquer the party) check out these ultimate superhero team looks for a group. When you combine a great costume with great powers, your night is sure to be a success!
Avengers Costumes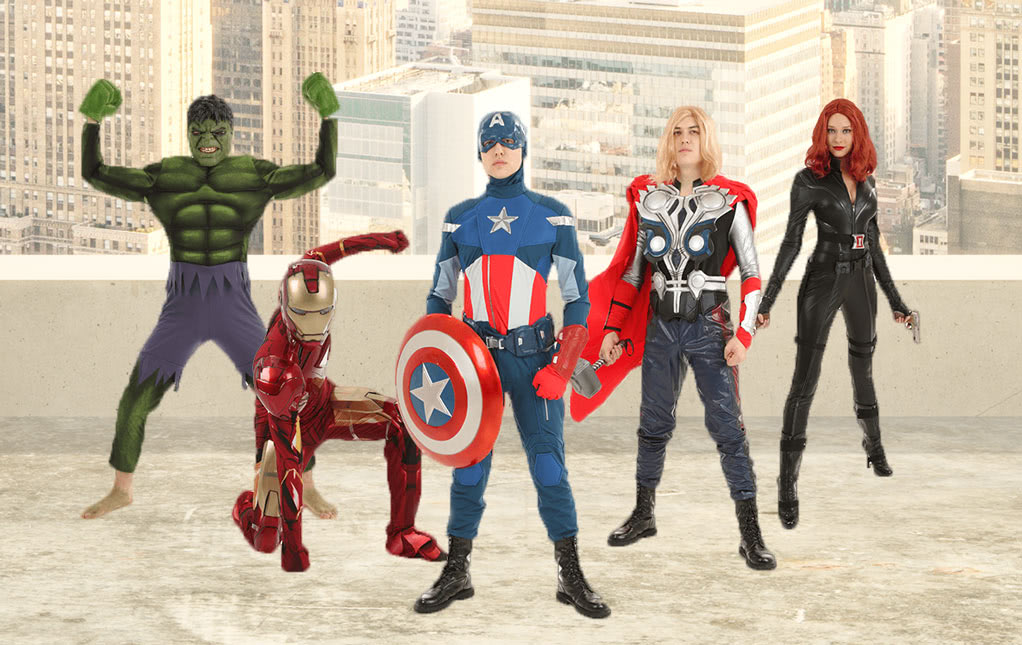 We found out in a hurry after the hit films, Iron Man and Captain America: The First Avenger, that our brand new cinematic heroes were going to need a little help saving the world. That's why fans were prepared when The Avengers took the world by storm! With a bevy of films under the Marvel Cinematic Universe, this group has become a fan favorite for those watching and wanting to pay homage to them by going in costume. When you can find a friend to go in a Hulk costume or Thor costume we think you're going to find that your group has the chops to get the job done. And if you have a femme fatale to be the Black Widow? Well, then you're going to be downright unstoppable in your Marvel costumes!
X-Men Costumes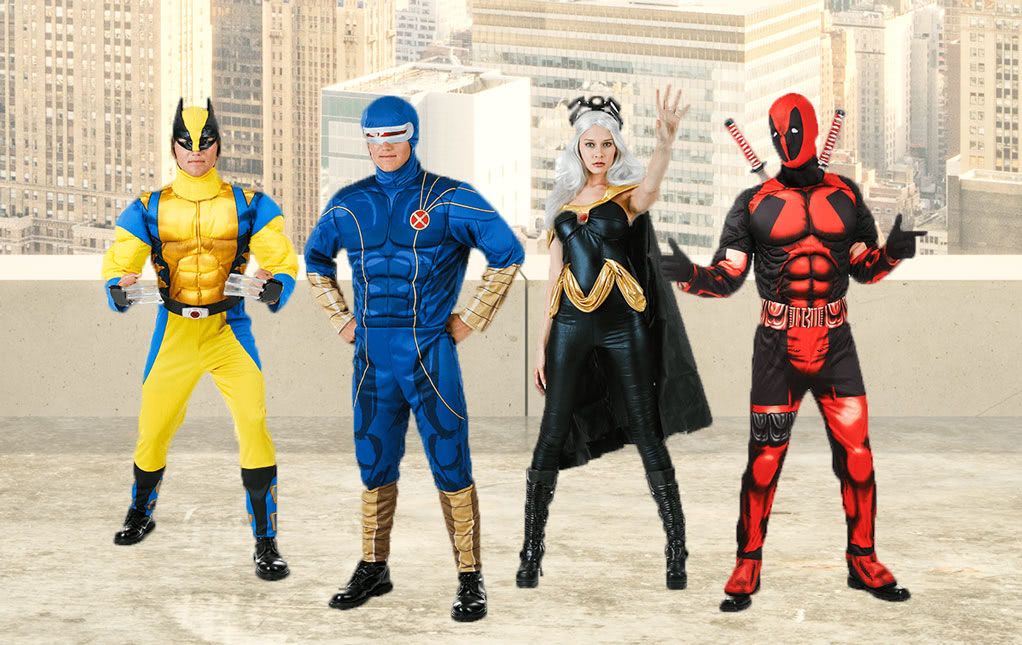 Sometimes mutant powers are really just the thing to bring a group together, and if your gang is ready to put their super human abilities to work, then there's only one team for you: The X-Men! Storm can command the team while Cyclops keeps opponents at bay with his concussive optic blast. If you have a quick-witted member of your group, a Deadpool Halloween costume is sure to turn them into the crass and sharp-tongued Wade Wilson. Up the ante by getting a friend to go in a Wolverine costume, and you'll have one mutant posse that no villain is going to want to tangle with. We heard Wolvie's usually hungry though, so you're going to want to bring plenty of snacks. "Hey. Pass the chip dip, bub!"
Justice League Costumes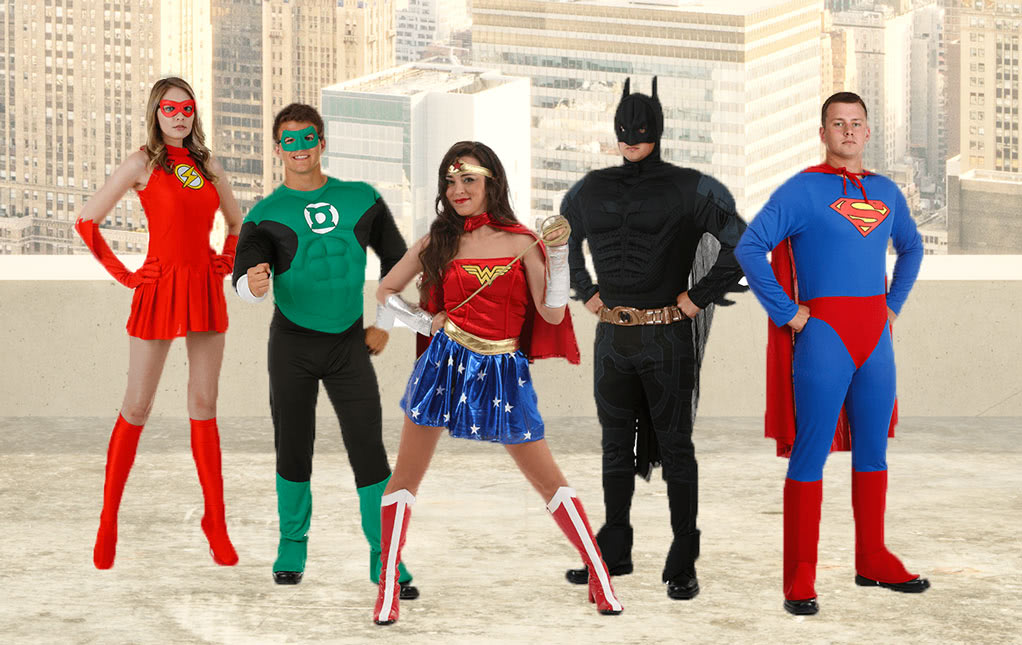 The Justice League has a sharp new look in the DC Comics movie universe, but in our minds, the classic costumes of vintage comics are still the go-to style. If your gang wants to establish themselves as a premier meta-human force, just check out our sweet DC-Comics-themed costumes. The classics are all there with Batman, Superman, and Wonder Woman ready to hold down the fort, but when you toss in the Green Lantern and find a heroine to go in a women's Flash costume, you'll have a well-rounded group that is more than capable of foiling an evil plot. Use your amazing abilities to stop a world threatening caper, or just take great group selfies together at the big costume party. Either way, we're sure you'll have an adventure worthy of the world's greatest superheroes!
DC Villain Costumes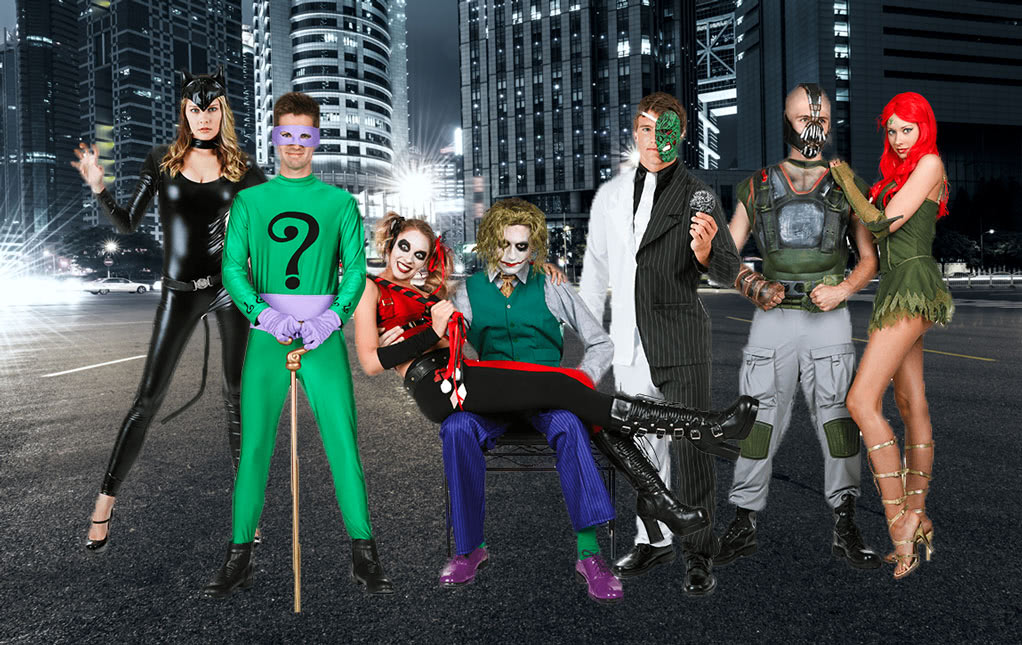 We would like to point out that while there's lots of good to be done as a superhero, well, sometimes it's just more fun to be a bad guy. If you have a group that relishes in deviousness there's one cadre of callous evil-doers that stands out amongst a universe of comic book villains—Batman's Rogues Gallery. The various villains Batman has faced over the years would make quite the ferocious force if ever they assembled together in the same lineup. Which is why you should totally do it with your group! There's sure to be a Batman at your party anyway, so you might as well show up en masse to give him a tough time. Even if you're not seeking to disrupt the peacetime partying, we're sure there's lots of fun to be had when these DC Comics characters get together!