Black Widow Costumes
How to Be Black Widow
Ideas, Tips & Tricks
Is the Hulk being difficult again? Black Widow will gladly set him straight. Is Loki's alien army invading the city? Black Widow will be there to serve up some vicious roundhouse kicks to the face. Are there top secret files that need to be taken from Hydra? Boom, Black Widow already has them tucked safely under her arm. Natasha Romanov doesn't possess any super powers (unless you count her uncanny ability to always look flawless), yet bad guys don't stand a chance against her. Truth is she only needs her tactical mind and combative acrobatics to vanquish villains. Oh yeah, she'll also need her trademark skin-tight jumpsuit! So you can keep your fancy super soldier serum, Black Widow will be just fine without it. In fact, she's on her way right now to meet up with the Avengers. There's a supervillain who goes by the name of Ultron that needs a swift smack in the head.
How to Pose for pictures in Your Black Widow Costume
"Crouch and Shoot"
"Get Low and Stay Alert"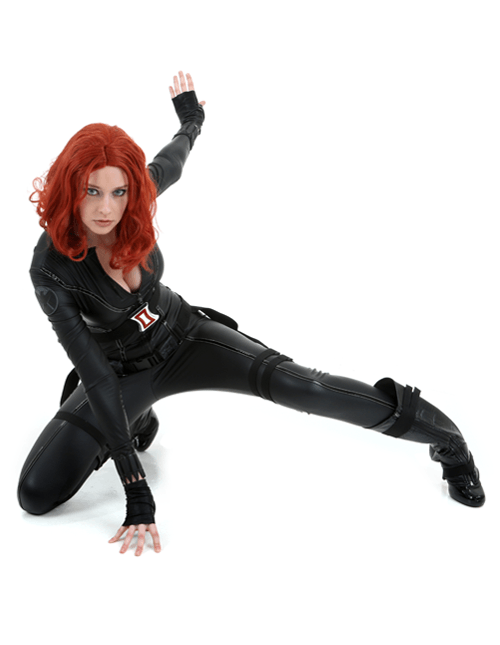 "Heroic Gun Stance"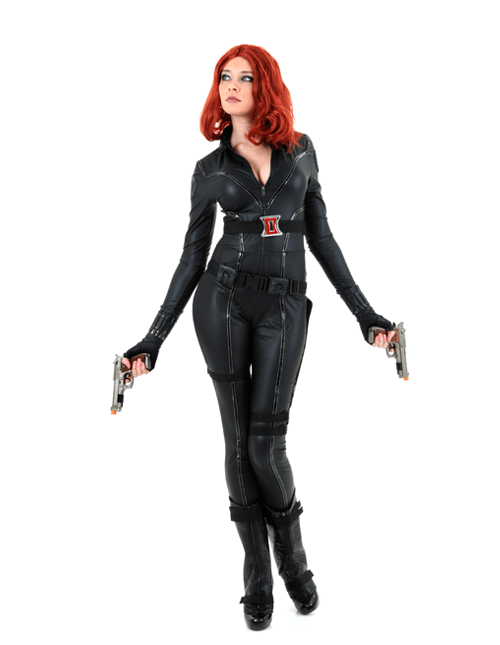 "She Packs a Punch"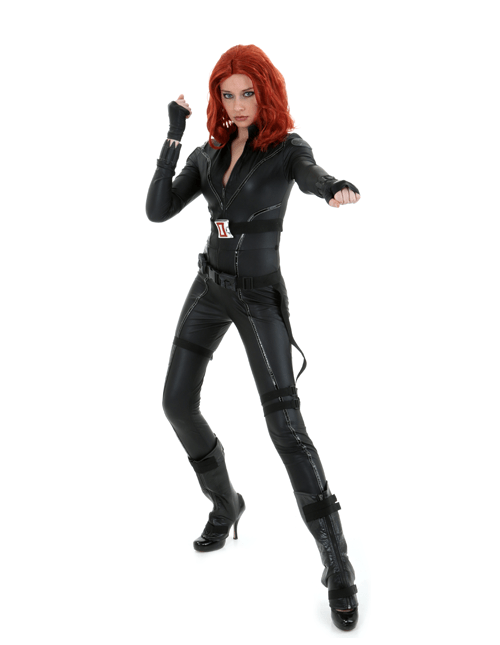 If Black Widow is in a room, you can bet all eyes will be on her. Even if the room is packed with superheroes, Black Widow will command everyone's attention because she's able to effortlessly strike a fierce pose. The female Avenger always looks intense yet seductive and you will too. When the camera flashes, quickly crouch down and kick one leg out with your arms outstretched forward. Or you can opt to do the 'get low and stay alert.' Get down on one knee and use one hand to balance yourself. Reach straight back with the other hand and kick your other leg out, but leave your foot flat on the floor. This pose will really create the 'black widow' silhouette. Our advice for these poses is to get as low as you can! These next poses are great if you plan on taking group pictures. The 'heroic gun stance' will show of your costume nicely. Keep your arms out to the side (gun props come in handy here) and have your right leg pop out. This is the sassiest pose of them all! Finally, you can never go wrong with the "she packs a punch." Remember, your eyes need to be intense. Look directly at the camera like you're glaring at Ultron and BAM you've just taken the fiercest picture of the night.
Couples Costumes to Pair with Black Widow
Black Widow & Captain America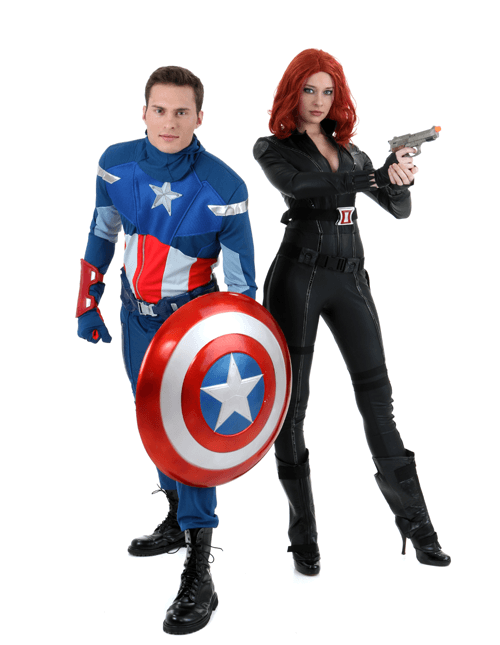 Black Widow & Iron Man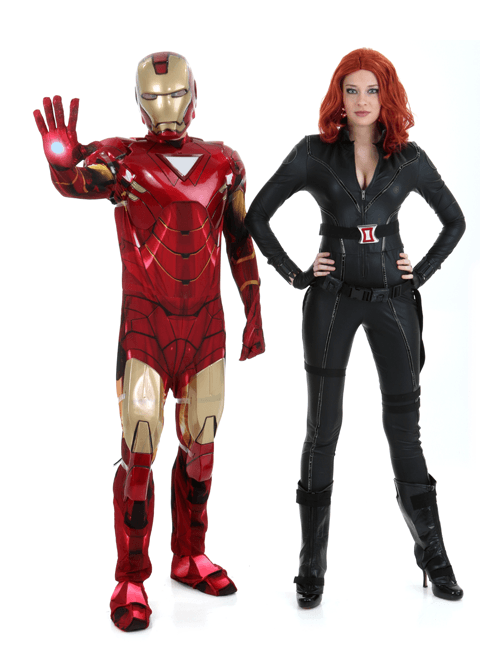 Black Widow & The Incredible Hulk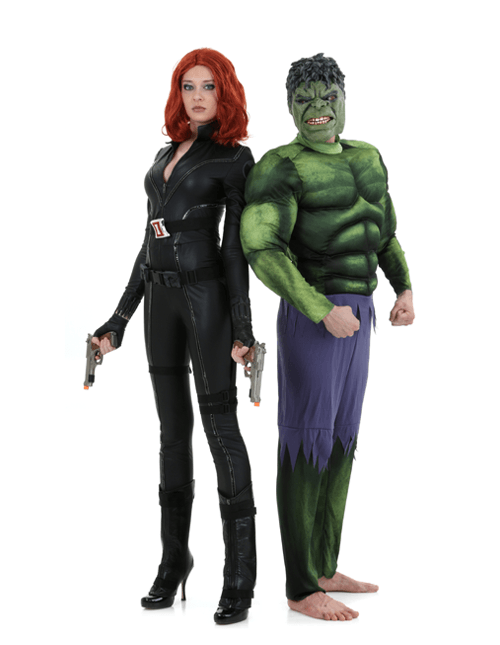 Black Widow is basically the queen of cameos in the Marvel movie universe. Being a master of espionage, she sneaks her way into many Marvel movies and proves she's more than just a pretty face. You can always count on her to never hold back when she's kicking bad guy butt. Her delightful sense of danger easily catches the attention of Captain America, Iron Man, and Hulk. While you're dressed in the daring black jumpsuit any of these superheroes will make perfect dates. Plus, they'll love having a hot accomplice. There's no denying that Black Widow and Captain America have a lot of onscreen chemistry and you and your date will as well. Chances are you two will have so much fun together you'll forget to save the world. If you choose to hit the town with one of your most trustworthy allies, it's a great idea to have him dress up as Iron Man. The Mark 1 suit magically looks great on every one and even Black Widow appreciates arm candy. Your potential date would also have a blast being the big, green, smashing machine. The Hulk will definitely come in handy when there's a bottle that needs to be opened, but ditch him if his temper gets out of line. Or you can just lay the smack down on him yourself in true Black Widow style. You'll prove to everyone that it's about time for Black Widow to get her own movie. We'll be first in line to get the tickets!
Black Widow Costume Makeup Application
It isn't easy being the only female on the Avengers, let alone finding the time to look good while fighting off alien invasions. This makeup tutorial will show you a quick and simple look made famous by Scarlett Johansson . The application utilizes a smoky eye, bronze blush, brown eyebrow pencil and a muted red lip color. Just add our Black Widow wig to your costume (with a few choice S.H.I.E.L.D. weapons) and you will be ready for Halloween. Even the Hulk will compliment you on your stunning appearance.