Black Widow Costumes
Black Widow Costume Ideas
Is the Hulk being difficult again? Black Widow will gladly set him straight. Is Loki's alien army invading the city? Black Widow will be there to serve up some vicious roundhouse kicks to the face. Are there top secret files that need to be taken from Hydra? Boom! Black Widow already has them tucked safely under her arm. Natalia Romanoff (or sometimes known as Natasha Romanov) doesn't possess any superpowers (unless you count her uncanny ability to always look flawless), yet bad guys don't stand a chance against her. Truth is she only needs her tactical mind and combat acrobatics to vanquish villains. Oh yeah, she'll also need her trademark black tactical jumpsuit! So, Captain America can keep his fancy Super Soldier Serum and Thor can keep his godly thunder powers, because Black Widow will be just fine without any of those. If you're planning on dressing up like a superhero, then a Black Widow Halloween costume is one of the best choices you can make. This guide will get you ready to fight alongside the Avengers… even Loki and his army of Chitauri soldiers won't stand a chance. Heck, even Thanos won't be a match for you when we're through with you! Whether you are looking for a sexy Black Widow costume or a bit more on the conservative side, we've got a variety of adult and Black Widow costumes for kids.
Black Widow Costumes
Your very first step in becoming the international super spy for S.H.I.E.L.D. lies in selecting the right costume. It's a choice that should not be taken lightly, as you may have to do battle with evil masterminds like Loki, or Ultron while wearing this outfit! You might need something with a deadly look, or something that makes you feel completely relaxed when you wear it. We carry a sizeable selection of costumes based on Natalia Romanoff's military style tactical suit, so it might seem like a pretty a large task to select the right one, but don't worry. We've got your back on this one. We've selected a few of our best ones to make your choice easier, whether you want to be mission-ready for a Civil War or you want to relax in full Marvel superhero style, we'll help you find the right look with a Black Widow jumpsuit or Black Widow outfit of your choice.
Black Widow Suit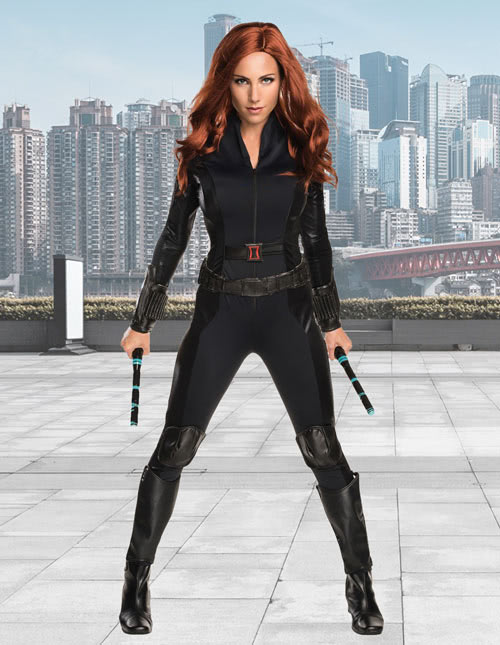 Natasha's first costume didn't seem that becoming of a spy—it IS kind of difficult to fight against the bad guys wearing a cocktail dress. Her updated outfit, which consists of a black tactical catsuit with her signature red hourglass markings, showed up in the 1970's when she was tracking Spider-Man in an attempt to analyze Spidey's abilities. She's stuck to a similar costume ever since, making it the most recognizable version of her outfits which even made it into the many movies in the Marvel Cinematic Universe. This Black Widow Marvel costume does a great job of recreating the Scarlett Johansson Black Widow costume from the Captain America movies, so suiting up in it should give you style straight from the silver screen.
Black Widow Robe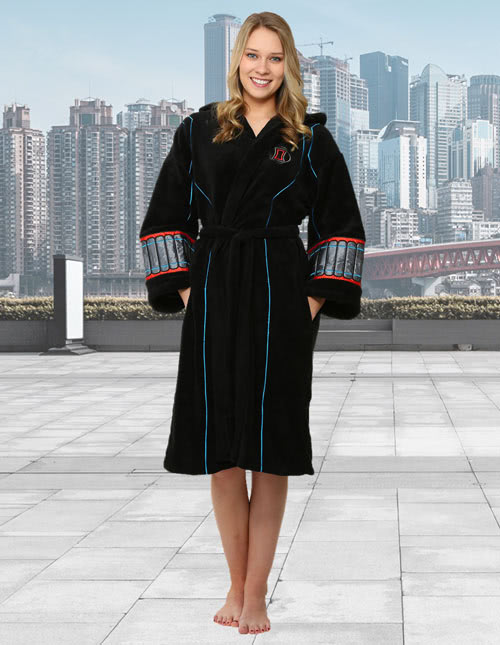 Ever wonder what Natalia does on her days off? That's quite the interesting prospect! She can't be battling against HYDRA every day, can she? Well, it turns out we stumbled upon the perfect relaxation outfit for a S.H.I.E.L.D. super spy. If you aren't looking to hone the traditional adult Black Widow costume, we've got options. This Black Widow bathrobe transforms the iconic Marvel character's costume into something that you can wear after a nice, relaxing bath. You can wear it to a cool Avengers themed pajama party or even just around the house for a movie night on the days when you're not extracting secrets from dangerous international supervillains. But since it does look like her suit, you can be ready to kick butt if a bad guy shows up to ruin your movie night.
Black Widow Costume Poses
Once you've geared up in the perfect Avengers Black Widow costume, you might feel the urge to snap a few pics of yourself doing some deadly poses. Don't worry—this is a pretty natural feeling! Wearing Natalia's super-awesome spy gear has a tendency to have that effect on people and we think it's a good idea to encourage that kind of feeling. If you're going to get a few shots of yourself for social media, then you want to make sure that you have the absolute best espionage poses down pat. It just happens that we've thrown together this little guide to some of the best poses done by Black Widow, from the movies and from the comics. Just practice these and get a friend to capture the look with your smartphone and you'll have shareable content ready to post in no time.
Crouch and Shoot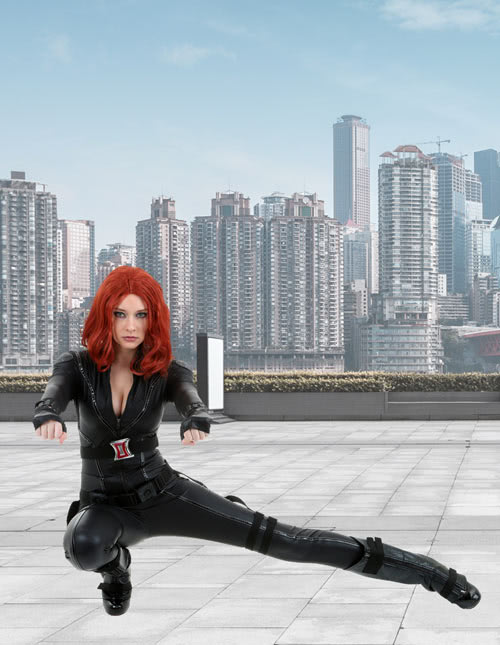 One of Black Widow's signature weapons is her Widow's Bite, which are wrist mounted electro shock projectiles. They're capable of delivering a paralyzing blow to even the most powerful of foes. This stance means she's about to use her Widow's Bite. To do this pose for yourself, all you need to do is take a crouching stance while extending one leg. Then, just extend your arms with clenched fists and you're ready to capture that moment right before an electrostatic shock attack! If a villain even catches site of you in this pose, he'll run away in fear.
Get Low and Stay Alert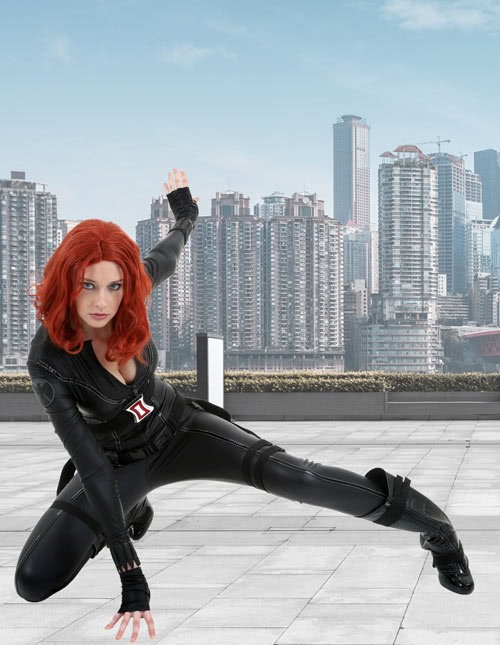 In the heat of combat, it's always important to stay alert for new threats. Even when Black Widow is done unleashing a series of acrobatic ninja moves upon her enemies, she always lands in a stance that tells the bad guys that she's ready for anything. This stance has shown up in many of the combat sequences in the live-action Marvel movies. All you need to recreate this pose for your social media pics, is to just take a crouching stance while extending one leg. Place one hand down for stability and give the camera a smoky, fearless glare and you'll look like you just finished perform a flip kick on a HYDRA agent.
Heroic Gun Stance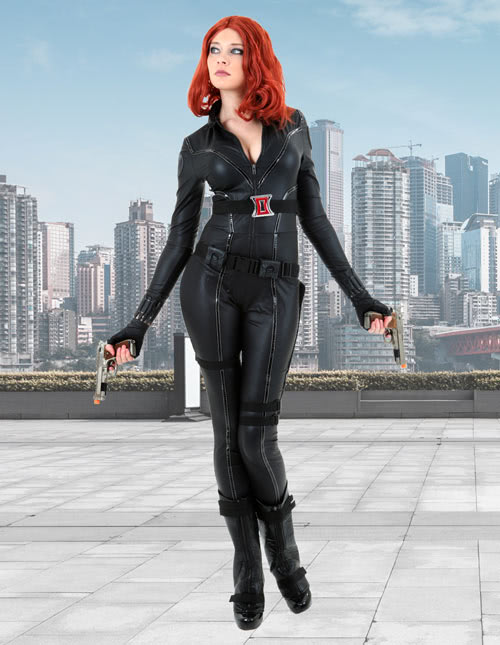 Sometimes Natalia makes being a super spy look so easy, doesn't she? Not only does she possess espionage skills that are second to no one, but she's also a marksman on the level of Hawkeye. Go ahead Ms. Romanoff; you can gloat a little bit! This pose shows off a little bit of pride as she shows off her premiere firearm skills. You'll need a pair of toy guns for this, so make sure to pick up a pair with your costume. Once you have them at the ready, just hold them at your side like you just blasted apart a dozen of Ultron's pesky robot soldiers with nothing but your handguns. Now that's how you get a shot that's ready for your social media page.
She Packs a Punch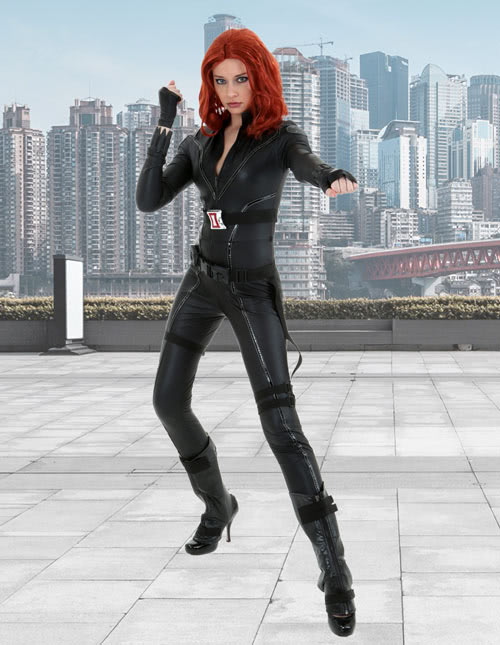 Never forget about Black Widow's serious hand-to-hand skills. She's taken down entire squads of highly trained soldier with just her bare hands. She's even held her own against Spider-Man in a fist fight and that's no small task considering that she doesn't have any super powers. This stance showcases her deadly martial arts abilities. To get this pose down, just take a wide stance with your legs and extend one of your arms toward the camera, as if finishing a power punch. Keep the other hand tight near your face (to protect yourself from any incoming attacks). Then, you're ready for your close-up with a camera.
Black Widow Couples Costumes
With skills as sharp as hers, it's no wonder that Black Widow is one of the most eligible bachelorettes in the Marvel Universe. She's had over 50 years of stories in the comics and now that she's been featured in most of the Marvel Cinematic Universe films, she's had a robust romantic history. She's been romantically linked to Daredevil and The Winter Soldier in the comics, and both Iron Man and Hawkeye proposed to her during different comic book story arcs. In various cartoons, she and Captain America are a power couple to be reckoned with. In Cinematic Universe, she's been romantically linked to Bruce Banner. She's even the only person able to draw the Hulk back into a calm state. That gives you a lot space to work with when putting together a couples costume based on your favorite Avengers. Whether you want to go with something that's a classic comic book combination, or you want to stick to the movies, you should be able to find a look that you and your significant other can agree on.
Black Widow and Captain America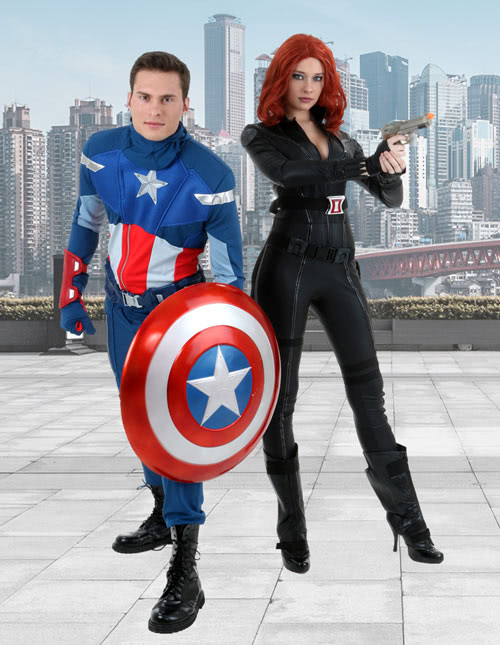 After Captain America: The Winter Soldier hit theaters, many fans began speculating on a Steve Rogers and Natalia Romanoff romance. Alas, further movies in the series revealed them to merely be just good friends. If you were one of the fans cheering for a Cap and Widow ship, then there's nothing stopping you from creating a couples look with the two superheroes. We have plenty of Captain America costumes that you can pair with your women's Black Widow costume to create a cute couples look.
Black Widow and Iron Man
Remember all the way back to Iron Man 2? That film introduced Scarlett Johansson's version of the Black Widow and she certainly knew how to pull Tony Starks strings in it! Of course, we all know now that she was a S.H.I.E.L.D. agent scouting Tony's potential for work with her agency, but sometimes we like to imagine what things would have been like if those two decided to date! You can recreate that fantasy by pairing up one of our Black Widow outfits with one of our deluxe Iron Man costumes.
Black Widow and the Incredible Hulk
One introverted scientist and one playful secret spy make for an adorable couple! In Avengers: Age of Ultron, the two seemed to be entwined in a flirtatious relationship that couple bud into something a bit more serious in the Marvel Cinematic Universe. Will Natalia and Bruce become the power couple that everyone's been craving? Well, only time can really tell, but until then you can always grab your significant other and make a completely canon faithful Black Widow couples costume when you pair this Hulk costume up with our authentic Black Widow costume.
Black Widow Costume Accessories
Our favorite special agent spends her time hanging out with Captain America, the Incredible Hulk, and Thor. Later, she's even enjoyed the company of Black Panther and Scarlet Witch. What do all of these diverse characters have in common? They all have super-human powers. Natalia Romanoff doesn't have a single one! So, how can a girl like that keep the pace when all of her pals are running around with crazy super powers? It's quite simple really! She just uses gadgets, tools, and the perfect array of accessories to get the job done. We've gathered together some must-have Black Widow accessories for your transformation into the Marvel superhero.
Black Widow Wig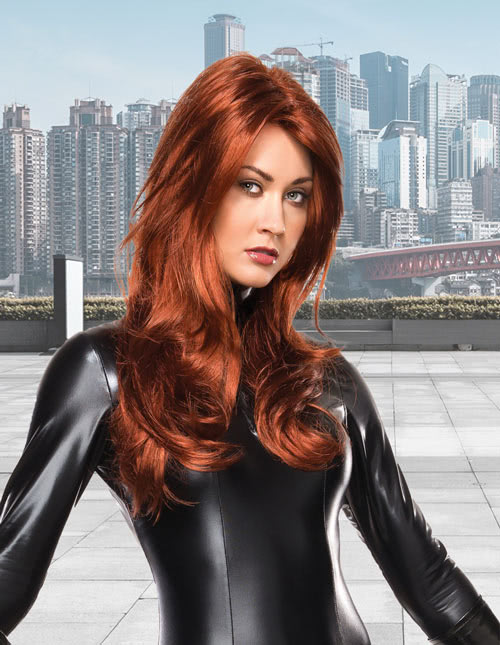 In her very first appearances in the comics, Black Widow had jet black hair, but that quickly changed when she was reimagined in the 70's. She started rocking her natural red color and it's been a signature staple of her look ever since then. Whether or not you were born with vibrant red locks of a super spy, you can still get a look like Natalia Romanoff with this Black Widow wig accessory. It's a simple wig that can be used by anyone to achieve the look from the movies. We also have a variety of other red wigs that you can customize your look with, but just make sure you use a wig cap to help you achieve the look you want. Once you have one on, you'll be ready for your first mission in the world of espionage!
Black Widow Boots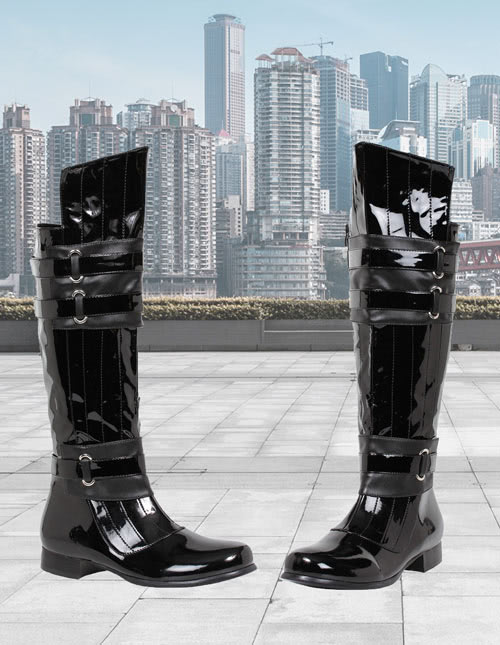 Aside from the Hulk, who runs around in bare feet, each Avenger wears a solid pair of boots to get them through a battle. Iron Man has a snazzy set of armored jet-boots. Captain America has battle-tested boots to match his super suit and Thor has mighty greaves that were probably forged out of pure Uru by some kind of legendary dwarven blacksmith. You can bet that Ms. Romanoff did her homework and chose some women's footwear that fits her style of combat. We've selected some Black Widow boots that will give you the combat-ready style of the secret ops agent! Of course, we have a whole selection of boots that you can choose from, so you can craft a look that's unique to you.
Black Widow Makeup
As much as we'd all like to roll out of bed looking as good in a Scarlett Johansson Avengers costume as she does in the films, it takes a bit of preparation to create that sultry super-spy style. This makeup tutorial will show you how to get the look quickly and easily with the use of smoky eye, bronze blush, brown eyebrow pencil, and a muted red lip color. Use it to get the most out of your Black Widow costume, and be sure to add our red wig and some toy weapons to look like a real agent of S.H.I.E.L.D.