Military Costumes
Military Costume Ideas
The men and women who serve in the Armed Forces provide inspiration to us all. Only through their tireless efforts are we able to enjoy a relatively peaceful life. Of course, the movies like to portray soldiers as tough cookies who always have the perfect one-liner to match their cool demeanor, which is a lot of fun, but there's lots of ways to serve our country in the armed forces! One of our military costumes lets you pay homage to the heroes that protect this country, and you can play into that cool image of the gruff soldier, heading fearlessly into danger should you choose. We have tons of options.
The real problem is where to begin. With so many different movies, video games and real life icons to choose from, how does one narrow the look down? Maybe you want to spice things up with a sexy military costume, or maybe you're just looking for something that your kid can wear while trick or treating this year. Well, you can say goodbye to those worries, since this guide is your ticket to finding the perfect military Halloween costumes for any event. Just take a look below and you'll look combat ready in no time.
Soldier Costumes
The base of any good military organization begins with its soldiers. These are the men and women who are trained to fight for their nation. It's not always a glamorous job, but a soldier uniform is one way to look like a dashing hero without dressing up in some kind of superhero costume. Whether you're an adult trying to look like a soldier of fortune or you have a youngster who wants to exercise his ability to protect the home front, then you're going to need one of our soldier costumes. Check out some of the best ones we have to offer below.
Toddler Soldier Costume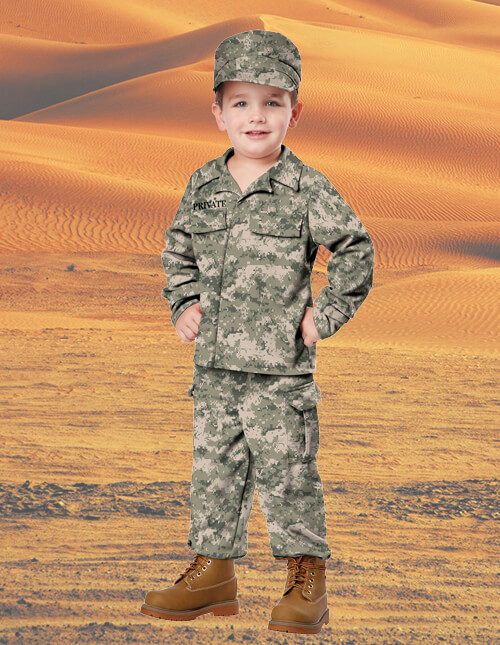 Sometimes the best costume is a tried and true look. This camo soldier costume is an outfit for your toddler that looks like it came straight from boot camp. At an affordable price point, this costume combines the digital camo seen in normal army outfits with economic sensibility for the Halloween season. It's the easiest way to gear up your little one for a military group costume!
Camo Costume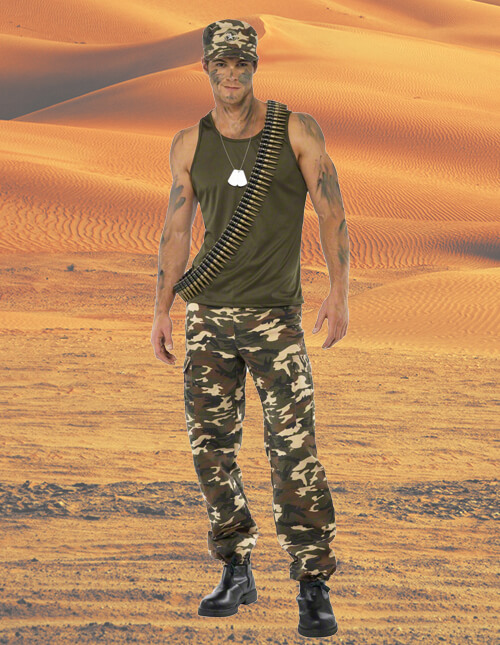 Maybe wearing full on fatigues just isn't your style. Maybe you've spent a good deal cultivated a pair of guns (biceps) that you want to show off to the world. Maybe you just like a green tank top. Well, then this khaki camo costume might be a perfect fit for you. It certainly isn't lacking in the camo department, but you may find this outfit a bit less encumbering than some of the full-on army fatigues-style costumes that we carry. You can start taking tickets to the gun show in no time.
Women's Army Costume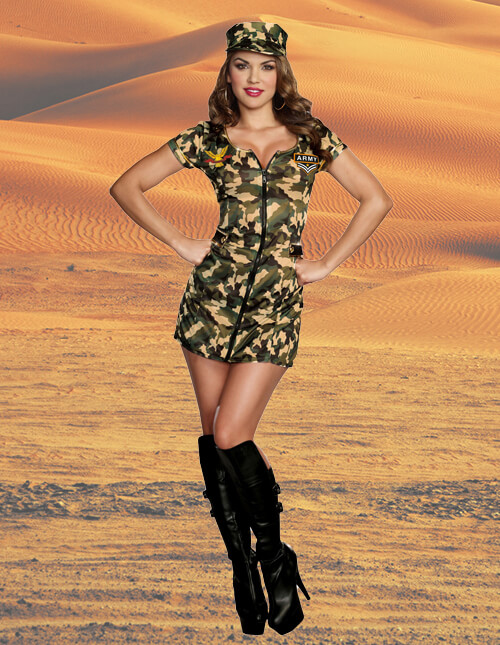 If you're not ready to jump into the real uniform of a soldier, then you can always mix a little bit of cute style with the classic military look. This Army Doll costume will help any girl look her best while rocking the classic camouflage of the military. It might not be fully combat ready, but with a look this good, you won't even need to do any fighting. Just make sure you have a pair of boots to back up your look.
Child Army Costume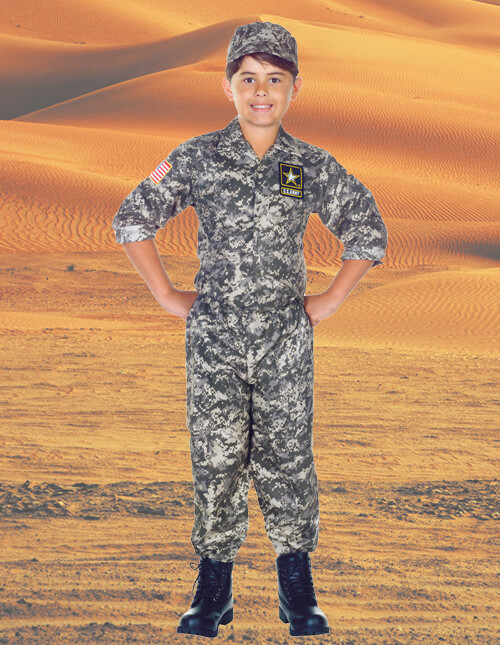 When you're ready to recruit your kid into the ranks of the Army, then he's going to have to start with a classic field soldier look. Licensed from the U.S. Army, this kids Army costume has the signature look of the brave men who've traveled worldwide to keep everyone safe. It even comes with a U.S. Army patch on it to complete the look!
Army Costumes
Fighting the good fight on the ground is what the U.S. Army is all about. Their tireless efforts have seen us through many wars, so it's only natural that everyone would want to emulate those brave soldiers. Now you can with one of our Army costumes, many of which are even licensed by the U.S. Army themselves!
Army Ranger Uniform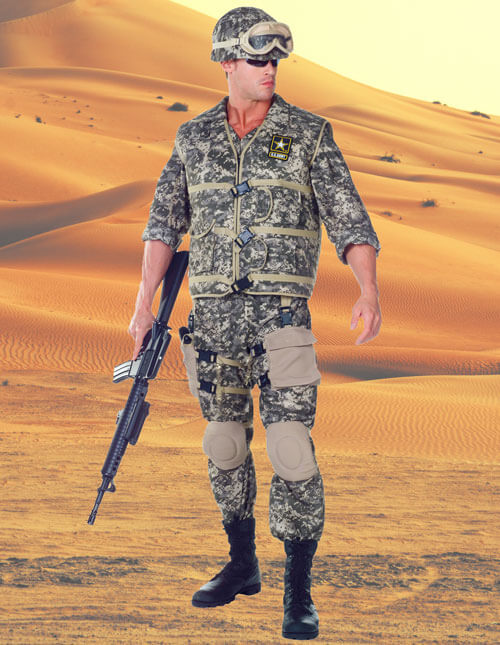 First on our list of Army costumes to wear is this U.S. Army Ranger costume. In case you didn't know Army Rangers have a long history of being the do-it-all kind of soldier. From all the way back to the Colonial period, up until modern times, these soldiers have been the strapping image of what a soldier should be. This costume, which is actually licensed from the U.S. Army, mimics the style of a combat outfit worn by the Army's finest, complete with the digital camouflage often used in modern warfare.
WW2 Costume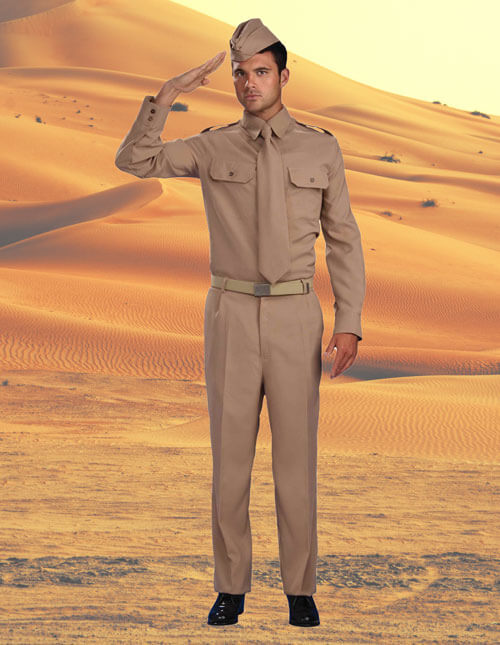 World War II put the men and women of the world to a test and they rose to the challenge with vigor and determination! Although it's been plenty of decades since those soldiers put their life on the line to ensure the safety of the entire world, we can still pay homage to the military force of the 40's with this World War II Army costume, you get the look of one of the good old boys from the Greatest Generation. You can serve your next costume party with real moxie when you gear up in this classic military costume.
Kids Army Ranger Costume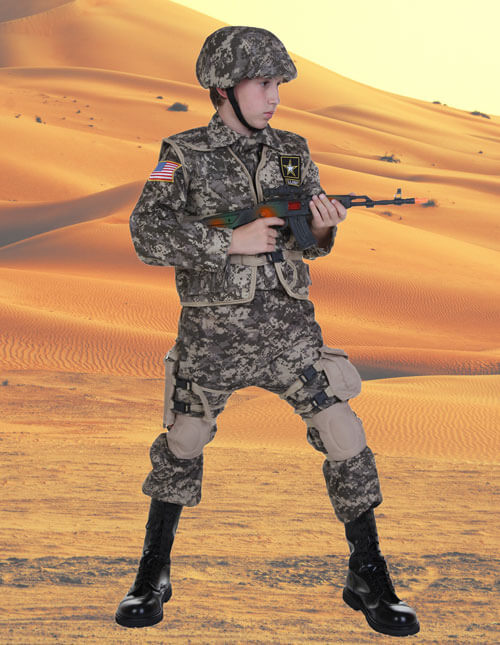 Perhaps you have a young one who's ready to protect their home and country. Well, it's probably a bit too early to send your kid off to boot camp, but they can still have a chance to dress up like a soldier. This Kids Army Ranger costume is a deluxe outfit that recreates the look of real Army Ranger. It's based on the actual uniforms worn by soldiers and is officially licensed by the U.S. Army. It'll be up to your kid to bring the proper attitude to their new outfit.
Green Army Man Costume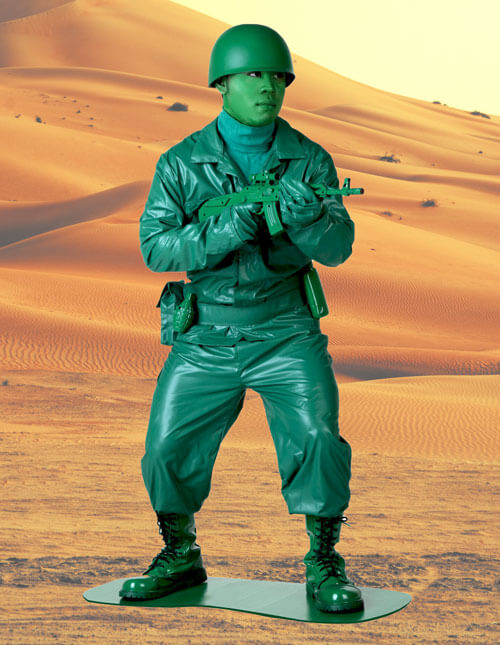 Ah, nostalgia. Did you ever set up a whole battlefield filled with little green Army Men, using nothing but your imagination to construct epic battles between nations? Well, now it's time to recreate that with a nostalgic costume. This Green Army Man costume is an exclusive costume that transforms the popular toy staple into a costume that may just have everyone around you reliving their youth days of playing with the little plastic toys. Just be careful of anyone walking around with a giant magnifying glass when you wear it, as they might suddenly get the urge to try melting you!