80s Costumes
Like, you know how it can be totes unavoidable that somebody is gonna say that the '70s were groovy and you're like "Not Even!" and, suddenly, you're embroiled in yet another long debate of the endless War of the Decades? Near everyone has a pretty solid opinion and most are not going to be swayed unless you manage to connect them up to a time machine, so they have an opportunity to witness the glory of your chosen decade first-hand. Of course, the 80s do practically own time travel. (No duh!) We're here to make sure you're fully prepared. With the wealth of great 80s movies and iconic styles, this sort of an adventure can't be taken lightly. You've got to dress the part so you'll blend in with a host of locals known for standing out. So, whether you want to punk out with rainbow colors as a rock diva, work out to some 80s music, or become your favorite movie star, we've got the 80s outfits men and women need!
80s Costumes for Women
Begin your adventure with the looks that had the gals practically singing about all the fun they wanted to have! We're not saying that every 1980s lady has to go for the vocal awards, but there's something to be said about the blend of a stellar voice with some truly cosmic fashion sense. We just need the look that will keep up with the pace that you'll be setting, whether you're headbanging with the Homegirls or wigging out with the Valley Gals.
Workout 80s Outfit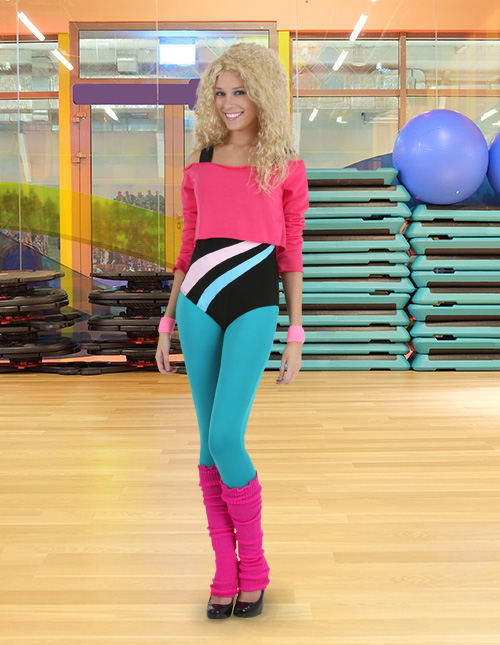 We know that you're legit. You know the first step for a successful trip! You learned well from Olivia Newton-John and know that when it's time to Get Physical that everything needs to be good and stretched out. And, we're not just talking about your bod! You want the form-fitting, fanatic fabric that is ready to work with you all night long. Spandex, leg-warmers, and some high-tossed hair will have you looking tubular in our '80s Workout Outfit. Who needs those celebrity workout videos, now!?
Valley Girl Costume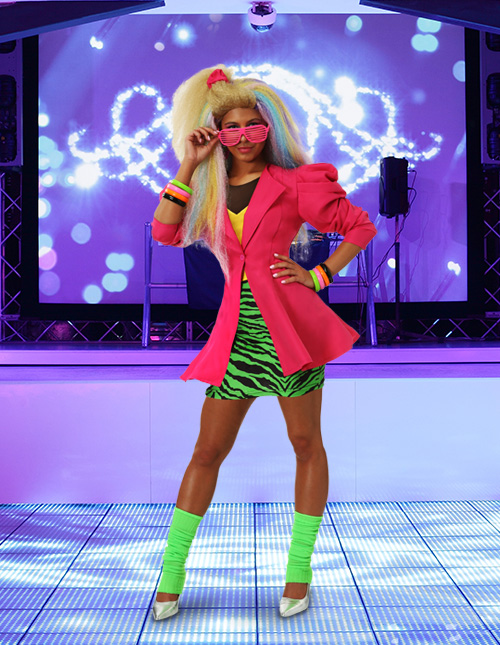 Like, this is choice! Maybe you're gonna have to hit up the old stomping grounds and masquerade with the yuppies. But, who wants to do the 80s if you're just going to go full-on preppie? You want to stop the crowd and have them all knowing just how bad you are (that "bad" means good). So, gear up in your Valley Girl best and practice the key phrases that will make you the highest of Heathers. We recommend, "What's your damage?" and don't forget the "Likes!"
Like a Virgin Costume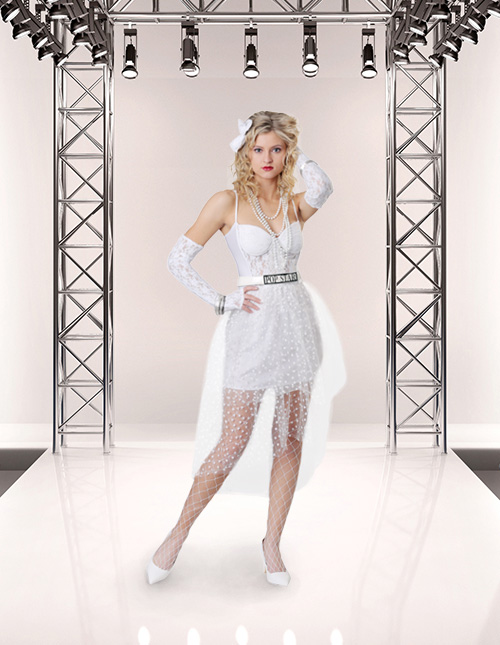 Ready to Express Yourself in a new way? Don't get us wrong. The San Fernando Valley isn't going to be for everyone. We know that you may want a high-class look. Something elegant, maybe even a little delicate? Well, the 80s can offer that as well. It isn't always about loud blazers and multicolored hairstyles. We've got some classic white, too! What kind of time guides would we be if we didn't offer you a little something that pops? Of course, we're talking about everyone's favorite Popstar!
Track Suit Costume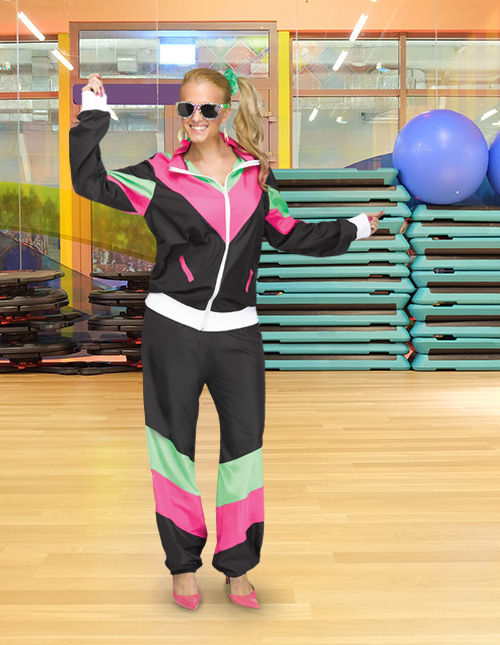 What will keep you on the 80s track more than anything? Well, obviously the answer is a pair of rainbow legwarmers and a book filled with quotes from John Hughes films. But, since that might take a while, we've got a shortcut to keep you in step and in 80s style with the gleaming neon that can only come from a track suit whose style was perhaps always before its time. Next step will be you breaking into the hip hop/breakdancing scene with these 80s women's costumes!
80s Costumes for Men
We wouldn't dare leave the guys behind to suffer the pains of yuppiedom while the gals enjoy the glitz and glam of 80s galore! We've got the dope duds that will have you feeling fly, for sure! It's time to let the preppies eat your modern shorts and rock out with these 80s outfits men will love. Really, the only thing that you'll have to decide on is whether you want to Walk Like an Egyptian or spend your time trying to figure out exactly how to Whip It (because we're not even sure on that one).
80s Rocker Costume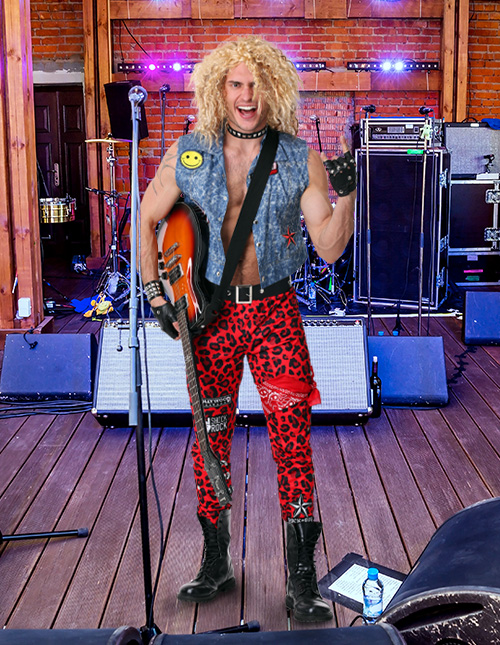 Remember when Joan Jett made Rock 'n' Roll famous by letting everyone know how much she loved it? Well, it's your turn. We're not saying that you have to hit the stage and let loose with a rendition yourself, but you'll have a great time of it when you gear up in an 80s Rocker costume and let your hair down! Some key factors to remember about 80s fame: hair, hair, glam, and hair! If you aren't into headbanging, maybe get an extra pelt on the chest or long eyelashes. The stage is yours!
80s Jock Costume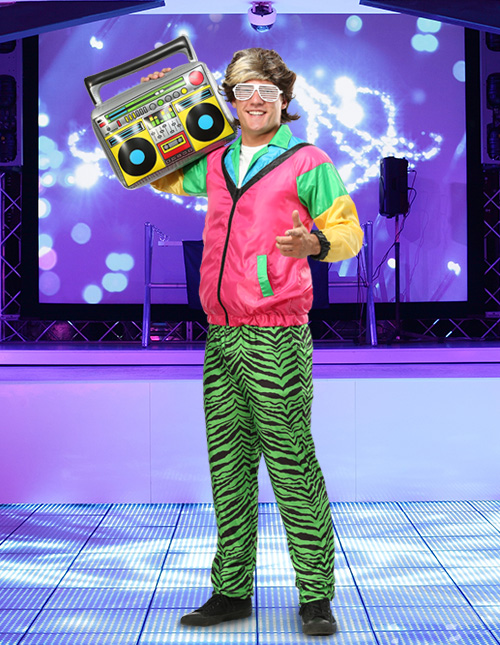 We hear the word "jock" these days and immediately picture a guy with a crew cut, wearing a letterman's jacket, and spouting plenty of locker-room talk. But, when we hit 88 miles-per-hour and tune in to those 80s hits, we're all about the rock jock! Boot up your favorite music app and set the dial to '80s pop while you slide into an 80s Jock costume. Watch as all your friends blend the Moonwalk and Cabbage Patch to your radical beats. Heck, with that party going on, who needs a time machine?
80s Fashion Costume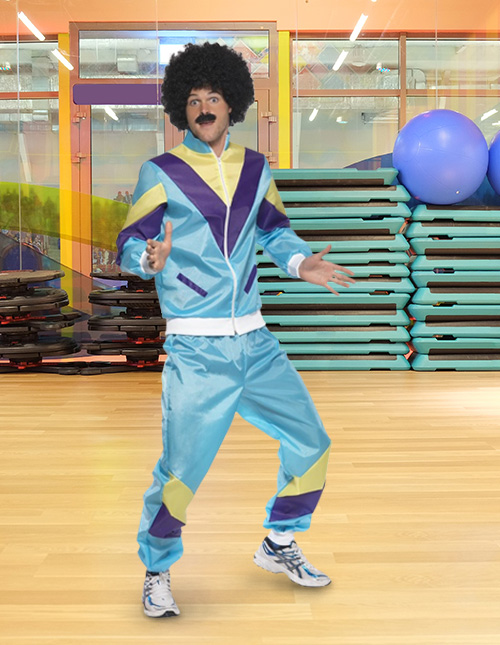 Once you've got your music down, it's time to make sure that you are hanging at the height of 80s fashion. This requires neon. Lots of it. It requires shiny neon at that. And windbreakers. Matching pants! Diagonal lines! How did the boys from the '80s manage all of these requirements? It must have been daunting but, fortunately, you won't need to sweat it when you've got a stellar tracksuit. Now, get to stepping out and showing off all your smooth moves to impress the dudes and dudettes.
Workout Star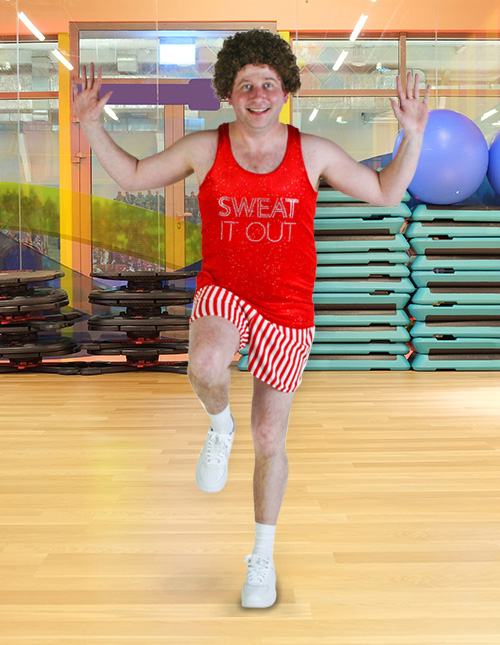 We've finally come to the true pinnacle of '80s fame: the celebrity workout video. And, not just some star showing how to attain those buns of steel. No, it's time to wax nostalgic with the highest of energy and the oldest of oldies as you show that you're the only workout star that's worth dancing over! Now, the same rules apply. You'll want that whacked out hair. You'll want fashion that's questionable but awesome. And, do we even need to say sequins? (Oh, we do?) Okay: get your sweat on, Sequin Star!
Kids Best 80s Costumes
Now, the kiddos might not totally "get it." They hear the whole world talking about how awesome the 1980s were and figure that was so long ago that there might have even been dinosaurs roaming the earth, too. Well, it's time to let those kiddos know just what they've been missing with these 80s outfits. From 80s workout costumes to hair band costumes, we have plenty of pint-sized looks that will have your kids looking like the most memorable characters of the era.
80s Halloween Costumes for Kids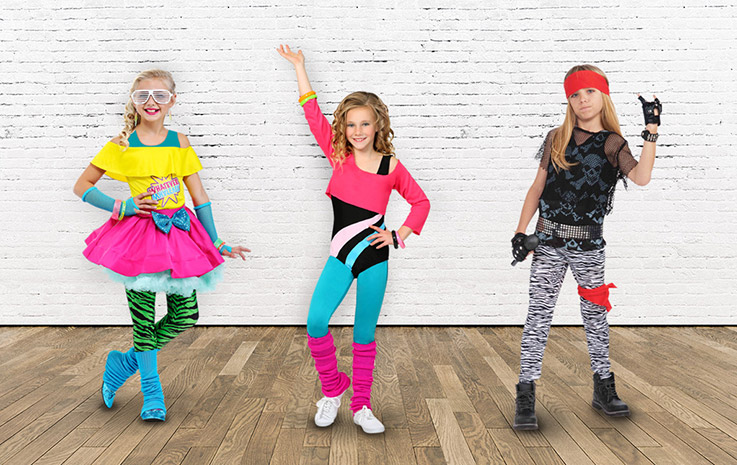 The kids are going to have a grand time this Halloween when they step into the shoes of any of these classic 1980s characters. Will your kiddo head into the Valley and try to master Valley speak to reach the peak of popularity? 'Cause, like, they're gonna love being a Valley Girl! Perhaps they want to try out some of those 80s rock ballads with the look of a 80s Rock Star Costume. Or maybe they want to be a fitness celebrity by working it out with a Kid's 80s Workout Costume! It's going to be so much fun no matter which costume they choose.
80s Movies Costumes
Music might seem to command our memory of the 1980s, but that only helped to provide the sound for what really sticks in our minds. You have to dive deep into the soul of John Hughes! You've got to rush on over to see (and dodge) a few particularly angry aliens, snuggle up with a Mogwai before midnight, and join a certain archeology professor on at least three adventures. And that doesn't even get close to finishing our Neverending Story! With all that excitement, you know there's no end to the fun you'll have re-living your favorite movie moments with some choice 80s movie costumes.
Labyrinth Costumes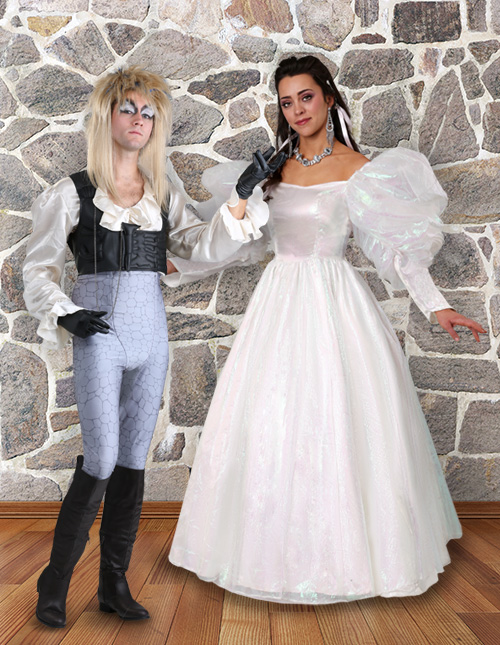 Maybe a movie about a big maze doesn't sound like a showstopper. But, add in a David Bowie Goblin King, a kick-butt protagonist, a castle stairwell that only M.C. Escher could have designed…even the Bog of Eternal Stench! You know you're about to have a great time in the Labyrinth! Get ready for some serious Dance Magic when you become the enigmatic Jareth or risk taking him on as the clever Sarah. The best part is that you won't even need to rush to finish your evening before the clock strikes 13, this time!
Karate Kid Costumes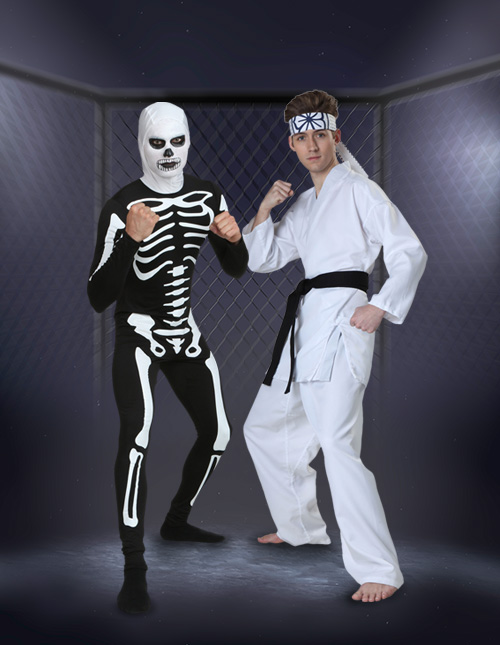 Your 80s adventure doesn't have to take you all over the world. Sometimes, it is right in your heart! Even that doesn't come easy, though. Most struggle through weeks of inane chores just to earn the right to learn a few Karate Kid moves. C'mon, Mr. Miyagi, we've got a competition to win! Enough with your car, already! Then again, if you already know the secret of Wax On, Wax Off, you've already earned yourself the rank of Daniel-san! (Just watch out for that jerk, Johnny Lawrence and his skeletal disguise!)
Ferris Bueller Halloween Costumes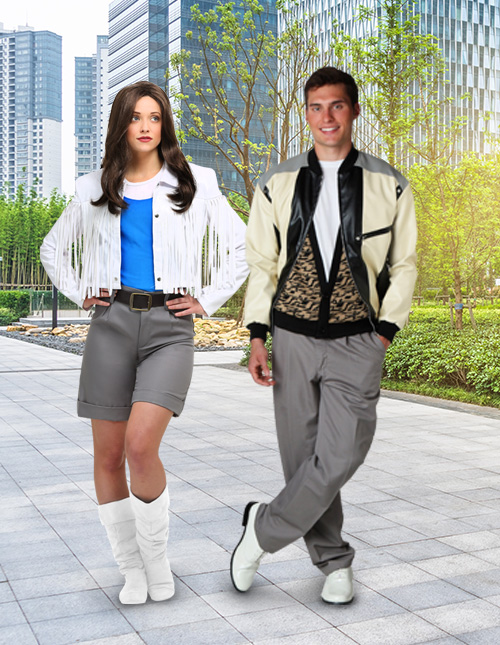 If you happen to be looking for some 80s couples costumes, you're probably way ahead of us. Still, we'd be violating rules far more severe than skipping school if we didn't highlight the adventures of Ferris Bueller and Sloane Peterson. Now, we could get into the narrative politics of Cameron Frye being the true protagonist or discuss the struggle of Ed Rooney just trying to do his job. But, this is about your Day Off—and we're not sure the world is ready for Frye & Rooney couples costumes, anyway!
E.T. Costumes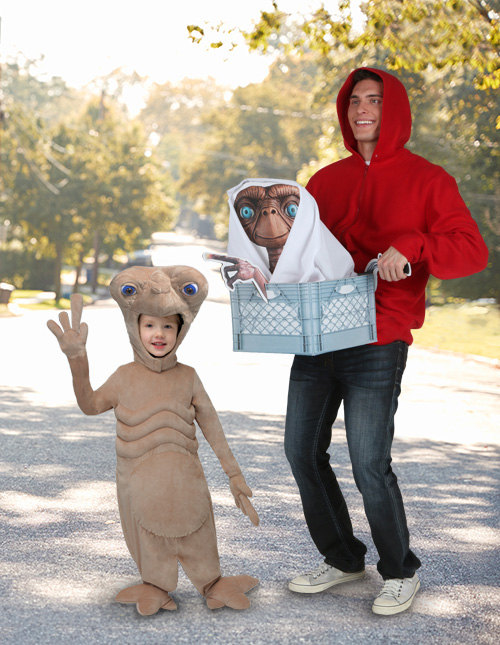 If your time traveling goes a little wonky, you might find yourself on a whole different planet! In that case, it is critical that you know how to disguise yourself with the right kind of costume. Will you get a hold of a fancy blonde wig or dive into a wall of stuffed animals? Great choices! Until such an event happens, though, we recommend proving to the world that you're the kind of person an extra-terrestrial can trust, just like Elliott! Who knows? You might meet your own friendly E.T. buddy soon enough.
Back to the Future Costumes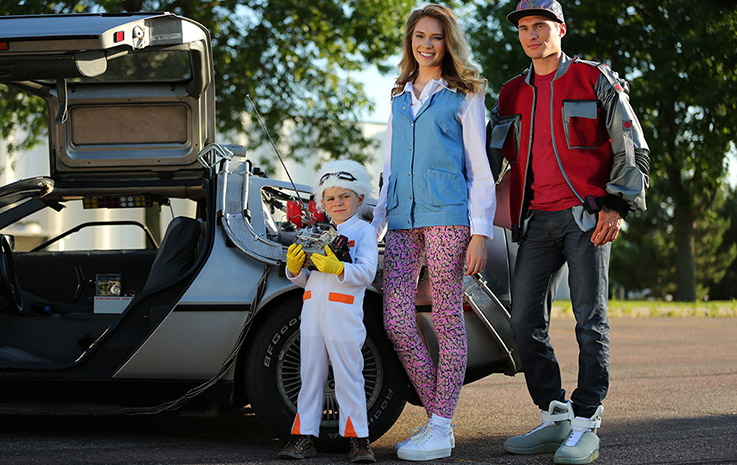 Who could talk about time traveling and the 80s without bringing up the most masterful time machine in all of speculative history!? Fortunately, you won't need Doc Brown's help with the DeLorean to enjoy some great Back to the Future Halloween costumes for the whole family. Create your own story, this time. Wanna pretend to be Marty pretending to be his future son? How about seeing how Jennifer Parker would save the timeline on her own!? All we need next is a DeLorean costume. Great Scott!
Ghostbusters Costumes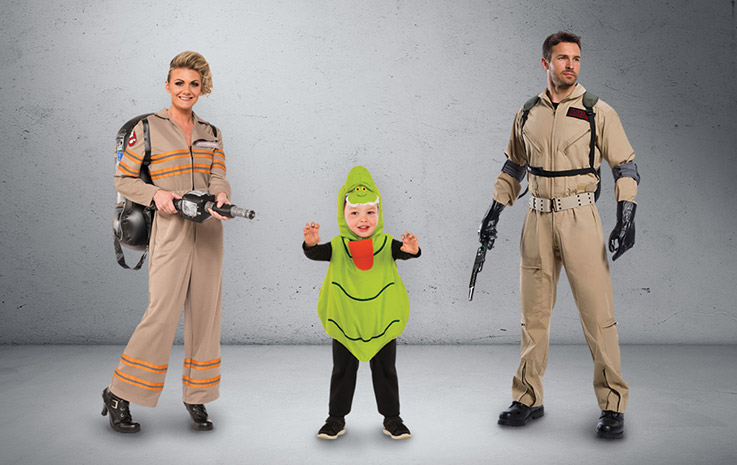 When it is time to hit New York, you soon-to-be-Ghostbusters might want a few tips. Even with the right Ghostbusters costumes, adults might find those kiddos are going everywhere! Those little Slimers can be hard to keep in one place. (We're not going to say leash them, but remember that proton packs have their limits. (Though our Ghostbusters dog costumes can offer you both.) Really, the biggest choice will be if you want to go for the traditional Ghostbuster costume look or the revamped version. Just remember: orange stripes will be noticed more easily when you're covered in green slime or marshmallow goo!
Princess Bride Costumes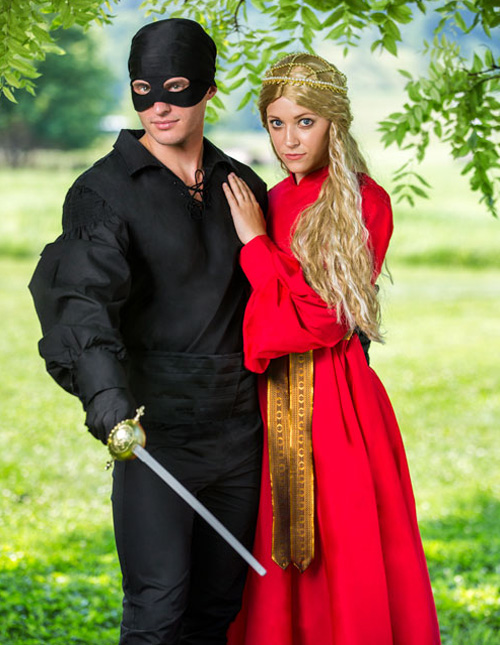 A name like Buttercup isn't always going to be a kind one… unless you're in the midst of the 80s classic, The Princess Bride. If you've been itching to live out your Dread Pirate ambitions, well, we can only say one thing: As you wish! You'll want to have your quotables as ready as your rapier, because romping around as Westley is bound to draw the attention of a riddle-master Sicilian. Fortunately, with these Princess Bride Halloween costumes, you won't actually need to build up a resistance to iocane powder.
Top Gun Costumes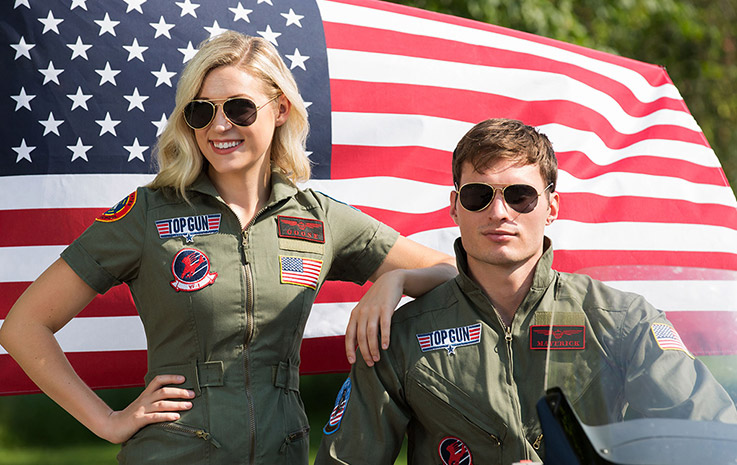 You couldn't finish your trip through the 80s with at least one sonic boom through the skies. Take that final swoop Top Gun style with Ice Man and Maverick Top Gun costumes. Take the whole crew with these awesome flight suits and flight dresses! Now, unless you come ready-equipped with a fighter jet, you'll want to practice your VROOM and MRREOW sounds. There's a particular harmonic you'll want to hit in the back of your throat to get those authentic engine noises. Now, just pick your callsign!