Women's Halloween Costume Ideas
So many choices! It seems like the world is always just bombarding you with a whole maelstrom of different decisions for you to make. What color shoes should you wear? Should you wear your hair up today or down? What should you watch on Netflix with your significant other? All those questions are enough to make your head spin! Unfortunately, picking a costume isn't much different. What character should you be? How revealing do you want to go? What can you wear year after year? The good news is, we're bona fide costume experts and we've got a ton of advice to share with you about choosing Halloween costumes for women.
We've put this guide together, which has plenty of ideas, tips and tricks to help you choose the right look for you. We have some ideas on how to dress your look up, or down, depending on your style. We also have a short list of popular women's costumes that are exclusive to us, helping you make the right decision in a flash!
Full Coverage to Sexy Women's Costumes
Every woman is different. No two women have the exact same idea on what looks good, and the most important think to keep in mind when selecting one of our women's Halloween costumes is to pick an outfit that's going to make you feel confident and comfortable. The last thing you want to choose is a costume that doesn't fit your own style. But don't worry, we're here to help!
We went ahead and put together this quick guide on how to choose the right amount of coverage for you. We've selected some great looks from our variety of costumes for women, from full coverage outfits to sexy costumes to give you some ideas how to make your look less revealing, or a little more daring, depending on what style fits your personality. And, as you will see, there are plenty of attractive options to fit your personal sense of fashion!
Full Coverage Flapper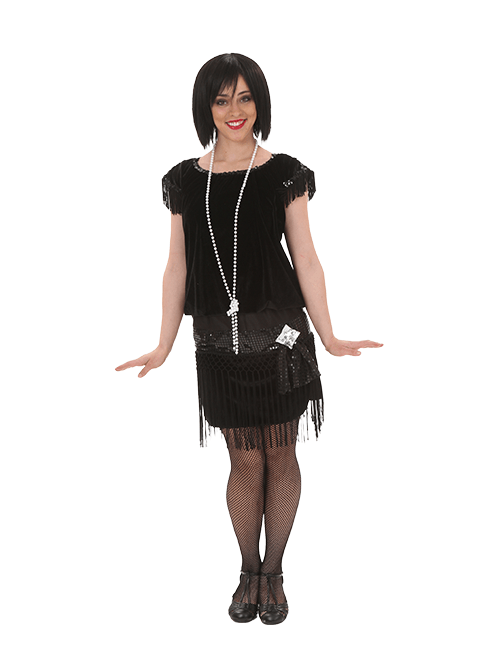 If you don't feel like showing a lot of skin, then you don't have to! It's quite as simple as that. This full coverage flapper option makes for an easy way to look fashion forward without showing a lot of skin. The 1920's inspired dress uses dangling fringe along the bottom to make the skirt just a little bit longer than some of our other flapper costumes. The outfit also features short, fringed sleeves as opposed to many of the tank top or spaghetti-strap styles on our other women's costumes. This outfit is proof that you can get a cute look while still being modest, so you can feel comfortable and confident when you head out to the speakeasy.
Some Coverage Flapper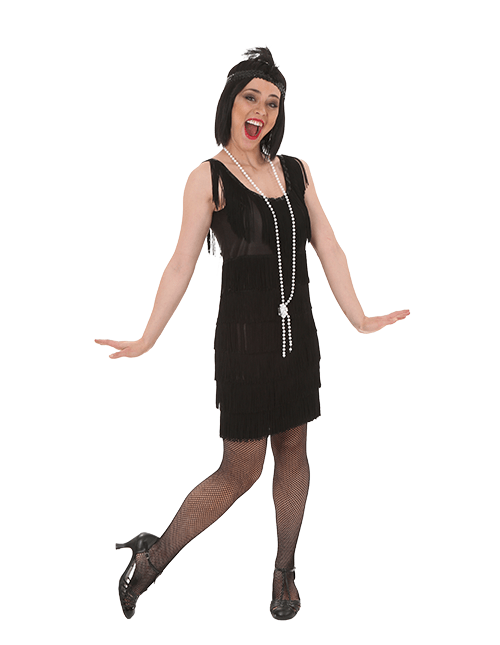 Maybe you're a little ambivalent about how modest you want to be? Obviously, you don't want to grab something that looks like it was hanging in your grandma's closet, but you also don't want to choose something that's a little too revealing. This women's flapper costume brings together the best of both worlds! It features a modest scoop neckline, along with a tank top style on top, all while upholding a sassy 1920's flapper style. It hints that you're the type of woman who's got a good head on her shoulders, but also isn't afraid to get a little adventurous! It's perfect for any party where you want to keep it PG-13, but still don't want to compromise your curves.
Sexy Flapper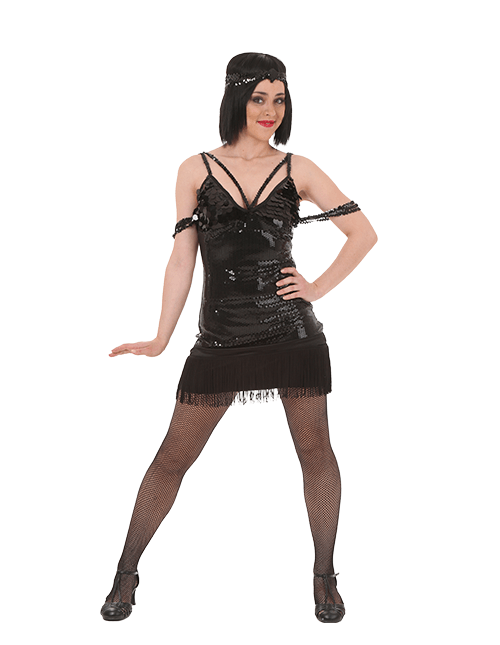 This sexy flapper costume has flirty details for the girl who wants to be a little bit more adventurous with her style! It shows a bit more skin than some of our other options. The hem of the dress is shorter, stopping mid-thigh, and the intricate neckline is show-stopping. The spaghetti strap-style top has sequin accents, which help to create an alluring look. When you pair it with a set of fishnet tights, it all combines for a look inspired by the 1920's—a stunning way to dress for your adults only party!
Full Coverage Pirate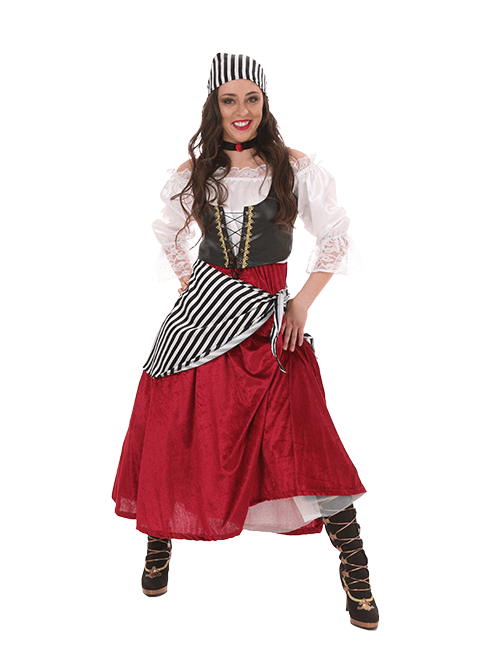 There are tons of Halloween costumes for women with swashbuckling savvy! Choosing the right one for you starts with evaluating just how much skin you want to show on your outing as a pirate. This first women's costume gives you a full coverage option, which has a floor-length skirt, and a three-quarter sleeve top. The bust boasts some lace along the neckline to add a classic and cute style, sure to help you get into character. The outfit helps you look ready to set sail across the high seas, all while letting keep a modest look. Of course, we recommend you pair this with a set of pirate boots to really kick your style into buccaneer mode.
Some Coverage Pirate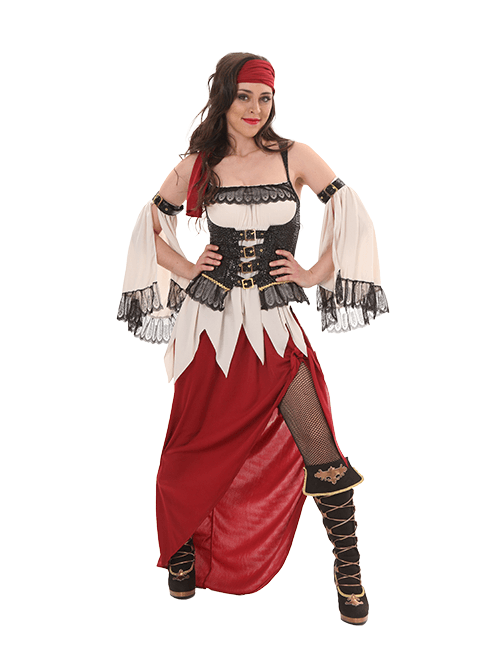 The next women's pirate costume option takes a step up to make for a slightly more revealing look. Although the ensemble keeps the same pirate style, it exchanges the high neckline bust for a tank style neckline. The exposed shoulders let you show off a tad more skin without going overboard, while the thigh-high leg slit lets you show as much, or as little leg as you like. The costume also uses buckle accents to create a slightly more adventurous ensemble, fit for any trip on the seven seas. It all combines for a look that's tame enough to wear to a casual costume party, but daring enough to have you feeling like the sexy swashbuckler that you are!
Sexy Pirate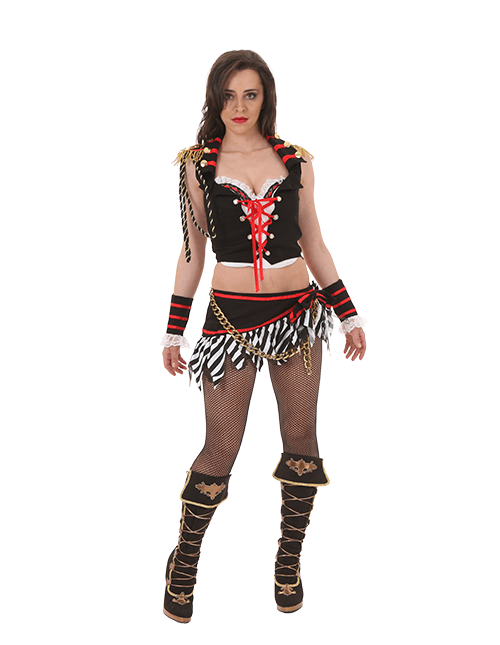 Now, if you want to be the kind of rowdy pirate lass that knows no bounds, then maybe you want a look that lets you command your curves to their full potential! We've got the perfect look for that too. This midriff pirate costume comes with a low-cut, sweetheart neckline for a bold look that will have you feeling ready to assume the role of captain. And one thing is for sure—this isn't your grandma's pirate outfit! The costume bares a couple inches of midriff, so it's much less modest than many of our other options. If you're looking to pillage and plunder at your next party, then a sexy pirate costume should help you feel fearless in the face of danger!
Full Coverage Red
This first style is a look that's totally grandma approved! The classic Little Red Riding Hood costume brings you all the classic fairytale features of the character in a cute style that works great for any occasion. The skirt hemline stops at the knee for a keen look that doesn't show off too much leg. The neckline offers full coverage, while the above the elbow sleeves make for a costume that's still perfectly cute, while putting a smile on grandma's face when you stroll up to her house in the woods! Just make sure to accessorize the ensemble with a basket full of goodies, since that's another thing that's 100% grandma approved.
Some Coverage Red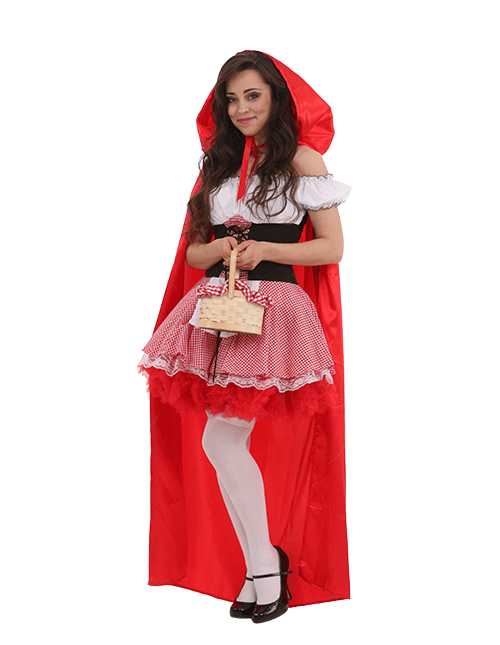 If you need a look that's still okay with grandma, but lets you show off a little extra skin, then why not give this cute Riding Hood costume a whirl? The outfit comes with an off-the-shoulder style top for a slightly less modest style. It also features some white, puffy sleeves to add the fairy tale character vibe. The skirt stops mid-thigh, so it's slightly flirty without showing off too much. We recommend pairing it with a cute petticoat underneath to give it a lively and bouncy style. Finally, the long, hooded cape adds a nice touch that we think both you and grandma can appreciate.
Sexy Red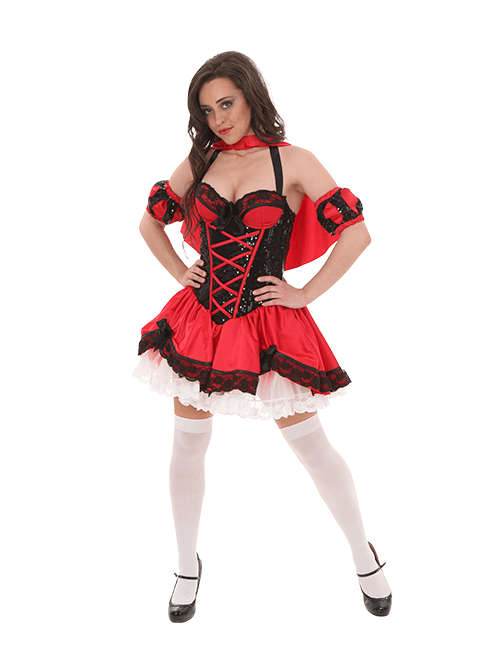 Okay, so maybe this sexy Little Red Riding Hood costume isn't fully grandma approved. This one isn't so much for a hike through the woods as it is for an awesome night of partying with the wolf, since it boldly forgoes some of the more subtle details for something a little more ravishing. The halter top functions as a boosting corset, helping you control your curves. The top also features a daring sweetheart neckline and is completely sleeveless, which combines for a sultry look that will have you feeling like the most stylish woman to ever skip through the woods. The high cut skirt goes well with many of our petticoats, so we suggest adding one of those to your order if you plan on wearing this dress.
Costume Ideas for Redheads
Red hair always stands out in a crowd, so we think you should use what you got to make for an awesome costume experience! Pop culture is full of prominent red-haired gals, so making a choice should be easy. We've lined up a handful of our favorites below. All you need to do is take a look and select your favorite!
Black Widow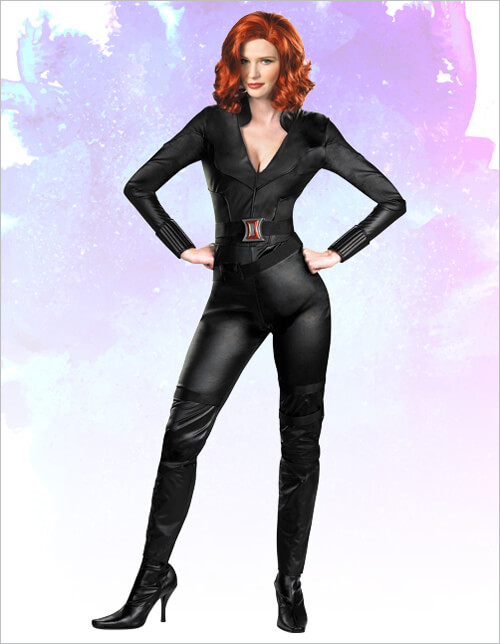 Whether she's putting the hurt on super villains like Ultron, or she's stealing secret documents from Hydra, Black Widow proves that being a redhead kicks butt! We carry plenty of Black Widow costumes that you can use to get your superhero style ready for action.
I Love Lucy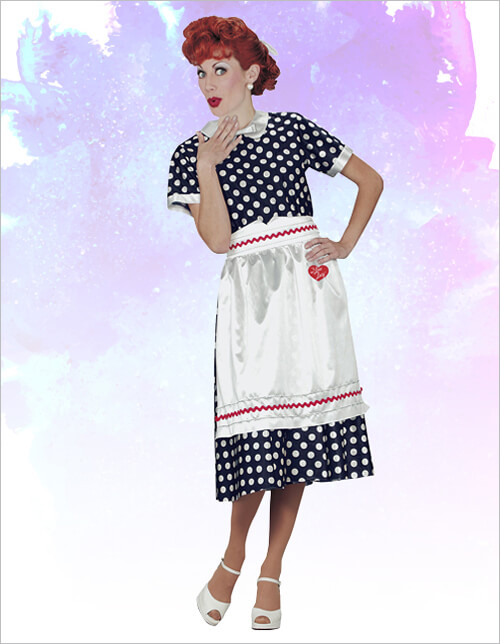 Lucille Ball created one of the most iconic television characters ever! Her fiery red hair matched her fiery ambition to be a star. Although her wacky attempts rarely worked out for her character in the series, we're pretty confident that you can be the star of your next party as this iconic comedian.
Pippi Longstocking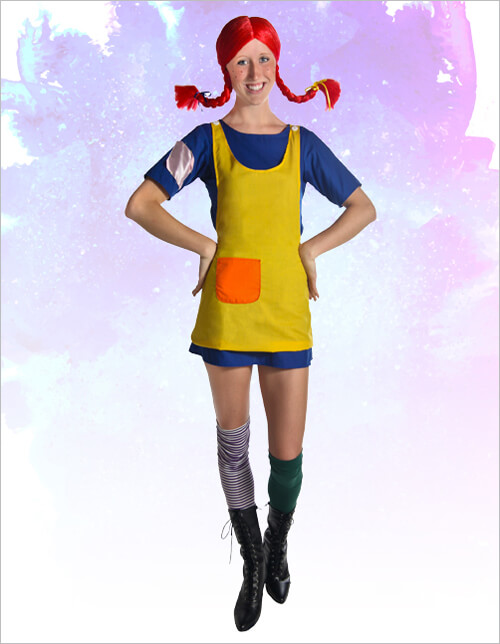 Does being the strongest girl in the world sound pretty good? Then you're in luck, since the strongest girl in the world just so happens to be a red head! Now, with this Pippi Longstocking costume, you can transform into the classic storybook character with ease.
Sexy Chucky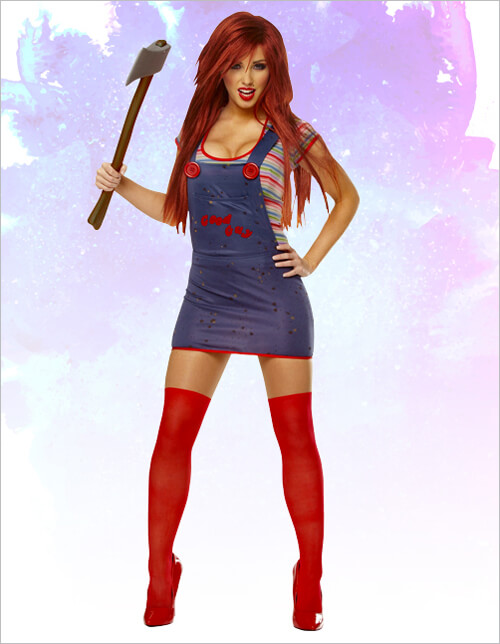 We've all seen the Chucky movies and nothing has made us more afraid of children's dolls than Chucky. That little red-haired psychopath has given us nightmares for years! Of course, you can always transform into the doll with our Chucky costume in a new and unique way. Still kind of scary, though!
Toy Story Jessie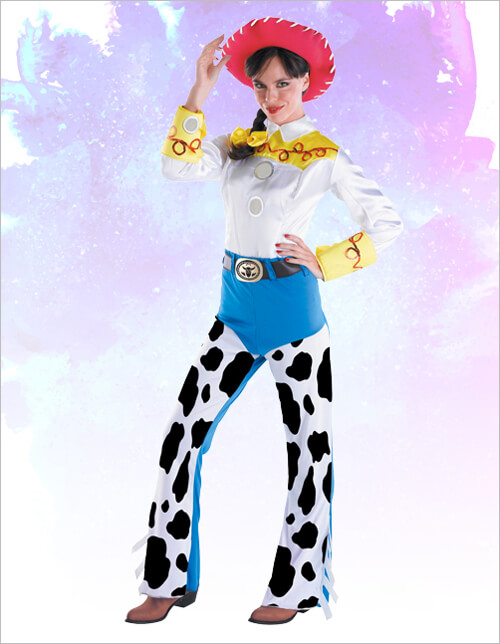 Jessie is one cowgirl that's ready for adventure! Based on the Toy Story character, she's a great choice for any girl who's got a full head of red hair. Just tie your hair into a single braid and practice your yodeling skills to get into character... and if you know how to use a lasso, all the better.
Poison Ivy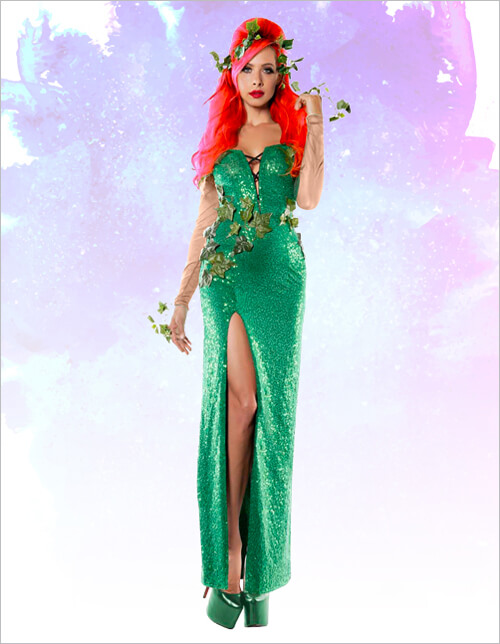 You don't have to be a superhero if you don't want to be, girls can be villains just as well. One of the meanest villains that Batman ever faced had wild red hair, which gives you a great option to explore your evil side. With this costume, you should have no problem concocting a scheme or two.
Sexy Costumes for Women
Masquerade
Nothing is sexier than a sense of mystery, which is why masquerade balls make for an alluring proposition. There are plenty of options when it comes to choosing the perfect masquerade costume, which is why we've put together a few suggestions to get you ready to mystify while you mingle with all the many masquerading guests at the party.
Mysterious Masquerade and Black
& Gold Sequin Mask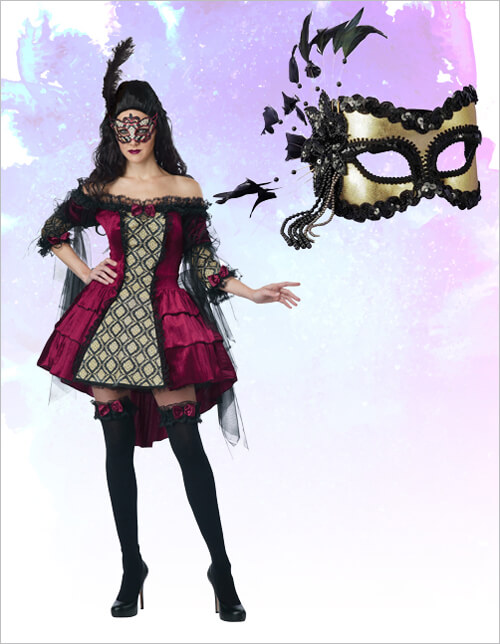 This costume is shrouded in intrigue, despite being moderately revealing! Over-the-shoulder sleeves and a high cut skirt make this dress equal parts mysterious and equal parts sexy. It's the kind of look that will grab attention as soon as you arrive at the ball. Of course, the part that makes it a masquerade party is the mask. We suggest pairing your mysterious look with this black & gold style mask, which has a luxurious look to cover your face. The feathered sides also add an elegant style to any ball.
Masquerade Ball
and Teresa Eye Mask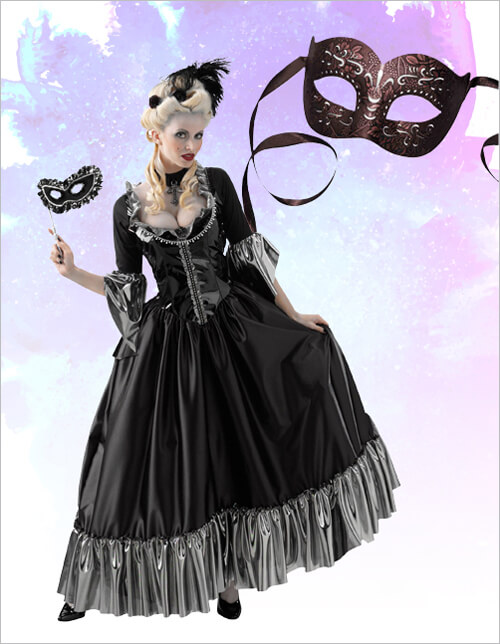 This Masquerade Ball dress tones it down a bit for a classier style. It has a floor length skirt with a daring cut along the neckline, combining elegance while allowing you to reveal a little bit of skin. It's great for traditional balls, or for any dance that requires a hint of mystery. For this look, we recommend pairing it with the Teresa leather eye mask. It has a dazzling design on the front that will draw attention to your face, all while hiding your identity. It slips on easily with a ribbon tie, leaving your hands completely free while you mingle.
Flapper
The 1920's were a vibrant time of wild new music and breaking boundaries! Women were breaking the social norms of the time with fashion that was deemed too controversial for older generations. We've come a long way since then, but it's safe to say that the flapper girls were having tons of fun flying in the face of expectations. Now, it's your turn! With our sexy 1920's themed costumes, you can discover a look perfect for you.
Smooth Criminal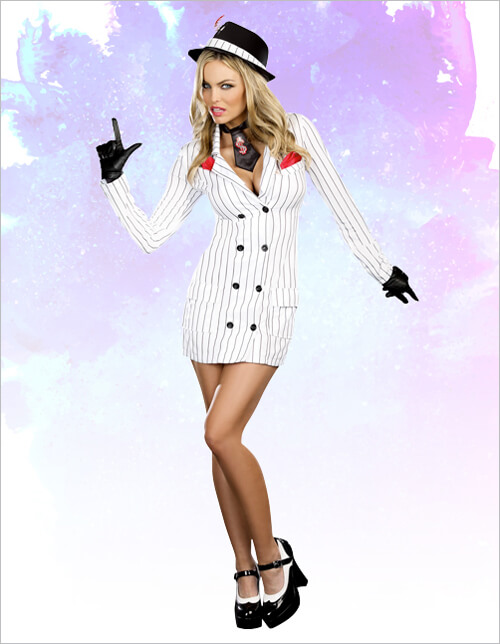 Why settle for being a simple gangster moll when you can be running the show yourself? This sexy Smooth Criminal costume combines the classic look of the 1920's with a sleek and modern cut that will have you ready to rule all the organized crime in your city.
Dirty Work Gangster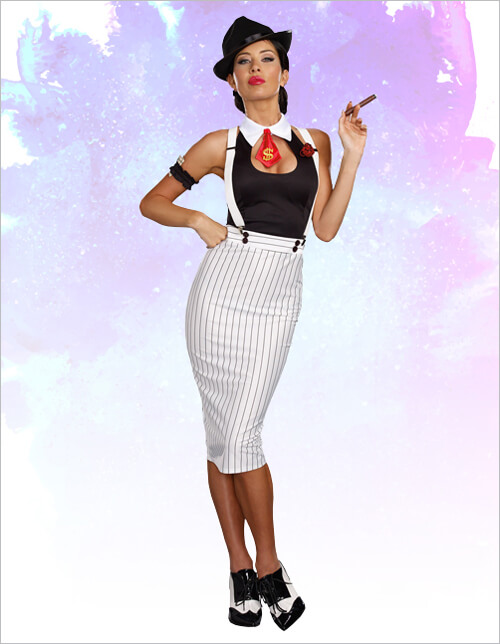 The Dirty Work Gangster costume brings you the style of a tough girl who's not afraid to do the dirty jobs that no else is willing to do. She's ready to enforce the rules of the mob without any mercy. If you're the kind of girl who's ruthless in her pursuit of power, then this may be the sexy look for you.
Jazzy Jezebel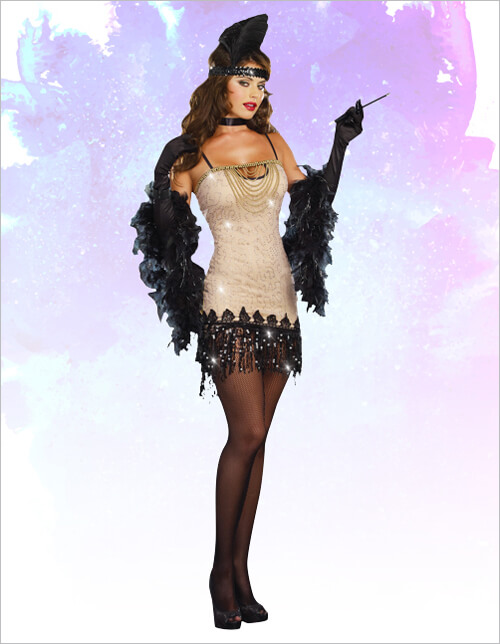 Organized crime not really your cup of tea? Then how about being queen of the dance floor? This Jazzy Jezebel costume has a spicy flapper flair inspired by the 1920's that will turn you into the most dangerous girl in the speakeasy.
Red Lindy Lace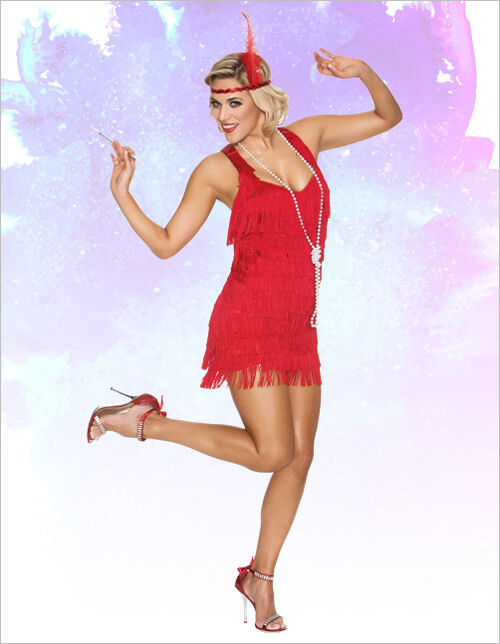 A fiery red color scheme and a daring neckline help you dress for success to your next trip to the speakeasy. The playful fringe shimmer and sway as you try out the hottest new 20's style dance moves. Make no mistake - this isn't your grandma's flapper costume.
Toga
The ancient world harbors plenty of inspiration for a sexy look! Just take ancient Rome and Greece. When you put a modern spin on all the epic legends of Goddesses and warriors, you can create some pretty amazing styles. All you have to do is decide whether you want to be Venus, Goddess of Love, or a deadly Spartan warrior, ready for battle with one of our Greek costumes!
Venus Goddess of Love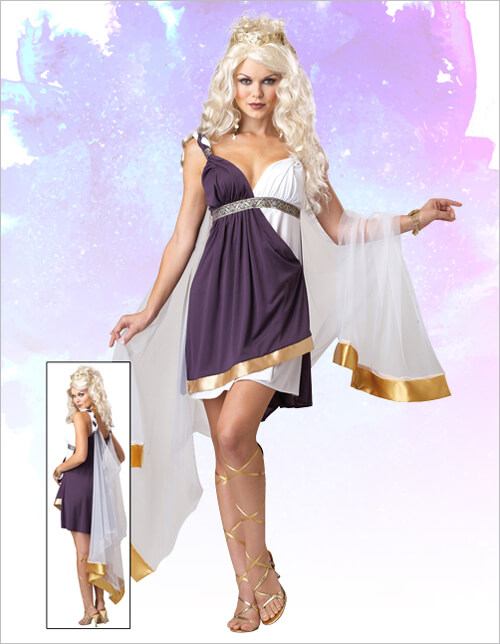 Venus, or Aphrodite in Greek, is the Goddess of Love and she takes her job very seriously. We doubt you'd ever see her wearing something that didn't ignite the spark of love in her subjects, which is why this costume makes for a great look inspired by the ancient deity.
Classic Toga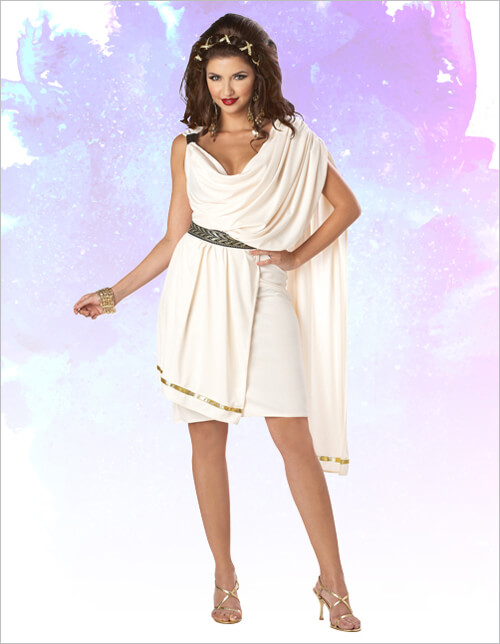 Socrates may have been a brilliant teacher, but he's got nothing on this costume! This sexy take on the classic toga puts you in the role of sexy philosopher and you can bet that Plato will want to study a thing or two under your tutelage when you wear it.
Spartan Queen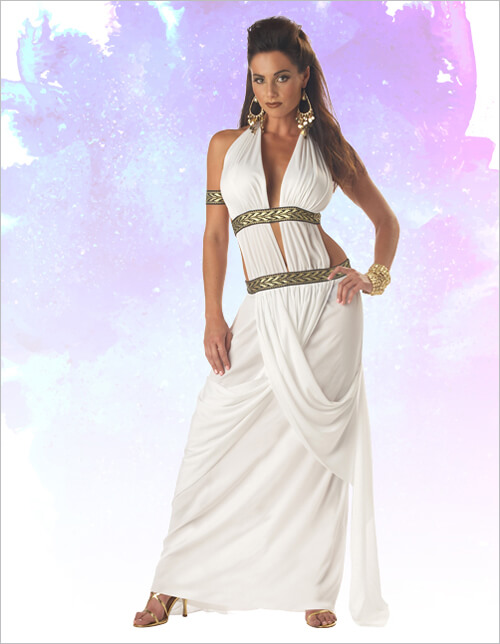 Of all the roles to play in Greece, why settle for warrior or philosopher, when you can lead all of Sparta! This Spartan Queen costume presents a sexy style that's one part regal and one part dangerous, so you can let all of your people know that your word is law.
Greek Olympia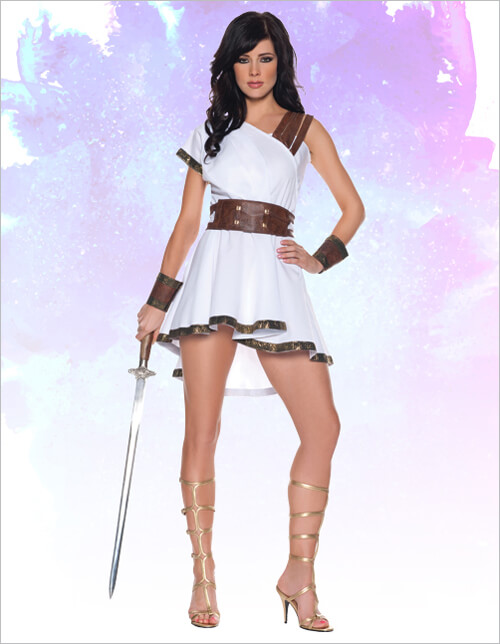 Are you a fierce warrior? Then everyone should hear your battle cry! This Greek Olympia costume creates a look that gives you a combat ready look that's still sexy enough to show up any other fighter at the Toga party! Just make sure you bring a sword along for the ride!
Oktoberfest
Do you yearn for the autumn months? Is it because of the leaves changing colors, or are you just waiting to head to Oktoberfest to taste all of the best beers Germany has to offer? We love a good brew too, but heading to Oktoberfest opens up some sexy styles that you can use to spice up your trip to the beer hall. Just check out a few of these ideas to create your perfect Bavarian-style costume.
Heidi Ho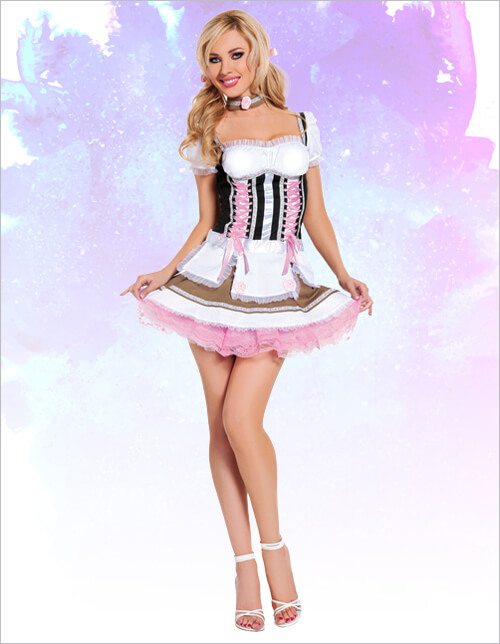 The Heidi Ho German Girl costume combines the classic look of a Bavarian dirndl with pink lace. It features a high cut skirt that screams, "I'm ready for another pint of ale!" Now all you have to do is practice your best, "ziggy zaggy, ziggy zaggy, oi oi oi!"
Women's Lederhosen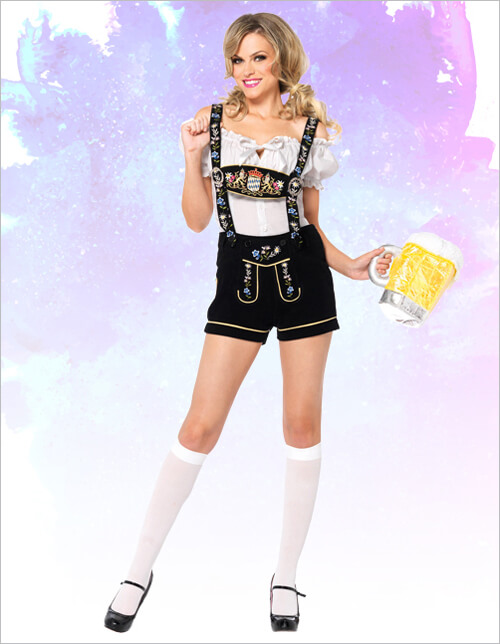 If skirts aren't really your thing, then give this Edelweiss Lederhosen costume a try. It takes the boy's Lederhosen style and transforms it into an extra cute outift that you can wear to Oktoberfest. Be sure to check out our beer stein purse as a great way to accessorize.