Oktoberfest Outfits
Whether you're there for the beer, the wiener schnitzel, or the polka, Oktoberfest has something for everyone. This festival has plenty of exciting traditions from traditional polka bands to popular modern music acts. If you're having your own Oktoberfest party, the games you can play are a blast! From Alphorn Karaoke to Pretzel making, there's something for everyone. When you're rocking these costumes, you don't have to worry about your apron coming loose as you compete in a beer barrel race. Just throw your braids back, finish your Pilsner, and jump in!
Oktoberfest Dress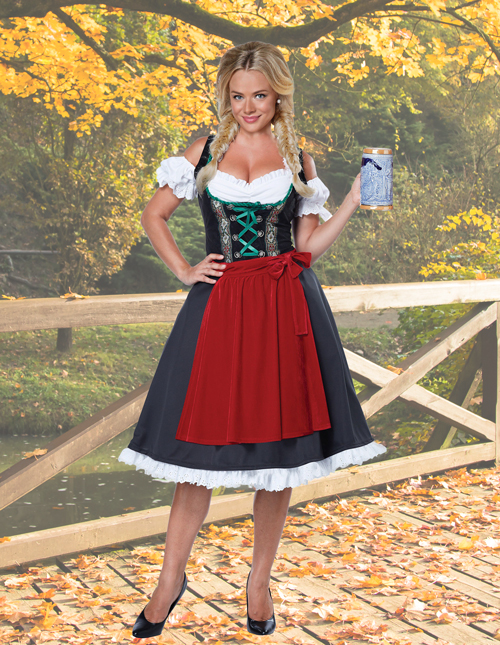 Oktoberfest is about celebrating traditional German culture. One of the most important parts of this is the distinctive German look. This dress features all the aspects of an Oktoberfest costume. It has a turquoise braiding around the dirndl neckline, and ruffled off-shoulder blouse, and a full knee-length skirt with a red apron. Anyone wearing this outfit is sure to get into character instantly. Play your cards right and you might even win a yodeling contest!
Women's Oktoberfest T-shirt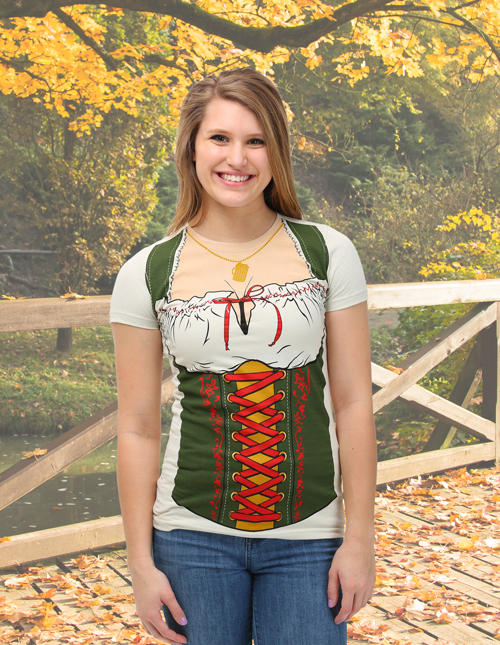 In early September and October, the weather can be pretty hot! Not everyone wants to wear a full dress with a dirndl, full skirt, and petticoat. In this t-shirt, you can still remain in the spirit, even in eighty-degree heat! Plait your hair, don this shirt, and do some stretching. Oktoberfest is a day full of drinking, dancing, and plenty of bratwurst eating, you've got to be ready! As the German's say, "Nicht lange schnacken, Knopf in Nacken" or "Stop talking and start drinking". No wonder the word for hangover in German translates to Tom Cat!
Men's Oktoberfest T-shirt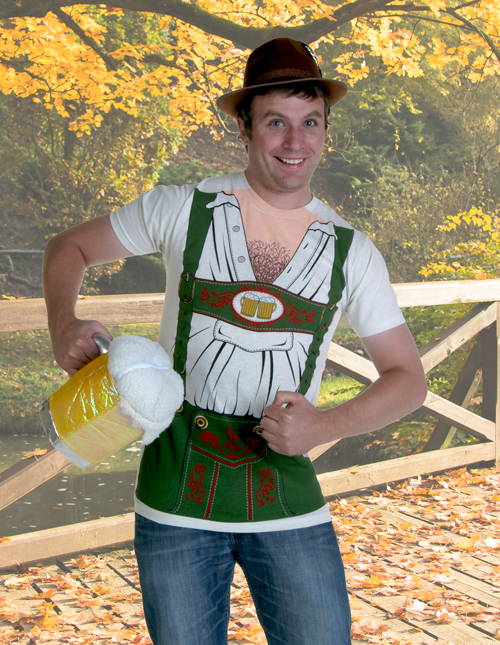 Speaking of eighty-degree heat, a traditional German lederhosen costume can be intensely heavy. The name, after all, means leather pants. Coming from Bavaria, these ensembles are made from suede leather so they can be a bit much in late summer weather. You'll be both comfortable and traditional in this t-shirt. And if you're traveling to the festivities, rolling up this t-shirt in your suitcase won't take up much room. You won't have to sacrifice your festive look and you can still pack a second pair of jeans with a forgiving waistband to wear after over indulging in sausage and ale.
Lederhosen Costume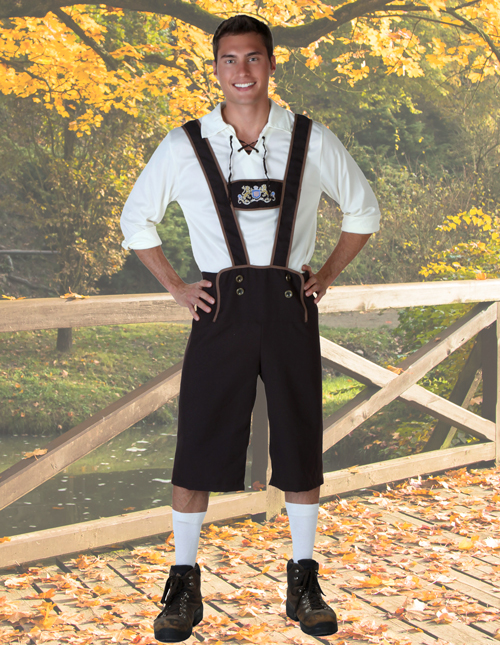 If you're fresh out of deer hide and you don't have you very own tailor then you probably would have a hard time getting a traditional pair of Lederhosen. In the Bavarian region, when men buy a traditional German lederhosen costume, they expect to keep it around their whole life. They are often even passed down to the next generation. That's a lot of commitment. This pair of lederhosen is still high quality but we won't expect you to pass it on to your future children. Though, we wouldn't blame you. The costume has plenty of detail with the German shield on the chest, light brown piping along the sides, and buttons on the flap. And for all you vegetarians out there, there's no deer hide involved.