Plus Size Costumes
Shopping for a costume isn't always easy, especially when you're anything bigger than a size small. Here at HalloweenCostumes.com, we get it. There's nothing worse than getting a costume that almost fits, but something just feels off. Maybe the shirt fits nicely, but the pants don't button and we don't think you should have to settle for that kind of costume experience. That's why we went out and got the largest selection of plus size Halloween costumes for men and women, so you can find an outfit that fits your body. We even made exclusive costumes in the sizes from 1X all the way up to 8X to fit you, and you won't find them anywhere else on the internet. From your favorite movies, TV shows or comic book characters, we're confident that you'll find a costume that will make you look and feel great. Here's just a glimpse of some of the great plus size costume ideas we have for you!
Men's Plus Size Cosplay Costume Ideas
Cosplay comes in many shapes and sizes. Some spend hours upon hours putting the finishing touches on that perfect costume for the convention, but don't let that scare you if you want to join in on the fun without investing so much time and money into a costume. If you want to head to a convention in costume, then we have plenty of quick and easy choices for you. Perhaps you'd like to make a trip to the Renaissance faire and bring your fantasy of slaying dragons to life? Well, then you could use one of our many exclusive plus size Renaissance costumes, which will have you playing the role of knight or bard in a matter of minutes. Maybe you're more of a Greek soldier? We have a great selection of Greek costumes to have you fighting like a Spartan warrior. Of course, you could always head to a comic con fully garbed up in one of our superhero costumes! Fully licensed, our superhero outfits make for a great place to start when it comes to crafting a comic-inspired style for the convention. We also have plenty of Star Wars costumes to sate your desire for everything epic about the galaxy far, far away, so make sure to practice your skills with a blaster!
Renaissance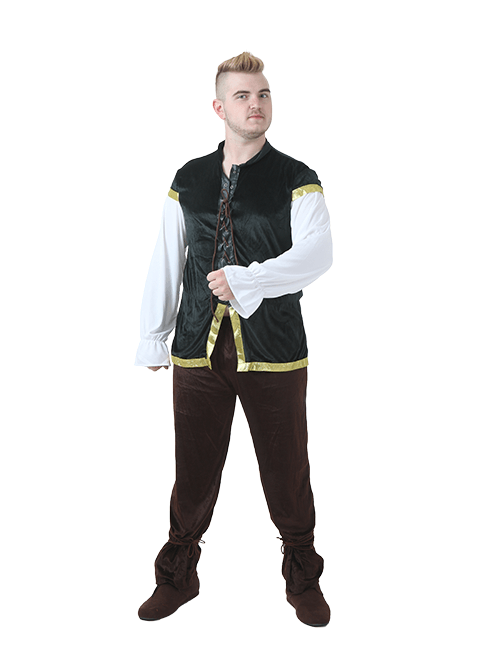 You've always wanted to bring your tabletop Dungeons & Dragons adventures to life, but you've just never known how to transform into the group's bard in real life. Well, with one of our Renaissance-style costumes, it becomes easy. We carry various styles, from valorous knight, to mystical wizard, so no matter what kind of characterd you want to be, you'll be able to slip into the role with ease. So suit up and start slaying those goblins!
Spartan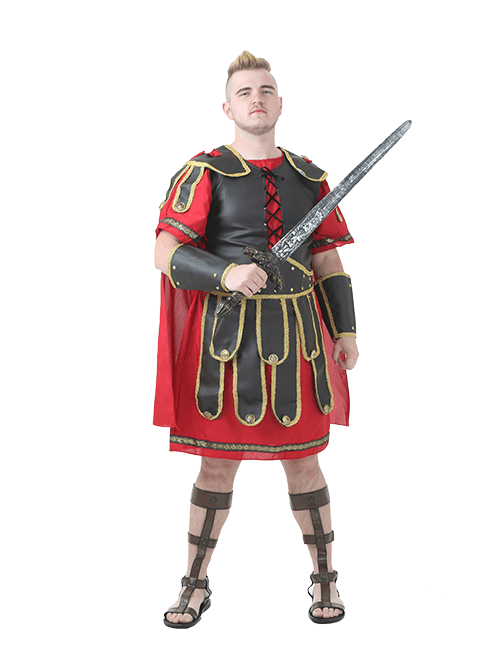 Nobody in history is as tough as a Spartan warrior! With our selection of adult Greek and Roman costumes, you can get a taste of the ancient world and this Gladiator costume comes with faux leather tunic armor to make you look ready to battle against any foe fool enough to challenge you. Make sure you add a sword to your look and if anyone tries to mess with you, just shout, 'This is SPARTA!' as loud as you can. Grab around 300 of your friends to join you if you plan on doing battle with Xerxes and his army.
Thor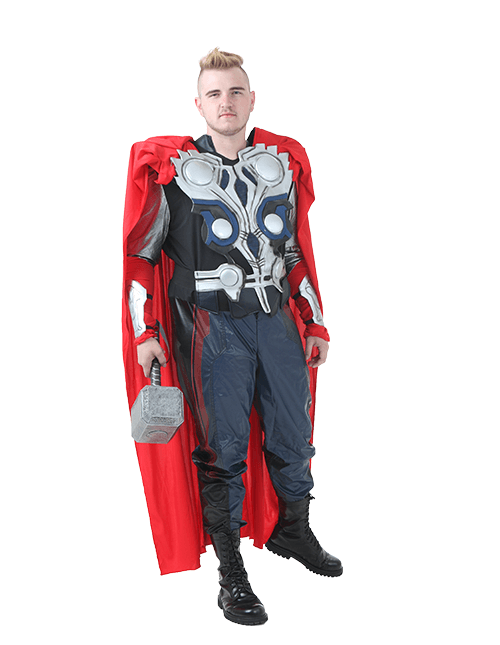 How cool is the God of Thunder? Super cool was the answer we were looking for. If super strength and really awesome blonde hair wasn't enough, Thor can shoot lightning bolts at his enemies. Yeah, he's a pretty solid choice when selecting a Halloween costume and you can bet we have a plus size Thor costume! After all, who else but you can fill the role of the mightiest member of the Avengers team? Just remember to bring Mjolnir with you.
Stormtrooper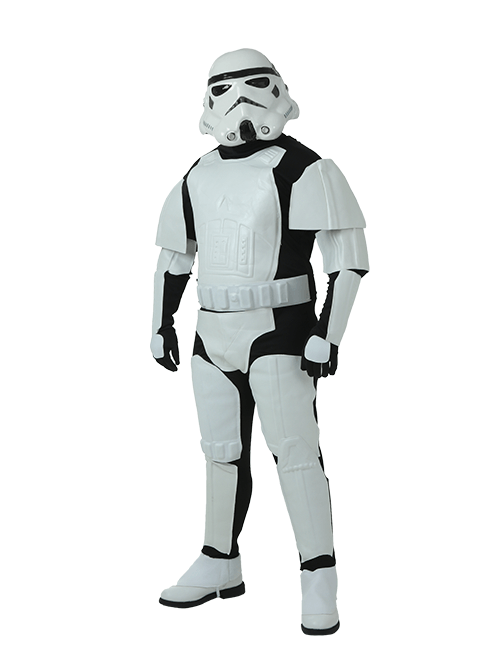 Everyone knows the Empire's philosophy when it comes to problem solving. Send more Stormtroopers! If that doesn't work, send more Stormtroopers. And if that doesn't work, well then you just blow it up with a giant Death Star. Yes, the Empire is always looking for more soldiers to fill their ranks, so suiting up in a Star Wars costume makes perfect sense. We carry varying styles, so you can be a fully loaded soldier with armor, or you can even slip into something a little more comfortable, like the PJ-style jumpsuit.
Women's Plus Size Cosplay Costume Ideas
Comic conventions and Renaissance fairs can be tough to plan for, but it doesn't have to be that difficult. It's all fine and good if you have the time and knowhow to make exactly the costume you want, but some people just don't have that kind of time to devote to an outfit. Well, we're here to tell you that you can have an awesome time in a costume that looks great without spending all that time on a costume. If you're feeling like a superhero, then you can simply slip into one of our women's superhero costumes. Maybe you're itching to show off your Disney fandom, well, we have plenty of plus size costumes based on your favorite Disney characters, like Minnie Mouse, or even Maleficent. Perhaps you feel a little more like a warrior of the ancient world? Then you can try out one of our many Greek-style costumes for women. We also have a vast selection of great costumes for women that are based on classic Renaissance styles, so you can find a look fit for the fair with ease. Here are some quick examples of the outfits you can wear to any event.
Wonder Woman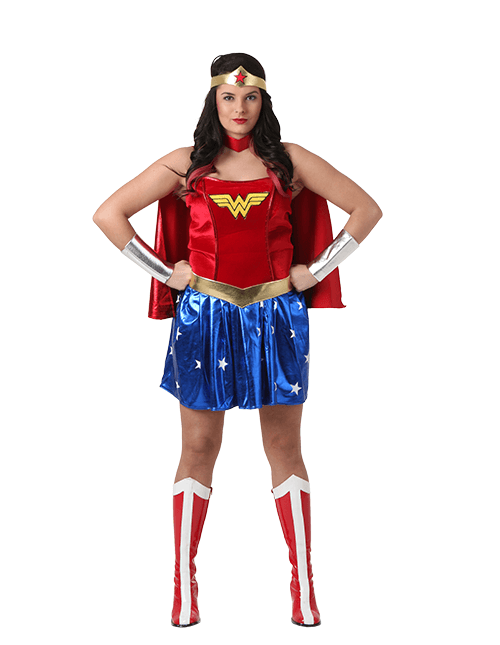 Wonder Woman is a classic! She's been kicking butt ever since 1941, but she's looking better than ever today. This Wonder Woman costume is a plus size take on the classic costume that's quick and easy, so you can get ready for a comic convention on a moment's notice. Of course, we carry a whole variety of Wonder Woman costumes and accessories, so you can easily customize your style to your liking. So, just grab a golden lasso and you'll be ready to show off your superhero moves.
Maleficent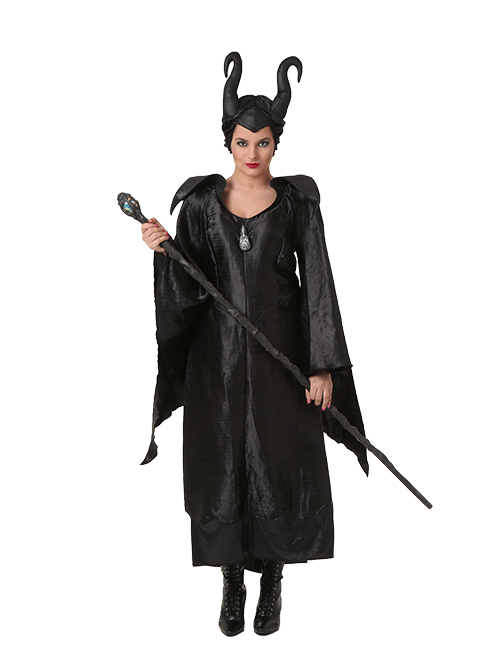 Feeling a little bit villainous? Well, then give our Maleficent costume a try! Based on the classic Sleeping Beauty character, this Disney costume will have you acting bad, in a very pleasing way. We recommend indulging in your darker inclinations while wearing it and you may want to consider causing trouble for Princess Aurora while wearing it. This particular look is just one of our many plus size Disney themed options that work great for most conventions.
Warrior Princess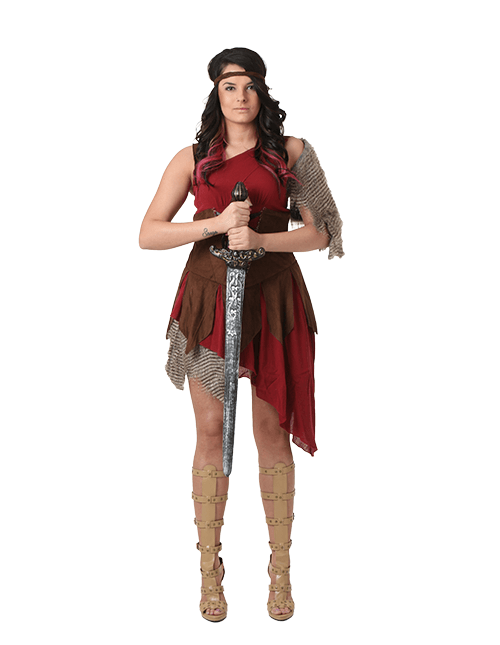 Grab your sword, because it's time to jump into the Colosseum! Since we carry plenty of costumes based on the ancient world, you'll have no problem finding a Greek or Roman style outfit to wear. And let us tell you, some of these costumes are fierce! This warrior costume combines a deep red theme with faux chain mail pieces to create a look that could battle against a hundred foes alone. Just make sure you brush up on your hand-to-hand combat techniques, since you'll need them to survive battles against other fierce gladiators.
Renaissance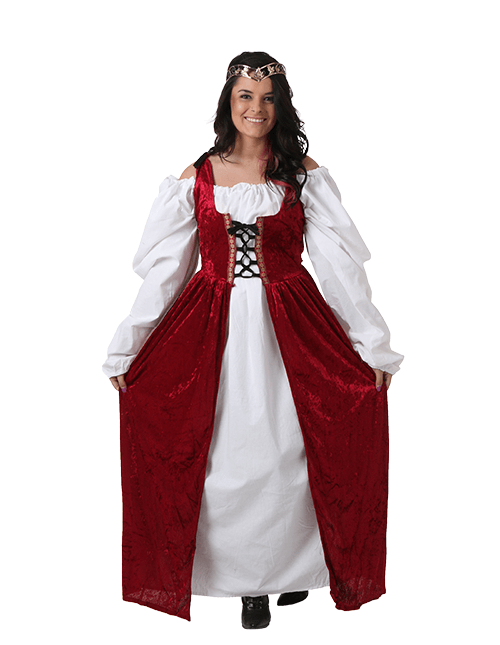 Everyone goes to a Renaissance fair at some point in their life and there's no better way to experience it than in a great costume from the period. This maiden costume has you playing the role of beautiful damsel from medieval times. Since we carry plenty of plus size historical costumes, like this costume, along with accessories, you should have no problem finding a look that works great for any trip to the Renaissance fair. Add one of our high quality wigs and you've got a look that came straight from the olden days!
Exclusive Plus Size Costumes for Men
Tired of getting pigeonholed into the same costume, year after year? Not anymore! Our selection of plus size Halloween costumes for men makes it east to dress up in the outfit that YOU want to wear, instead of 'the only costume available in your size.' We carry tons of exclusive outfits in some of the larger plus sizes, which means you can get a great look based on the characters you love. Whether you're trying to play the role of handsome prince in our Well-Dressed Beast costume, or you're trying to become the most dastardly pirate to ever sail the seven seas in our Captain Hook costume, you can find something that fits your personality. Do you feel a bit cowardly? Then try one of our Lion costumes to help complete your Wizard of Oz theme. You can even indulge in your bad side by wearing one of our prisoner costumes. There's really no limit to what you can be with our selection of plus size costumes! Our exclusive sizes range from 5X, all the way to 8X, which makes us stand out from all the rest! He's a few of our favorite styles to help give you an idea.
Beast Up To 5X
Trying to charm a princess? Then you're going to need plenty more than good manners and a castle. After all, a gal like Belle needs a man who knows how to dress! This exclusive beast costume comes in sizes all the way up to 5X, so you can look perfect for your dinner date with the lovely princess. Just make sure you practice your dance moves before you take her out dancing.
Plus Size Captain Hook Up To 6X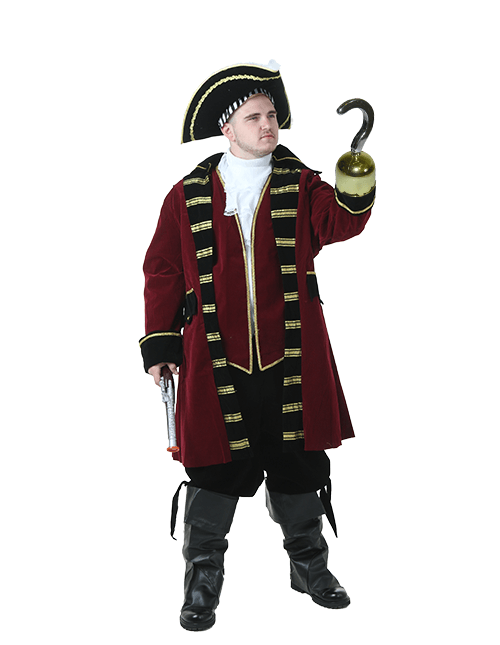 Tired of Peter Pan and all his antics? Well, this Captain Hook costume should do the trick! Based on the classic story book pirate, this costumes comes in sizes all the way up to 6X, so you should have no problem stepping into the character of a villainous pirate of Neverland. You'll be able to defeat those meddlesome Lost Boys with ease!
Lion Costume Up To 7X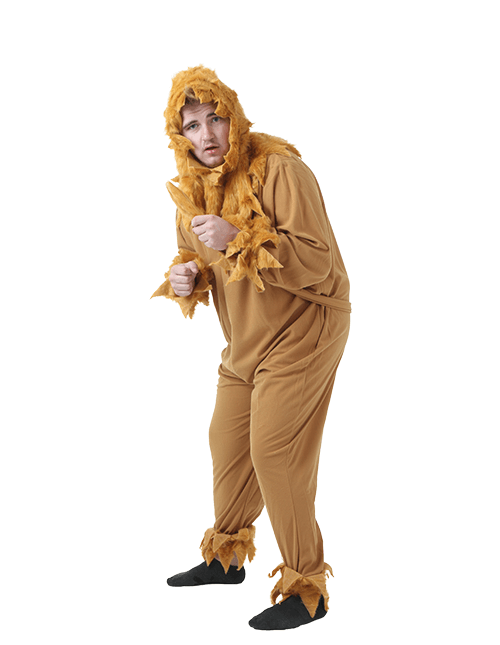 Who are you calling cowardly? This Lion costume brings you a classic look from the plains of the Serengeti. It comes in sizes up to 7X, which makes it the perfect choice for any larger man looking to put the finishing touch to any group costume that's traveling along the Yellow Brick Road. Also, be sure to check out all of our Wizard of Oz styles to complete your group costumes.
Prisoner Outfit Up To 8X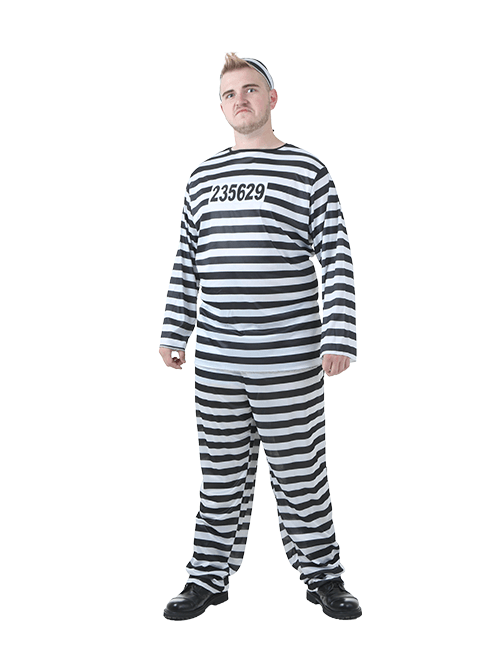 When you do the crime, you got to do the time! Okay, so maybe you don't need to commit any crimes to wear this plus size prisoner costume. It comes in everything up to 8X and is perfect for any guy who's looking to be a bit of a bad boy this Halloween season. Just be sure to keep an eye out for any police officers on patrol while wearing it!
Exclusive Plus Size Costumes for Women
Hey ladies, we're really sorry if you ever had to compromise your impeccable fashion sense in order to find a costume that fits. We can reassure you that it will never happen again! Our exclusive costumes for plus size women are trendy and well-made so you'll find the costume you want and you'll feel confident wearing it. You won't have to go searching down a rabbit hole to find a great storybook character costume in your size. Our delightful Alice costume is available up to size 5X and will fit nicely, even if you end up chasing a white rabbit with a pocket watch. If you rather stay away from rabbit holes and spend more time at Gatsby's mansion, you can show up in our jazz time flapper costume and you'll fit right in. This costume is available in sizes up to 6X, so you'll be able to comfortably shake what you got while you're partying in true 20's fashion. If you change your mind and decide to go searching for some buried treasure, our plus size Caribbean pirate costume should fit you swimmingly. It's an authentic looking costume and a 7X is available for you. If dropping a house on your wicked sister is more your style, we carry the perfect costume for you. The sparkly pink tulle skirt on the pink witch costume will give you a magical appearance. This costume will enchant anyone who wears a size 8X or under.
Delightful Alice Up to 5X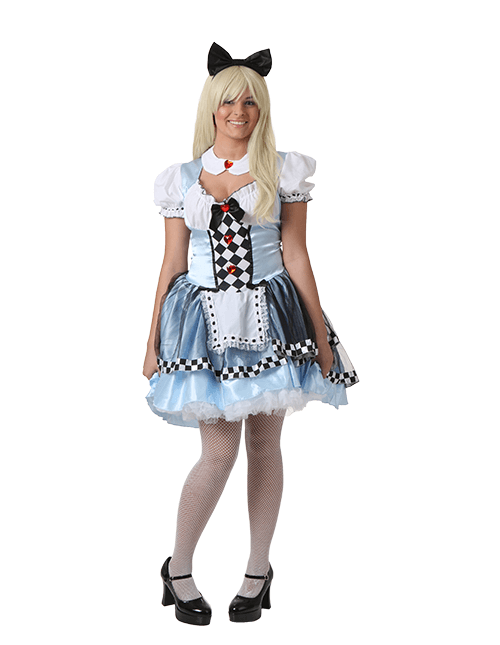 Lewis Carroll's classic offers up great inspiration for a costume party! This Alice costume comes in sizes ranging from 1X up to 5X, so you can create a great look based on the classic storybook in no time. Be sure to check out some of our classic Alice in Wonderland accessories to add to your look.
Jazz Time Flapper Up to 6X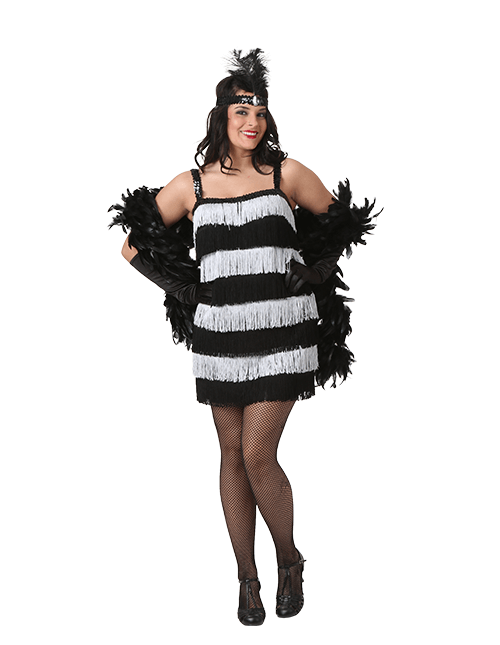 Speakeasies, the Charleston and all that jazz! The 20's were the perfect time to cut loose for a party, which is why we carry plenty of flapper styles and sizes. This Jazz Time Flapper costume comes in sizes all the way up to 6X, making sure that everyone can make their way back to the Roaring 20's.
Caribbean Pirate Up To 7X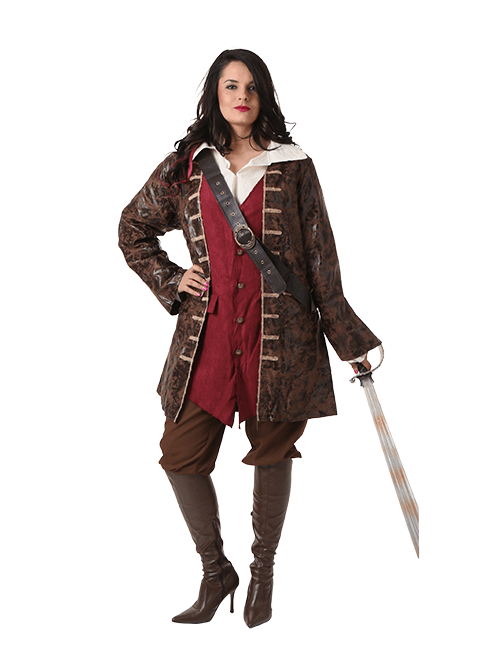 The high seas are calling you and you'd better heed its call! Don't worry, though. We carry this Caribbean Pirate costume in sizes up to 7X, so you'll be more than ready to pick up your sword for a treasure-filled adventure. You'll be ready to round up a crew in no time.
Glinda the Good Witch Up To 5X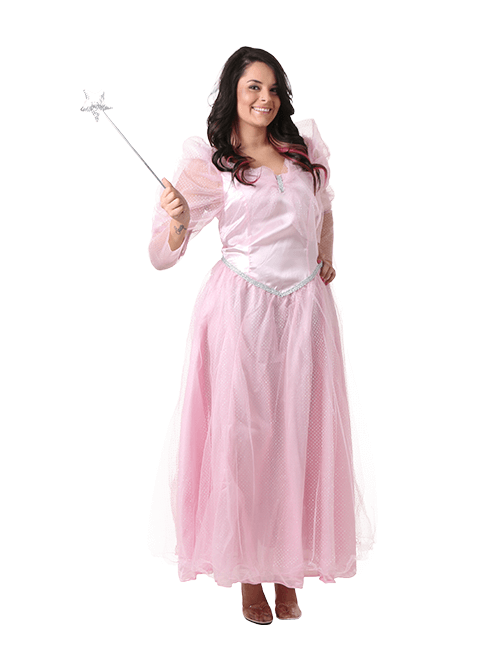 Not every witch has to be scary with green skin and warts! Some witches are good and they get to wear cute pink dresses. This women's plus size Pink Witch costume will have you ready to grant everyone's wishes. It also works great as an addition to any Wizard of Oz themed group costume.