Pose Like Peter Pan
There's more to becoming Peter Pan than just putting on a costume. If you want to really get into the character, you need to practice Peter's moves and poses. When in Neverland, do as Peter Pan does!
Ready to Fight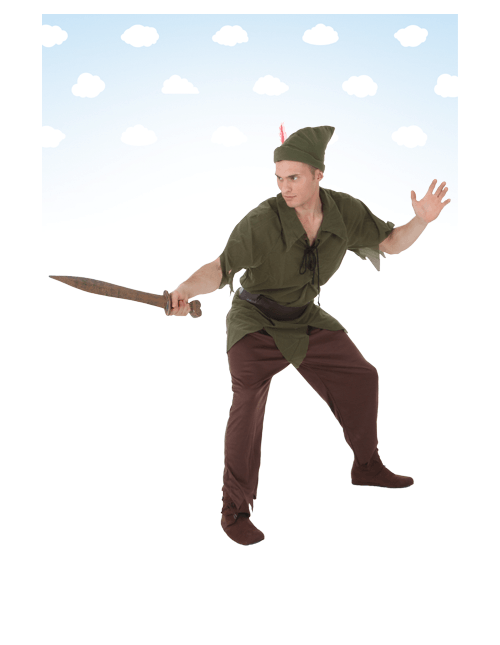 The climactic scene in Peter Pan is Peter's battle with Captain Hook to rescue Wendy. He imitates the ticking sound of the crocodile that swallowed an alarm clock, so he can sneak up to Hook's ship. They have a sword fight, which ends with Peter kicking Hook overboard into the jaws of the waiting crocodile. Try this swashbuckling pose when you rescue a fair maiden: wide stance for good balance, alert and focused on your foe. After your epic battle you can proudly announce, "What a pity, Mr. Smee. I'm afraid we've lost the dear Captain."
Fearless and Confident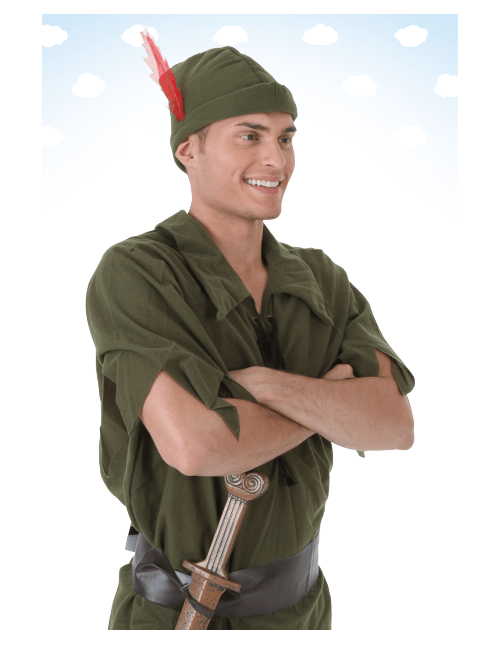 It's sometimes said that children are fearless and confident because they haven't learned about limitations yet. That's probably a pretty good description of how Peter Pan approaches life, and maybe why he doesn't want to grow up. He doesn't want to be told what he can or can't do! You can face the world with this confident pose, and bring Wendy, John & Michael Darling to Neverland for adventures. Then you'll have to let go and crow!
Peter Pan Flying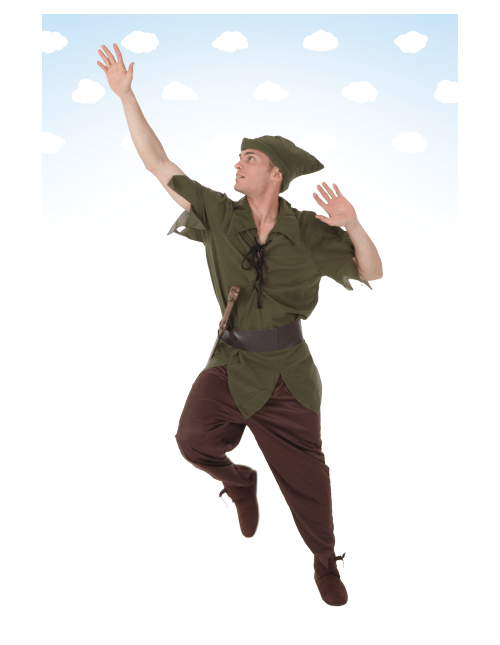 Take flight as Peter Pan with a leap like this one! Now, think of the happiest things--it's the same as having wings. Any happy thought will do. Think of a day at the beach, or good times with friends, or even pirate adventures as Peter Pan. Take the path that moonbeams make, if the moon is still awake. Neverland awaits!
Playful Times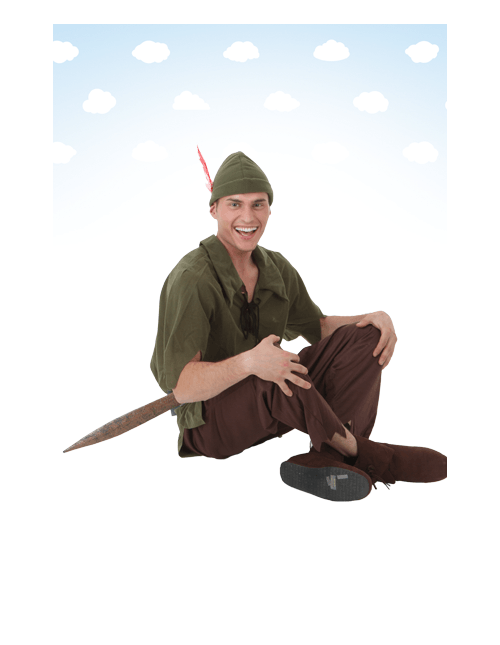 Peter Pan wants always to be a little boy and have fun. Life is all about games and adventures, and listening to stories. He might sit just like this while Wendy tells bedtime stories to the Lost Boys, or while plotting his next raid on the Jolly Roger. You can plan a party or listen to music. No matter what you're planning, you'll be ready for playful times!
Peter Pan Costumes: You Never Have to Grow Up
Neverland will always be the home of youth and joy and liberty, where Peter and the Lost Boys vow to never grow up and grow a mustache, pinch pennies, or shoulder responsibility. So, if you don't want to grow up, or go to school, or wear a tie, these costumes are just for you!
Adult Peter Pan Costume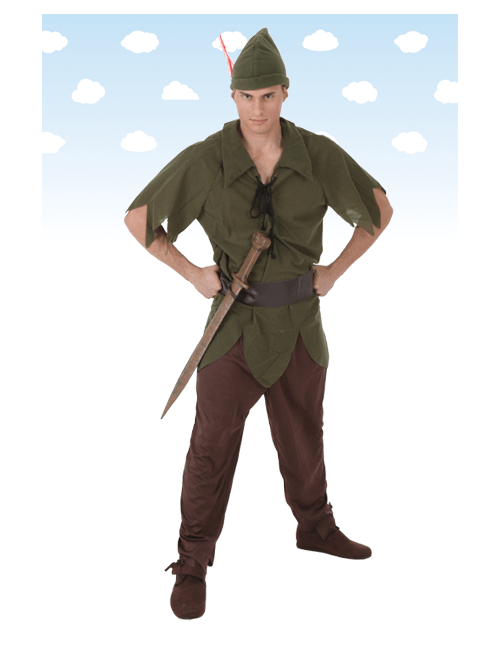 We have good news and bad news for you. First, the bad news. You've already grown up--or at least your body has. The good news is that you can still be young in your mind and spirit. And a good way to tap into your inner child is with an Adult Peter Pan Costume. You can visit Neverland, play with pirates, and listen to bedtime stories. Or just have a good time at a costume party.
Child Peter Pan Costume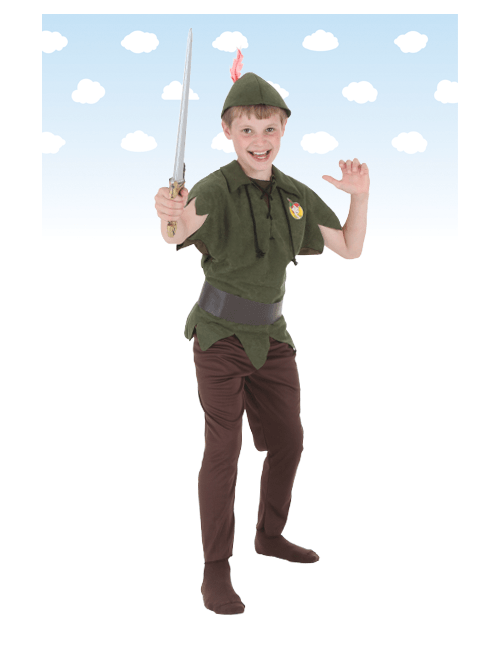 A Child Peter Pan Costume is perfect for the kid who doesn't want to grow up, or go to school, or wear a tie. Join up with a group of friends as the Lost Boys, and have all sorts of adventures! Do battle with Captain Hook and his pirate crew, rescue Tiger Lily or Wendy, or paddle a canoe in the mermaids' lagoon. Your imagination is the limit!
Peter Pan Couple Costumes
As an eternal child, Peter Pan is all about play. So, who does he play with? The Lost Boys, of course, but he has a few special friends. Well, Captain Hook isn't exactly a friend, but Peter spends time with him. As Peter Pan, you can have fun with Wendy or with Tinker Bell--or with any of your own friends!
Tinker Bell and Peter Pan Costumes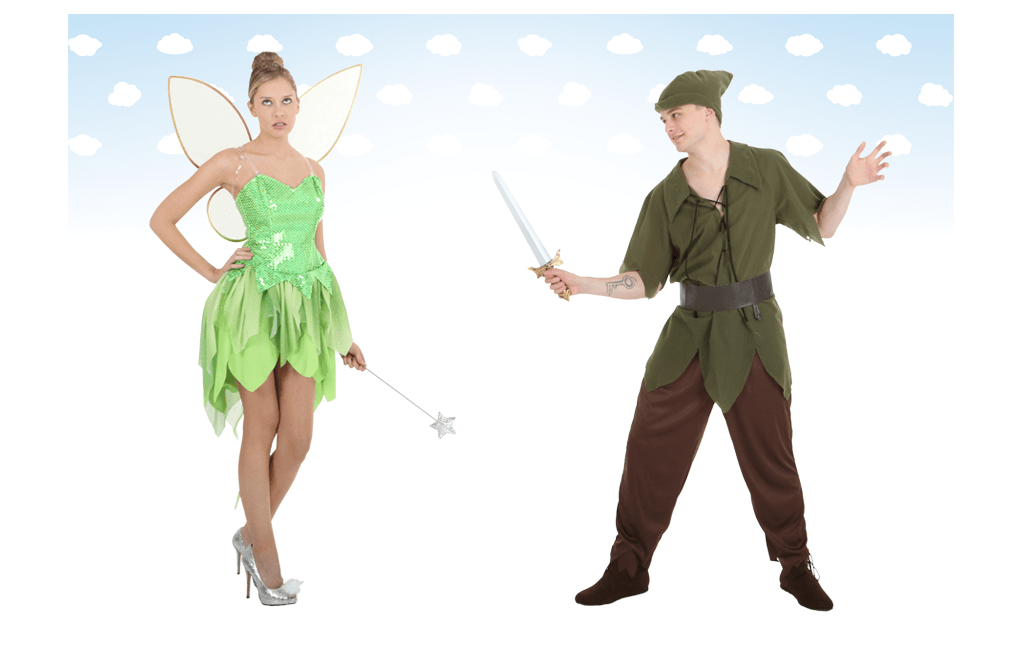 Tinker Bell is Peter's best friend, but she gets frustrated with him sometimes. And since a fairy is too small to be able to hold more than one feeling at a time, Tink calls Peter a "silly ass." But she also dispenses the pixie dust that, along with thinking lovely, wonderful thoughts, allows children to fly. So she's a good friend to have around!
Peter Pan and Wendy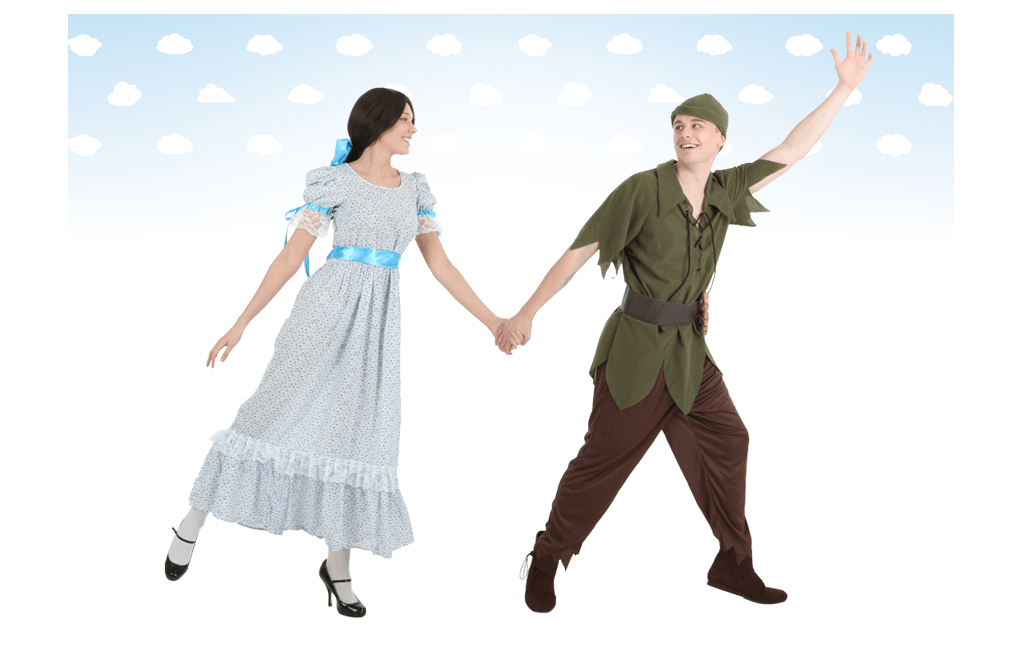 Peter brings Wendy to Neverland to be a mother to the Lost Boys, and to tell them bedtime stories. Of course, it turns out that Wendy's idea of mothering involves a bit more than that. She tries to organize lessons for the boys, and makes them take baths. But she does tell wonderful stories!
Peter Pan and Captain Hoook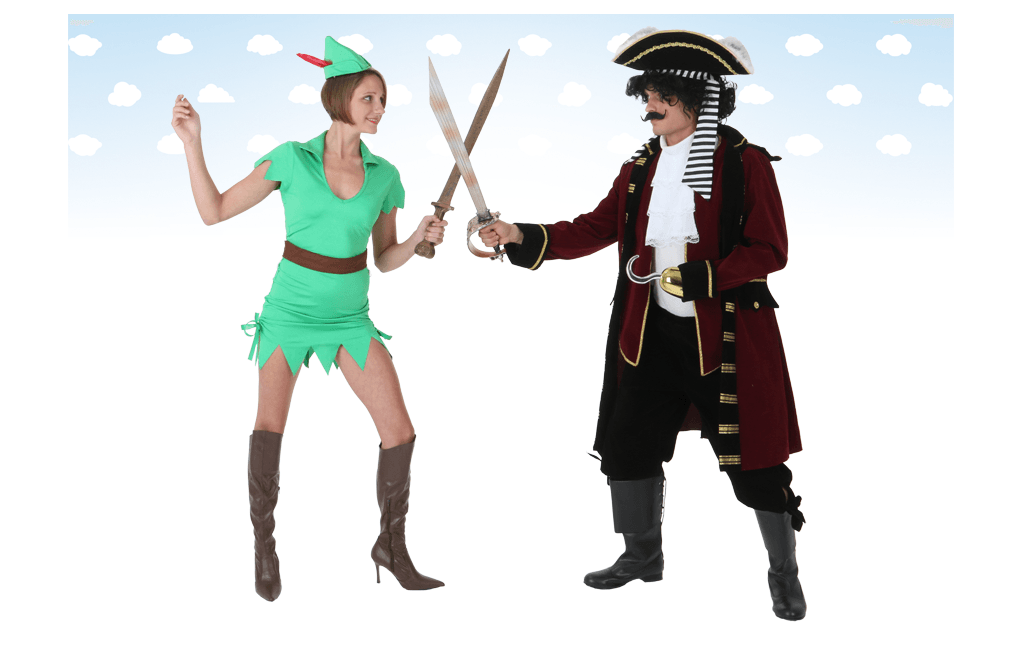 As we noted, Captain Hook isn't exactly Peter's friend. But battling Hook and his pirate crew takes up a lot of Peter's time. Hook wants revenge for the loss of his hand, which Peter cut off in a fight. We're not quite sure if that qualifies as "playing well with others," but if Peter Pan and Captain Hook make a great costume duo!