Disney Costumes
For nearly a century, Walt Disney movies have charmed audiences with the heartwarming tales of valiant heroes and adventurous princesses, so it's really no surprise that everyone wants to put on a Disney costume and take on the role of their favorite characters. The good news is we have a vast selection of Disney costumes for adults and way more than one Disney costume for kids, not to mention a handy guide to help you maximize your costume experience. We've got inspiration to help you become your favorite characters and create the ultimate picture for social media as you strut your stuff in one of our Disney Halloween costumes. Are you headed to a Disney Park and need some tips for a character-themed look that won't get you kicked out? We've got some great ideas of how to blend Disney themes into normal wear for some epic Disneybounding outfits! Add a little lore to your experience and conquer your Disney trivia nights with our infographics that will shed some light on the history of a truly epic character.
Disney Princess Costumes
Being a princess in the wide world of Disney isn't as easy as it's cracked up to be! It sounds grand being the young heir of a kingdom, but villains plot against you at every corner and everyone else is looking up to you. Plus, it isn't always that easy to even know if you are a Disney Princess! There are some official princesses that don't have any royal blood and a few others who do that don't count! (Pro tip: it is pretty much all about having an iconic dress style and an animal companion.) Still, many think that there are plenty of others who should qualify for some official princess titles! If you think you've got the stuff to join the ranks, you need to be clever enough to outwit the bad guys, virtuous enough to be an icon to your people, and also make sure you've got the Disney Princess costume to earn your animal companion!
Snow White Costume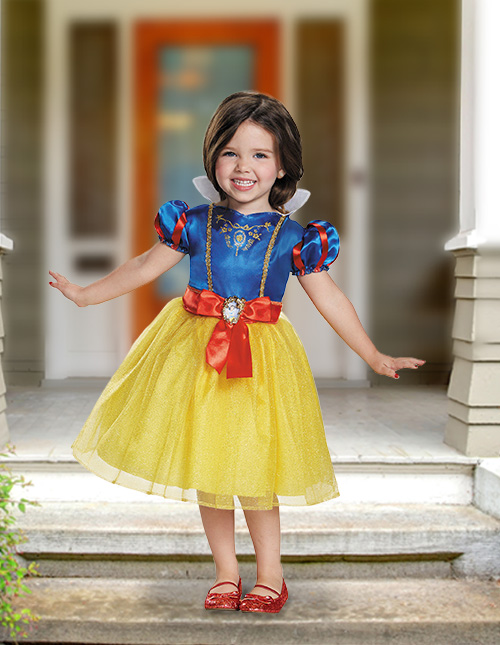 When the Evil Queen asks her magic mirror who the fairest of them all might be, she could have been more careful with her words. Because Snow White isn't just beautiful, she's sweet and caring. That's why she fits the bill for a true Disney Princess and can charm all the woodland critters—even the tough-to-befriend Grumpy Dwarf! When you wear a Snow White costume, you have all the best friends!
Mulan Costume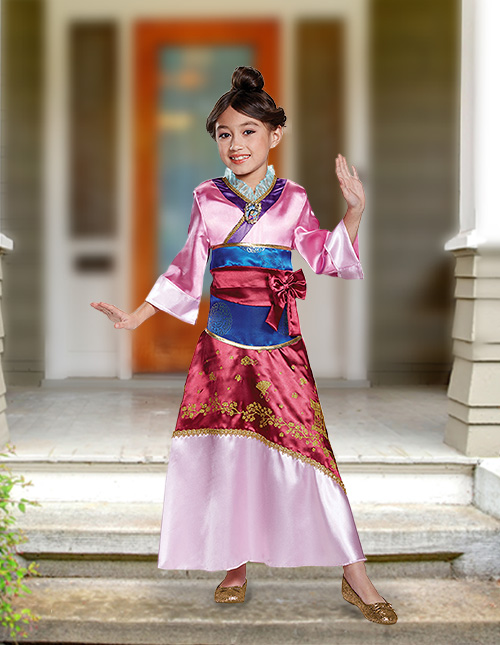 There are a lot of different characteristics of a Disney princess. One that gets a little overlooked is a strong sense of honor. Nobody can even come close to Mulan when it comes to that noblest of traits. Plus, she gets multiple outfits! We think of her as just as much a Disney princess when she is in her warrior garb or her elegant gown. (Of course, when she's got a sword in hand, we and China both love her!) Dress your little one like her favorite princess in this Disney Mulan costume for girls.
Belle Costume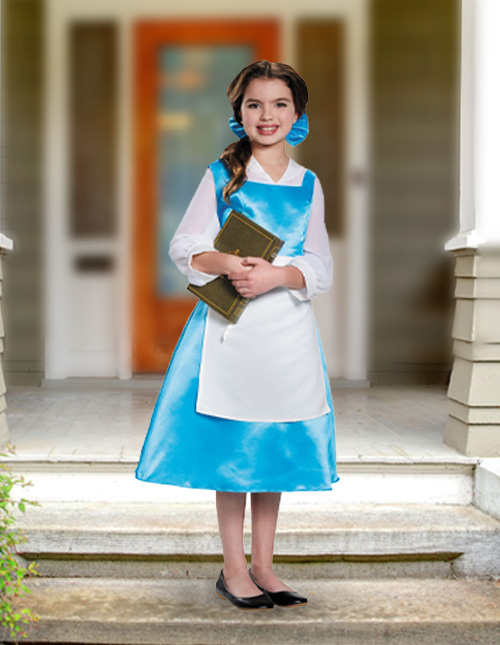 Every princess has something different to offer the Disney universe. Belle might have a name that suggests a quiet, demure lady, but this gal has a quick wit and a sharp tongue if anyone crosses her! Able to tame the savage beast while educating all in a simple provincial town, Belle is one who pretty much can do it all. No wonder she was able to bring out the true heart of the Beast and end a mighty curse. Your little bookworm will love exploring new worlds in her princess Belle costume.
Disney Moana Costume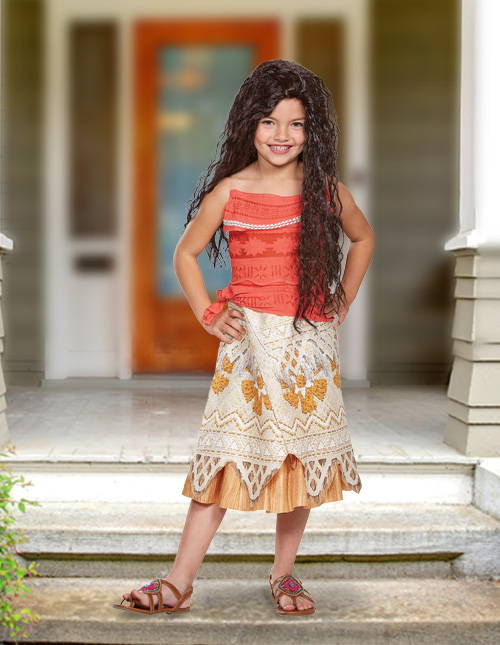 If we're talking about recognizable style and the best animal companion out there, it is hard not to pay attention to the gal who has the entire ocean on her side! Who else can learn how to Wayfind and go to the ends of the world with a rather challenged Heihei, the rooster? Only Moana can be trusted to save the entire world. At this point, she's basically the chief of everything. Time for getting out your Disney Princess Moana costume!
Disney Villain Costumes
There are few arenas where you can see villains that are even better crafted than the good guys. And, since we're talking about dressing up as fun characters…you know what you're going to be treated with from Disney villains: costumes! These are the characters who are so dark and jealous that they're willing to upend all of existence to achieve their goals…and they want to look awesome while doing it! Still, the best part of a good Disney villain is that you can kind of understand where they're coming from. How many of them are stuck in caves or shadowy lands when all they want is a little political power or to get the most interesting gal in town to give him the time of day? Give the good guys a reason to even be known when you dress up in one of our villainous Disney Halloween costumes for adults and kids!
Gaston Costume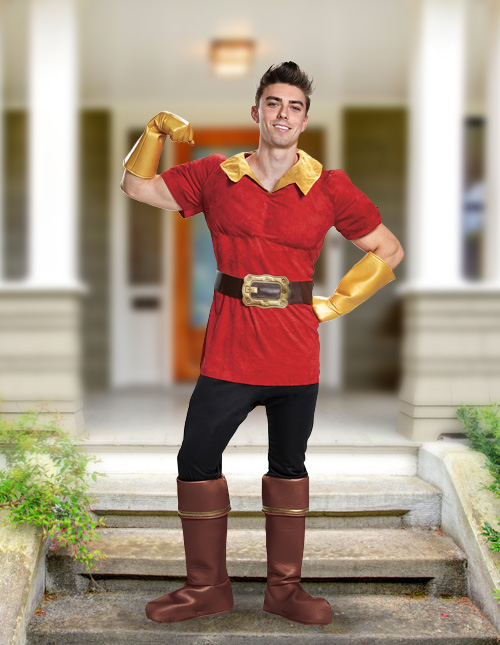 Let's look at the Beauty and the Beast baddy for a second. Sure, Gaston might be full of himself. He's violent and gross and assumes being handsome should earn him everything. But, let's be honest—the Beast was no better, and he got a second chance to reveal his true self. Maybe this lunkhead just doesn't know how to talk to a real woman. Perhaps watching true love will push him over the edge. Time to see with this great Gaston costume!
Yzma Costume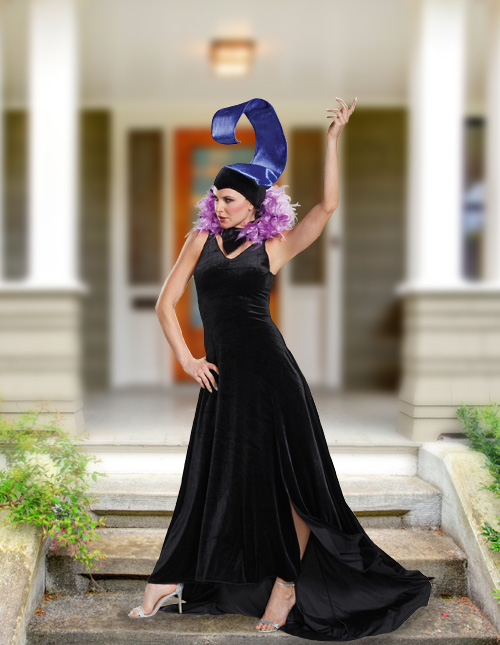 Just how often is an advisor forced to watch the lazy guy in charge make mistakes. Well, Yzma had it even worse! Raise a kid emperor all on your own only to get fired and chucked to the dust? She was just trying to help the country by turning him into a llama. Honest! Maybe a little revenge and power. (Still! They deserved it!) Plus, who wouldn't want this beautiful genius alchemist for an Empress anyway? Take matters into your own hands with this Disney Yzma costume. (If you ever figure out the llama formula, make sure you share it with us.)
Evil Queen Costume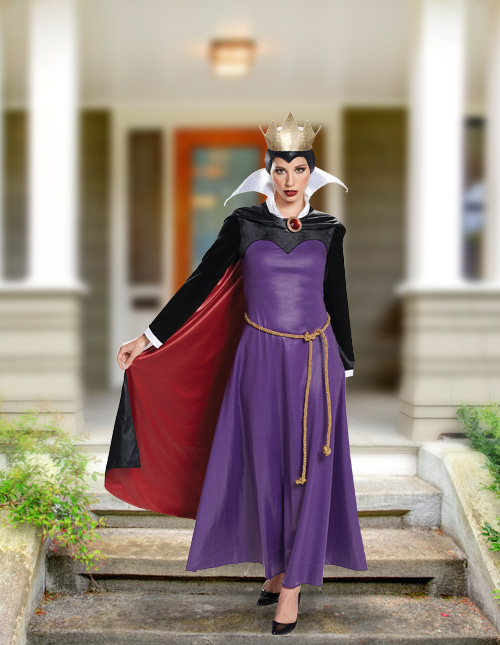 So, we can't find much defense for sending a hunter to go murder a young girl just because she's taking the 'pretty trophy.' But what is an Evil Queen supposed to do? The expectations for a queen are really high. They expect you to be the fairest in the world. Plus, they literally named you 'Evil Queen!' What did they expect? Hugs and cuddles? You're only living up to your name with this Evil Queen costume. Evil sorcery is literally your job!
Jafar Costume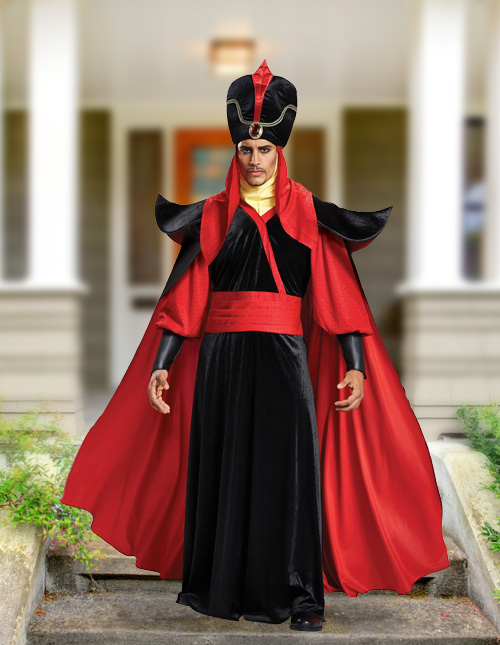 Now, here's the case for the most reasonable villain out there. Just look at that Sultan. He's got no idea what he's doing. Even his smart and capable daughter has zero idea about the free market of Agrabah. Under your command, folks would have a real chance to live out their dreams thanks to being led by a sorcerer who can enact lasting change! Jafar for Sultan! (Just lay off the mind control and bad wishes while wearing this Jafar costume!)
History of Mickey Mouse
Now that we've covered some of your favorite folks from Disney, how about we talk about the greatest world icon of them all, Mickey Mouse! That little mouse has had a long history of cartoons since his inception and if you want to impress people with your vast knowledge of the mouse when you're dressed up like him, then take a look at all of his looks from the past (complete with fun facts to fuel your inquisitive nature.)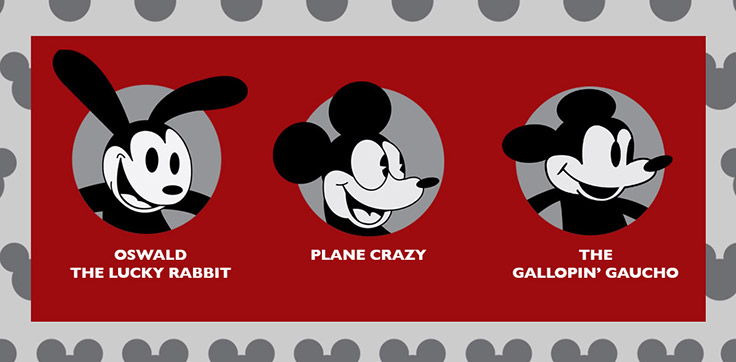 Oswald the Lucky Rabbit
Many might be surprised to hear that Mickey Mouse wasn't Walt Disney's first foray into the animated world. Oswald was originally created in 1927 for Universal Studios and this bunny bears a slight resemblance to Walt's later mousey masterpiece.
Plane Crazy
Mickey's first incarnation came sans his classic shorts and gloves in 1928 with Plane Crazy. Unfortunately, no distributors picked up the cartoon, so it never saw wide release until 1929 when Steamboat Willie saw success and people needed more!
The Gallopin' Gaucho
Technically made before Steamboat Willie, this silent cartoon was held back until the release of Steamboat Willie so they could add sound. Mickey's sporting a slightly different look than his previous cartoon with bolder black eyes and a more mischievous grin.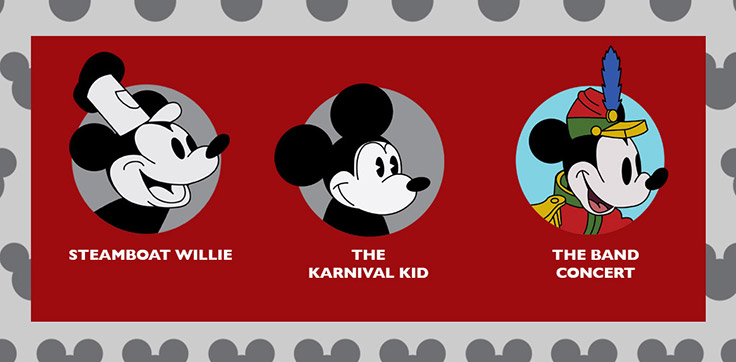 Steamboat Willie
This cartoon, released on November 18, 1928, marks the true birth of Mickey as we know him! It was also the first cartoon ever made that was synchronized with sound. This date is even considered to be the little mouse's official birthday.
The Karnival Kid
Mickey finally gained a voice in this classic cartoon! And what, you may ask, were his first words? "Hot dogs!" Well, his first words may not have been anything too profound, but he'd go on to say plenty more in the rest of his cartoons.
The Band Concert
We finally got to see Mickey in full color in this cartoon! The Band Concert marks his first appearance in color. Goofy also got his first color appearance. It also continued Mickey's long history of being an accomplished musical mouse!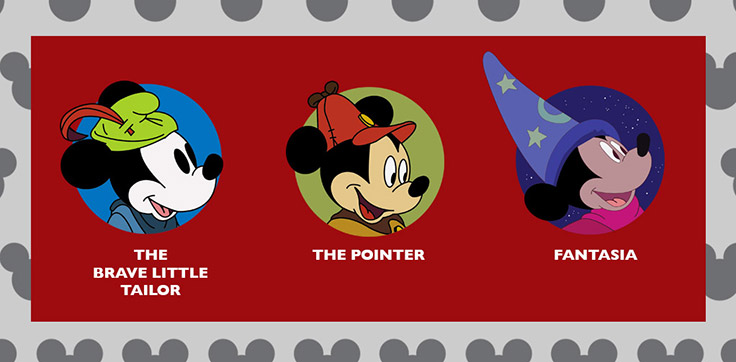 The Brave Little Tailor
This cartoon brought the fairy tale Das Tapfere Schneiderlein to life, with Mickey playing the lead role. The story follows his quest to fell a giant that's causing serious trouble in the kingdom, despite being nothing more than a humble tailor who got lucky swatting flies!
The Pointer
Pluto and Mickey took center stage in this hunting themed cartoon! It received an Academy Award in 1940 and was the second short to feature Mickey's modern design. (Mickey's Surprise Party was the first short to move from the original black-and-white coloring.)
Fantasia: The Sorcerer's Apprentice
Despite being considered a classic now, the initial release garnered mixed critical responses. It was the first appearance of Mickey wearing his sorcerer robes and Yen Sid's hat. It ended up being part of a risky experiment: merging a bunch of unrelated cartoons into one epic film.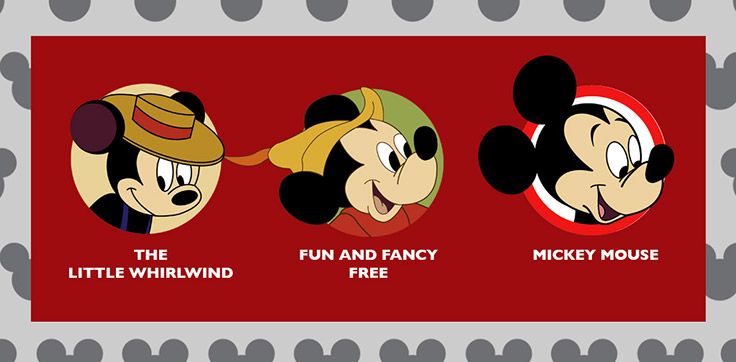 The Little Whirlwind
Mickey got a short-lived makeover in this cartoon that had him looking like other animator's styles. He had a slimmer body and larger head, hands and feet. Good thing this redesign didn't last very long, though. Mickey started looking like his old self before the end of World War II.
Fun and Fancy Free: Mickey and the Beanstalk
This was Walt's last time voicing Mickey Mouse, which featured him retelling the classic tale of Jack and the Beanstalk. Donald was none too pleased when Mickey brought home a handful of magic beans, but at least it let them discover that Willie the Giant had the stolen Golden harp!
Mickey Mouse
1955 marked the beginning of a live-action TV show featuring the Mousketeers. This show would eventually bring many music stars into the limelight, including Britney Spears, Justin Timberlake, Christina Aguilera and Ryan Gosling, who all went on to have lucrative careers.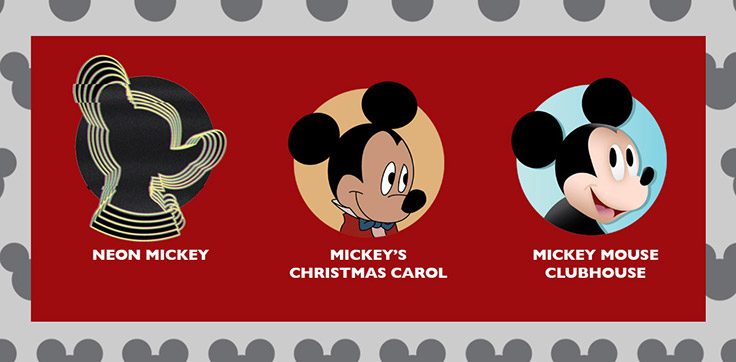 Neon Mickey
Mickey got reimagined with an electric vibe for Walt Disney Home Entertainment releases, so this little guy was seen on many movies from the 1980s on out. His iconic ears and nose are still highly recognizable despite the distorted electric silhouettes creating his image in profile.
Mickey's Christmas Carol
This holiday classic puts the Disney spin on the Dicken's classic A Christmas Carol. Mickey plays the kind-hearted Bob Cratchit next to the crotchety Scrooge McDuck who would go on to later spinoffs. It also marks one of the few times Mickey's nephews were ever seen on screen.
Mickey Mouse Clubhouse
This was the first time that all of Disney's major characters were fully rendered in CGI animation on TV. (Aside from Donald Duck, who had the honor earlier). It turns out he looks pretty good in CGI, but most of his animation is still done in 2D to maintain the classic look we've come to love.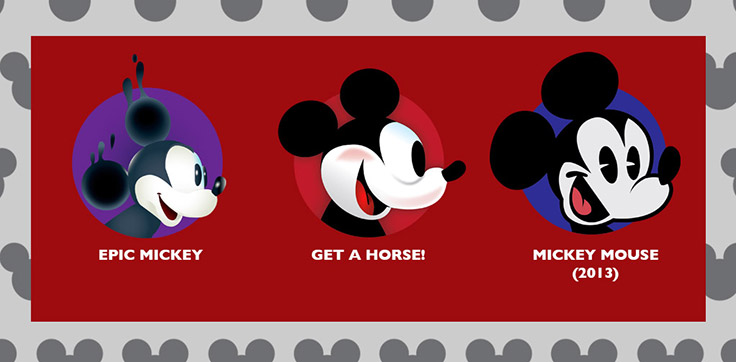 Epic Mickey
Mickey gets the video game treatment again in 2010's Epic Mickey! Disney finally reacquired Oswald the Lucky Rabbit who appeared alongside Mickey in the game. Of course, the legendary Frank Welker did the voice work for him. The game would go on to receive multiple sequels!
Get A Horse
In 2013, Frozen had a little special short at the beginning. It featured Oswald, who'd been gone from Disney cartoons for 84 years, as well as a blend of animation styles. Two weeks of work went into giving us Walt's voice from assembled tracks to join the rest of the classic voices.
Mickey Mouse (2013)
Mickey's latest look from his recent shorts uses Flash and approaches the classic character with a retro look based on his good old days. The cartoons clock in at a mere three minutes and the first season episode "Croissante de Triomphe" even won an Emmy!