Disney Villains Costume Ideas
Admit it: you have a love/hate relationship with Disney's most evil characters! Even though they spend most of their time trying to sabotage the hero's mission, all Disney villains have fiery personalities that are fun to watch on screen. If you've always had a soft spot for the movie's evildoer then you just may love dressing up in a Disney villain costume for Halloween. We'll show you some of our bestselling costumes for men, women, and children and we'll also show you how to pose while wearing them. Take a peek at our top selections, pick out the Disney villain costume you like best, and hopefully all of your Halloween dreams will come true!
Disney Villain Costumes
Whether they're stealing puppies or demanding to play a game of croquet with a flamingo crop, these baddies know how to command even the most chaotic situations. Take a cue from these bad guys and command the attention of everyone at your Halloween party by outfitting yourself in any of these adult Disney Villain costumes or kids costumes! We've listed some of our top selling options for both men and women, as well as some coordinating accessories that will give your wicked look some authenticity. From Captain Hook costumes to Queen of Hearts costumes, you'll find an outfit here that will make you cackle like a maniac... Mwahaha!
Maleficent Costume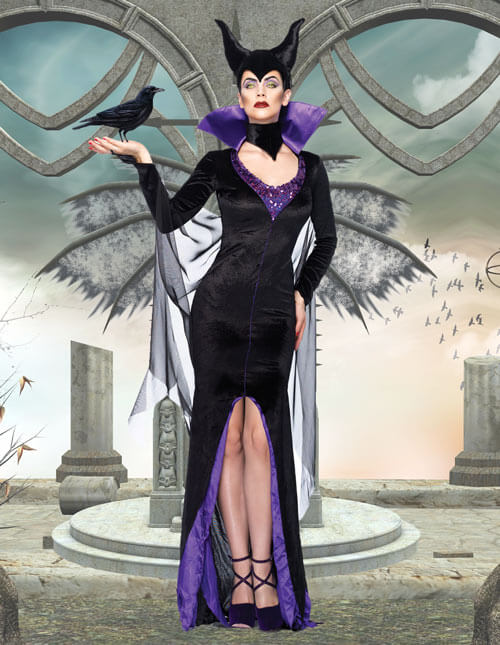 You'll leave Disney fans feeling spellbound when they finally see you wearing this Maleficent costume. A perfect mix of sin and sass, this long black dress with the front slit, will create the wicked image that you want. The included horned headpiece will give you the iconic look made famous by Disney's top villainous vixen. Just attach the neck piece to complete the transformation and you'll feel ready to cast a dark curse on Aurora!
Maleficent Headpiece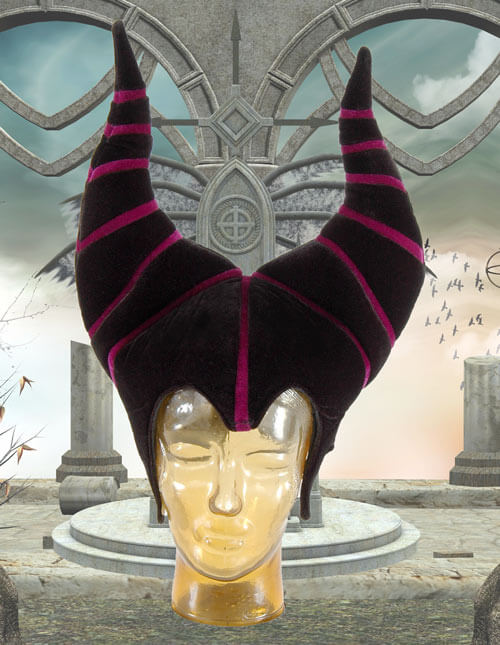 You won't truly fully transform into the Mistress of Evil if you don't sport her signature horned headpiece. If you are thinking about putting together items you already own to assemble a unique Disney Maleficent costume, let this Maleficent headpiece act as the cherry on top. The plush hat fastens with Velcro underneath the chin to give you the enchanting, yet sinister, you desire!
Cruella De Vil Costume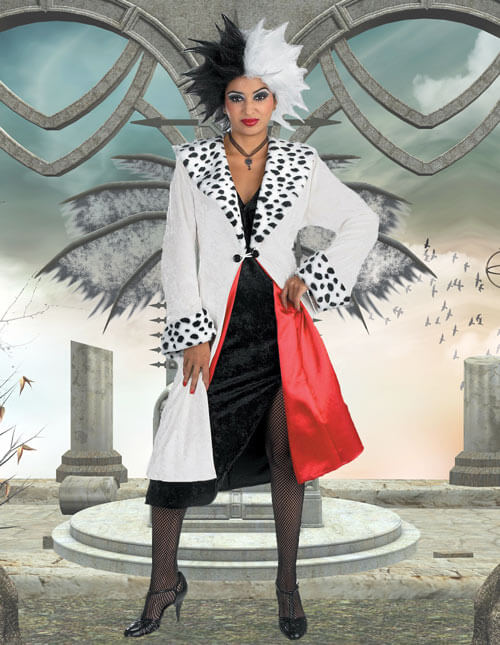 Better hide your furry friends because Cruella De Vil is desperately trying to get her paws on them and she's definitely not looking to give them a cuddle. If you want to dress as the fur-obsessed Disney villain, then this Cruella de Vil Halloween costume is the way to go. You'll look dangerously ravishing in the black and white polka dotted trench coat paired with the sleeveless black dress. Don't forget to pick up a two-tone wig so you can have Cruella's signature hair-do!
Cigarette Holder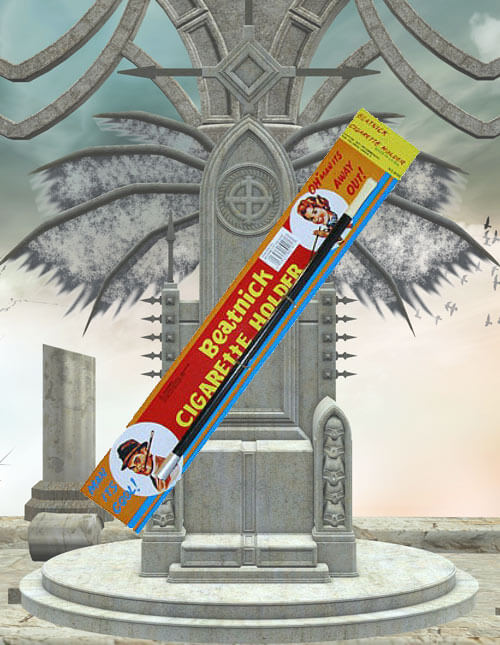 You can always bet Cruella will be wearing a luxurious fur coat and toting around a long cigarette holder. If you want to completely embody the puppy crazy female Disney villain, then you're going to need the must-have accessory for all our Cruella de Vil costumes. Use this vintage style cigarette holder to compliment your look. Pretend to take some puffs so you can really get into character!
Captain Hook Costume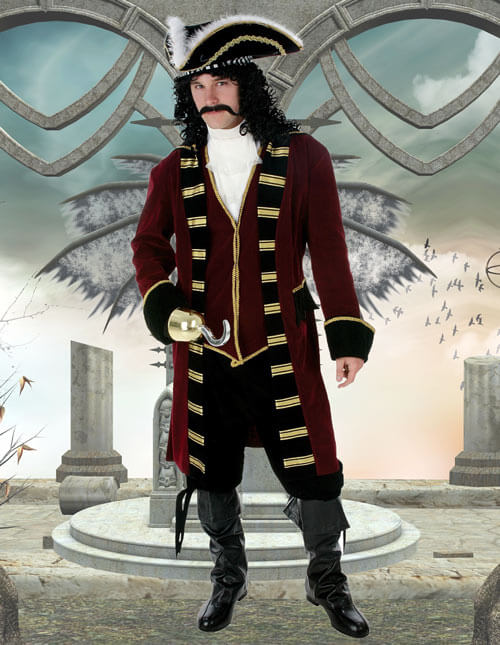 Tick tock, tick tock, the big Neverland croc is coming for you! Now you can transform into the brutish commander of a rough-and-tumble pirate crew by wearing our Captain Hook costume. You'll have the urge to engage in a thrilling swordfight with Peter Pan when you are wearing the long red jacket, lace trim jabot, and buckle boot covers. You'll look like you are going to command a pirate ship, but just be careful of what lurks beneath the water!
Pirate Hook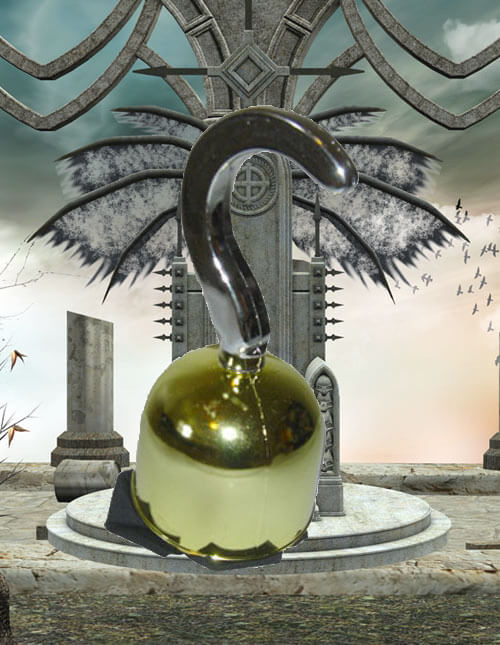 An iron hook replaces his severed hand; hence his notorious name, Captain Hook. If you want to look like the infamous Disney pirate who wants nothing more than to seek revenge on Peter Pan, then you absolutely need this pirate hook accessory. Go out there and seek vengeance, but first, practice dueling with one hand tied behind your back before you face-off with Pan for a rematch!
Evil Queen Costume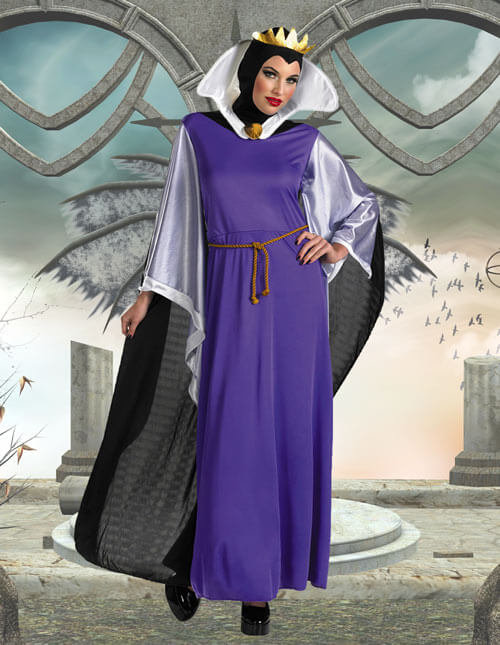 All the fairytale creatures will run as fast as their little legs will carry them when they see you dressed in this evil queen dress. You'll look like you're going to poison shiny red apples and then start passing them out when you're cloaked in the purple gown, long cape, and golden crown. All you'll need is a mirror on the wall to stare into and you'll see that you are indeed the "fairest of them all" when wearing this Snow White witch costume.
Evil Queen Headpiece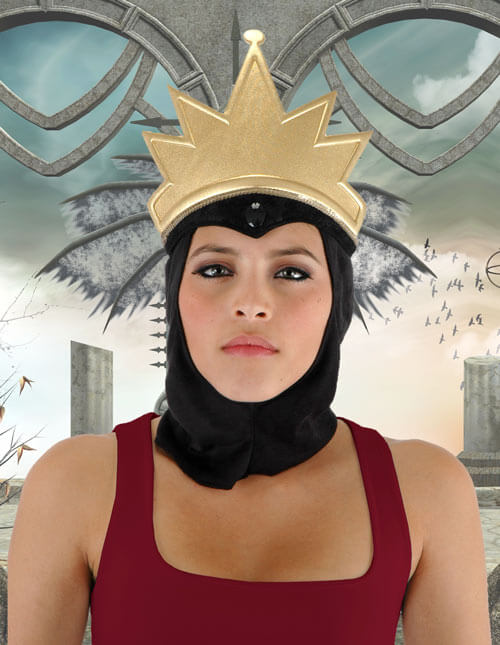 Once you're disguised in your Snow White evil queen costume, then you need an accessory that will show everyone that you truly are Disney royalty. You can't complete your villainous transformation without the queen's iconic crown headpiece. She not only wears a shiny golden crown but she also sports a unique headpiece which only reveals her face. This nifty accessory allows you to don both!
Ursula Costume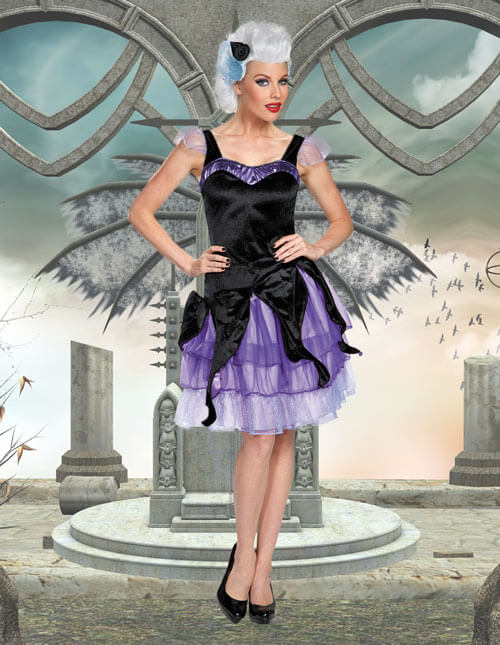 Now you can work those tentacles for all the "poor unfortunate souls" out there when you slink into this Ursula Halloween costume. You'll have the urge to creep along the ocean floor when you're wearing the tank top style dress with black dangling tentacles. The attached purple petticoat will give you the va-va-voom swagger that Ursula is famous for!
Golden Trident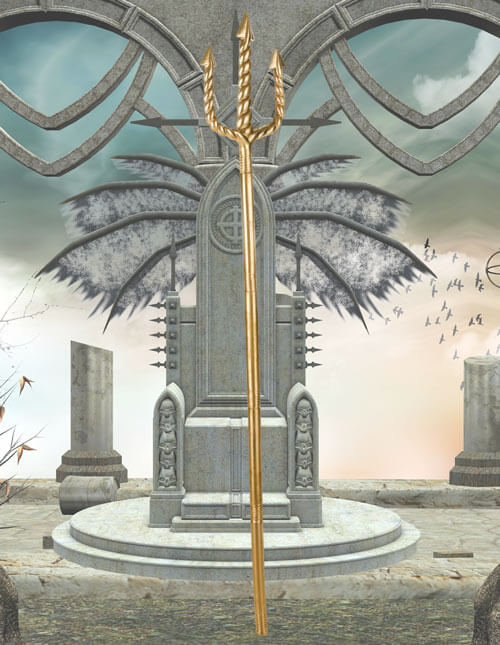 Take control of Atlantica once and for all! When you're wearing your Ursula dress add this golden trident as your main accessory to carry because you'll appear as though you valiantly won the magical sea spear from King Triton. Hold it proudly over your head as you pose for pictures next to a defeated Ariel!
Queen of Hearts Costume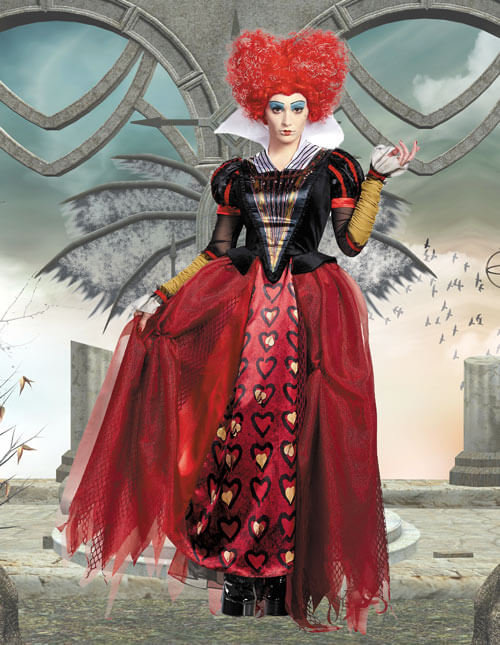 Figure out which one of your froggy footmen had the audacity to steal your raspberry tarts then ferociously shout, "off with their heads," while you're dressed in a Queen of Hearts costume. You'll look and feel like real Wonderland royalty when you're wearing the floor length gown. This Queen of Hearts costume features a high collar, printed heart shapes, and puffy Victorian style sleeves.
Red Queen Wig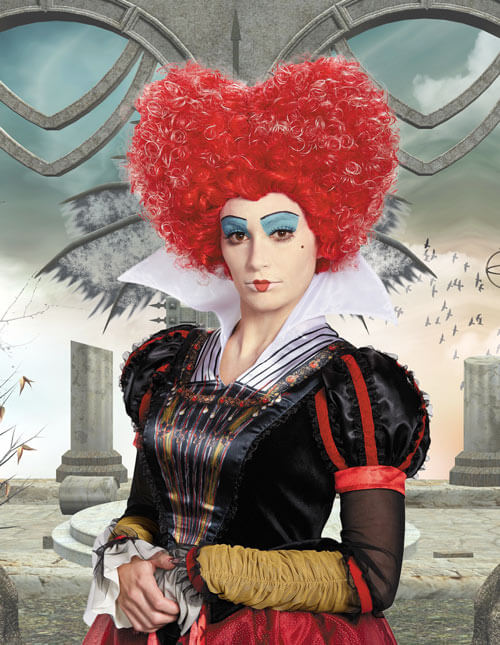 The Red Queen may have a bad reputation but there's no denying that she has a killer hairstyle. Get the villain's signature hairstyle by wearing this heart-shaped Red Queen wig! It's the perfect finishing touch to add to the Queen of Hearts costume that you deem the most enchanting.
Girls Mal Costume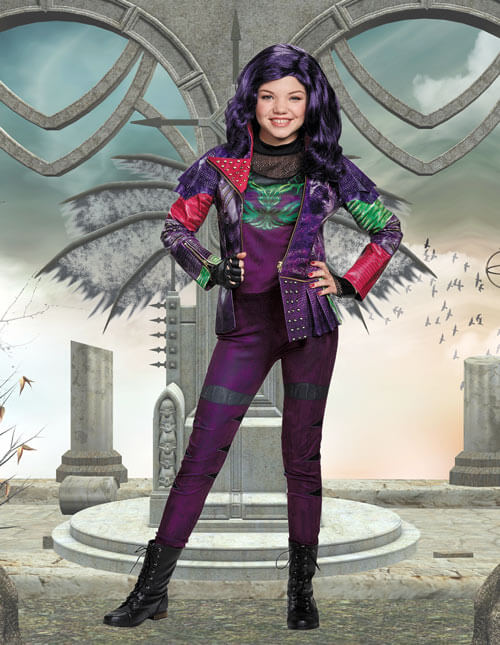 Mal may have a little attitude problem but what do you expect when her mother is one of the worst Disney villains of all time? Young fans of the movie, The Descendants, will love getting a taste of what it feels like to call someone who can transform into a dragon "mom." This deluxe Descendants 3 Mal costume comes with the vest, jumpsuit, and gloves!
Girls Mal Wig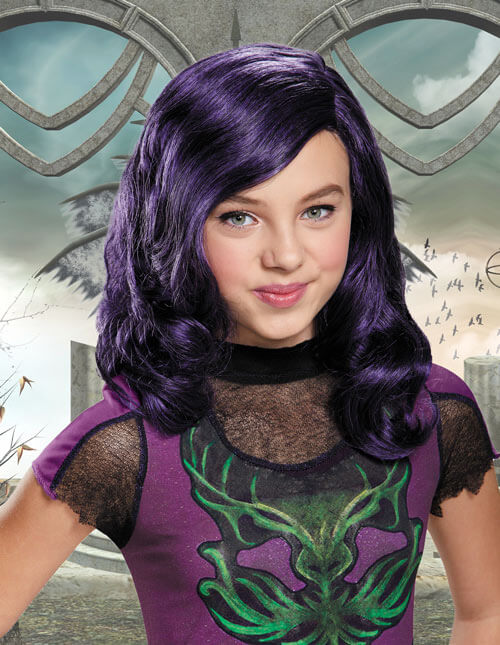 Rock some purple tresses just like the Mistress of All Evil's daughter! This girl's Mal wig will complete your Disney Descendants 3 costume. Plus, you'll save your mom from freaking out over your blue and purple hair.
Girls Evie Costume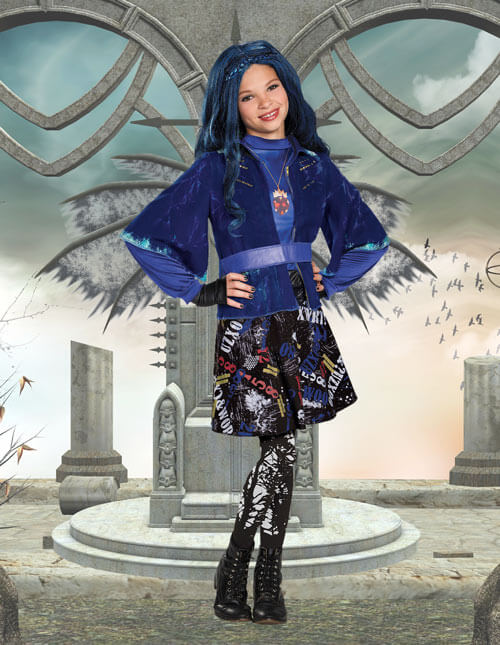 Your little trendsetter will love getting a taste of what it feels like to be the daughter of the one and only evil queen when she wears this Descendants 3 girl's Evie costume. When she's clad in the dress, jacket, leggings, and fingerless gloves she'll really feel inspired to get into character. Give her a tiny mirror to put in her purse so she can check her appearance from time to time.
Girls Evie Wig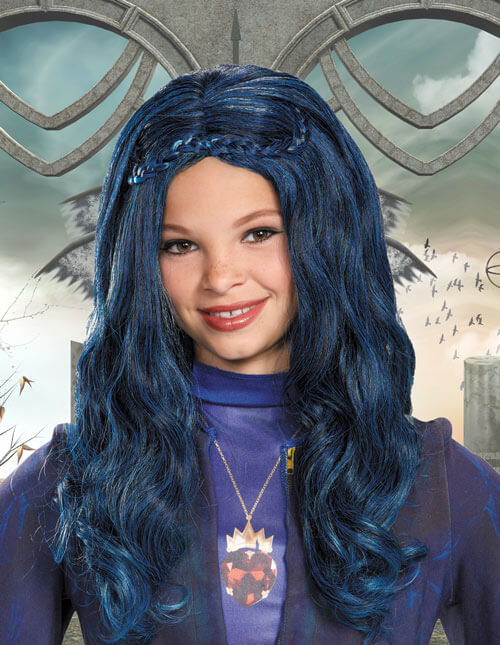 Fans of Disney's, The Descendants, know that Evie never leaves home without her crown positioned neatly on her lavender locks. Add this girl's Evie wig to your Descendants 3 costume then meet up with Mal so you two devise a way to bust your evil mothers out of captivity.
Maleficent Makeup Tutorial
First, apply primer to the eyelids so your shadow will stay in place. Take your tan eyeshadow and cover your lids completely. Also, be sure to apply a dusting of this shade to your brow bones. Grab your favorite dark brown shadow and layer a dusting to your outer eye creases and don't forget to extend it underneath your eye as well. Glide black eyeliner on your bottom lash line and swipe black mascara on your lashes. Fill in brows to make them stand out. Use brown eyeshadow and bronzer to contour the hollows of your cheeks. Line your lips with mauve lip liner and coat them with your favorite red lipstick and gloss. Add some spooky green contacts to really make your Maleficent makeup pop!
Cruella De Vil Makeup Tutorial
First, apply white powder to the entire face and dab eye shadow primer on the lids. Use a light green shadow on the outer corners of eyes and create a rounded shape for a cartoonish look. Contour the lids with dark green shadow and extend it below the eyelashes. Take your favorite highlighter and highlight your brow bone, then use black eyeliner to accentuate your lids and lower lash line. Apply white eyeliner to the inner corners and the water line of both eyes. Fill in eyebrows and contour cheeks with blush to create an angular shape. Finish up with red liner and lipstick for a look that will make puppies cower in fear!
Queen of Hearts Makeup Tutorial
First, you'll want to start by applying white powder all over the face to give yourself a pale complexion. Next, load on the blue eyeshadow. Place a dusting of white eyeshadow under the brow bone. Grab your hot pink lip liner and create a heart shape on your lips. You'll want to also use that same lip liner to draw three small hearts by the corner of one of your eyes. Watch the video for in-depth instructions on this Queen of Hearts makeup application!
Disney Bound
Whether you're heading to a Disney theme park or you just want to model your wardrobe after your favorite evil Disney characters, Disney Bounding allows you to dress as your favorite character without wearing a full costume. Take a peek at these wicked looks that we've assembled and then recreate your own using similar articles of clothing you have in your closet. Next, get out there and do you own photoshoot so you can get cool shots like these. Go ahead and start practicing your best devilish smirk now!
Gaston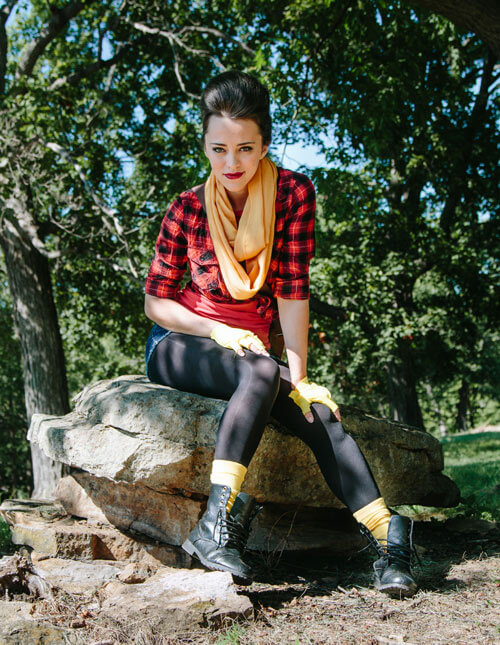 There's no denying that Gaston is Belle's biggest headache. We decided to transform Gaston's usual ensemble into a cute ensemble for women to wear. Cool, right? All you need is a flannel button-up, red t-shirt, jean shorts, leggings, and a yellow scarf to create your own unique female Disney villain costume. Top off the look with some yellow socks and a pair of combat boots. Finally, give the camera a sassy look while you're rockin' your Gaston costume!
Hades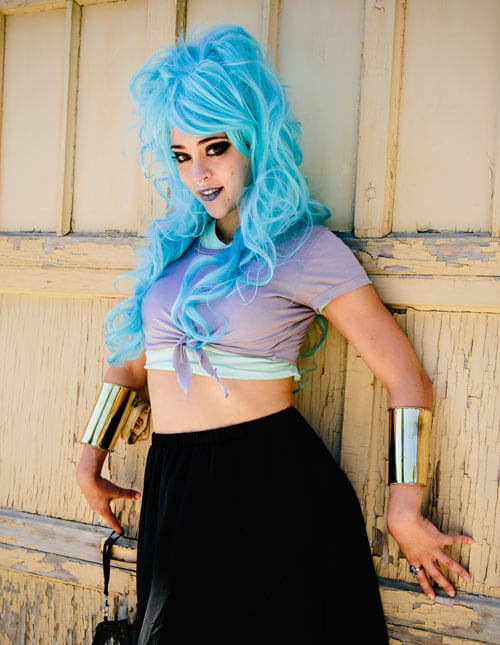 Give the blue-haired ruler of the Underworld a makeover by choosing Hades as your Disney Bound inspiration! First, get out your crop top and a black flowy max skirt. Make the look pop by wearing gold cuffs and a funky blue wig. Leave the temper tantrums at home but remember your fiery attitude while you're posing for pictures on Halloween night!
Jafar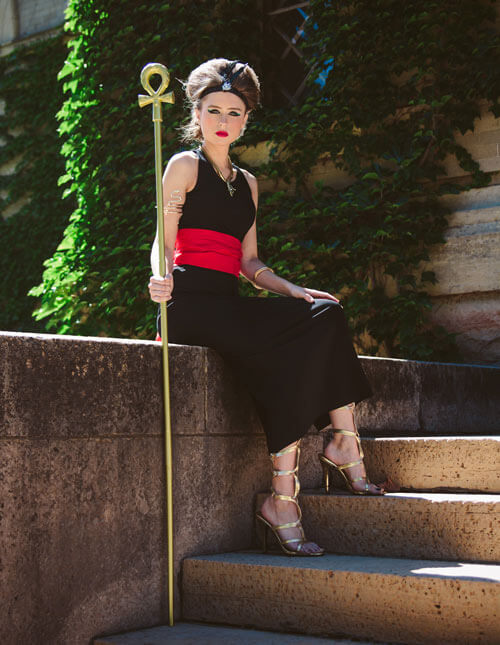 If you want style that is bold enough to overthrow the Sultan and you love to be decked out in gorgeous jewels, then you may be interested in creating your own Jafar costume. Grab your favorite black dress or a black tank top and long maxi and wrap a red scarf around your waist. Add an Ankh staff as your main accessory to complete your female Disney villain costume. Complete the look with some strappy gold heels and a jewel headpiece.