Queen of Hearts Costumes
How to Be The Queen Of Hearts
Ideas, Tips & Tricks
"The Queen of Hearts, she made some tarts..." or not. Those infamous tarts, and their theft by the Knave, are fodder for one of the most famous episodes in Alice in Wonderland. The Knave goes on trial, and the Queen gets to use her signature catch phrase, "Off with his head!" If you're going to become the Queen of Hearts, you can re-enact that scene, or the royal croquet game, or simply go around with the King of Hearts or the Mad Hatter ordering people to be beheaded. You can be a Disney-esque queen, or you can be the evil martinet of Tim Burton's Underland. Your choice. Our hints and tips below will help you bring Wonderland – or Underland – to life. You'll know what to say and how to pose, like the playing-card royalty you are!
How to Pose for Pictures in Your Queen of Hearts Costume
"On Your Throne"
"Line Up Your Shot"
"Off With Their Head"
"Bad Temper"
As a queen, you're always "on." So you have to get your regal poses just right, no matter the situation. Whether you're holding court while sitting on your throne (with your legs demurely crossed at the ankles), lining up the perfect croquet shot, or ordering someone's head to be cut off, you'll act the part with aplomb. Feel free to express your bad temper. That's what the Queen of hearts is known for!
Couples Costumes to Pair with Queen of Hearts
King and Queen Of Hearts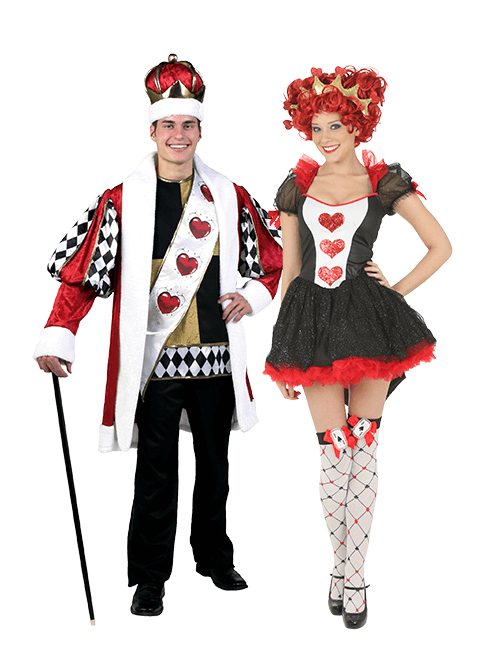 Mad Hatter and Queen of Hearts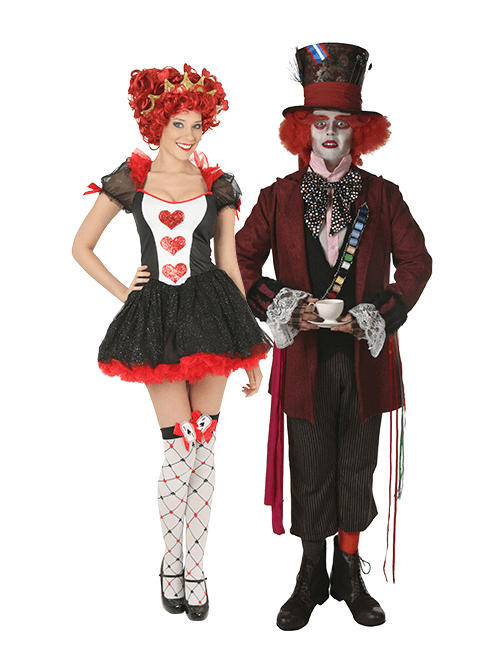 If you're going to be the Queen of Hearts, what should your date be? Well, if you want a matched couple's theme, you have options. The first one that may come to mind is the King of Hearts. In Lewis Carroll's book, the King of Hearts seems to be the original henpecked husband. But he quietly manages to get his way, and undo some of the Queen's mischief. Or, your date could be the Mad Hatter. After all, a queen can't have too many hats–or Hatters, can she?
Queen of Hearts Costume Makeup Tutorial
The Queen of Hearts can be a bit of a diva, so be sure to look your best with this makeup tutorial for Halloween. Start with a white powder base across the face and add blue eye shadow color across both eyelids extending all the way up to the eyebrow. Add black eyeliner and mascara for a bolder eye. Apply a heart shape at the center of your lips as well as adding hearts to the corner of your eye to complete this look.