Pose in Different Mad Hatter Costumes
There are so many options for portraying the Mad Hatter from Alice in Wonderland. In addition to the many styles of Mad Hatter costumes, there are lots of ways to pose while in character that will enhance whichever option you choose. From the sophisticated charm of the being the original storybook version to the whimsical look and mannerisms of the cinematic Hatter played by Johnny Depp, no matter your personality there is a Mad Hatter Halloween costume that is sure to appeal to your own unique self.
Storybook Mad Hatter Costume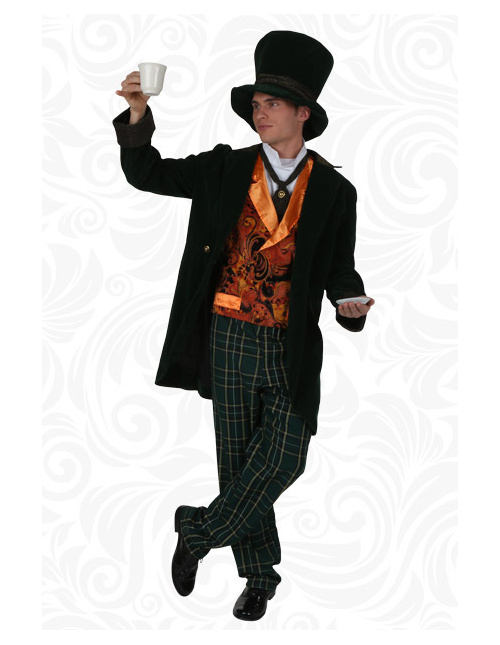 The Mad Hatter in the storybook Alice's Adventures in Wonderland was unable to ever escape tea time. He made the best of it by entertaining his guests with clever riddles and keeping things lively. Raise a tea cup, pinkie finger out and toast your guests.
Animated Mad Hatter Costume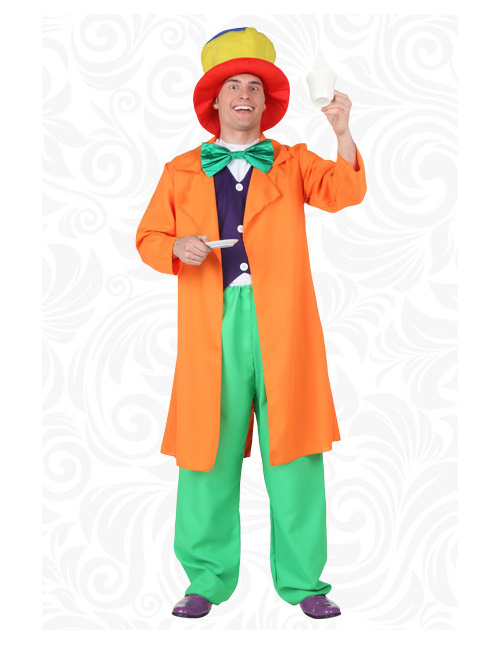 The animated version of the Hatter was an over-the-top adaptation of the popular storybook character. All of your movements can be more outrageous and excited than you'd normally do. In this brightly colored men's Mad Hatter outfit, you'll certainly get your tea party guests' attention!
Live-Action Movie Mad Hatter Costume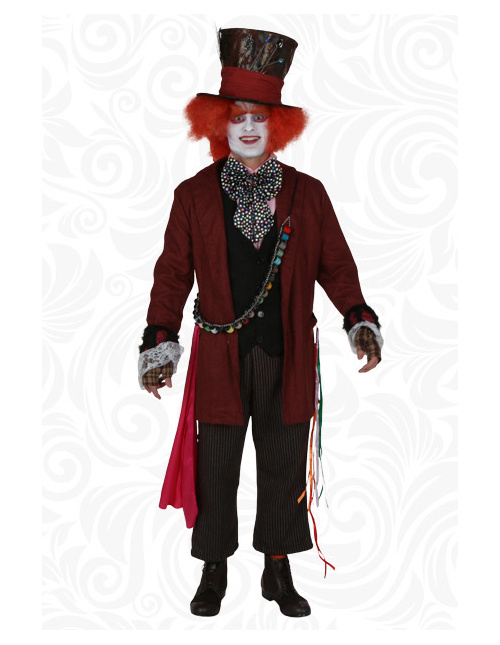 Perhaps when you think of the Mad Hatter, the image made famous by Johnny Depp in Tim Burton's live action adaptation is what comes to mind. To take your elaborate Mad Hatter cosplay to the next level, make sure to behave as someone on the verge of going mad.
Dark Mad Hatter Costume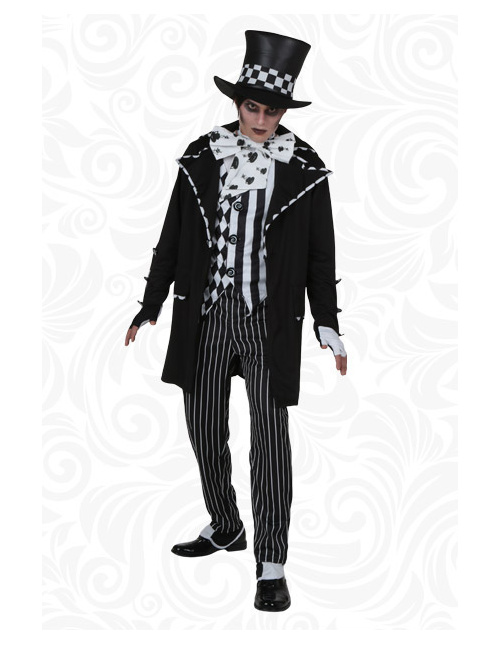 Maybe you'd prefer to show the more sinister side of this fairytale character. To pull off this dark Mad Hatter look, the key is your facial expressions. Stick with scowls and a furrowed brow to convey a bit more angst than one would normally expect from the Hatter.
Female Mad Hatter Costume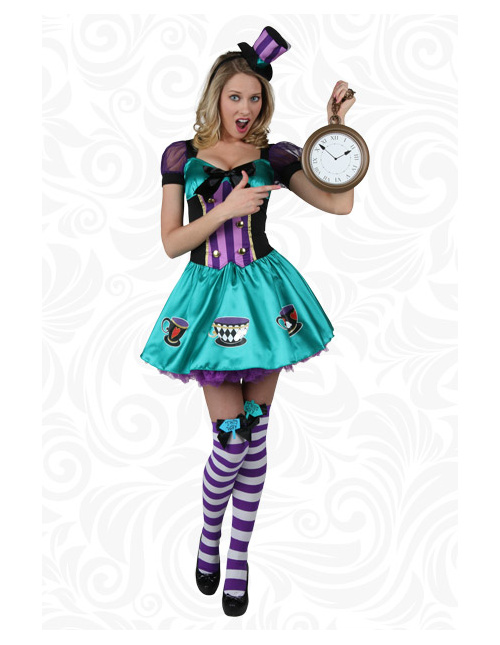 The Mad Hatter is such a popular character that women's costumes have become best sellers too! This whimsical tea party themed Mad Hatter costume for women is covered in tea cups and is perfect for portraying a playful version of the Hatter.
Sexy Mad Hatter Costume for Women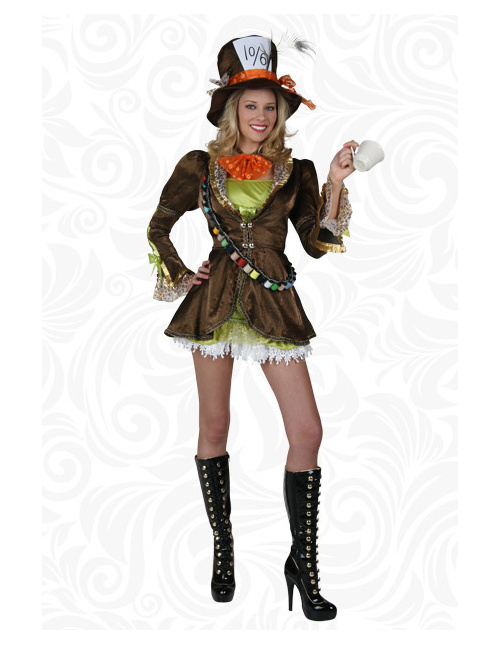 If you prefer a more sultry Mad Hatter look, this sexy Mad Hatter costume has more vintage-inspired pieces, and paired with our exclusive bandolier accessory it really pops. Be serious, or flirty; this Mad Hatter outfit lets you add your own personality.
Mad Hatter Costume Accessories
Making the most of your Mad Hatter cosplay costume is all about paying attention to the details. Whether you are choosing to portray a traditional, storybook version of the Hatter or want to look more like the cinematic version, make sure to include these essential pieces for a polished sheen of madness! Not only do accessories enhance your costume, but they also serve as a way to set your look apart from the rest.
Mad Hatter Wig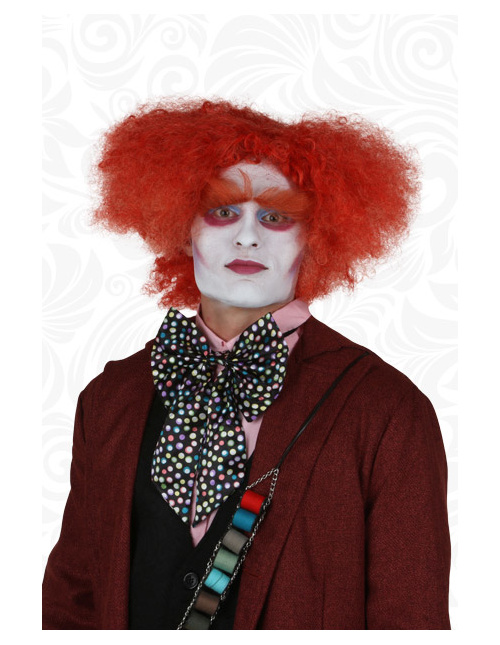 If you are a Tim Burton fan, then you'll understand that this curly orange wig is essential to achieving a true Mad Hatter appearance based on his hit Alice movie. Be sure to do your makeup first, then add the wig to top it off.
Mad Hatter Hat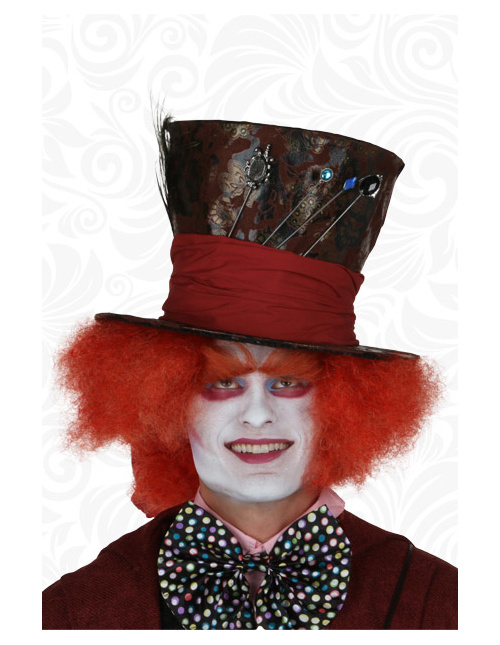 For a live-action Mad Hatter costume, having an oversized top hat that's styled to look like you found it in a local vintage shop is ideal. Sure you could try digging through piles of dusty old trunks in grandma's attic looking for a unique hat, but it's much easier to get this one: it can be delivered right to your door!
Mad Hatter Bandolier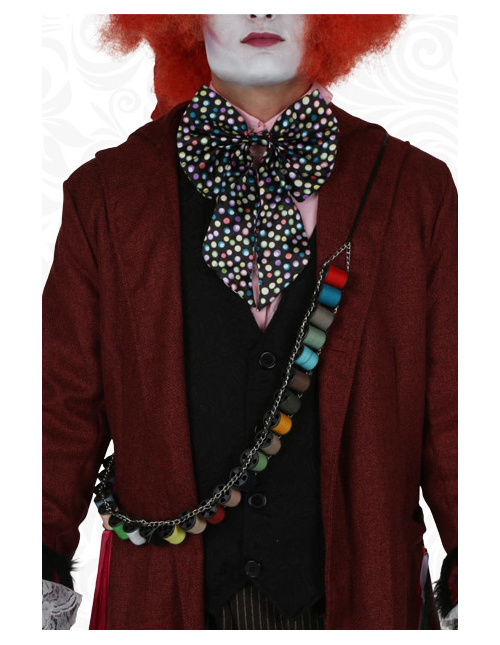 This exclusive thread spool bandolier accessory adds just the right amount of detail to complete your look. It can be added to men's, women's and children's Mad Hatter costumes!
Mad Hatter Hat Pins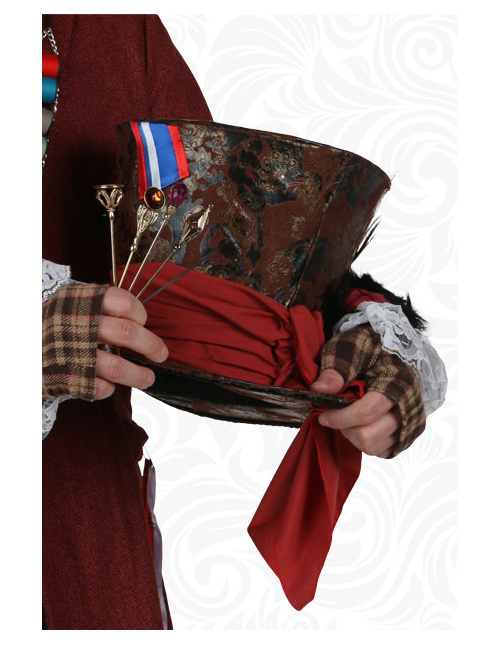 Want to go all out? Add a set of officially licensed Mad Hatter hat pins to your hat! If you are someone who likes to get your costume correct down to the last detail, these are essential for your movie Mad Hatter cosplay.
Mad Hatter Couples Costume Ideas
Wearing a great costume is always twice as fun when you have someone to wear one with you! Just like there is more than one way to look like a Hatter, there is definitely more than one way to look like the perfect Alice in Wonderland couple. You can create a fairytale look inspired by Lewis Carroll's story, or go goth with our dark Mad Hatter outfit and dark Alice costumes. And let's not forget what a magical couple the Hatter and Alice made in Tim Burton's adaptation. Choose the style that fits your personality or mood!
Classic Alice in Wonderland Costumes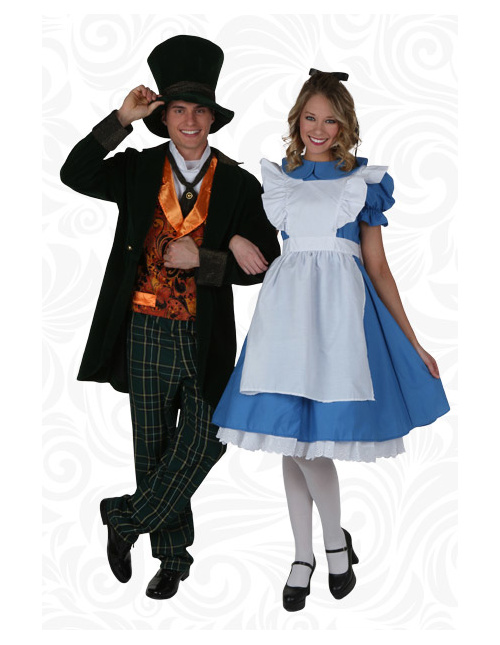 If you are looking for a quintessential Mad Hatter and Alice couples' costume, these exclusive costumes are the way to go. This handsome Mad Hatter suit includes the paisley vest, plaid pants and oversized green top hat for a complete look. Both costumes come in many sizes for all ages, including plus sizes, so everyone can bring this fairytale look to life.
Dark Alice in Wonderland Costumes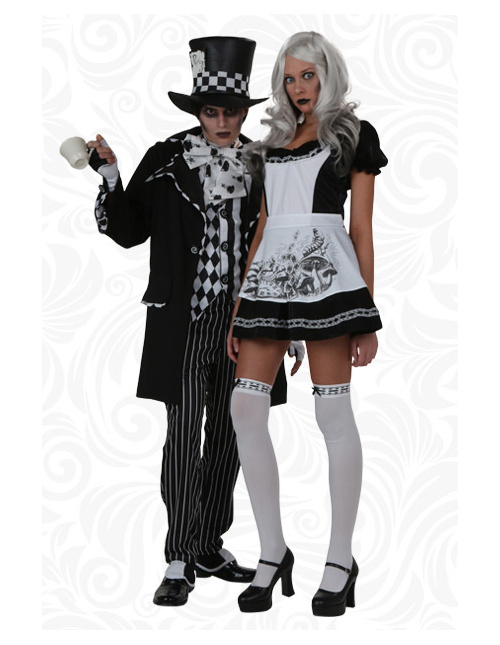 Maybe you don't believe in happy endings. Or maybe you're just not in the mood to smile at your next tea party. Either way, you don't really need a reason to justify this dark Mad Hatter and Alice couples outfit. It's a bold take on these classic characters that will make you the hit of any party.
Alice in Wonderland Couples Costumes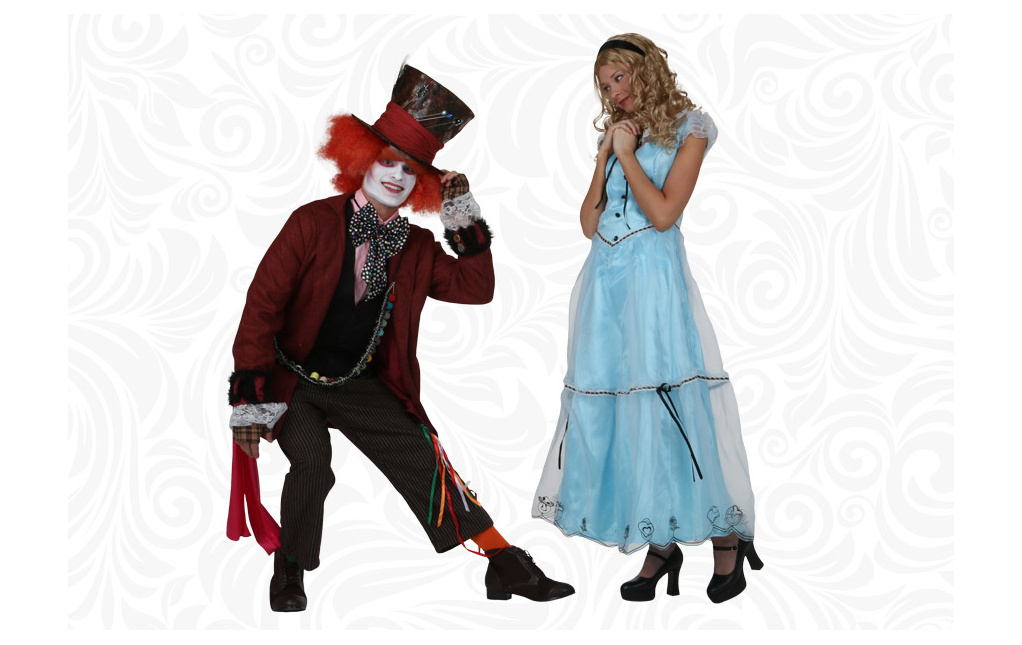 Perhaps one of the most popular and stylish ways to portray this Alice in Wonderland duo is with the costumes inspired by Tim Burton's Alice movie. This film took liberties to update the looks of these iconic characters, and the costumes became instant classics. We maybe didn't always understand exactly what the Hatter was thinking or doing in this film, but it was clear that he was friendly and motivated to help others avoid suffering. No wonder Alice cared for him so much!
Mad Hatter Quotes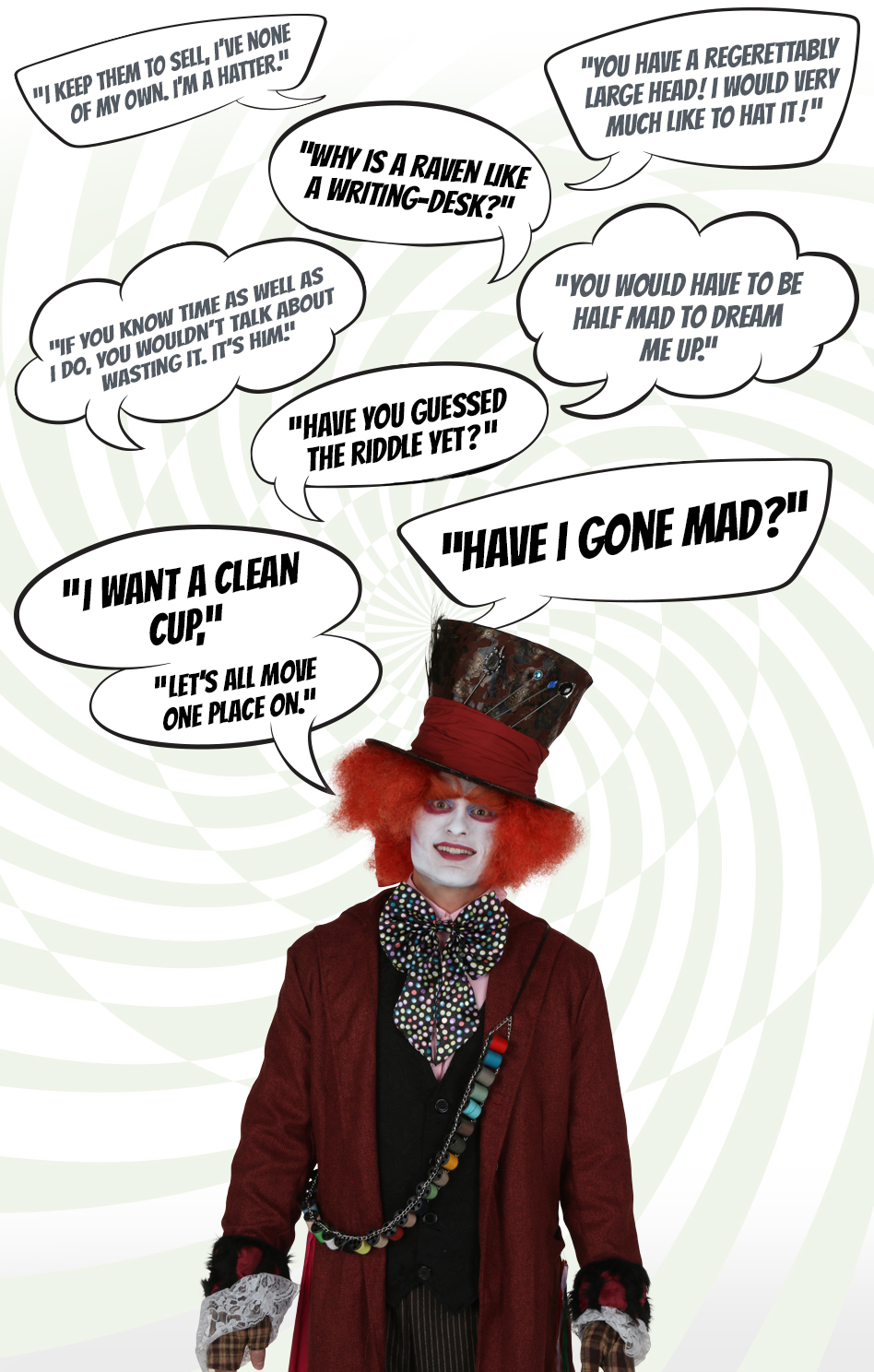 "I keep them to sell, I've none of my own. I'm a hatter."
"Why is a raven like a writing-desk?"
"You have a regrettably large head! I would very much like to hat it!"
"If you know time as well as I do, you wouldn't talk about wasting it. It's him."
"You would have to be half mad to dream me up."
"Have you guessed the riddle yet?"
"I want a clean cup... Let's all move one place on."
"Have I gone mad?"