Disney Villains Costumes
Disney Villains Costume Ideas
Admit it: you have a love/hate relationship with Disney's most evil characters! Even though they spend most of their time trying to sabotage the hero's mission, all Disney villains have fiery personalities that are fun to watch on screen. If you've always had a soft spot for the movie's evildoer then you just may love dressing up in a Disney villain costume for Halloween. We'll show you some of our bestselling costumes for men, women, and children and we'll also show you how to pose while wearing them. Take a peek at our top selections, pick out the Disney villain costume you like best, and hopefully all of your Halloween dreams will come true!
Disney Bound
Whether you're heading to a Disney theme park or you just want to model your wardrobe after your favorite evil Disney characters, Disney Bounding allows you to dress as your favorite character without wearing a full costume. Take a peek at these wicked looks that we've assembled and then recreate your own using similar articles of clothing you have in your closet. Next, get out there and do you own photoshoot so you can get cool shots like these. Go ahead and start practicing your best devilish smirk now!
Gaston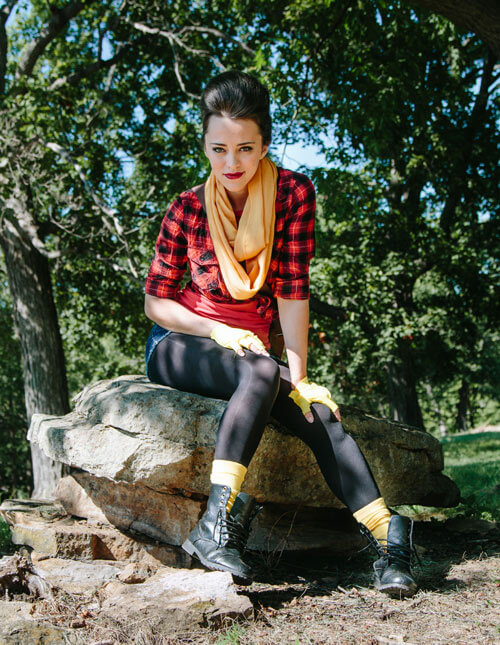 There's no denying that Gaston is Belle's biggest headache. We decided to transform Gaston's usual ensemble into a cute ensemble for women to wear. Cool, right? All you need is a flannel button-up, red t-shirt, jean shorts, leggings, and a yellow scarf to create your own unique female Disney villain costume. Top off the look with some yellow socks and a pair of combat boots. Finally, give the camera a sassy look while you're rockin' your Gaston costume!
Hades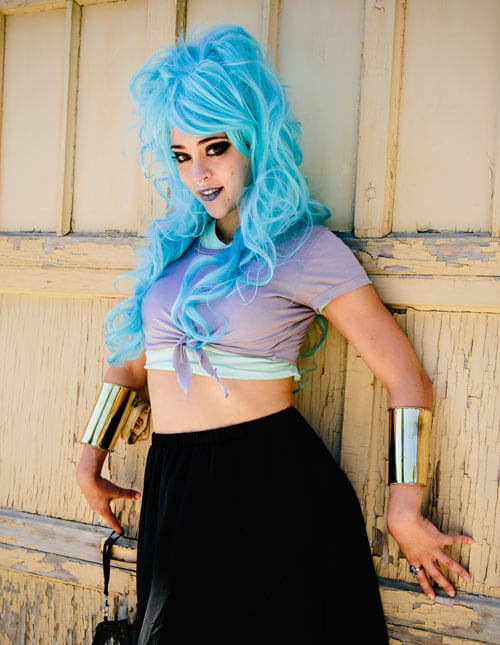 Give the blue-haired ruler of the Underworld a makeover by choosing Hades as your Disney Bound inspiration! First, get out your crop top and a black flowy max skirt. Make the look pop by wearing gold cuffs and a funky blue wig. Leave the temper tantrums at home but remember your fiery attitude while you're posing for pictures on Halloween night!
Jafar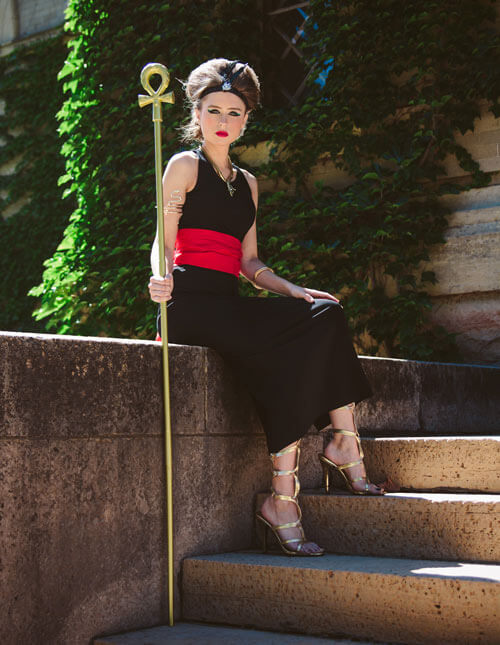 If you want style that is bold enough to overthrow the Sultan and you love to be decked out in gorgeous jewels, then you may be interested in creating your own Jafar costume. Grab your favorite black dress or a black tank top and long maxi and wrap a red scarf around your waist. Add an Ankh staff as your main accessory to complete your female Disney villain costume. Complete the look with some strappy gold heels and a jewel headpiece.
Maleficent Makeup Tutorial
First, apply primer to the eyelids so your shadow will stay in place. Take your tan eyeshadow and cover your lids completely. Also, be sure to apply a dusting of this shade to your brow bones. Grab your favorite dark brown shadow and layer a dusting to your outer eye creases and don't forget to extend it underneath your eye as well. Glide black eyeliner on your bottom lash line and swipe black mascara on your lashes. Fill in brows to make them stand out. Use brown eyeshadow and bronzer to contour the hollows of your cheeks. Line your lips with mauve lip liner and coat them with your favorite red lipstick and gloss. Add some spooky green contacts to really make your Maleficent makeup pop!
Cruella De Vil Makeup Tutorial
First, apply white powder to the entire face and dab eye shadow primer on the lids. Use a light green shadow on the outer corners of eyes and create a rounded shape for a cartoonish look. Contour the lids with dark green shadow and extend it below the eyelashes. Take your favorite highlighter and highlight your brow bone, then use black eyeliner to accentuate your lids and lower lash line. Apply white eyeliner to the inner corners and the water line of both eyes. Fill in eyebrows and contour cheeks with blush to create an angular shape. Finish up with red liner and lipstick for a look that will make puppies cower in fear!
Queen of Hearts Makeup Tutorial
First, you'll want to start by applying white powder all over the face to give yourself a pale complexion. Next, load on the blue eyeshadow. Place a dusting of white eyeshadow under the brow bone. Grab your hot pink lip liner and create a heart shape on your lips. You'll want to also use that same lip liner to draw three small hearts by the corner of one of your eyes. Watch the video for in-depth instructions on this Queen of Hearts makeup application!