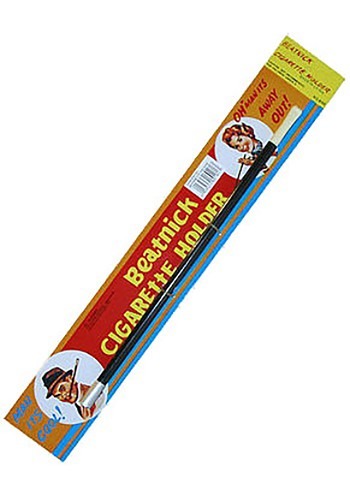 Product Description
This evening is going to be just divine!
Are you ready to take part in a celebration that is truly decadent? Well, get ready to have the time of your life. You'll mingle with lavish socialites and you'll bump shoulders with some very important business moguls and powerful real estate tycoons. Prepare your taste buds because you're about to sip on the most scrumptious champagne and other spirits that you've never tasted before. So, go into your closet and grab your shiniest pair of dress shoes and your fluffiest boa, and finally, don't forget your cigarette holder.
This cigarette holder accessory is perfect to pair with any 20's themed costume. We think that it looks great to hold while you're wearing a flapper costume. It's a great way to make your look seem more authentic and realistic! You'll look like you're on your way to a swanky speakeasy or a ritzy party hosted at a mansion!
12'' long

Smoke filters through a hole in the mouth piece

Can be used as a working cigarette holder

Makes you look like a high class dame