Flapper Halloween Costumes
Choosing a 1920s Flapper costume is a bit of a rite of passage for any bold lady, because this era called for opulence, confidence, defiance, and a hefty dose of style that's worthy of the women who started it all! But, first things first, you're going to have to get the costume. And, naturally, we've got Flapper Halloween costumes in a variety of styles, sizes, cuts, and colors. With our selection, we're sure you'll be able to find a style that suits you perfectly. So, grab a drop-waist dress, throw on a pair of kitten heels, reach for the rouge, rock a soft headband, learn the lingo, adorn yourself in pearls, sidle up to the speakeasy with a notorious gangster, brush up on your Charleston, bob your hair (or pick out a wig!) and prepare to get glitzy. Our 1920s Flapper dresses are going to have you ready for a fantastic Halloween!
Are all Flapper costumes created equal? Not according to us! These unique and special pieces have been hand-picked by our discerning staff to tickle your fancy and put a pep in your step. They're top sellers and perennial favorites for Halloween parties all around the world! You might have a costume party or even a Roaring 20s party to attend, but either way, we're sure you'll be the bee's knees in one of these gorgeous getups!
Speakeasy Flapper Outfit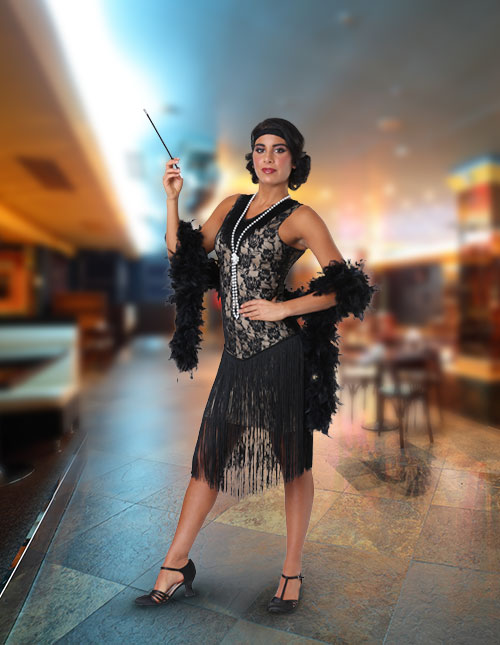 You cannot truly be a Flapper until you've discovered and frequented a speakeasy. The thrill of prohibition-breaking behavior only lends more excitement to this Speakeasy Flapper Costume! Slowly sip on a Sidecar or try an Old Fashioned while the band plays the night away at the juice joint!
Roarin' 20s Dress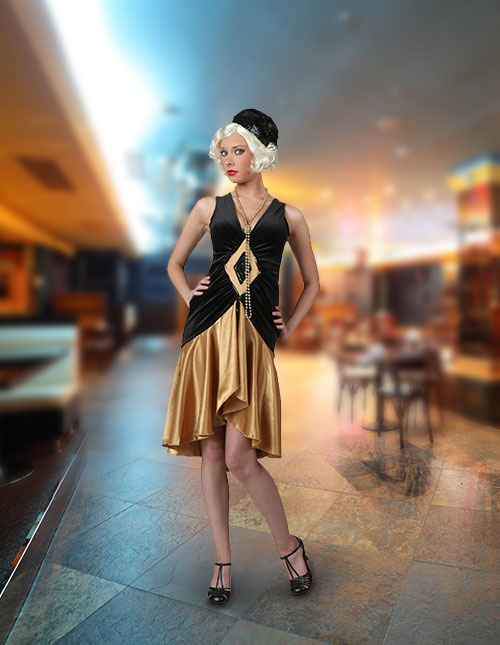 Zelda herself couldn't have designed a more perfect Roaring 20s Flapper Dress! In fact, we have it on good authority that Fitzgerald had an outfit just like this one. The art deco detailing and gold and black elegance make this hot little number roar whenever you wear it.
Charleston Flapper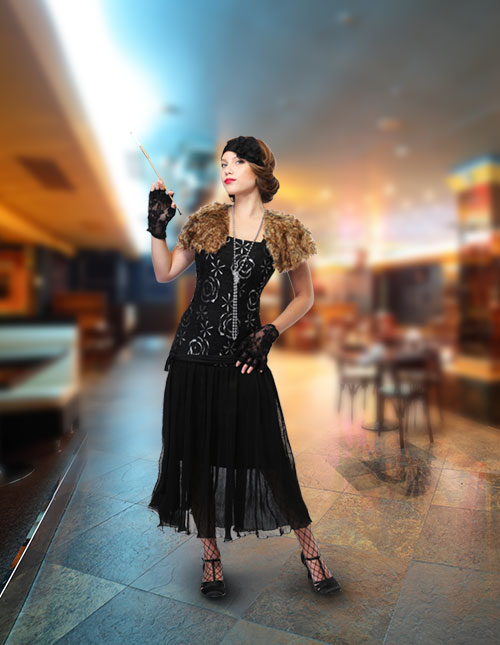 When you wear this Ladies Charleston Flapper Dress, you better be ready to…Charleston! Performing the iconic dance of the 20s is basically a requirement of any Flapper getup. So why not host a dance at your charming estate while wearing this opulent costume? You can help usher in the dance craze that took America by storm (and look great while doing so)!
Sexy Flapper Costume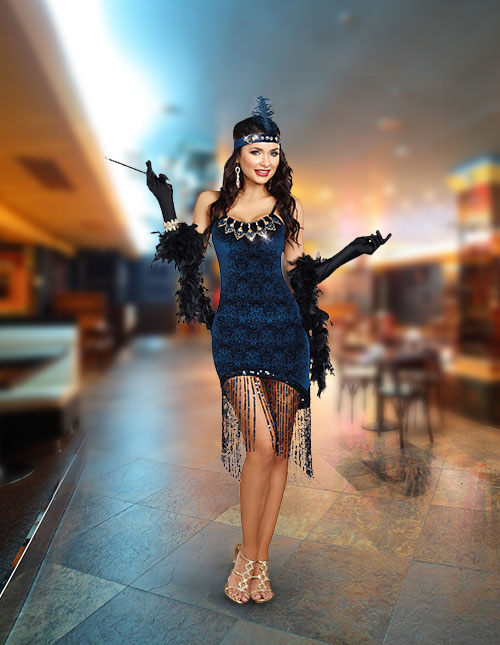 If you like to push the rules even more than an average Flapper, you can get super-flapper fabulous in this Women's Downtown Doll Costume. The hemline pushes boundaries even further and the silhouette takes on a more modern, form-fitting shape, but the fringe, detailing, and attitude is 100% Flapper fierce!
Kids' Flapper Costumes
Kids know how to have fun, and fun is central to the Flapper lifestyle! You don't have to remind a child to "dance like no one is watching", they do it naturally! Kids will stay up all night, if you let them, and they are all about defying the rules. Basically, what we're saying is that kids and Flappers go together like sequins and fringe. Also, Flapper culture isn't all giggle water and speakeasies—encourage your kiddo to discover all the aspects of this historic era and to read up on the passionate, progressive ladies who made it unforgettable. It's never too early to teach your child to think for themselves!
Flapper Girl Costumes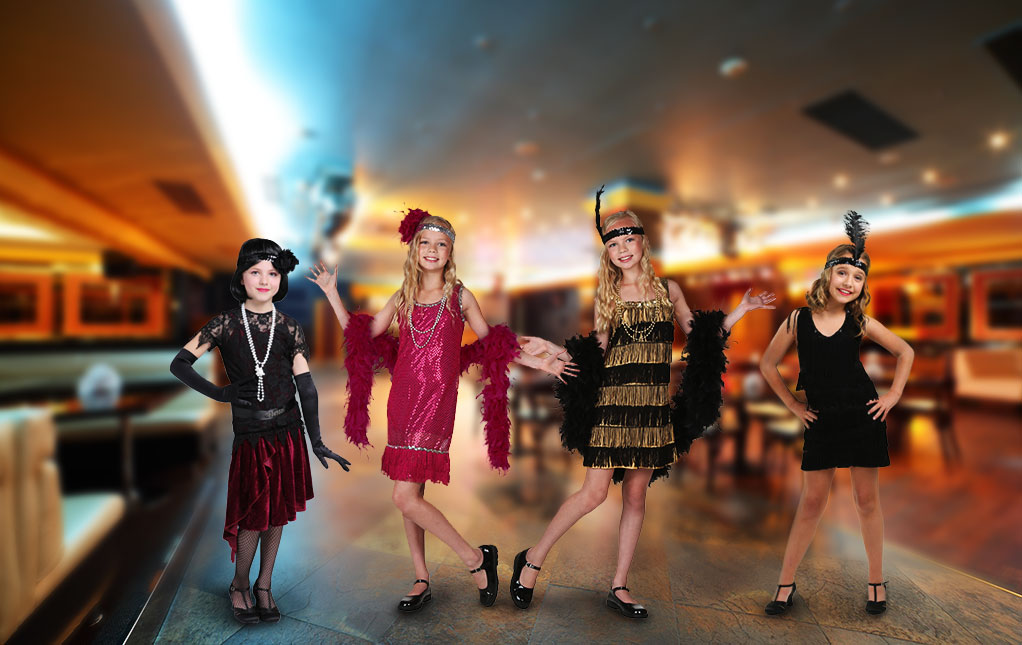 Take playing dress-up to a whole new level and let your girl go all-out in this Fuschia Sequin and Fringe Flapper Dresses. It glimmers and gleams in her favorite hue—bright pink! Or perhaps she's feeling more like a "starlet" tonight—this Gold and Black Fringe Flapper Costume ought to make her feel like a 20s movie star the moment she slips on this girls flapper dress. Maybe she imagines herself at a salon of artists and writers, instead of out on the town. If so, this Toe Tappin' Flapper Girl Costume will fit the bill. Not all Flappers dressed or thought alike, so make sure your little Jane finds the frock that fits her personality!
Toddler Flapper Costume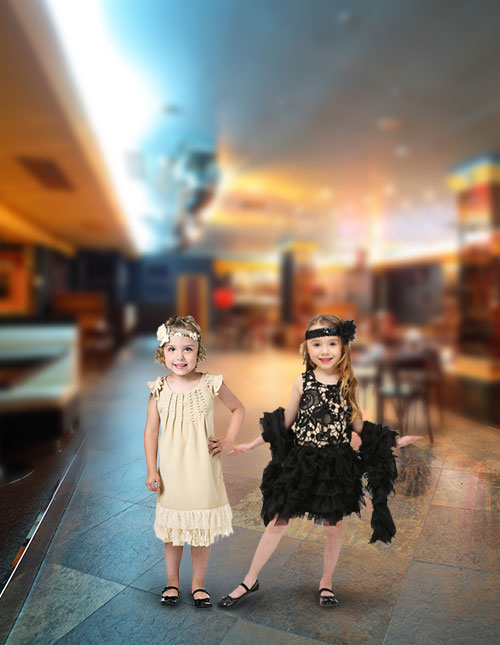 Sure, just about any costume you put on a toddler is cute, but how many embolden them to be an individual (not to mention encourage dancing)? These pint-sized Flapper looks pack a big punch—plus, we have a feeling your kiddo will LOVE the fun embellishments. Look at this toddler pearl and lace flapper costume! It's a delicate and dainty daytime look; your gal will love the floral headband and lace trim. So pretty! Or, this Toddler Dazzling Flapper Costume has added "fancy" appeal with its tutu-esque skirt and sequined headband! Teach your tiny one the Charleston and prepare to be blown away by cuteness—not to mention, to tire them out before bedtime!
Tween Flapper Girl Costumes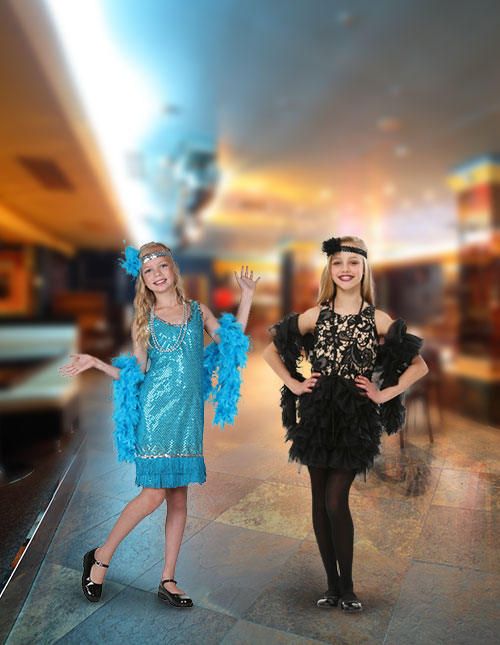 If you know a little bearcat in training who's growing up to be a real powerhouse, offer her a finished look that's nothing short of spiffy! These costumes embody the best of this defiant era. Just like Flappers, tweens know a thing or two about living between the lines—neither child nor teenager, these great kids need opportunities to develop a sense of who they are. Our Flapper costumes for girls are available in sizes up to tween and teen, so, let your girl try on this Turquoise Sequin Fringe Flapper Costume and see if she lights up. You could also take home this Dazzling Flapper Costume for her and coordinate a whole family look from the era!