Toddler Costumes
Toddlers! There's a reason they are so cute…because they can really be a handful! One minute they are melting your heart with a hug, the next they are drawing on your walls with spaghetti sauce. What creativity!
But we love toddlers! They are the perfect canvas for just about every single Halloween costume we make. From classic looks to storybook styles to adorable animals, costumes are simply cuter on tiny tots! So if you're lucky enough to have a little one romping around your house this Halloween, get the camera ready—because this collection of unique toddler Halloween costumes will perfectly capture your child's adorable nature, whatever it may be! And let's face it, it doesn't hurt that the right costume can help their imagination come to life and keep your kiddo occupied (and out of your flower beds) for hours on end, now does it? Enjoy!
Toddler Halloween Costumes
Your kiddo's earliest trick-or-treating memories are foundational. As a longtime Halloween-enthusiast yourself, it's important to instill in them a love of the holiday early on. So if you're after the addicting thrill of spooky-fun Halloween vibes, nothing beats a classic look! Costumes like these can capture your kid's imagination instantly and help them get into the Halloween spirit the right way! Iconic classics withstand the test of time for a reason, they are utterly irresistible and eternally charming, especially when pint-sized!
Toddler Mummy Costume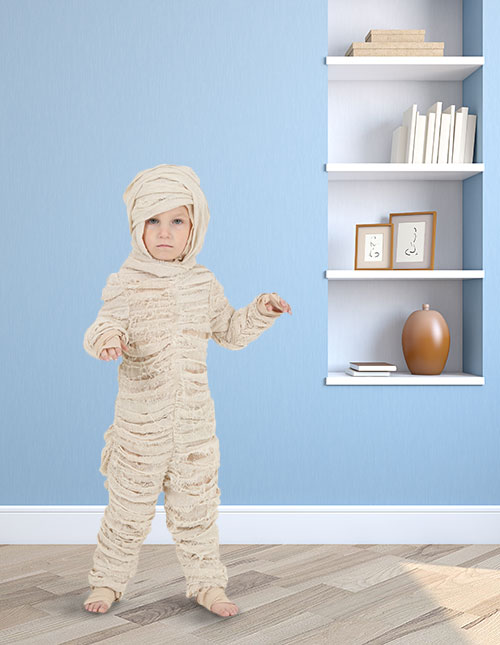 Tree climbing, skateboarding, playing tag, learning to ride a bike—some little ones like to live hard and play hard! If this sounds like your kiddo, then they may already spend a good deal of life wrapped up in bandages anyway. This Toddler Mummy Costume is an ideal look, whether your child is a little daredevil in training or they're just into being generally being spooky. Trust us, this costume is a LOT easier to get on than traditional mummy wrapping. Just zip up the jumpsuit and voila!
Toddler Witch Costume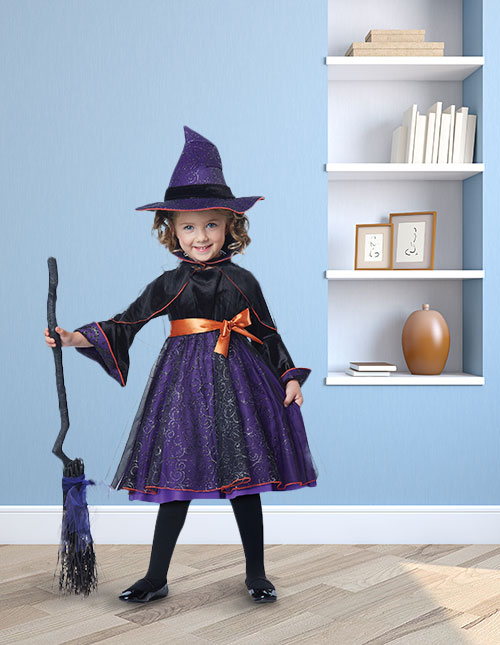 Sure, there were times when the world saw witches as "scary creatures" but those days are long gone! When it comes to toddler girl costumes, you can't go wrong with this Toddler Hocus Pocus Witch Costume! As she rings doorbells, your neighbors will ooh and ahh over this look's luster. Buy her a broom and maybe even a black cat (hey, she has been really good lately), and watch her cast a spell over you. As if she hadn't already!
Toddler Frankenstein Costume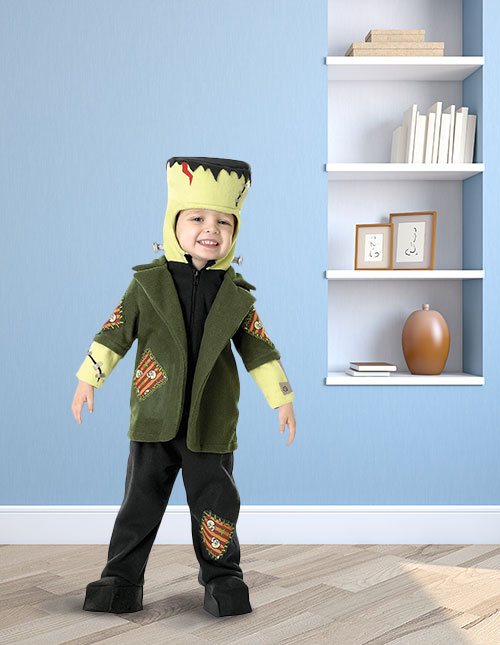 We're not saying you've created a monster or anything…in fact, your toddler's practically perfect. There's no harm, then, in getting them this Toddler Frankenstein Costume. We're 99% sure the "creature" won't rub off on your tot…er…make that 95% sure. (It is a very convincing costume.) Plus, it's super simple—you can turn your toddler into a total wretch by simply pulling up the hood. But unlike when they miss a nap, you can quickly right your little fiend by pulling down the hood to reveal your sweet child!
Toddler Vampire Costume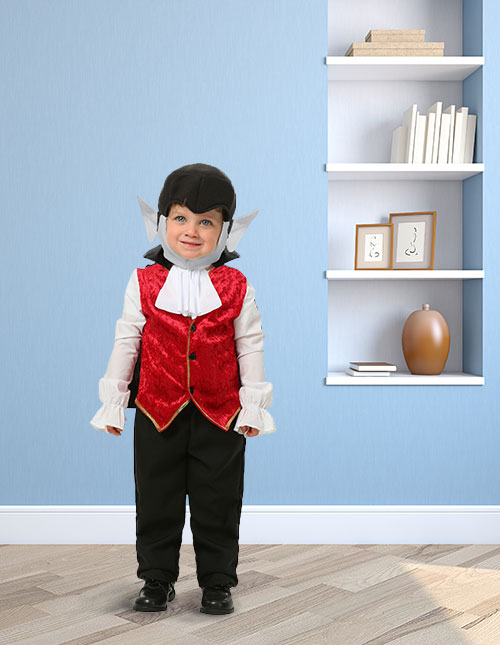 If your little one wants to dazzle at the Halloween parade, then they need a look that's a little scary, a little mysterious, and a whole lot cute! One look at this Toddler Frightful Vampire Costume will send your child into a tizzy of excited anticipation. You won't have to entice your little vampire to head out to haunt the streets, but we suggest taking a moment to reemphasize the whole "no biting" rule before dropping them off at school. Being a toddler vampire can be confusing!
Toddler Boy Halloween Costumes
There's more to toddler boy Halloween costumes than space travel and superheroes—in fact, a kid like yours will appreciate if you help them think outside the box this Halloween! There are as many looks for little guys as there are stars in the sky, so try out one of these cool costumes to show your little fella just how fantastic and unique he is.
Toddler Lederhosen Costume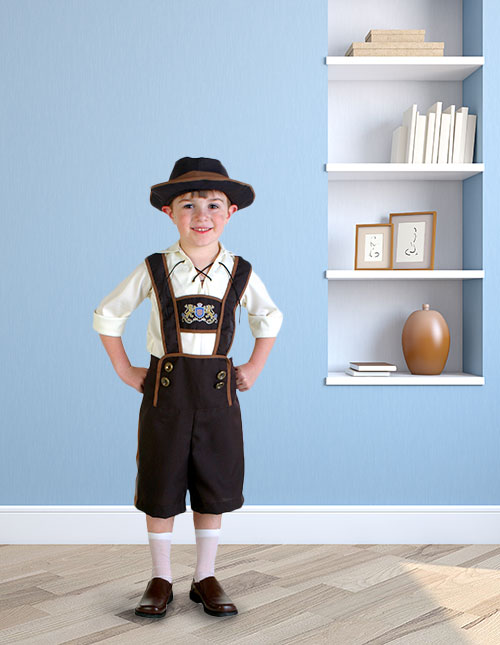 Your toddler is too young for late-night festivities, but anyone who knows anything about Oktoberfest can tell you that draining steins is only a tiny component of this fabulous folk festival! So, if your kid likes food, music, parades, rides, and dressing up in cool clothes, then this Toddler Lederhosen Costume will prep him for a fun time that he won't soon forget! Plus, you cannot deny how cute he looks beneath this costume's brown hat! We mean, come on!
Toddler Disco Costume
Does your child like to dance at every opportunity he gets? Does he boogie in line at the grocery store, groove while waiting at the doctor's office, and shake a leg at school? Well then, it sounds like your little dude is ready to be introduced to the age of disco! The lights! The fashion! The funky beats! The hustle! He'll flip! Then, he'll beg you for this Toddler Disco Costume…so why not beat him to the punch?
Toddler Matador Costume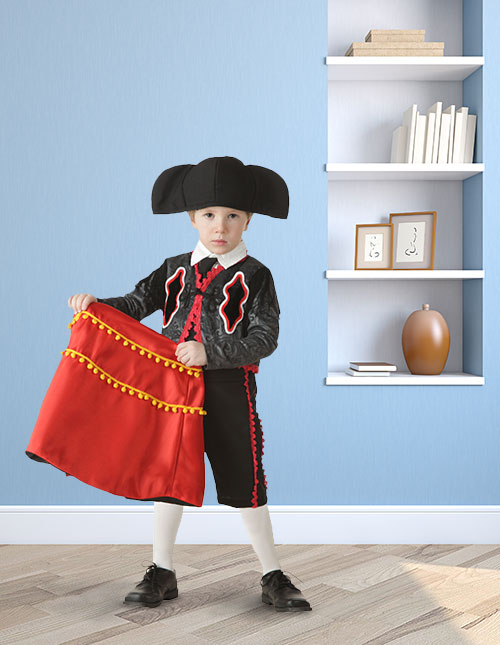 Your little one has been taming bulls for years. Well, not bulls per se, but his older siblings, who basically run amok. Somehow, your tiny tyke is the only one who can control them. He must have magical matador energy. This Toddler Matador Costume will help him hone his skills. Plus, it makes a totally cute and original Halloween costume! Just imagine this little matador holding up his cape to the neighbors and daring them to charge at his bag and fill it with candy.
Toddler Caveman Costume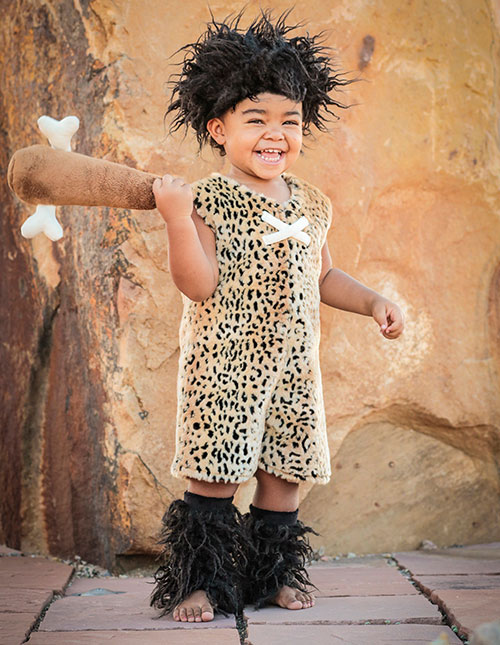 Toddlers are people…kind of! We mean, of course they're people, but they still have a few things to learn. They eat with their hands, run around barefoot, speak mostly in grunts and screams, and are obsessed with dinosaurs. Hey…wait a minute…toddlers are…tiny cavemen! You simply must snatch up this Toddler Caveman Costume then and make it official. Look how cute your kiddo will be dressed in prehistoric finery. Not to mention, this costume is as cozy as a nap by the fire in the cave.
Toddler Girl Halloween Costumes
Toddler girls are fun, feisty, and fantastic, and toddler girls' costumes should reflect that. Whether your little one fantasizes about falling down a rabbit hole or she's destined to cook up a 12-course tasting menu, we have costumes to inspire your little lady's wildest dreams! It's not all pink and tutus, here—we have carefully curated a collection of girls' toddler costumes that are just as dynamic and daring as the gals themselves.
Toddler Alice Costume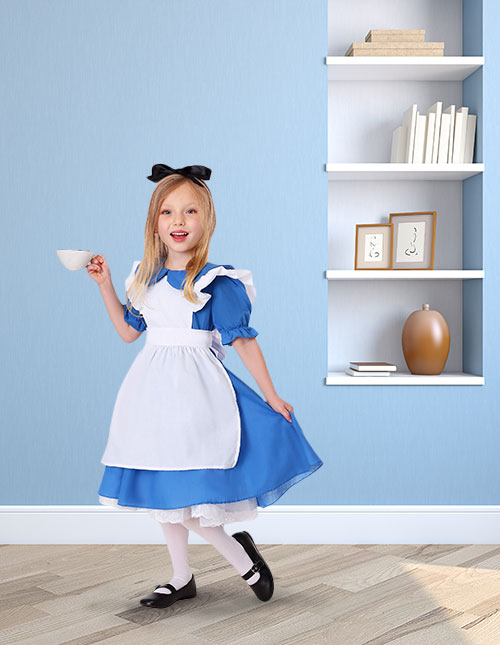 Your girl is already a little explorer! She's always racing to the end of the street, peeking over the fence, and tromping off into he woods, in search of big adventure! She probably seems like the type to follow a rabbit down a hole and into a new world—but we'll hope for your sake that her adventures take a more mellow tone for now. This Deluxe Toddler Alice Costume will spark her imagination and help her feel like the belle of the tea party!
Toddler Pirate Costume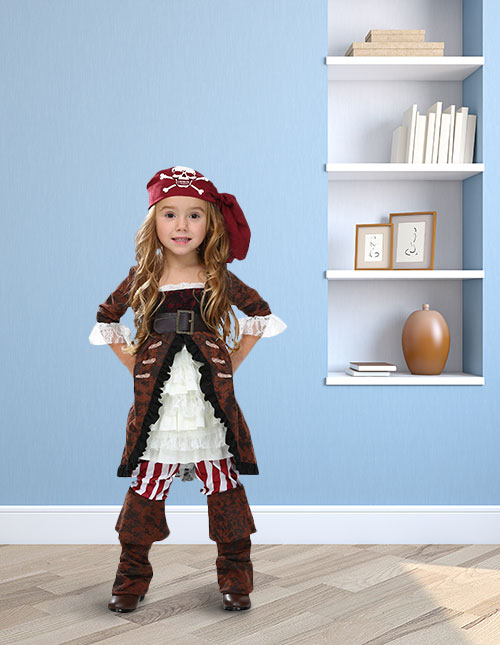 You're probably not quite ready to fill her rations and watch her set sail upon the seven seas. No, your baby girl is destined to be a landlubber…at least for a few more years! In the meantime, this Toddler Brown Coat Pirate Costume can help her feel like she's searching for hidden treasure, even if only in the backyard. With its cool brown pirate coat, matching boot toppers, and a jolly roger headscarf, this fierce costume is ready for your little swashbuckler!
Toddler Doctor Costume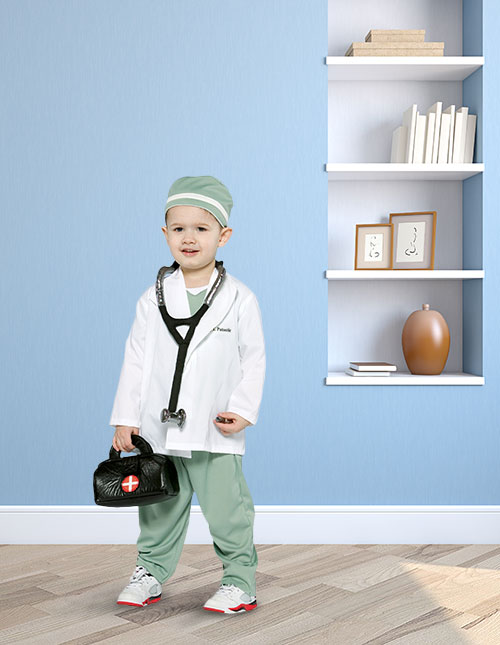 If your girl shows a penchant for helping people, she may just be headed to med school—in a few years' time, that is. You must be proud. Of course, it doesn't hurt that your child looks absolutely adorable in this Kid's Doctor Costume, now does it? Imagine seeing this little doc sidle up to your porch, ring your door bell, and say, "Trick-or-treat. It's an emergency! I've got low blood sugar and need candy, STAT!" Pretty cute, right?
Toddler Chef Costume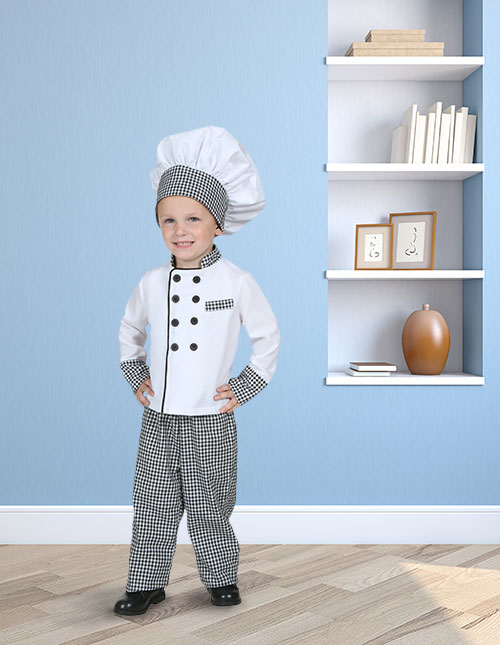 While some tots love their cartoons, your kid is addicted to cooking shows! Some of her first words were "truffle" and "whisk" and she already knows how to fry a perfect egg. That's more than we can say for some teenagers! This Toddler Chef Costume will have her boiling over with the bubbly anticipation of getting to wear the tall toque hat and classic black-and-white gingham print. Get ready to respond to everything with "Yes, Chef!"
Toddler Dinosaur Costumes
Toddlers and dinosaurs go together like PB&J. Like macaroni and cheese. Like grass stains and white tees. Whether it's their huge stature, prehistoric fame, or fun names, dinosaurs have always been captivating for youngsters. So, whether your toddler gets stoked for a Stegosaurus or flips for a Diplodocus, you can't go wrong with a dino-inspired costume this Halloween. This collection of looks mixes cool dinosaurs with fun fabrics and bright colors to ensure your little one is cozy, cute, and ready for dino-mite fun!
Toddler T-Rex Costume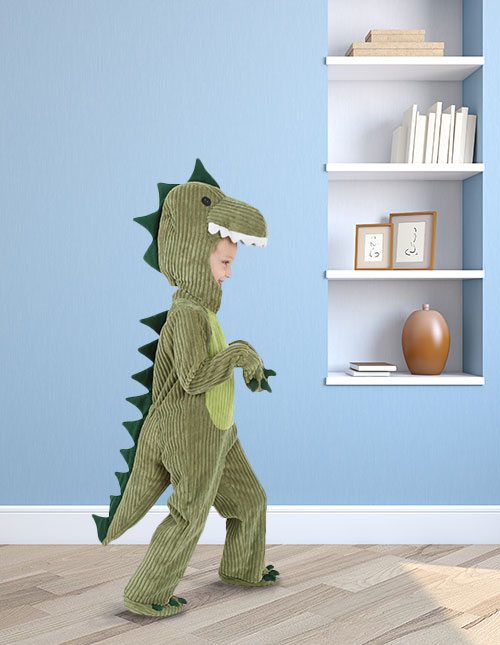 Sure, coming face-to-face with an actual T-Rex would be terrifying, but encountering this adorable Toddler T-Rex Costume would be cheerful, cuddly, and downright delightful! This green costume is crafted of corduroy and fleece and is more "cartoon-cute" than "ferocious monster." But your kiddo will still enjoy stomping around the yard, hunting and practicing their roar! They'll just look super-cute while doing it. We call that a win-win!
Tilly the T-Rex Toddler Costume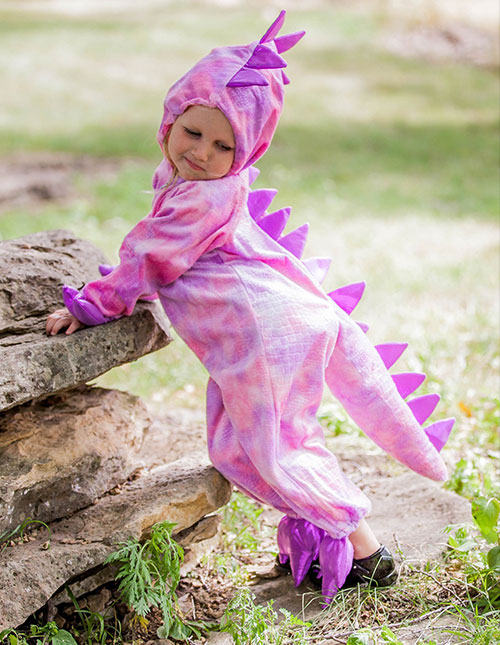 Not all dinos are scary! Some are primed to become your gal's BFF, like Tilly! Tilly is a special breed of T-Rex, and though she can be ferocious, she's also prone to being lovable! If your toddler throws a tantrum anytime you try to get her out of her pink and purple outfits, then this Tilly the T-Rex Toddler Costume is the answer to all your prehistoric prayers!
Dinosaur Train Toddler Costume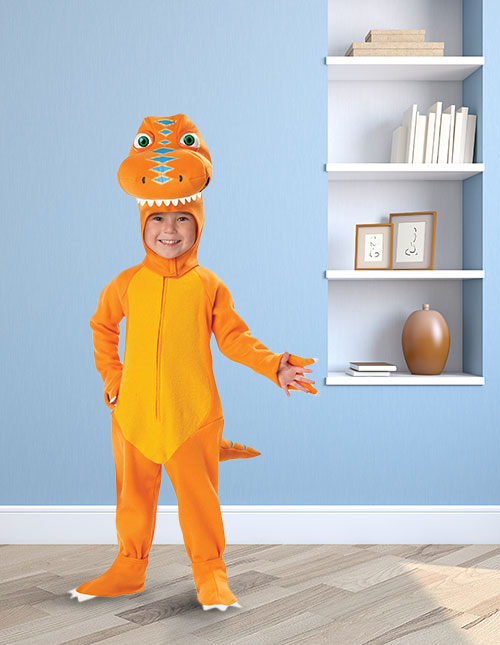 Does your tot adore Dinosaur Train? Then they'll love to dress like their favorite character, Buddy! Buddy is totally unique and special, just like your little one. This Dinosaur Train Toddler Buddy Costume will have your kiddo looking just like Buddy from the show. Don't be surprised if they turn your sofa into a train and use their imagination to go off on a big adventure to discover all the species of dinosaurs!
Spiny Stegosaurus Toddler Costume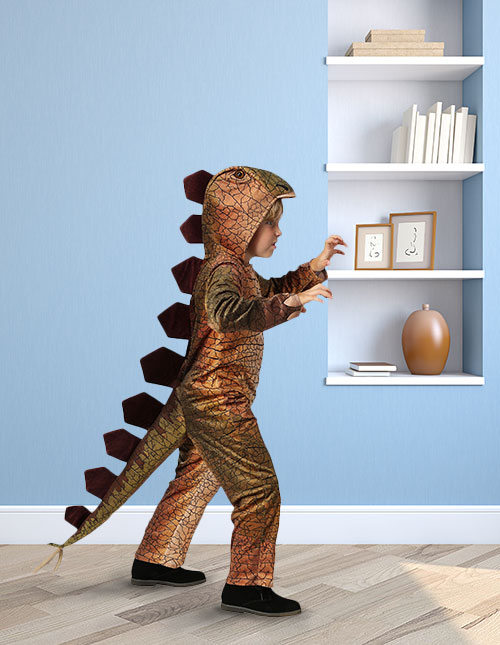 You know what we think would be cool? Being a Stegosaurus! You get to look ferocious with your armored back and spiked tail, not to mention, you'd get to be one of the most recognizable dinosaurs of all time. If your little one agrees, then this Spiny Stegosaurus Toddler Costume is for them! They can swing their tail back and forth as they forage for food around the neighborhood (a.k.a. trick-or-treating).
Toddler Animal Costumes
From books to movies, clothing to television, there is only one theme that captures the attention of toddlers the world 'round: animals! Farm animals, exotic animals, ocean animals, even insects…kids get a kick out of the natural world! That's why we're happy to offer you this group of great animal costumes made for your inquisitive child. In your kid's whimsical world, animals talk, have adventures, make friends, help each other, and have fun. It's no wonder they can't wait to turn themselves into their favorite critter this Halloween!
Toddler Pig Costume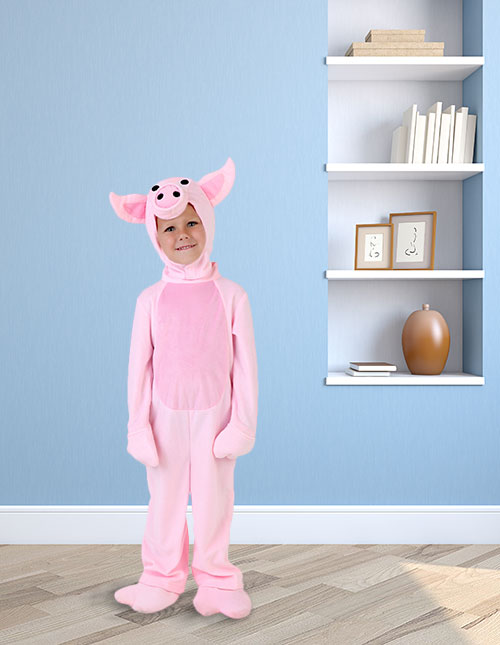 The cute snorts, the curlicue tail, the floppy ears, and that adorable face—a pig is the best animal around according to your kiddo. And since your toddler helps keeps their room clean and prevents the house from looking like a sty, we think they've earned a costume that will make them truly happy, because that's pretty rare behavior for a tot! This Toddler Pig Costume is sure to leave your little one cuddly and squealing with delight!
Toddler Duck Costume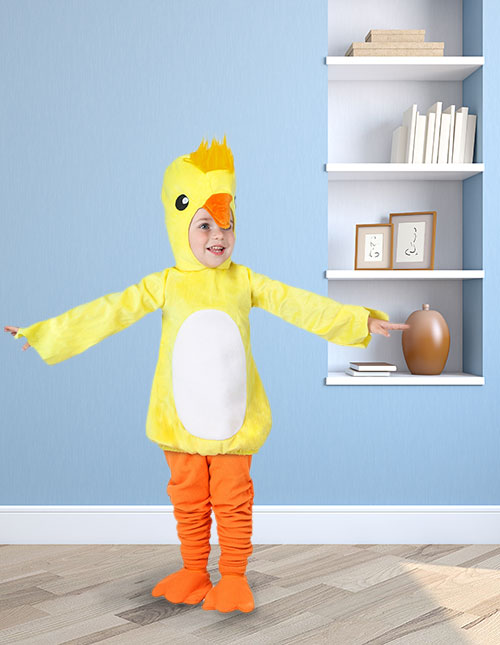 Quack! Quack! That's one cute duckling you have there! It looks so cuddly, friendly, and genuinely happy….oh, wait…that's your child dressed up in this Toddler Duck Costume? That's even cuter! The fleecy tunic and pants are bright, cheerful, and cozy, just like your little duckling. In fact, dress the whole family up as a flock of ducks, big and small, and make yourself a hit group costume. We wish we could join your flock!
Toddler Bee Costume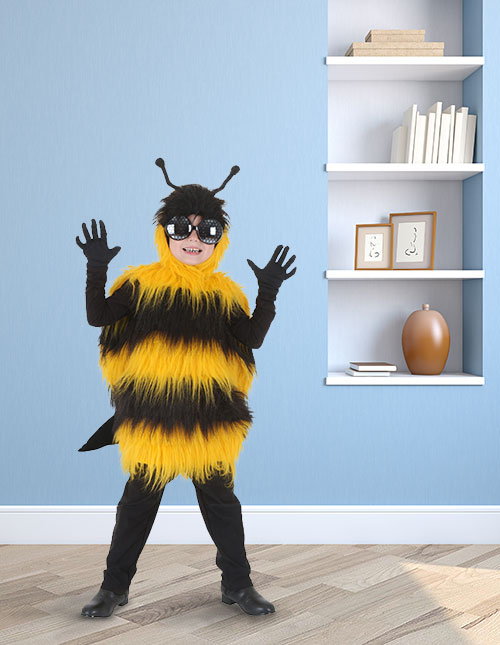 Your little one is busy learning how to bee independent. How to bee unique. How to bee fearless. And now, we can help them learn how to bee irresistible in this Toddler Deluxe Bumblebee Costume! When we say "deluxe" we mean it—just look at this furry tunic! It's as fuzzy as a real bumblebee. And since your child is known to buzz around from spot to spot, barely staying still, this costume is a totally perfect fit!
Toddler Kitty Costume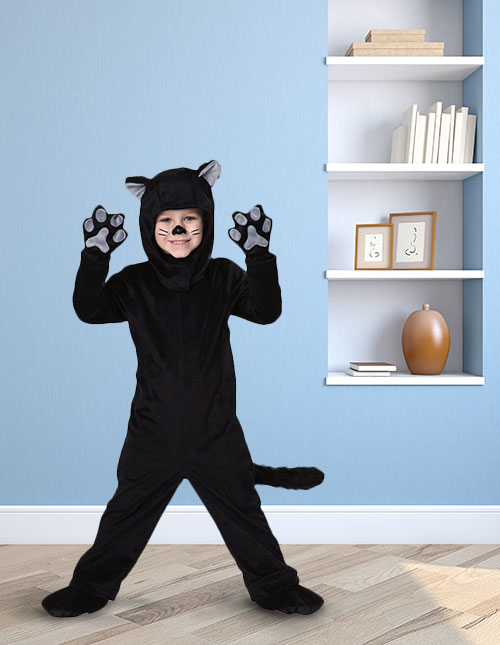 When you think about it, toddlers are a lot like cats! They are independent, feisty, clever, and take a lot of naps (on a good day!). Some people think that black cats bring bad luck, but your little one doesn't agree—just look how lucky they were to land this Toddler Little Black Cat Costume! It's the PERFECT costume for a spooky Halloween night and will also show off their cat-like nature, all while keeping them cozy.