Maleficent Halloween Costumes
When you hear a title like the "Mistress of Evil," you pretty much have to think Halloween. It's the rule! After all, Halloween is where magic and mirth meet spooky and strange...and we have to note that "Mistress" is the ideal position for anyone commanding it. There are too many examples to ignore. Just look at Elvira, the Mistress of the Dark. Up until a certain dark fairy showed up, she was the uncontested queen of terror! Video games give us a ton of modern mystique thanks to their Mistresses of Mystery, and any animated adventure out there can introduce you to a lady with the power to bring the show to life! When you choose to transform into the powerful Maleficent, it means magic, mayhem, and truly marvelous style. Take a look from cartoon to film and pick the Maleficent costume you were fated to find!
Maleficent Costume for Adults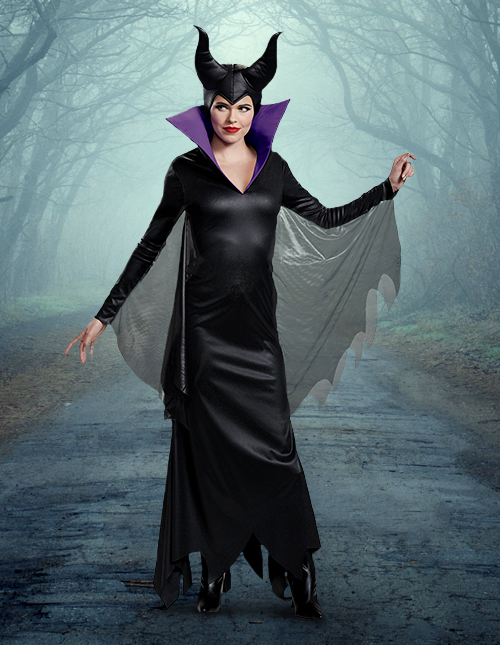 We always hear about how great a little black dress can be. But when you combine it with the magic of a gorgeous cape, a harrowing headdress, and a splash of purple perfection, you're not only magnificent...you're Maleficent! It is a deluxe look for anyone ready to unleash some sorcery. Once you show off your cape flourish, you'll feel like you've been conquering kingdoms for years!
Maleficent Costume for Kids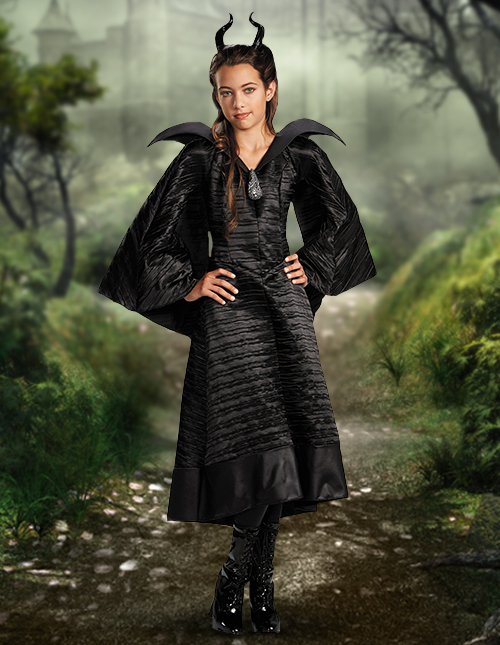 Becoming a powerful tyrant of evil magic might seem like it is something that only adults should handle, but it turns out that kiddos are pretty great at it, too! Alright, maybe it would be better if you kept an eye on them to help ensure they use their magic nicely. Give your tyke some sophisticated style when they gear up in a Maleficent costume that looks like it belongs in the live-action world.
Animated Evil Queen Costume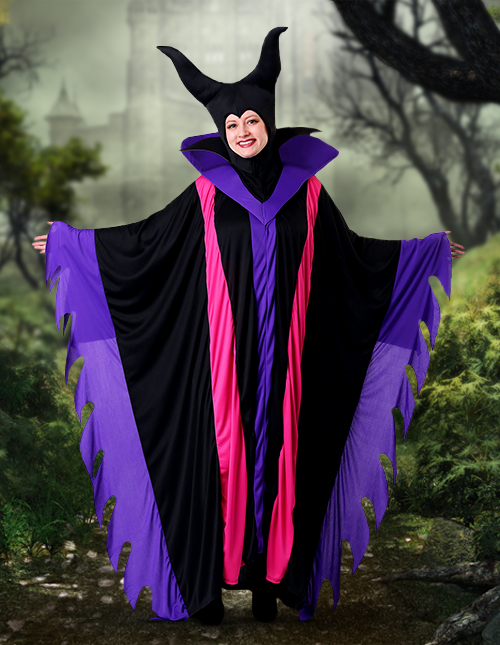 If you grew up on Disney, you could probably close your eyes and bring to bear the image of Maleficent appearing in a bout of gleaming fire. If that's the kind of magic you'd like to capture, you have to go the route of the animated Evil Queen! This look includes long drapes that let you wave your hands and really feel like you're summoning your sorcery. (Of course, you'll want to practice your evil cackle, too!)
Sexy Maleficent Costume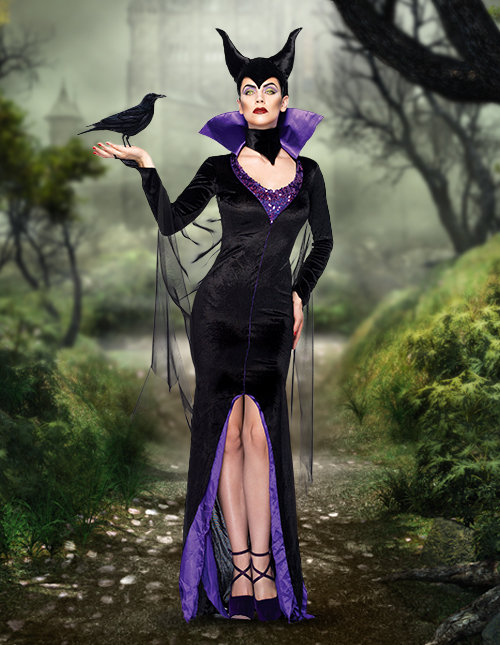 Did you know that Maleficent was originally a pretty creepy crone? Hunched over and spooky, she hardly even had a name. But everything has changed. Not only is Maleficent a master of all things magical, but as soon as Angelina Jolie portrayed her Mistress of Evil might, sorcery took on a whole new seductive world! Strut your sorcerous stuff in a sexy Maleficent costume to make your night magical and really claim your domain!
Sleeping Beauty Group Costume Ideas
Want to know a secret? It turns out that most people know Maleficent from someone else's story altogether! We know that we've pretty much just been talking about Maleficent this whole time, but she isn't all alone in her glory. Sure, she's clearly the best character in her tales, but she gets even better when you team up with the rest of your friends and family! Make the Maleficent fantasy fantastic when you magic up a Maleficent group costume that everyone can enjoy. You can bring Mal along when you call upon the Descendants or keep your animal companion nearby.
Maleficent Queen Costume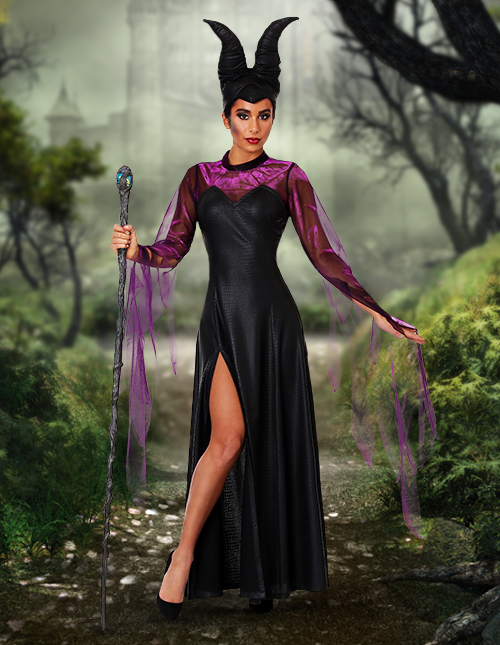 Be sure that you stand out when you're going out in a group. While you want everyone to have fun, let's remember that we're talking about Maleficent, after all! With a particularly dazzling Maleficent outfit, you'll be able to guide your friends and family to a night that you'll all remember forever!
Princess Aurora Costume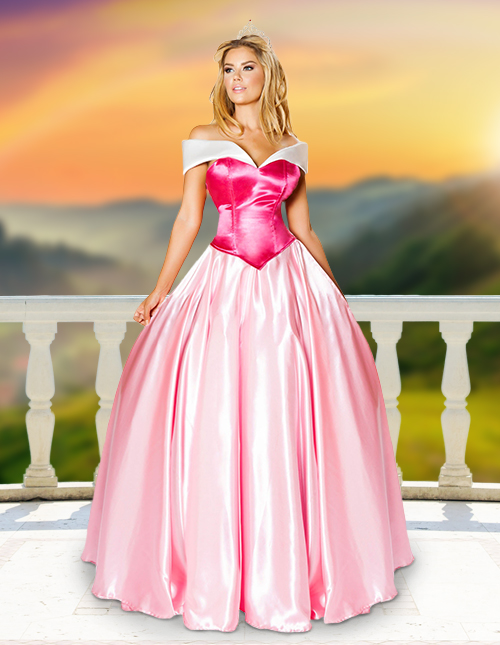 It would be quite the curse to lack an Aurora for a Sleeping Beauty duo. The classic Disney Princess is most recognized in her pink dress (even if the rest of her fairy godmothers would argue on the shade). All you'll need to decide is if you'll be playing out a friendship between these two or hunting for a spinning wheel!
Disney's Prince Charming Costume
We can't forget that a certain young prince was hanging around to help out in Aurora and Maleficent's story. Occasionally, he's the hero who helps Sleeping Beauty and slays the dreadful dragon. Other times, he's the troublemaker that just can't quite keep it together. Choose your role as Prince Charming!
Maleficent Dog Costume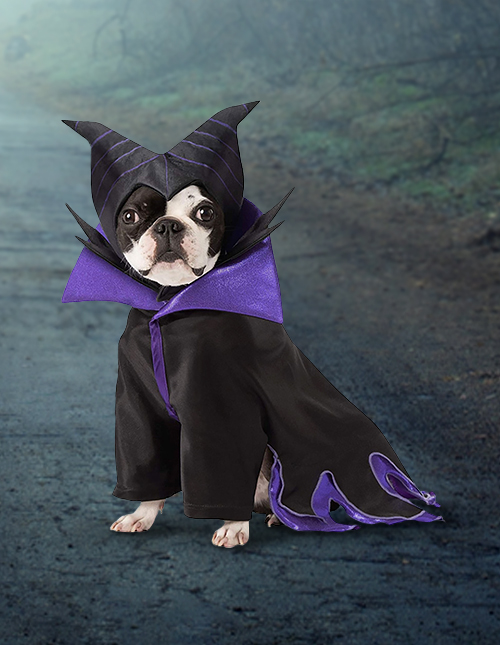 Maleficent turns herself into a dragon and she keeps a raven around. But that doesn't mean you have to stick to the classic animal companions. See what happens when she takes the form of your favorite four-legged friend instead! Take one look at our Maleficent Pet Costume and you've got a group that will really win!
Maleficent FAQ
Who is Maleficent, the Mistress of Evil?
Maleficent is a fictional character created by Disney, first in the 1959 animated movie Sleeping Beauty and the live-action revisions where she is the enigmatic protagonist. She started out as the anonymous "evil fairy godmother" character in the book who jealously cursed the royal babe after she wasn't invited to the christening. In the first versions of Maleficent, she's a jealous and evil fairy sorceress. In the 2014 and 2019 live-action films, however, the titular character is a misunderstood queen of the faeries who defends her realm from greedy humans and even learns a thing or two about love! Either way, she's a powerful and enigmatic character who has captured our hearts.
What powers does Maleficent have?
Since Maleficent is a powerful sorceress and faerie creature, she's got a lot of magical mojo. Naturally, she can cast many spells. (Each glow with green, gold, or purple colors, so keep those ribbons at the ready for your cosplay.) She can command the weather, summon fire and lightning, and speak with animals. She can see the future, read minds, and cause plants to grow incredibly fast or even heal them. When things get really rough, she can change her form into powerful magical creatures, too! In the animated story, in addition to her sleeping magic, she can become a ferocious dragon while she takes on the form of an epic phoenix in the live-action versions.
Who is Maleficent's crow companion?
Perhaps you've noticed a beautiful bird is always near our Mistress of Evil. Most think the creature is a crow, but he is actually a raven. There are two different versions, too. In the animated film, Maleficent's ally is Diablo, a scary name for a genuine friend. In the live-action film, his name is Diaval, a raven Maleficent once rescued. The raven serves as Maleficent's wings, scouting out the area and keeping an eye on things that even the stellar sorceress might miss. They're never far apart, so be sure to keep your companion nearby when meandering around as Maleficent!
Who is Sleeping Beauty?
The royal child who bears the burden of Maleficent's anger is the girl, Aurora. In both the animated and live-action film, Aurora is a golden-haired gal who is completely innocent of all the troubles that are going on around her. In some stories, she is little more than the fair maiden who needs to be rescued after falling asleep for eternity after pricking her finger on the spinning wheel. In others, she becomes Maleficent's adopted daughter and a link between the human and fairy kingdoms. Either way, she can make a great pair with the Mistress of Evil herself.