Maleficent Costumes
Maleficent is one of the coolest Disney villains, hands-down. (She originally could turn into a dragon, after all!) If you're looking to be chillin' like a villain this Halloween, we highly recommend Maleficent. You know that you look great in black! The 2014 Maleficent movie isn't the only place we've ever seen this awesomely evil character. There's the classic 1959 animated Disney classic Sleeping Beauty. And in between the two releases there have been many costumes inspired by her character. Disney's Sleeping Beauty from 1959 is a wonder of traditional animation, and it's still great to watch today. Maleficent's infamous character made her big screen debut decades ago as the villain of the Disney movie Sleeping Beauty. She came and went in a cloud of eerie green smoke. She spoke to a raven whose intentions seemed as devious as her own. Maleficent's horned headpiece and high collar are iconic, and dare we say, she's quite a fashionable villain. Unlike the 2014 film, the original Maleficent was portrayed as all evil with no redeeming morals or positive traits. She was content to be bad to everyone she came into contact with. So if you like the idea of being unapologetically awful then this is the right look for you. For more ways to become the Mistress of Evil, check out these Maleficent Halloween costumes so you're ready to join any Disney villain group. Whether you want to be as scary as the original or be stunning in a more form fitting black gown there's a look that matches your personal brand of being bad.
Live-Action Maleficent Costumes
Angelina Jolie absolutely steals the show as Maleficent in both of Disney's live-action movie adaptations of the original Disney classic. If you're keen on looking like the mistress of evil herself, you're going to want these Halloween costumes!
Women's Maleficent Costume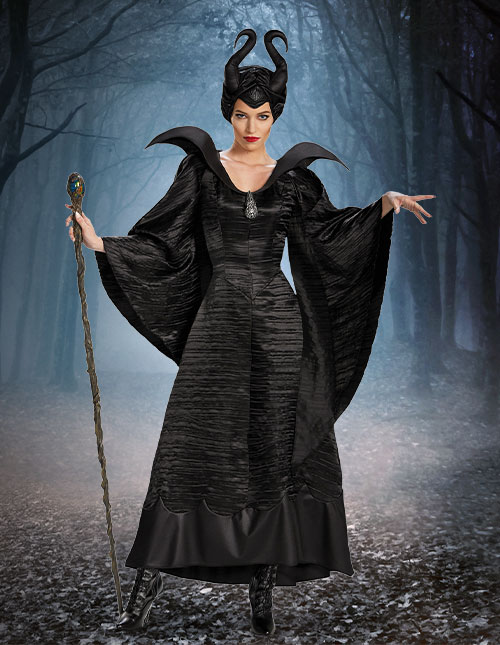 This woman certainly knows how to make an entrance, even if she was never invited. (We're not condoning busting into random Halloween parties uninvited, but this costume dress will turn some heads!) Make a grand entrance at your own Halloween party with this live-action Maleficent costume for women.
Maleficent Costume for Kids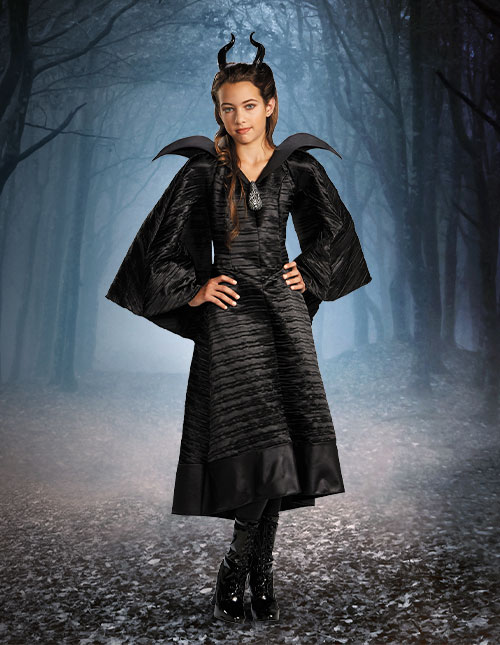 If princesses aren't your girl's thing, perhaps she's inclined to be a little villainess. Pink, purple and yellow are just fine, but she prefers the color black. (It's a great color, so we can't blame her!) This Maleficent christening gown for girls will allow her to crack off some of her favorite lines by the fairy sorceress.
Classic Animated Maleficent Costumes
Adult Maleficent Costume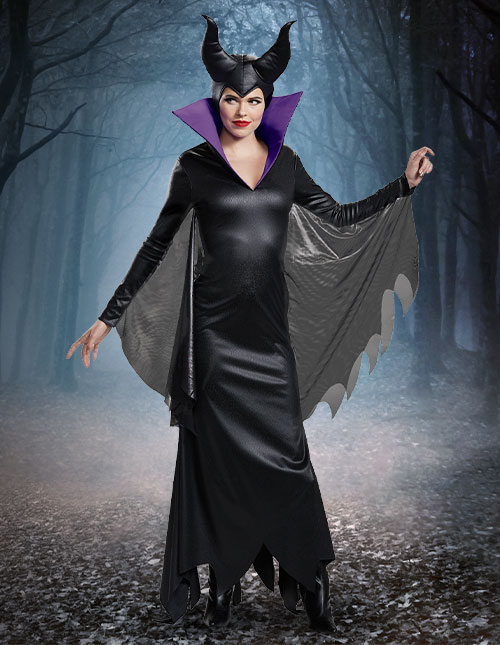 While Maleficent's original costume was much less form-fitting, this bodycon-style Maleficent costume dress keeps her sleeves in a fun and unique way. The dramatic collar will make you feel oh-so-evil, but also very high-fashion. Just make sure to nail that entrance at your costume party!
Plus Size Maleficent Costume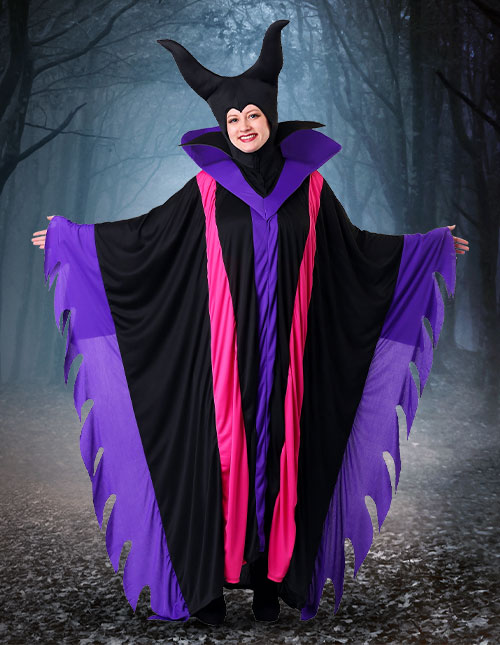 Hands-down, Maleficent is one of the most stylish Disney villains. While her robes are primarily black with some purple, there are pops of hot pink that warrant a second look. She was rocking the black and neon before it was even a thing, and we love her for it. Fans of classic Maleficent are going to want this Maleficent plus-size costume.
Sleek & Sexy Maleficent Costume
Prove that it's possible to look good while being bad in this sleek black gown inspired by the Mistress of Evil's signature look. The sequin neckline and purple lining along the uneven hem of the skirt add a pop of color and sparkle. The attached sheer cape ensures that your evil intentions will remain obvious. Slip on the coordinating headpiece and you're sure to feel as mean as you look. All that's left is to call out your best curse at anyone who tries to stand in your way.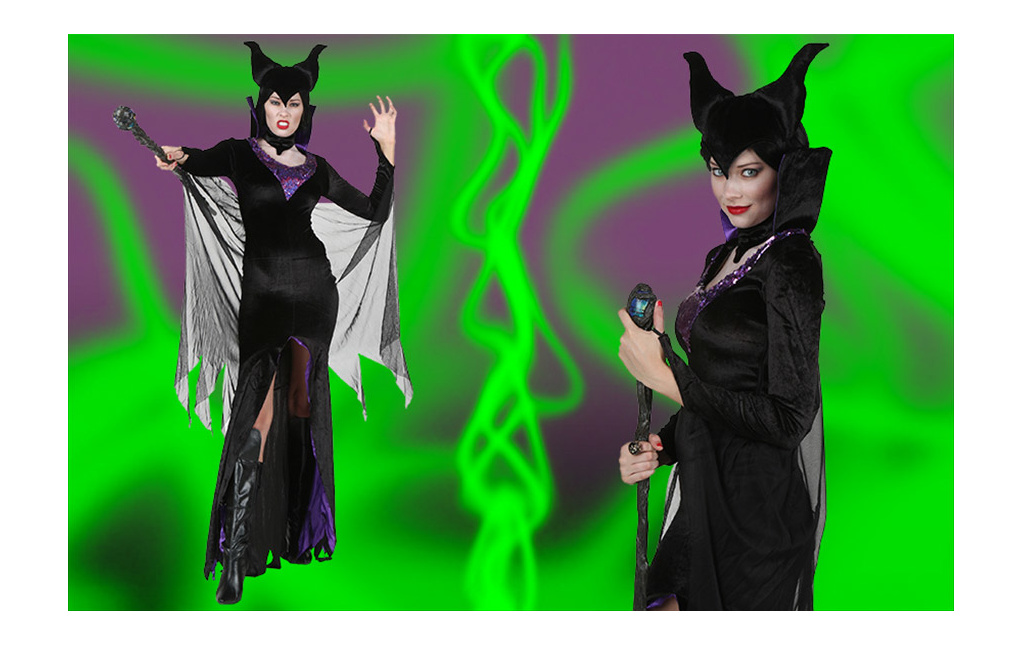 Maleficent Poses for Adults and Children
No one will dare question your status as the Mistress of Evil when you learn how to behave just like Maleficent herself! The way to take your Maleficent costume to the next level is to learn all of the ways she moved and expressed herself. Whether it's learning how to talk to ravens or cast an unbreakable curse, these Maleficent poses are all essential to being in character when you are decked out in your costume from the movie. For extra drama, add a pair of large wings of the replica staff to emphasize that you're committed to being as authentic as possible.
Guardian of the Moors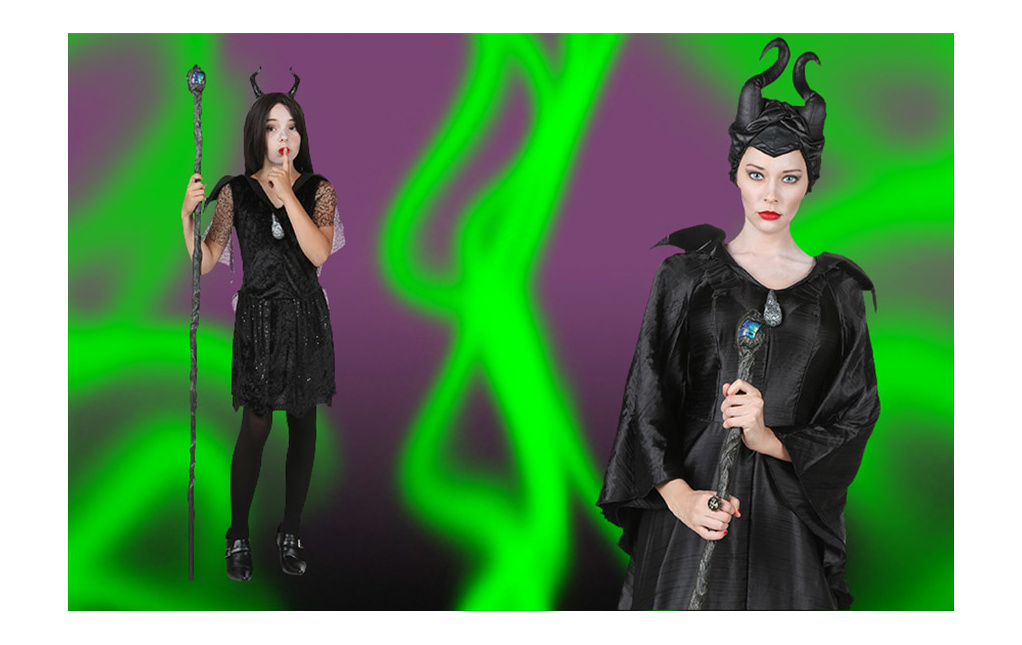 Have a little pent up anger over losing your wings to the scheming King Stefan? It's nothing a little curse can't help. Crash the christening of his first born and show him what it means to lose something precious beyond measure. You might come to regret it years later when you realize that you are completely in love with that little girl, but for now it sure will feel great to let your wrath be felt!
Speaking to Ravens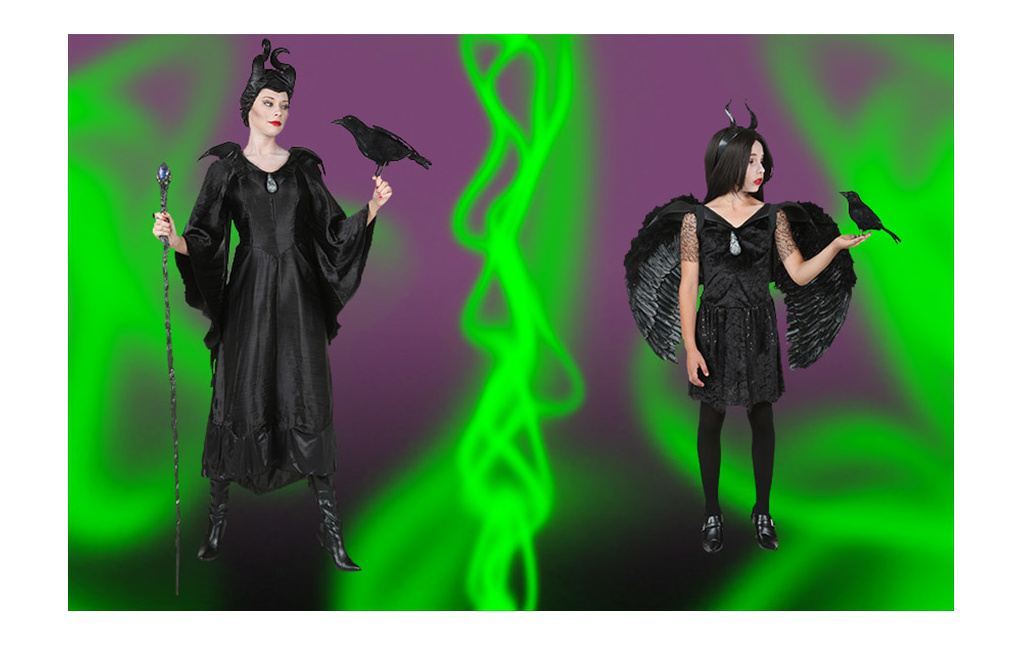 Your closest friend and ally, Diaval, will help you stay one step ahead of King Stefan and his army. So it's important to acquaint yourself with a talent for talking to ravens. He will listen, advise and protect you as no one else can. Plus, when you walk around with a raven as your companion people tend to be intimidated by that and as Maleficent this is exactly what you want.
Maleficent and Aurora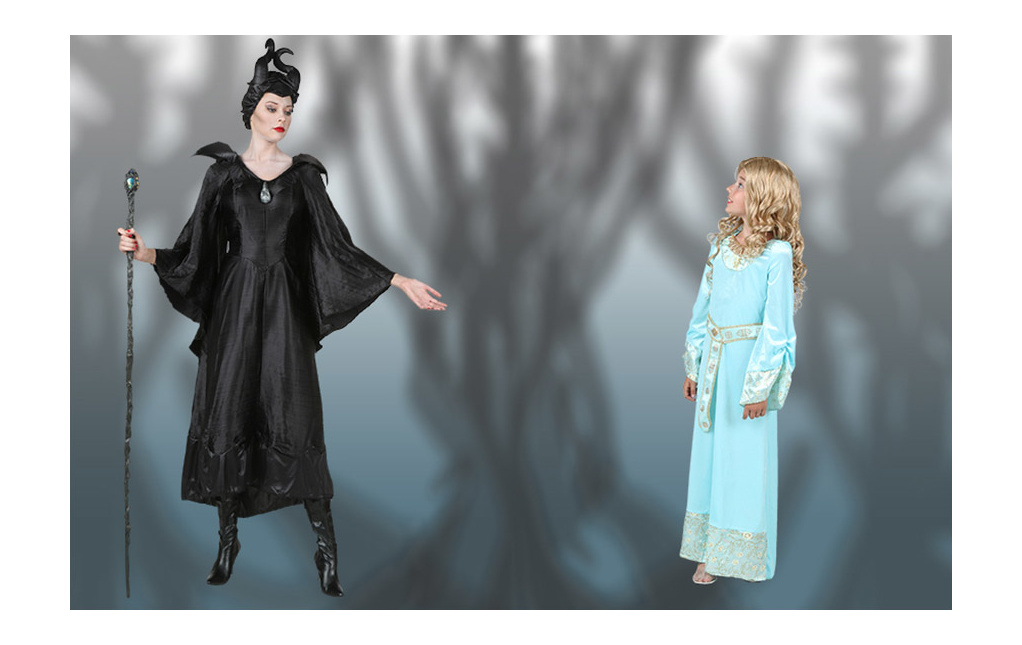 Princess Aurora was the lovely girl born into a rivalry that she couldn't have prepared for. It resulted in her being sent away from her parents in a desperate attempt to shield her from harm. However, she would instead form a close and special bond with the one person she was supposed to be hiding from. Although Maleficent initially resents the baby princess, she cannot bring herself to let the baby be harmed by the fairies' negligence. From the time that Aurora is an infant until she grows into a beautiful, kind-hearted girl she is watched from a distance by her 'fairy godmother' and kept safe. Even when she discovered Maleficent's true identity she still remained kind and courageous. Remember, Aurora was born a princess so she was destined to one day attend a coronation of her own. What we didn't know was that she would not only be crowned as a ruler of the human realm, but as the faerie realm as well! No wonder Maleficent couldn't resist her sweetness, someone this kind can surely mend a broken heart like hers.
Maleficent Costume for Girls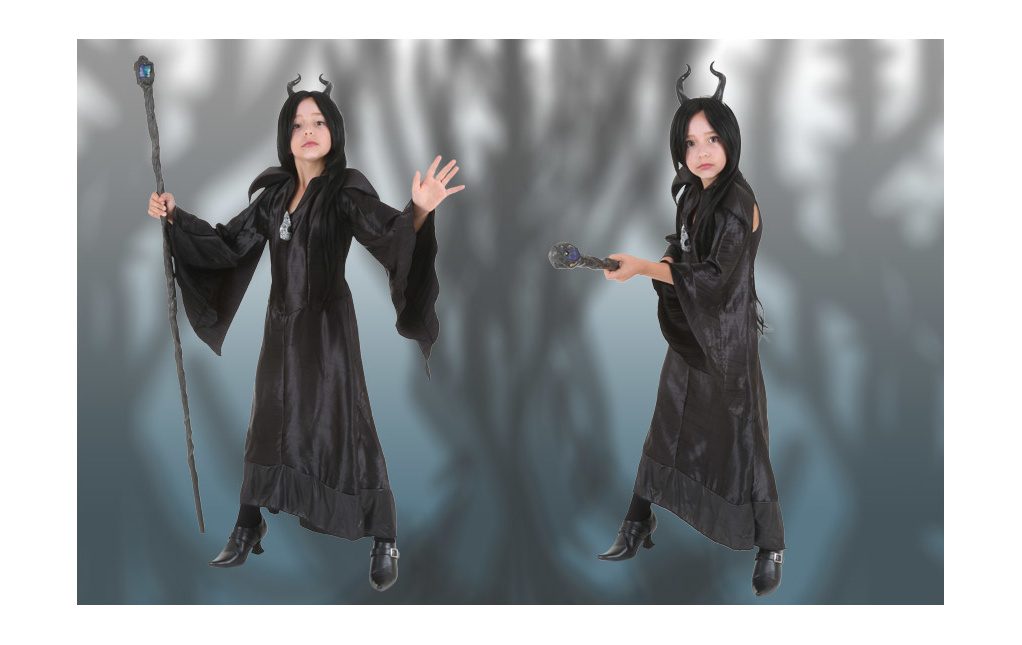 If she wants to portray Maleficent in full-revenge mode then this Christening gown costume is the one she needs. This is what Maleficent wore when she crashed the party for baby Aurora and placed a curse on her that doomed her to fall into "a sleep like death" on her 16th birthday. Maleficent had her wings stolen, her heart broken and her kingdom attacked and she was convinced that the way to get her revenge was to threaten harm to the baby of the king who had wronged her.
Maleficent Quotes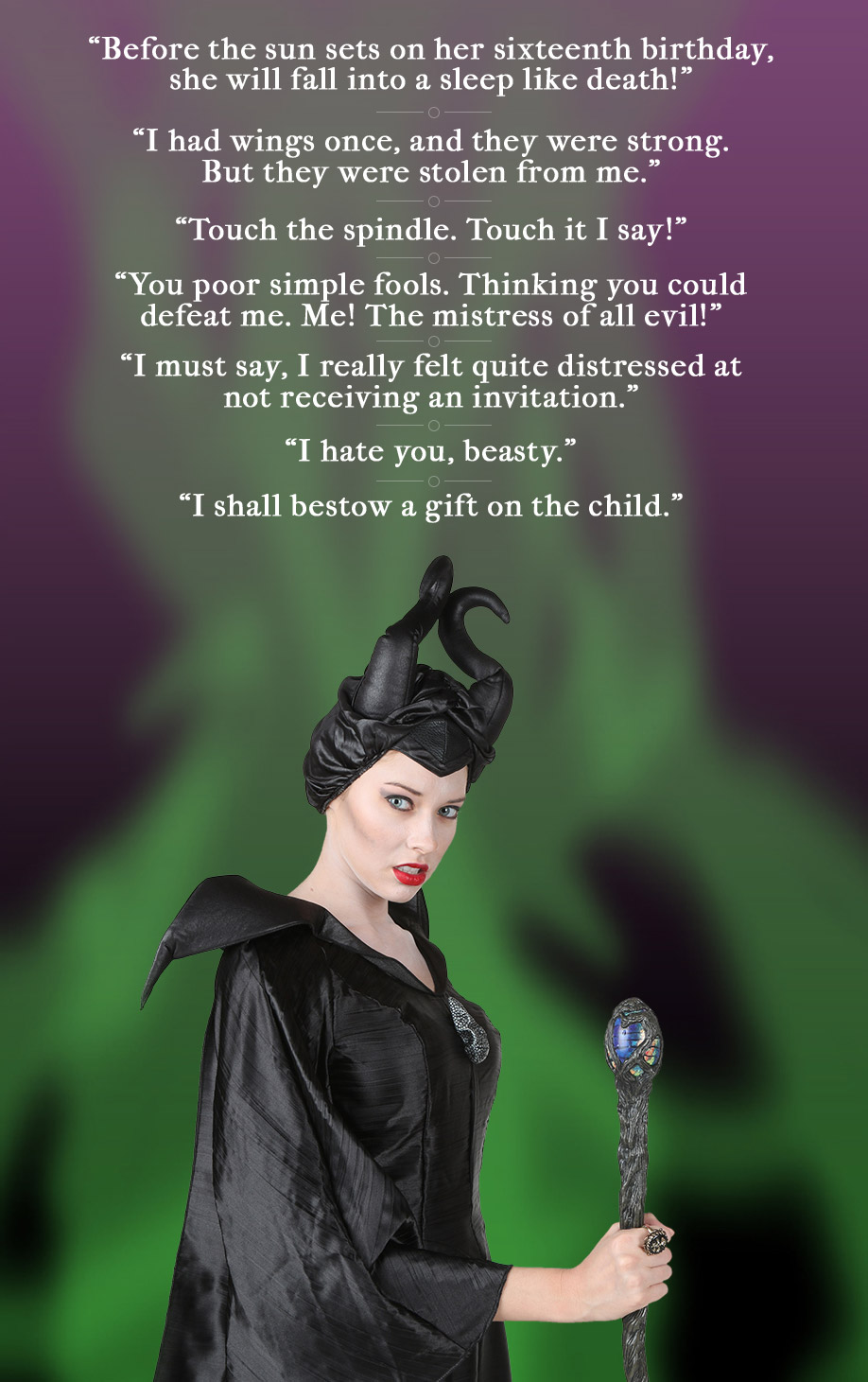 "Before the sun sets on her sixteenth birthday, she will fall asleep into a sleep-like death!"
"I had wings once, and they were strong. But they were stolen from me."
"Touch the spindle. Touch it I say!"
"You poor simple fools. Thinking you could defeat me. Me! The mistress of all evil!"
"I must say, I really felt quite distressed at not receiving an invitation."
"I hate you, beasty."
"I shall bestow a gift on the child."