Women's Plus Size Costumes: Find Your Body Shape
Knowing your body shape is the key to finding the perfect costume! Not only will you be comfortable because the costume is flattering, but you'll love knowing that you're displaying your naturally gorgeous features. You'll love showing off your full hips and lean legs when you wear one of these plus size Halloween costumes for women. From the moment you put on a curve-hugging dress with all the included accessories, you'll instantly feel beautiful. Just check out the types of body shapes listed below and find the one that best describes your body. Most women fall into these five basic shapes that we've outlined. Don't fret if your exact type isn't represented in the images below; just choose the shape that you feel best matches your assets. Next, pick out a costume that you like, then get out there and get the party started!
Apple Shape Body Type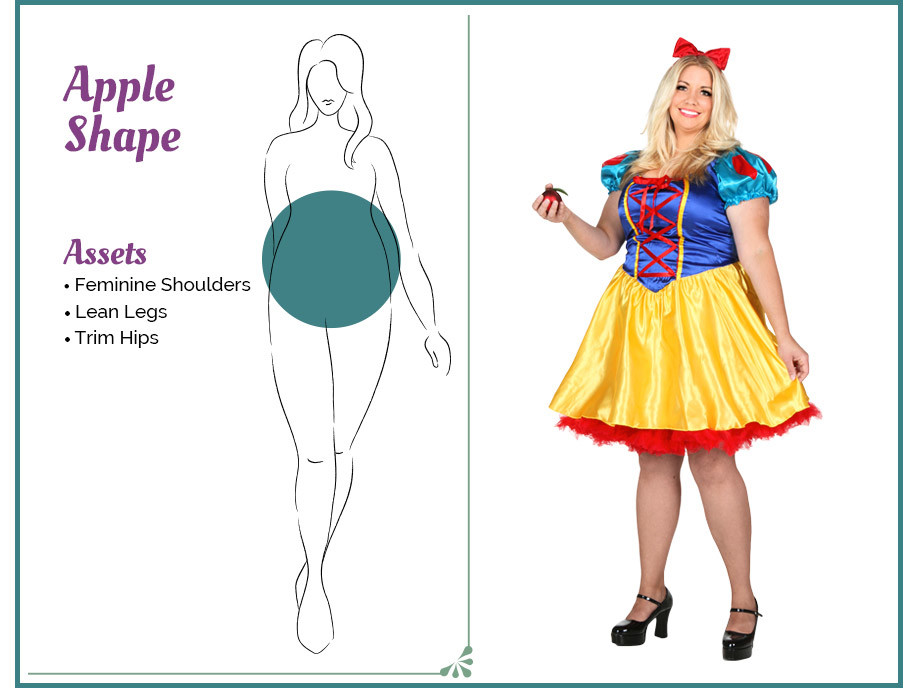 "Apple Shape" ladies carry most of their weight through their midsections. They have feminine shoulders, lean legs, and trim hips.
Empire Waists: Tops or dresses that have a seam just under the bust will detail the smallest part of your torso and flow smoothly over any trouble areas.
Structure: Layer structured pieces, such as jackets and corsets, to help shape your waist. Use heavy fabrics that will hold their shape and provide additional support.
Feminine Details: Use loose and easily-draped fabrics at the neck line to add feminine touch to structured pieces.
Skirts: Show off your shapely legs with asymmetrical skirts, pencil skirts, or straight leg pants.
Avoid: Waist-cinching tops that will add volume to your tummy and draw attention away from your great legs.
Inverted Triangle Body Shape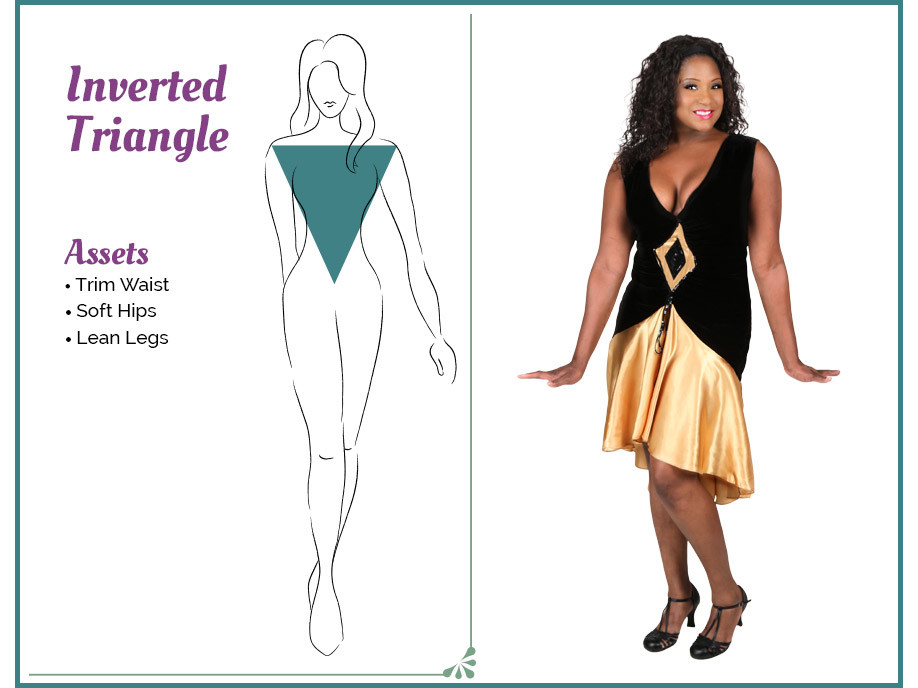 "Inverted Triangle" gals carry most of their weight on their upper body. They have trim waists, soft hips, and lean legs.
V-Necks: Break up wide shoulders with deep V-neck tops and dresses. Use dark colors and clean lines on your top half to avoid adding volume to your look.
Seamed and Drop Waists: Create the illusion of feminine hips with the flowing fabrics and gathered seams worn just below the natural waist. Peplums are a great way to get a nipped-in look for your waist.
Full or Flared Skirts: Balance your body with ruffled seams and mermaid silhouettes. Skirts that gently flare out at the waist and flow softly over hips will create movement for feminine curves.
Avoid: High necklines, such as crew or turtlenecks, which create visual bulk on your upper body. Also, high-waisted bottoms will cut your torso awkwardly, creating an out-of-proportion look.
Pear Shape Body Type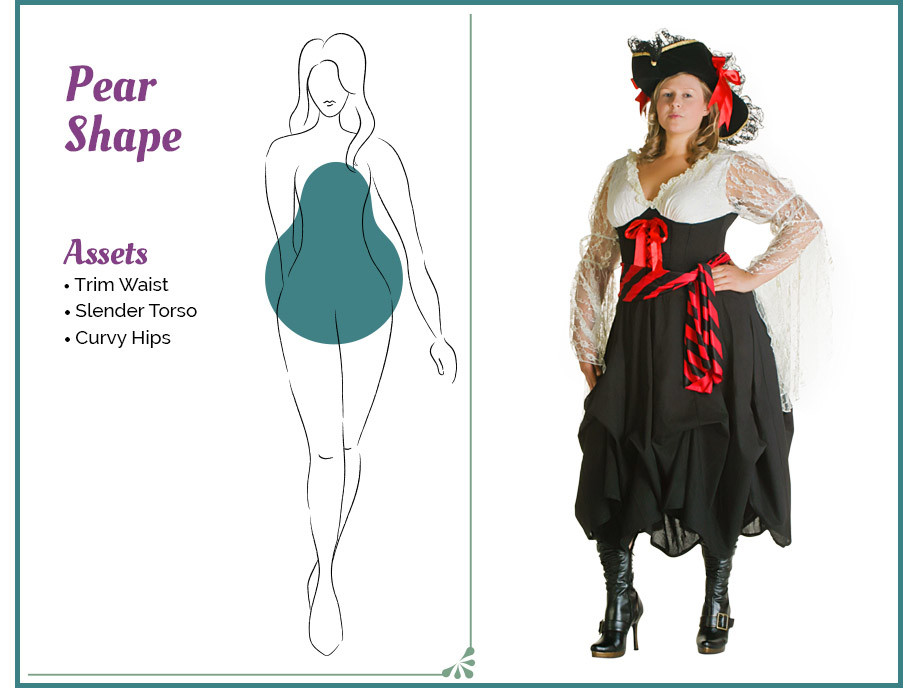 "Pear Shape" women carry more weight on their lower body. They have trim waists, slender torsos, and curvy hips.
Wide Neck Tops: Use off-the-shoulder, boat, scoop, and V-neck tops to help create the appearance of broader shoulders and a balanced lower half. This will help achieve that hourglass shape.
Fitted Tops: Show off the trimmest part of your body with tops that have bright colors and feature fitted waists.
Layers: Structured jackets and lightweight cardigans will add definition to your shoulders and nip in your waist.
A-Line Skirts: Choose skirts that flare out from the widest part of your body. This will highlight your trim waist and flow over your curves for a feminine look.
Avoid: Oversized tops that have no shape or structure. Clingy fabrics on the bottom will over emphasize your lower half.
Column Shape Body Type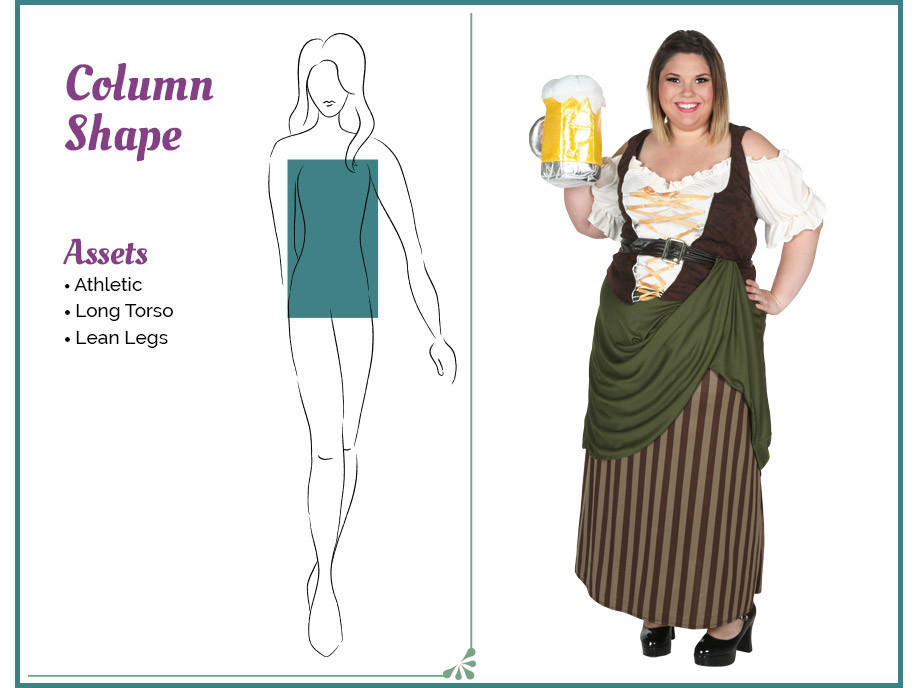 "Column Shape" gals carry their weight evenly throughout their torso. They have long torsos, lean legs, and tend to have athletic body types.
Layers: Create dimensions and added curves with lightweight fabrics which drape softly over trouble areas.
Open Neckline: Boat neck or off-the-shoulder neck lines will attract the eye upward to your face and balance the fullness of your torso.
Belts: Tops that nip in at the waist or are belted help to accentuate your bust and create more curves. Ensure that you are defining the smallest part of your torso, which is usually under the bust at the rib cage.
Straight Bottoms: Use skirts and pants that flow gently from the widest part of your waist. This will elongate your legs and flow over your tummy. Also, patterns and dark colors will help lengthen your lower half.
Avoid: Clingy or tight styles. Also, garments with harsh lines will make you look overly structured.
Hourglass Shape Body Type
"Hourglass" figures are evenly proportioned on the top and bottom with a defined waist. They tend to have a full chest, trim waist, and curvy hips.
Wrap Styles: Wrap tops and dresses flatter your defined waist and glide over hips and bottom for graceful movement.
Tailored Tops: Use the structure of jackets and button-down tops to accentuate your waist. Corsets and belts also help to draw attention to your natural curves.
Skirts: Pick skirts and dresses that hit at the thinnest part of your leg for a long lean look. This is generally just below the knee or right at the ankle. This trick creates the illusion of thinner legs.
Avoid: Bulky and shapeless garments. They will hide your natural curves and make you look boxy.
Body Shape Quiz
We know that we just threw a whole bunch of information at you and if you need more clarification, we completely understand. If you're still looking in the mirror trying to figure out what body type best describes your figure, then we have a little surprise for you! Just take this simple quiz that we devised so you can find the women's plus size Halloween costume that will make you feel the most confident. The breakdown of questions will lead you to your body shape, and then you can find the perfect costume from there. We hope that this quiz is fun and informative!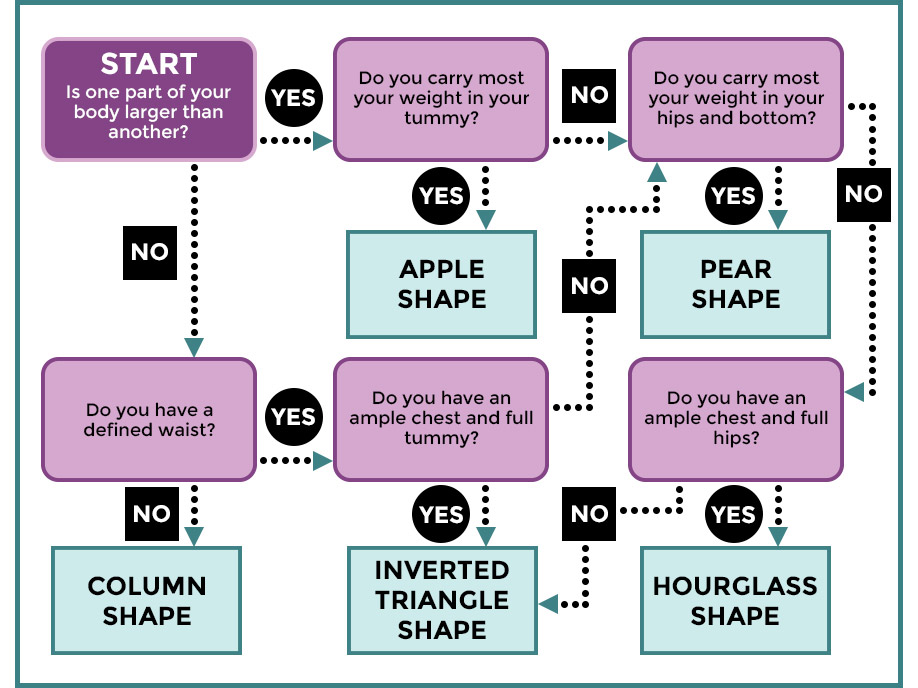 Universal Tips for All Body Types
Now that you figured out your body shape, and picked out a plus size Halloween costume that you're in love with, it's time to accessorize! Whether you're dressed as a dapper flapper or you're decked out in a medieval themed costume, we have tips and tricks to further ensure that you feel your most fabulous. Maybe you have to add some bright red lipstick to your look or maybe you just need that million dollar smile plastered on your face in order to really stand out.
Take a look at these universal tips for all body shapes and use one, or all of them, to make your plus size costume really pop! We are positive that the results will be pleasing. You'll have a women's plus size Halloween costume that goes with your personality, flatters your figure, while making you feel amazing and confident. All you have to do is find a silhouette that accentuates your natural assets and then add some coordinating accessories that are fun and functional. Pretty simple! Take a look at some of the most popular costumes for plus size ladies that we have listed for your convenience.
Plus Size Flapper Costume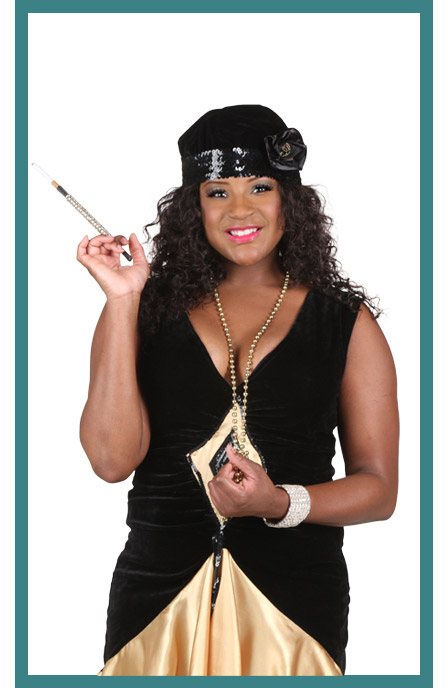 Use jewelry and hair accessories to draw attention to your lovely face. If you're dressed as a flapper make sure you are wearing pearls and a stretchy sequin headband. Remember, the more bling, the better!
Plus Size Renaissance Dress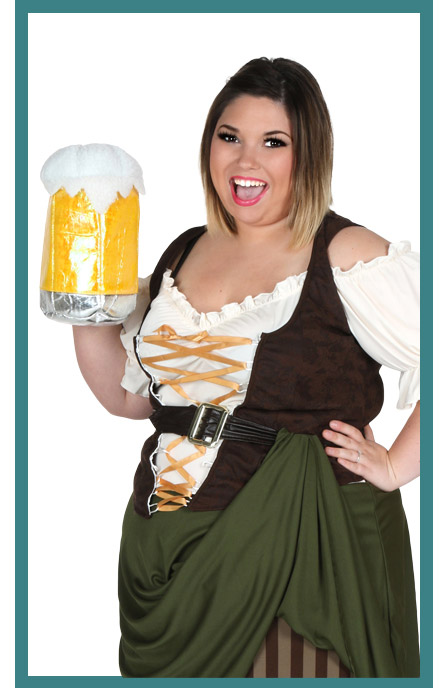 We recommend carrying a coordinating purse or handbag that adds the perfect finishing touch to your plus size Renaissance costume. For instance, if you are dressed as a beer wench, we recommend using our plush beer purse. All your essentials will fit inside the mug-shaped purse, but it will look like you're carrying around a prop all night!
Women's Plus Size Dorothy Costume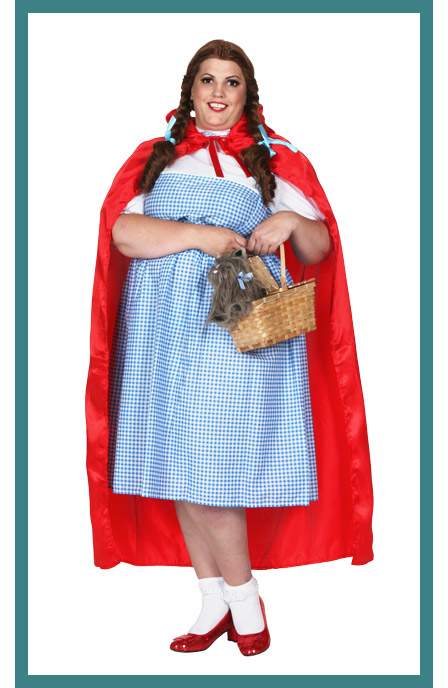 It looks like you're off to see the wonderful Wizard of Oz! Before you start your journey down the yellow brick road, we have some essentials that you should add to your ensemble.If you decided that Dorothy is the classic movie character you want to impersonate this Halloween, then you need the traditional Dorothy Gale hairstyle. If your hair is too short for pigtails or you happen to not be a brunette, don't make an appointment at the hair salon. Of course, some white bobby socks and red sparkly flats are a must. Finish your look by adding a red cape to your classic gingham print dress. Also, you can't forget Toto at home! Grab a wicker basket with a stuffed dog inside to complete your Oz inspired look.
Plus Size Pirate Costume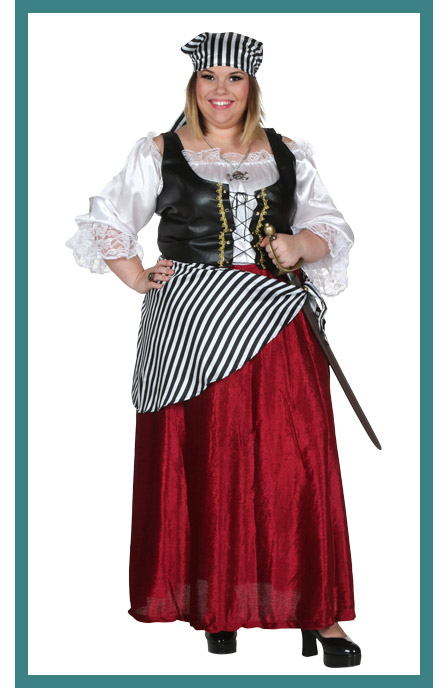 Shiver me timbers! You'll be the finest pirate to ever sail the seven seas when you step aboard the ship in this fabulous costume. Of course, when you're all suited up in your pirate apparel, you're going to need to rely on some accessories to make your costume appear as authentic as possible. Use a skull and crossbones necklace to add some sparkle to your final look. Use a toy sword for the perfect prop and tie a handkerchief around your head as the final touch for your plus size buccaneer costume. As always, your two best accessories are lots of confidence and a big smile, so make sure to show those off as much as you can!