Wizard Halloween Costumes
Whether it's Halloween, a bright full moon, or just time for your favorite magical marathon, there's always magic in the air. From exploring the mystical worlds of video games to uncovering the true secrets of Arthurian lore at the Renaissance Festival, you'll find wise wizards everywhere! These are the medieval masters of the mystical, the gray-robed geezers of geomancy. Heck, even our favorite galactic tales speak of 'Space Wizards' in their Jedi Order robes! Wizards come in all forms...and that only means we have a ton of different options to conjure up!
There's nothing that makes the world better than a little bit of magic. You know it. We know it. And if a little bit is great, just imagine if you lived that arcane life full time! Well, we have good news for all of you part-time magicians and wannabe witches. It turns out that the local wizard tower is recruiting! It's time for you to live out that wizard life you've been dreaming up for years. Whether you'd like to join a magic school, explore some adventurous anime, or breathe life into a storybook legend, we've got the wizard and sorcerer costumes that will grant your wish better than any genie!
Wizard Hats
What's the first way to recognize you're looking at a wizard? Is it the wave of a wand? The admiration of the local king and queen? Maybe the fact that they've conquered every raid in World of Warcraft? Sure, all of those are pretty good...but what's a mage without their magical hat atop their head!? That's right. Whether from leagues away or right in your way, when you see someone in an epic wizard hat, you know that you're in for a magical moment! So before bothering with the details of which spells you'll be casting, make sure that you've conjured up your cap first. Take a look at these options and see if you'd like to go with a classic wizard hat or go for one of those Stranger Things that Mike would dream up!
Sorcerer Hat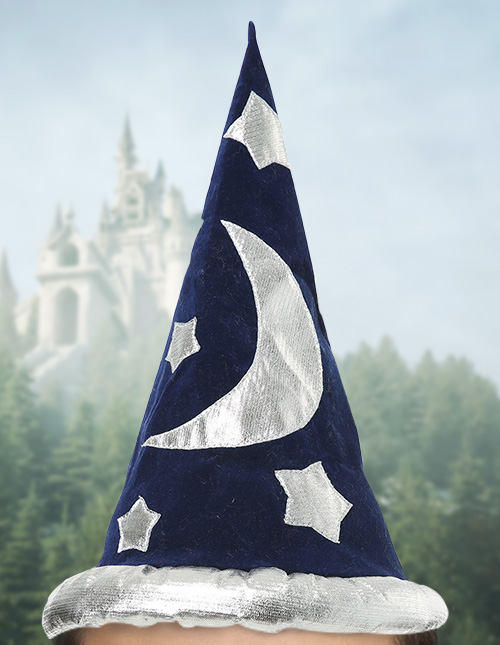 When you're looking for the perfect, classic wizard Halloween costume, you can't go wrong with the classic wizard hat! What's that going to look like? Well naturally, you want tall, pointed, and conical. The more stars, moons, and bright colors, the better too. If folks are wondering what mystic secrets you're hiding in your hat, you and your tykes will be winning your wizard awards!
Hogwarts Student Hat
One of the first things that any tyke who received a letter from an owl will have to do is hunt down their Hogwarts uniform. Of course, they might not even know which House they'll be sorted into. That's why a cute and comfy Hogwarts Hat is always a solid choice. Sporting the embroidered "H" with a crooked cloth top is all you need to scream "Wizarding World!"
Warlock Hood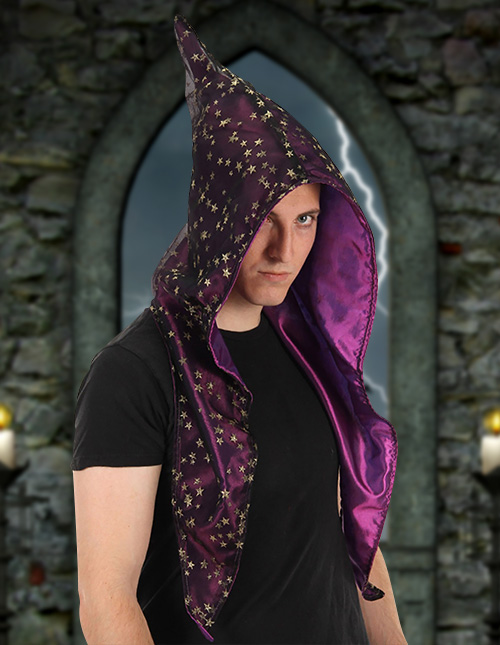 Not all wizards are full of sugar and spice. Some like to explore the darker side of sorcery! If you are looking for a dark wizard costume that shows a slightly sinister side, you might be looking for a warlock outfit instead! A magical cowl helps you stand out from the regular wizards. It also shows you've got what it takes to explore the magical mysteries that chase other spellcasters away!
Gandalf Hat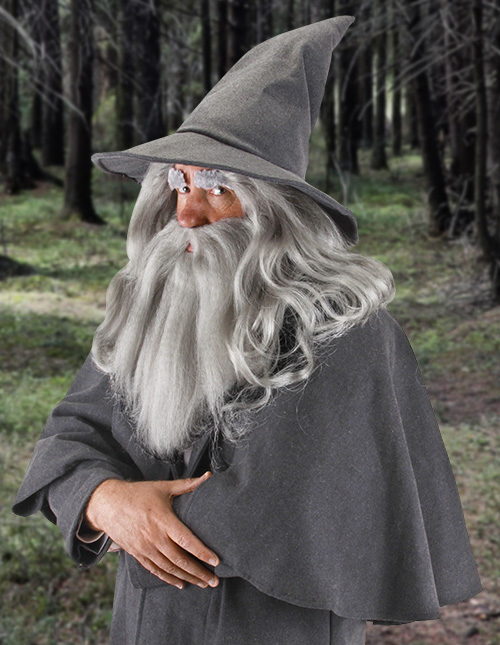 They say that not all wizards who wander are lost. Well, that's certainly true! Just because a wizard's hat might look a little ragged doesn't mean that they don't have sorcery in spades. Channel the wonder of the wandering wizard with a hat inspired by Gandalf himself. After this, the only thing you'll need is a pipe, a staff, and a long, winding road.
Halloween Wizard Robes
Some wizards are recognized by the regalia that they wear. Did you know that the wizards of Lord of the Rings were more like angels, each a part of their own order? The robes they wore signified their rank! Other wizards wear robes that show what kind of tradition they came from. If you've ever been asked which Hogwarts house you belong to, you know what we're talking about! Others have a style that is all their own. Whether they're Marvel magicians, musically charged Goblin Kings, or an Arendelle queen who really knows how to Let It Go, finding the right kind of wizard robe is critical to your magical endeavors! Take a look at these wizard Halloween costume ideas to start your spellcasting.
Kid's Wizard Costumes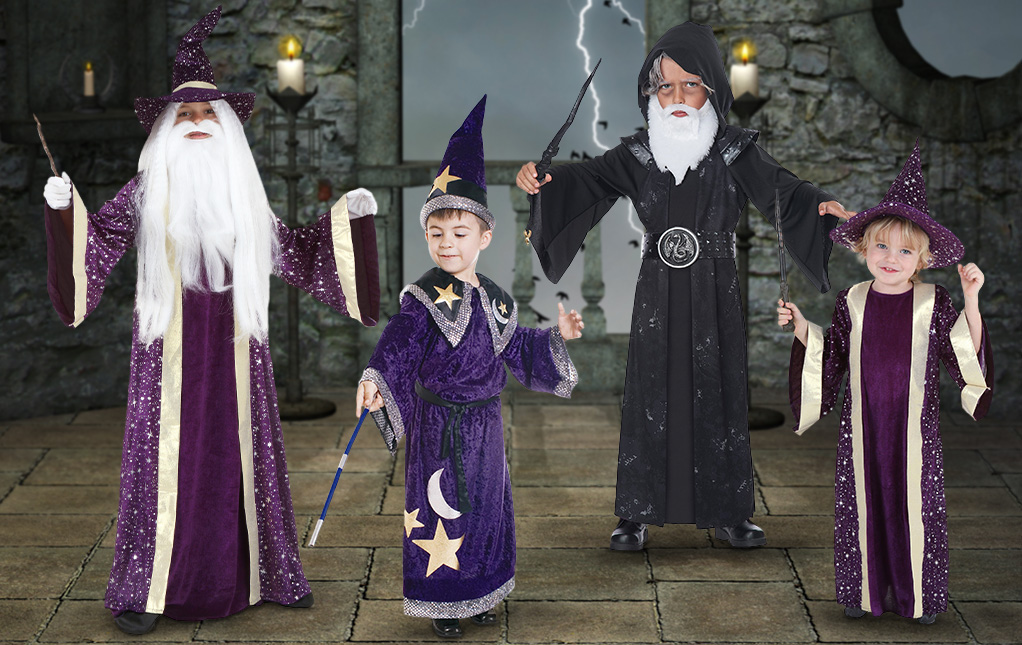 These days, there is one kind of look that is sure to get an excited cheer from your girls and boys: wizard costumes for kids! There are a ton of fantastic styles available, too. Perhaps your tykes will want to dress up like miniature versions of wizened wizards. Did they cast a shrinking spell on themselves or were they just getting rid of a few wrinkles? (That's something we've been trying to solve for years!) Of course, they could just be the cutest new toddler wizard on the block! This is where you can find baby wizard costumes that will enchant the world or the perfect Harry Potter wizard costume to bring all the smiles you'll ever need.
Adult Wizard Costumes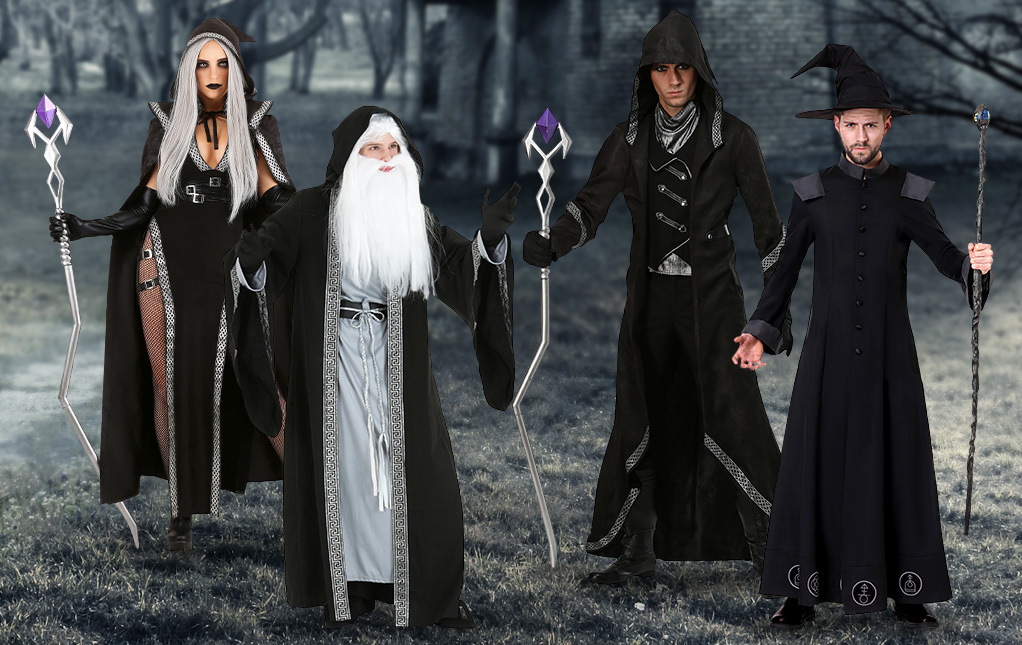 Magic is enchanting. That's just a fact! We get excited when we see a mysterious figure appear in a poof of smoke or watch as a mystical aura surrounds them. While we're still working on all the glowing and teleportation, you can capture the same mystique with a robe and wizard hat for adults! A set of dark warlock robes will give you the evil wizard vibe if your goal is a horror costume from an edgy, magical world. Of course, you can take the same twist with a little seduction to create a sexy wizard costume that will enchant the crowds. Take a look at our selection of adult and plus-size wizard costumes to make every season feel magical.
Wizard Beards
Sure, the hat and the robe are a big deal. But how do you know that a wizard has been wandering the world for a long time? Yep! Just like the dwarves, it's all about that grand beard! Those epic beards aren't just for the villains anymore. If you pore through all your favorite movie wizards, you'll notice that several of them know how to play a serious game with their facial follicles. And we're not just talking about a long white wizard beard for the boys. Female wizard costumes can really stand out when they show what happens when the bearded lady steps out of the circus and starts unveiling some amazing magical talents, too! Add these magical wizard accessories to your warlock outfit to become the wizened wizard that folks will travel the world to see.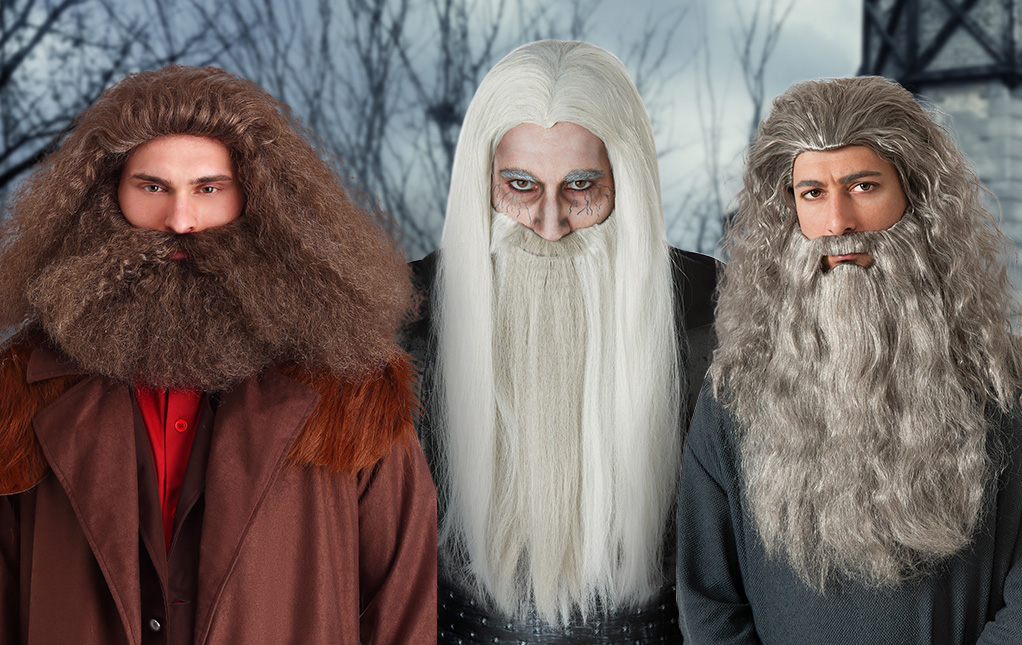 Gandalf Beard
They say that a wizard is never late or early, having only ever arrived when they meant to. Well, part of that is because the epic Istar of Middle-Earth must use a bit of magic to perfect his beard game. While you're mastering your own mysticism, you can beard up in Gandalf style at your leisure with a beard kit. Let's see Saruman try to win this beard battle!
Dark Wizard Beard
How do evil wizards manage to maintain that perfect evil eye? You know the one—a sinister stare that comes only from a head perching perilously off an arched neck? Like any mortal, they need posture training! Fortunately, a long, straight beard really helps a head hang! Perfect your dominating presence with an evil wizard's beard!
Hagrid Beard and Wig
Only a few things are required to become the gatekeeper, gamemaster, and eventual Professor of Care of Magical Creatures at Hogwarts. First, you need to have a devout love for all things creepy, crawly, cuddly, or carnivorous. Next, you've got to have facial hair huge enough to let a Niffler nest! Let your inner Hagrid free with a magical beard!
Merlin Costume Beard
The master of the arcane arts needs a beard that not only shows they've survived many a decade in their lab...but also a sense of style that meshes with any wizardly wardrobe. Of all wizards out there, Merlin is the one who has mastered the perfect combo of a shiny white beard and star-speckled style. It's all about the hair and beard blending, you see!
Wizard Cosplay
If you've spent any time reading comics or watching the very best fantasy TV shows, you no doubt have some favorite wizards already in mind. So when you're heading to the conventions, festivals, and movie marathons, you might want to dress up as a specific magical character. That's where the world of cosplay really shines! Team up with your friends for a magical group costume that will have folks enchanted. We're happy to help make that happen, too. Our officially licensed wizard costumes feature authentic and inspired designs based on your very favorite characters. Say "Hocus Pocus" to bring your Disney magic to life...or you could try "Shazam" if the magic-users of DC Comics are more your style. Take a look at some of our favorite witch and wizard costume ideas to be sure you're instantly recognized!
Wizard Outfit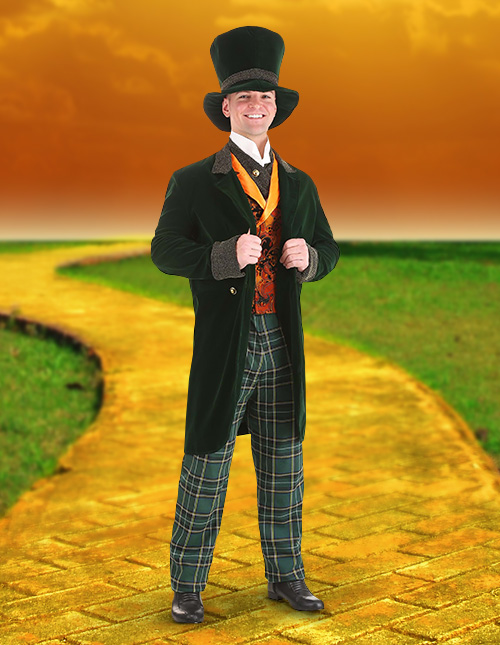 The Land of Oz is filled with plenty of mystery...even though the Wizard himself might not have had much magic at his disposal. Sometimes magic comes from the costume and other times it comes from within. Who knows? Perhaps when you dress up in a Wizard of Oz costume, you'll find that the magic was within you the whole time, too!
Gandalf the Gray Wizard Costume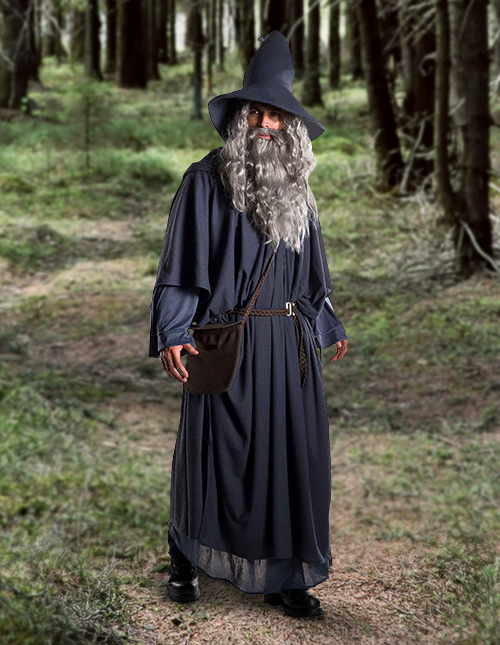 Gandalf is one of the most intriguing and beloved wizard characters of all time. He's a guide, a bit of a mischief-maker, and a genuine friend to the small guy. He's also destined for an epic fate! If you're ready for an unexpected journey (or have a few friends going on an adventure), bring Gandalf to life with our Lord of the Rings Gandalf costumes.
Dumbledore Wizard Costume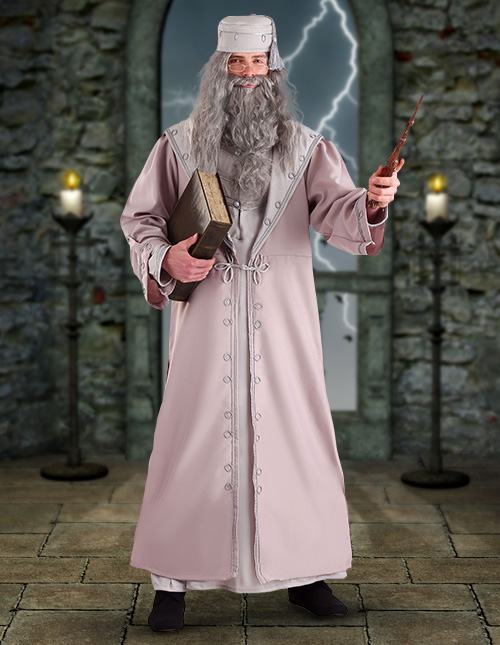 When most people talk about the Wizarding World, they immediately think of the Boy Who Lived or He Who Must Not Be Named. Of course, there's one wizard who is known by name all over the world! Don't just be a student of your Hogwarts House. Lead the entire school when you transform with one of our Dumbledore costumes!
Female Wizard Costume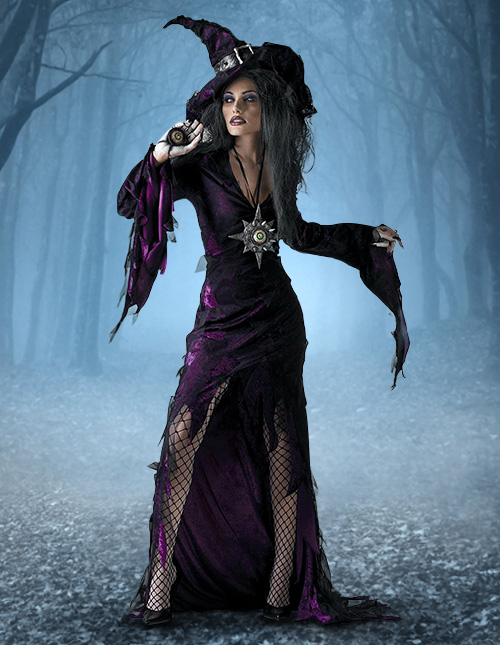 Maybe she's made with it. Maybe it's magical. We're not sure what makes the deadly and delightful Bellatrix quite the witch she is. All we do know is that every scene featuring this dynamic Death Eater is sure to be memorable. If you can master an evil cackle (or an unforgivable curse), you might love a Bellatrix Lestrange costume.