Lord of the Rings Halloween Costumes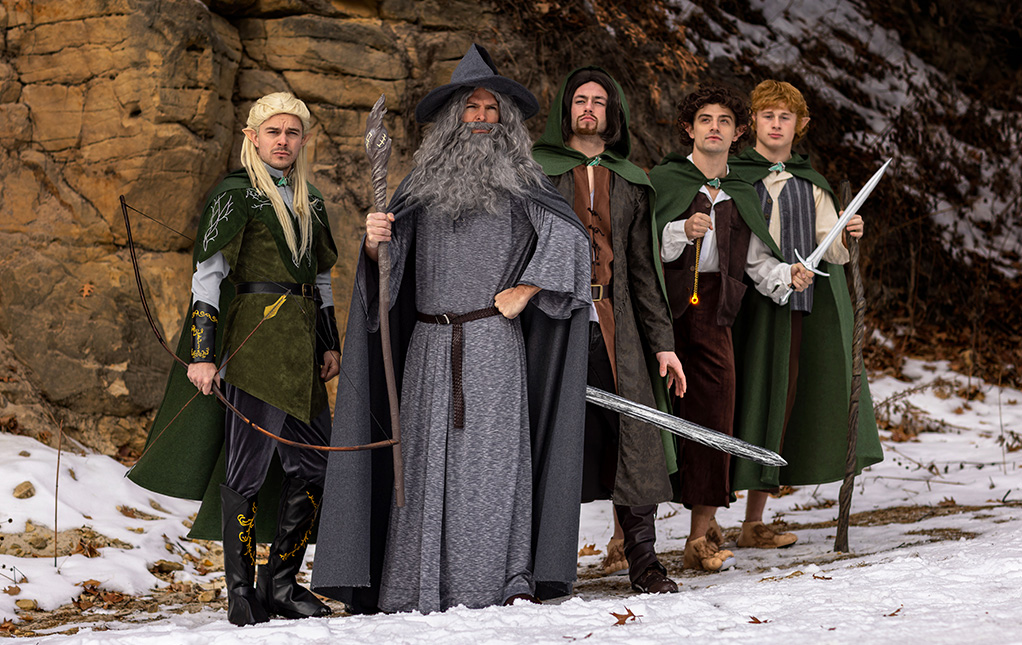 It began with the finding of the Great Halloween Costumes. Some were given to the adults, learned, wise, and most experienced of the costume partiers. Others were given to the cosplayers, great gamers, and crafters of the convention halls. And more, so many more were given to the kids, who above all else desire fun. Or was it candy? Or maybe a combination? But deep in the heart of all these three is forged a costume to rule them all.
It is time for some truly amazing Lord of the Rings costumes, and we are here for this legend to be told! Whether you're looking for an amazing costume inspired by your books or you're looking forward to a cosplay convention, movie marathon, or are going all-out at the Renaissance Faire, our authentic Lord of the Rings costumes will help you feel like you've stepped into a world of fantasy and magic!
Gandalf Costumes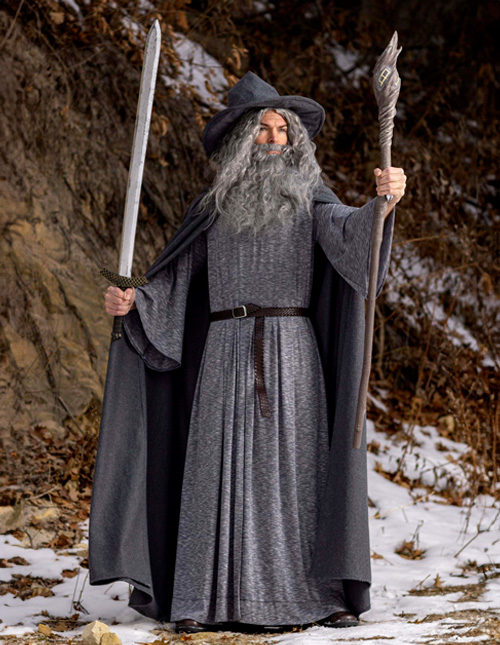 Most know Gandalf was a mysterious and enigmatic wizard. Others know that he is of the Maiar, something like the angels of Middle-Earth. But everyone knows that he is a highly quotable character with two astoundingly recognizable looks! Now you can step into the role of a lifetime with our authentic Gandalf the Grey costume. Guide the Fellowship or impart your own wisdom upon the world. Just watch out for any demonic encounters with the Balrog!
Legolas Costumes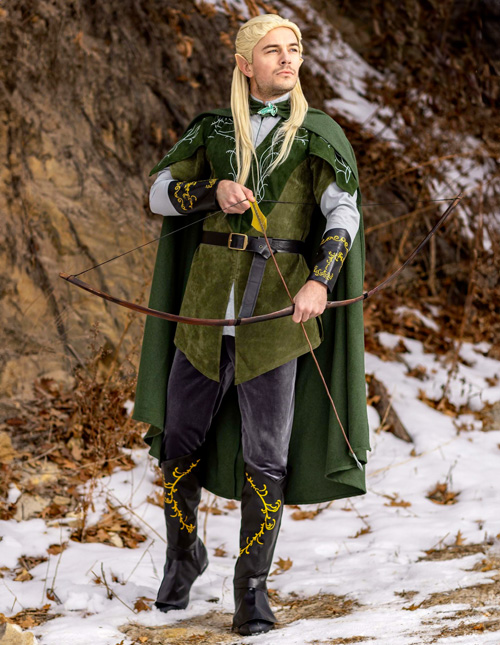 Did someone ask for a sharp-sighted archer? How about an elf that sports a sharp look? Did you want to add a bit of royal blood to the mix? Well, if so, you'll arrive at the epic tale of Legolas, the Prince of Mirkwood, and the Fellowship's bringer of the bow! With this authentic Legolas costume, you'll sport a blend of wilderness and nobility, all in a shade of green and gold. While you're seeking out a great night with your elven eyes, consider some faux archery as well!
Galadriel Costumes
You may never find a character with the same presence as Lady Galadriel. Bearer of Nenya, the Ring of Water, and possessing tremendous powers of divination natural magic, she's also the first voice we hear in Lord of the Rings! If you'd like to command the same attention as this grand figure, choose a white gown with impressive empress sleeves, just like the one in this Galadriel costume inspired by The Hobbit.
Queen Arwen Costumes
While there are many impressive characters throughout the saga of Lord of the Rings, Arwen Undómiel will always have a place in our hearts. Nicknamed the Evenstar, she is a half-elf who shows us how to unite the beauty of nature with the adventurous spirit of humankind. The fact that she eventually becomes the Queen of the Reunited Kingdom! Step into this Arwen costume and don the matching tiara to rule a peaceful Middle-Earth!
Aragorn Costumes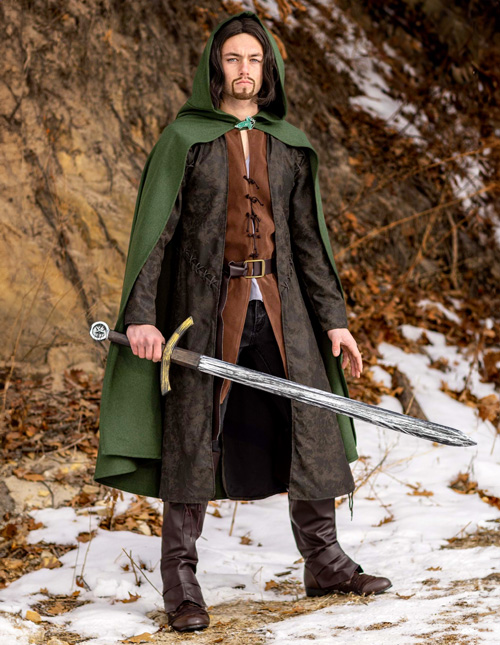 Who knew that the future King of Middle-Earth would be hanging out in a tavern, wearing a disguise? (The heir of Isildur dressing up as the dark ranger, Strider? What a surprise!) Now you can feel just as mysterious and regal as the long-lived Dúnedain King when you wear our authentic Aragorn costume. Complete with a jacket and vest combo and green, hooded cape, you'll be ready to guard any hobbits on the way to Rivendell.
Frodo Costumes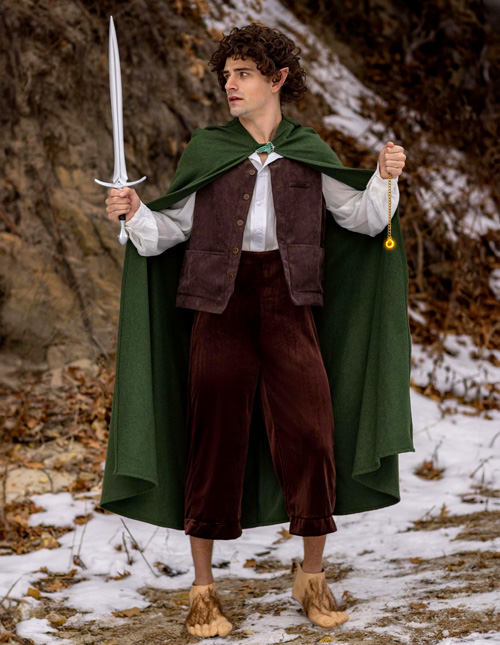 It's one thing to be hanging out on the eleventy-first birthday with your adventurous uncle, chit-chatting with a Wizard. Quite another to discover you're the heir to an even more unexpected journey and about to be out the door with wraiths on your tail! Fortunately, a quick stop in the Lothlórien Wood gives you a quality outfit upgrade. Now we're here to share that with you with this Frodo costume, featuring our iconic elven cloak!
Samwise Gamgee Costumes
If you ever find a friend who chooses to help you rather than enjoy an extra plate of hobbit potatoes, you've got a friend for life. There's perhaps no better guy in all of Middle-Earth than the brave Samwise Gamgee and it is an honor to offer up a costume inspired by the classic character. With the elven cloak, iconic vest, and a good pair of hobbit feet to keep your travel fun, there's nothing quite like this Samwise costume!
Witch King Costumes
The haunting screech of the Ringwraiths might still be creeping out your dreams but that doesn't mean we don't just adore the way they were brought to life on screen. (Well, sorta. Since, you know, they're totally dead and cursed spirits.) But, among them, the Witch-King is no doubt the scariest. That's why we have a special Witch-King of Angmar costume just for you! Give your friends frights and delights with this robe and mask combo.
Lord of the Rings Accessories
It's a classic scene that gets replayed over and over. When you're heading on a scary journey to Mount Doom, you might be willing to go, but do you know the way? Make sure to bring your friends… and their equipment. Their sword, their axe, their bow, and everything else. Fortunately, with our collection of Lord of the Rings costume accessories, you'll never be under-equipped for an excellent night!
Gandalf Staffs
Fly, you fools! Okay, maybe Gandalf can't actually fly on his staff quite the same way as a witch does on her broomstick, but everyone knows that a wizard has plenty of tricks up their sleeve. And part of those tricks come from their classic wizard staff! One of the great mysteries is whether or not Gandalf's Walking Stick had a name like his enchanted sword. Time to find out!
Hobbit Feet Slippers
How do you think those hobbits handled walking around in the frozen mountains? They didn't have a pair of heavy dwarven boots or well-made wilderness treads like the ranger, Aragorn. Do hobbits actually have magical feet!? We're not sure of that answer, but we do know that our Hobbit Slippers will provide you with the look of fuzzy toes while keeping your feet cozy!
Gollum Masks
There's no Lord of the Rings without the story of Gollum. How the One Ring corrupted the hobbit-like creature after so many years, none can say, but the riddles he told and the voice he mustered as he whispered about his precious will be with us just as long. If you'd like to channel the same enigmatic force as he, this Gollum Mask is the perfect way. (No spider caves required.)
Gimli Costume Kit
We know the rules. No Dwarf Tossing! But that doesn't mean we can't offer a costume kit to help you bring Gimli to life. Just picture it. The beard! The axe! The attitude! When you pick up a Gimli Hat and Beard Set, you're on your way to joining the House of Durin as well as the Fellowship of the Ring. (Don't forget to grab an axe, too. We can't let Legolas beat your score.)
Lord of the Rings Apparel
Want to wear your Lord of the Rings fandom on your sleeve but aren't ready to leap all the way into the Fellowship? Don't worry; we've got your back! How? Well, take a look at our collection of Lord of the Rings clothes and you'll find the perfect boots, hats, scarves, and sweaters to upgrade your everyday outfits to Middle-Earth marvels! Our Made By Us design team has created many of these in-house, so we assure you that they're some of our favorites!
Lord of the Rings Sweaters
Keeping cozy is paramount whether you're on an adventure or hanging out for a movie marathon. (And we all know those extended editions can be a weekend-long situation!) So, grab one of our Lord of the Rings Halloween Sweaters and make the most of an Ugly Sweater Contest or simply sporting a style that you won't find anywhere else!
Lord of the Rings Scarf and Hat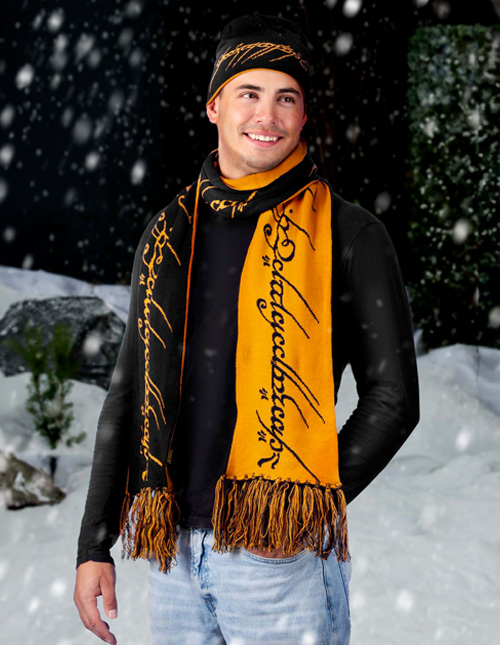 Speaking of wandering out and about in the wintery foothills and tall mountain peaks, can somebody offer up a Lord of the Rings fan some winter wear!? We might not be the elves of Lothlórien, passing out rare and mystical treasures, but we do have plenty of scarves and hats that we know you'll adore. Dress in Middle-Earth style no matter the season!