Renaissance Costumes
The Renaissance Era was a gorgeous time. It stands out from the hundreds of years that happened in Europe in the centuries before. There's a reason there's no such thing as a Middle Ages festival. Who wants to run from rats, stage witch hunts, and argue over where the sea monsters in the ocean might be? Plus, the fashion in the Middle Ages was nutty. It was all conical hats and curly shoes. But the Renaissance era had it going on. They had science. They had artists. At the same time, sick and injured people still got bled for every single malady but at least they moved beyond those silly curved slippers and started wearing some real boots!
Are you ready for the Ren Faire? These costumes are sure to inspire some genius thinking. After all, if you're channeling this era, you're in good company. You'll be dressing up as the likes of Galileo, Shakespeare, and Marco Polo. In the Renaissance era, Elizabeth rolled on the scene with a ruff around her neck and changed fashion forever. All this is to say that the Renaissance era switched things up. Buckle up and scroll on through, these costumes will make you want to break out your tights and strum on your lute until the sun comes up!
Renaissance Festival Costumes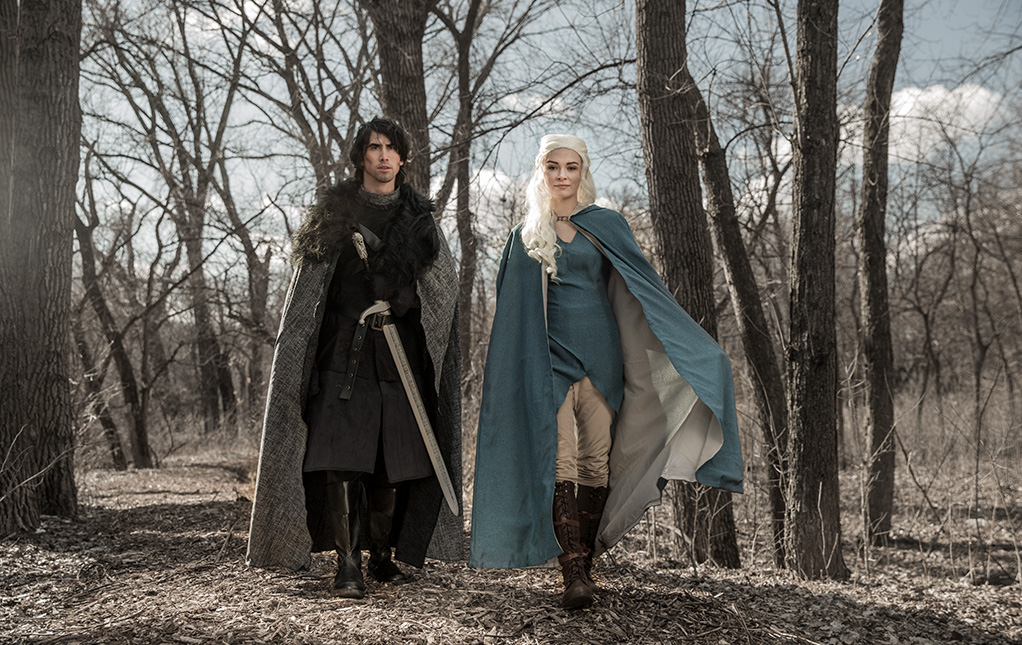 Before Ren Faire season rolls around, you have to decide what kind of character you want to be? Are you an intellectual who's studying Roman manuscripts while trying to figure out the mysteries of the universe like what shape the earth is? Or maybe you're leading the country, trying to keep the serfs from rebelling. And of course, you could be a low-down peasant, enjoying a bucolic lifestyle away from the city. This year's Renaissance Festival is kind of like a choose your own adventure. With rich Renaissance Fair costumes making for an endless list of mysterious characters, we're excited to see what you come up with!
Mother of Dragons Costume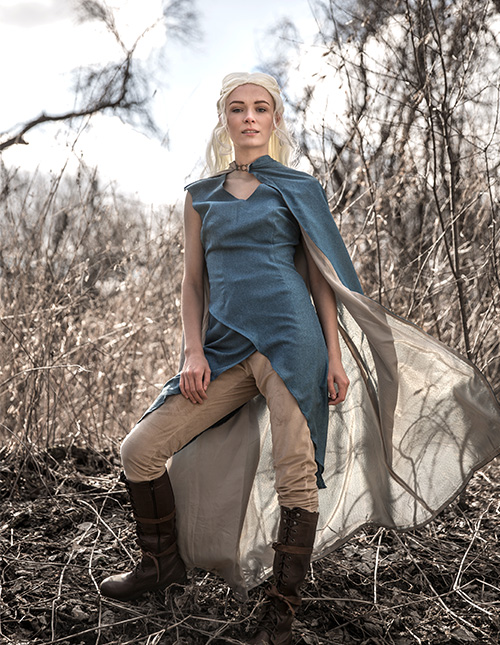 Renaissance women's clothing doesn't have to be limited to stiff corsets and ankle length dresses. Sometimes, a person might have to mount a dragon and take care of a few things. That's where this Dragon Queen costume comes in. If you find yourself in charge of a legion or two, this costume will let you move with ease while maintaining your queenly dignity.
Dark Northern King Costume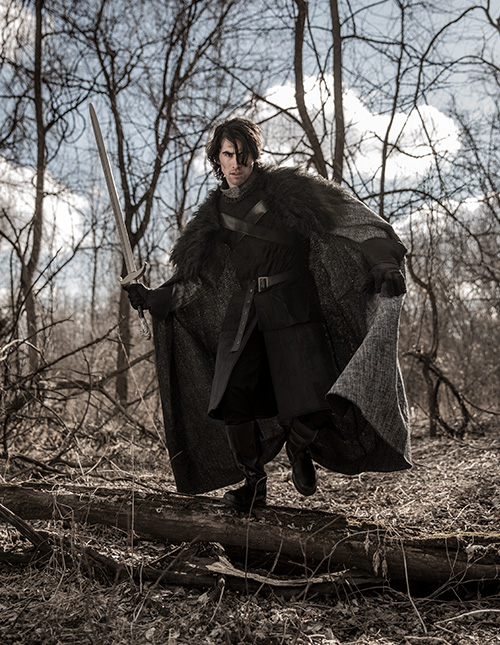 The role of king isn't only about sitting back and eating giant turkey legs. Though that's part of it. Good kings have to get out there and recruit troops as well as fight a few foes themselves. No matter what your mission might be, you'll feel confident and competent when you're rocking this Dark Northern King costume. With a long cloak and faux leather armor, you'll be ready take on whatever foes might come your way!
Red Medieval Dress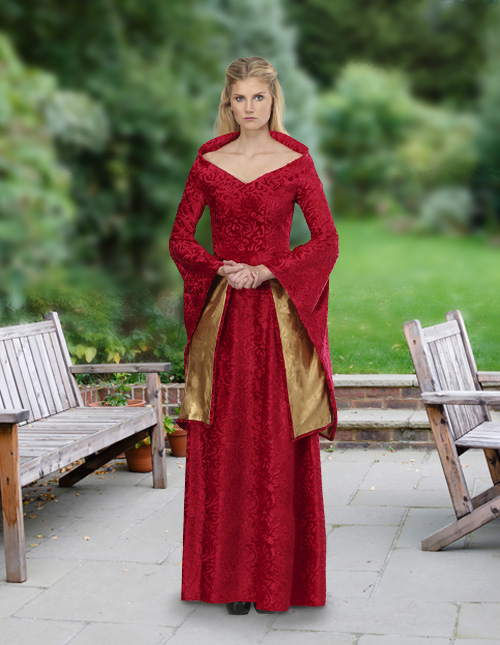 Not all battles are won with swords. Sometimes the biggest blows are taken with a pen, paper, and a couple strategic secrets. A queen wearing this red medieval dress is sure to know her way to the top. Great for sitting back with a goblet of wine and gloating over your next plot, this dress is great for a costume party as well as the Ren Faire.
Wolf Warrior Costume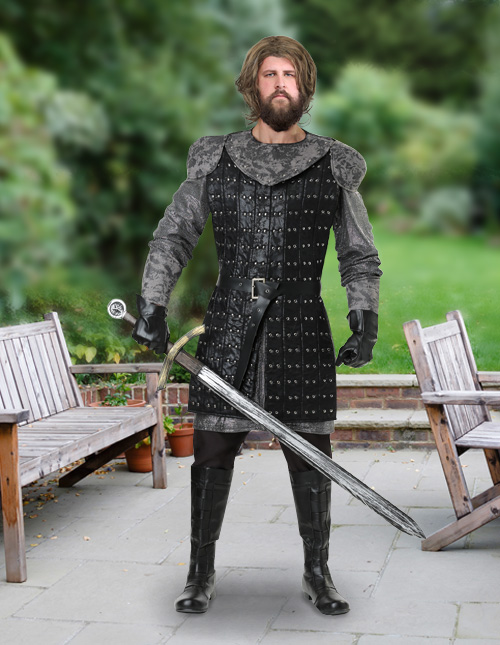 Want to look like you've been through countless battles and you're ready to face what's next with a stoic face? Rock this wolf warrior costume to feel tough while avoiding pounds of chainmail. Rich with rugged textures like faux leather and metallic sleeves, the layered tunic is a great choice for historically themed events!
Northern King Costume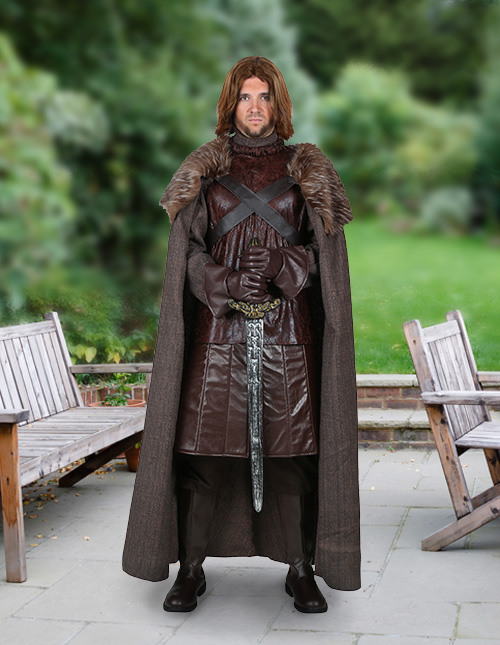 Have you figured out that you've got a lot of options when it comes to men's Renaissance costumes? Our Northern King costume is a look that bridges the gap. Dressy enough to receive dignitaries and tough enough to head out and take care of business on the moors, the light brown faux leather tunic is a great look for any grand royal events.
Wild Warrior Costume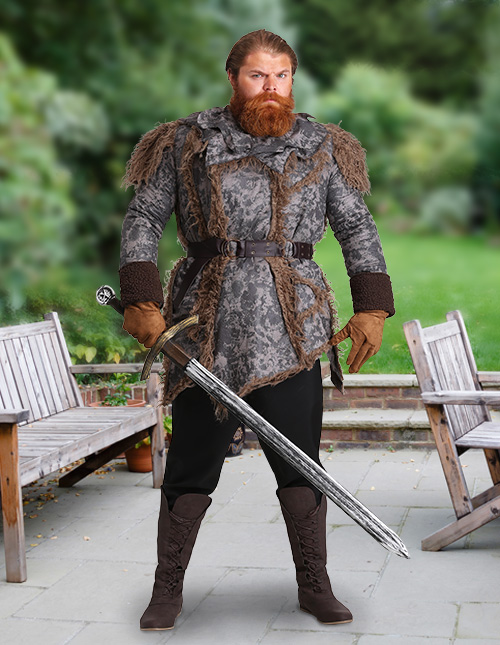 Not every Medieval man wants to sit in some stuffy throne room. Sometimes a guy is a wild warrior through and through. Those fellas need medieval outfits that suit their persona. No shiny armor. No fancy metal studs. That's what this wild warrior costume is all about! The tough leather texture is paired with faux fur to make you look like you're ready to battle it out in the harshest of elements.
Renaissance Clothing
The Renaissance era was all about enlightenment. Europe was being flooded with new rich fabrics, spices, and brand-new information. There were scientists and playwrights. All these rich new ideas and objects showed up in Renaissance clothing as well. For the upper class, Renaissance clothes were dyed in deep colors. Red and purple announced to the world that you were the richest of the rich. Blue renaissance dresses might announce that you were a high-class servant or a merchant's daughter.
Clothing was more layered than ever. They were more structured and complicated compared to any Medieval look. When you're choosing a Ren Faire costume, don't be afraid to add extra bling. Drape your tunic in a large necklace and top your look with a circlet or crown. You're sure to feel that Renaissance energy as soon as you slip into these sumptuous looks!
Men's Renaissance Clothing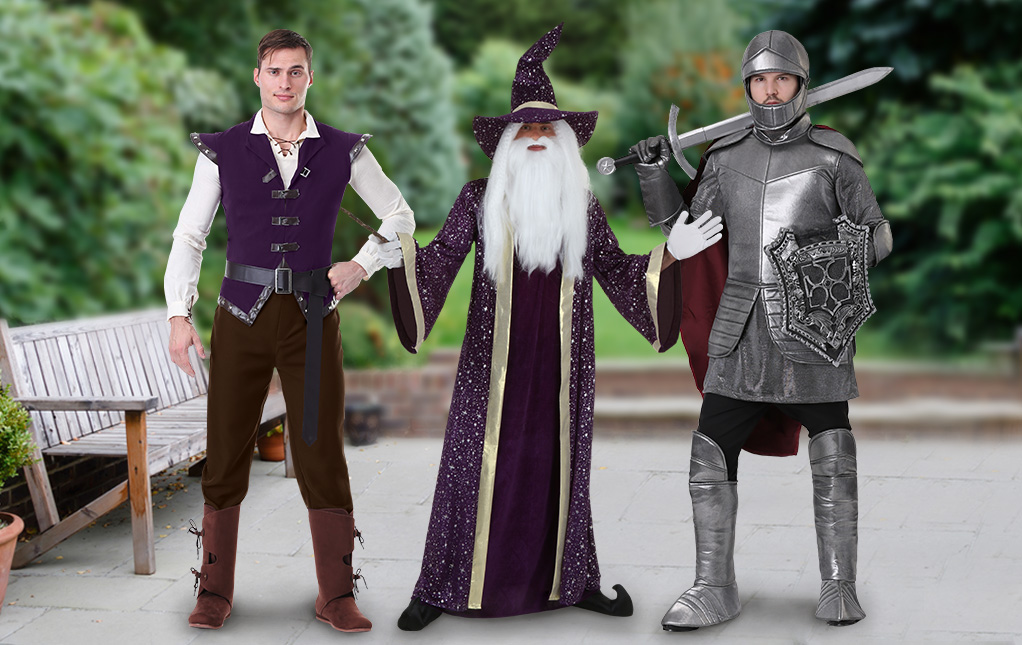 Here's where we really emerge into a whole cast of characters. In fact, we can imagine a sitcom featuring these three guys. The wizard would be the wacky neighbor who has weird ideas that always end up being correct at the end of the episode. The tavern guy would always be getting into scrapes at the local inn. And of course, the knight would be the straight man who's wrangling his friends and trying to get fair maidens to notice his antics. That's a show we would watch. Maybe you should get a few friends together to make it happen! You've got what it takes once these high-quality costumes are in your wardrobe.
Women's Renaissance Costumes
If the last group was a sitcom, then this group of ladies sets up a tense drama. The medieval warrior woman fights the patriarchy as well as enemies of the throne while the princess in the green dress rules the kingdom. All the while, the fabulous fortune teller on the street knows a juicy bit of gossip, but we won't know what it is until the season finale. Talk about a cliffhanger!
Plus Size Renaissance Costumes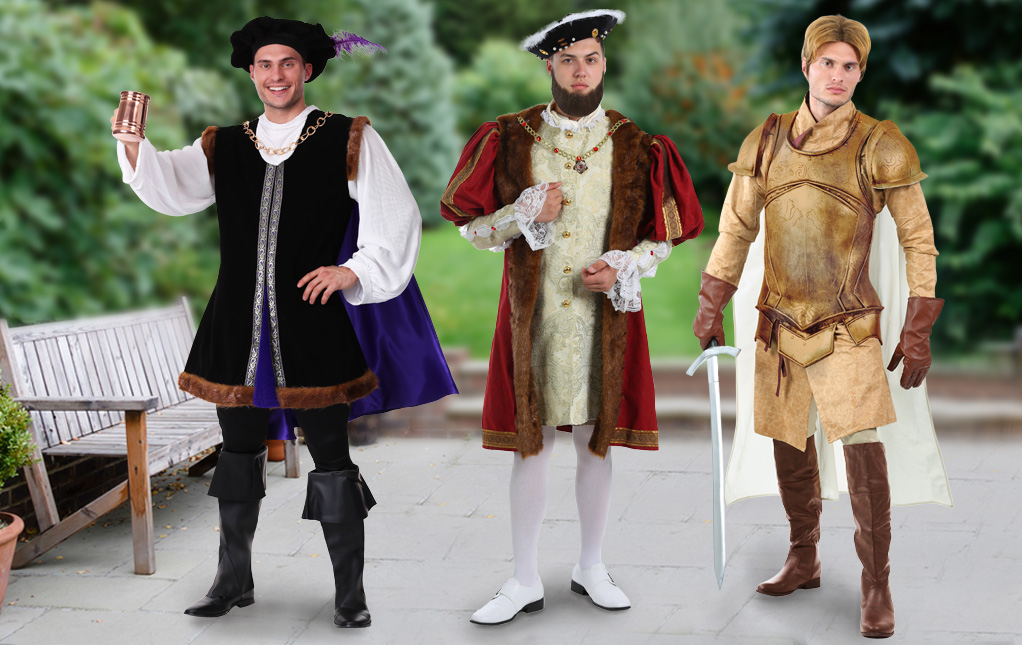 Kings really knew how to live back in the day. Sure, they had to deal with the turbulent tempers of warring nations but they also got to sit back and chomp on leg of mutton, drink from a big ol' goblet of wine and watch as jesters did their best to entertain them. Perhaps you'll have people somersaulting in your honor once they see you emerge in an outfit that's as resplendent as our Medieval king costume. With lush fabrics and a distinctly royal cut, you'd look right at home ruling the castle. Want the prestige without the responsibility? Our Renaissance Lord costume will make you look like a high-ranking merchant or even a duke. But really, we know when people are thinking about the War of the Roses, the most important characters that come to mind are the knights. Wear the title of "knight" without wearing armor that literally could weigh over 100 pounds. Instead, choose this golden knight costume to let people know you need business without weight training for weeks just so you can walk around in costume.
Renaissance Costumes for Kids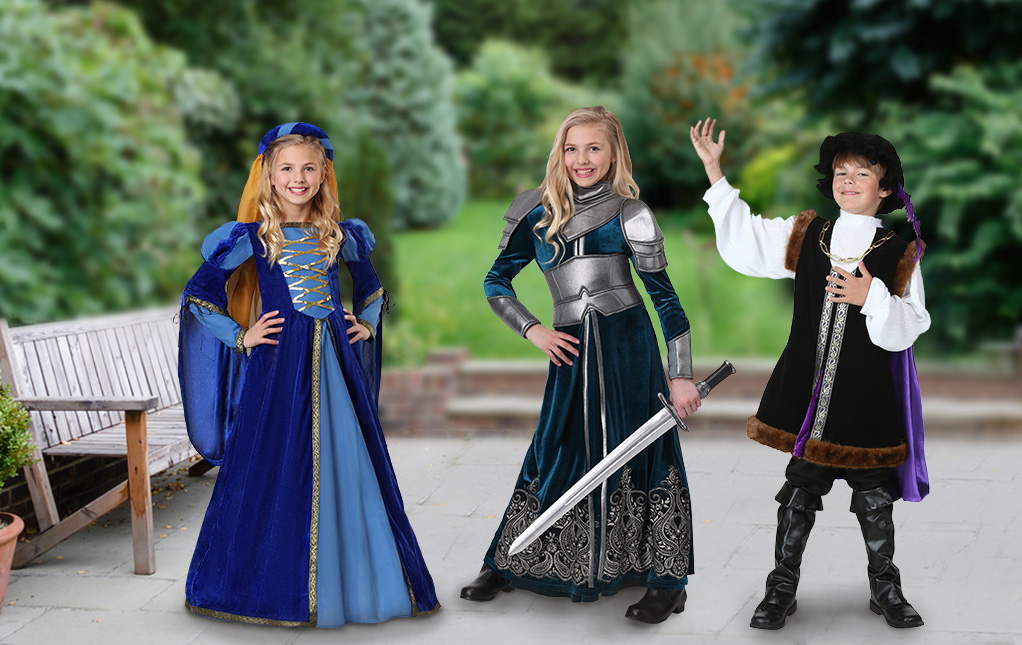 Transforming into a character from an "ever after" era is always a magical memory for kids. Who knows what they'll see? A fire breathing dragon? A wizard working up a potion? They'll be dressed for their adventures when you choose from our selection of Renaissance outfits. Do you have a little Shakespeare spouting soliloquy in your home? The nobleman costume will support your kid's character at the fair or while he waxes poetic for a school project. Perhaps your little girl wants to become a ruling monarch fit for the 1500s. She's sure to love ruling in the Renaissance Queen costume. Blue renaissance dresses are always a great option for little girls as that's the color young ladies actually wore back in the day. And if sitting in the throne room doesn't speak to your girl, you can always mix the tough look of a knight with the sweet skirts of the Renaissance women when you invest in the girl's knight costume. No maiden in distress complex for this little lady!