How to be a Female Superhero
Hey, hey! We're putting out a call to action. An APB. A red alert! We need all women of planet Earth to step up and fight to save the day. What's this you say? You don't know the first thing about become a female superhero? Well, don't worry, because that's what we're here for!
Maybe you're a fan girl who's been following the pages of the comics for years. Or maybe you're a newcomer to the superhero world and you'll just all about the role models you see on the silver screen. Whatever your knowledge level, there's never a better time than the present to step into a superwoman costume, and get ready to help save the day. Whatever kind of hero you envision yourself as, our superhero costumes for women and girls have the details to let any lady become a crime fighter extraordinaire.
And if you're still working on choosing which hero you'd like to be, we've got a few tips, tricks, and how-tos to share with ya. So that's why we created this How to Be a Superhero section! Packed full of the hottest-selling superhero costumes for ladies, we've assembled perennially popular costumes along with all the brand new up-and-coming new ones. Because if there's one thing we're all about as a company, it's making sure you get the most out of your costume experience. It's really the HalloweenCostumes.com way!
Superhero Costumes for Girls
You might be looking to make a big splash at your annual Halloween get together, but if you're shopping for a younger lady, she might just be looking to save the day while out trick-or-treating or to go all out for a dress up day at school. And we think that's a great idea! Youth is the prime time to instill the traits of heroic role models in a young lady, so check out these costumes to give them a taste of the superhero life. After all, if they commit to their education and training, they'll be able to grow up into the next generation of female superheroes!
Supergirl Costume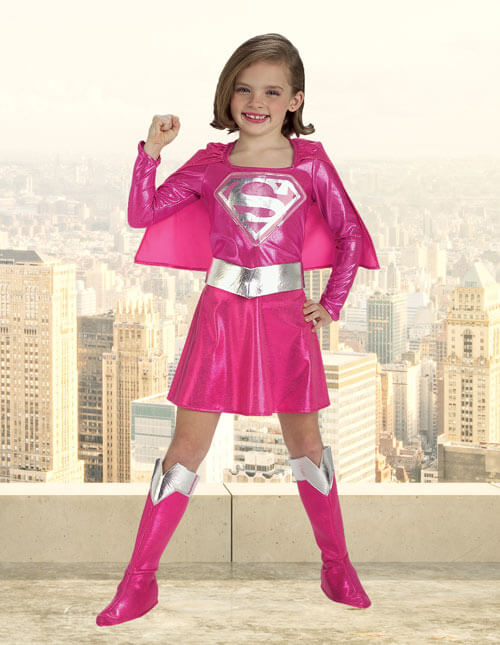 We can't ever ever get enough pink, and we think it's just about time superheroes start to wear our favorite shade too. And that's why we think pink Supergirl costumes are a really great idea! This adorable pink costume will let her become the famed hero of Metropolis, but she'll be pretty in pink too. With classic styling combined with modern touches, this costume is sure to become one of her favorites!
Harley Quinn Girl Costume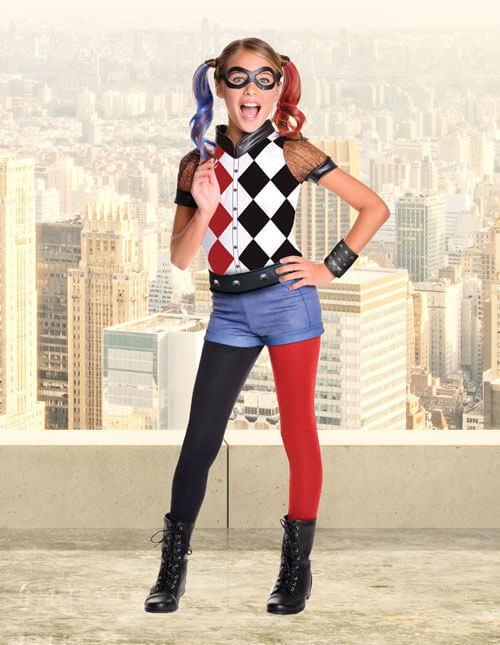 The hottest line of the year is most definitely the DC Superhero Girls. And in this incarnation of the classic DC Comics characters, Harley Quinn is a teenager so she's not even a villain yet! Your girl can be this younger version of Gotham's bad girl with this popular costume. She can team up with her friends as the whole Super Hero High gang, or just make sure Harley ends up supporting good deeds and not a life of crime!
Super Hero Tutu Costume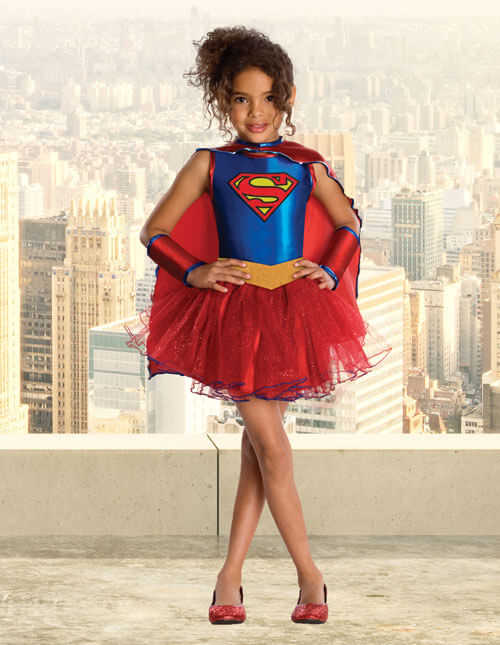 Sure, she can soar high above the city ready to save the day, but can she do it in a tutu? Of course she can! Okay, so she can't really fly or harness the powers of our yellow sun, but that's no reason she can't be tough, brave, and a little cute to boot by choosing this kid's Supergirl costume. With a touch of glitter and a tulle skirt, she'll have the super style worthy of the shield on her chest!
Batgirl Costume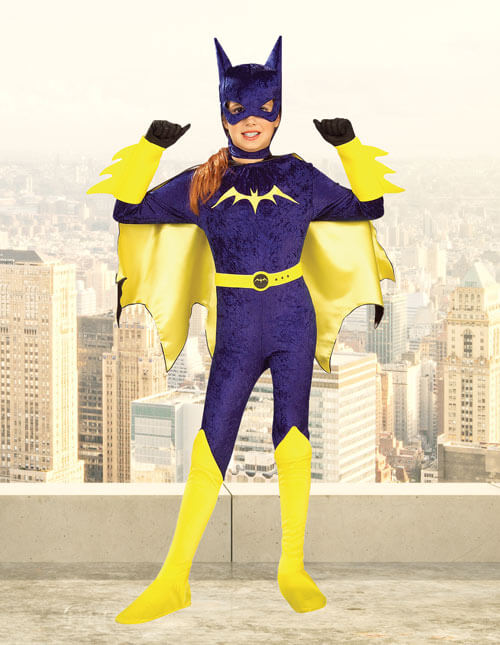 Is she ready to save the day in Gotham City? Is she ready to do it in purple? Then she's going to love this costume! Out of all Batgirl costumes, this one inspired by the 1966 television series is our tip top favorite. The velvet finish is downright superhero chic, and with the yellow accents on the cape, wrists and boot covers; it's an awesome throwback style that's really perfect in any era. She'll be ready to battle all the baddies with this costume.
Villainess Costume Ideas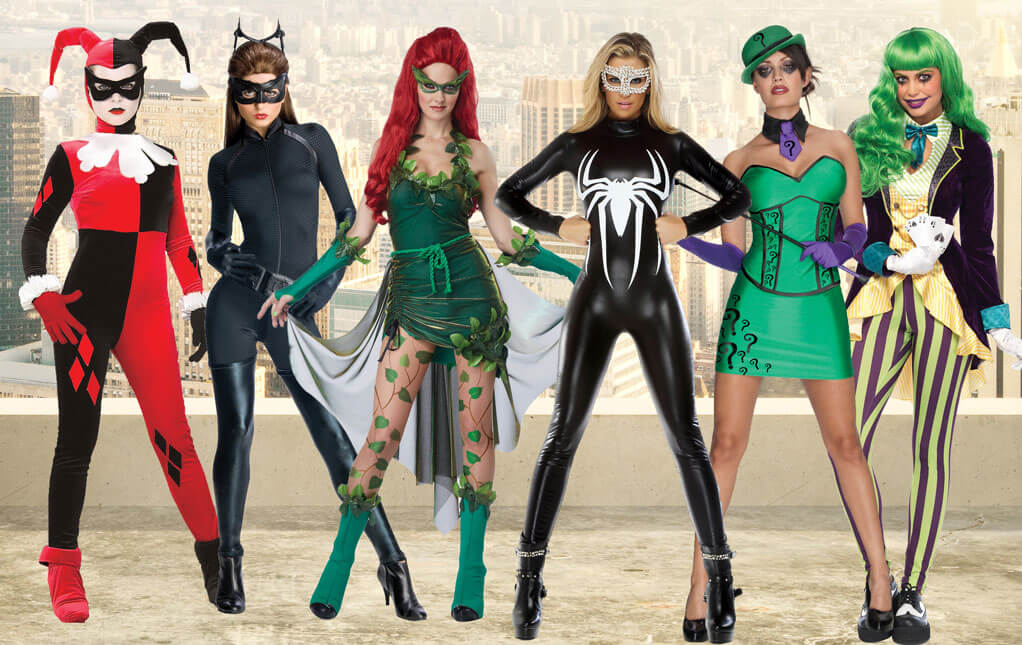 In the course of shopping for a superhero costume, maybe you've come to the conclusion that you'd rather just be bad this year. Maybe crime really does pay! If that's the case, then there's plenty of female supervillain costumes for you to choose from! Look to the Batman franchise for classic enemies like Poison Ivy, The Joker, or you could even pick out a women's Riddler costume! And instead of looking at Spiderman costumes for girls, we think a Venom costume would be a downright wicked choice! Whether you're looking to go on a wicked costume crime spree, or you just want to be the foil to your costume partner for the night, these comic book inspired looks will have you ready for all of the action!
Female Superhero Love Your Look
Getting the costume experience right isn't just something we preach; it's something we practice. And that's why when we're testing, photographing, and writing about our top selling costumes, we put in the extra effort to really bring the costume to life. It's what we like to call Love Your Look! We want to do whatever it takes to make sure your experience is top notch, and we're more than willing to go the extra mile. Check out some of these images from a recent photo shoot to pick up on the tricks of the trade that we use to bring both the costume and cosplayer to life. It's not just an industry secret anymore!
Love Your Look as Harley Quinn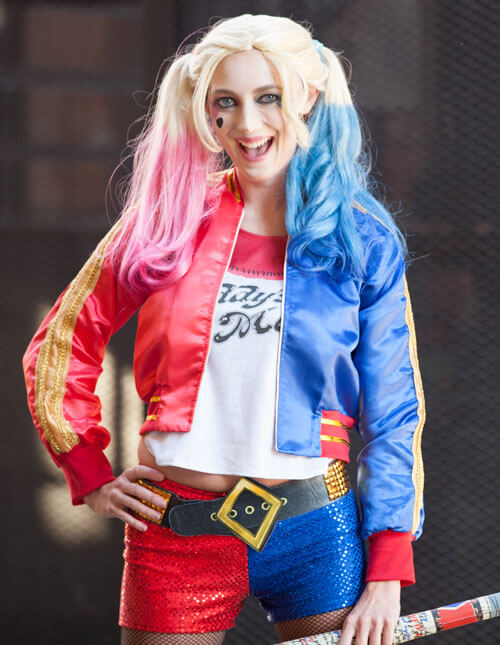 So you want to go as Harley Quinn this year. But you don't just want to be Gotham City's number one bad girl, nah, that's not good enough for ya. You want to be the top renowned villain world-wide. We can respect that. In fact, we'd have to say we highly encourage it! You can take your Suicide Squad look to the next level with a little extra attention to detail and a few extra touches.
In this photo, you can tell that our model's not just excited to be Harley, she's downright estactic about it. (Well, maybe it's just all the jewels she's planning on getting her hands on from her next crime spree…) You can practice your own devious smile, but when you have the signature Harley Quinn Suicide Squad wig, you're going to want to make sure your facial expressions convey the not-so-deep thoughts of a certified mental case. Her makeup is on-point, just like Margot Robbie, and when the sequins catch the light just right and she holds the Harley Quinn inflatable bat at the ready, well, there's no way we'd try to cross this villain.
Love Your Look as Wonder Woman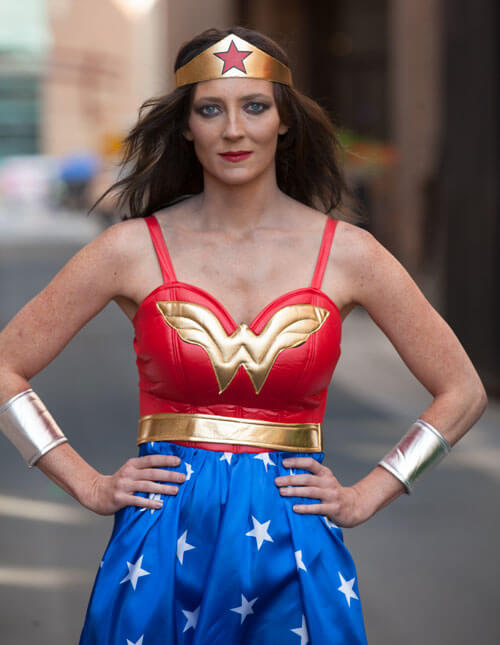 Gal Gadot totally rocks as Wonder Woman, but for us, that vintage style is tried, tested, and true! We love reminiscing about Lynda Carter rocking the WW insignia in the 70s, or pouring over vintage comics for some of the most amazing moments from the Amazing Amazonian.
If you're anything like us, then we're sure you're going to really dig this classic long dress Wonder Woman Costume. Our model did, and she really loved that the dress and padded bust offered more coverage than some of the more revealing Wonder Woman costumes. With the polyfoam wristlets positioned just right on her arms, and the golden foam Tiara on her head she feels bold, powerful, and ready to kick some butt. Of course her mission is probably just going to the big party or watching over the little ones to keep them in line, but you don't always have to save the day when you go in costume. Sometimes, you can just enjoy the extra boost in confidence!
Love Her Look at Wonder Woman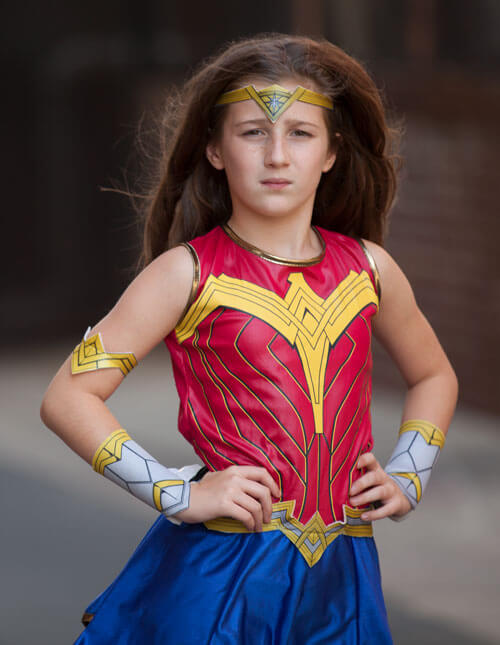 The task of saving the day really should be left for the young and imaginative, so we're sure any young lady will love choosing from our selection of superhero costumes for girls. Most little ladies look up to Wonder Woman and this modern costume is styled directly from the latest DC Comics movie universe. She'll be able to look up to Gal Gadot and her portrayal as the Amazing Amazon as a serious role model with this costume!
This Batman v Superman costume perfectly captures the iconic new look of Wonder Woman, and you can tell that our model got a serious boost of confidence from these threads. A step down from the full armor set worn by Gadot, this simple costume still carries all the right costume cues with wristlets, armband and a tiara. You can tell that she's ready to battle the worst-of-the-worst DC villains, even though she's probably going to be content just working on filling up her trick-or-treat bag. Best of all, when she has this costume, she can be serious, or just a fun modern hero. It'll be her call!
Love Her Look as Catwoman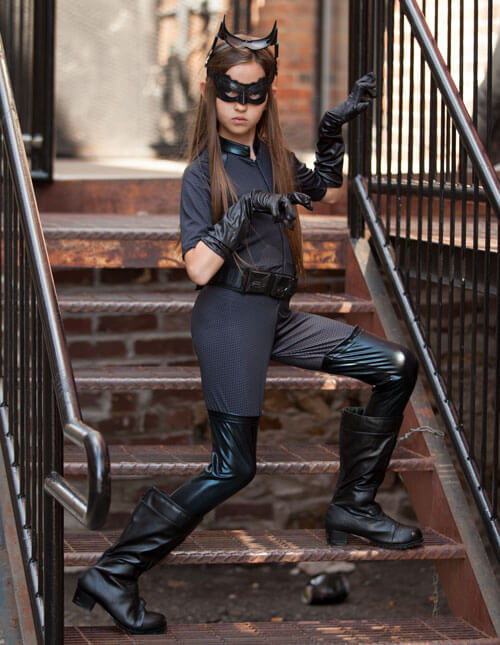 Catwoman is all devious; sometimes a hero and sometimes a villain. If you've got a girl who can play that part to a tee, well, then it's time to introduce her to this classic Batman character. We all watched when Anne Hathaway stole the show in The Dark Knight Rises, and while we wouldn't exactly call her a role model, we think that her ever-capable demeanor is very much worth emulating!
She can become the legendary catburglar with this deluxe Catwoman costume. A knit armor print contrasts perfectly with wet-look vinyl accents, and when she dons the goggle enhanced eyemask, her identity will be safe and secure. Our model had so much fun as this classic character that she couldn't even decide if she wanted to be a hero or a villain. And that's how we like to play it, too, right in the middle! Arm her with this movie look for a truly memorable Halloween.