Harley Quinn Costumes
Nobody in the DC universe is quite like Dr. Harleen Quinzel. Not only does she have a pretty engaging origin story and a personality that nobody else comes close to, she always manages to turn heads with her sense of style, too! Maybe she's pulling pranks in her harlequin garb alongside the Joker in the animated series. Or she could be proving that she's been emancipated from Mr. J, then teaming up with the rest of the skillful and sexy Birds of Prey. Either way, Harley Quinn is a character in every definition!
So it is no wonder that you might be interested in putting together a Harley Quinn outfit for your costumed outing. The real question is what style of Harley you plan to dress up as to take down the town! Do you fancy Harley from the animated series? Do you have a kiddo who is super keen on the DC Superhero Girls show? Or are you in total love with the cinematic style of Harley as the main protagonist? No matter your aim, we're happy to help you find the best Harley Quinn costume for your needs. Take a look through our suggestions and find your favorite Harley. In no time, your friends and family will be seeing stars...even if you have to use Harley's mallet!
Harley Quinn Halloween Costumes
Gotham City is full of quirky characters who probably go nuts for Halloween. Between the Scarecrow and the whole "dark and brooding" thing that Batman has going on, it's a natural site for some of the best Halloween costumes out there. But, amidst all the scary gothic horror, there is a glorious splash of color. Giggle your way into glory with a Harley Quinn Halloween outfit that will feel like a thwack, whack, and wallop to the rest of the conventional Halloween looks. And if you're worried about blending in (and standing out) with a group costume, fear not! Harley is one of those characters that somehow gets along with everyone...even if they pretend otherwise. It's time to get your Harley on!
Harley Quinn Suicide Squad Halloween Costume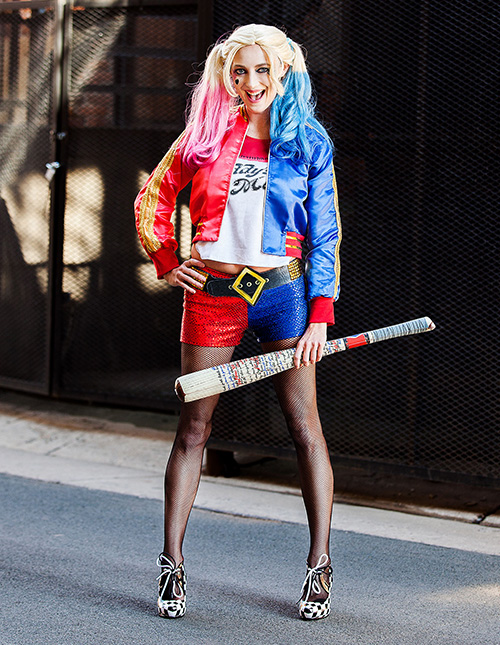 Did some fancy-pants government lady ask you to save the world from some crazy ancient witch lady? Did she ask you to team up with a fiery dude and a sharpshooter? Well, who really cares about the job? This is a time to dress up in a Harley Quinn costume for adults. Gear up as Daddy's Lil Monster in a Suicide Squad costume and get to saving the world in the way only Harley Quinn can... unpredictably!
Harley Quinn Arkham Asylum Costume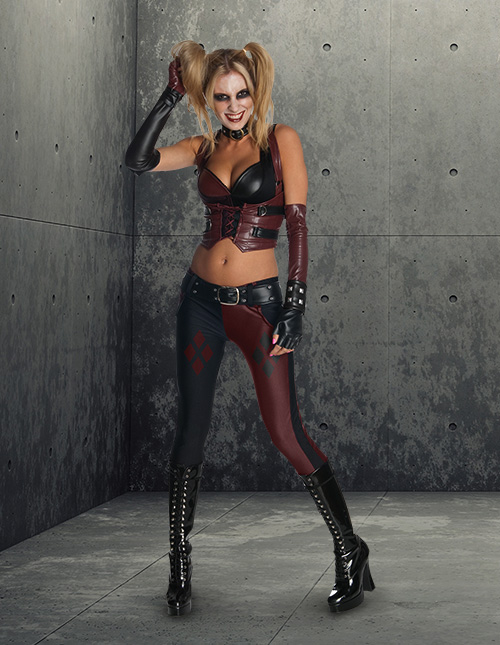 If causing trouble in Gotham City sounds a little overdone, perhaps it's time to boot up your favorite video game and take a dash through Arkham City instead. Make Batman go mad and show Mr. J that you've got a great idea for taking down the town when you dress up in a Harley Quinn costume from the Arkham Asylum series of games. Just make sure that you don't get too close to any of Bane's poison. (You're already too tough to handle!)
Harley Quinn Cosplay Costume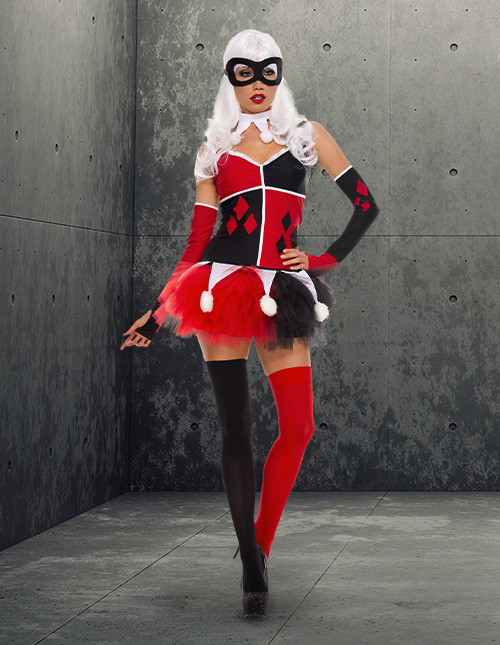 Sometimes Harley Quinn takes the role of the jester just a bit too seriously. And by that, we mean that she goes a little crazy over it! That's when it is time to cosplay as some of Harley's best moments from comics. Channel the spirit of the actual harlequin clowns, complete with a mysterious mask and some serious stockings. The Harley Quinn Harlequin is sure to draw a crowd large enough to make even the Joker jealous.
Classic Harley Quinn Costume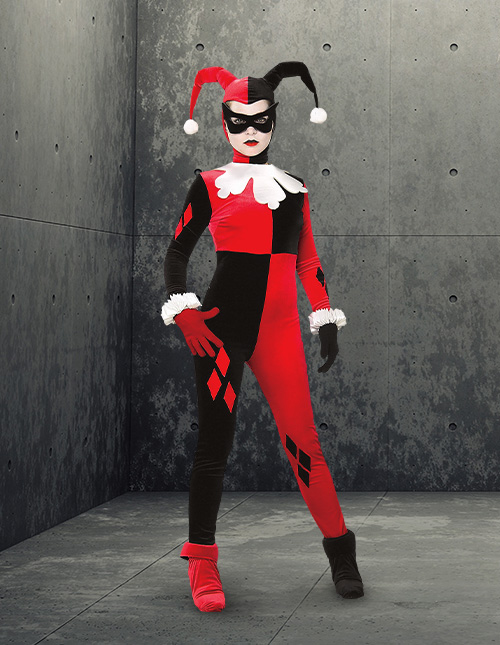 Speaking of comics and an animated personality, you can't get more "Harley" than diving right into the original form. Harley started as a character in the animated series and we just couldn't get enough. Now you can share that same fun with everyone else when you dress up in a classic Harley Quinn bodysuit costume. Red, black, and checkered, the only thing that screams Harley more is her iconic jester hood... and maybe the victims of her mallet.
Suicide Squad Harley Quinn Makeup Tutorial
If you're looking to put together a Harley Quinn costume, DIY style, having a few tips on harnessing her wild appearance is a must! Fortunately, our team has made a science of studying that iconic Harley flair. In our Suicide Squad makeup tutorial video, you'll see how we brought the film to life. We used temporary tattoo paper and printing on a raglan tee to start off Daddy's Lil Monster, and red and blue wig for her colorful dye job. A white foundation gives the nearly unnatural complexion Harley is famous for! From there, extend blue and red eyeshadow over your cheekbone and paint a heart on your cheek to make the most out of your sexy Harley Quinn Halloween costume!
Prison Jumpsuit Harley Quinn Costume Makeup
If you've already taken down the Enchantress and you're ready to bust out of jail for a night of serious fun with your new gal pals, only an emancipation will do. If you're putting together a Harley Quinn prison costume, this makeup tutorial is sure to get the fun started. This guide will help you get the lightest foundation ever and help you apply blue and pink eyeshadow to create Harley's signature look. You can stencil in your favorite Harley tattoos on your cheek. For an entirely natural look, take pink and blue hair chalk or use colored hairspray. (Or just try one of our Harley Quinn wigs!) Once you're rocking this look, read your favorite book or enjoy a good cappuccino while wearing one of our prison jumpsuits.
Harley Quinn Costumes for Kids
Harley is one of those Gotham characters who manages to walk the line between baddie and hero. When she's a villain, she's usually more of a mischief-maker than a killer clown. When she's a hero, she typically enjoys making as much of a mess of things as she can! She's pretty much the essence of unpredictability bundled up together with unlimited energy. So it should come as no surprise that Harley makes a perfect character for your kiddo's costume! We have Harley Quinn dress costumes that will help your child feel like the Queen of Gotham City herself. Take a look at some of these different styles of kiddo Harley Quinn and see what kind of mischief you and your tyke can turn up this season.
Girls' Harley Quinn Costume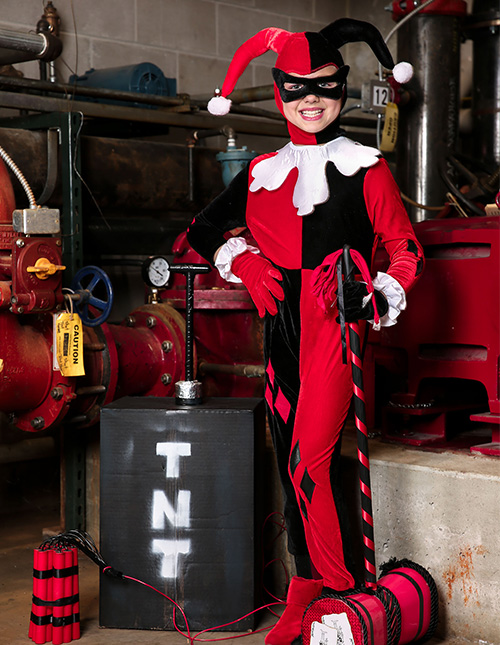 Your kiddo will be ready to wreck any Halloween records when they dress up in an exclusive Harley Quinn outfit for kids. We're suspecting that they'll want to channel some of the cartoon crazy that Harley is known for... so a Harley Quinn jumpsuit is the natural way to go!
Harley Quinn Tutu Costume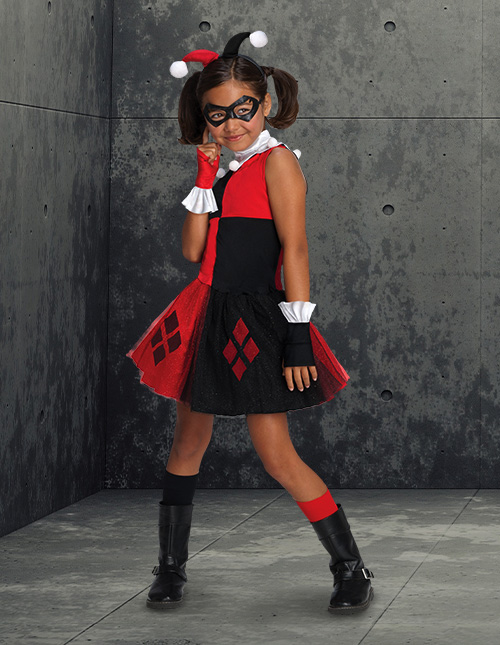 You know that look your tyke gives you sometimes? The mischievous smile that is so cute...but also makes you confident that you're in for a big surprise? Well, you just can't fight that kind of adorable mischief. That's why a cute tutu makes a perfect Harley Quinn toddler costume!
DC Superhero Girls Harley Quinn Costume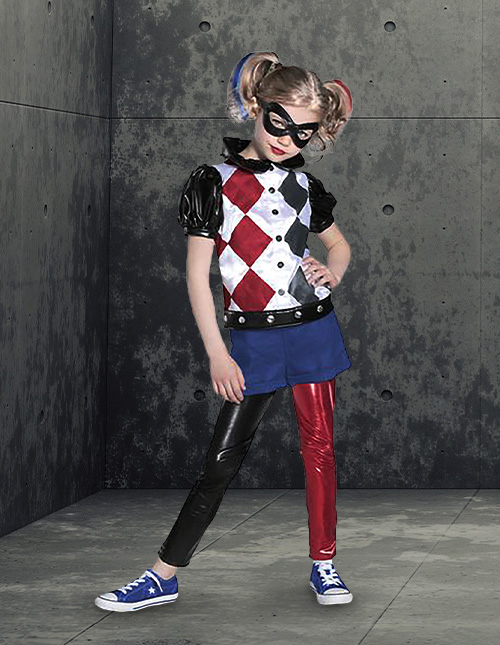 It's time to send your kiddo off to Super Hero High. They're sure to meet all sorts of great new friends, from Wonder Woman to the mysterious Poison Ivy. Fortunately, your tyke can become the class clown, with an excellent look for a tyke, a tween, or for a Harley Quinn teen costume, too!
Harley Quinn Jester Costume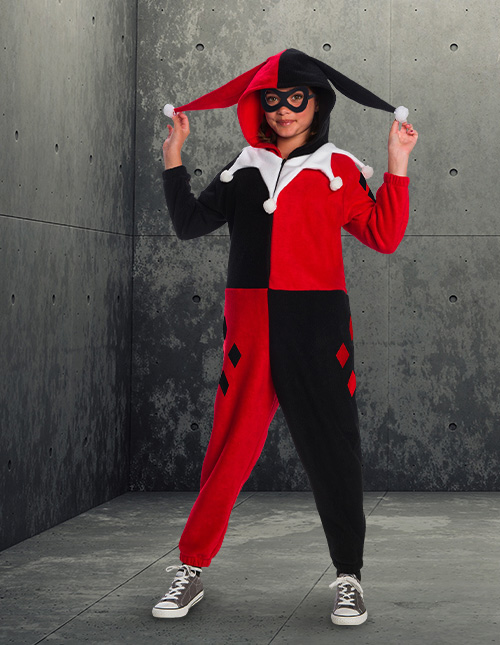 If being comfy is the rule of cool for your kid, you won't need Bruce Wayne to invent the perfect costume. We've got the thing right here. Give your kiddo the comfort and fun of a Harley Quinn jumpsuit that doubles as a pair of jester-themed pajamas!
Harley Quinn Costume Ideas
It is important to keep things fresh and fun when you're stepping into the role of Harley Quinn. That's why you may want to pick a different look from the comics and screen. For those of you who love the idea of a DIY Harley Quinn costume, you can start with some of these fresh ideas to make Harley all your own. If you're interested in a Harley Quinn jail costume, for example, you can play cops and robbers in a prison jumpsuit with some extraordinary makeup. You can also make a pitstop at the hospital in a Harley Quinn nurse costume to show folks that laughter is always the best medicine. (And maybe a few screams, too.) Take a look at some of these additional options to make your Harley Halloween a memorable night of madness!
Harley Quinn Black and Red Costume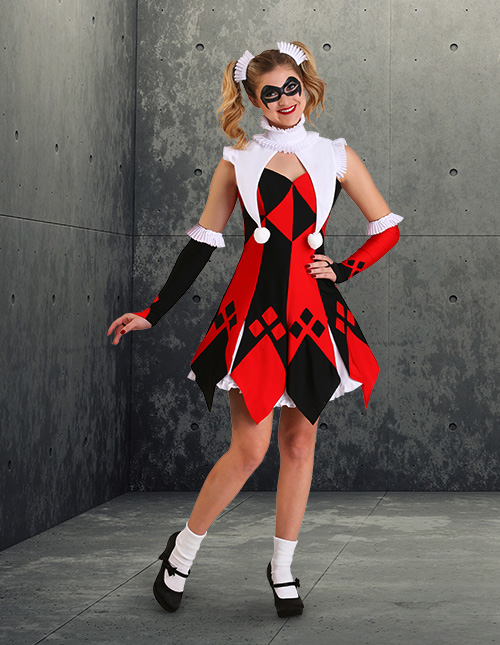 Harley is popular gal all around the world. So, what happens when she quits being the Queen of Gotham? Well, it's time to head out to the royal courts around the world to unleash a new brand of mischief. Try a Made By Us court jester costume that's too beautiful for Gotham.
Harley Quinn Bodysuit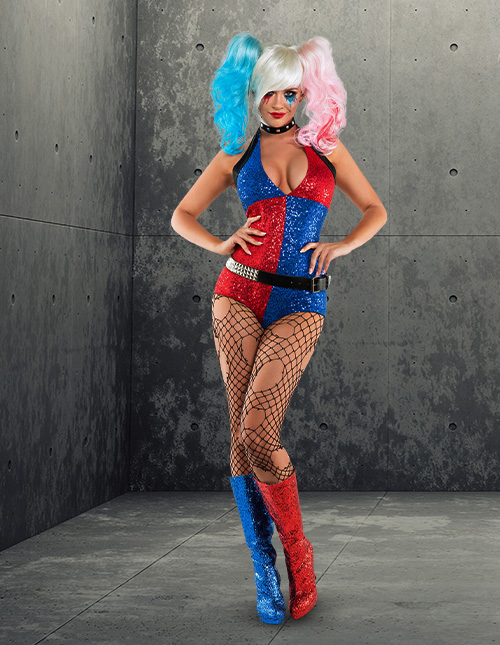 Harley Quinn isn't all fun and games. She's also murder, mayhem, and the most beloved monster out there. If you'd like to paint the town red and leave people gasping for breath, try a sexy Harley Quinn outfit that will have you feeling loud, proud, and powerful.
Harley Quinn and Joker Costumes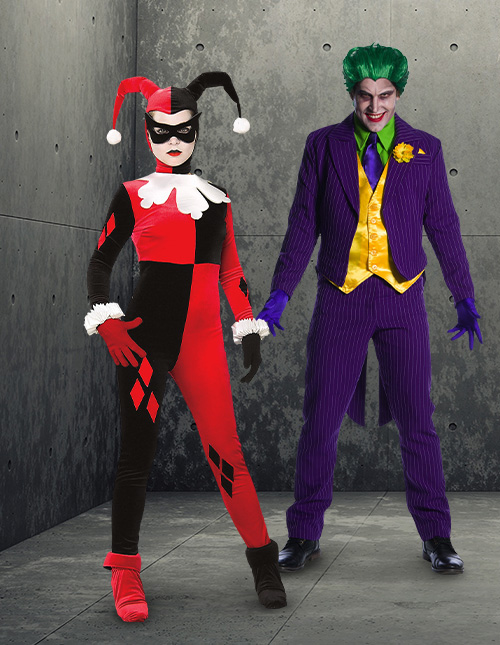 If taking over the world seems too big (or boring) for just one person, don't feel you need to take on Batman all by yourself. Go with a classic Harley Quinn costume and team up with the Joker! That'll make sure that the whole world is laughing with you...or running away.
Harley Quinn and Batman Costumes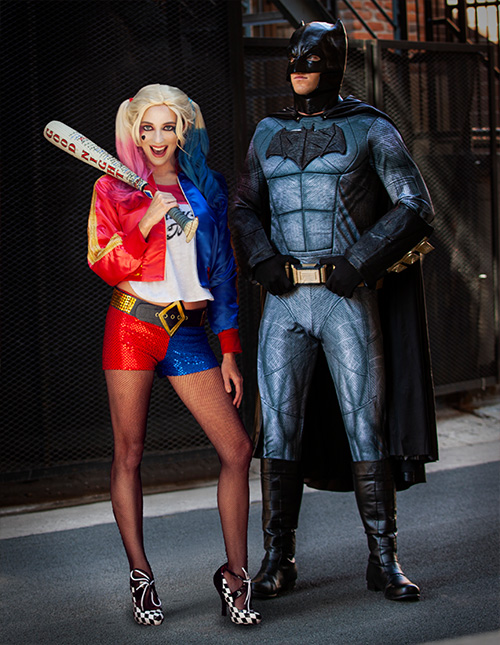 Maybe taking over the world is too much of a cliché. After all, that's what all the villains are up to these days. In that case, you can turn the tables on your trouble-making friends and join up with a hero instead! This time the Lil Monster is teaming up with Bats!