Joker Halloween Costumes
Sometimes the year can get you down. The same humdrum work shifts every week or the looming threat of the daylight hours vanishing into the coming winter. Well, we can hardly let you wear a frown. In fact, we've got a bit of advice from a rather unlikely source: a wicked clown. Haven't you ever heard of the healing power of laughter? When things get darker, there's one reliable way to bring the fun back into the world. That is by bringing one of the most comical characters out of the book and into the real world. Sure, he's technically a villain, but we're pretty sure that in your hands, this smile is going to be contagious.
"Why would anyone want to be the Joker?" you might ask. Perhaps you've got a bit of a mean streak in you. Or perhaps you're always the nicest person in the room and you'd like to play the opposite personality type. Of course, the best reason out there is if you happen to live in Gotham City and you've heard about this bat character. Is the guy who takes down that kind of a threat really a supervillain...or is he the hero?! Well, whatever your reason, we have all the Joker costumes you could ever want! Recreate the maniacal clown with our makeup and accessories, and Joker costumes from movies, comics, TV, or even the new Arkham video game series. Find the perfect Joker outfit to woo the perfect villain companion, such as Harley Quinn. Once you get a Joker costume, all you'll need to do is find an abandoned amusement park to set up base, and master the classic, terrifying laugh! HA! HA! HA!
Adult Joker Costumes
Just who is the Joker? That's a hard question to answer. After all, he's got a bunch of different incarnations and changes his story every time he's incarcerated... and he's been locked up in Arkham a lot! Here's the thing: nobody really knows the Joker's identity. Some think he's a weirdo gangster in a red hood. Some think he's a madman who escaped the asylum. Others even suggest that there's a Batman from the future who went a little strange and couldn't help but laugh at the idea of a life of crime! What we're trying to say is that with the right imagination, anyone could be the Joker! That's why we've got a few costumes for adults that we know will make for great adult comic book looks!
Women's Joker Costumes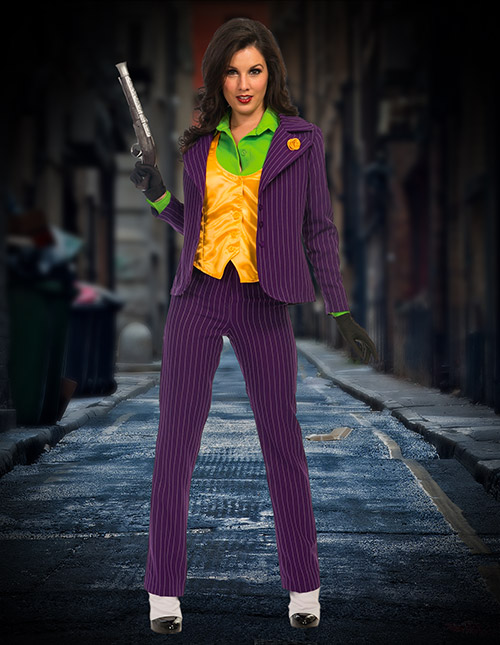 The Joker is an enigmatic kind of character who loves a good disguise. We imagine the supervillain might like to hide from Bats in a female Joker costume just to throw the world's greatest detective off the track. Then again, as mysterious as this punishing prankster is, the Joker may have been the Jokette the whole time! Now's your time to shine!
Joker Costumes for Men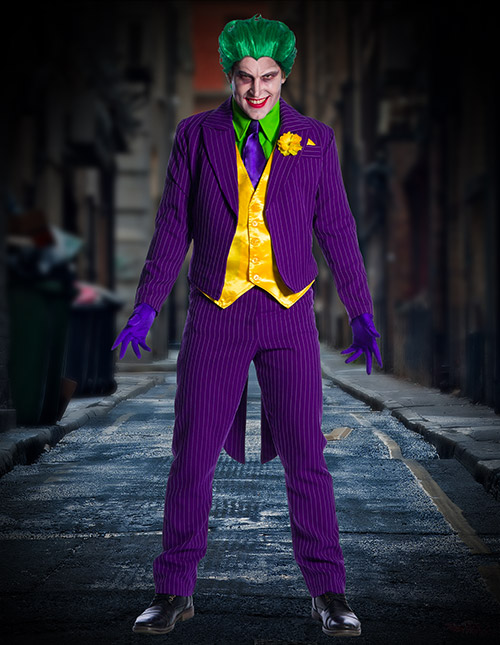 The Clown Prince of Crime is known for somehow making purple and green work together. It's not a color combination that many comic characters are willing to go for, but we think that he pulls it off just fine. That must be why the Dark Knight is always on his case instead of the fashion police. When you dress up as the Joker, you've got a license for style!
Joker Suit Costumes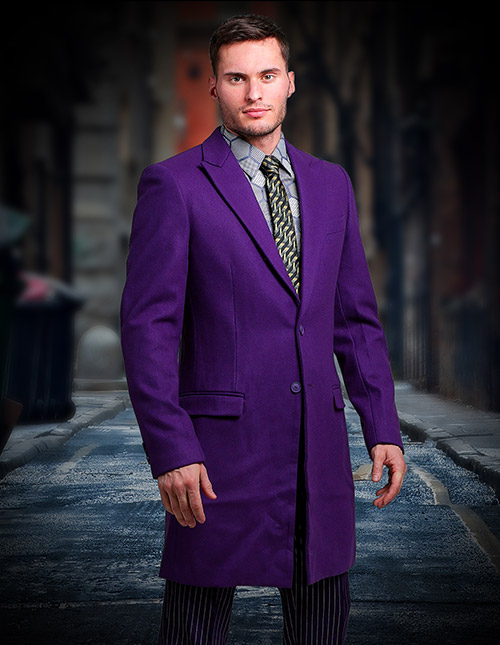 Gotham villains certainly have a way with fashion. From the Penguin's tailored tuxes to the elegant black leather of Catwoman and the Riddler's wonky sublimated style, it's always top-notch. Of course, nobody can compete with the iconic look of the Joker's purple suit. Even if you're not going mad, you can channel the debonair duds with a Joker Suit Jacket!
Harley Quinn and Joker Costumes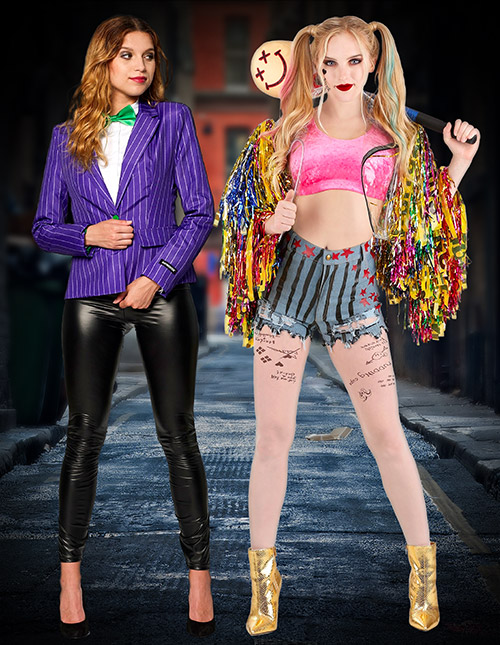 There's one pair in Gotham that seem to go together like peanut butter and marmalade. (We'd say jelly, but the Joker and Harley are a bit more exotic than that!) If you want to pull off the biggest caper Gotham City has ever seen, you've got to call up this Joker couple costume concept and put Harley Quinn and Joker together again.
Kids' Joker Costumes
Is your kid a natural practical jokester? Do they flip over those hand-buzzers? Do they have a giggle fit when they see those water-squirting flowers? Have you ever found a rubber chicken being dragged across the hallway, followed by a crazy punchline that you're still scratching your head over? Well, that's where it all starts. Your little Joker will soon be snatching snacks from the cookie jar and chasing bats from the belfry. Just like kiddos, Jokers can come in a lot of different shapes and sizes. (And even materials!) If you're ready to let your little one go the way of the most infamous Clown Prince of Crime that Gotham City has ever seen, we've got the perfect kid's costumes that'll make them grin with glee!
Animated Joker Costume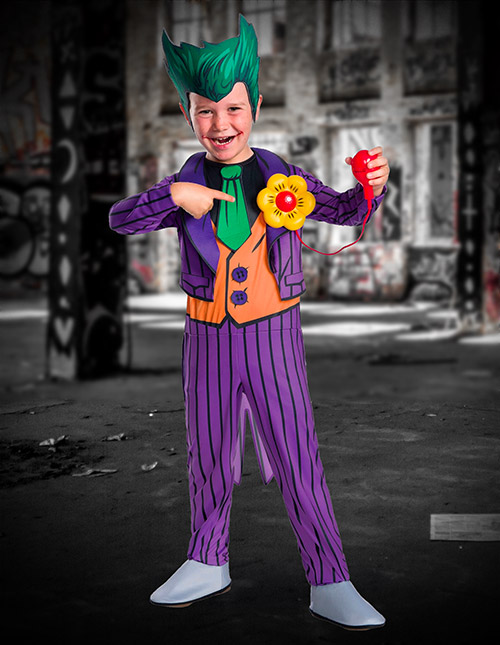 Some kiddos have all the energy. They don't just walk to grab a snack. They dance. They don't just chuckle. They laugh with their whole body! If your tyke has this kind of energy, a regular Joker costume isn't going to do. You'll have to go to the real Joker from Batman: The Animated Series. Wild hair and even wilder jokes are what make this Joker infamous!
Boy and Girl Joker Costumes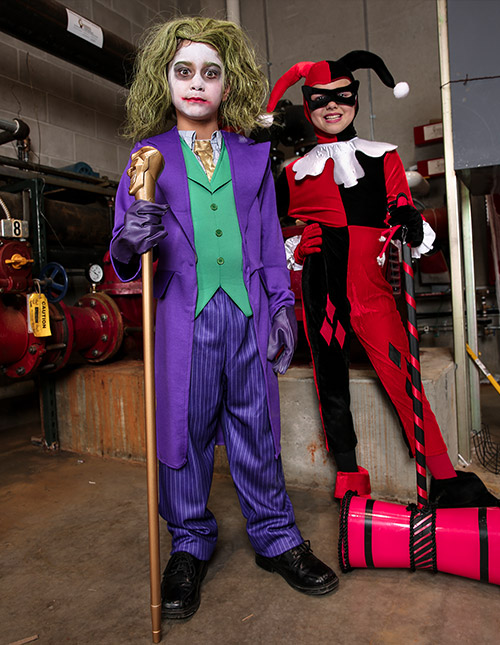 Team up the ultimate duo when you transform your tykes into Harley and the Joker. Together, there's nothing they can't accomplish. Sure, they might get a little more aggressive in their pursuits for candy. But as long as they don't get their hands on a stockpile of TNT, we're sure that the candy vault is safe. (Anyway, this is just Joker cosplay costume action at work!)
Toddler Joker Costume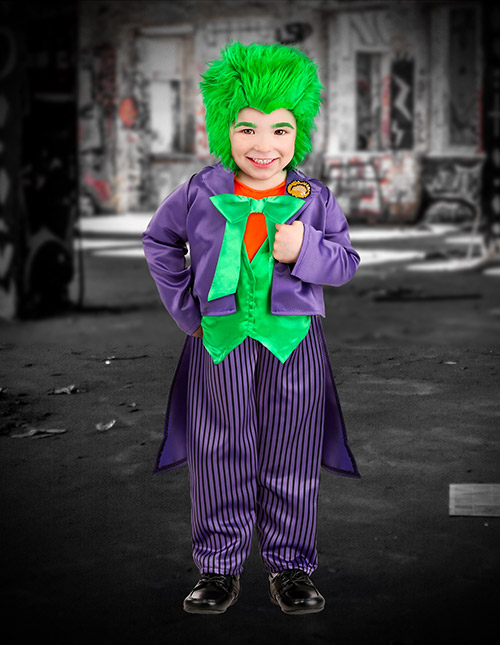 If your little one loves jokes and might be on the path for pranks, it might seem like a good idea to put them on the road to law and justice. We find that only makes some toddlers try even harder to break the rules. That's why we have the cutest Joker costumes for toddlers out there. Let them play out their jokester phase while looking great thanks to their vivid green hair!
Lego Joker Costume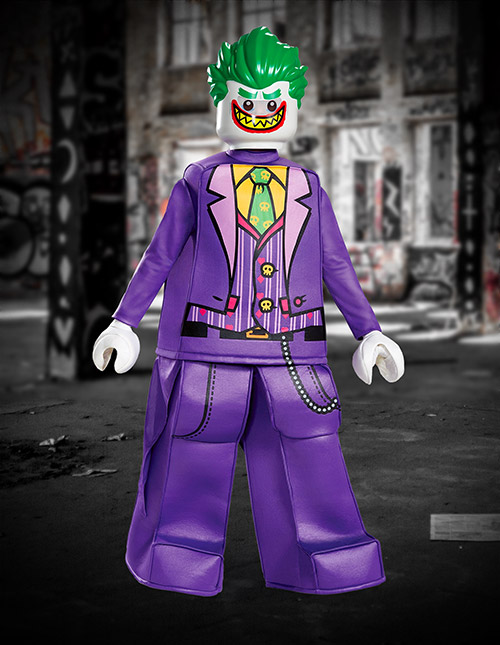 How do you imagine that the Joker puts all of those intricate plots together? For all his peculiar habits, he's a bit of a genius, too. Building up some of those gadgets and designing his own clothes shows a lot of imagination, too! It's no wonder he was such a great LEGO character! If your tyke loves LEGO and Batman villains, we have a surprise for you with this LEGO Joker!
Joker Character Costumes
There are few characters quite as recognizable as the Joker, even though he's shown up in a lot of different designs. Batman might have a costume change in every incarnation, but you can be pretty confident that you're going to see a black cape and cowl. The Joker, on the other hand, knows how to mix up the look to make each incarnation genuinely memorable. So when you're looking to bring the Joker to life, the first question you must answer is which Joker you like. Can you pull off the classic animated laugh, or are you more the smooth and quiet kind of crazy? Take a look at our collection of TV and movie Joker costumes to find your favorite and get to laughing!
Suicide Squad Joker Costume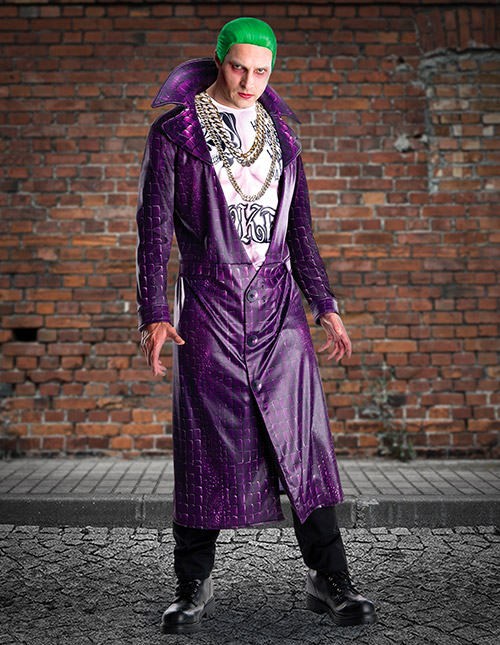 One of the most infamous Joker styles was the long jacket and wild mannerisms from the Suicide Squad. Even if Harley was the real queen, you can still show off this wild guy with a Jared Leto Joker costume inspired by the film! Get your Green on with the Joker!
Dark Knight Joker Costume
The Joker's face was forever changed the minute we heard him ask, "why so serious?!" Bring the ultimate Joker back from 2008's The Dark Knight when you dress up in a Heath Ledger Joker costume this year! All you'll need to do is decide which backstory you like the best.
Classic Joker Costume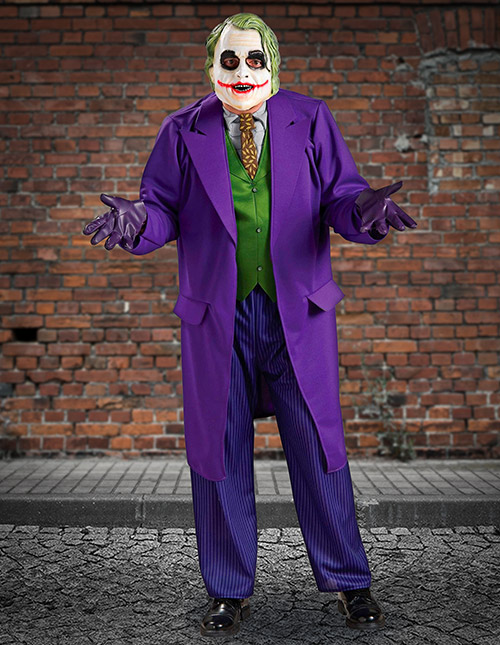 If you're a fan of the original look of the Joker from the early TV series or the old days of Batman & Robin, you might need to eschew the wild hair and edgy tattoos. Don't worry, though, because we've still got the classic looks to keep your authentic Joker alive.
Batman Arkham City Joker Costume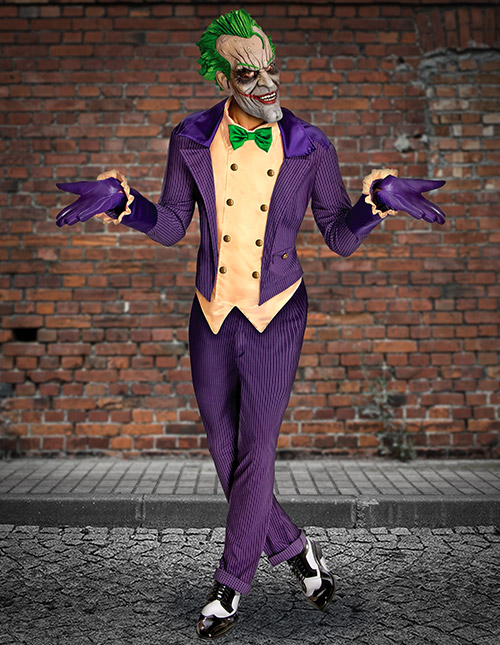 Do you like your Joker amped up with superpowers? Do you want to know what it is like to be the Clown Prince of Crime? Then you can't just conquer the cell block of Arkham. If you need the whole city, only a video game Joker costume will do for you!