Joker Poses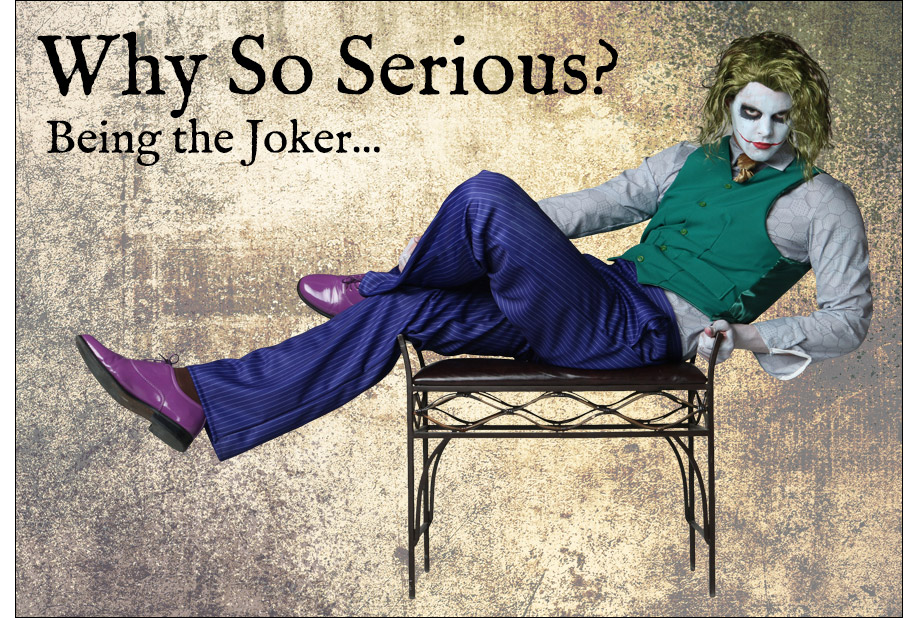 The Joker has been played by many talented actors including Jack Nicholson in the 1989 Batman movie and, of course, Heath Ledger in The Dark Knight. He has a complicated personality that embraces insanity but manages to be a cunning criminal that constantly brings Gotham City to its knees none the less. It you've decided to adopt this character as your own for a night, brush up on some Joker mannerisms with our suggested poses below.
Maniacal Joker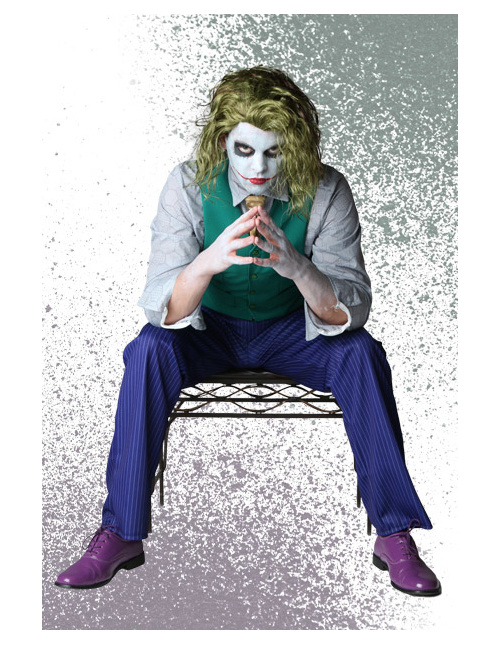 The Joker always manages to shock and surprise when taunting Batman or the citizens of Gotham, but it's when he's quietly thinking of his next evil plan that you should be most afraid. Despite his reputation of telling jokes and laughing manically, the Joker doesn't tolerate people who taunt him or get in the way of his goals. If they do, they get to see his serious side and it isn't very nice.
Waiting for the Punchline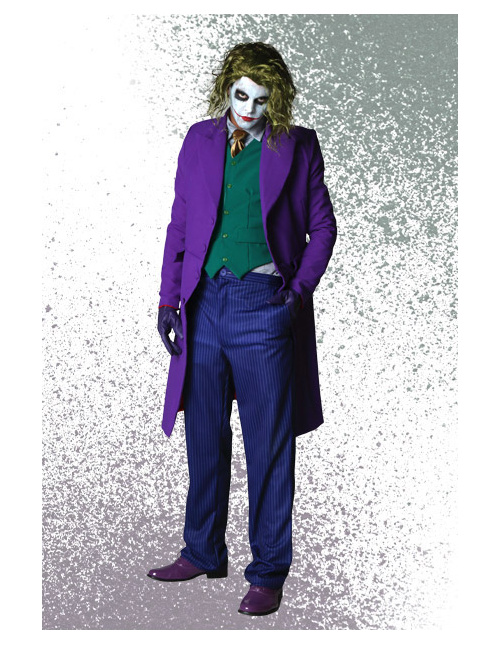 See someone acting foolish? Did they tell a boring joke? The Joker is happy to reward their efforts with a slow clap. That'll wipe the stupid smile off their faces. As a master of wit and practical jokes himself, the Joker is rarely impressed with the work of others. He might give them a chance, but will quickly make his disdain known.
Joker Variations: More Options to become a Supervillain
Guys aren't the only ones to be inspired by the Joker's infamous antics. If you're looking for a female Joker option, we have a few ideas for fans of all ages. The key to playing a convincing Joker isn't wearing his signature suit; it's being willing to get a little crazy in order to get into character. For some ideas on how to get your villain look just right, check out the wacky faces and poses below!
Girls Joker Costume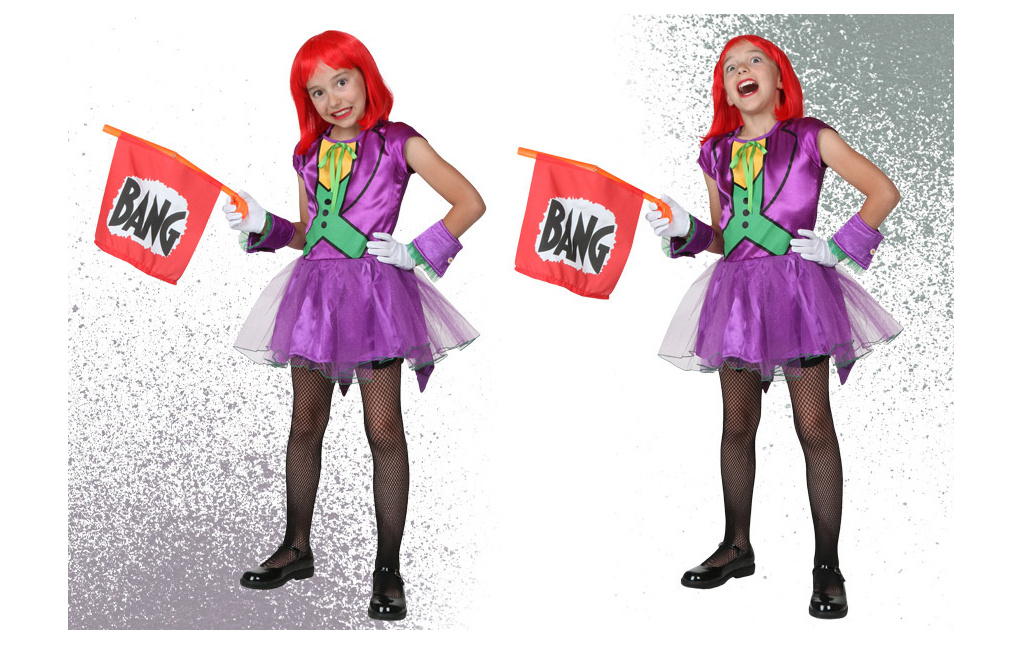 Don't let her size or her cute tutu skirt fool you, this little Joker girl is all about making mayhem. She laughs at your frustration, she sneers at your worried looks and she delights in telling jokes that you may or may not find funny. The bright red wig we added to this cute girl Joker costume really makes her wild personality pop and the bang gun accessory is a gag that never gets old!
Women's Joker Costume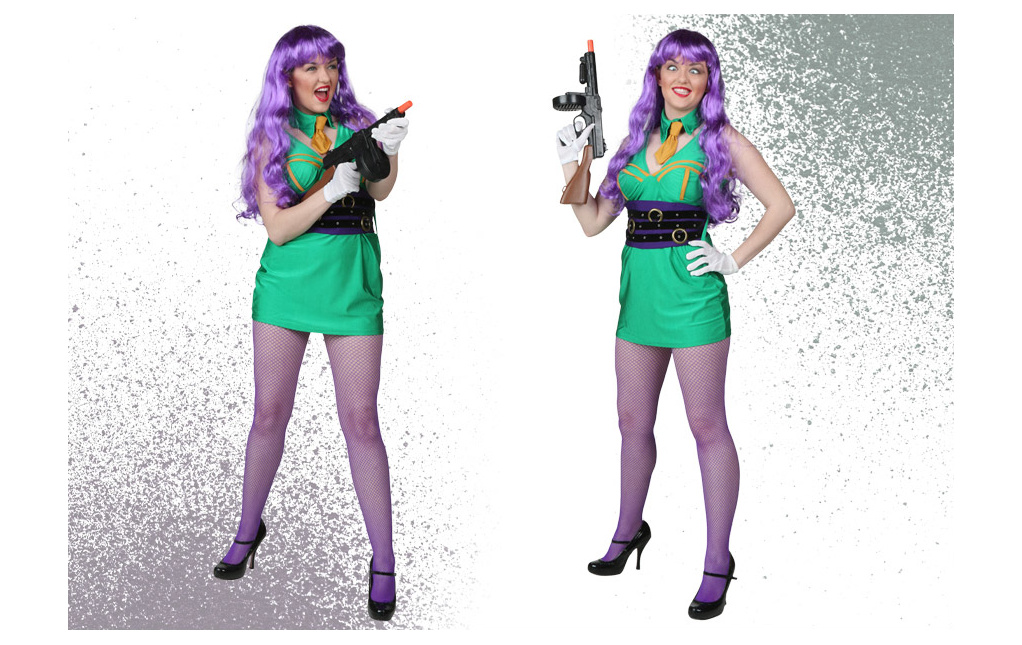 By the time any one realizes that this looker is actually a crazy super villain, it will be too late. She'll have marched in and made her presence known so that she can command the attention of everyone around. A color wig and a tommy gun are great options for making this female Joker costume unforgettable. All that's left is for you to add your own menacing moves to complete this character!
Joker Couple Costume Ideas
Who should be your partner in crime? If you are having trouble deciding, check out all of our great ideas for creating a memorable duo. Whether you're a traditional adult Joker, a sexy lady Joker, a pint sized Joker boy or a girly Joker there are lots of options for couples and families to choose from. All of these pairing are sure to stir up trouble wherever you go!
Women's Joker and Riddler Costumes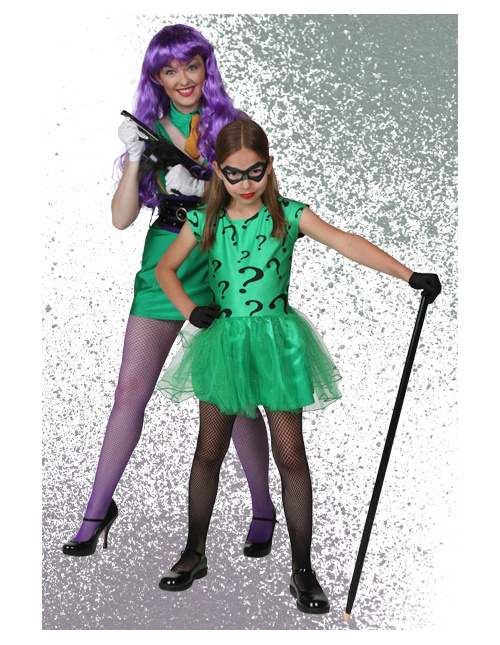 Does your sweet little Riddler fan need the help of a fellow villain? Teach her everything you know about being bad when you wear your lady Joker costume alongside her in a sweet tutu Riddler dress. Being evil is fun, especially together!
Kids Joker and Harley Quinn Costumes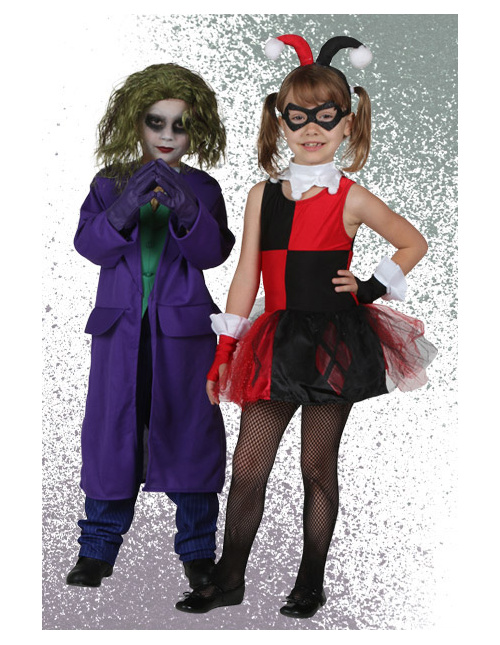 Little villains does not necessarily mean little crimes. Especially when you're dealing with the likes of the Joker and Harley Quinn. Dismiss their talents at your own peril; they will have no idea who wrote on the wall or where your car keys went.
Joker and Poison Ivy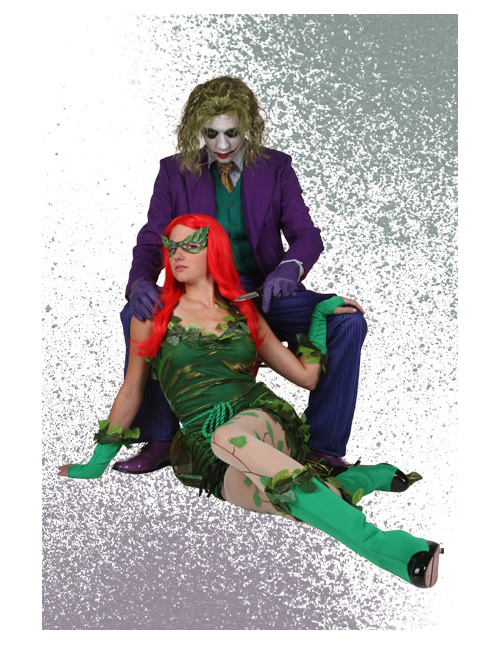 Her kiss is as deadly as the Joker's sense of humor. Even so, her commitment to being bad is hard to resist. Together the Joker and Poison Ivy are very good at being terrible.
Joker and Catwomen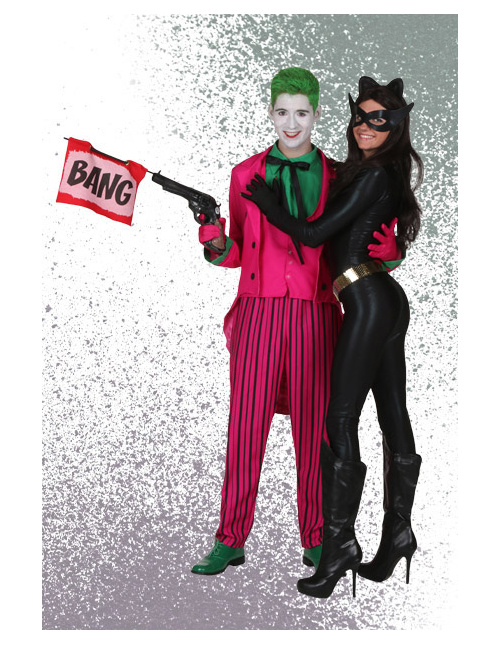 Are you a classic Batman villain fan? This vintage Joker and Catwoman couple will take you back to a time where being bad was mostly harmless fun.
Joker and Harley Quinn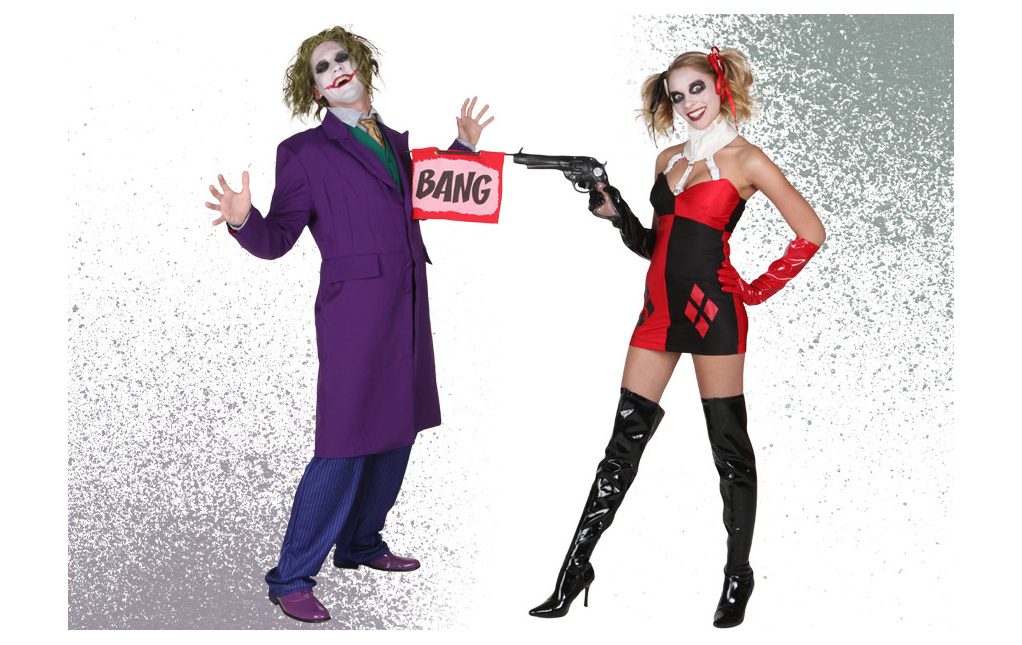 We've saved the best for last, because there was never a more perfect match for the Joker than Harley Quinn. They are both villains. They are both crazy. They love wearing make-up and both have a demented sense of humor. When you go out as this couple you'll be able to play off your shared interest in causing trouble, pulling pranks and making the superheroes of your city squirm.