Ugly Christmas Sweater Ideas
Ding Dong, Ding Dong! Doorbells are ringing and folks are singing. It's Christmas party time! What do the holidays mean to you? Do you revert back to your childhood ways, shaking each present under the tree to find out what you got? Perhaps you're headed out to do some ice fishing on the lake while a bird cooks in the oven. We all have different traditions that get us into the holiday spirit... but there is one thing taking over the holiday celebration and we wouldn't have it any other way! Of course, we're talking about heading out into the winter wonderland, raising toasts with kith and kin, and seeing who has the best of the worst sweaters imaginable. Scroll on through to find different ideas for showing off your particular brand of holly jolly this season.
Made By Us Unique Ugly Christmas Sweaters
We don't want to toot our own horn, but we like to think we've got a keen eye for costumes and apparel that bring a bright smile to everyone's face. Failing that, we're sure we know how to elicit a facepalm, groan, or a pained chuckle. (We're aiming for award-winning "Dad Jokes" here!) So, of course, we've got our eye on ugly Christmas sweaters, too.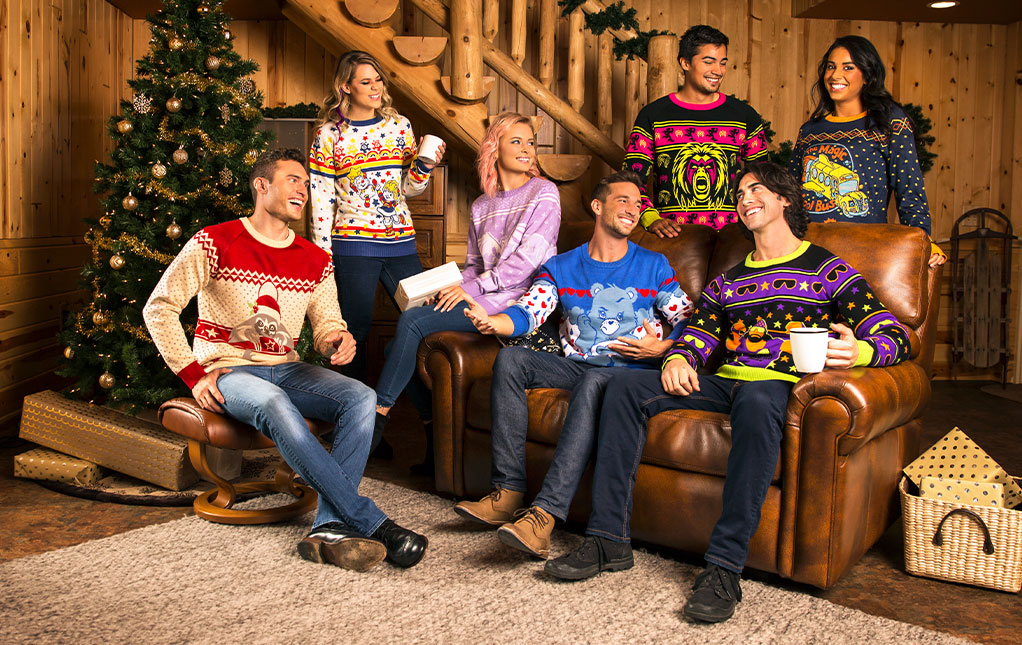 Our Made By Us design team has channeled every ounce of holiday spirit into creating the perfect ugly Christmas sweaters! Each one was dreamed up in our in-house studios and crafted by a team that goes wild for out-there fun. Whether you're enjoying a White Elephant party or a more traditional family celebration at the homestead, it's time to find the ugly Christmas sweater that screams you!
DC Comics Ugly Christmas Sweaters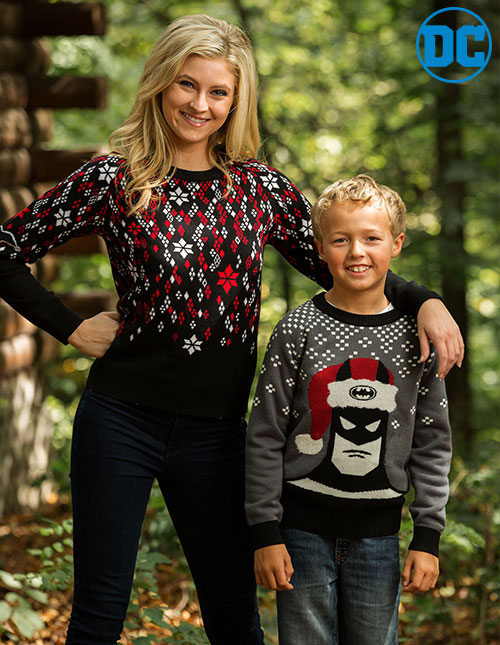 Flight delays, nasty weather, burnt turkeys, and lost gifts. Somewhere along the way, every holiday needs a hero. And you're just the one to step in to save the day. Give your Christmas a little boost from your favorite comics by owning your own holiday sweater featuring everyone from Batman and the Flash to someone a little villainous, too!
WWE Ugly Christmas Sweaters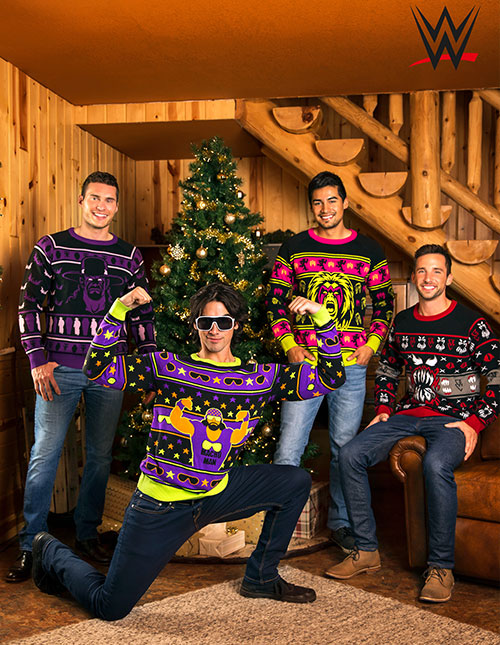 You know that moment at the holiday gathering when half the family launches into a chat about their favorite athlete and who will beat who in which kind of match? (When the other half rolls their eyes?) Well, launch into those debates even sooner when you're wearing your favorite WWE superstar on your chest. Macho Man vs. the Undertaker? Or what about the Ultimate Warrior?!
Santa Claus Ugly Christmas Sweaters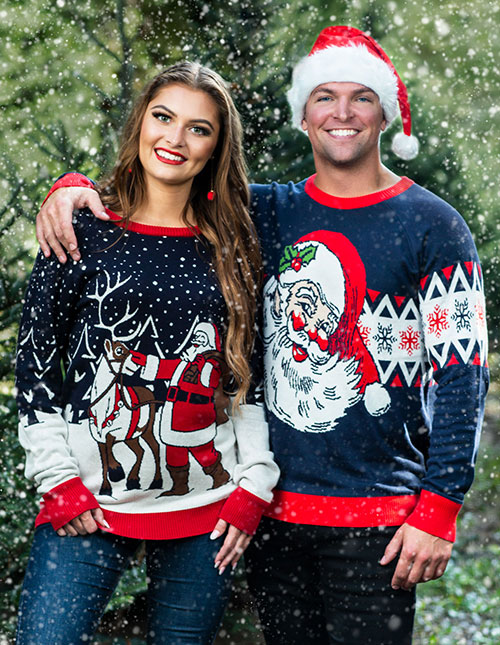 You can't talk about Christmas without mentioning the big guy himself: Santa Claus! If you're aiming for serious holiday Ho-Ho-Hos, you can't go wrong with wearing Santa on your sleeve. Whether this magical guy is wrestling bears, fighting sharks... or even doing his job flying through the sky, delivering presents, and checking his list, you can bring Santa right home!
Care Bears Ugly Christmas Sweaters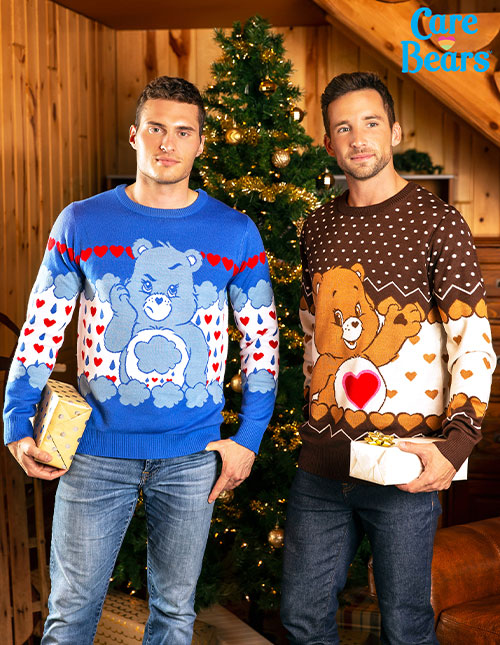 Talking about cheerful folks that fly among the clouds, there's nobody who knows the art of giving quite like the Care Bears do! Sure, they might not leap to mind right away when you're thinking about Christmas, but what is jollier than a cuddly teddy bear...especially when they've got magical rainbows shooting out of their tummies?! Time to have the same power!
Women's Ugly Christmas Sweaters
What's your ideal holiday party? Would you like to sit down to a potluck dinner with your closest friends? Enjoy the fun of a music festival? Maybe you'd prefer something a little louder, where the air sparkles with the energy of a new year and the hors d'oeuvres are served on fancy little silver platters? Either party sounds pretty good to us...but what to wear? You might think only one bit of apparel can be right, but a glorious sweater is perfect!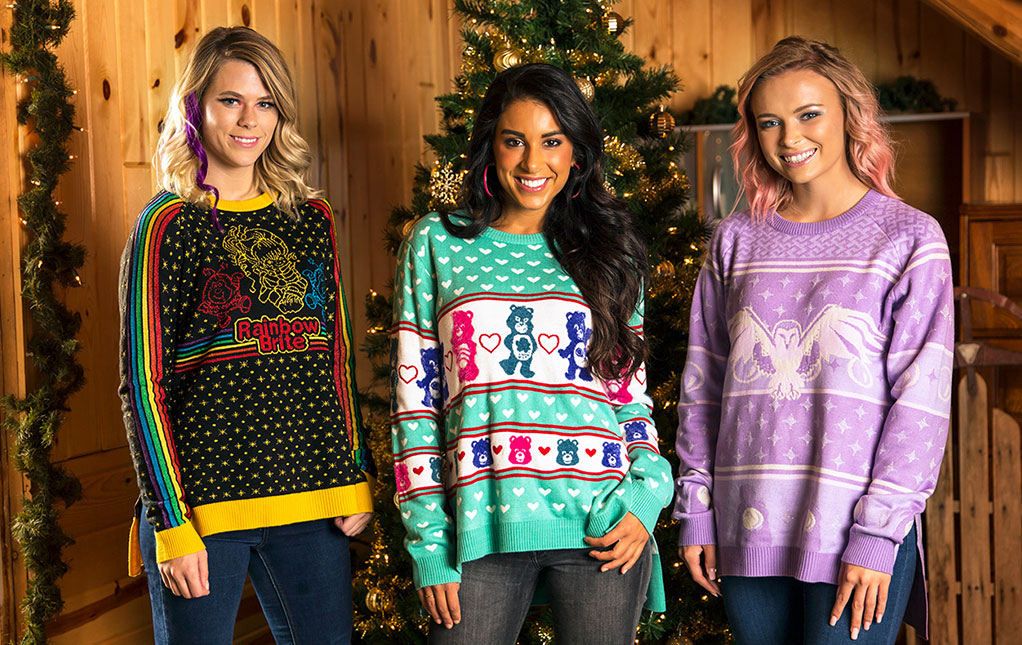 No matter what you might be up to this holiday season, there's a sweater for you! So you're going out for brunch after a night of rocking a red velvet dress at a schmancy fête and need a little something to match the ruffles—sweater time! So when you're looking for something to make your get-together even more memorable than usual, there's an ugly (or not so ugly) Christmas sweater for every event!
Cute Ugly Christmas Sweaters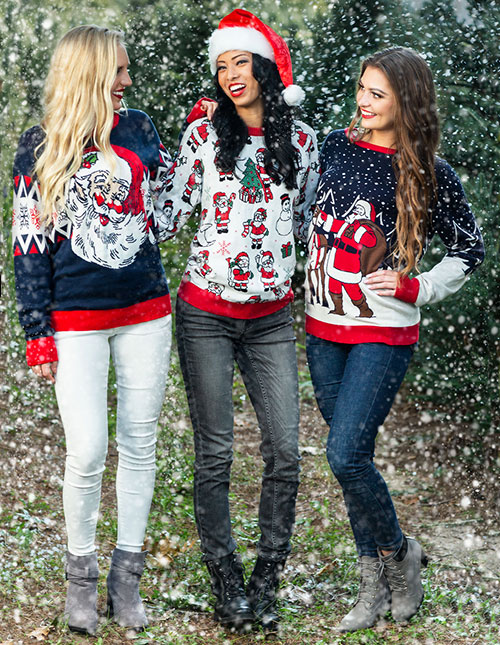 Sure, we toss around the "ugly sweater" phrase a lot, but there are plenty of adorable sweaters that still stand out as undeniably unique. That's where the not-so-ugly ugly Christmas sweater comes in. We've got a ton of sweaters with cute designs that fit any situation, from Halloween décor to bringing that snowman to life in a winter wonderland! All those casual snapshots can instantly become profile picture worthy when you pair your fresh sweater look with unexpected clothing items such as a pencil skirt and heels or your favorite pair of torn-up black jeans.
Wonder Woman Sweater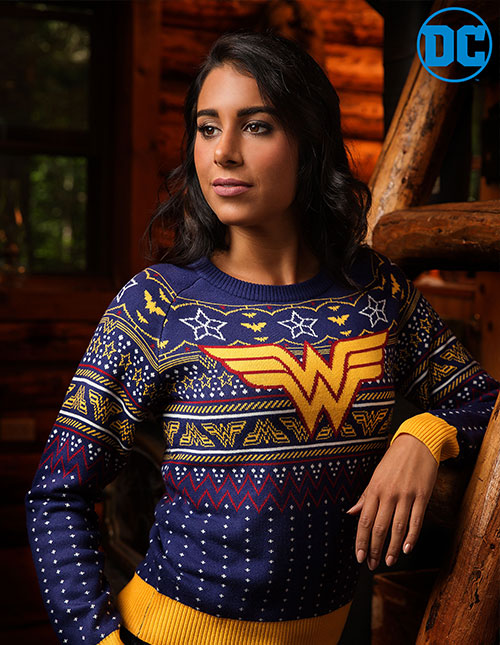 Perhaps you've noticed that certain heroes are a standout no matter the season. Their designs just seem to fit perfectly into any style! Wonder Woman's iconic double-W is our favorite by far. Not only will you feel comfortable when you slip into one of our stars-and-stripes DC design sweaters, but you'll join the ranks of all the other wonder women! What would be more profound than taking down that boy's club around the living room to set up a glorious game where Team Wonder is destined to win? (Just watch out for Grandma. She's got one, too!)
Men's Ugly Christmas Sweaters
Picture this. You're at your work's Christmas party. You've piled up your plate with mini meatballs and cheese cubes. (Maybe a few carrot sticks because you're trying to stay healthy over the holiday season.) But soon will come the dreaded conversations. What are you supposed to talk about? Can anyone remember who has kids, much less their names or all those activities they enjoy? Nope. Way too hard. What you need in a situation like this is an icebreaker, and we think you know where we're going!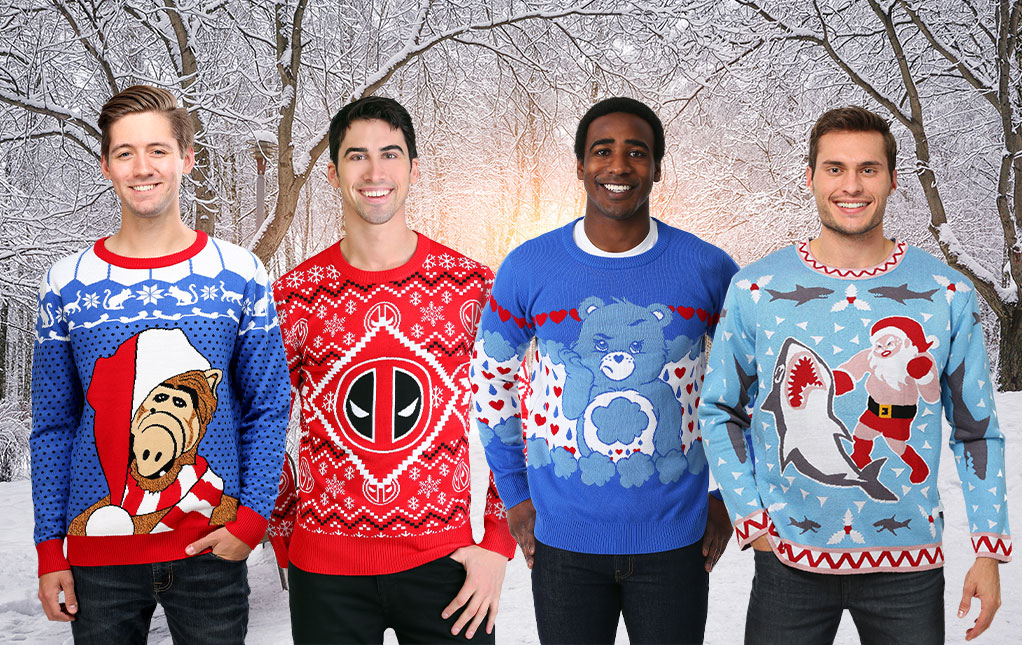 With your ugly Christmas sweater, instead of nodding and smiling while Mr. Chatty goes on and on about his granddaughter's solo in The Nutcracker, people can pick up a talking topic from your apparel. Meet Deadpool fans in a snap! "Hey, d'you remember that TV show, ALF?" Of course, they do! And if all that fails, you can still go with something that nobody would have predicted: that time you saw Santa fighting off waves of sea critters off the Pacific coast!
Funny Christmas Sweaters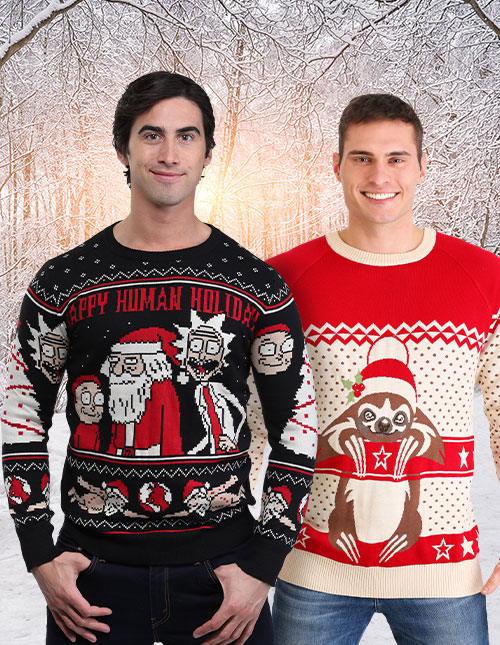 The ugliest Christmas sweater still won't win any ugly Christmas sweater contests if it's not very funny. It's a rule! (Heck, if it is funny, you can get by even in formal situations. So it better be downright hysterical if it's gonna win here!) A crucial pointer: know your audience. Are they folks who love looking at animal YouTubes? (Of course, they are.) Go with the shining fur and quizzical creature that is a sloth! Are they more the shock and awe type of Rick & Morty? Well, we've got you (literally) covered there, too. (Covered—get it? Alright, our sweaters are funnier.)
3D Ugly Christmas Sweaters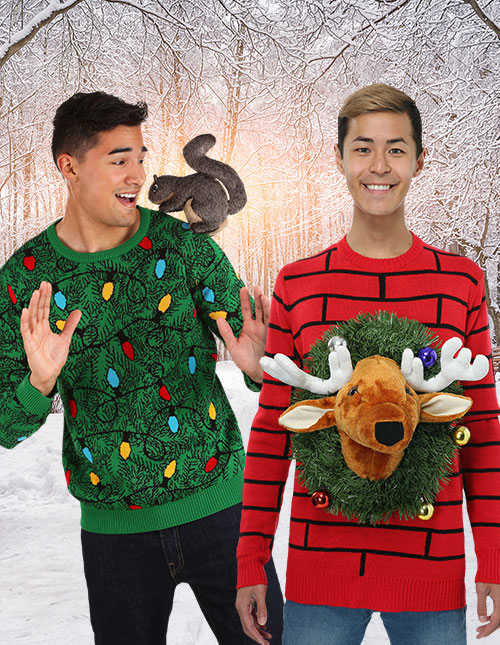 They say to wear your heart on your sleeve. Well, we think that you can go even further than that! How about making those sentiments leap off your shirt or jump right out of your chest?! That's the fun that comes with a three-dimensional sweater! Watch your friends' eyes pop when they find out a reindeer is a personal friend of yours. Bring a squirrel who is on the hunt for all the snacks along with you. We've got a variety of ugly Christmas sweaters that are more than meets the eye so you can feel the fun!
Couples Ugly Christmas Sweaters
While the holidays are a lot of fun, there's also plenty of stress. You've got to remember all the gifts, the dish to pass around, and all the while you've gotta maintain that jolly spirit. You and the family can usually pull it off without a hitch, but you can make parties more fun when you and your partner dress up in coordinated sweaters. Since we're already tackling the intricacies of finding the right ugly Christmas sweater and the perfect tacky holiday-wear ideas, picking out a couple's look is naturally the next step!
There are other things you've got to keep in mind for your couple's sweater style. Pick your theme and you'll find that you and yours work together better than ever when you're wearing holiday knits. Win whole card game tournaments, wow everyone with your home-baked pie, and sing carols louder than anyone else. You and yours will delight your kith and kin this holiday season. All you need to set this season off right is the right ugly Christmas sweaters. (In fact, double up again for a whole group!)
Disney Ugly Christmas Sweaters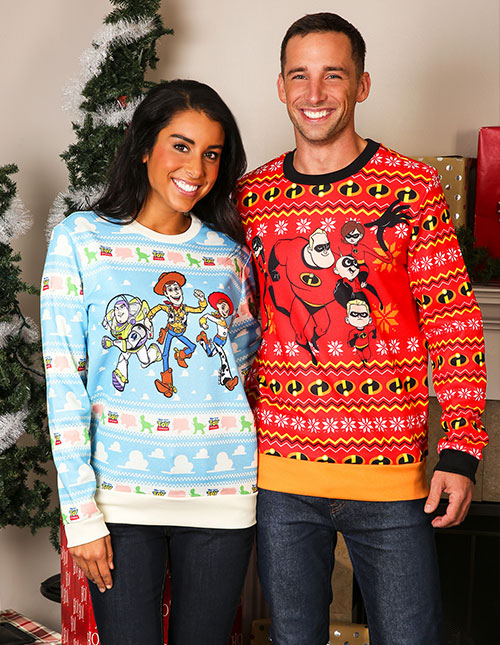 Is your favorite Disney franchise a part of your family holiday celebrations? Are you always looking for a new way to bring them into the holly jolly madness? You already watch the movies with your nieces and nephews while staying up late, waiting for the big man in red. Add more to the tradition when you rock everything from classic Disney to Incredibles and Toy Story.
Star Wars Ugly Christmas Sweaters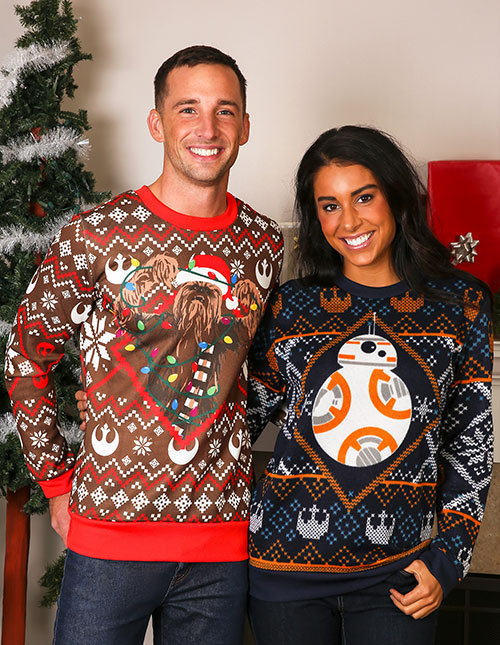 Curling up and watching the classics with the family makes for holiday history... but what's considered 'classic' is different for each family! Perhaps yours is one from far, far away. While others love It's a Wonderful Life, you might go to hyperspace and jump to Star Wars. So long as it isn't the Star Wars Christmas Special, that is. These Star Wars sweaters are ugly enough as is!
Kids' Ugly Christmas Sweaters
Your ugly Christmas sweater ideas don't have to be limited to full-grown folks. Have fun with your kids by helping them pick out unique Christmas looks. What better way to make sure your children stay comfy and cozy while they unwrap presents and sing carols than a holiday sweater?
They are sure to love wearing a funny Christmas sweater instead of stuffy velvet dresses or a stiff dress shirt and you're sure to love how sweet they look, posing in front of the Christmas tree. The best part is that knit sweaters stretch more than most clothing, meaning they'll last a few years longer. And these are one kind of garment that nobody gets grumpy about when they finally become hand-me-downs! That, dear friends, is what we call a win-win-win situation!
Boys' Ugly Christmas Sweaters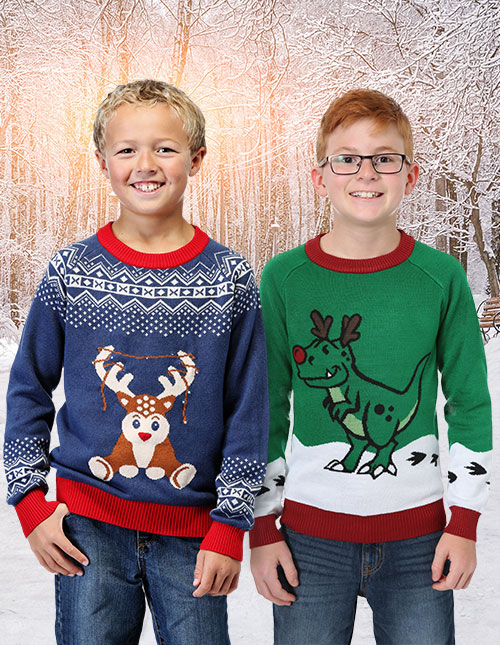 Every kid likes something different. In fact, only a few will last as long as the dinosaurs. Still, there are a few die-hard favorites that have one factor in common: they've gotta have that special flash and be larger than life! It's a great start to look high in the sky and find Rudolph showing your boyo how to shine, but you can't go wrong with Dino the Red-Nosed T-Rex!
Girls' Ugly Christmas Sweaters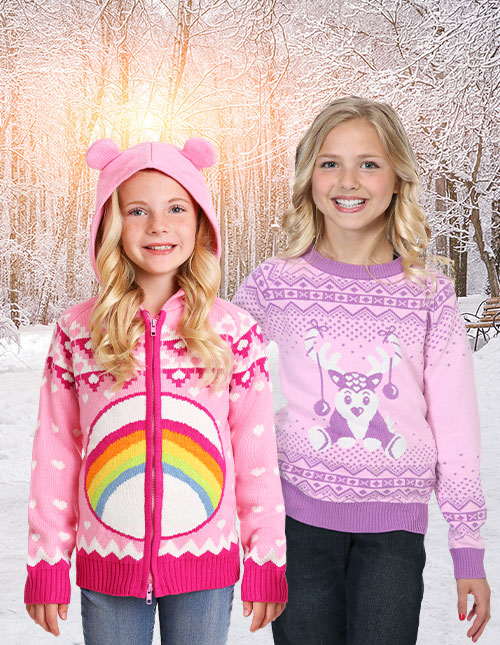 Does your child get excited for every part of the Christmas season? Is your best gal the first to break out the ornaments? Well, if you've got a tyke in love with tinsel, you know that her very own tacky Christmas sweater is going to be the star in her tree! Bring the cheer with an iconic Christmas Cheer Bear or show the world that Rudolph is old news with Pinkie around!
Family Ugly Christmas Sweaters
There's nothing better than bringing the whole family together for the perfect holiday picture. Folks go wild creating scenes that will tell everyone they know how their family has grown in a single snap. You can show everyone's unique style with a different sweater for each or you can find that perfect unicorn of the sea that will stand for the entire family unit. Bring everybody together in their own ugly Christmas sweater and pose in front of a tree next to the fireplace. Set up that camera for a good long delay and be ready to take several pictures before you find the perfect one. Honestly, every one of you will break into laughter just thinking of the crazy, tacky sweaters that you're about to send to everyone you know. We can't wait to see what you come up with!