Ugly Christmas Sweaters
Ugly Christmas Sweaters
When winter comes around, there are plenty of ways to keep warm. You could huddle around a fire, you could throw a blanket around yourself, and you could even cook up a kettle full of hot cocoa. But there's one unanimously loved method of keeping warm that's a time-honored tradition amongst holiday devotees across the world! Ugly Christmas sweaters! Not just any ugly Christmas sweater will do, mind you, but the kind crafted by an out of touch grandmother, who thinks that jingle bells sewn into the trim is adorable. Unfortunately, these take time and not every grandma is willing to make one for their dear grandchild, so it's up to you to improvise. Don't worry though, since we have a full stock of Christmas sweaters to wear and a quick guide to help you reach your full holiday potential while wearing one!
Love Your Look with Ugly Christmas Sweaters
Let's face it—there are tons of different ways to go about your ugly sweater experience. Whether you're hosting a party, going to a party or you just want a flashy outfit to wear to the office during this season of seasons, you have plenty of options. We're here to let you know that deciding on an ugly X-mas sweater doesn't have to be hard and we have a few steps on the path to loving your look for the holidays. Let's start with the basics with this ugly Christmas sweater party ideas guide!
Ugly Christmas Sweater Ideas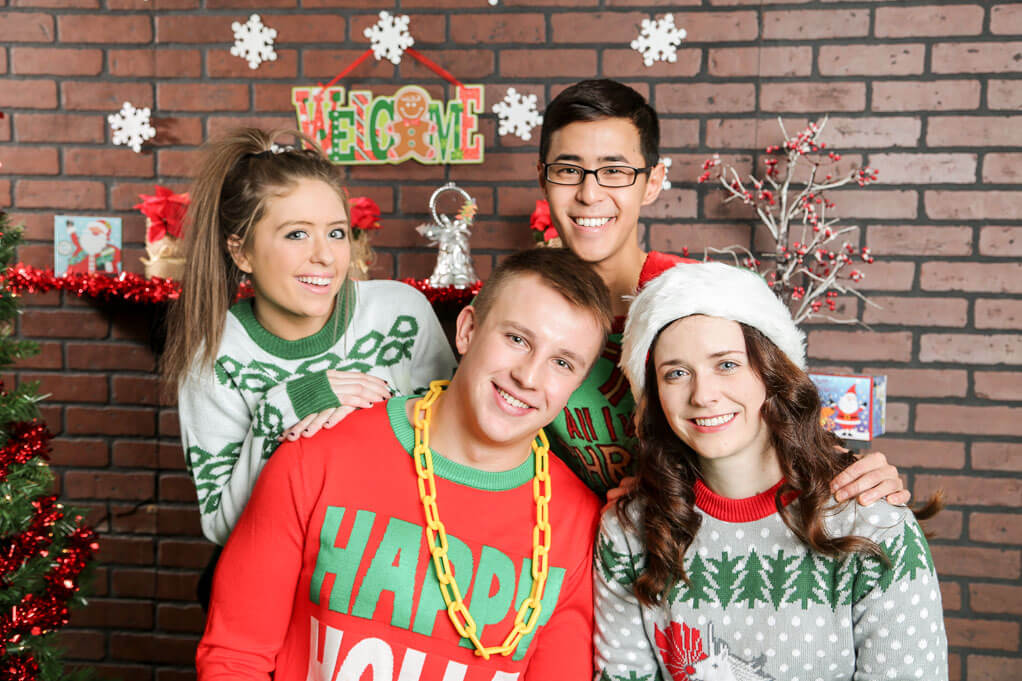 Ugly sweater parties may have started with digging out some of the strange sweaters that grandma made for you, but that's hardly the case these days. Now, there are plenty of styles, ranging from naughty to nice, and wacky to fairly tame. You can find one to express your inner holiday spirit. As you can see here, each of our sweater party guests have chosen something that fits their individual style. Of course, if you DO have one made by your grandma, be sure to wear that one! You always get bonus points for authenticity and we're pretty sure it would make your gran-gran quite happy to know that you're having fun wearing her Christmas sweater.
Women & Men's Ugly Christmas Sweaters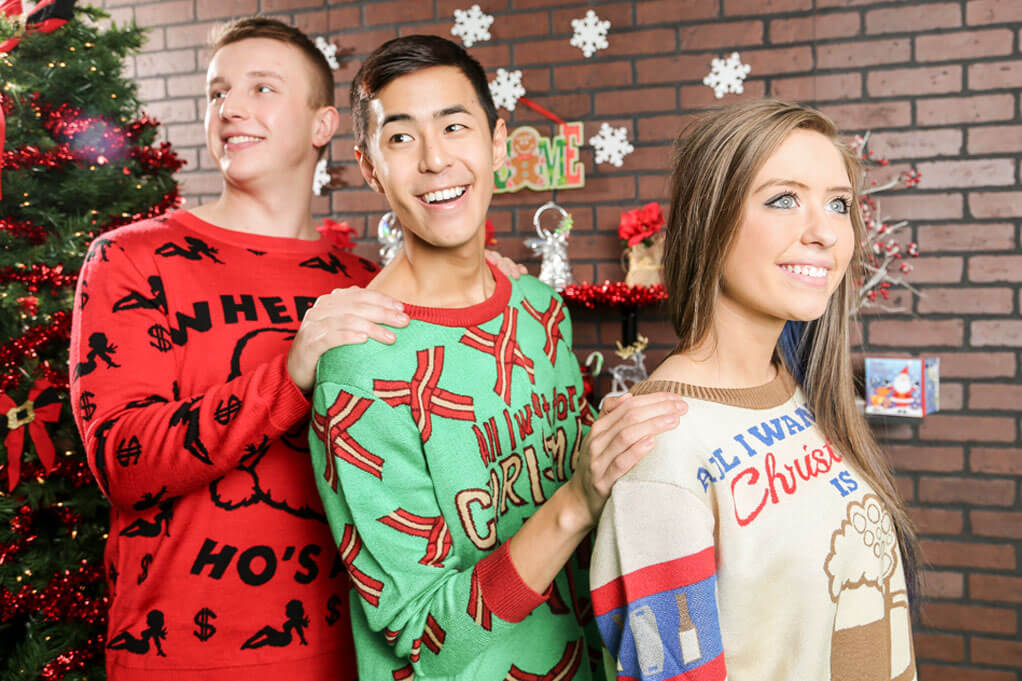 Wearing goofy Christmas apparel just isn't as fun without a couple of goofy friends to share in the holiday celebrations. So plan an ugly sweater bash! Whether it's with family or friends, or even if just dress your pet up in a sweater, it's always better when you can get a whole group of people to get on board. Make sure to plan plenty of games, bake tons of snacks and make sure to document the whole shindig with plenty of heartwarming photos of everyone in the conga line!
Embrace Your Tacky Chistmas Sweater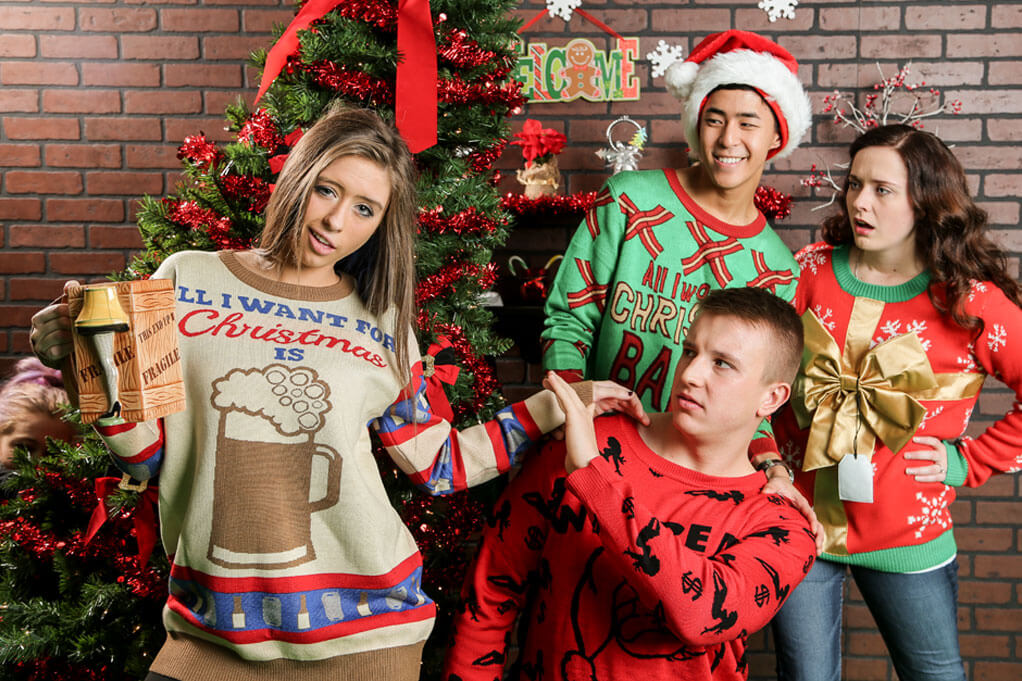 Yes, we ALL have that friend who gets a little bit crazy at the party. Make sure to bring them along for the ride, since they'll be providing plenty of free entertainment for the shindig! Just make sure to offer them a tasty treat (and many condolences and forgiveness) the next morning. They're definitely going to need it after you regale them with stories of their crazy antics at your ugly X-mas sweater party the next day.
Coordinate with Your Holiday Sweetheart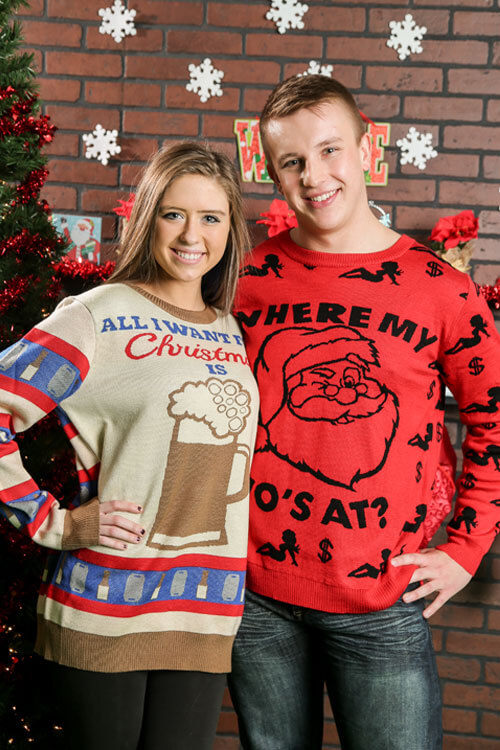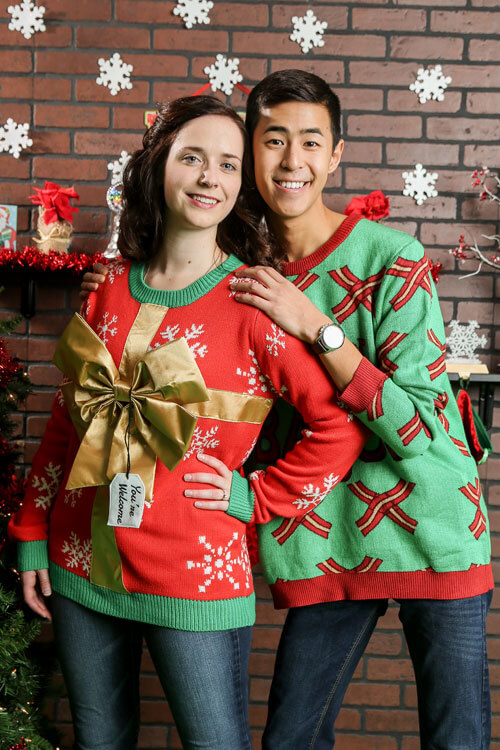 Don't head to the party clad in an ugly sweater without a sweetheart! Yes, your significant other deserves to be a part of your holiday fun, so coordinate with them to get the best look. You can even have a competition to see which couple has the best sweater combination during this Christmas season. Make sure to coordinate colors... or don't! That's the beauty of an ugly Christmas sweater party, the crazier the better.
How to Throw an Ugly Christmas Sweater Party
It's near! It's near! It's really almost here. Revel in the season's cheer, as Santa and his reindeer are scheduled to appear. What's the best way to steer clear of the humbug holiday jeers? Well, have no fear, since we're here to volunteer a premiere solution to your Christmas conundrum. A party of epic proportions filled with perfections in confections and with a theme that will ignite your wildest dream! Yes, a theme filled with ugly xmas sweaters is key to a carefree holiday spree. Here are some of the well-known rules for hosting a cool ugly sweater shindig, and best of all, we charge no fee!
Try to Not Fight Over How Awesome It Is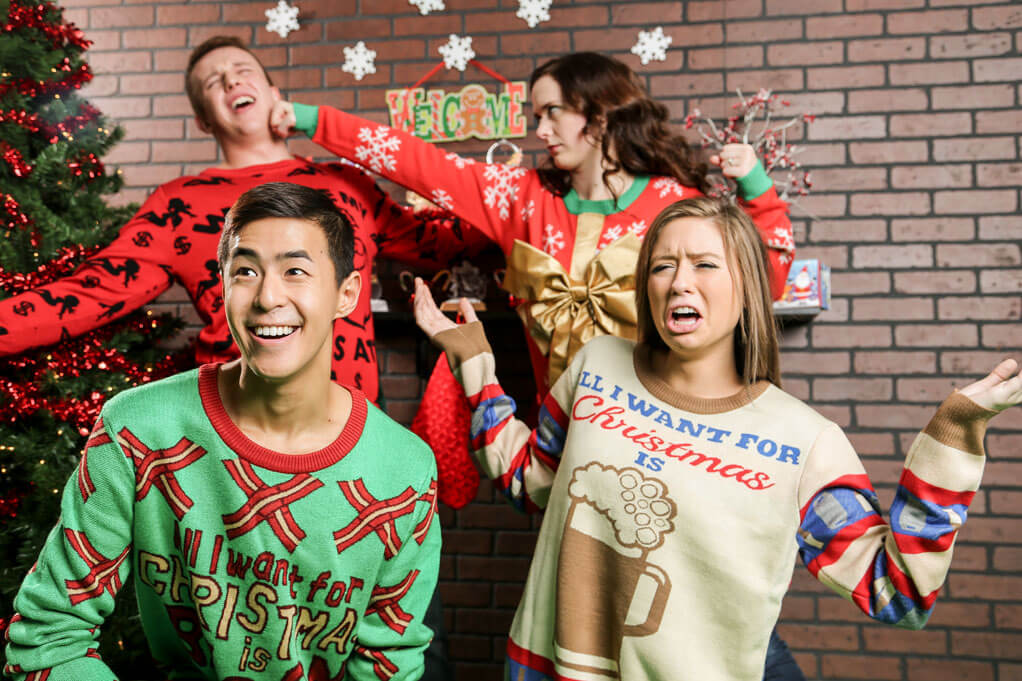 We know. It's hard to be nice, but along with sugar and spice, that's what the holiday season is all about! So, when you're struck with the urge to bicker over who has the better ugly Christmas sweater, or when you're feeling the need to fight about which treat is too sweet to eat, just remember that the sweater season is all about caring and sharing.
Give Out Sweets
There's no doubt that ugly Christmas sweaters have the number one spot in things required for the party, but something sweeter takes the number 2 seat. Can you guess? It's candy, cookies and plenty of delicious treats that need to greet your guests; starting with candy canes, the delectable staple of any party! Make sure you have plenty to share during your holiday affair!
Give Sweet Cookies to Your Sweetheart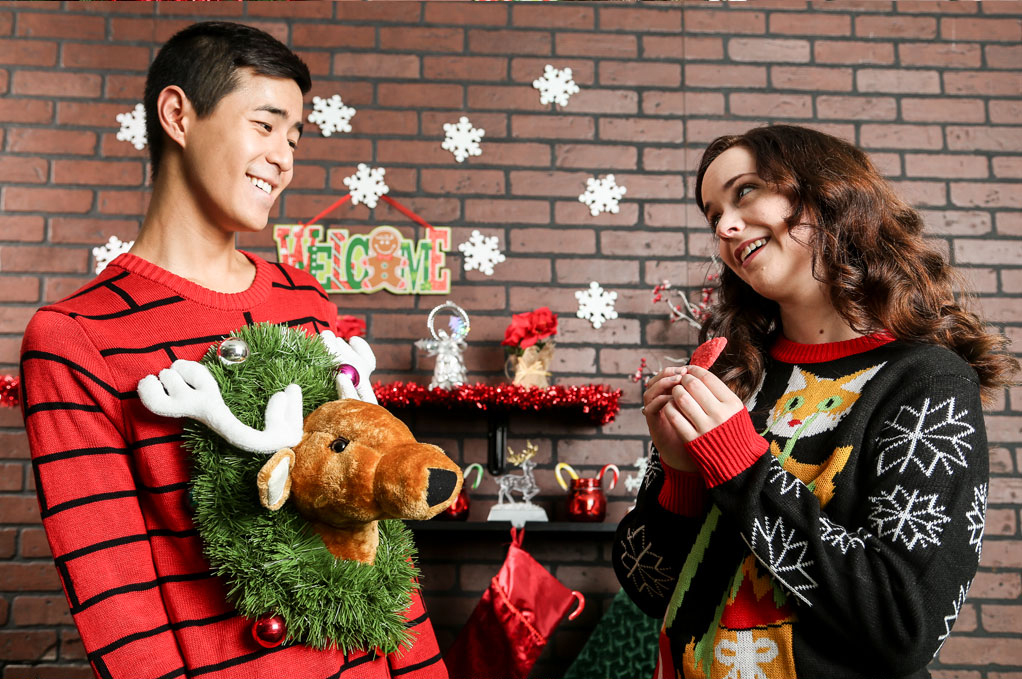 Of course, you've got to save your best sweets for your sweetheart! In the whirlwind of gobbling down snacks, the safest way to make sure your sweetie gets the perfect sweet treat is to set aside their favorite cookie or piece of candy to make sure your other guests don't accidentally eat it up. And be sure not to take a few nibbles for yourself either!
Manage Your Sugar Intake
Like An Adult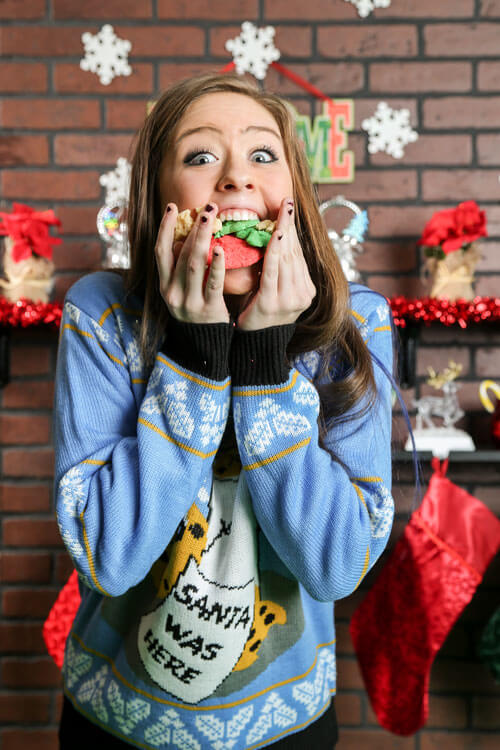 With cookies, candy and plenty of gingerbread around, it's easy to give in to that natural desire for sugar! But take heed of our advice if you wish to stand with vigor (sans sugar rush). Limit yourself to just one cookie and one piece of candy. Alright, perhaps one more than that is fine and dandy. Certainly an extra one after that could be handy. Oh, who gives a hoot? Just eat until you feel quite grand (-ee)!
If You Run Out of Your Own Candy Canes Steal From Others. Why Not?
Okay, so you decided to have a few too many sweets. It's the holiday season, which means it's time to give yourself a break and learn from your mistakes! After all, New Year's is just around the corner and you can restrict sugar intake then, after your resolution. It's time now to celebrate your new found resolve with a tasty, sugary snack. Perhaps your friends won't mind if you "borrow" one of theirs?
Gossip is Always A Fun Activity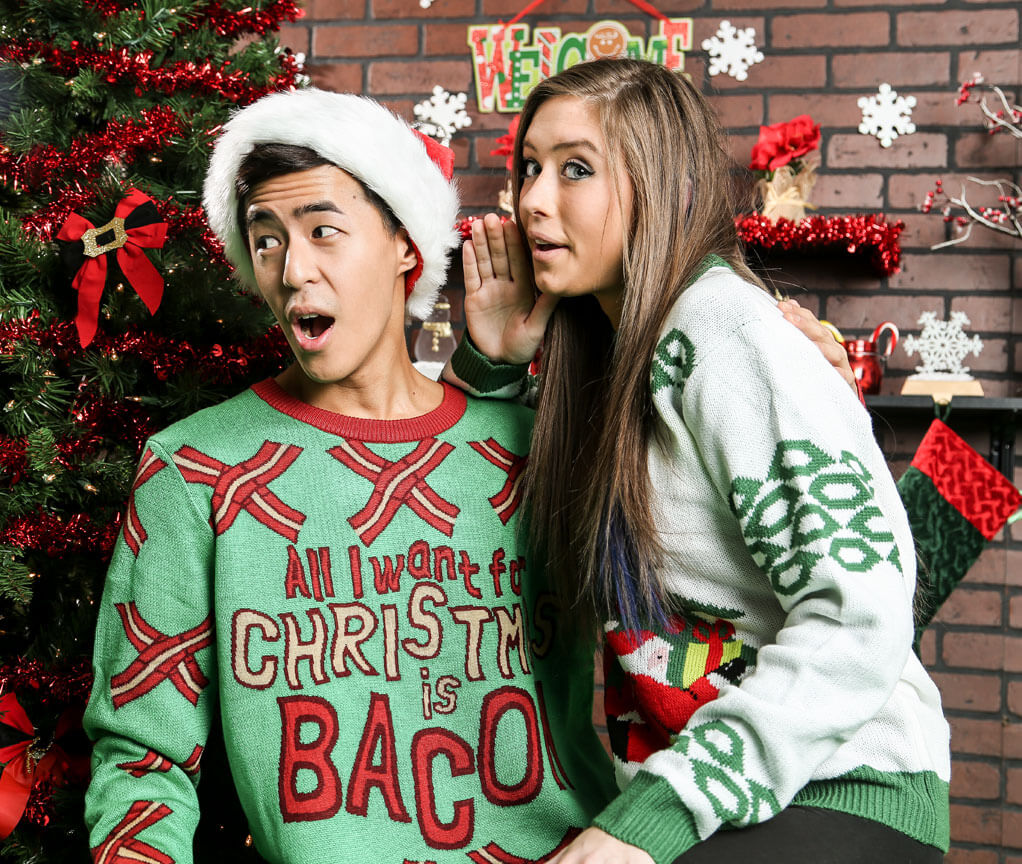 Candy canes and cookie treats aren't the only activity you can engage in during the fabulous ugly Christmas sweater party festivities. Why, a little chit chat about goings on and frank discussions about friends not present seems like a smashing way to get the party under way! Just make sure to say only nice things about those in attendance to your happy holiday shindig or you may find yourself with a house full of angry guests in a matter of moments!
Last but Not Least, Invite Santa Claus and Tell Him What You've Always Wanted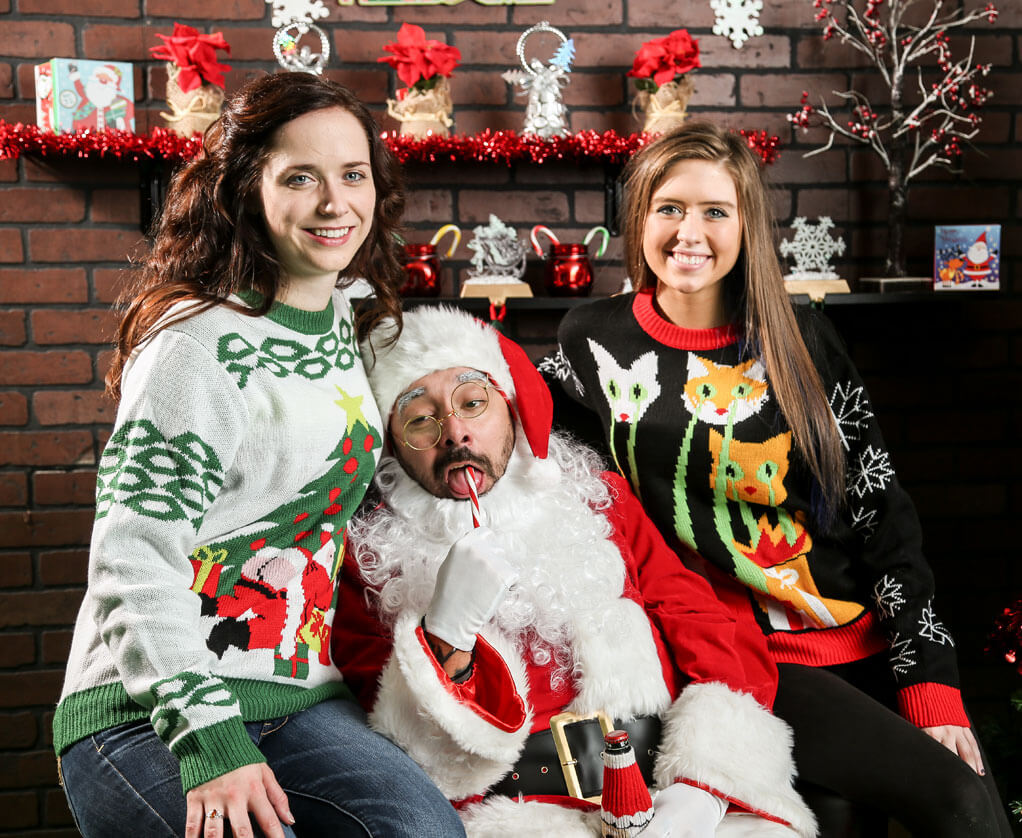 You remembered to invite Jolly Old St. Nick to your party, right? Oh dear! Then you'd better make an invitation for him quite quickly, as every ugly sweater party needs to have Santa Claus in attendance. Make sure to bribe him with plenty of cookies, eggnog and promises of warm sweaters and he's sure to make an appearance. Just make sure that no one spikes the egg nog, or he may be too sleepy to hear about all the gifts that you desire this year. (In which case, you may just want to change him into some pajamas and send him off to bed.)