How the Grinch Stole Christmas Costume Ideas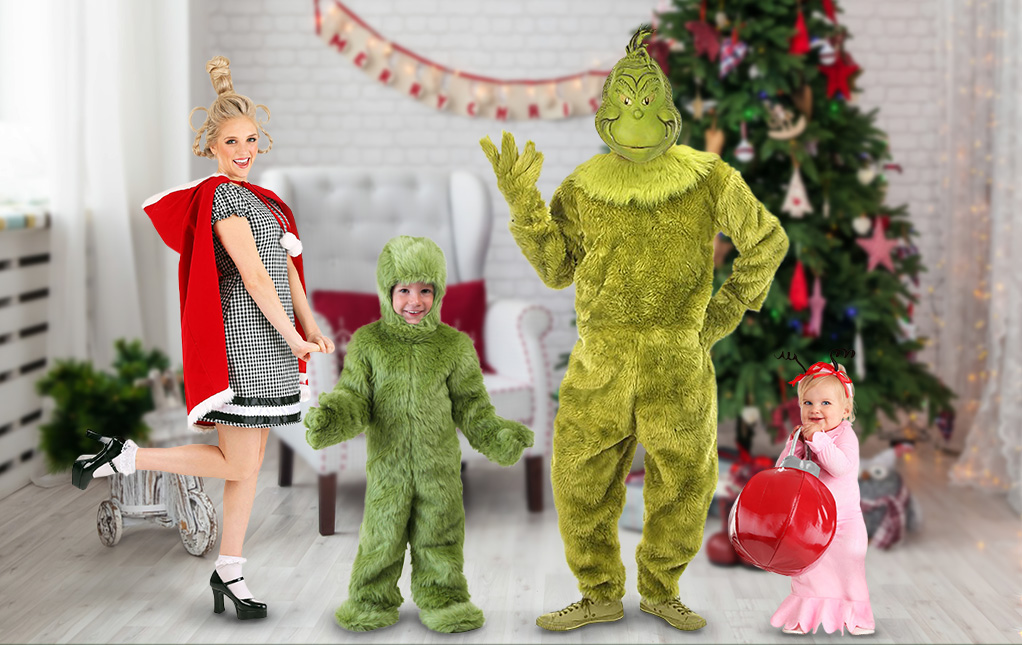 For many, Christmas is a time for sharing. It's a time for good food and friends. It's a time to snuggle up with the family by the fire to open some shiny new presents from Santa Claus. It's a time to celebrate all of the good things in life! Of course, not everyone has that same feeling. There are a few stingy souls out there who look at their calendars in despair each year. They grimace when they see December 25th fast approaching. These scowling characters pop up each and every year. You've got your Ebenezer Scrooge. You've got your Krampus. You've got your Belsnickel. But the most famous Christmas-time grump has to be the Dr. Seuss creation, The Grinch.
The Grinch first made his appearance in the book back in 1957. The colorful book depicted a tale of a real mean and green fellow who just could not stand all of the joy happening at Christmas. That's when he got a bright idea. Dressing up as Santa, he could sneak his way through every house in the town and steal all of the Christmas cheer. All of the presents, all of the Christmas decorations, and all of the holiday snacks would be gone by the time each and every citizen woke up from their Christmas Eve slumber. He finally has a change of heart after a child from the village helps him see the true meaning of Christmas!
Some people love the classic tale because it shows that even those with a cold heart can change their ways. Others like it because they can relate to the Grinch's bah-humbug attitude regarding the holiday season. Us? Well, we like both of those things, but we also happen to like the fantastic visual style of How the Grinch Stole Christmas. It provides a wonderful costume opportunity. We carry a ton of great Grinch costumes, and they're the perfect way to bring the Dr. Seuss classic to life in your home.
Grinch Costume for Adults
Let's start with adults. In our experience, it's rare to find a kid that's a true Grinch, because children get to bask in the magic of gifts, Santa Claus, and a pretty healthy chunk of time away from school. Adults, on the other hand? Well, we know quite a few adult Grinch-types. After all, life tends to take some twists and turns. Then combine that with the fact that the holidays can be a significant amount of work for some adults. That can make some people feel a bit bitter about the holidays, so it's not really surprising that adults end up walking down the path of mean and green. The good news is that even the stingiest of souls can grow their hearts a few sizes. The meanest and greenest of them all was able to change his ways, so perhaps all you have to do is follow in his footsteps to have a Christmas reformation! If you're feeling a bit Grinchy, then you might want to try one of our adult-size costumes. When you wear one of our Grinch Costumes for adults, you might just find yourself having a change of heart… or perhaps you'll keep feeling a bit Grinch-like, but you'll at least have the costume to match your stingy ways!
Men's Grinch Costume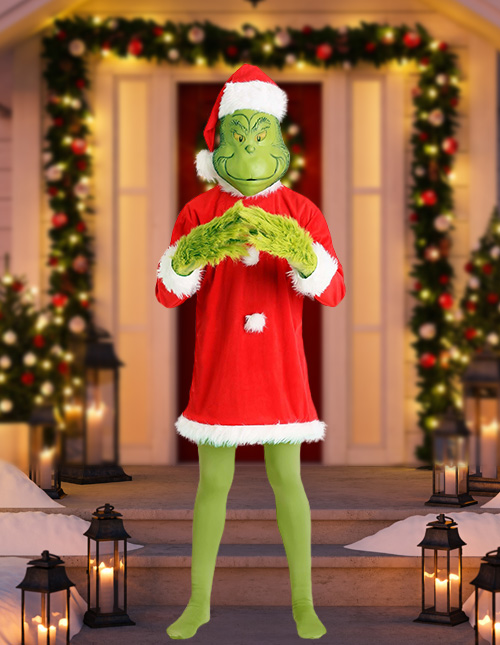 First up is the classic look. When we first meet the Grinch, he's not all decked out like Jolly Old Saint Nick. There are three versions to choose from: the classic storybook, the adorable cartoon from the 60s, and the live-action film. In each of them, the Grinch begins his story as a plain green grump living on the top of a snowy mountain with his best bud, Max the dog. Our men's Grinch costume really captures the fuzzy guy's au naturale style. It's a realistic look that will have you ready to brood in your own living room as you prepare your nefarious plot for the season! This is the look for anyone who wants to lean into the mean Mr. Grinch's grouchy side.
Authentic Grinch Costume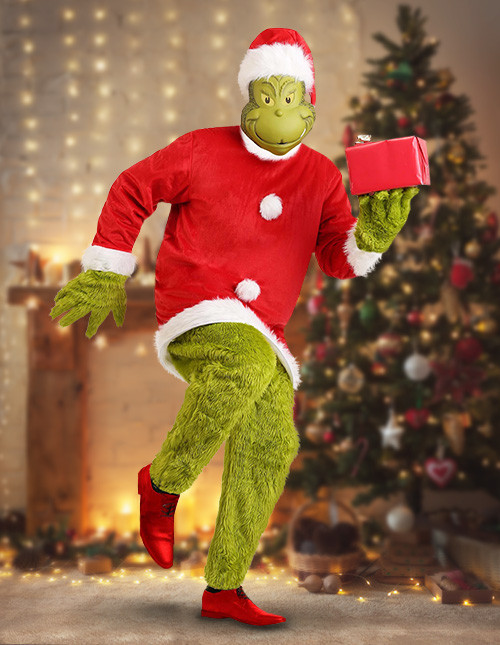 One of the best parts about the story is the ending! The antagonistic character changes his ways and jumps right in with the rest of the Whos to celebrate. If you love the ending, where the Grinch's heart grows 3 sizes, then you might want a more festive version of the outfit. You can be a reformed scrooge by wearing an authentic Grinch costume, just like the ending of the tale. Getting that classic appearance means not only wearing the green fur suit, but also slipping into the red and white garb of Santa Claus. Wearing this sort of outfit might even make your own heart a little bigger, so make sure you gather a big bag of presents to hand out to good boys and girls when you wear it. We also recommend dressing up your dog as your sidekick, so be sure to check out our selection of dog costumes to get your woofer into character.
Kid's Grinch Costumes
Most children love Christmas. If they've been good, then they can count on a massive stash of toys made by Santa's elves awaiting them on Christmas morning. Kids who haven't been so good…well, they might start feeling a little bit like a Grinch! If your child just isn't feeling the Christmas vibes, then they might fit perfectly into the role! Just check out some of our favorite choices below, so you can find a look that's as mean and green as the original Dr. Seuss character.
Grinch Halloween Costume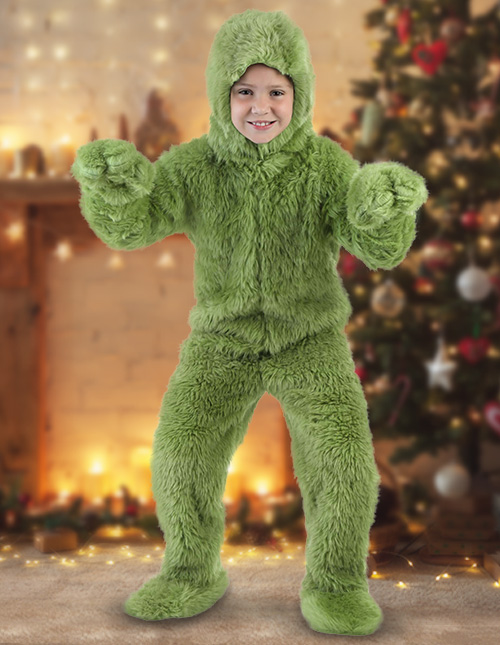 What if your child is feeling a little bit grumpy before the holiday sets in? We've seen a few kids get grouchy all the way back in October. Well, then you might want to try a Grinch Halloween costume. This green fur suit is one of our many Made By Us designs. That's right! Our costume designers have been hard at work to create great options like this one. Not only does it make a great start to your child's transformation into a Grinch, but it also works great for a generic monster look. That means you get a ton of use and value out of a single costume.
Child Grinch Costume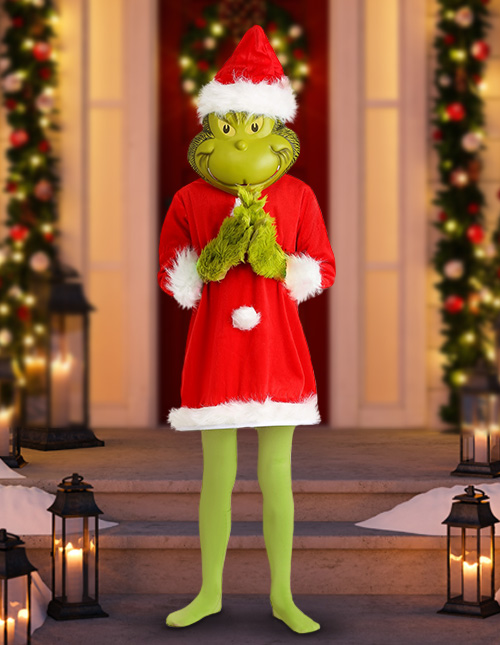 Maybe your little one is just a bit of a mischief-maker. Perhaps they just can't want to play some yuletide pranks at the next ugly Christmas sweater party! Well, then all they need is a child Grinch costume! If your child needs the complete Santa-like look from How the Grinch Stole Christmas, then look no further than one of these child Grinch outfits. They feature the classic green fur along with the red suit. It's an easy choice for any child getting ready to let their inner grouch out during the holidays.
Cindy Lou Who Costumes
The Grinch might be the main character, but he might never have become the lovable character we know now without a certain little girl. Although the Grinch has remained mostly the same throughout the years, Cindy Lou Who has received a handful of different outfits and redesigns. In the original Dr. Seuss version, she's just a two-year-old girl in a pink dress who stumbles upon the Grinch in the middle of the night as she's getting a glass of water. The 1966 animated television special faithfully recreated her as a cartoon. The year 2000 brought us a live-action take on the character, and then again in 2018, we got to see her brought back to her roots in CGI. She always represents the pure-hearted nature of Christmas. So if you're looking to dress up like her this holiday season, then we have a Cindy Lou Who costume for you! We have plenty of different options that will help you jumpstart your holiday outfit.
Cindy Lou Who Costume for Adults
Yes, Cindy Lou Who might be a kid in the story, but that shouldn't stop any adult from dressing up as her! After all, adults can retain a childlike wonder of the holidays as long as they cherish the spirit of giving. If you've managed to remain young at heart, then you can share the holiday spirit by wearing our Christmas girl outfit. It's a great way to create your own Cindy Lou Who costume, since it comes with an updated style that's perfect for lifting spirits and for becoming the star of your next Christmas party. You might even be able to soften the heart of a few Christmas Grinches that are roaming about!
Cindy Lou Who Costume for Kids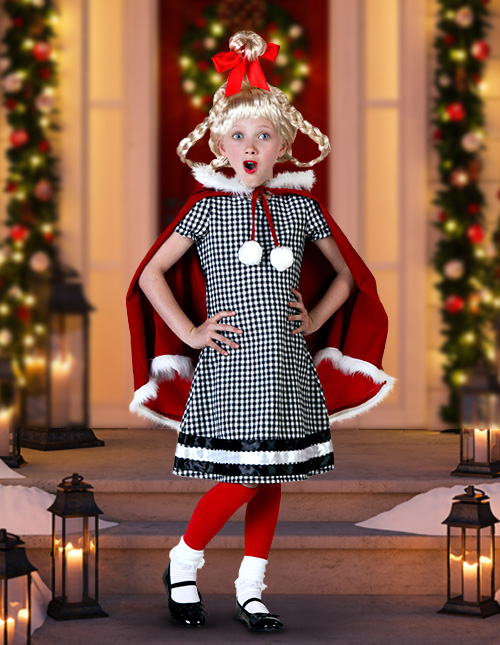 Christmas photos are one of our holiday favorites. It's a great chance to see friends and family all dressed up for that big Christmas evening, and it helps create a lasting memory that will really span generations. It's also an excellent excuse to dress up your own kids in an ultra-adorable costume! Of course, you'll need photographic evidence of how adorable your child is to share with the world! Just imagine your girl as the spirit of Christmas, who ends up showing the Grinch the error of his ways. Well, using one of our Cindy Lou Who costumes is an easy way to craft an unforgettable experience based on the Grinch.
Cindy Lou Who Hair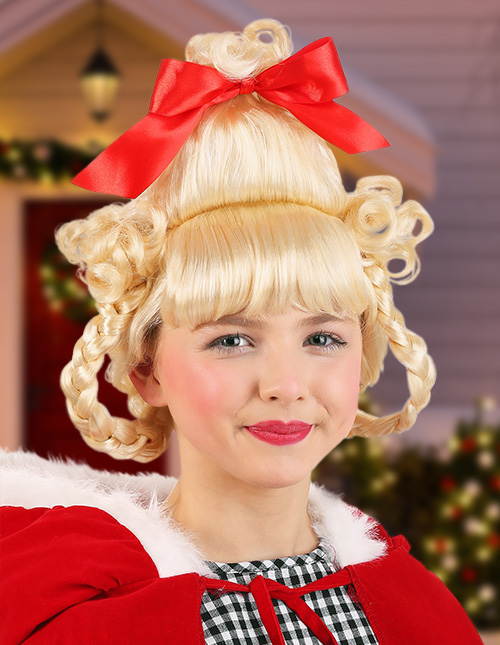 Alright. We can't talk about Cindy Lou Who without talking about her hair! The girl has some of the most amazing locks that we've ever seen on a storybook character, although Thing 1 and Thing 2 from The Cat in the Hat have a pretty close run for second place in that department. If you or your child place on dressing up like her, then you'll want to get her signature hairstyle. This Christmas-inspired wig is a Made By Us design, which will help you get that hair without spending a ton of time styling your own hair.
Grinch and Cindy Lou Costume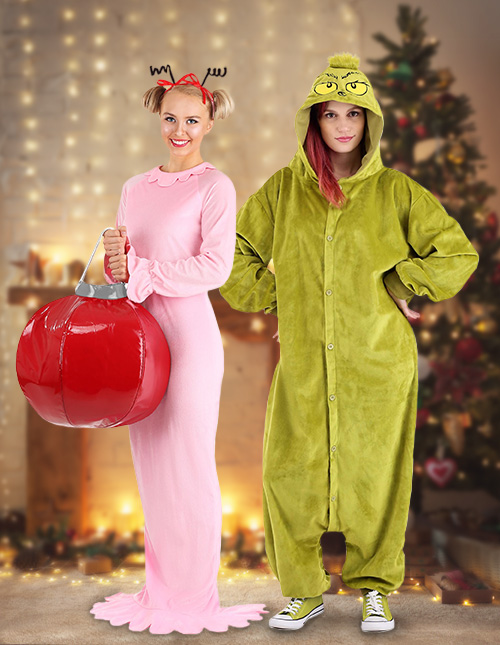 Couples' costumes are always an excellent way for a couple to feel a little closer during the holiday! Who better than the primary characters from the Dr. Seuss Christmas story? When you pair up to look like the Grinch and Cindy Lou Who, you can bring the story to life this season. You can create your very first Christmas card as a couple, or just use it as an excuse to quote your favorite lines from the film together.
Grinch Costume Accessories
We know that not everyone wants to be clad in Grinchly gear from head to toe. Sometimes just a few accessories or a simple costume t-shirt is enough to get the job done. When you're transforming into the Grinch, perhaps all you need is the scowling green face or some slender green fingers of the Seussical spectacle. Well, it just happens that we have all of the Grinch-style accessories that you could need for building an easy costume from scratch. Here are a few of our favorite options below.
Grinch Mask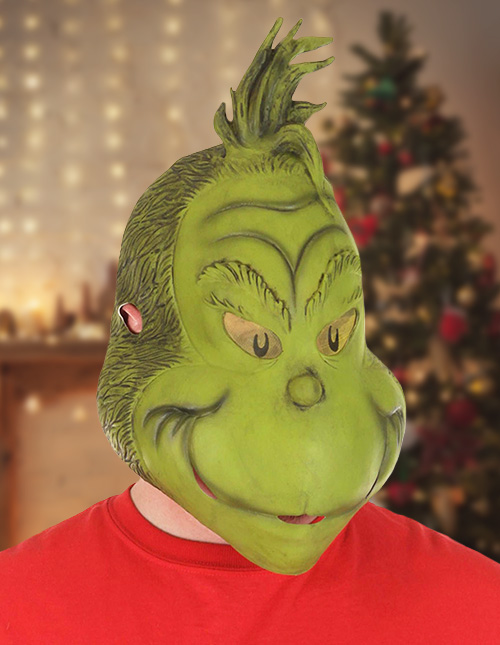 Have you ever tried making a Grinch face? It's a lot tougher than it looks! You have to purse your lips just so and curl your lips into a malevolent yet slightly charming grin. It's hard enough for us to muster up a goofy smirk, much less a complex smile like that. The good news is that you can always wear a mask to capture the exact expression you need. And if you're aiming for a genuinely grouchy face for the holidays, then a Grinch mask is the easiest way to do it!
Grinch Gloves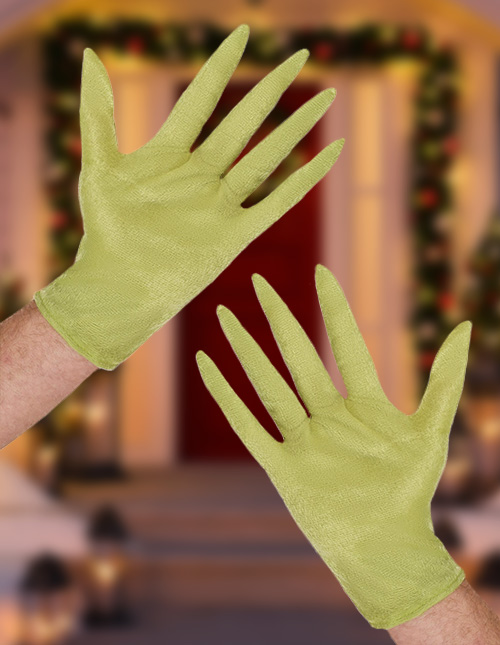 Close your eyes for a moment. Go ahead, just do it (we promise it's not a trick)! Can you imagine what the Grinch's hands look like? Of course, you can! They're fuzzy, long, and very green. Now, take a quick gander at your own hands. Probably not quite like the Grinch's, are they? Well, a simple pair of Grinch gloves can solve that little issue. We have a variety of gloves, but these ones are definitely the kind you'll if you plan on stepping into the role this season!