Pet Costume Ideas
Life without your pet is just too hard to imagine! Your furry little friend gives you love, companionship, and endless hours of entertainment. Anyone who's ever owned a pet knows exactly what we're talking about! One minute your dog is sitting on the couch, the next minute he's chasing his tail with unrelenting vigor. It's a shame that he can't be a part of your costume party. Well, we think that's just not fair. Your pet could be the life of the party if he just had a silly outfit to wear! Well, your doggy doesn't have to stand around in the corner without a costume, since we have plenty of pet costumes for your puppy. From Star Wars to Wizard of Oz, your dog can join any kind of party with one of these adorable outfits. This handy guide has tons of pet costume ideas and we've picked out some of our favorite ones. We've even put together a list of costumes that can be worn by kitty cats!
How to Dress Your Dog in a Halloween Costume
The first thing you'll want to know before dressing your pup up in a pet costume is just exactly how most costumes will fit on your dog. This quick guide will tell you step-by-step how to dress your large or small dog into a Halloween costume.
Ears in Head Piece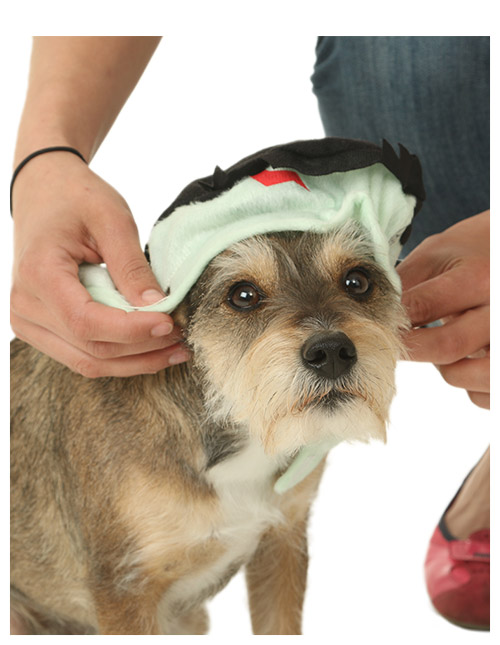 Some costumes come with a headpiece, so you may want to start by putting that on your pup. Most headpieces fit with a Velcro strap that fits below the head, but first, make sure you gently place your dog's ears into place.
Fasten Head Piece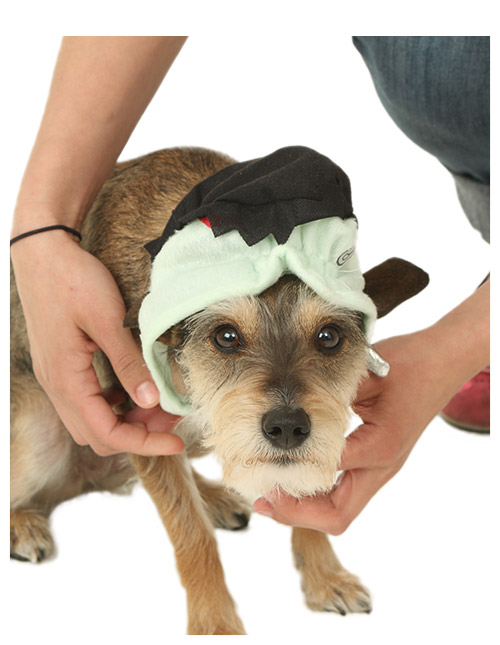 The next step is simple as long as you have a compliant pooch! Just gently fasten the chin strap tightly, but not too tightly, under your dog's chin. If you fasten it too loosely, it may easily fall off. If you do it too tightly, it may be uncomfortable for your pet.
Head Piece Attached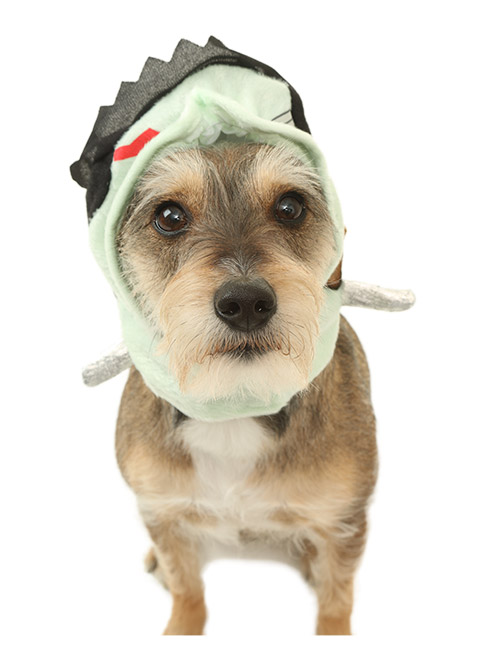 When the headpiece is completely attached, your dog should look like a wacky character of your choosing! Make your final adjustments to ensure that the piece is secure on his head and not too tight. If your pooch is uncomfortable, or not used to wearing headwear, he may try to take it off, so comfort is key.
One Paw In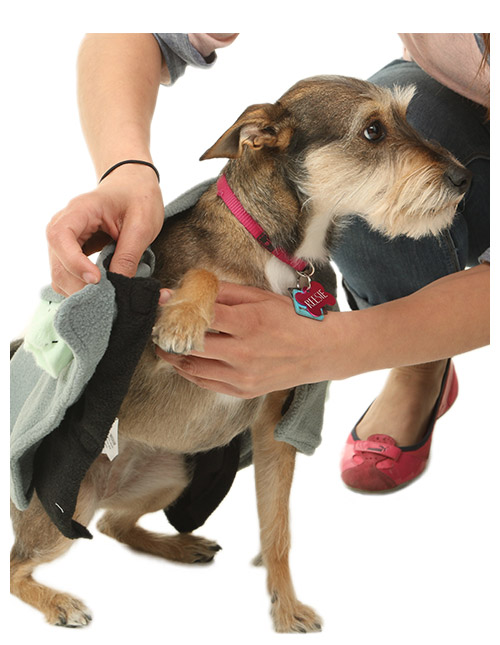 Most of our dog costumes are designed to fit like a jacket, so just like human costume apparel, you'll want to start by putting in one paw at a time. Just slip your dog's paw through the sleeve and wrap the other portion around your dog's back.
Other Paw Then Fasten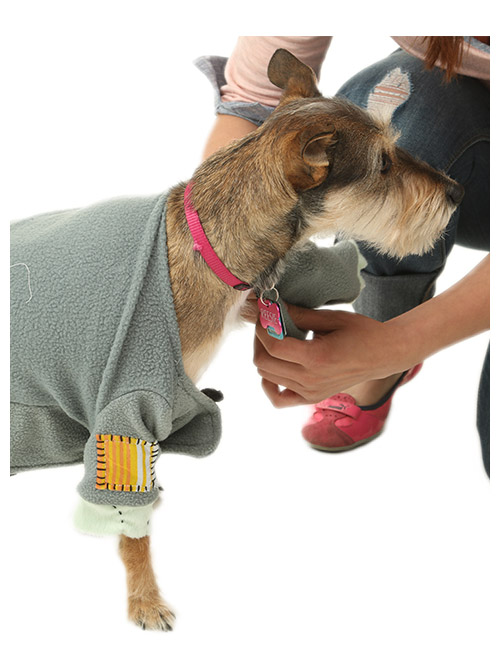 Next, it's time to do the other paw. Just slip your puppy's paw through the other sleeve and it should be secure. Check to see if there are any Velcro straps in the front and fasten them. Easy peasy and you're almost done!
Trick or Treat Time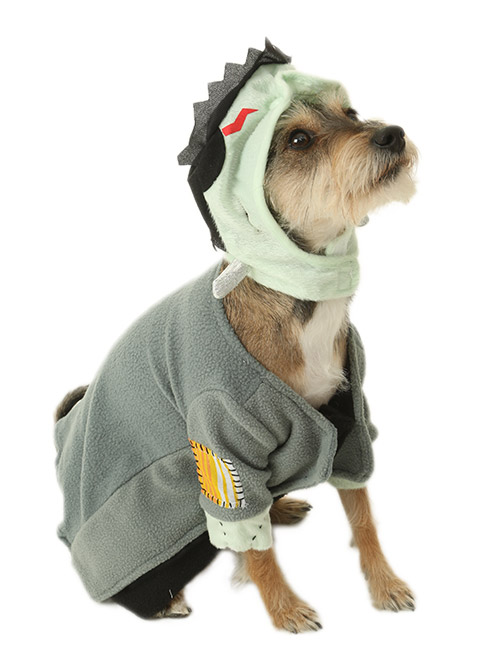 Now it's time to take your pup trick or treating. Remember that candy (unless specifically made for dogs) is not good for dogs, so you might want to bring a few treats of your own if you plan on taking him with you or your kids for a round of trick or treating in the neighborhood. After all, he won't want to be left out of getting treats!
Costumes for Cats
Cats are quite the enigma. Even experienced cat owners will tell you that sometimes, their cat just does things that cannot be explained, but that never stops us from loving the fluffy little animals. For those of you brave enough to try, we do carry many outfits that are that can be worn by cats. Now, some cats aren't actually comfortable wearing costumes, so if you have a kitty who doesn't like wearing clothes, getting him into a costume might not be easy. Those that do enjoy wearing clothes will look ultra-adorable in our costumes for cats. Search through our selection of pet costumes to find something your kitty won't hate to wear. Dress them up in cat Halloween costumes that one time a year or even for an every day look.
Cat Robe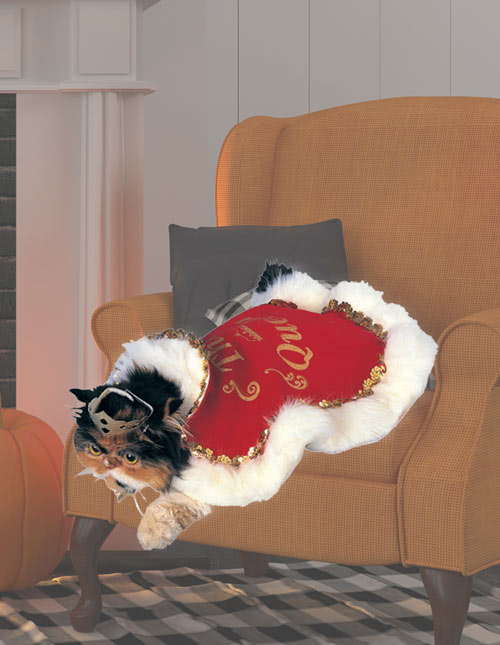 Your cat is definitely the acting regent of your home, whether you'd like to admit it or not. Just think about it. You must feed him and provide him with suitable drinking fluids. You must provide him with adequate entertainment, or he will become dissatisfied and subsequently tear up the curtains. You even clean his poop up. That's sounds like a queen to us, so you should garb him up in this queen cat robe costume!
Cat Bat Wings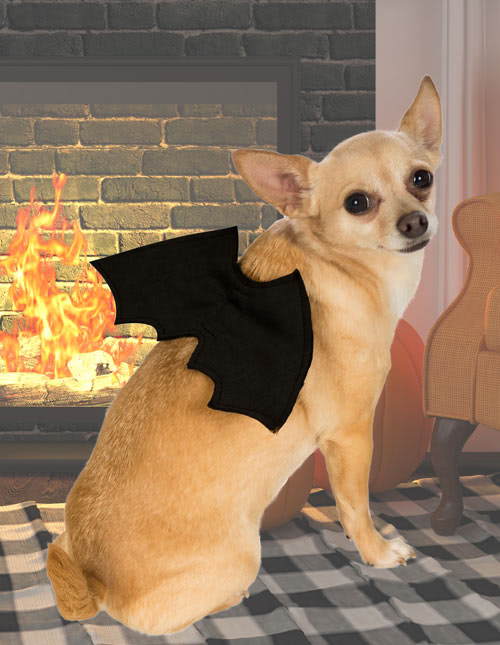 Have you ever been suspicious of your cat? He's always up at all hours of the night, he hates the smell of garlic, AND he likes to stalk humans from the shadows. He might just be a vampir in disguise! Okay, so maybe your kitty cat isn't a vampire but wouldn't it be cute if you could dress him up like one? Well, now you can with this cat bat wings accessory. This accessory just fits on your pet's back to make him look like a vampire lord of the night.
Cat Lion Costume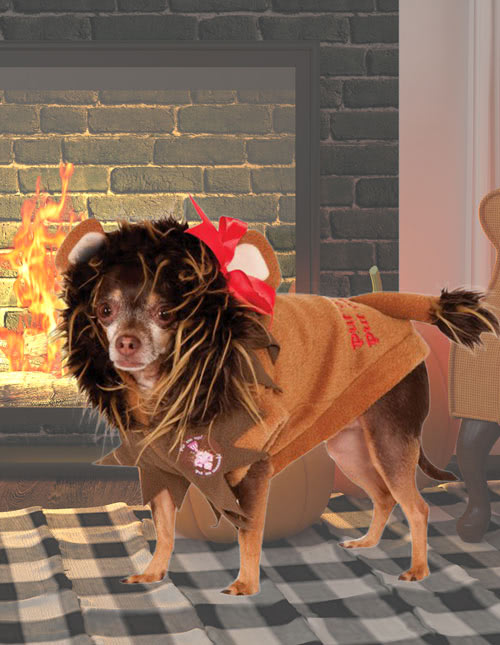 Your kitty sees himself as a wild jungle king, even if he spends most of his time napping in sunbeams. He sees himself as a ferocious lion, who uses his masterful hunting skills to track down any prey, even if he IS still afraid of a lone cucumber. Well, we suggest making a compromise, by letting him wear this cat lion costume, which is based on the cowardly lion from the Wizard of Oz.
Cat Banana Costume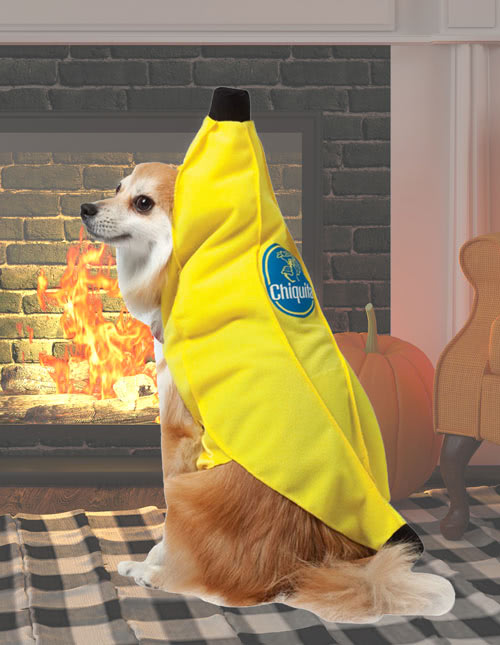 Let's talk about cats and bananas. Some cats are afraid of them, since they resemble their well-known foe, the cucumber. A few cats actually eat them. Even fewer cats… dream of becoming one! Now, your ferocious little kitty can become her favorite fruit when she dresses up in this cute cat banana costume. It's originally designed for dogs, but works great with larger felines who have a penchant for wearing costumes.
Dog Costumes for People
Have you ever dreamed of being your pet? Sometimes it seems like those little furry animals have the life! They get to spend all day at home, taking naps and looking at the wildlife outside the window, while you toil away working. Your pet gets food put in their bowl every day, while you have to spend your hard-earned money at the grocery store. Yes, your pet really does have the life… but what if there were a way for humans to become the dog? Well, we have a whole bunch of dog costumes for humans, so whether you're an adult looking to live it up as a pet, or a kid who just wants to be twinsies with his pet, these costumes should make that dream a reality.
Dog Costume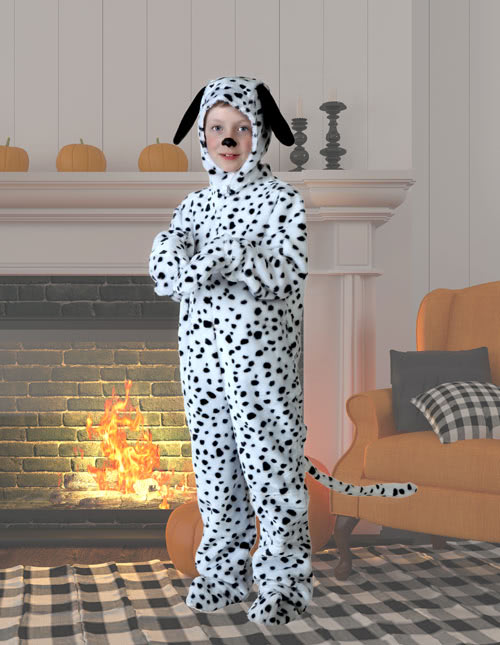 Ever since Disney's classic film 101 Dalmatians, the particular breed has been a favorite among dog lovers everywhere. If your child wants to become one of the beloved puppies, then all they need is this kids dog costume. It's based on the Dalmatian and comes with a comfortable jumpsuit with an attached hood. Now you just have to find 100 more friends to join him.
Puppy Costume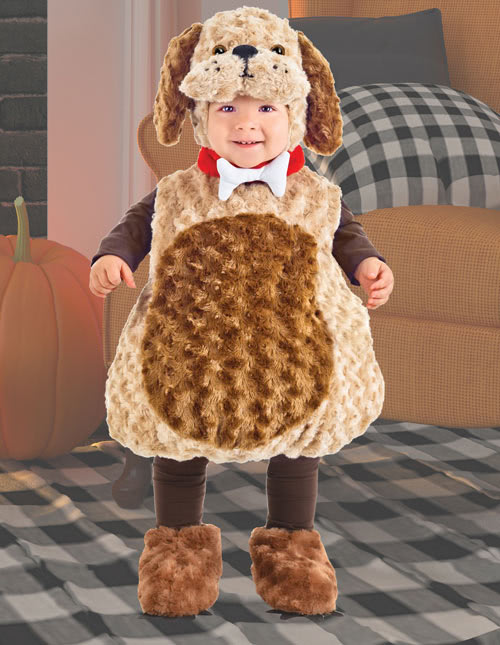 Even tots can find a great look to become a tiny canine. This puppy costume is a cute toddler costume that will have your little one barking up a storm. Just pair him up with the family dog and the two will look like a dynamic duo that's ready for a round of trick or treating. This cozy little outfit is ultra-soft to the touch, so don't be surprised if your little one becomes the family dog's new favorite cuddle buddy.
Pug Costume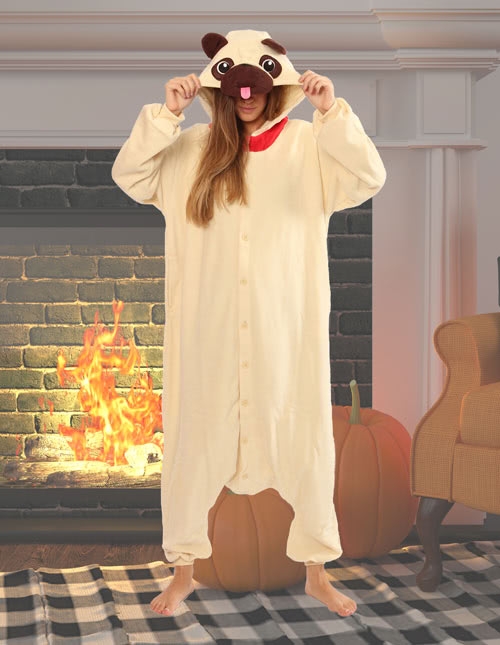 There are two types of people in this world: pug people and the weirdos who hate pugs (we call them savages). For those people who do love pugs, nothing sounds quite as satisfying as being able to frolic with their puppy pals in this Pug costume. It's a Kigurumi-style outfit, which means it's an ultra-cozy pajama costume that you can snuggle into, making you feel like a pug in a rug.
Bulldog Costume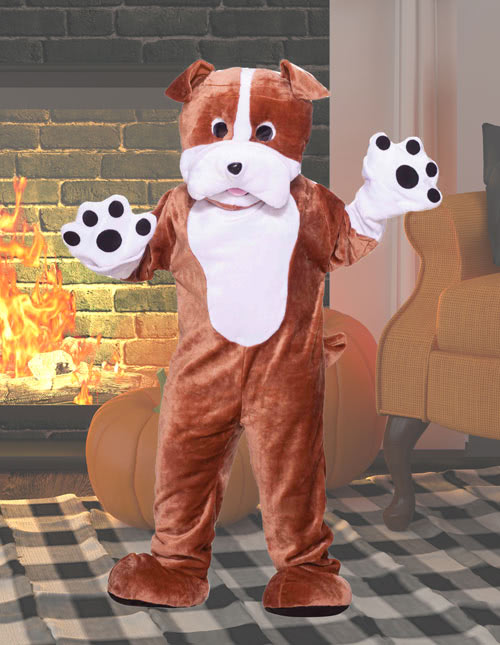 Few dogs are as regal and personable as the loyal bulldog and this bulldog costume is a great way for you to roleplay as the iconic pooch. It's one of our mascot costumes, which means it comes with a high quality jumpsuit and a plush, over-sized headpiece that will have you looking like a giant version of the family dog in no time.
Cat Costumes for People
Some people are dog people and others are cat people. It's not hard to see why it's been such an ongoing debate over the years. Dogs are loyal, obedient, and honorable creatures. Cats are independent, self-assured, and independent thinkers. Both animals exemplify many of the qualities that humans value quite highly. It's not really a surprise that many people would want to dress up like their favorite pet! We picked out some of our favorite all-time cat costumes they should help you look like your favorite animal.
Kids Cat Costume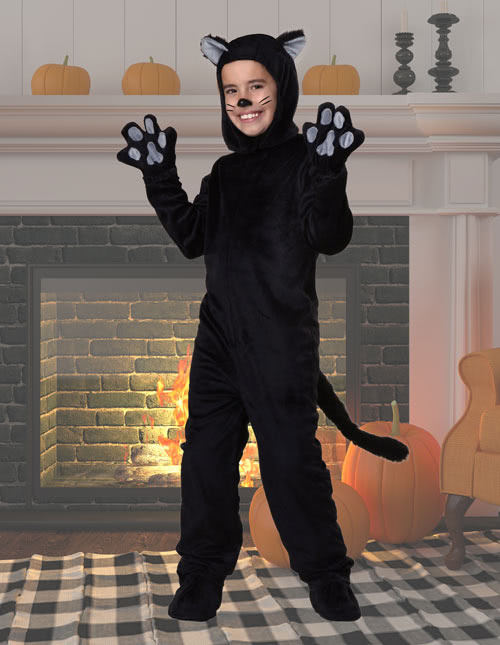 Let's start with a little something that's for the young ones! This kids cat costume is a high-quality costume for kids. It's also one of our exclusive costumes, designed in-house by one of our costume experts, so you can expect to get a lot of mileage out of this great outfit.
Toddler Cat Costume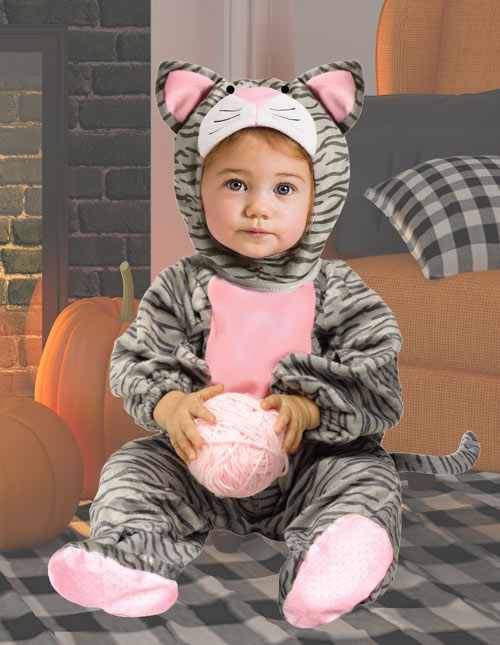 Even toddlers can become a kitty with this cute toddler cat costum . With a soft jumpsuit that has a black-and-gray tabby pattern on it, it makes your little one look as adorable as your pet kitty cat. Your cat may even get a little jealous of how much attention your child will receive in this outfit.
Plus Size Cat Costume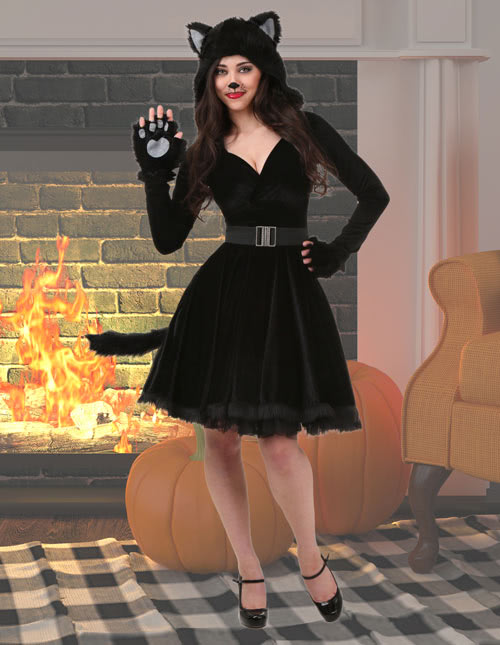 We carry one of the largest selections of plus size costumes, and kitty cat costumes are no exception! This plus size cat costume is a great option for curvy women who want a look to match their favorite feline friend, but also something that flatters their body type. Just make sure you add a petticoat to fill out the skirt!
Cat Costume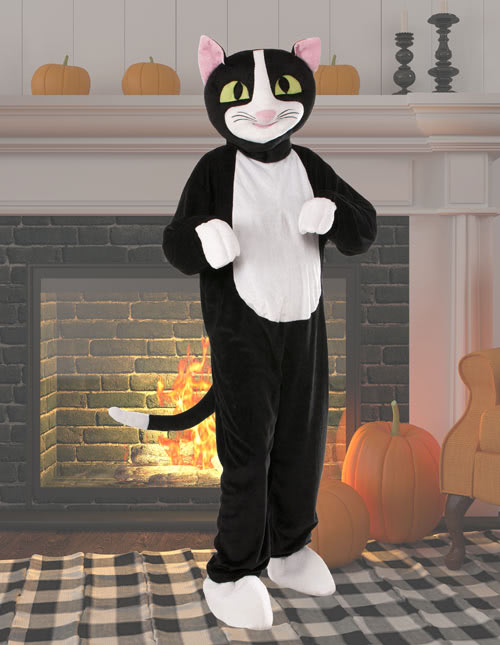 Check this wacky kitty cat out! This cat costume is a mascot-style outfit that's an absolute riot. It has an over-sized head with some silly features, like a soft pink nose, some cartoonish eyes, and cute little whiskers on the side. You can confuse your neighbors by wandering around the alleyways in this outfit, or just relax in the comfort of a nice sunbeam. Mmmm, sunbeams.