Supergirl Halloween Costumes
It's safe to say that Superheroes are a big deal right now. And if you'd like to try saving the day this Halloween you should consider a Supergirl Halloween costume. Supergirl is strong, fearless, and always stands up for what's right - just like you!
As the cousin of Superman, Supergirl was sent to Earth from her home planet Krypton for protection. She eventually realized that she had superpowers and decided to use them to help people. By now, the character has saved the day countless times across comic books and TV while gaining many fans along the way. Which is why we offer a great selection of adult Supergirl costumes and Supergirl kids costumes.
If you'd like to show up to your next party in a Supergirl costume from the TV show, a pink Supergirl costume, or a plus-size Supergirl costume, we've got your shopping needs covered. And if your kiddo wants to save the neighborhood with a Supergirl cape, all you have to do is get one of our girl's Supergirl costumes. If you'd like to know more before you buy, just keep on reading. We have more of the top-selling costume options right here!
Supergirl Adult Costumes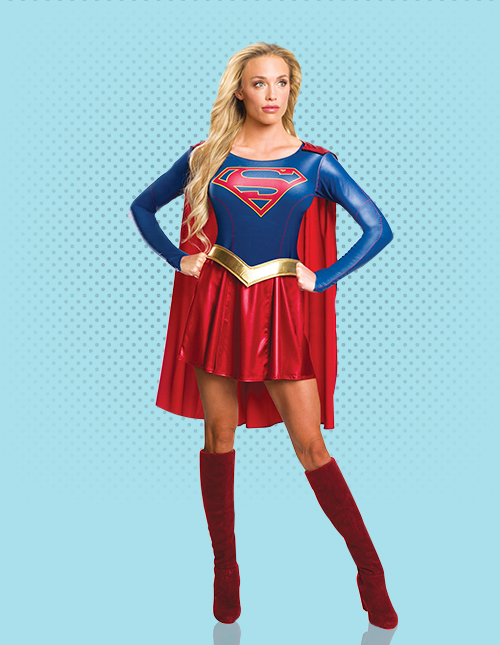 If you're a fan of Supergirl, it's likely because of the popular television series. And, if you look up to the character as a role model, this Halloween, you can be the superhero you always wanted to be with our Supergirl costume! This licensed costume comes straight from the show, so you can roleplay as the fan-favorite heroine. The costume includes a red and blue dress, a red cape, and a gold belt. Plus, the iconic "S" symbol is printed on the chest, so everyone will know who you are (even if they haven't streamed the show yet).
Supergirl Kids Costumes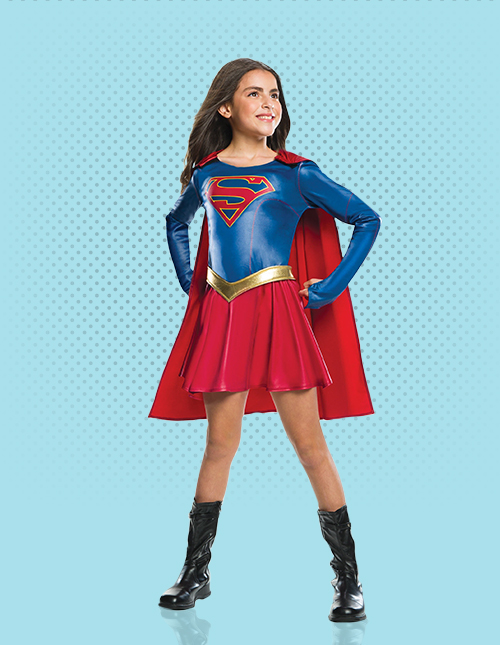 Every little girl wants to feel like a superhero on Halloween, and there's no better way to do that than by dressing up as Supergirl! This Girl's Supergirl Costume is perfect for kids who love the TV show, and it's an easy outfit for trick or treating or to wear to a costume party. The costume features the familiar dress, belt, and cape combination. And if she wants, you can also add tights to make it a more comfortable outfit (sold separately). With this costume, your child will be ready to take on any Halloween adventure!
Sexy Supergirl Costumes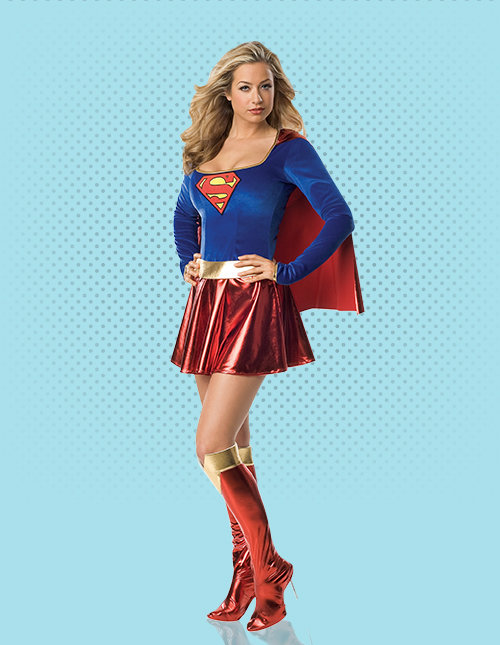 A costume party is the perfect opportunity to let your alter ego shine, and our Sexy Supergirl Costume will help you do just that! Whether you're looking to show off your true inner power or simply turn heads at the party, this sizzling outfit is sure to do the trick. It features a form-fitting dress with an alluring velour and metallic knit fabric combination, and it includes a cape that adds a touch of drama. Whether you're saving the world or simply shaking up the party scene, this outfit is sure to make a lasting impression.
Plus Size Supergirl Costumes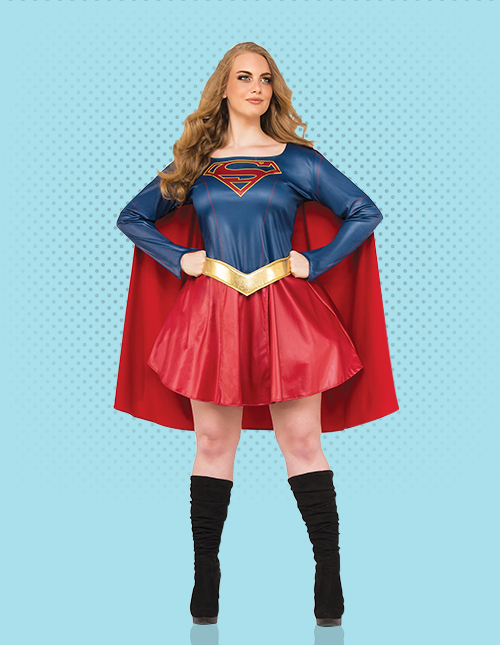 Find out if you have what it takes to be a hero this Halloween when you slip into our Plus Size Supergirl Costume. No matter if you need to fend off evil aliens or stop a runaway train, this costume will let you step into the role of Supergirl with style. It features the TV show costume with the "S" symbol on the chest and sleek wet-look fabrics. And who knows? Maybe, just maybe, you'll discover that you have what it takes to be a superhero. So, suit up and get ready for a night of action-packed fun with this outfit!
Supergirl Accessories
Every year, on Halloween night, kids across the country put on their Supergirl costumes and go door to door in search of candy. But what if this year, you could take your Supergirl costume to the next level? With our selection of Supergirl costume accessories, you can do just that! From a flowing cape to a shiny tiara, we have everything you need to make your costume truly unique.
You'll want to start by shopping for the staples of any superhero outfit. A pair of red superhero boots are a great add-on to a Supergirl outfit, or you could choose black boots to change up the traditional look. Red gloves are another easy add-on that can be worn for style—or comfort if the Halloween forecast is looking a bit chilly. Tights are a great way to layer your Supergirl costume and stay comfortable. We even sell a pair of Supergirl Tights printed with the "S" shield logo to make your look even more dynamic!