Batman Costumes
The "Bat-Man"—or Batman as he's known these days—is DC Comics' bat-inspired crime fighter. Unlike other superheroes, he doesn't have any superpowers; he's just a regular guy...with an irregular amount of wealth. They say money can't buy happiness, but when you have Wayne Enterprises-level cash on hand, it can definitely buy you a lot of weapons. Money, power, superior intelligence—what more could you want? How about the ability to act like Batman? It takes more than cruising around town in the Batmobile or testing the latest and greatest technology in your Batcave to be Batman. First and foremost, you need to have a superhero suit. A "Bat-suit" if you will. And if it could be dark and frightening to inspire terror in the hearts of your enemies? Yeah, that'd be great!
The fact of the matter is, when it comes to Batman suits, you've found yourself in just the right spot. And that's because we're proud purveyors of all varieties of Batman costumes! We've got authentic Batman suits, Batman costumes for kids, and even Batman cosplay items to flesh out your costume experience. The best part of all, you don't need the bankroll of Bruce Wayne to get yourself outfitted with our wares. A normal-sized bank account will do just fine! Just read on to shop some of our most popular Batman costume options!
Batman Costume Evolution
Alright. First thing's first. You've got to do some thinking about which version of Batman you'd like to be! Luckily, our crack team of pop culture researchers teamed up with our graphic designers to chronicle Batman's costume evolution over the years. And we have this handy video to help you get up to speed! Give it a watch to robustly enhance your Batman costume knowledge, or, if you prefer to check out the full infographic!
So, which was your favorite? 2016's Batman v. Superman logo may be what's emblazoned on Ben Affleck's chest, but the prominently displayed bat symbol has changed as often as the character himself. Adam West's campy Batman symbol was bright and bold, while Christian Bale's Dark Knight Batman gravitated toward a more subdued, monochromatic symbol. From comic books to video games (and everything in between), every Batman interpretation reinforces the fact that the key to Batman's longevity is the character's ability to change with the times. Fortunately, we've got Batman costume options from every era! Read on or take a hop around the rest of this page to see the best Batman suits we have available.
Batman Costume Adult Ideas
When it comes time for Batman fans to pick out a costume, a lot of fans only have their mind on one thing. They want the best of the best, cream of the crop Batman costumes! We're all too happy to oblige, and since we've got plenty of experience selling these styles, we know exactly just which ones you should gravitate towards from customer feedback. Read on to see some of the top sellers of all time and to get the low-down on the most iconic adult Batman costumes available!
Batman Dark Knight Costume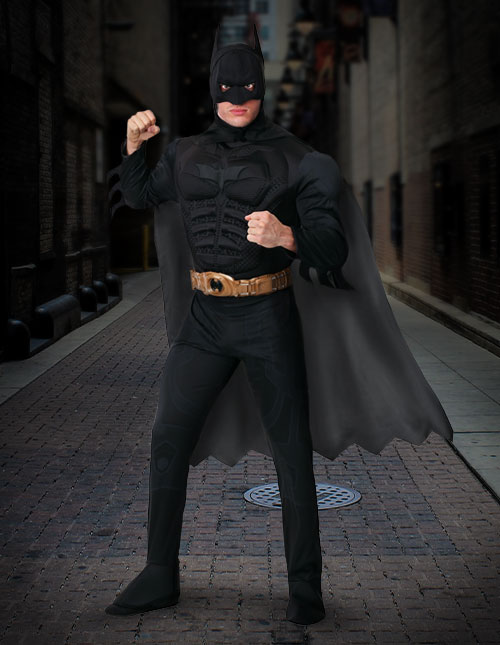 The Dark Knight trilogy, Christopher Nolan's contribution to the Batman film franchise, was revolutionary. Gotham returned to its seedy city landscape, and it needed a superhero that could defeat the bad guys within that realm. Christian Bale proved to be the perfect fit, toeing the line between sarcastic (and incredibly pompous) Bruce Wayne and troubled do-gooder, Batman. He had very few actual lines, but so much charisma! Of course, The Dark Knight's legendary suit didn't hurt either. Lucius Fox, Wayne Enterprise's CEO (and Bruce Wayne's right-hand man) outdid himself in the creation of Batman's armor. Chiseled, aerodynamic, and lightweight, the pitch-black ensemble is guaranteed to command attention. And that's probably the reason you're gravitating towards this men's Dark Knight Batman costume for your Batman cosplay! This deluxe costume comes complete, straight out of the package. It includes a jumpsuit with a molded, foam chest piece (permitting you to skip abs day), a character cowl, boot covers, a utility belt, and a cape. Everything you need to replicate Bale's Batman performance!
Authentic Batman Costume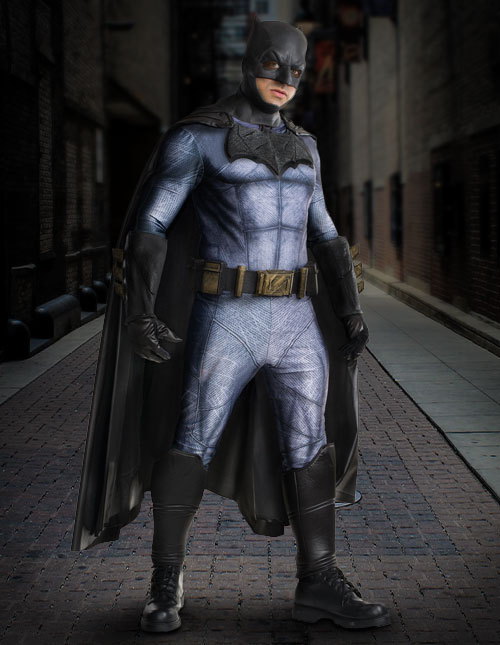 Getting into character when you're Batman seems relatively straightforward. Mask, black cap, super gravely voice, a penchant for one-line condescension. And really, that's all it takes for a Batman costume experience. But, if you're a big-time fan or like to go above and beyond with your costume adventures, you might find yourself wanting to take things to the next level. We've totally got your back, and we don't have to look farther than the most recent Batman films to get you started. And that's cause we can get you suited up like Ben Affleck's Batman with this amazing men's Grand Heritage Dawn of Justice costume! From the revered DC Comics Grand Heritage series (meaning it's super awesome!), this costume comes with everything included and an extra level of detail—right down to the textured latex Bat symbol and molded mask. Yes, wearing it will win you Halloween costume contest prizes (like shooting Joker's wind-up teeth in a barrel!) but you'll also fit right in at events like Comic-Con. We're talking the real deal here!
Collector's Gotham Batman Suit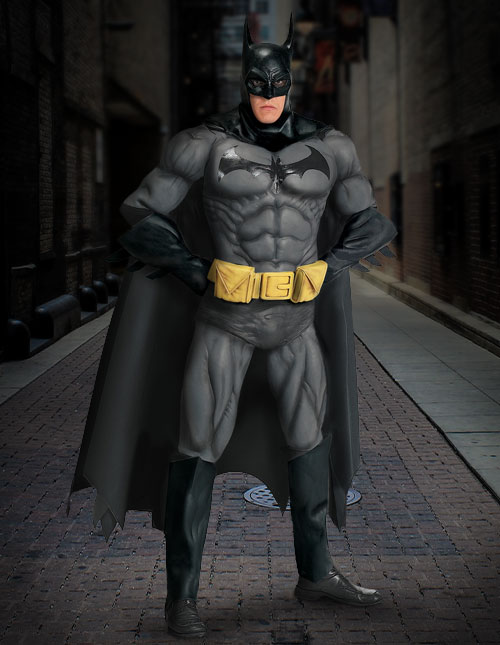 The late eighties brought a renaissance to Batman and the city of Gotham. Tim Burton reinvigorated the Caped Crusader on film (this time played by Michael Keaton), while Frank Miller took the comic to grittier heights with his graphic novel series, The Dark Knight Returns. Both creations gave Batman's look a total overhaul. Miller put some muscle on the billionaire playboy and fans were mesmerized! His suit, crafted from cutting-edge materials, was built for heavy-duty crime-fighting and shaded in grays and blacks to help Batman blend into the shroud of nightfall. Well, we're happy to let comic book diehards know that your Batman costume options aren't just limited to recreations from the silver screen. Because this collector's Batman costume perfectly captures that iconic style! Foam-filled muscle effects make you look buff, like seriously buff, to recreate the styling that only appears in the pages of comics. Featuring a level of detail that collectors are going to love, this is the ultimate cosplay costume.
Classic Batman Costume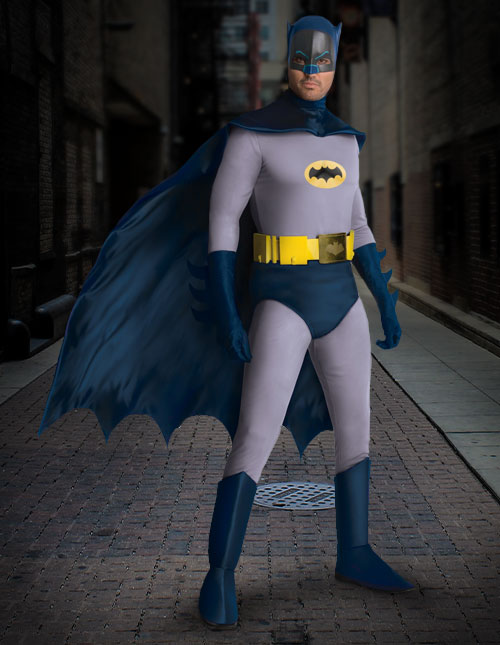 We do want to remind you that Batman comes in many flavors other than the more recent iterations. And yes, that most definitely includes the campy awesomeness of Batman 1966! Adam West made his way into the hearts of fans every week, infusing the character with campy humor and plenty of BIFFs, BOOMs, and POWs. And this Batman Classic costume has all the markings of fashion in that era right down to the high-waisted briefs. Tight, skin-like clothing made of spandex? Check. Hip belt? Check. Cool stage name? Check. Batman really was with the time even back then, and he knew how to market himself as the best hero out there. Villains had no idea what to make of his gadgets, his fighting skills, or his intelligence—all were superior. But he also unleashed upon the world the coolest dance move known to humankind: the Batusi, one of his own inventions. In fact, you can see Vincent Vega use the iconic dance move in Pulp Fiction. Far out!
Batman Costumes for Kids
Batman costumes aren't just for brooding men and fanboys on the cosplay scene. Nope, they are most certainly not! We have Batman costume ideas for every age and gender, and it's a good thing, too, because Batman costumes are always one of the top superhero costume choices for kids. While little ones may be more familiar with animated Batman action instead of the adult-oriented action in the Batman movies, we have a wide selection of both kinds of costumes available. Just check out some of these bestselling Kid's Batman Costumes to see if any of them are just what you need to get your little guy or gal suited up as the Caped Crusader!
Toddler Batman Costume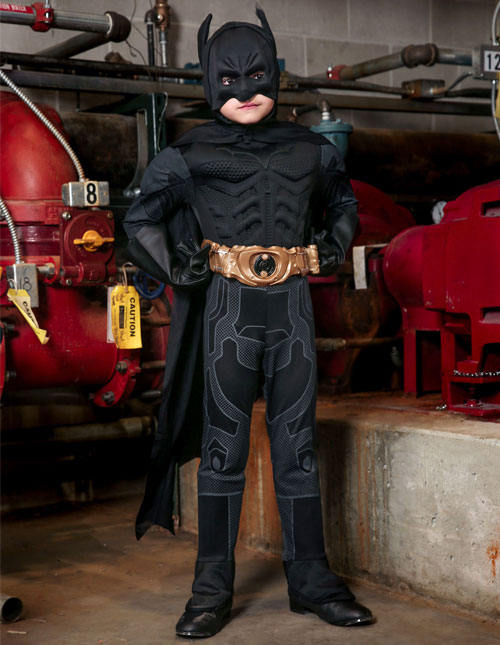 Your child is sure to love becoming Batman when he slips into the iconic kids' Dark Knight Batman costume. This outfit is the officially licensed costume straight from the Dark Knight trilogy. While the action on the screen might have been just a little too intense for him to watch, we're sure he admires Christian Bale's burly Batman and the legacy the film has spawned on the screen. And every detail on this costume is designed to bring that fantastic look to life. No trip to Lucius Fox's lab required! The outfit includes a muscle sculpted jumpsuit, cape, headpiece, and the iconic utility belt, molded in vinyl to perfectly show off your little guy's utilitarian prowess. It's available in toddler and kids' sizes, so with the right size selection, it'll work for most kids from 2 to 10 years old. And even if you do pick one out for a 10-year-old, it'll still be up to you if they're ready to watch the movie!
Batman Armor Suit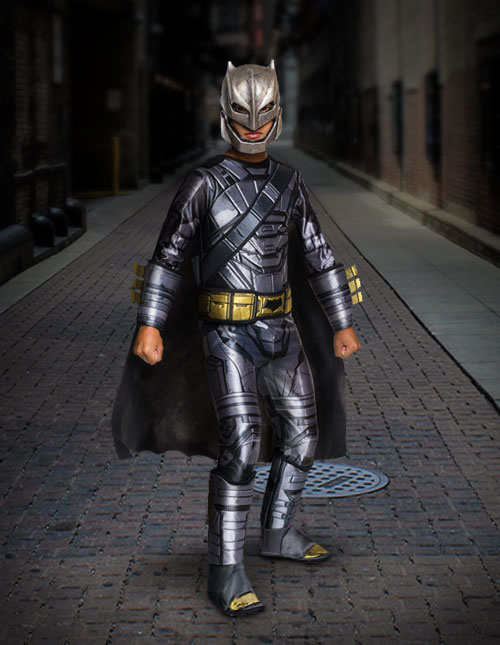 The DC Extended Universe movies are a tad more kid-friendly than the Dark Knight trilogy, and fans young and old have praised the new action in Batman v. Superman: Dawn of Justice and Justice League. Batman, of course, shows up in the movie in a brand-new way we haven't seen before on the screen. In a metallic armored suit! It's undoubtedly the latest in tech from Wayne Enterprises, and we knew from the moment we saw in that kids would be clamoring to try the costume on for size. So we've got this Dawn of Justice Batman Armor costume ready to go for your kid. The molded face mask and foam enhanced details on the costume are intense, like super intense, so it'll be easy for your kid to replicate Ben Affleck's Batman portrayal in the movie.
Lego Batman Costume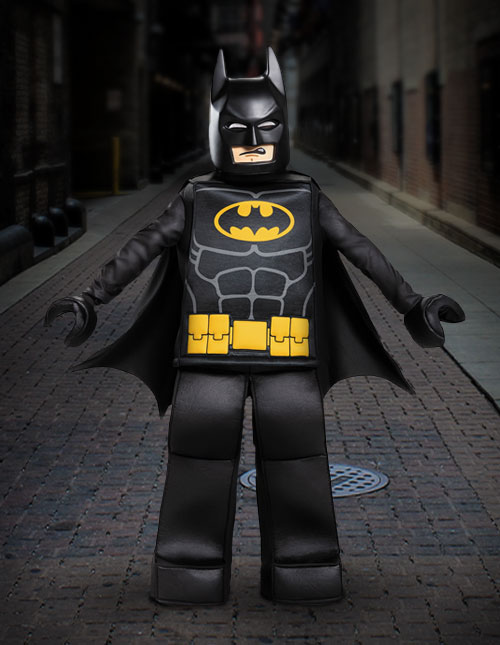 When LEGO Batman first showed up in 2014's The LEGO Movie, he was a breakout star. So it shouldn't be a surprise that he was featured in his own LEGO movie shortly after that! Will Arnett gave the brick Batman depth with his gravely baritone while the CGI-fueled action brought the DC superhero to life in the Lego Universe. Of course, we're sure your kid is a fan of Batman, Batgirl, and Robin teaming up to stop the Joker, and he can hop into the action himself with this Prestige LEGO Batman costume! It has the signature Lego Minifigure styling kids love, with square-shaped legs and cupped hands along with the Batman logo, belt, and muscle stripes painted on the tunic. The mask even shows off LEGO Batman's scowl beneath the mask!
Girls' Batman Costume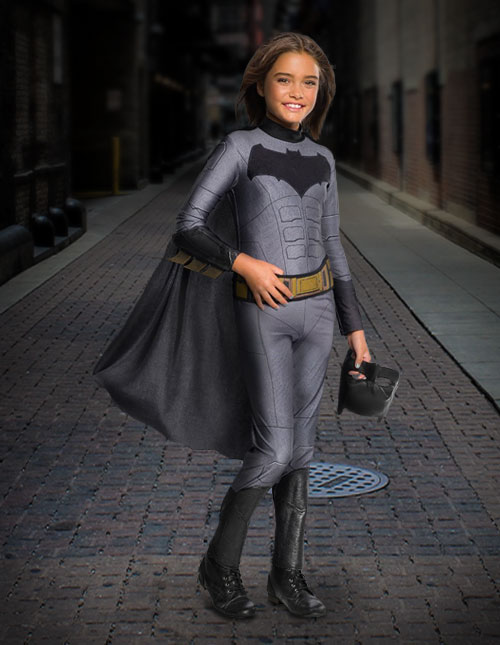 Batgirl has been a regular in Batman stories since she first appeared in 1961, but that's no reason a young girl should feel obliged to pick out a Batgirl costume when she sees the Bat-Signal beckoning in the sky. And that's precisely why we have this Batman jumpsuit for girls! This costume is styled just for little ladies and features details recreated from the DC Extended films. With it, she'll be ready to hop into action at a moment's notice, and she'll know she has the look of a bonafide superhero with her mask concealing her identity and her cape fluttering in the wind. Gotham's villains don't stand a chance when she answers the Signal, we're darn sure of that!