Robin Costumes for Men
Holy costume options Robin! If you want to the best sidekick that Gotham has ever seen, be sure you've explored all of your options.
Robin T-Shirt with Cape & Mask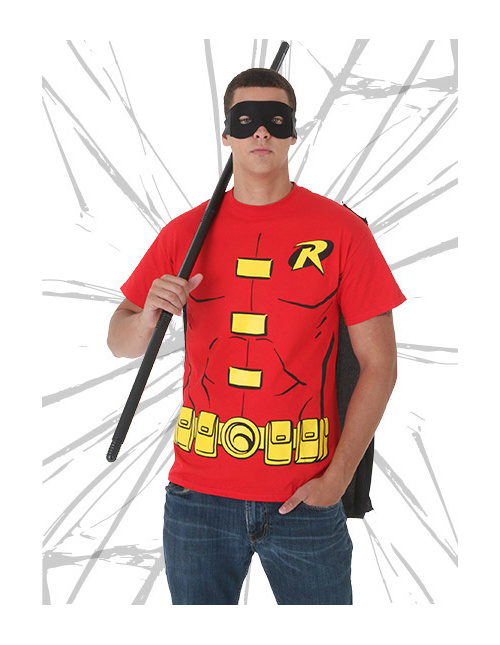 Robin's keeping it casual! Sometimes tights, body armor and all that other crime fighting gear gets in the way of feeling comfortable while taking on super villains. This costume solves that problem by creating a t-shirt version his uniform.
Muscle Chest Robin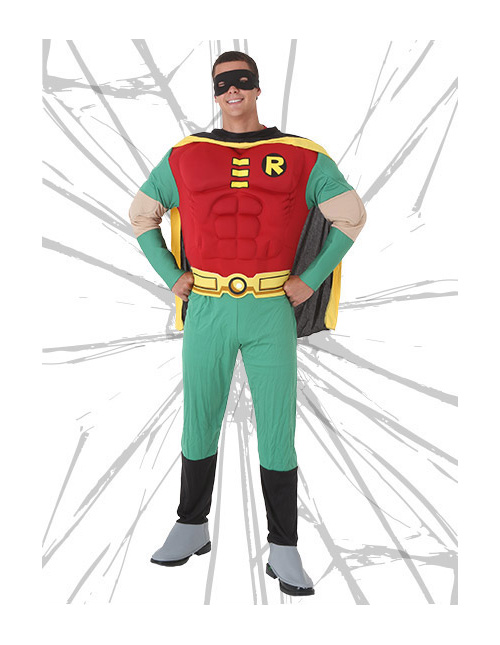 Getting a superhero physique is tough work. You have to spend every waking moment training for crime fighting. That might be easy for The Boy Wonder, who has a billionaire legal guardian, but chances are, you're a little too busy to get buff. This look takes care of the whole "muscle" thing for you!
Classic Robin Costume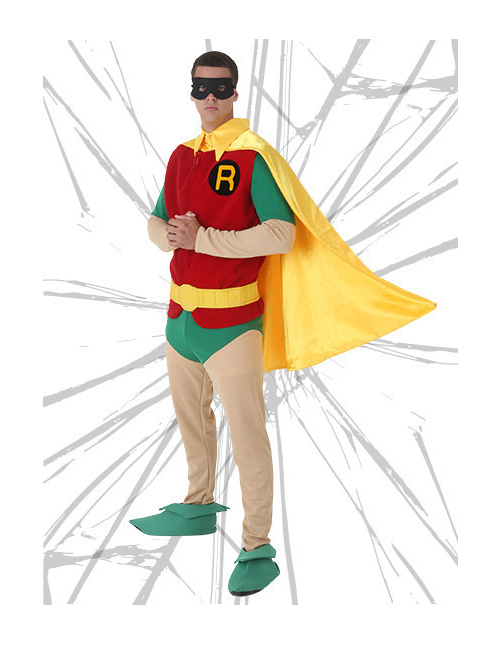 Sometimes you just can't beat a classic! Robin's had tons of different reiterations of his look, but this is the one that started it all.
Authentic Movie Robin Costume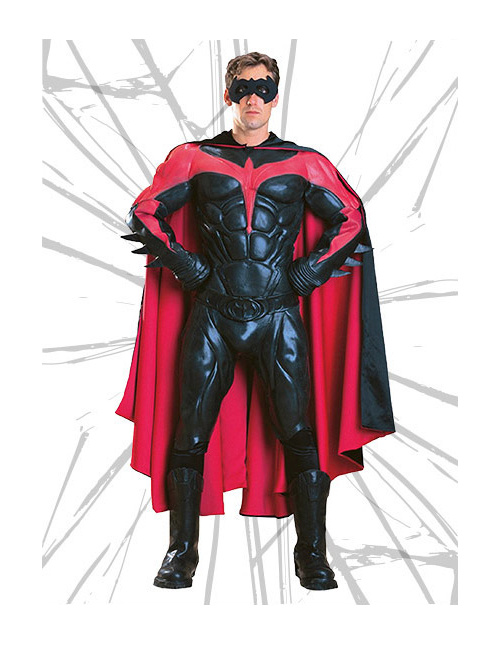 This version of the Boy Wonder's look drops some of the "boy" part. It comes from the Batman and Robin movie, but even in the comics, Dick Grayson has adopted this look for his Nightwing costume.
Robin Poses
Wondering how to be a Boy Wonder? Robin learned his moves from the world's greatest detective, Batman! Check out some of his freestyling poses he uses to intimidate the bad guys.
Your Hero has Arrived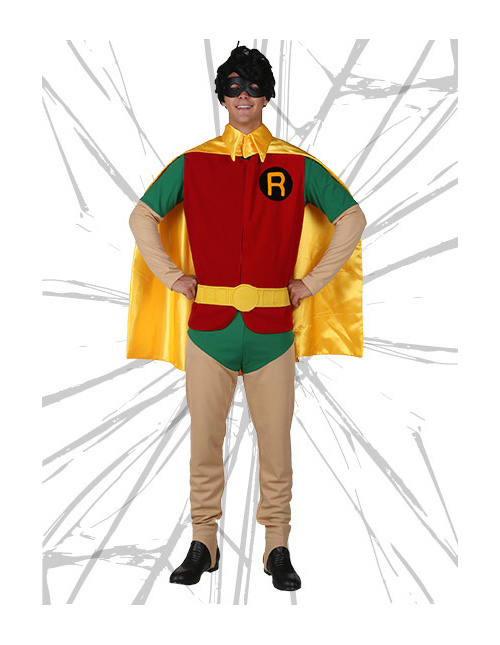 You need to let everyone know that you've come to save the day and there's really no better way to do that than with your body language. This pose says, "Hey everyone, I got this."
Mama Said Knock you Out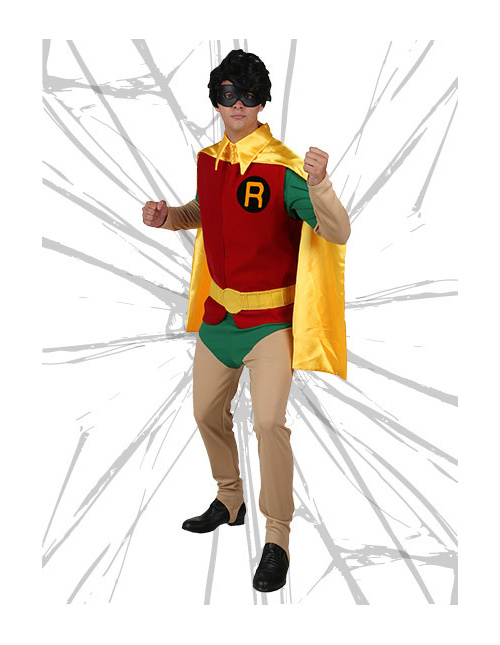 It's never a bad idea to let bad guys know that you're ready to send those fists-a-flyin'. This pose tells bad guys, "Knock it off or you're going to get a knuckle sandwich."
Here Comes the Pain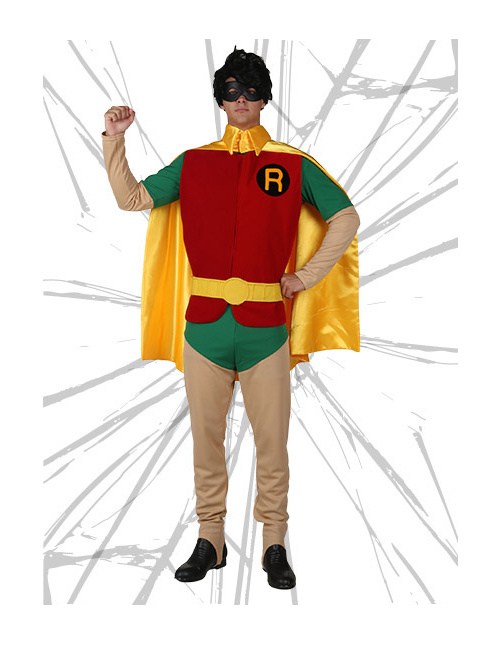 Superheroes have some serious muscles. It's always best to just show them off before a scuffle. Robin learned this piece of wisdom from Batman and makes use of it in this pose.
Truth and Justice with Always Win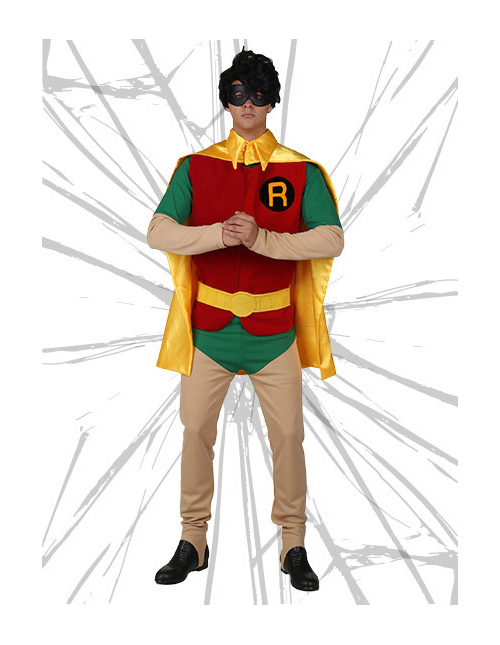 The bad guys never win! This pose says more than words ever could to those evil-doers! One look at this pose and they'll know they picked the wrong profession.
Robin Girl Costumes for Women
Boy Wonder? How about Girl Wonder? Most Robins have been boys, but let's face it. Some girls just know how to rock a costume better than boys.
Fierce Women's Robin Costume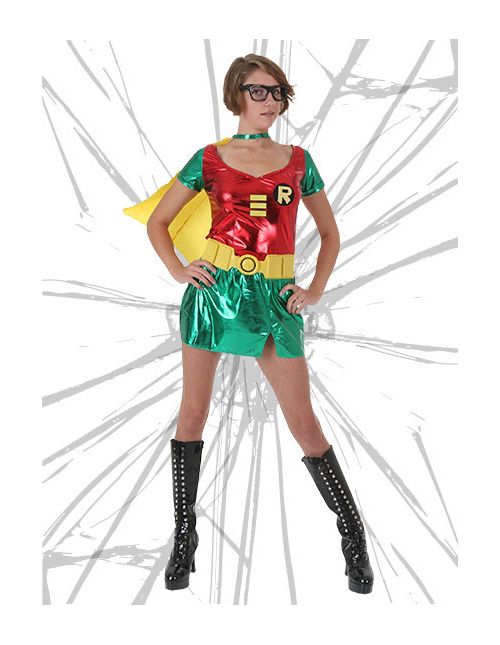 Shiny and fierce, this style knocks bad guys flat on their butts with just one look. Who even needs Batarangs when looks are an even deadlier weapon?
Sexy Corset Robin Costume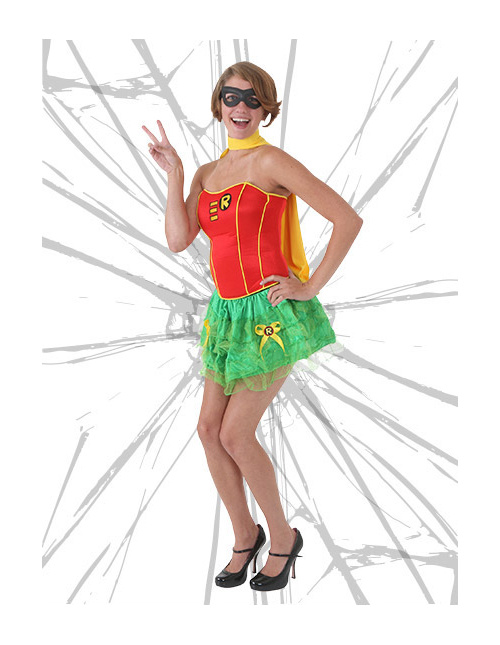 Tights aren't the only way to go in the crime fighting game of Gotham City. Corsets can do the job just as well, with a much cuter touch!
Child Robin and Robin Girl Costumes
Robin was the first kid superhero, so it's no surprise that kids wear the uniform better than adults. Even Batman's probably a little jealous of how awesome these kids look while fighting bad guys in Gotham City.
Boy's Young Justice Robin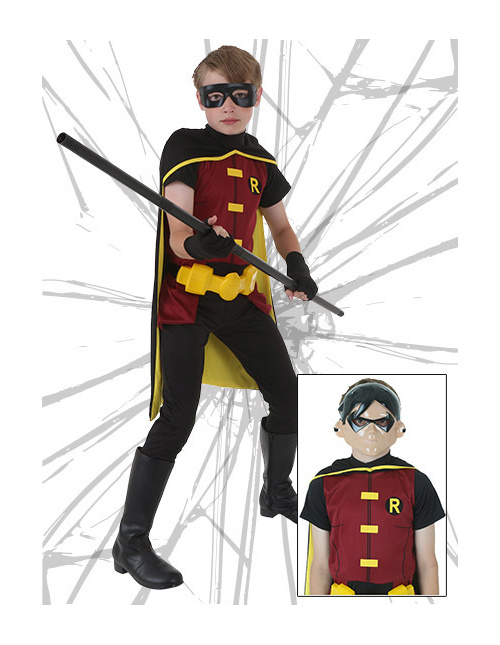 Robin had no problems going toe to toe with Kobra in Young Justice! Why was that? Martial arts moves? Batarangs? We just think it's because of his super cool redesigned costume.
Kids Muscle Chest Robin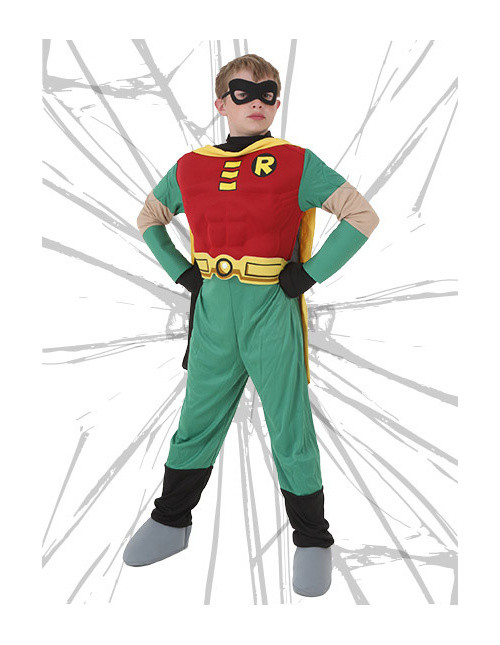 Your kid might be a bit too young for pumping iron at the gym, but his dream of having muscles doesn't have to stop right there. This Robin outfit brings the muscles with it.
Tutu Robin Girl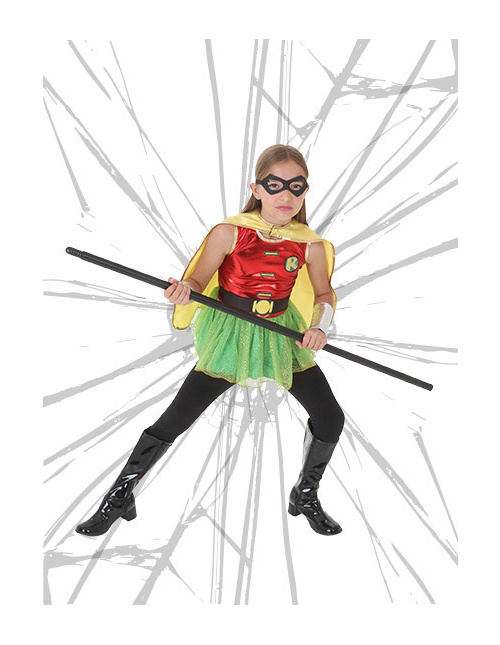 Is it weird that Robin looks as cute as she is dangerous in a tutu? This girl's costume combines both for a deadly crime fighting combo.
Tween Robin Girl Costume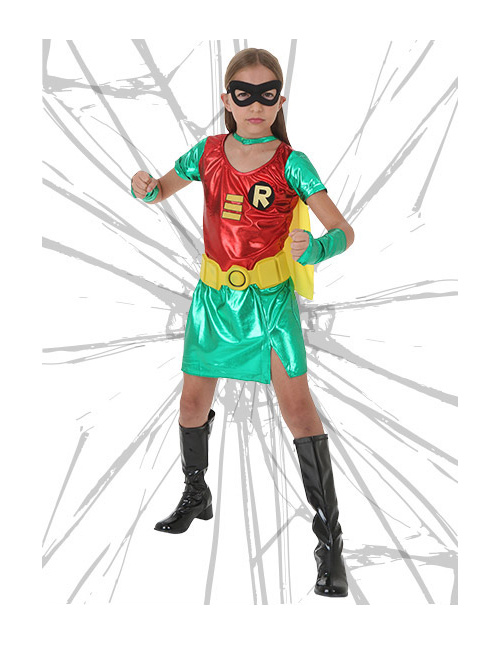 Classic Robin style with the addition of a skirt! This costume is something we imagine Stephanie Brown would wear as her Robin outfit, just before Batman fires her for being more awesome than him.
Robin Couples Costume Ideas
Batman might be Robin's usual partner, but there are a lot of interesting characters prowling around Gotham City, so maybe it's time he weighed all of his options. After all, Batman has been stealing the show since the two paired up, so perhaps a change of pace would do the young crime fighter some good.
Classic Robin and Batgirl
They say looking for love at the workplace is risky business, but can you blame Robin for wanting a date with Batgirl? Babs Gordon is such a cutie, there's no way he could resist.
Robin and Catwoman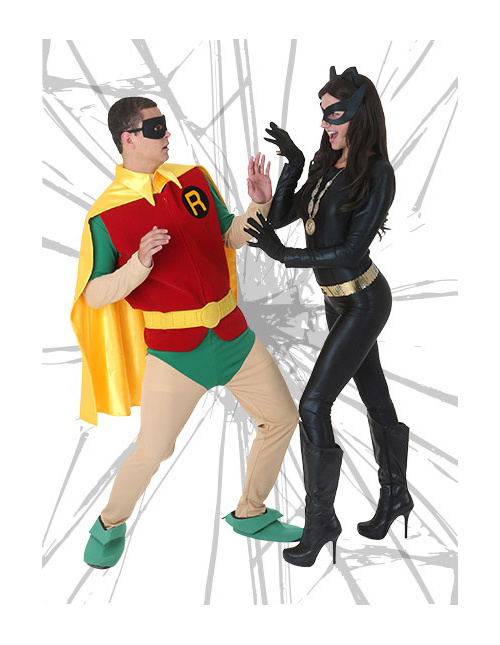 Robin's a young guy, just trying to figure things out and along comes a ferocious kitty cat. Catwoman knows what she wants and just how to get it. Robin better watch out!
Robin and Poison Ivy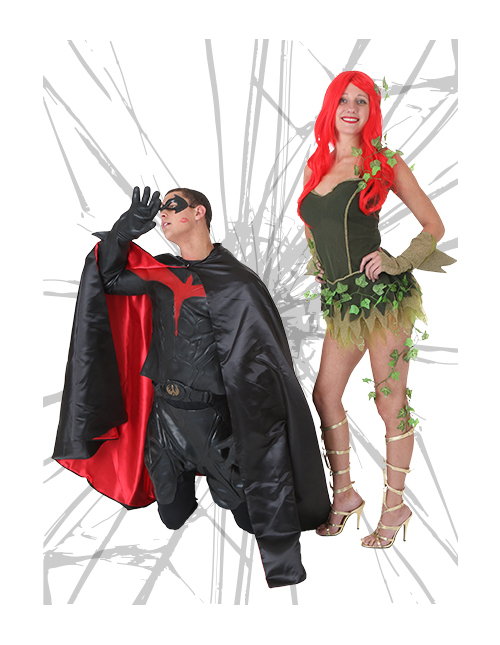 Trading blows or trading kisses, superheroes and villains are just cosmically tied to one another. Poison Ivy and Robin are another one of those dangerous couples that defy the lines between good and bad.
Sexy Robin and Batgirl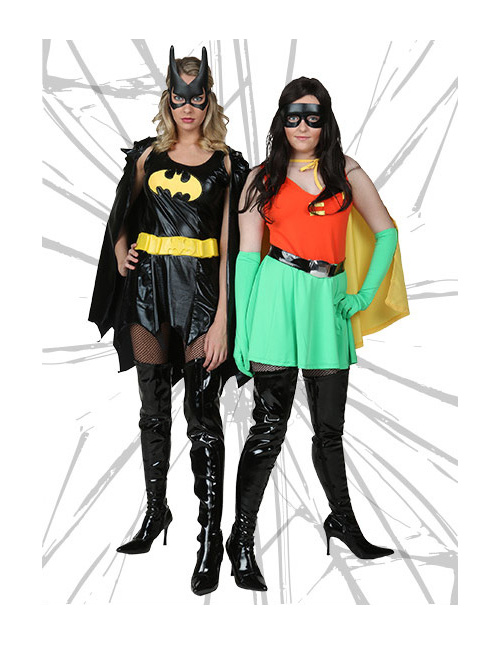 Gotham could use a double dose of girl power. This deadly combo gives the villains of the city a fight they definitely can't handle (especially when the superheroes are this hot!)
Batman and Robin Girl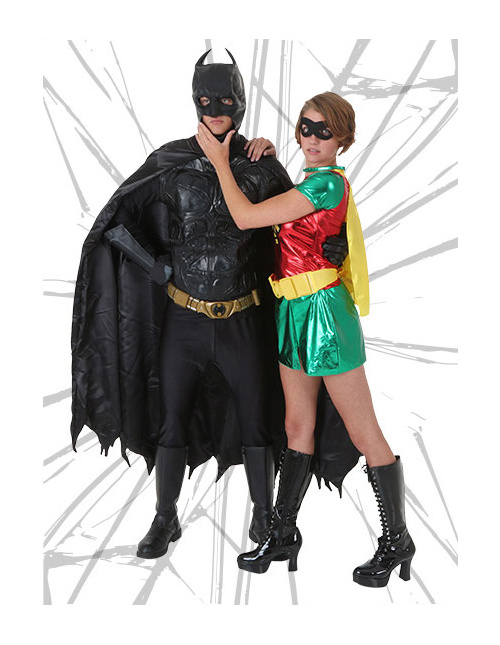 Batman's partners in crime fighting are typical guys, but something tells us he tired of being a bachelor. Maybe his next choice for Robin should be someone who can be more than just a crime fighting partner.
Robin Girl and Batgirl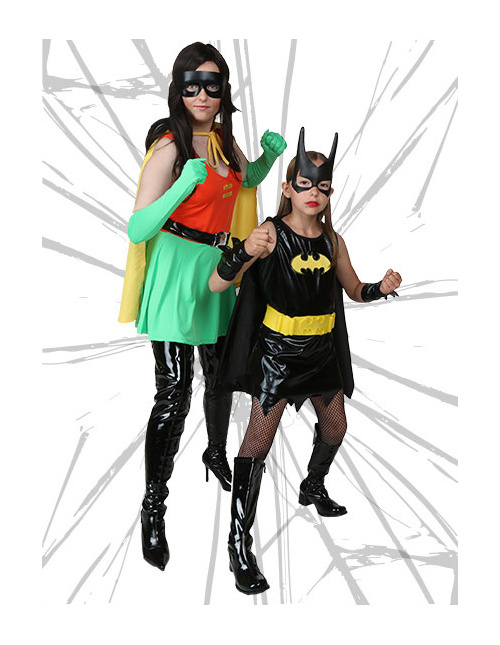 If cuteness were a weapon (and we're not entirely sure that it isn't), then this cute combo could kill!
Robin Costume Accessories
Give your Robin costume a fighting chance with accessories. If you think that all it takes to do some crime fighting is a pair of tights and a few fancy poses, then you've got another thing coming! Robin rocks a whole plethora of accessories to get his crime-fighting game on. From eye masks to gloves, to capes to specialized socks, he's got a whole bunch of gear to fight crime in.
Eye mask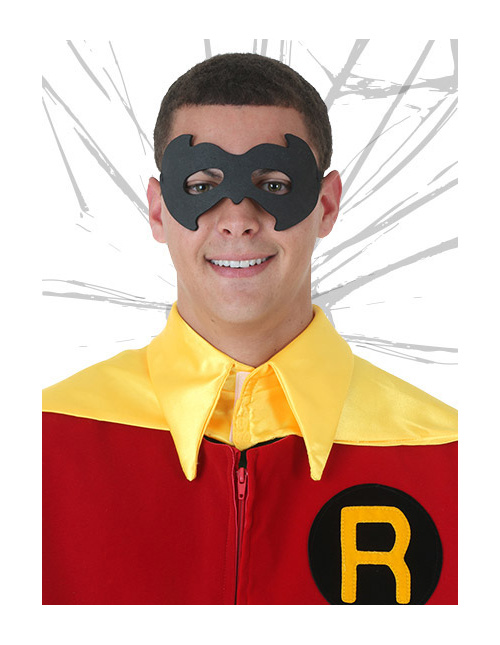 For some reason, a simple eye mask is all it takes to keep Dick Grayson's identity safe. We're not sure why Gotham City residents can't figure it out, but hey, if it works, don't knock it.
Green Robin Gloves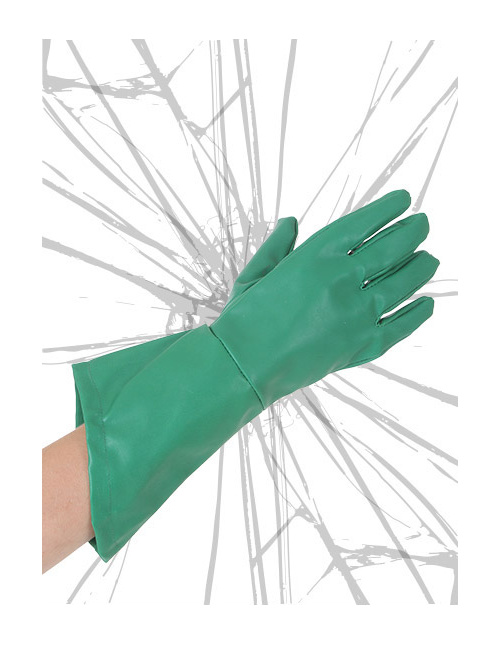 Beating up criminals with your bare hands can get kind of rough. Robin wears a set of gloves to help keep his hands in tip top shape.
Robin Sunglasses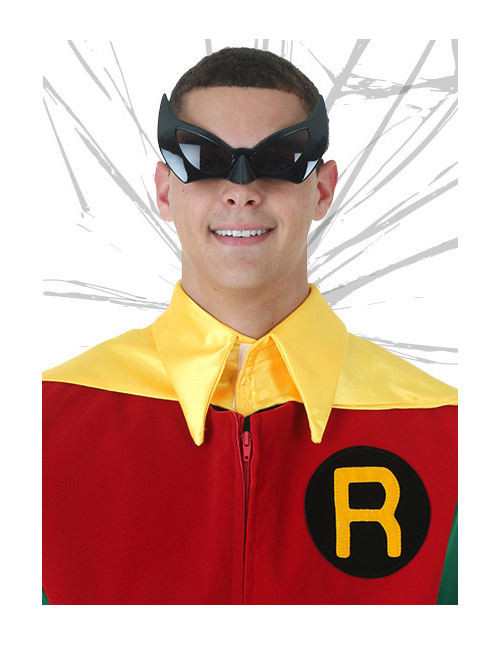 When the sun's out, an eye mask just isn't enough. Sure, it'll keep bad guys from identifying you, but it won't keep the sun out of your eyes. These shades will.
Caped Robin Socks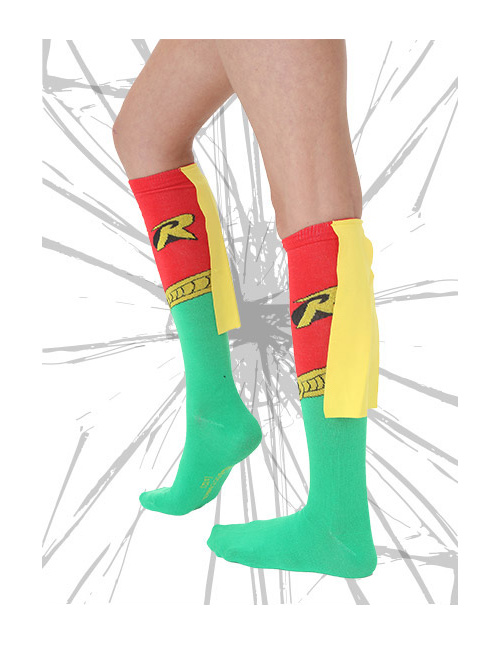 From head to toe, Robin is serious about fighting crime. These cape socks are the undeniable proof.