A League of Their Own Costume Ideas
Congratulations! You've been selected to play on the first baseball team exclusively for women. Grab your bat and your glove because you're heading down to the diamond! You'll have to be as tough as your old leather mitt because there's a very big chance you'll scrape your knee sliding into home. Coach will just tell you to rub some dirt on it and get back in the game. If you have a cannon for an arm, you'll play center field. Do you throw faster than the speed of sound? Well then, step onto the pitcher's mound and strike that batter out! Throw on your dusty cap and be ready to show off your sporty skills as a Racine Belle or a Rockford Peach. Just remember, 'there's no crying in baseball!'
Character Costumes from A League of Their Own
You'll knock it out of the park when you pose for pictures like a true slugger. You'll make a cute and convincing Dottie by picking up your bat and holding it like a cane. Place your hand on your hip like you're determined to hit a home run. Next, pick up the bat like you're ready to swing at a pitch. Give the camera your major league smile while in your stance. If you want to play for the Racine Belles, you need to be sassy! Pose with your hand on your hip. Hold the bat behind your head like you're ready to play some ball. The next player up to bat is Coach Jimmy! Throw a bat over your shoulder like you are about to give a lesson in hitting. Finally, look into the camera like you're giving the signal to steal home plate. These poses will make you the MVP!
#8 Dorothy "Dottie" Hinson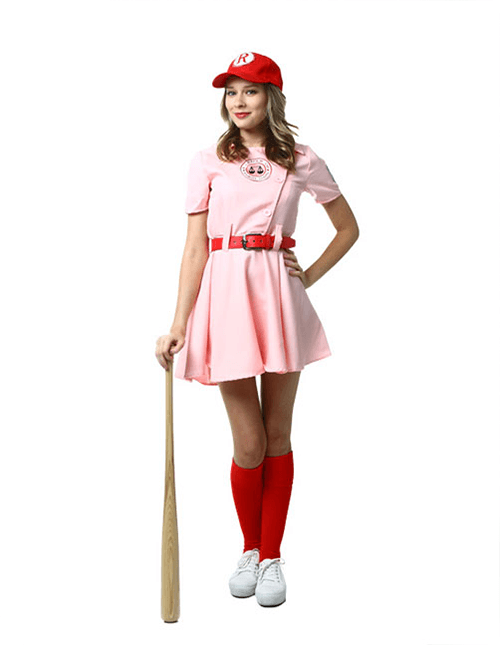 Although she may have enjoyed her simple life in rural Oregon, Dottie was surely born to be a baseball star playing for the Rockford Peaches. Become the fabulous catcher, Dottie, when you wear one of our exclusive, pink A League of Their Own outfits.
#23 Kit Keller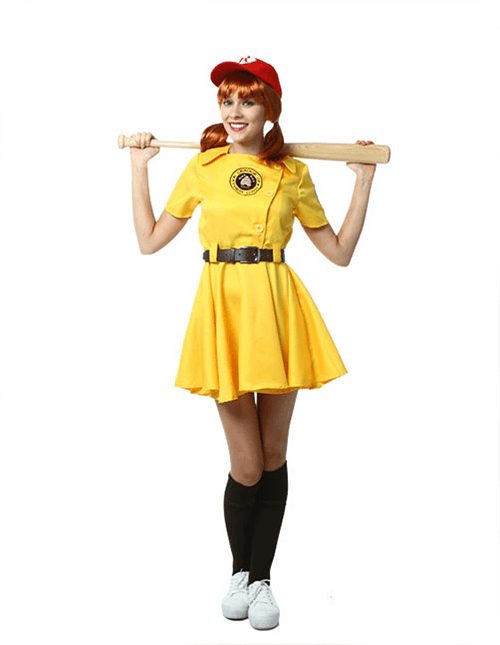 Sister to Dottie, Kit is definitely not into staying around waiting for her life to become exciting. She ends up being traded to the Racine Belles, rival to the Rockford Peaches. Find one of our exclusive, yellow Racine Belles costumes to become the go-getter, Kit. Don't forget to add a wig to complete your look!
Coach Jimmy Dugan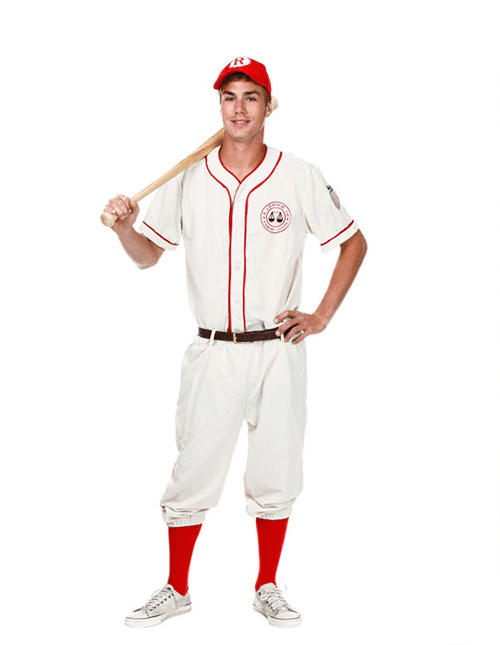 Former star baseball player for the Chicago Cubs, Jimmy Dugan may think these ladies don't have what it takes to play as a team. But as he coaches them, they'll show him they don't just have the girl power to play, but also to win. Check out our exclusive, A League of Their Own Coach Jimmy Dugan costume for your chance to say, "There's no crying in baseball!"
How to Pose in Your Couples League of Their Own Costumes
Sideline Signals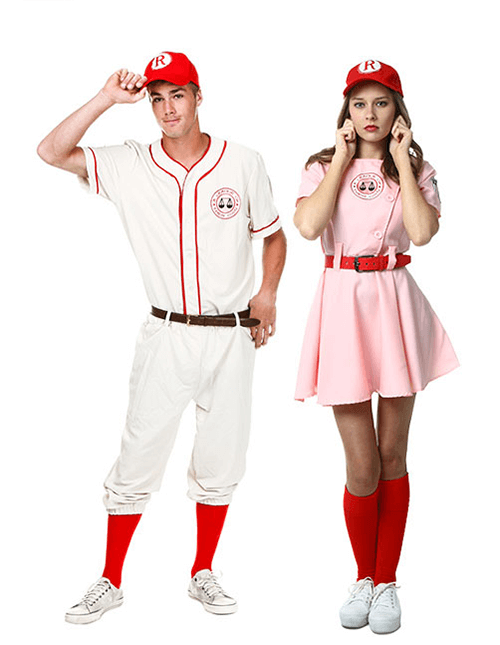 Step Up to the Plate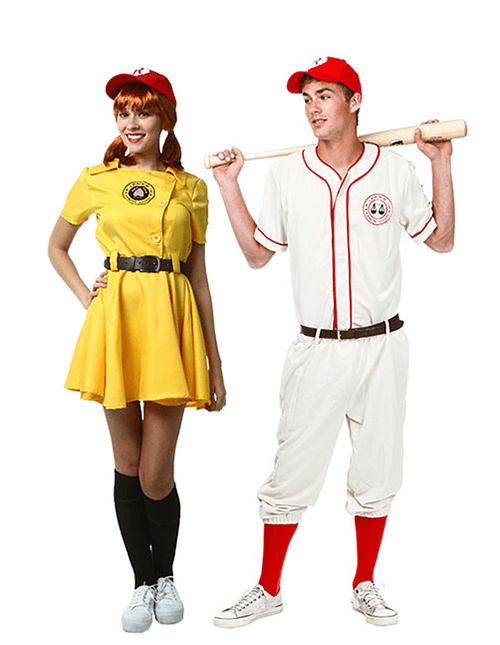 Take your teammate and pose for a winning couple's shot! Stand next to your pal and give the camera some secret batting signs. No smiling on this one! You will have to look stern if you want to be taken as a serious ball player. Unleash those grand slam smiles for the last picture. You'll look like you've just won the World Series!