Sailor Costume Ideas
Does eating, sleeping, and living on board a huge floating bathtub sound like your kind of party? Do you crave the excitement and adventure that only the endless blue ocean can provide? Do you dig breezy looking uniforms, tying lots of knots, and sleeping in hammocks? Then you sound like the perfect candidate for life as a sailor! Everyone has heard the saying "Join the Navy, see the world!" but what those commercials usually don't mention is that most of the world is covered in water, and you'll probably be too busy working inside of a giant tin can to see any of it, anyway.
Luckily, by dressing up in a dashing Sailor Halloween costume from our collection, you can give yourself the look like an intrepid master of the high seas, without enlisting in any navies or joining any sailing crews! We've put together a guide of just a few of our great nautical themed outfits to help give you some ideas of how to dress while you're getting your sea legs. And just so you know, our expertise only extends to costumes and accessories, so if you actually want to sail open waters, you'll have to figure out how to tie knots and operate vessels on your own.
Kids Sailor Costumes
For some people, sailing isn't just a job; it's a way of life. Many naval sailors used to start their careers when they were just kids, so by the time they were big enough to climb a net or hold a sword, they were already skilled mariners. Luckily, sailors these days can be trained when they're a bit older, but that doesn't mean kids can't dress up in costumes like these for some nautical fun on dry land!
Toddler Sailor Costume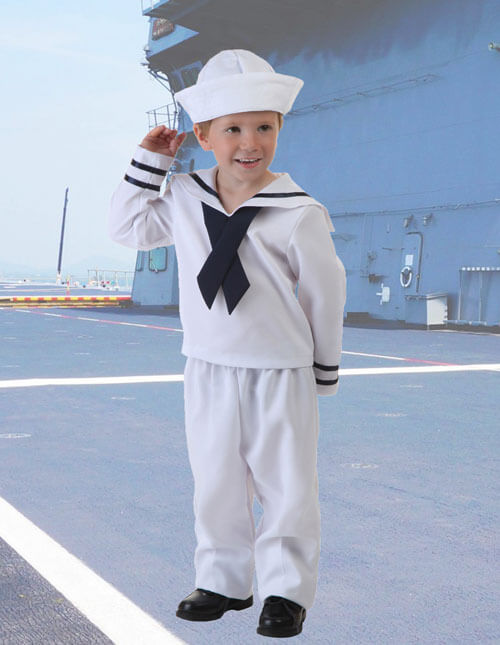 This little sailor is ready for action! Of course, it might be better if they first learn how to tie a good bowline (and grow a few feet taller) before they step on board a mighty battleship, but doggone it, they're ready to set sail now! For now, your toddler can have a blast practicing their knots and sailing skills when they're playing in our exclusive Sailor costume, so when they finally get to weigh anchor, they'll be one of the most capable sailors on the high seas. It also matches our adult size version of this costume, so your whole family can join the crew!
Child Sailor Costume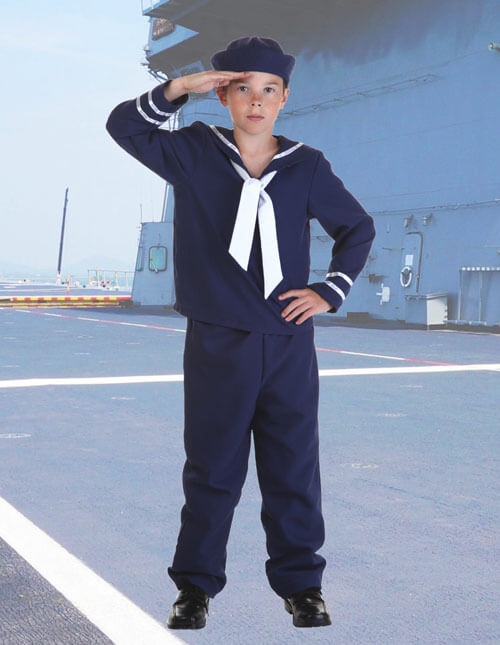 All hands on deck! Whether it's just a drill or there is real trouble on the horizon, every member of a ship's crew must be ready to spring into action at a moment's notice. The fate of their mission and their ship could hang in the balance! Don't worry though; your little guy won't need to be quite so alert when they're sporting our awesome navy blue Sailor costume. We designed this exclusive costume to resemble a real uniform, so your little sailor-in-training will know he looks just like a real fearless seafarer, and will be ready for anything!
Girls Sailor Costumes
Sweet Sailor Costume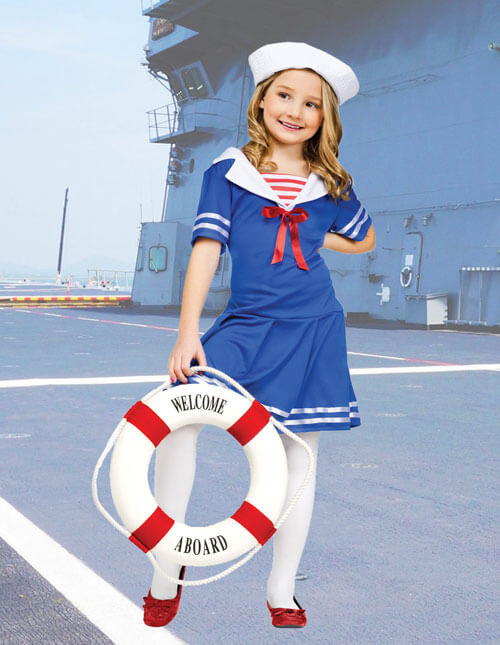 Anchors aweigh! Just because sailors all have to live on the same ship day after day doesn't mean they all have to dress the same. When a ship leaves port and heads out onto the open ocean, the only thing that matters is if a crewmember can sail, regardless of what they're wearing. So, if your little girl has the urge for a nautical life, dressing up in this Sweet Sailor costume will give her some high seas style while she sets sail. Watch out though: this sailor may look cute and sweet, but she may turn into a salty sailing pro if trouble starts!
Sailor Sweetie Costume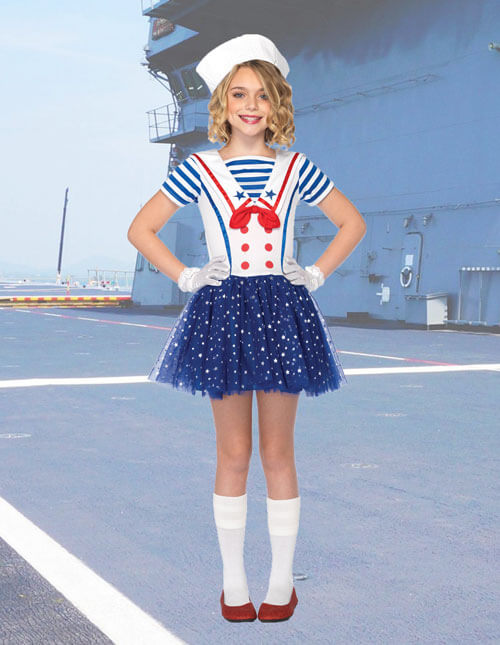 Sailors are huge fans of ceremonies and pageantry! Every time a brand new ship is about to be launched, they throw a big celebration to christen and name the ship, which usually results in a bottle of champagne being smashed against its hull. Other times, when a fleet of ships is entering a friendly harbor, they might ceremonially fire their cannons to salute their hosts. When it comes to cute styles fit for a naval celebration, this colorful Sailor Sweetie costume is perfect for a patriotic pageant!
Fisherman Costumes
Now that we've given you a rundown of naval costumes, we should tell you about another group of legendary sailors that do battle of a different kind. We're talking about fishermen, who spend their days and nights fighting with creatures of the deep, either to eat, sell, or simply for the thrill of the catch!
Fisherman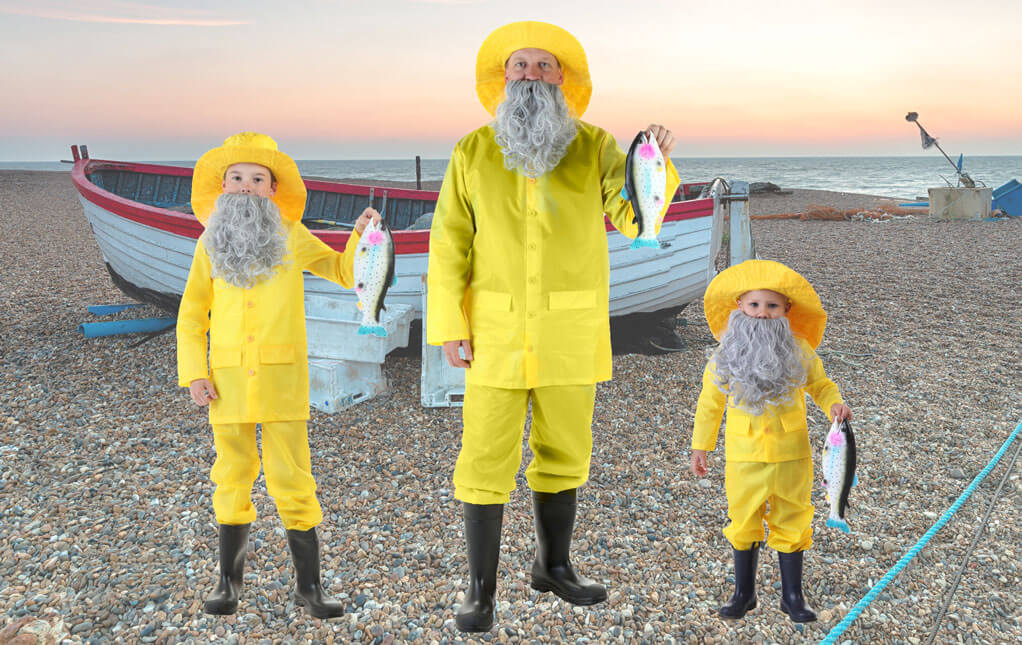 If you're wondering to yourself who would want to be a humble fisherman for Halloween, you should instead be wondering why you haven't been one before! These professional anglers are the saltiest of any sea dogs on the open water, and are bolder than any other sailors. In fact, they have to compete with other fishermen by seeing who can wrestle the biggest fish into their boat, and no storms or sea monsters are going to get in their way!
We've designed these exclusive Fisherman costumes to look just like the rugged traditional yellow rain suits these fearless mariners wear, including the giant beards they tend to grow over their years out on the water. We make this costume in toddler, child, and adult sizes, so your whole family can reel in that huge trophy fish together this Halloween!
Popeye Costumes
Perhaps the most famous sailor in history isn't a distinguished explorer, or a decorated admiral, but a cartoon! His name is Popeye, the Sailor Man, and if you've ever eaten (or thought about eating) a can of chopped spinach before, there's a decent chance you hummed Popeye's heroic theme song while you were at it!
Popeye Costume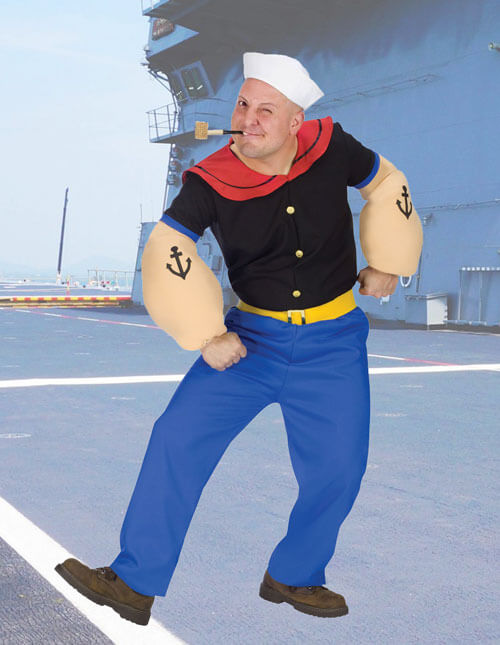 Popeye is not your average sailor. For starters, he's just as likely to go on adventures on land as he is on a ship, but he's got the look of a seasoned seafarer. This official Popeye costume features his rugged sailor uniform, as well as the matching anchor tattoos on each of his massive forearms. If this costume isn't enough to get you out of trouble, all you need is a bit o' spinach, and you'll be ready to fight out of any problem!
Olive Oyl Costume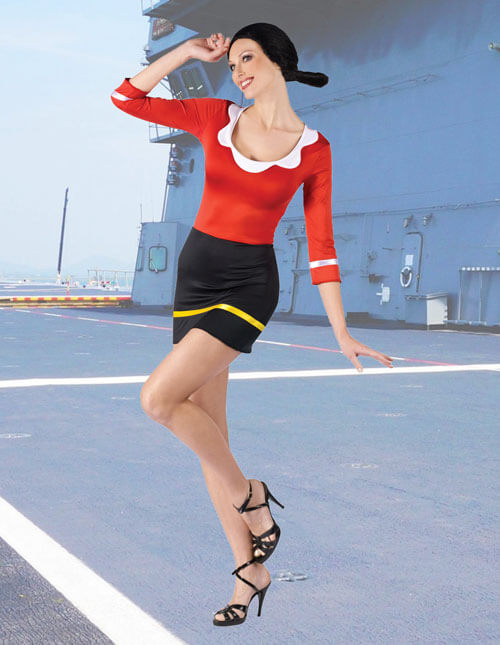 A good sailing man needs a good gal to look out for them, and for Popeye, that gal is Olive Oyl. Although, she does tend to get into plenty of trouble of her own, which Popeye then has to rescue her from... but she still sticks with her fella through anything! Wearing this adorable Olive Oyl costume will make you the perfect partner and damsel in distress for anyone wearing a Popeye costume. Just shout "Popeye, save me!" and help will be there in a jiffy!
Popeye Mask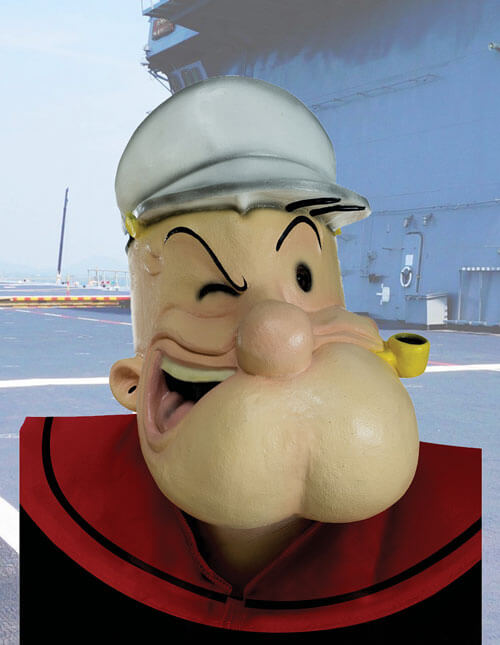 It's no secret: Popeye relies more on his actions than his good looks to get out of a pinch. That's because he's not the most handsome fella, but his good nature and bravery more than make up for his looks. Unfortunately, that doesn't make it any easier to look like him, but that won't be a problem when you slip on this latex Popeye mask with your costume! Now, if you can just perfect his quirky accent...
Corncob Pipe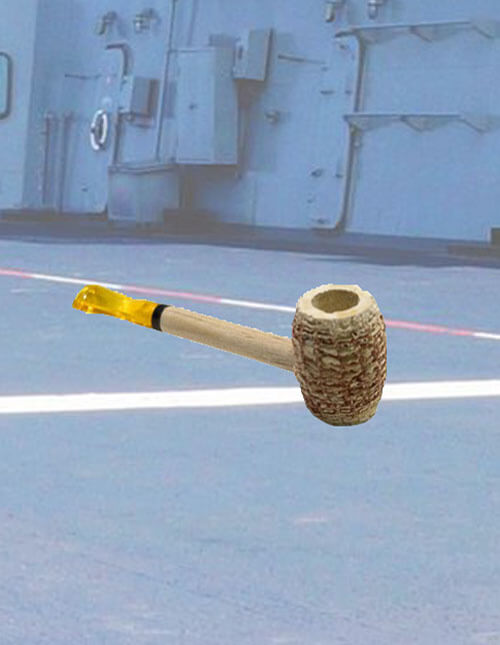 Without his trademark corncob pipe, Popeye would be sunk. Even more so than spinach, this trusty pipe has gotten the Sailor Man out of many tight spots, as it has acted as a blowtorch, and even a jet engine at one point or another! He's also always ready to use it to give his signature tugboat whistle, so this Corncob Pipe will make a handy accessory to your Popeye costume!
Sailor Accessories
Without his trademark corncob pipe, Popeye would be sunk. Even more so than spinach, this trusty pipe has gotten the Sailor Man out of many tight spots, as it has acted as a blowtorch, and even a jet engine at one point or another! He's also always ready to use it to give his signature tugboat whistle, so this Corncob Pipe will make a handy accessory to your Popeye costume!
Sailor Hat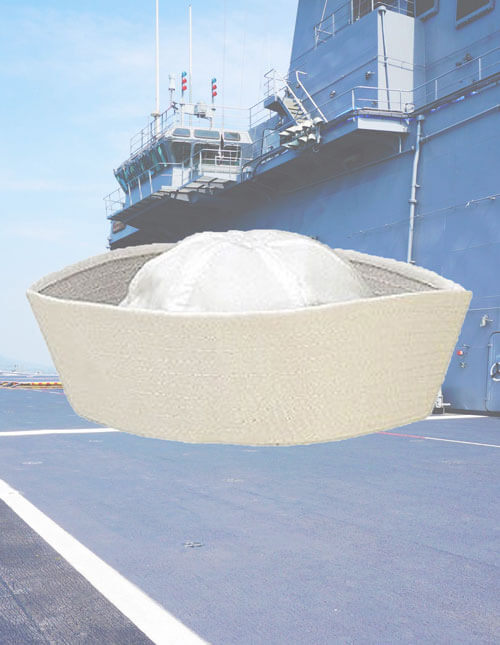 If you get a sudden call from a friend to go to an amazing sailing-themed costume party, but you only have enough time to grab a single item to be your sailing costume before you rush out the door, you had better grab this Sailor Hat! Trust us, a navy costume without a sailor hat is just a fancy set of pajamas.
Captain Hat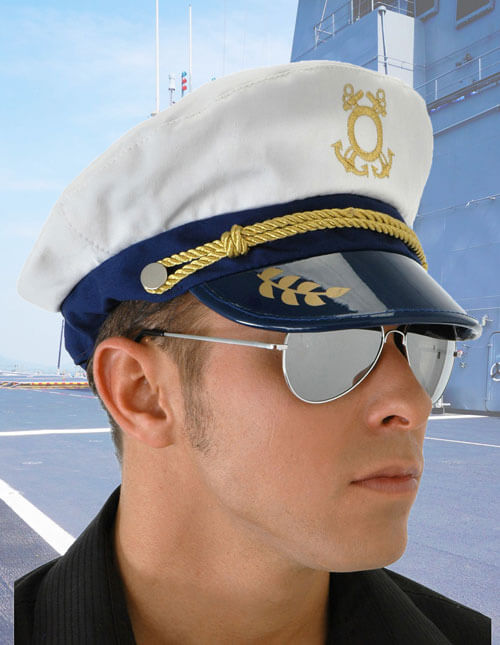 When you want to give your costume a nautical vibe with a bit more prestige than what a standard sailor cap gives off, this dashing Captain Hat is the perfect cap for a sailor of your stature. Wearing this hat with a pair of mirror lens aviator sunglasses (and possibly a dapper mustache) will show everyone who's in charge on your ship!
Anchor Necklace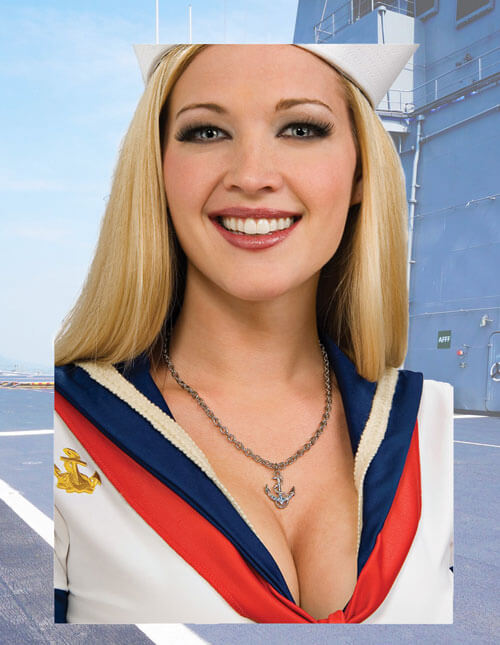 There are many things that symbolize the sea. A trident. An albatross. A cruise ship buffet voucher. But throughout history, one symbol that always shows the mark of a true sailor is the anchor. Adding this charming anchor necklace to your seafaring costume is a subtle way to show that, like the anchors that hold ships in place, you are forever anchored to the sea!
Sailor Collar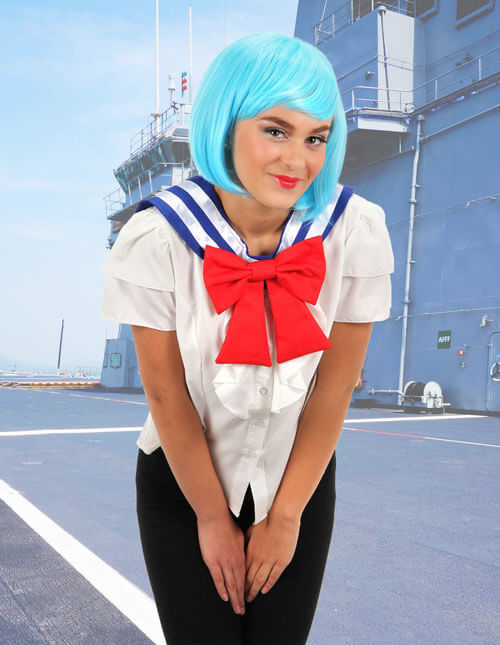 Finally, let's say you have a sailor hat, you know how to tie every type of knot, and you've memorized every part of a ship so you sound convincing at your sailing-themed party, but your costume has jumped ship! Not to worry, just slip this Blue and Red Sailor Collar on, and whatever outfit you're wearing will immediately become a stylish naval uniform! After all, the mark of a true sailor is the ability to improvise in the face of impossible odds. Huzzah!