X-Men Costume Ideas
No matter your age, there's likely been an X-Men series that you grew up with. Whether you're an old-school comic book fan and fondly remember the mutants taking to the pages of Marvel comics in the 60s, or you grew up with the vibrant action of their series in the 70s and 80s and followed the cartoon series in the 90s, or were first introduced via the live action films of the 2000s, the X-Men have remained one of the most iconic comic franchises around. And with some of the coolest comic book superheroes ever to be conceived of, we can't blame fans one bit for their epic appreciation! And if you're still considering whether or not to become one of Professor Xavier's mutants this year, let us give you that little extra push. Just do it—mutant it up! So if that's not enough of a hard sell, we've also assembled this media section to put a little extra oomph into our pitch. Check out these top selling X-Men characters, an infographic style evolution of Wolverine to take a gander at all of his costume transitions, and for good measure, a few X-Men quotes so you can nail the lines while in character. We're sure you're going to love being a member of Professor X's team, bub!
X-Men Character Costumes
Many, many characters have graced the pages of Marvel's X-Men series. Many of them have also made it to the screen, too, so if you're having a difficult time trying to decide which mutant you'd like to be, well, we know exactly what you're going through! When you have a world full of special powers and abilities, having the capacity to choose your own set of mutant powers can be a little daunting. Our advice? Just stick with the classic characters! These costumes are some of our favorites from the cast of students of Xavier's Institute for Higher Learning. You could have high flying abilities like Storm, or armor piercing adamantium claws like Wolverine. Or you could just have some pretty good aim, and a really wicked tongue as Deadpool. Sure, he's not always along with the X-Men, but you can bet your favorite stack of comics that he fits right in with an X-Men group theme. For an X-Men couples costume look, we suggest Rogue and Gambit! These are our favorites and top-sellers, and with sizes for adults and kids, we have the costumes that will let you assemble your very own world saving mutant team!
Kids Wolverine Origins Costume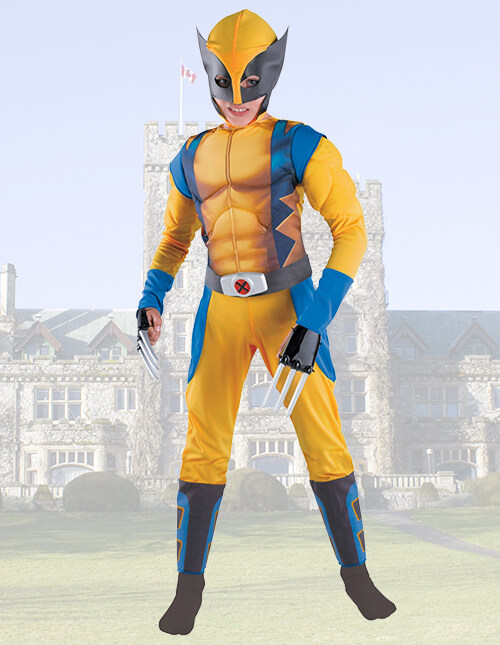 If your child has their sights set on becoming Wolverine, well, we highly encourage that, bub! Any boy or girl is probably most familiar with the mutant from the X-Men Evolution animated series, and this costume captures the television screen look. The costume from this series were reimagined from previous X-Men costume of the past, but Wolverine's animated style borrows all of the classic details that we know and love. Suit your little guy or gal up in this Wolverine costume for kids, and with the oversized earflaps and (plastic) adamantium claw accessories, we're sure they'll be ready for all of the X action!
Storm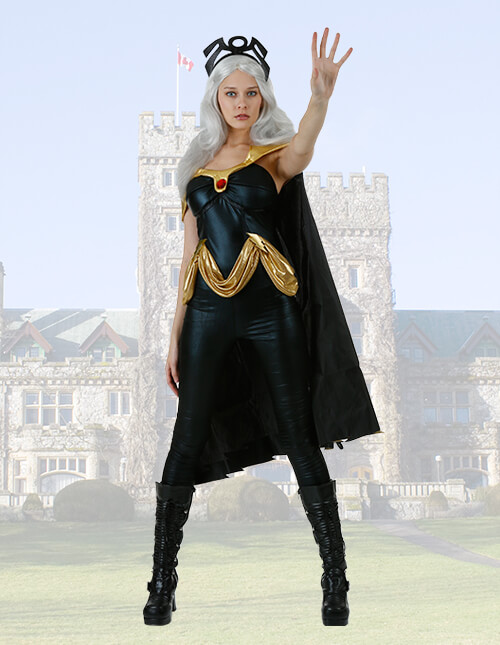 Is there a high pressure front moving in? Nah, it's just Storm! At least it will be when you go in this X-men costume for women! You would think the ability to control the weather and harness its energy to fly would go to a girl's head, but Ororo Munroe is one tough customer. As such, she's been one of the most iconic X-Men to grace the pages or appear on screen, and she's been in almost every iteration of the franchise. This deluxe costume has all of her classic comic book styling, and looks great with a gray wig to complete the character effect. Just finish the look with a pair of action ready boots, and even if you can't fly onto the scene, you'll still feel capable of saving the day.
Cyclops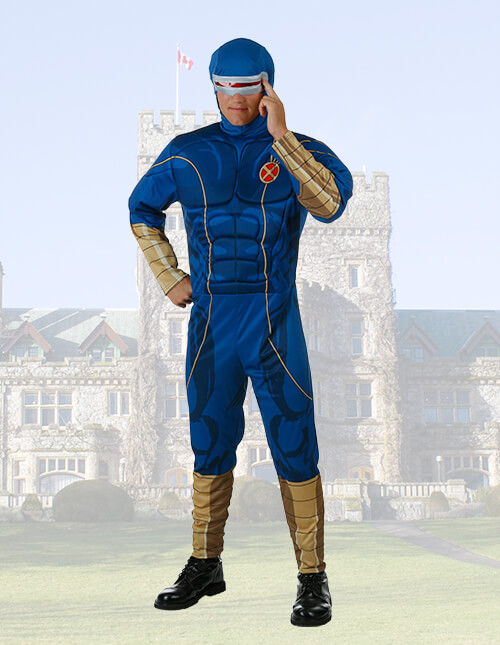 Love him or hate him, Cyclops was the first X-Man and has been one of the leaders of the X-Men since their inception. He might be a little brash, but having uncontrollable optic blasts coming from your eyes can do that to a guy! If you'd like to be a leader and famed hero of the Marvel universe, just try on this Cyclops costume for men. The jumpsuit features a padded polyfoam muscle effect and, of course, a signature visor attached to the hood. Don't try to use this costume if you have the same powers as Scott Summers though, you're going to have to visit the actual Professor X if you need a functioning ruby quartz visor!
Deadpool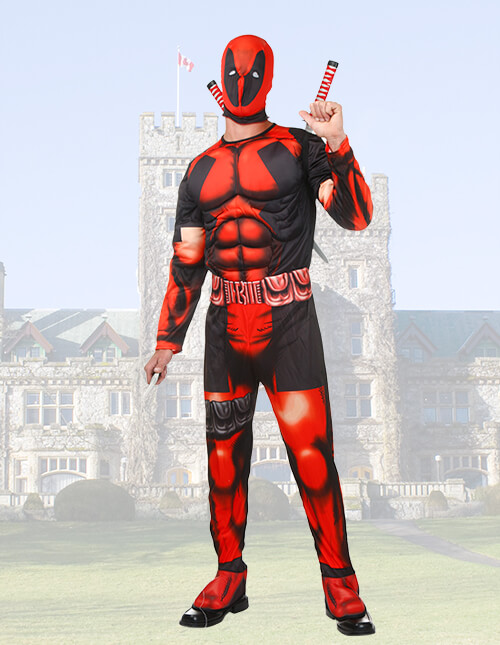 So, Deadpool has never officially been a member of the main X crew, but coming out of the same Weapon X program as Wolverine, he's never been that far removed from Professor X's posse either. His solo adventures and time with the X-Force have endeared many diehard fans to the "Merc with a Mouth," and if his fourth wall breaking comic book pages weren't enough, Ryan Reynolds took the tounge-in-cheek action to a whole new level with 2015's Deadpool feature flick. Of course, this Deadpool costume will let you look just like Wade Wilson… well, except for the deformed facial features. It just comes with a mask so you don't have to do any makeup effects!
Wolverine Infographic
Want to get your Wolvie look just right? The Wolverine's uniforms have changed quite a bit over the years in comics, movies and tv; and while he's had a couple mainstay styles that have always stayed "in", there's been plenty of one-off designs that ended up just not lasting that long. So whether you'd like to portray your favorite Wolvie incarnation from the classic comic books, or as one of Hugh Jackman's portrayals in the X-Men and Wolverine movie franchises of late, we have a handy, dandy visual guide of all of his costumes looks right here. Check out all of his looks over the years to see if you can find some signature details to add to your authentic costume!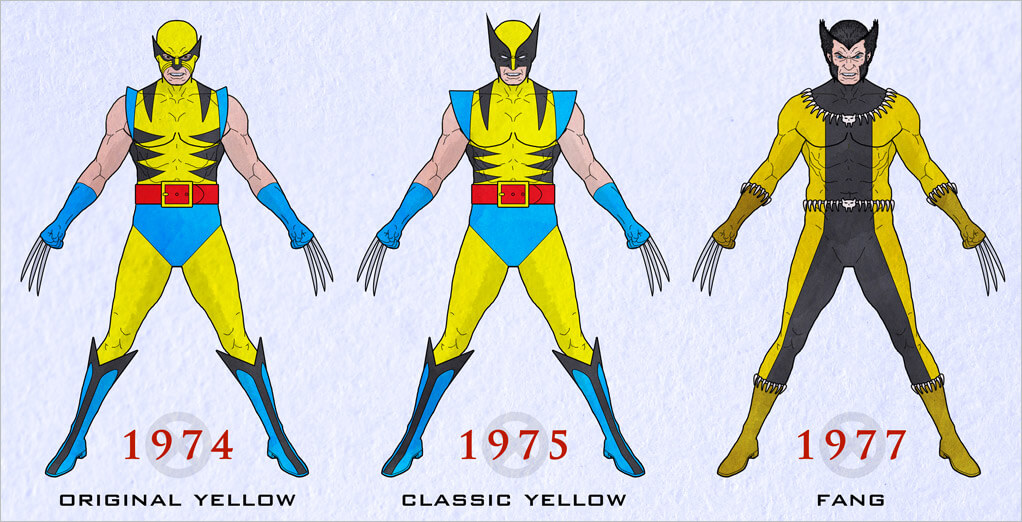 Wolverine's first appearance was in The Incredible Hulk in 1974. First appearing in an effort to stop the showdown between Hulk and The Wendigo at the behest of the Canadian Government, most of his iconic costume elements were already in place in the John Romita, Sr. design. A year later in 1975 he joined the X-Men in Giant-Size X-Men #1, and his mask had been enhanced with ear like flaps and did not feature whiskers as he had in his Hulk appearance. His only wholesale costume change was in 1977 when he took the costume of Imperial Guard member Fang for 2 issues before reverting back to the signature yellow and blue duds.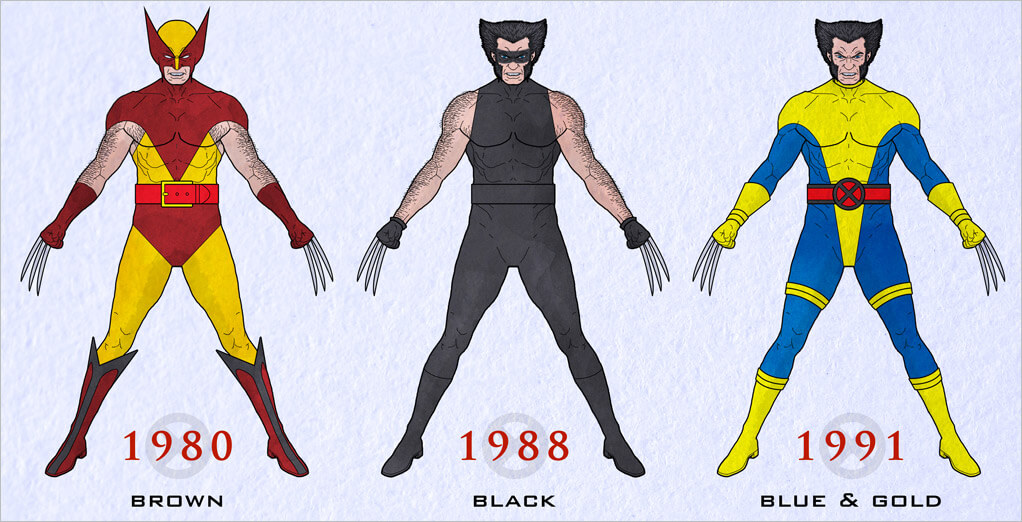 In Uncanny X-Men #139, Wolverine donned a new color scheme with costume tweaks, because in his words: "Why the hell not, bub?" A brown and gold color scheme kept many of the original costume elements in place, with the most noticeable addition being the addition of shoulder covers. While still sporting his brown costume in Uncanny, Wolvie would be featured in his own self-titled series in 1988, and would be portrayed as wearing a stea lthy black costume and face paint. In Uncanny #275 in 1991, he would wear an X-Men standard training uniform along with his other team-members, but would return to familiar brown just in time for the launch of X-Men #1.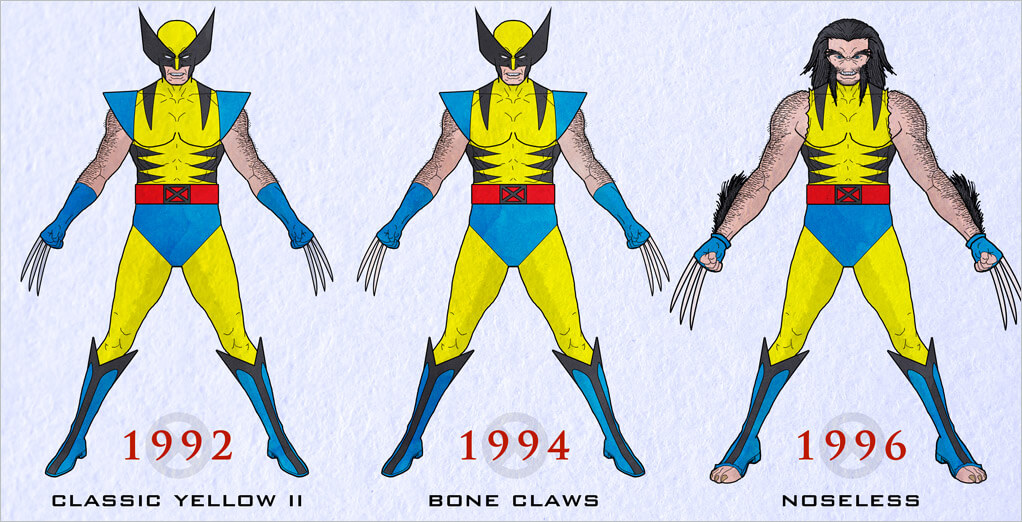 Boldy returning in X-Men #5 in 1992, Wolvie's classic yellow suit featured only minor changes from his original yellow costume. This enduring look would carry across X-Men titles, video games, and the animated series throughout the 90s. Of course, he was still wearing those familiar threads in 1994, when in X-Men #25, Magneto managed to rip all of the adamantium out of his body. He kept wearing the standard uniform after the transformation, since it turns out he had bone claws underneath the adamantium, but in 1996 in an attempt to restore his alloy skeleton, his body rejected the process and he was transformed into a noseless beast which apparently no longer necessitated him wearing a mask.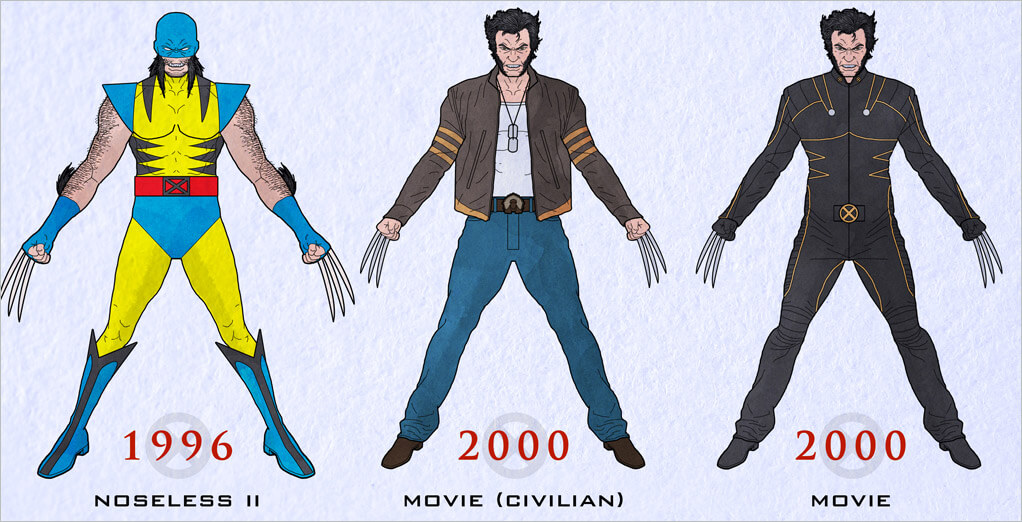 Noseless Wolvie was still tearing it up in 1996, but they added a bandana mask to cover up his lack of a nasal appendage. He would soon revert back to his classic powers and look though, and in 2000, would receive his first film appearance as portrayed by Hugh Jackman. Gone were Logan's stature (Jackman stands at 6'2") and his signature threads, replaced by a civilian leather jacket, jeans, and tank top shirt. Once he fully joins the team in X-Men, though, he gets the superhero treatment in the standard issues team uniform—black form fitting leather. This action costume was outfitted with signature Wolverine touches like tiger stripes interwoven into the design.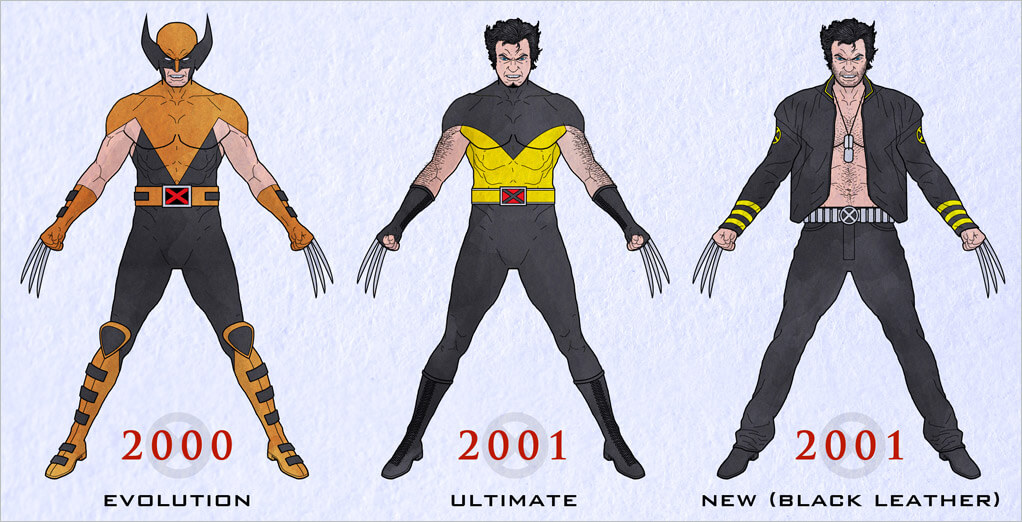 The X-Men Evolution animated series created brand new looks for the classic X-Men characters, and Wolverine was no exception. An orange and black color palette was swapped in along with classic cues from his brown costume, but it also features strap accents on the gloves, boots, and belt. The Ultimate X-Men reboot comic series launched in 2001, and along with it a brand new design for our favorite character. Taller and less brutish than the classic Wolvies, this new version of the character wore a costume that was similar to old ones, but featured a muted color scheme and was noticeably absent of a mask. Also in 2001, the New X-Men title was launched, with the mutant squad sporting leather looks similar to the film. Wolverine sported pants and an unzipped jacket over a usually shirtless chest.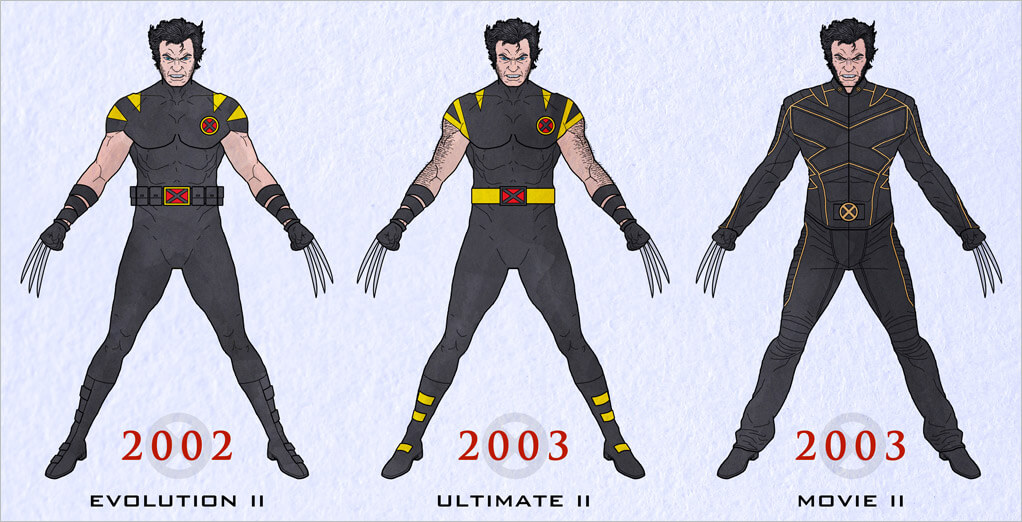 Season 3 of the animated X-Men Evolution featured a redesigned Wolverine costume with a black theme being borrowed from the movie, and no mask. A slightly updated variation appeared the next year, with inverted stripes on the shoulders, and yellow accented belt and boots. In 2003, X2 hit the screen as the second installment of Bryan Singer's take on the franchise, and he kept the leather look going into the sequel. Small updates were made to the leather uniforms, with the pattern of an X being noticeably visible woven into the chest of the jumpsuit.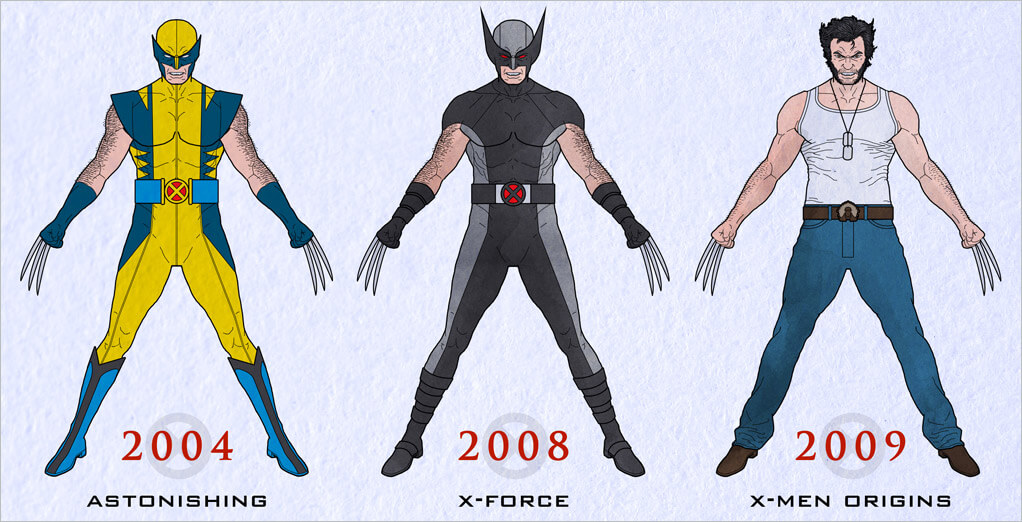 In 2004, Joss Whedon and John Cassaday's Astonishing X-Men brought back the classic styling of old costumes in a new, re-imaged way. Smaller earflaps were reminiscent of his first appearance, and this costume is notable for its one piece design, noticeably absent of exterior trunk briefs. 2008 brought Wolverine into the fold for missions in X-Force, and a black stea lth costume was introduced to match the group's covert status. With styling cues borrowed from previous costume, this version would suit the character's new role. The next year in 2009 we got Wolverine's first solo movie, and this feature did away with the uniform entirely. He sometimes wore a leather jacket, but was mostly featured in a sleeveless shirt and jeans.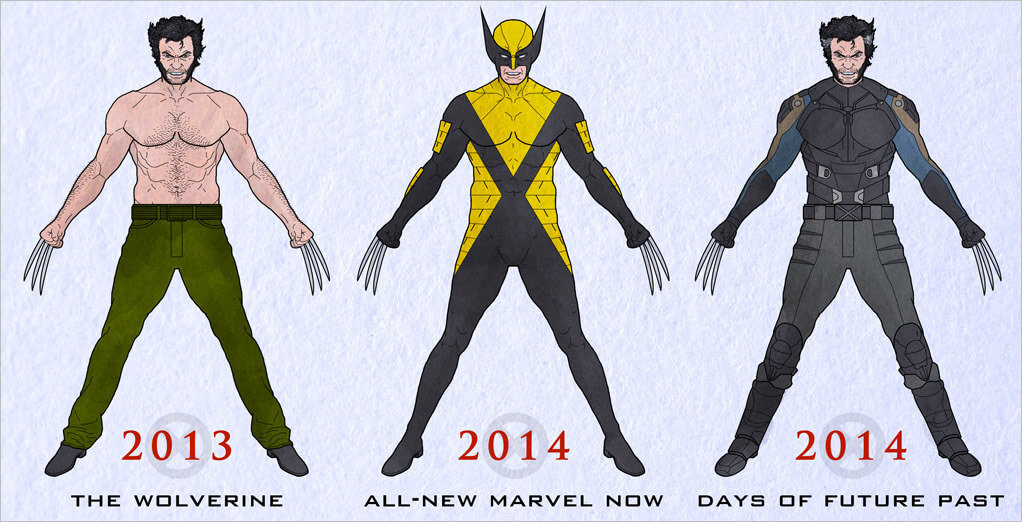 The Wolverine hit theaters in 2013, and again we got plainclothes Logan. Depicted in standard street clothes and generally shirtless in action sequences, this film covered his Japanese storyline. With the rebooted storylines in All New Marvel NOW! we also find this new version of Wolverine without his healing factor and wearing a new uniform. Featuring full sleeves and armor plating, this new look serves him as he explores his darker side and works as a mercenary. Finally, the culmination of Wolvie costumes to date concludes with his appearance in X-Men: Days of Future Past. Also an armored up suit, the style riffs on the movie designs but does incorporate gold and blue tones on the sleeves, seemingly an homage to classic comic book costumes of this iconic character.