Spider-Man Costume Ideas
Spider-Man made a name for himself as the most relatable hero in Marvel comics. He started out as a humble, socially awkward nerd who got along better with his Erlenmeyer flask than he did with his classmates. He couldn't dream of talking to a girl and school bullies saw him as a target. Then, after spending an afternoon in a science lab, he got bitten by a spider. Not just any spider, mind you, a radioactive one! Soon, he realized that he had super strength, enhanced agility, and some spider-like reflexes. A few web shooters later along with a hand-tailored costume and presto-chango, he turned into the friendly neighborhood Spider-Man.
He might be able to lift a city bus with his bare hands and he can probably leap 15 stories high in a single bound, but it's Peter Parker's vulnerability that really connects with fans of the character. It's part of why he's remained as popular as he has through the years. It also makes Spider-Man one of the best superheroes to cosplay as! Of course, with our extensive line of Spider-Man costumes, we can help you assume the role of your favorite web-slinger with ease!
Spider-Man Costumes for Adults
A lot of people seem to think that superheroes are just for kids, but that's not the case at all! Spider-Man has been around since 1962. That means adults of today grew up reading Spider-Man comic books and watching Spider-Man cartoons. So, if you grew up loving Spidey, then Halloween is the perfect time for you to live out your childhood fantasies! You can finally become the web-slinging hero you've always dreamed of being, even if you only get to be him for one night. We carry a large selection of Spider-Man costumes for adults and here are some of our favorite ones!
Spider-Man Suit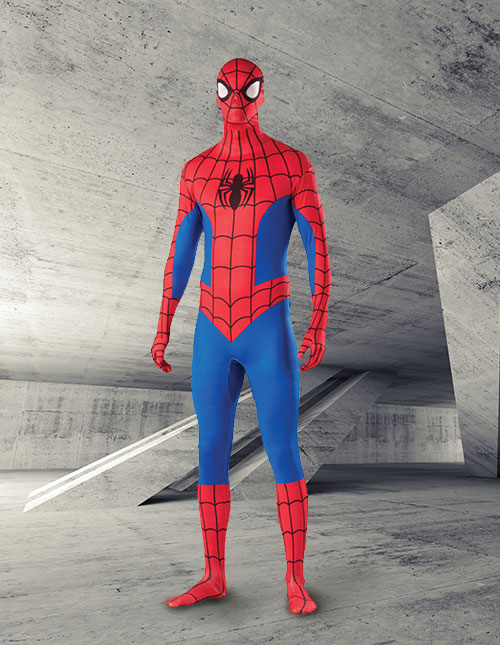 Sometimes, classic designs just don't need any frills. The original Spider-Man outfit seemed to be composed of a single spandex onesie, combined with a simple mask to help Peter protect his secret identity. This basic design let him make full use of his newfound abilities, like wall-crawling and superhuman agility. This version of his costume carries along some of those same attributes, fitting quite like a second skin. This Spider-Man Suit is great for those who wish to perform some acrobatic moves while cosplaying as their favorite Marvel superhero.
Spider-Man Costume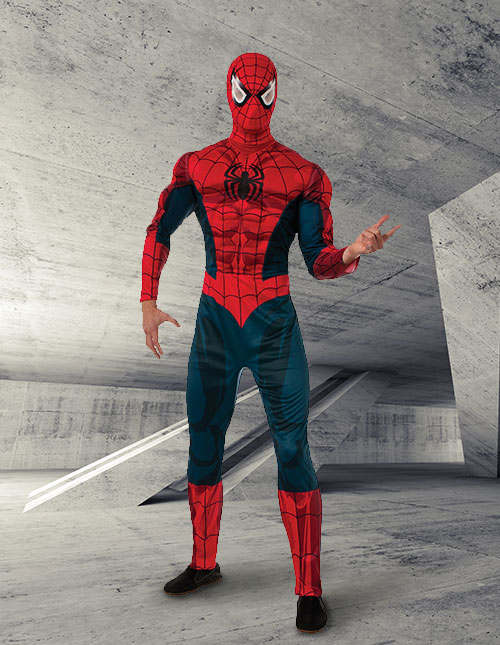 People read comic books for many different reasons. Some read them for the thrilling stories and others are captivated by the detailed sketches and beautiful colors. Well, this Comic Book Spider-Man costume brings you the best of the comics in an outfit you can wear! The exterior of the costume has plenty of shading, which will make it look like Mr. Ditko drew you himself. Of course, it doesn't come with any sort of wall-crawling abilities, so keep that in mind when you take to the streets wearing this outfit.
Spider-Man Costumes for Kids
What kind of spread would this be without a selection for kids? After all, each generation of children are largely responsible for the lengthy popularity of the Marvel superhero. Each year, hundreds of kids dress up as the wall-crawler for play time, or for Halloween, which keeps Spidey fresh in our minds. The chances are strong that your little one is a fan, so you'd better be ready to help your child live out their dream! Check out our selection of Spider-Man costumes for kids to find the right look for your little one.
Toddler Spider-Man Costume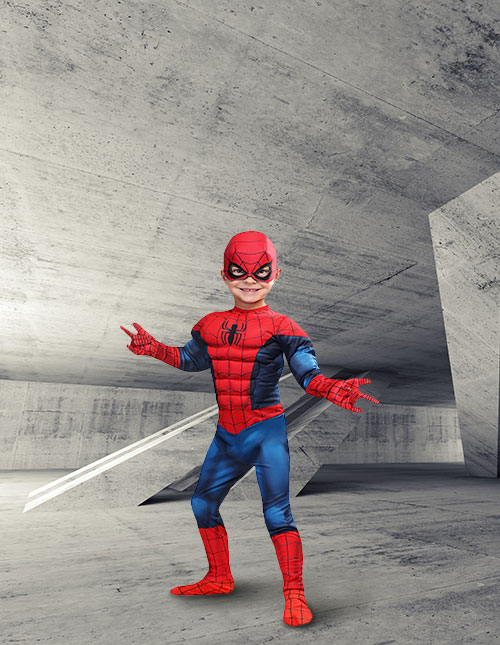 Every toddler knows two things in life. Number one, cookies are the most delicious food on the planet (Cookie Monster taught them that). The second thing that they know is that Spidey is the coolest hero around. It's just a known fact at this point! Your toddler will probably be begging to dress up like his favorite superhero this Halloween, so you might want to check this toddler Spider-Man costume out. It comes with a classic jumpsuit that has the classic symbol on the front, but it also comes with a mask that covers just top portion of your child's face. That means his mouth will be free to munch on all the candy he's going to rake in while trick or treating.
Ultimate Spider-Man Costume for Kids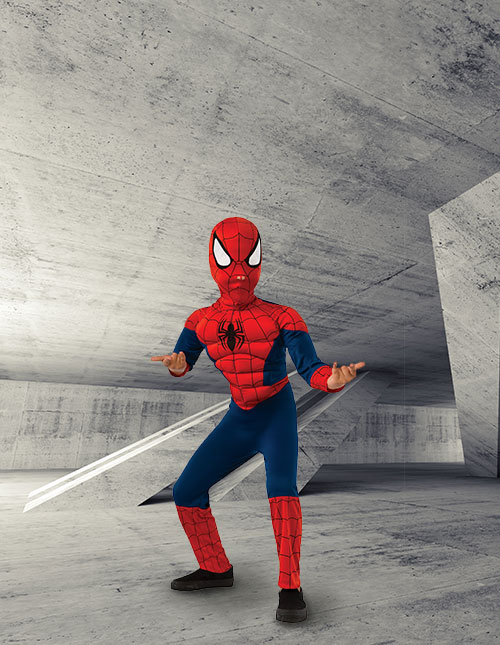 The Ultimate comic book universe reimagined many superheroes. Even longstanding characters like Captain America, The X-Men, and Thor got brand new backstories, and brand new outfits! Spider-Man was no exception! This Ultimate version of Spidey's costume is great way for your child to swing into the role of Peter Parker, or perhaps into the role of Miles Morales, the boy who ends up taking on the mantle of Spider-Man in the Ultimate universe when Peter Parker is no longer able to!
Child Agent Venom Costume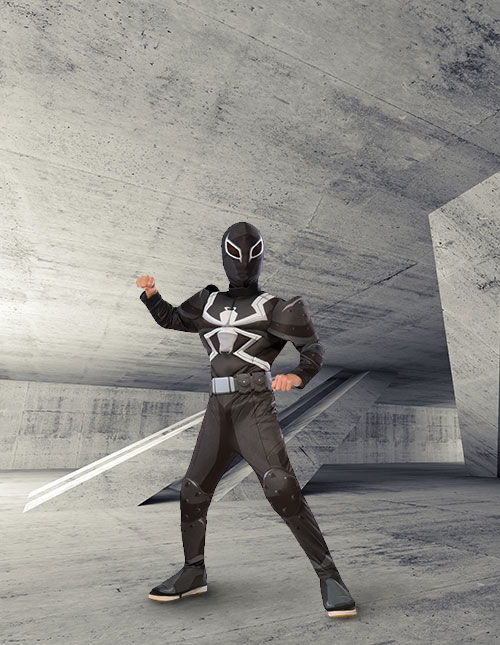 If you've kept up with the Spider-Man comics, then you know how far the Venom symbiote has come along! He started out as a constant plague to Peter Parker and then found his way to Eddie Brock. Those two rampaged through New York City for a good run. But, ol' Mac Gargan got his hands on the suit to wreak havoc with the Thunderbolts. These days, Flash Thompson has been using the symbiote under the name Agent Venom! If you haven't been following Spidey comics, then you just know that your child is going to look awesome in this Agent Venom costume for kids.
Child Spider-Man Homecoming Costume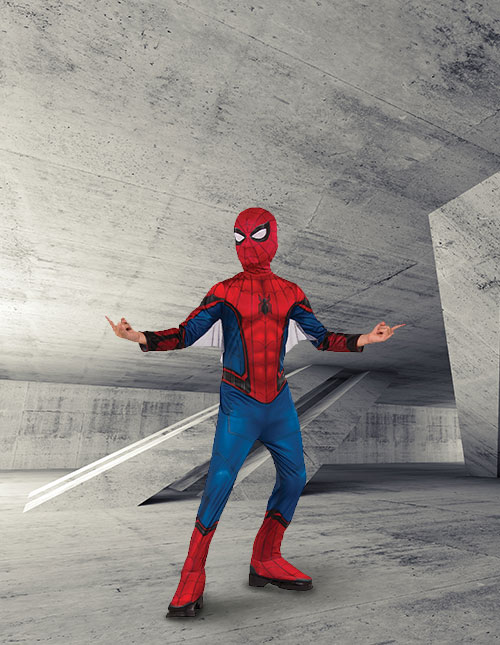 Getting back to Spidey roots, Spider-Man: Homecoming brings us back to a Peter Parker still in high school. Originally, that's what Stan Lee and Steve Ditko imagined the character as, a high school kid trying to juggle ordinary teenage troubles with being a superhero. Unsurprisingly, it worked! It turns out people can relate to a kid who's too shy to talk to a girl and needs to finish his homework, but also gets to live out the fantasy of being a superhero. Tom Holland did a spectacular job in the movie, but we think your child is ready to play the role just as well! This child Spider-Man Homecoming costume gives your child his shot at saving the world!
Spider-Man Alternate Costumes
The iconic red and blue costume might be the most well-known outfit worn by Spidey, but he's had plenty of other costumes throughout the years. It's a hotly debated topic which superhero suit ranks as number one. Some like to herald the black suit as his best, which was notably adopted by Venom during his emergence as a supervillain. Others like Iron Spider variants, seen in the Civil War comics. Of course, there are alternate Spider-Man universes, where Peter Parker never got powers. Instead Gwen Stacy received the spider-powers, becoming the beloved Spider-Gwen. Her take on the superhero costume goes in a wildly different direction than the classic Spider-Man suit. Here, we'll take a look at some of the Spider-Man alternate costumes!
Spider-Man Black Suit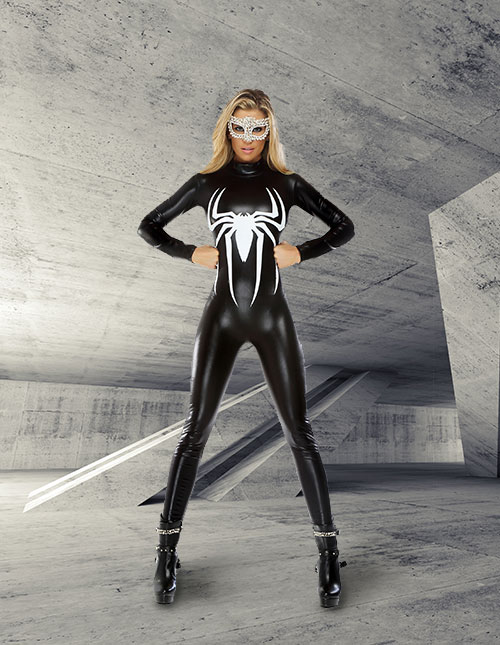 First up on our list, is the Spider-Man black suit. The original black suit debuted back in 1984. A stark departure from the iconic red and blue, fans had mixed reactions to the new look. In Secret Wars, he obtained the suit on an alien planet, only later discovering that it was actually a symbiotic lifeform. And depending on how much you've kept up on the retconning going on in Marvel comics, you might even know that Deadpool apparently first wore it before Spider-Man, which gave it that crazy edge we've all come to know it for! Our version of the costume is perfect for female fans trying to cosplay as the legendary costume variant!
Spider-Gwen Costume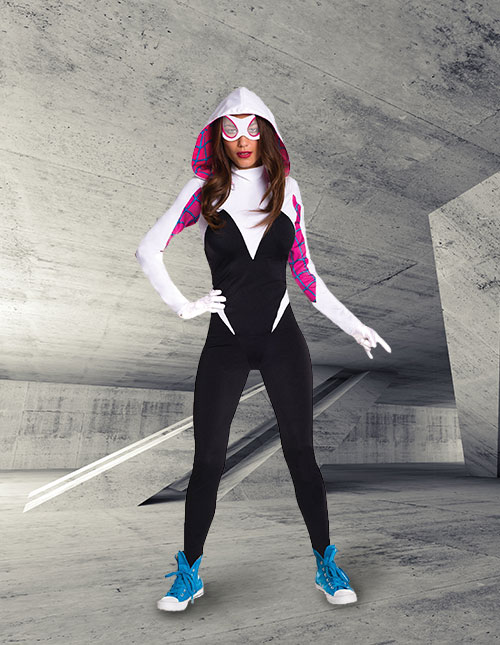 Spider-Gwen is a bit of newcomer to the scene, but she's definitely making some huge waves. Although she goes by the name "Spider-Woman" in her universe, she's been affectionately called Spider-Gwen by her fan-base. (She also later adopts the name "Ghost-Spider", but it doesn't carry the same punch for us as Spider-Gwen.) Gwen Stacy's version of the hero is a refreshing take on the traditionally male character and we're holding out hope that she gets her own movie! (She has appeared in the new animated movie Spider-Man: Into the Spider-Verse, but we're still holding out for something a solo debut.) Until then, you can assume the role of the character by wearing this adult Spider-Gwen costume, which has the white, black, aqua, and fuchsia colors to compliment her crime-fighting skills.
Spider-Woman Costume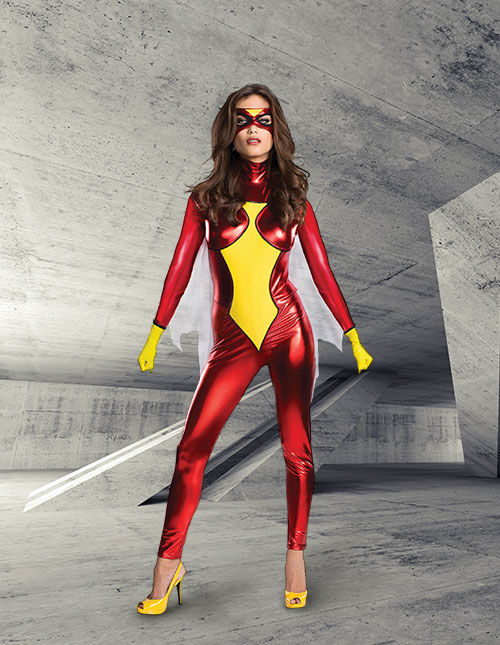 Fewer people might know of Spider-Woman. The role of Spider-Woman has been assumed by multiple characters, but Jessica Drew is the most well-known. Technically, her story doesn't really involve Spider-Man much. She started as a novel idea by Marv Wolfman. Her comics sold well and she became a mainstay in the Marvel universe. She's been a secret agent on the level of Black Widow and she's even been a member of The Avengers at various points during her career. This Spider-Woman costume recreates the look from her most iconic style in the comic books.
Adult Infinity War Iron Spider Costume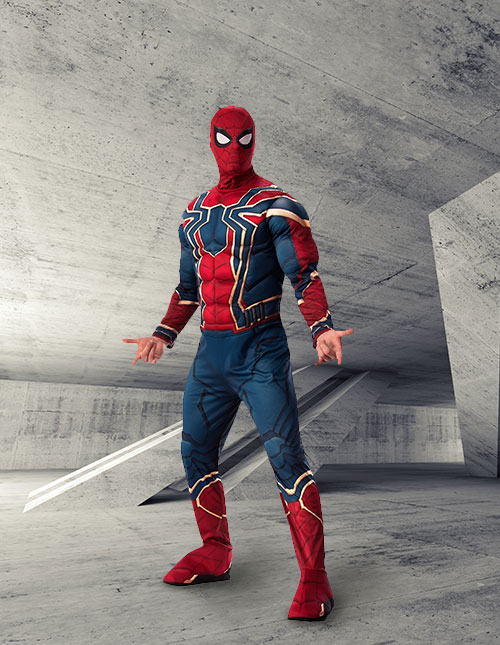 Classic web-slinger style with extra Tony Stark tech? Yes please. This adult Iron Spider Infinity War costume helps you grab the mantle of the greatest hero to come out of Queens. Although this version might not have all the cool gadgetry that the one in the movie has, it does come with all the style. Just check out those gold accents that scream "Spidey Swagger." The new symbol on the front is also something to behold! We're working on how to make real waldoes for you to use (you know, those spider arm things not the Waldo guy from all those books). We'll let you know when we figure that kind of technology out.
Bonus: Fantastic Four Bag Mask Spider-Man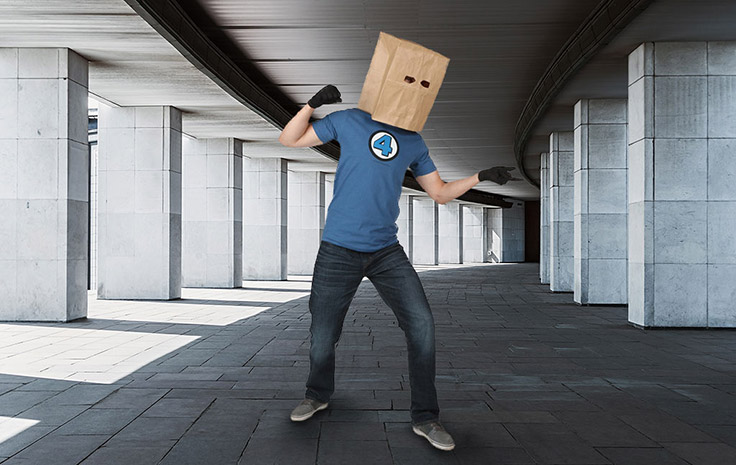 This final costume is a bonus costume! While not technically one of Spider-Man's regular outfits, he briefly had to make use of a Fantastic Four costume, paired up with a paper bag to conceal his identity. It might not be the kind of thing that Spidey wants to do on regular basis, however it does provide for one of the more comical moments within the comics. To recreate this look, all you need is a Fantastic Four themed shirt, a paper bag and pair of scissors. This one is definitely for those in the know. Non-fans might not even recognize you as the one and only Spider-Man.
Spider-Man Suits & Costume Apparel
Let's face it—a spandex onesie just isn't for everyone! That doesn't mean that you have to give up your dream of dressing like your favorite superhero. There are plenty of ways to infuse Spidey into your everyday look. This selection of Spider-Man apparel brings together some of the best looks based on your favorite wall-crawling hero. Check them out below!
Men's Spider-Man Suit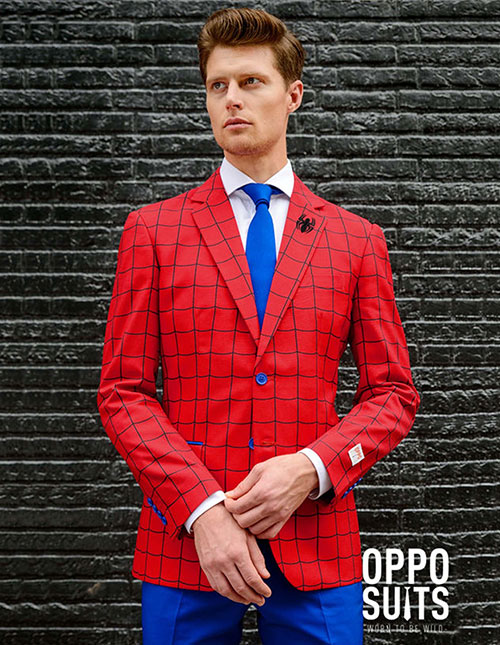 Who said suits had to be boring? We carry Opposuits, a line of suits made for those who are a bit more adventurous than your normal suit-wearing business. Lo and behold, we even have this men's Spider-Man suit, which is a great variant that incorporates plenty of style from the comic book hero. If you wear it to an interview, just make sure that everyone at the job is a fan of Spider-Man.
Kids' Spider-Man Jacket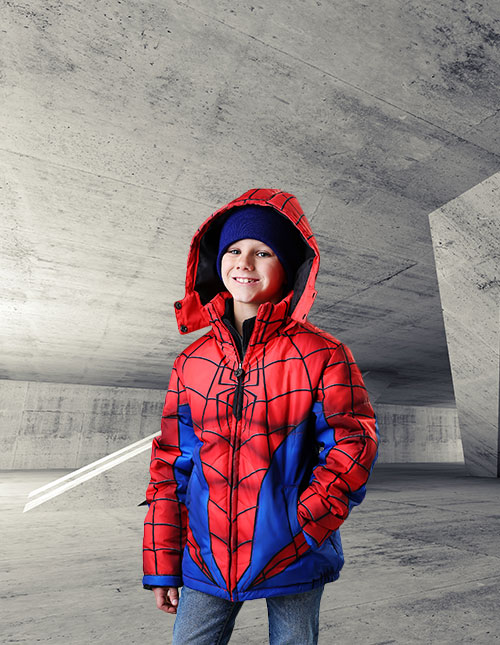 Do you live in a place that has some chilly winters? We know your struggle! We come from the frigid state of Minnesota and that means we've had our fair share of icy cold weather. You need to gear your little one up for the winter with the power of his favorite wall-crawler! This kids' Spider-Man jacket will help keep your child warm while he dresses up as Spidey.
Spider-Man Hoodie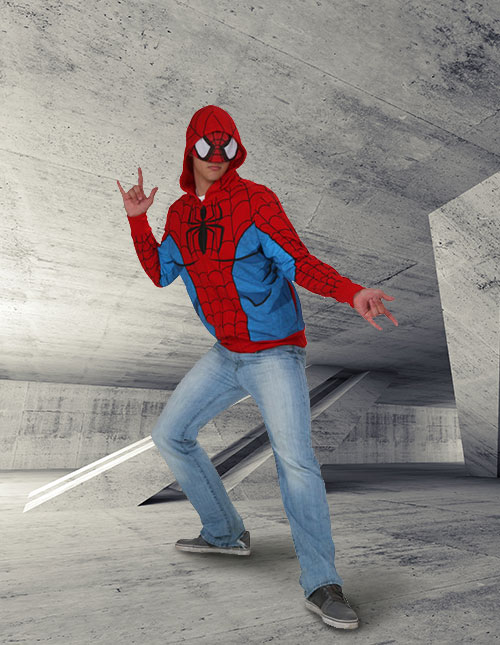 Maybe you're looking for a way to stay super comfortable while fighting super villains. This Spider-Man costume hoodie looks heroic, keeps you warm, and protects your secret identity all in one. That's right, the hood even has an attached mask!
Spider-Man Costume T-Shirt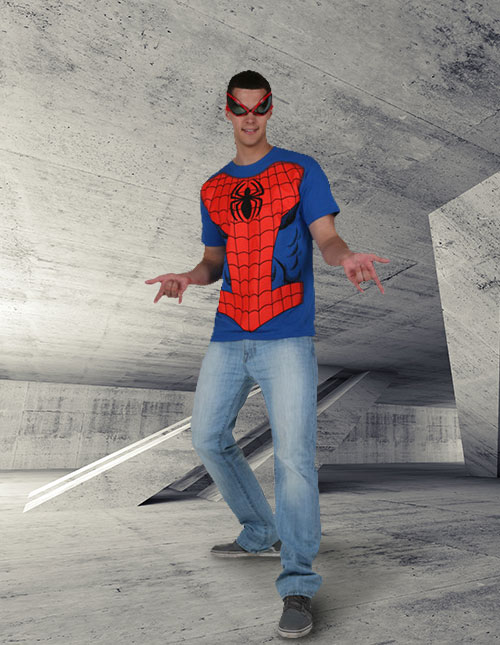 Not only does this Spider-Man costume t-shirt transform you into a comic book superhero in an instant, it also gives you an everyday option for wearing a Spidey suit. Add a pair of Spider-Man sunglasses and you'll look ready to sling webs with the best of them.
Pose Like Spider-Man
Learning how to pose like Spidey is important. Whether you're trying to take some great snapshots for your social media page or you just want to make an impression at your next party, you can use some of these ideas to help you create the perfect spread for your photo album!
Web Shooter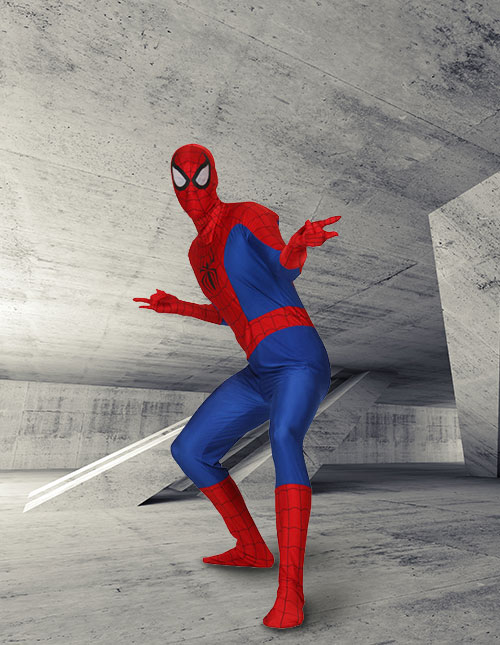 Shooting webs is pretty much Spider-Man 101. If you are unable to master any other pose, at least get this one right. Bend your two middle fingers in and thrust your wrist out. Now imagine webs shooting out and sticking to the wall! Thwip!
Web 'Em Up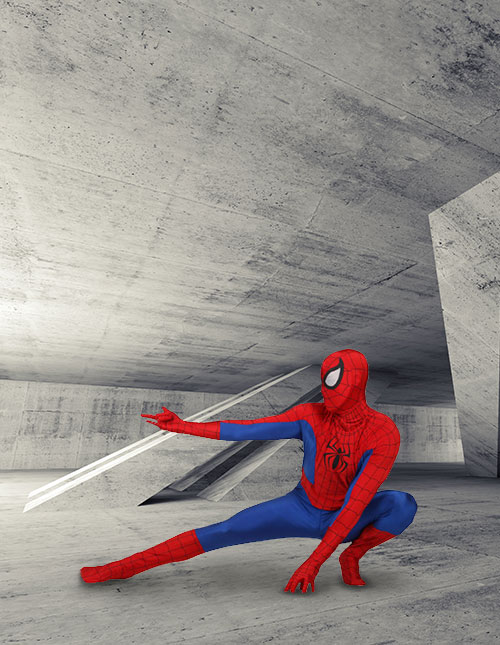 Spidey is strong and agile but needs to know how to duck and get out of the way. Practice crouching down, while remaining ready to jump up quickly if needed, and deploying your web shooter pose. Bonus Pro Tip: Always keep the tips of your fingers bent against the floor or wall.
Web Slinger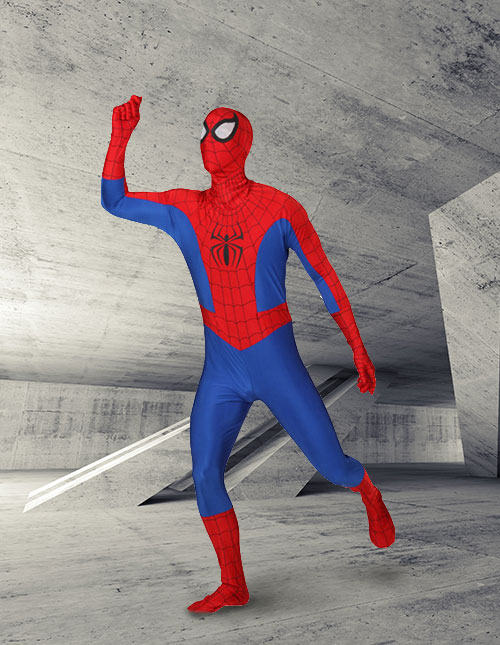 Once the webs have been deployed, it is time to enjoy them as a handy method of transportation. So, hold on with one hand and let the other hang behind as if you're gliding through the air.
Spider-Man Crouch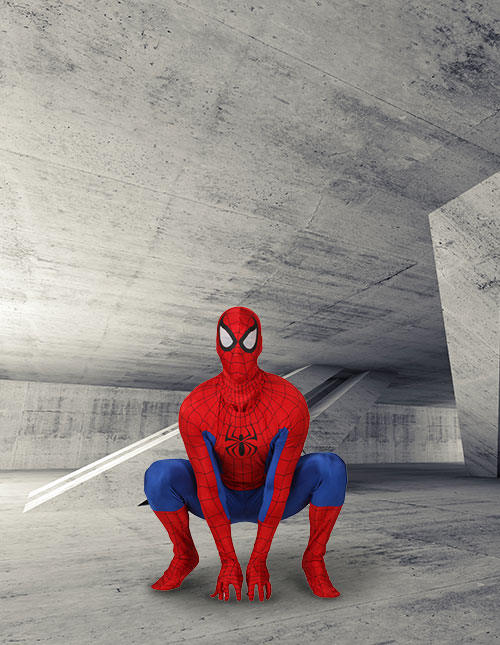 This is the pose you should use when perched on the edge of a skyscraper looking over the city that you've vowed to protect. But please be safe and start small by practicing on the edge of an area rug or on small curbs.
Spider-Man Homecoming Costume
We decided to take things one step further on a steamy afternoon in our warehouse. We thought we should create a custom Do It Yourself version of Peter Parker's first costume from 2017's Spider-Man Homecoming! It was the first Spider-Man movie in the vaunted Marvel Cinematic Universe, and it was a ton of fun, too. So, we thought that taking a look at some custom Spider-man Homecoming costumes might be a good idea! We crafted our custom look and then we snapped a few photos of the costume in action. Our 'lil Peter Parker had a pretty good time, too, as you can see from these photos!
The Spider-Man Look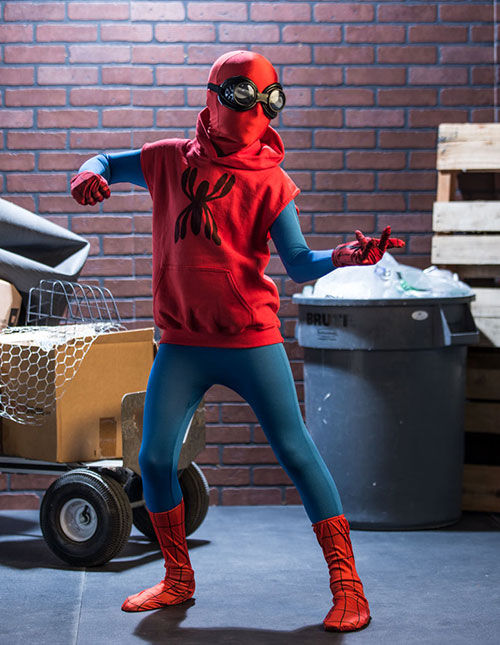 Crafting the DIY look was easy. We do have all of our costumes on hand to modify when we feel like it, after all! The base of the costume was our blue Morphsuit for kids, and we just used a red 2nd Skin Mask to complete the skin tight superhero styling. A red hoodie goes over that, and we just cut the sleeves off and used a Sharpie to draw in a black spider.
The Spider-Man Gear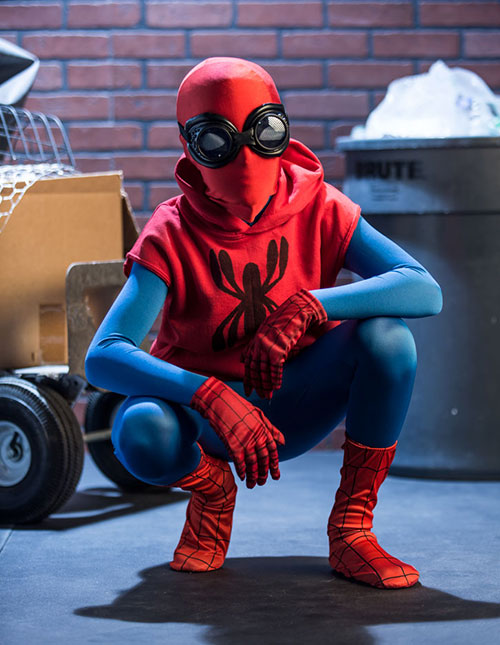 Of course, the costume wouldn't be quite right without the right accessories, and we were able to scrounge those up as well! Spider-Man Boot Covers and our Radioactive Aviator Black Goggles provided the finishing touches to the Homecoming look. Our Spider-Man looks particularly dashing when he's crouched and ready for action. Don't you agree?
With Great Power Comes Great Costumes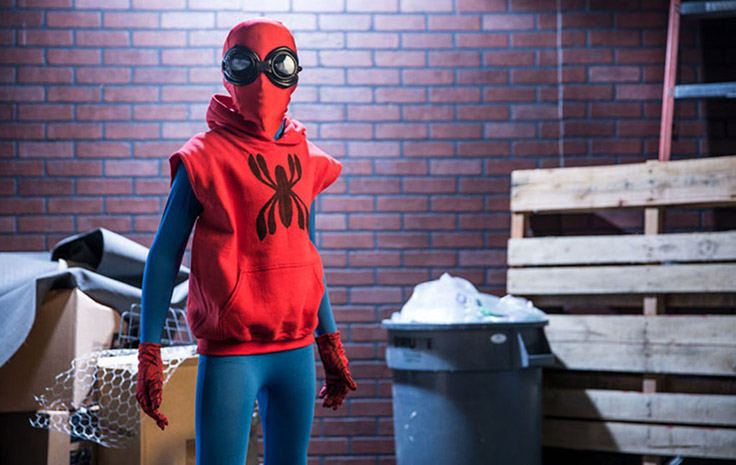 Okay, we'll pat ourselves on the back just a bit on this one because this custom Spider-man costume for kids looks fantastic! He posed, poised, and ready to battle the bad guys. We're guessing that Spider-Man is probably going to stick with high tech suits from Tony Stark in any new movies. But, if your kid would like that up-and-coming DIY super hero style, constructing this costume would be hard to beat!