Alternate Spider-Man Suits
The iconic red and blue costume might be the most well-known outfit worn by Spidey, but he's had plenty of other costumes throughout the years. It's a hotly debated topic which superhero suit ranks as number one. Some like to herald the black suit as his best, which was notably adopted by Venom during his emergence as a supervillain. Others like Iron Spider variants, seen in the Civil War comics. Of course, there are alternate Spider-Man universes, where Peter Parker never got powers. Instead Gwen Stacy received the spider-powers, becoming the beloved Spider-Gwen. Her take on the superhero costume goes in a wildly different direction than the classic Spider-Man suit. Here, we'll take a look at some of the Spider-Man alternate costumes!
Spider-Man Black Suit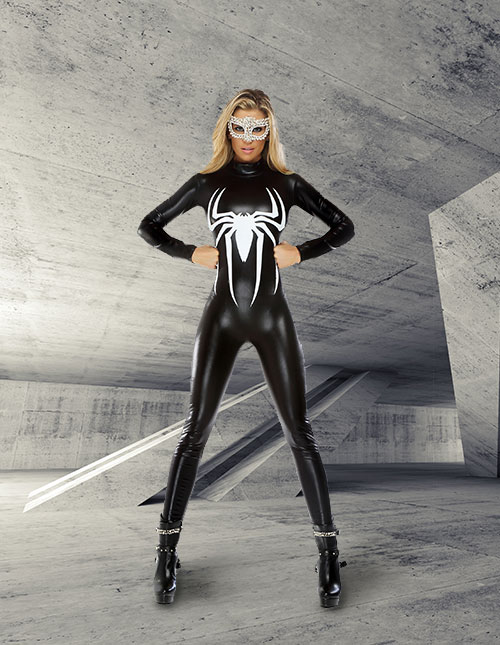 First up on our list, is the Spider-Man black suit. The original black suit debuted back in 1984. A stark departure from the iconic red and blue, fans had mixed reactions to the new look. In Secret Wars, he obtained the suit on an alien planet, only later discovering that it was actually a symbiotic lifeform. And depending on how much you've kept up on the retconning going on in Marvel comics, you might even know that Deadpool apparently first wore it before Spider-Man, which gave it that crazy edge we've all come to know it for! Our version of the costume is perfect for female fans trying to cosplay as the legendary costume variant!
Spider-Gwen Costume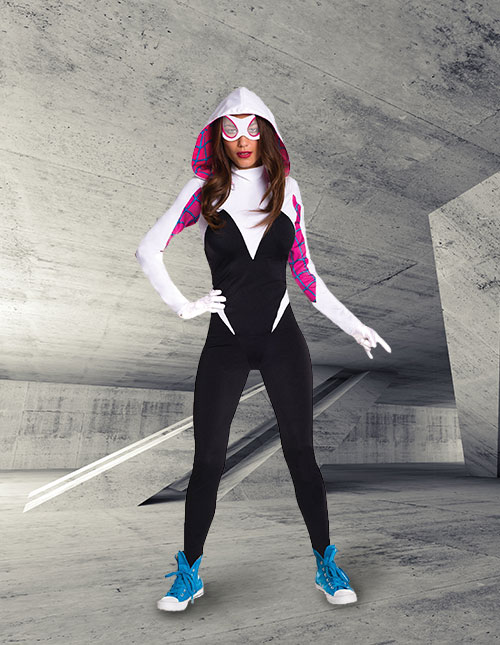 Spider-Gwen is a bit of newcomer to the scene, but she's definitely making some huge waves. Although she goes by the name "Spider-Woman" in her universe, she's been affectionately called Spider-Gwen by her fan-base. (She also later adopts the name "Ghost-Spider", but it doesn't carry the same punch for us as Spider-Gwen.) Gwen Stacy's version of the hero is a refreshing take on the traditionally male character and we're holding out hope that she gets her own movie! (She has appeared in the new animated movie Spider-Man: Into the Spider-Verse, but we're still holding out for something a solo debut.) Until then, you can assume the role of the character by wearing this adult Spider-Gwen costume, which has the white, black, aqua, and fuchsia colors to compliment her crime-fighting skills.
Spider-Man Costume T-Shirt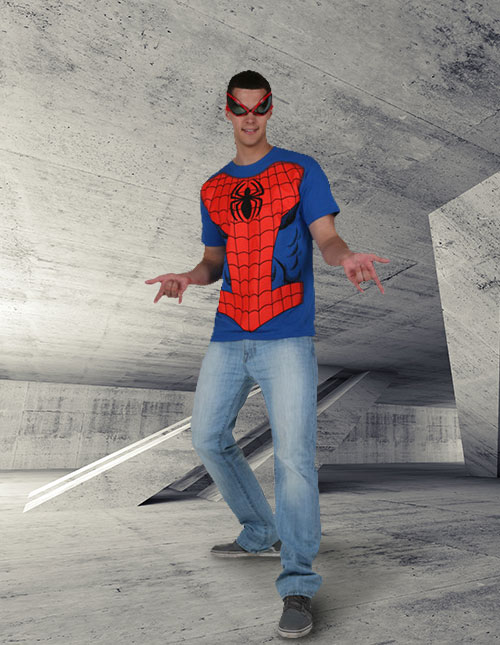 Not only does this Spider-Man costume t-shirt transform you into a comic book superhero in an instant, it also gives you an everyday option for wearing a Spidey suit. Add a pair of Spider-Man sunglasses and you'll look ready to sling webs with the best of them.
Adult Infinity War Iron Spider Costume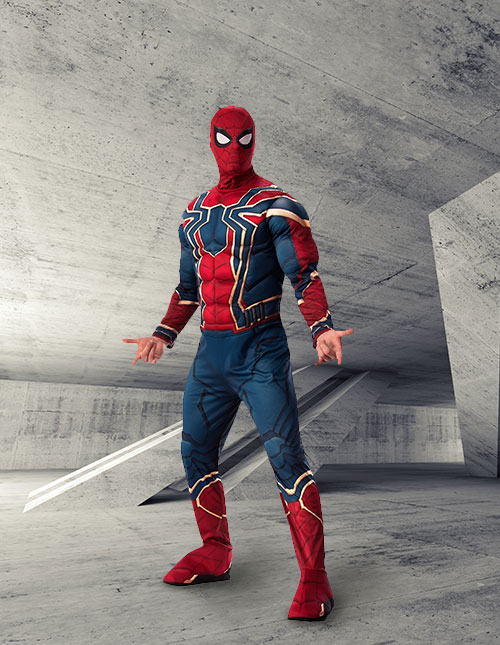 Classic web-slinger style with extra Tony Stark tech? Yes please. This adult Iron Spider Infinity War costume helps you grab the mantle of the greatest hero to come out of Queens. Although this version might not have all the cool gadgetry that the one in the movie has, it does come with all the style. Just check out those gold accents that scream "Spidey Swagger." The new symbol on the front is also something to behold! We're working on how to make real waldoes for you to use (you know, those spider arm things not the Waldo guy from all those books). We'll let you know when we figure that kind of technology out.