Spider-Man Alternate Costumes
The iconic red and blue costume might be the most well-known outfit worn by Spidey, but he's had plenty of other costumes throughout the years. It's a hotly debated topic which superhero suit ranks as number one. Some like to herald the black suit as his best, which was notably adopted by Venom during his emergence as a supervillain. Others like Iron Spider variants, seen in the Civil War comics. Of course, there are alternate Spider-Man universes, where Peter Parker never got powers. Instead Gwen Stacy received the spider-powers, becoming the beloved Spider-Gwen. Her take on the superhero costume goes in a wildly different direction than the classic Spider-Man suit. Here, we'll take a look at some of the Spider-Man alternate costumes!
Spider-Man Black Suit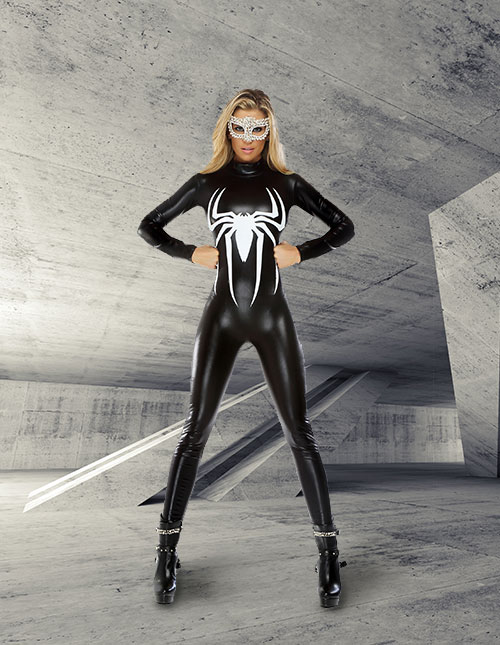 First up on our list, is the Spider-Man black suit. The original black suit debuted back in 1984. A stark departure from the iconic red and blue, fans had mixed reactions to the new look. In Secret Wars, he obtained the suit on an alien planet, only later discovering that it was actually a symbiotic lifeform. And depending on how much you've kept up on the retconning going on in Marvel comics, you might even know that Deadpool apparently first wore it before Spider-Man, which gave it that crazy edge we've all come to know it for! Our version of the costume is perfect for female fans trying to cosplay as the legendary costume variant!
Spider-Gwen Costume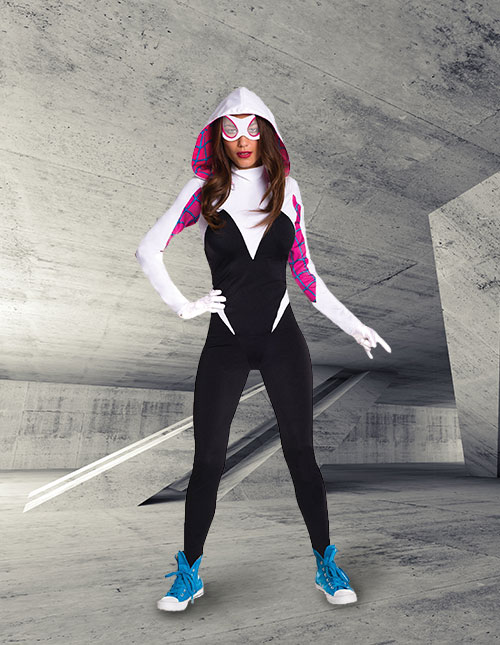 Spider-Gwen is a bit of newcomer to the scene, but she's definitely making some huge waves. Although she goes by the name "Spider-Woman" in her universe, she's been affectionately called Spider-Gwen by her fan-base. (She also later adopts the name "Ghost-Spider", but it doesn't carry the same punch for us as Spider-Gwen.) Gwen Stacy's version of the hero is a refreshing take on the traditionally male character and we're holding out hope that she gets her own movie! (She has appeared in the new animated movie Spider-Man: Into the Spider-Verse, but we're still holding out for something a solo debut.) Until then, you can assume the role of the character by wearing this adult Spider-Gwen costume, which has the white, black, aqua, and fuchsia colors to compliment her crime-fighting skills.
Spider-Woman Costume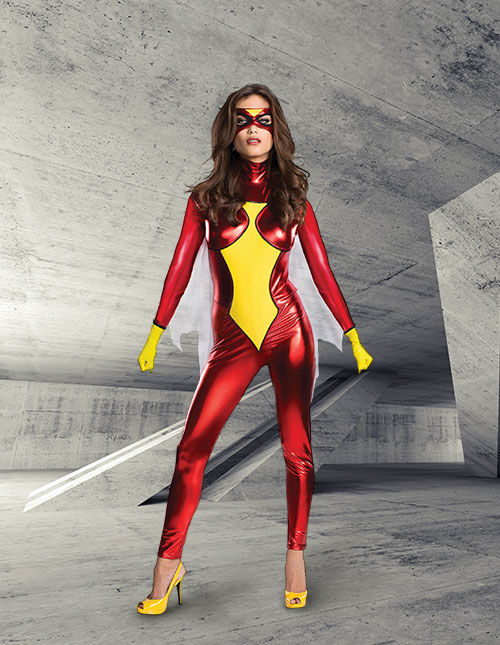 Fewer people might know of Spider-Woman. The role of Spider-Woman has been assumed by multiple characters, but Jessica Drew is the most well-known. Technically, her story doesn't really involve Spider-Man much. She started as a novel idea by Marv Wolfman. Her comics sold well and she became a mainstay in the Marvel universe. She's been a secret agent on the level of Black Widow and she's even been a member of The Avengers at various points during her career. This Spider-Woman costume recreates the look from her most iconic style in the comic books.
Adult Infinity War Iron Spider Costume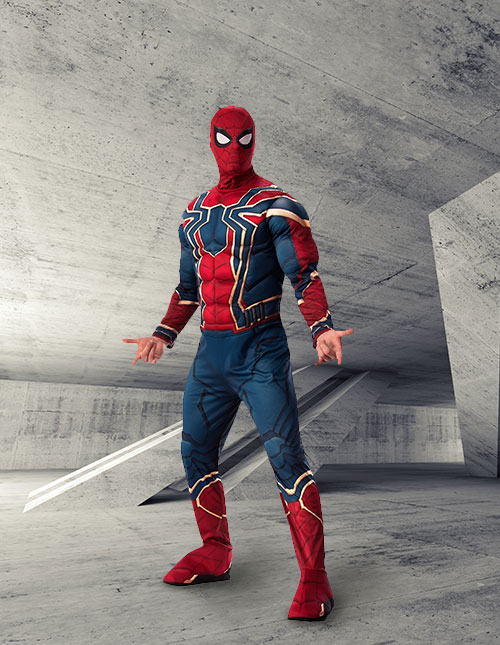 Classic web-slinger style with extra Tony Stark tech? Yes please. This adult Iron Spider Infinity War costume helps you grab the mantle of the greatest hero to come out of Queens. Although this version might not have all the cool gadgetry that the one in the movie has, it does come with all the style. Just check out those gold accents that scream "Spidey Swagger." The new symbol on the front is also something to behold! We're working on how to make real waldoes for you to use (you know, those spider arm things not the Waldo guy from all those books). We'll let you know when we figure that kind of technology out.
Bonus: Fantastic Four Bag Mask Spider-Man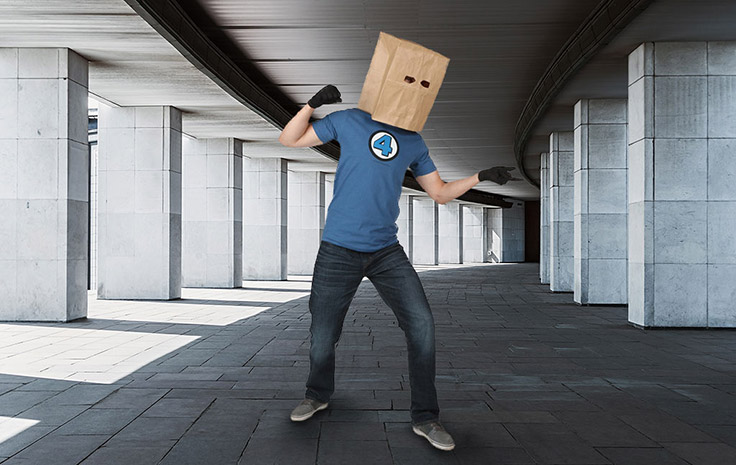 This final costume is a bonus costume! While not technically one of Spider-Man's regular outfits, he briefly had to make use of a Fantastic Four costume, paired up with a paper bag to conceal his identity. It might not be the kind of thing that Spidey wants to do on regular basis, however it does provide for one of the more comical moments within the comics. To recreate this look, all you need is a Fantastic Four themed shirt, a paper bag and pair of scissors. This one is definitely for those in the know. Non-fans might not even recognize you as the one and only Spider-Man.
Spider-Man Suits & Costume Apparel
Let's face it—a spandex onesie just isn't for everyone! That doesn't mean that you have to give up your dream of dressing like your favorite superhero. There are plenty of ways to infuse Spidey into your everyday look. This selection of Spider-Man apparel brings together some of the best looks based on your favorite wall-crawling hero. Check them out below!
Men's Spider-Man Suit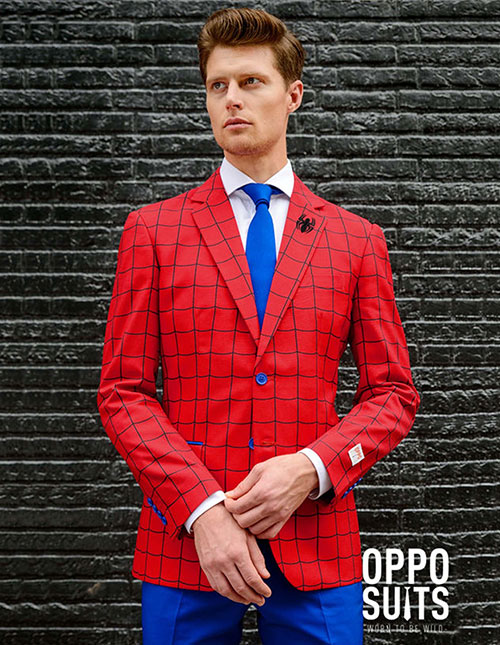 Who said suits had to be boring? We carry Opposuits, a line of suits made for those who are a bit more adventurous than your normal suit-wearing business. Lo and behold, we even have this men's Spider-Man suit, which is a great variant that incorporates plenty of style from the comic book hero. If you wear it to an interview, just make sure that everyone at the job is a fan of Spider-Man.
Kids' Spider-Man Jacket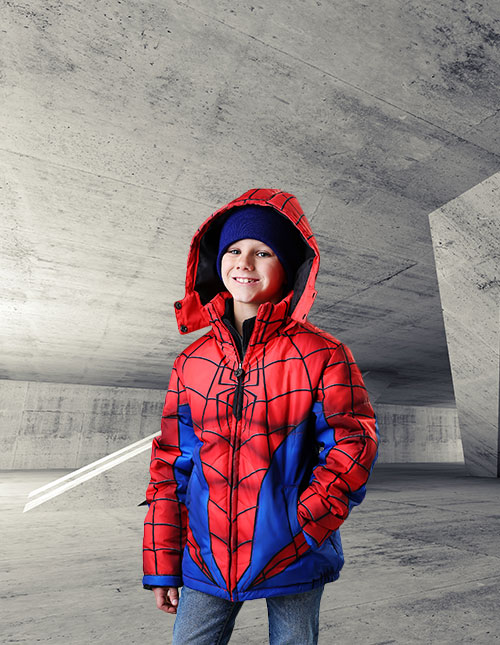 Do you live in a place that has some chilly winters? We know your struggle! We come from the frigid state of Minnesota and that means we've had our fair share of icy cold weather. You need to gear your little one up for the winter with the power of his favorite wall-crawler! This kids' Spider-Man jacket will help keep your child warm while he dresses up as Spidey.
Spider-Man Hoodie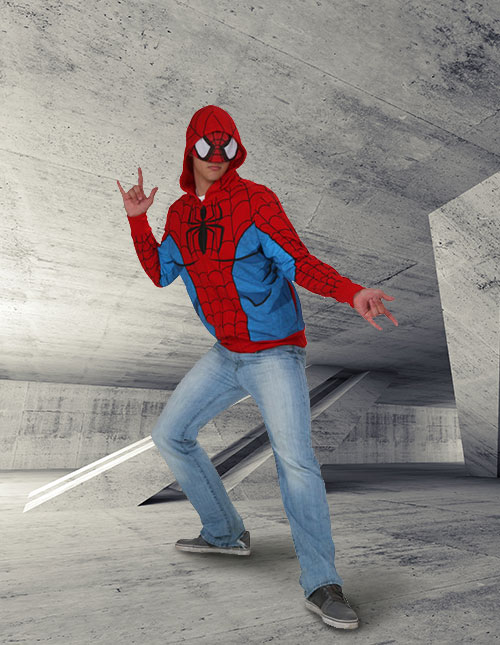 Maybe you're looking for a way to stay super comfortable while fighting super villains. This Spider-Man costume hoodie looks heroic, keeps you warm, and protects your secret identity all in one. That's right, the hood even has an attached mask!
Spider-Man Costume T-Shirt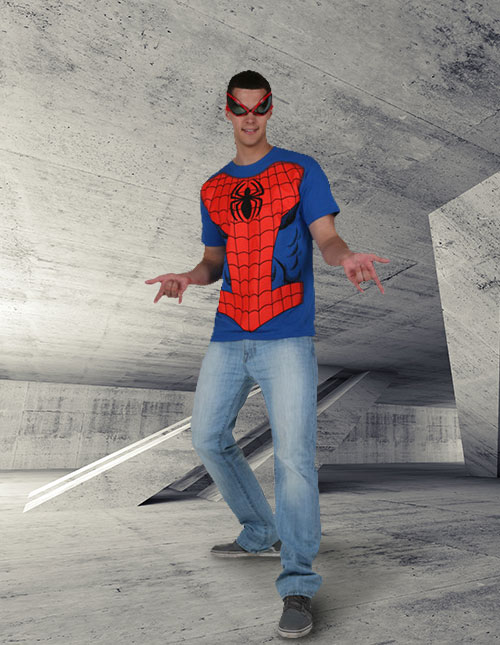 Not only does this Spider-Man costume t-shirt transform you into a comic book superhero in an instant, it also gives you an everyday option for wearing a Spidey suit. Add a pair of Spider-Man sunglasses and you'll look ready to sling webs with the best of them.