Inflatable Dinosaur Costume Ideas
You know the videos well. The inflatable T-rex costume has taken the world by storm with viral YouTube videos making the rounds on social media. Of course, this fun meme is available for anyone to do, so long as they get the costume! We've got that classic Jurassic World T-Rex Costume ready for you, as well as other equally awesome and totally sweet inflatable dinosaur costume styles. Check out some of these top selling items to see if any of them will have you ready to push the record button!
Blow Up Dinosaur Costume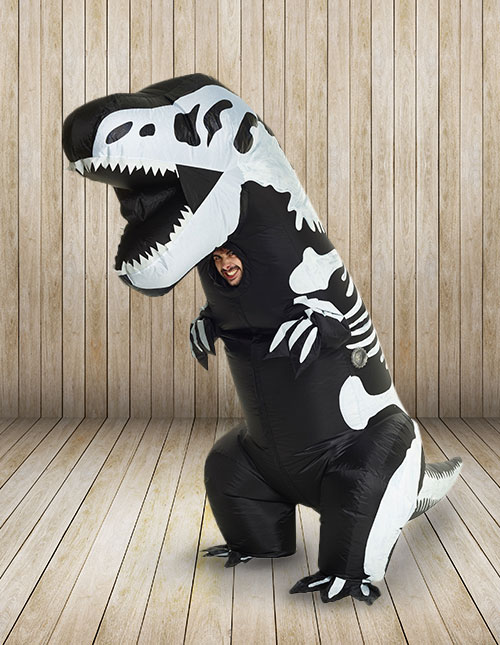 Our favorite Inflatable Dinosaur Costume has to be this skeleton t-rex costume. You know, since we only know about the T-Rex today because of fossils! Wearing this costume would be like the skeleton on display at the natural history museum waking up and going on a rampage. Now, that would be pretty sweet! This costume features a face hole right beneath the massive dinosaur jaw, so you can be comfortable while creating a super-sized appearance.
Inflatable Godzilla Costume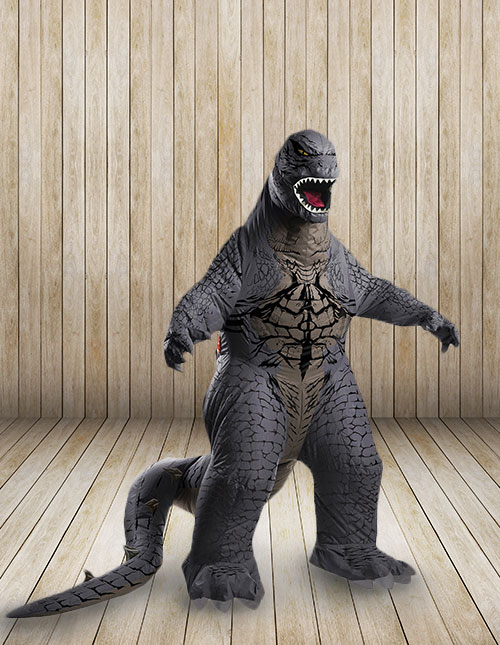 Godzilla has been the star of Japanese movies since 1954, and he's even crossed the sea with mega-movies in the US with Godzilla (1998) and Godzilla (2014). Well, now you can become the mega-famous kaiju by slipping yourself into this inflatable Godzilla costume. This costume is officially licensed and is a great representation of the classic character. It even has an oversized tail that you can swing around while you create city-wide terror! Pro-tip: if you're recording yourself on video with this costume, be sure to take the extra time to build yourself some fake city skyscrapers. You're going to look extra epic when you bring them smashing down!
Jurassic World Inflatable T-Rex Costume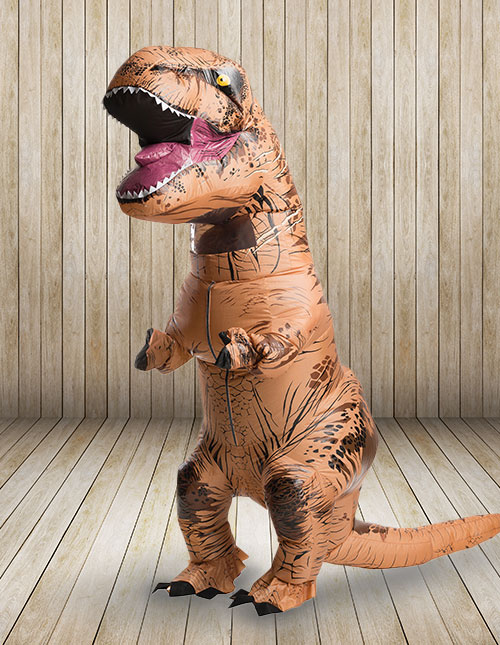 As we've mentioned, this is the inflatable t-Rex costume that started it all. From the smash hit 2015 flick Jurassic World, this costume has become a veritable pop culture icon. Well, now you too can suit up as Rexy from the Jurassic Park saga when you grab this officially licensed costume. Use the battery-operated fan to inflate the costume and get ready to make some movie magic. Of course, the funniest videos involve 2, 3, or 4 friends in costumes, so you might want to pick up a few to suit up your friends!
Jurassic World Inflatable Raptor Costume
Of course, with the popularity of the Inflatable T-Rex Costume, we knew it wouldn't take long to get some of our other favorite dinosaurs as inflatable masterpieces. Blue, the alpha raptor trained by Owen Grady himself, of course, was a prime selection. Well, now you can become Blue by suiting up in this adult inflatable velociraptor costume! Team up with your buddies as Owen and Claire for a great group theme, or get your friend into the T-rex suit if you think you might have to face off against Indominus Rex!