Inflatable Dinosaur Halloween Costumes
Are you a big Halloween fan? Since you are reading this, you probably are. Don't worry—this is a judgment-free zone. We love Halloween, especially when it comes to dressing up in costumes! You have a ton of options to choose from. Do you want to be a superhero or a medieval character? We are bound to have something for you. We are proud of all our costumes, but we have a special place in our collective hearts for our Inflatable Dinosaur Costumes. If you want to make a costume change this year, you must check out our Inflatable Dinosaur Halloween Costumes!
Adult Inflatable Dinosaur Costumes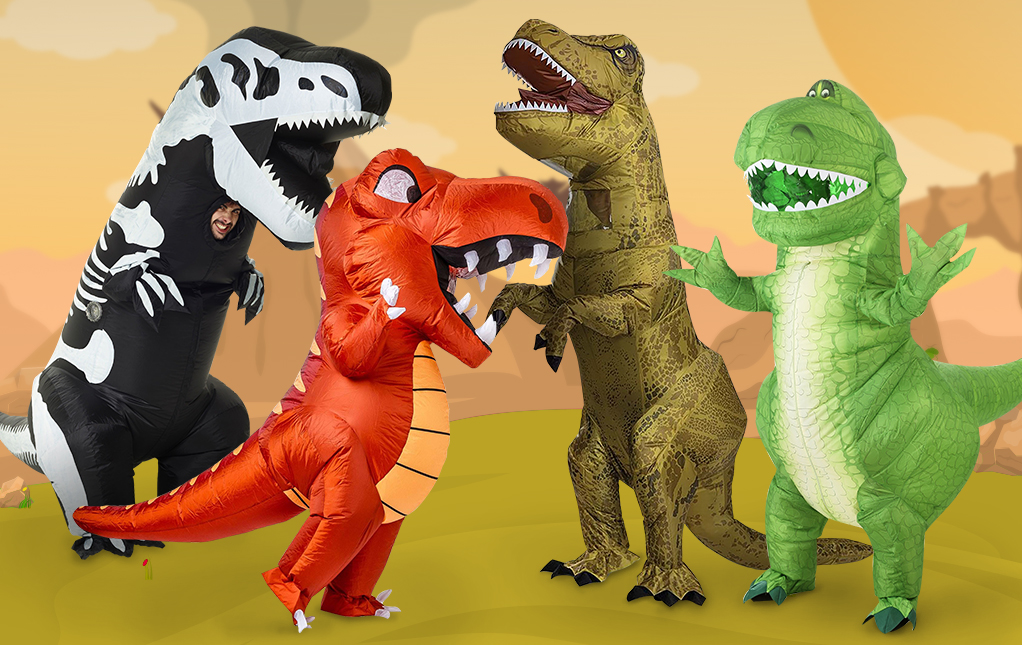 Adults may not admit it, but we always think about dinosaurs. Well, maybe not all the time, but plenty. How could you not think about the apex species that came before us? They stomp around, all like, "I'm a dinosaur, roar!" They are kind of show-offs now that we think about it. But can you blame them? We think dinos are pretty unique and we ensure our Adult Inflatable Dinosaur Costumes are just that. If you require a different Halloween Costume this year, check out our inflatable dinosaur costumes for adults.
Kids Inflatable Dinosaur Costumes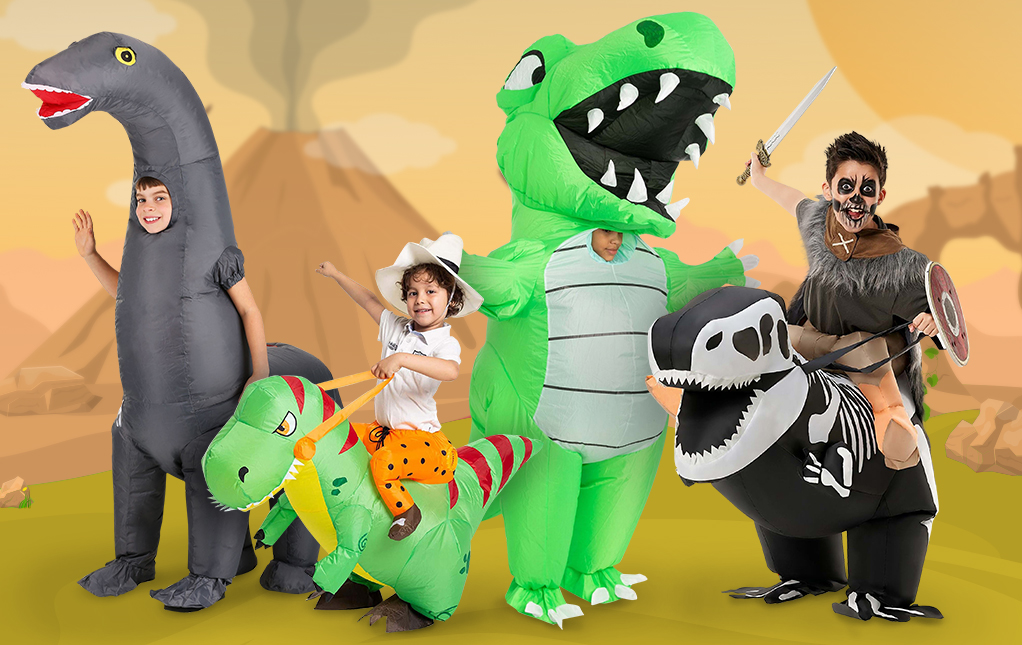 Kids are just small adults, but they have the fortunate benefit of having solid imaginations. If you told two kids to be dinosaurs for the day, by the end, they'd probably have formed a whole dino society with the neighboring kids. That is just how impactful a strong imagination can have on the youth. That is a big reason we think our Kids Inflatable Dinosaur Costumes are perfect for those young ones who have more ideas than they know what to do with. Don't think so—you'll believe us when your child starts talking in their new dinosaur language.
Blow Up Dinosaur Costumes
What's better than a dinosaur costume? An inflatable dinosaur costume that is what! We love dressing up during the holidays (or whenever, really), but we have an extra special time regarding our inflatable dinosaur costumes. It really sparks the imagination when your costume can inflate to make you resemble a dinosaur. You or your young one will have a blast acting like a parent and a child raptor or skeleton t-rex riders. No matter what you decide to be this year, make sure you include our Dinosaur Inflatable Costume!
Inflatable Raptor Costumes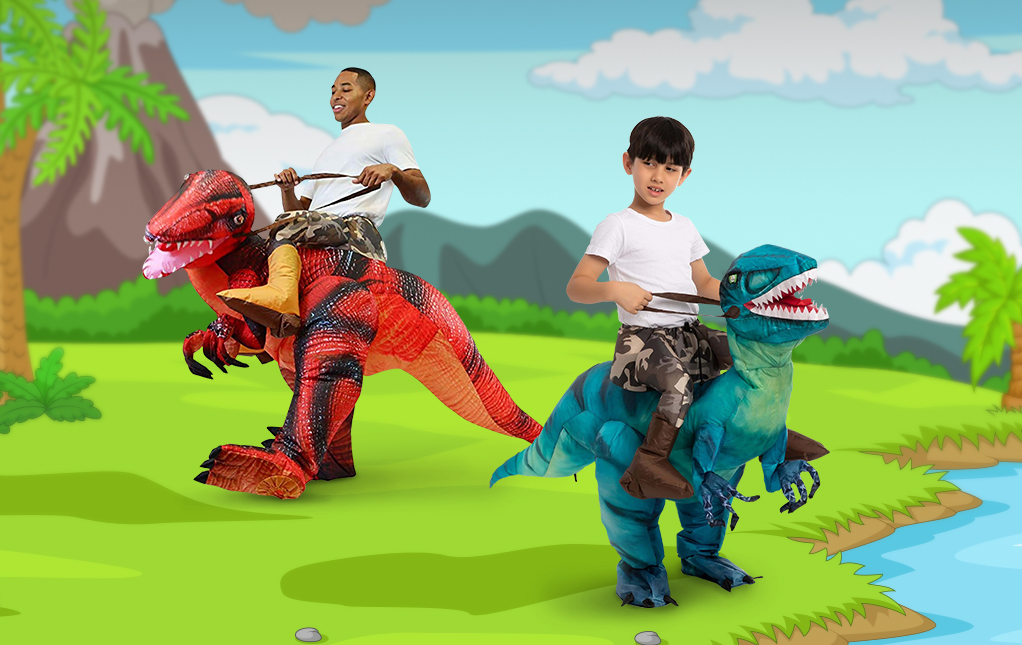 Aside from the t-rex, raptors are arguably the most coveted dinosaur on the playground. You get to do the fun raptor arms and make the uncomfortable neck movements raptors are known for. If you love dinosaurs, but your neck and arms are getting tired, you should pick up our Inflatable Raptor Costume. Not only will it save you some chiropractic visits, but them being inflatable, they are as close as you can get to feeling like a real raptor. If you are a fan of the popular raptor or are simply looking for a different costume, check out this Inflatable Velociraptor Costume.
Inflatable Pteranodon Costumes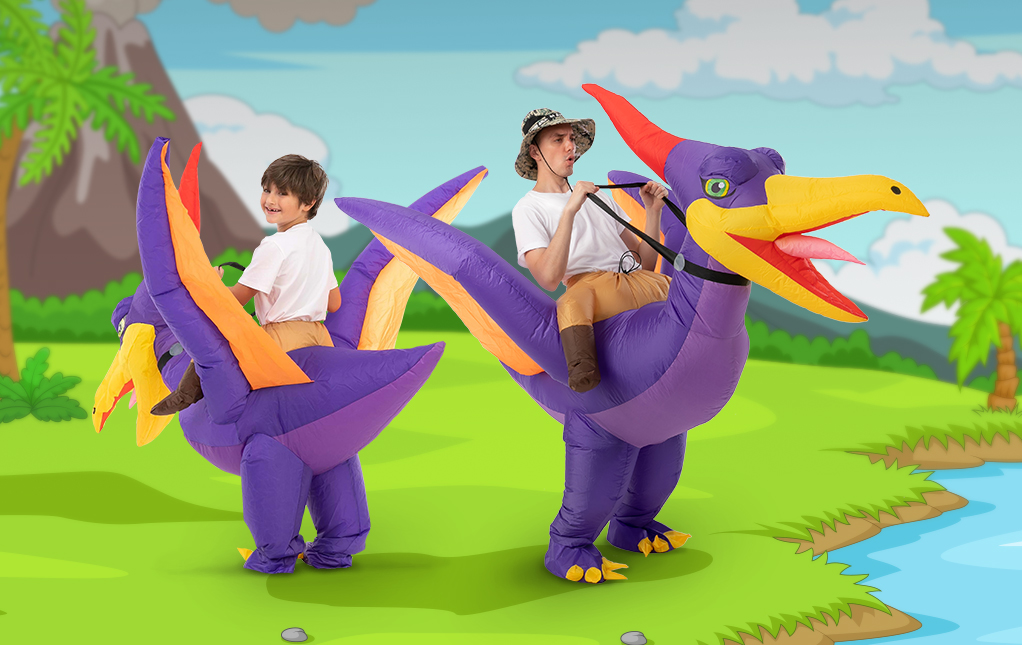 Pteranodons are a combination of two significant elements: dinosaurs and flight. We here in the office would take both gladly, even though flight is a bit more practical than having razor-sharp teeth and claws. You have to admire this particular dinosaur, not just for their ability to fly, but for their look in general. One of these would be awesome to get tatted on your back. If you don't have the time or money for a tattoo, do the next best thing and check out this Inflatable Pteranodon Costume. Soar while you roar, as they (someone) say.
Inflatable Reptar Costume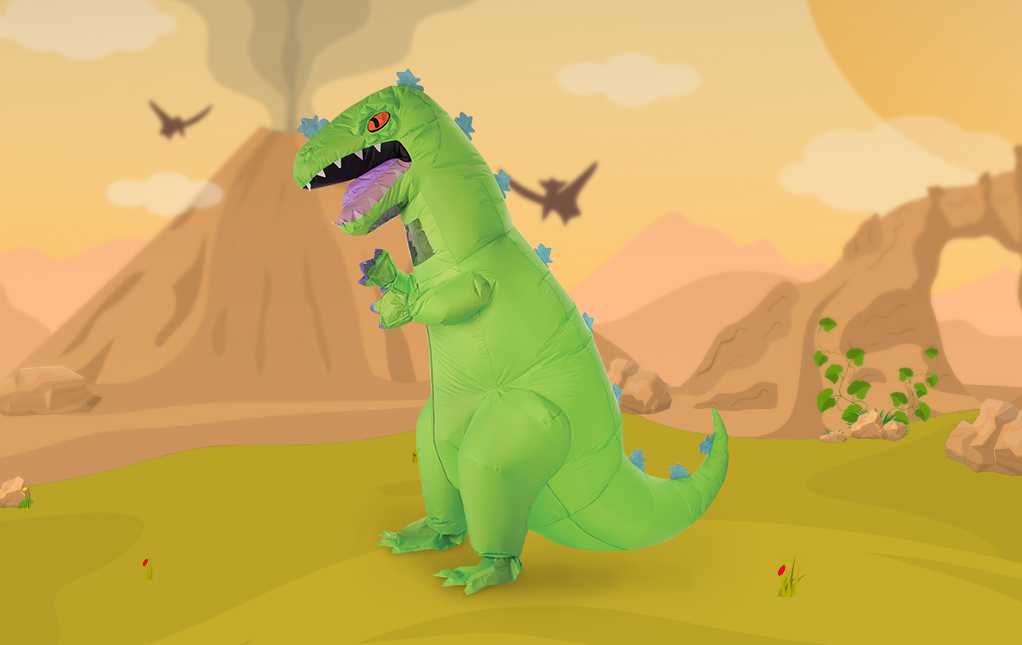 Reptar, Reptar, something something, Reptar! Sorry, it's been kind of a while since we sat down and watched the Rugrats, so some of the song lyrics are a bit blurry. It was indeed a fantastic cartoon. A show must be good when you can watch the exploits of infants for 30 minutes over and over. Reptar was the head dinosaur in Rugrats. There was no doubt in the group's mind that Reptar was not only real but extraordinary. In honor of Tommy, Chuckie, and the gang, we thought it was appropriate to feature an officially licensed Inflatable Reptar Costume.