How to be Darth Vader
Darth Vader time anyone? Sure, suiting up as the ultimate villain in the galaxy, the dark lord of the Sith and right hand man to the evil Emperor sure sounds like an easy proposition, but let us tell you from experience, it's hard work. (It also puts you in danger of falling to the Dark Side of the force, but that's really only something you should worry about if you're a Jedi). Anyway! It is totally worth the effort! Using a costume to transform into the iconic character is only half the journey, the other part is making sure that your costume experience is the best it can be and extra wicked, like a good Sith should be. And that whole Dark Side thing is exactly what we're here for.
You've already checked out all of our Darth Vader costumes for adults, and now that you're at the bottom of the page, let us hit you with some serious Sith advice! Choosing the right Vader costume is only half the adventure, and while we can't teach you how to do a force choke or deflect laser bolts with your lightsaber, we can make sure that you have a tip-top time with all of the best Star Wars costume accessories. We also have tons of fun gear that will let you have an entire Vader themed Halloween; costumes to get a lady friend in on the Sith action, and even one for ol' Fido (we knew he would give in to his anger sooner or later)! If that's not enough, we have some handy Darth Vader quotes so that you'll be able to walk into the party with confidence. But, you're pretty much the second greatest guy in the galaxy so maybe that's confidence enough. When you're truly ready to progress in your journey just scroll below and absorb these ideas so that you'll be able to fully know the power of the Dark Side!
Darth Vader Costume Accessories
So, you did it. You finally fulfilled your own prophecy. You ordered a Darth Vader costume to wear at your big Coruscant event! But now that you've got the costume in your hands or maybe it's still on its way (hey, intergalactic shipping takes time!), the question remains, what can you do to take your Darthdom to a whole other level? Don't fret, we've been there, done that, and just as surely as lightsabers are suited for slicing off appendages, we're the experts, and we're ready to suggest some sweet accessories to enhance your costume experience. Check out these curated choices for the best and most-popular additions to the iconic Star Wars Darth Vader costume!
Star Wars Darth Vader Deluxe Force FX Lightsaber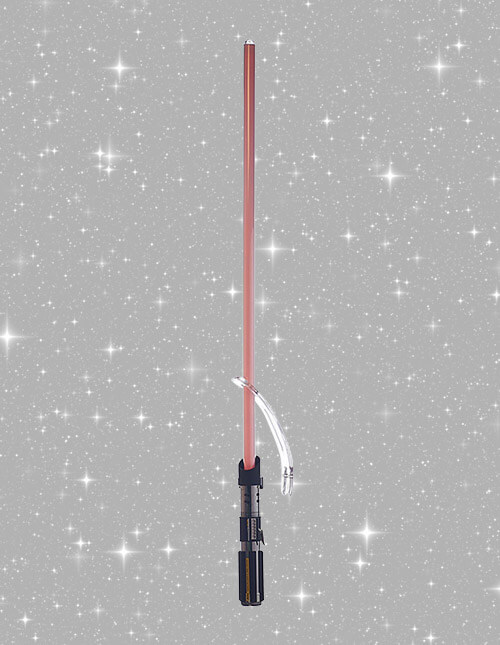 We don't care if you're getting ready to have a showdown with Obi-Wan Kenobi on the first Death Star, or even if you're preparing to battle your son Luke Skywalker on the, well, second Death Star. If you're about to face off with a lightsaber wielding Jedi, you're going to need the proper weapon, something from a more civilized age, something of your own to battle in the ancient ways of the Jedi and Sith. You can take your authentic Star Wars costume look up a notch by using the deluxe Force FX lightsaber prop. Forget those plastic telescoping toys for kids, this saber is the real deal (well, as close as we can get it right here in our own galaxy!). It will glow an ominous red, and it makes the signature clashing sound effects that you know and love, so you won't have to provide your own cheesy vocal effects. With a real metal hilt and a polycarbonate blade, you'll be able to actually look like you've finally constructed your own lightsaber! Just be careful though, these things will break if you try to actually slice through a bulkhead...
Darth Vader Adult Gloves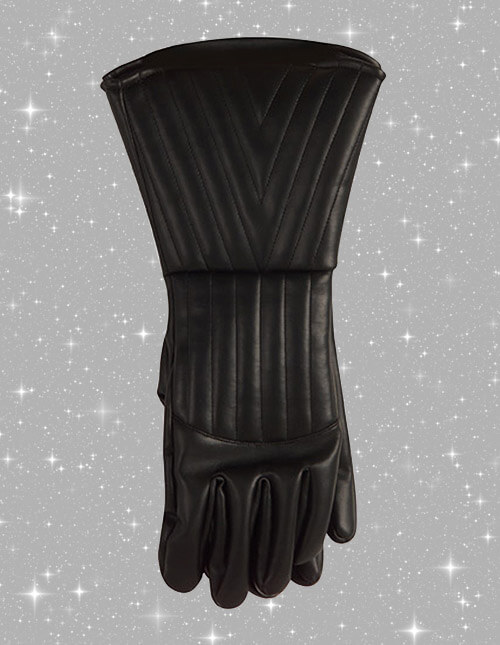 So, you still have your natural born flesh-covered hands; but that's no reason not to let everyone wonder about which parts of yourself are man and which are machine. So make sure you have these authentic gloves when you suit up as the ultimate Sith Lord. They feature a faux leather finish with thick quilted seams for the movie authentic look. Frankly, when we picture Star Wars fans in a Darth Vader suit, we can't picture them in any other gloves than these! They're pretty iconic, but then again every bit of Vader is. Your force choke gesture just wouldn't look right without these gloves. Remember when Vader extended his hand to take care of that bothersome Moff? Who could even imagine ol' Darth holding that red lightsaber without thick gloves? It's part of the mystique. We pay serious attention to the details when we go in costume, and we don't mean to be pushy here, but so should you!
Darth Vader Authentic Mask & Helmet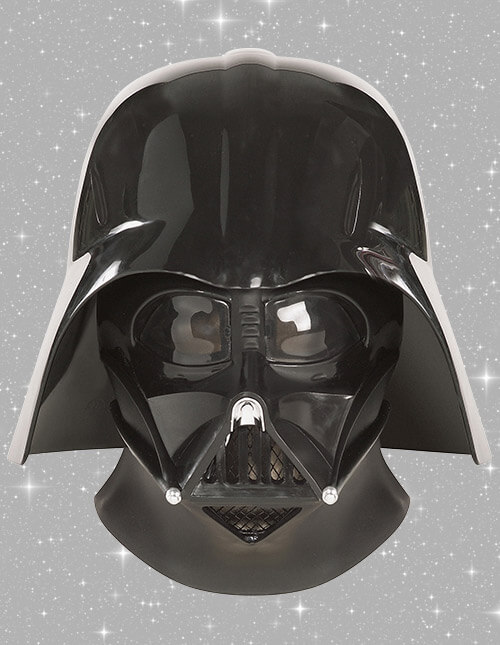 We don't blame you one bit if you don't go for the authentic supreme edition Darth Vader costume, it's a serious commitment. But whether you're choosing your costume look based on price or comfort, there's one place you absolutely do not want to skimp. The mask! You can add this authentic two piece Vader helmet to any version of his costume for a detailed touch of realism. With an injection mold design based off of the original movie prop, and foam strips for fit, you'll have no trouble convincing all your friends (and enemies) that you're the ultimate lord of the Sith. If you don't believe us, just "search your feelings, you know it to be true!"
Darth Vader Breathing Device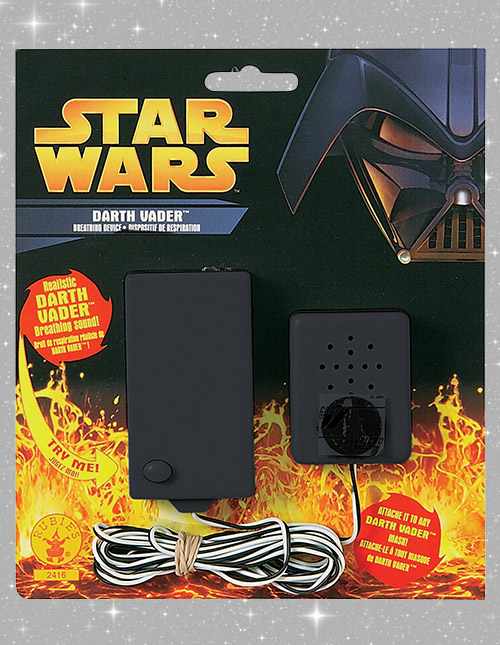 It's the creepy breathing that keeps the Rebels up at night. The machine enhanced vocalizations of Lord Vader creates a chilling effect whenever he speaks...but it's his pronounced, raspy, deep breaths that really are the thing of nightmares… especially for Admiral Ackbar and the rest of the Rebellion. This sound effect device secures to the inside of any Darth Vader mask, and you can run the wire through your costume to control it as desired. Add this unique accessory to your authentic Darth Vader costume so that you'll have his deep machine-assisted breath effect on lock. "No, I am your father" just doesn't sound quite right without it!