Pennywise Halloween Costumes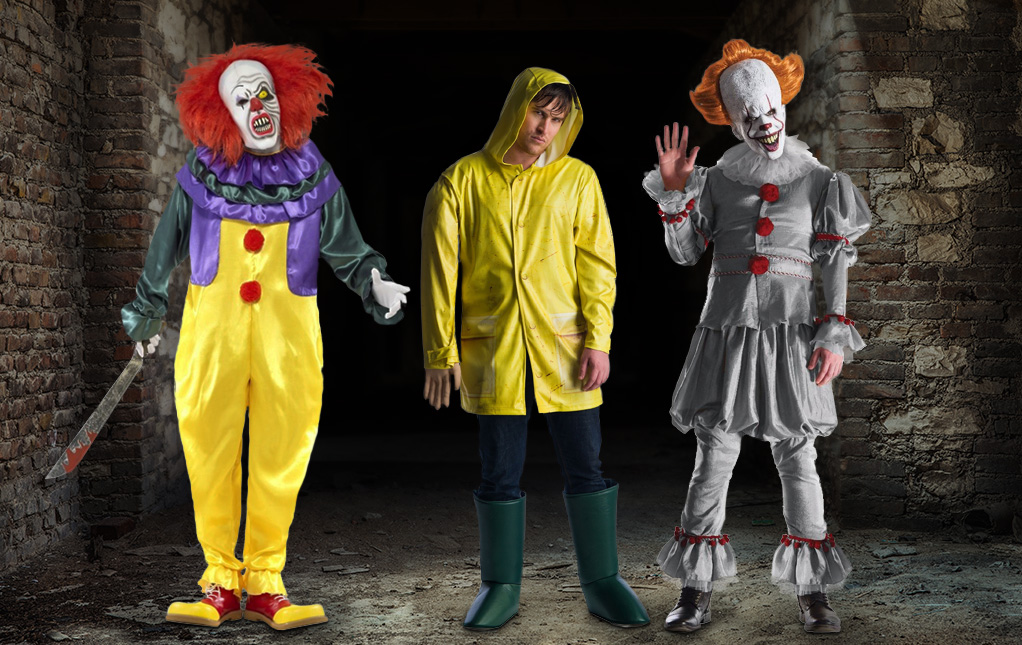 Derry, Maine is not a place we'd take the family on vacation. Yes, visiting the tiny town with unusual disappearance and murder rates might be memorable but we don't think that kind of atmosphere makes for relaxing quality time. When it comes to Halloween, however, looking to the main resident of the Derry underground is a great idea! The Dancing Clown will always chill a group of revelers to the core. There are other creepy clowns out there but none of them have the clout that Pennywise has. Maybe it's the way Pennywise moves in his…her…IT's weathered gray clown suit. Maybe Pennywise stands out due to its perfect timing. Maybe it's the way we always know IT is coming and yet we're still terrified when IT appears. Get the inside scoop on Stephen King created horror when you step inside Pennywise's clown shoes. Looking to float to all your spooky festivities with friends this Halloween? Pair up with poor Georgie to make your costume stand out from the masses!
Pennywise Halloween Costumes
As we mentioned, there are a lot of creepy clowns out there. Maybe it's the frozen smile or the thick makeup. Maybe it's the quick movements and the need to surprise onlookers. Whatever the reason, clowns scare most people to some extent. That's probably why an entity feasting on fear and negativity has been dressed as a clown for hundreds of years. If you want to be one of the eerie Pennywise visions then you'll need to tap into IT's very specific look. Whether you're going with a costume that's out of the 1990 miniseries or your outfit of choice is a version of Pennywise's updated look, everyone will know that you're not just some random clown when you show up in one of the costumes below!
Pennywise the Clown Costume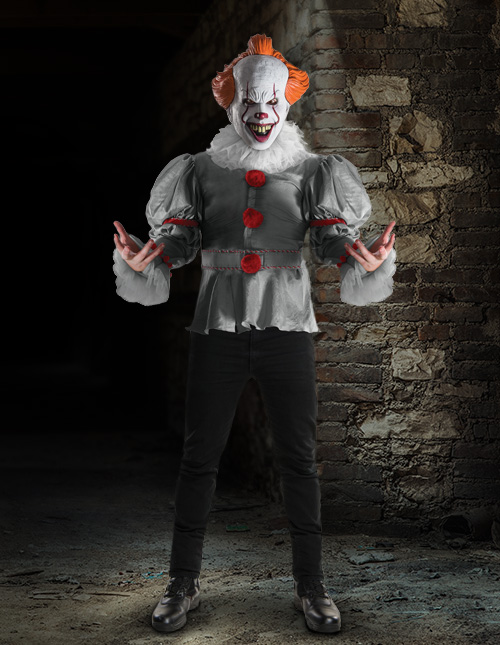 The updated version of the Pennywise clown outfit seemed timeless almost as soon as it came on the scene. The silver costume looks so at home in the haunted pages of Derry's history books. IT's new outfit also looks at home in the barrens of Derry. We have a feeling that Pennywise would still look at home in our time and outside of our houses. That's why this version of the costume is so creepy, it could appear anywhere. Become part of King's story when you slip into this Pennywise costume
Original Pennywise Costume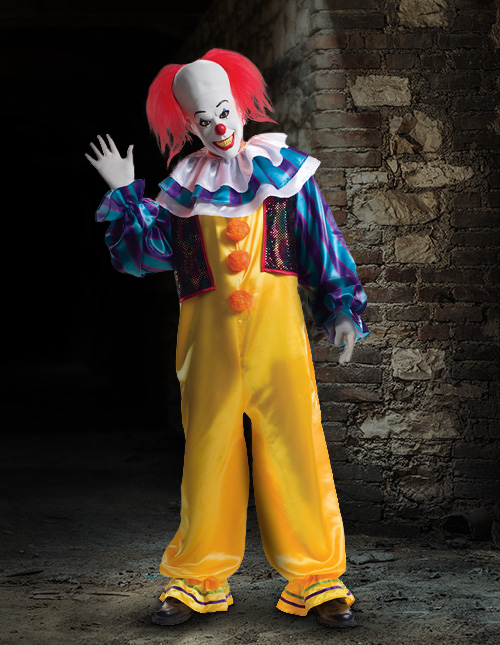 The original Pennywise was a lot more colorful, standing out in the dark sewers and marshes of Derry. This clown made history after scarring a generation of kids who were watching IT even after their parents expressly forbid it. (Guilty!) Are you looking to channel Tim Curry's sadistic version of this famous clown? This Grand Heritage Clown costume is sure to send shivers down the spines of anyone you come across. Because who can forget the first time they saw IT?
Female Pennywise Costume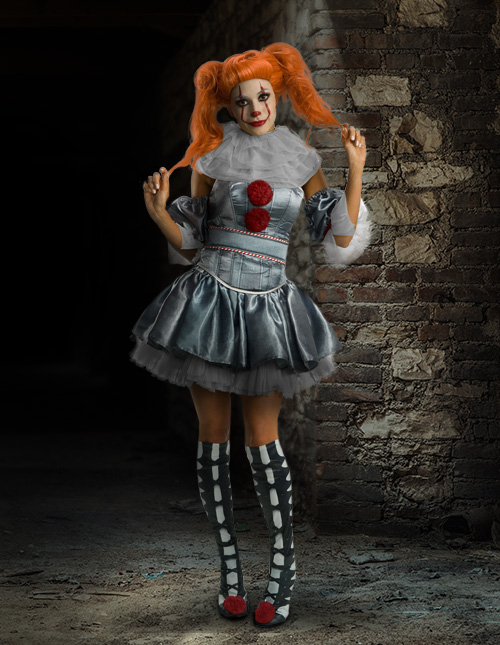 We've seen the Pennywise jumpsuit. It looks nice enough. We're pretty sure, however, that Pennywise's aesthetic has more potential for variation. If you want a Pennywise that breaks the mold, a Pennywise dress is a playful take on the creepy clown. The silver dress is excellent for getting out on the dancefloor on Halloween. The silver and red look can easily be paired with a red clown wig and clown makeup to complete the clowning aesthetic. Pair it with tights or thigh high stockings to make this costume more comfortable on a blustery Halloween night. Because Pennywise needs to be able to focus on creeping out the next, inevitable victim!
Pennywise Costume for Kids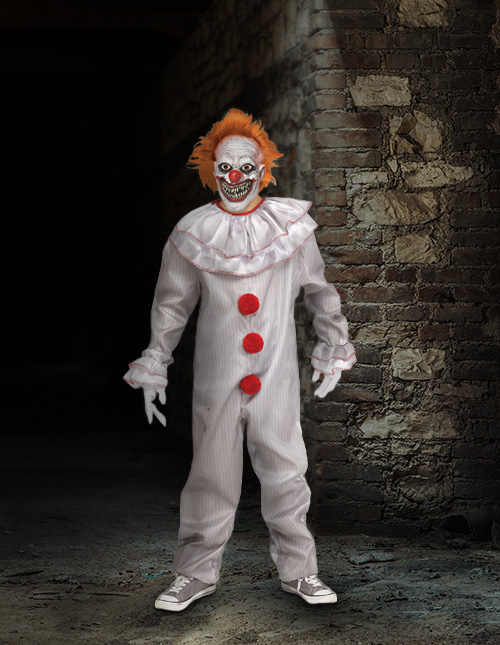 Your kids might be a little young to watch IT. Still, they know a scary character when they see one. While their version of an unhinged clown might not be the IT Pennywise costume, the level of fear can come close if you let it. This costume is far from cheerful, after all! Whether they're helping out in their school's haunted house or they're trying to look too scary to scare while wandering around on Halloween night, this eerie clown costume is a great choice!
Georgie Costumes
The scene where poor Bill is making the boat for Georgie just kills us every time we watch it. We want to yell at him to play a game with Georgie instead. Or he could be a jerk and refuse to fold the paper ship for the bored six-year-old. But it's just one of those moments. It has to happen for anything else in the story to take place. So we watch the kid head out into the storm, wearing his rain slicker and carrying the boat his brother made for him, knowing what's about to happen. It's this scene that makes Georgie an iconic horror figure even though he's innocent. Your Pennywise and Georgie costume combo is sure to make every scary movie fan jump in recognition. That yellow raincoat is instantly recognizable. Add a red balloon to the look and it's enough to give anyone the chills!
Men's Georgie Costume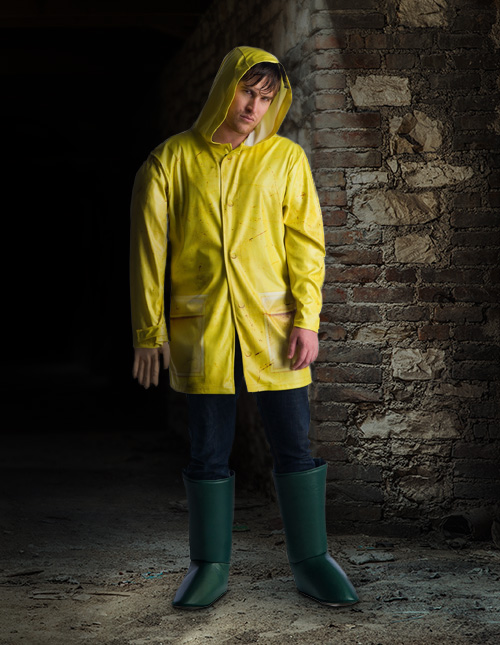 Okay, okay, we think what happened to Georgie is really awful. But this costume is a little funny in addition to being macabre. This Georgie costume looks innocent enough at first glance but you can take off the arm at just the right moment for some true-blue shock factor. Have some fun with it. Set the scene. Crouch down in a dark room and have a conversation with an invisible evil entity and come up with a detached arm to send some shock and awe to onlookers. Weather the Halloween storm with a creepy enthusiasm in this Georgie costume.
Women's Georgie Costume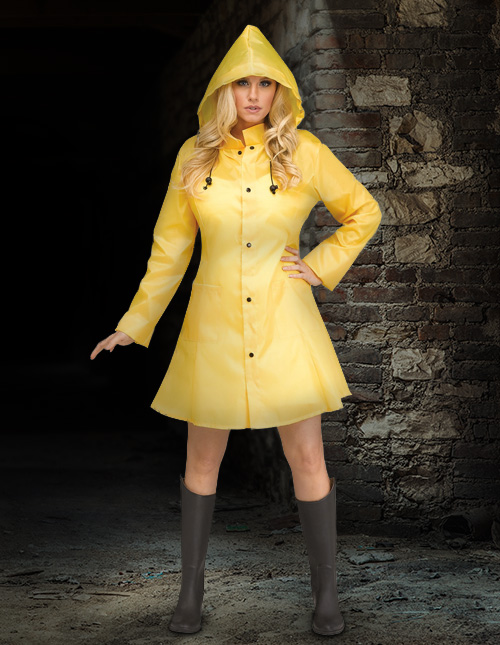 While a Pennywise costume is a lot of fun, it would be a shame to leave Georgie behind. After all, the scene where he shows up in the Denbrough's flooded basement is one of the scariest scenes in 2017's IT. Pair Georgie with Pennywise the Dancing Clown and you've got a match made in nightmares. This yellow rain jacket costume is the perfect way to create your Georgie Halloween costume. Pair up with Pennywise for a great Halloween couple's costume. Complete this look with a red balloon and you'll be ready to creep everyone out at the Halloween party!
Pennywise Decorations
Can you imagine what it would be like if Pennywise threw a birthday party? We don't think it would be very pleasant. Memorable? Certainly. A party that we'd RSVP to? Certainly not. If you're putting together an <em<IT themed party for Halloween, however, it'll sure be a fun affair. First, you've got to start from the very beginning. Throw on your Pennywise outfit, play the IT soundtrack, and blow up plenty of red balloons. You can serve popcorn, eerie red cupcakes, and a veggie tray that uses different colored veggies to create Pennywise's face. It's a cute idea but someone needs to eat all those kohlrabi teeth before we get nightmares!
Pennywise Prop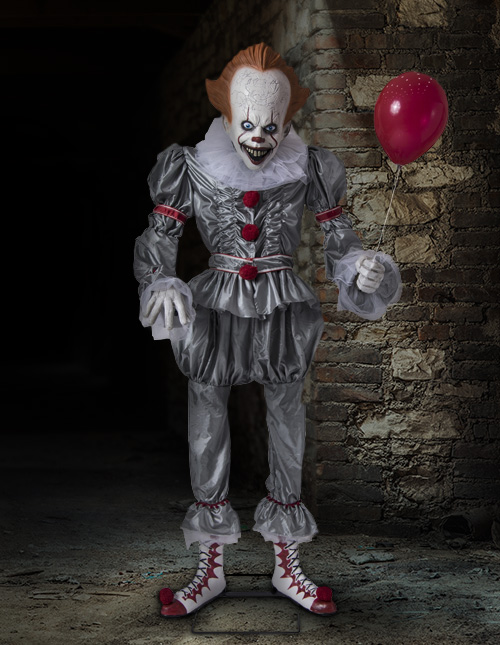 This silver suit is sure to elicit shouts of fear from onlookers as soon as it starts moving. People are used to creepy Halloween decorations but this Pennywise prop is ultra-nightmare-inducing. It has a battery pack connected to the interior frame to make your prop move and speak when people approach. Want to set the scene? Frame this prop with red helium balloons so it makes an impact. Now all you have to do is figure out how to avoid getting scared every time you walk past this clown. Maybe go in through the back door until Halloween is over?
IT Pennywise Hanger Prop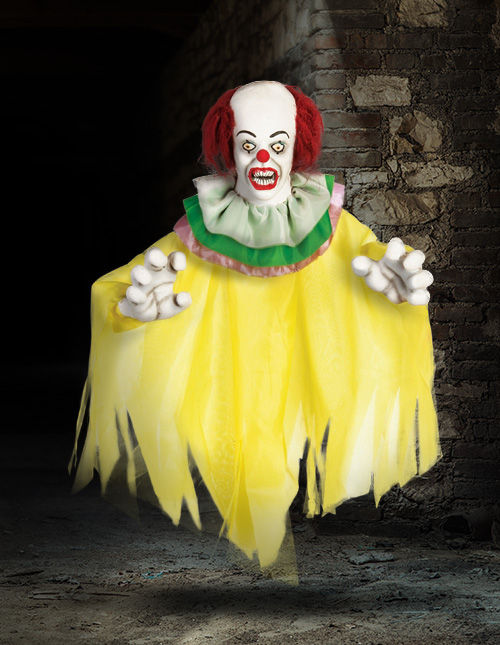 Well, maybe you're an IT fan but you don't have some fancy estate with a lawn. We understand. But that doesn't mean you have to be left out of decorating for Halloween! Maybe you need a smaller Pennywise prop that packs a lot of punch. This colorful accessory will creep out anyone who walks in your door. The face of the prop looks ready to dine on some serious fear. Maybe you could invite your old buddies over and not tell them that Pennywise is waiting in the bathroom. You'll finally get them back for making you watch the original IT at way too young an age. You couldn't wash your hands without staring at the sink, waiting for blood to bubble up for weeks…or years. Welcome some serious fear into your home with this high-flying Pennywise prop.