How to be a Bunny
While the internet is going crazy over cat memes and puppy GIFs, we are sitting in front of our computers with googly eyes because we can't stop looking up bunny videos. We love everything about those adorable little fluff balls! First of all, rabbits are so small, their fur is so soft, and we can't get enough of how their little pink noses twitch nonstop. If you have a fascination with bunnies too, then why not dress as a cute rabbit for Halloween? You'll love wiggling your fuzzy poof of a tail while you hop from place to place! You'll also love having paws, nibbling on carrots, and twitching your pointy ears. The following tips and tricks we'll teach you everything you need to know about becoming one believable bunny that everyone wants to chase or own as a pet. Look over our wonderful bunny costumes, accessories, and props so you can fully transform yourself into one of the cutest and cuddliest animals in the world. Plus, we have an assortment of bunny costumes for babies, toddlers, children, and adults. All of our suggestions are sure to put a little bit of bounce in your step!
Famous Bunnies and Rabbits
If you're a fan of the fuzzy little creatures with the jumbo-sized ears, then you're most likely a fan of some of the most famous rabbits in pop culture. For example, do you collect all the Bugs Bunny or White Rabbit items that you can possibly get your hands on? If so, then you're most likely interested in dressing as one of these easily recognizable rabbits for Halloween. For your convenience, we've rounded up some of our most popular bunny themed costumes for adults that we sell on our site. The following costumes are all comfortable and cozy and best of all, they will easily transform you into the carrot munching creature that you love the most. Go ahead and take a peek at the costumes that we picked out. Hopefully, one of these will make you very, very "hoppy!"
Bugs Bunny Costume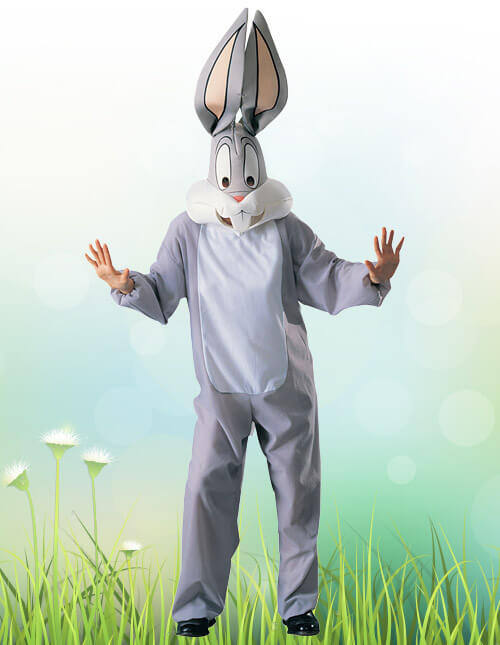 "Ehh, what's up, Doc?" Well, what do ya know; it's everyone's favorite wise-cracking "wascally wabbit!" If you've always had a soft spot for the super chill, yet hysterical gray hare then why not dress as the one and only Bugs Bunny for Halloween? Think about all the fun you'll have when you're cracking jokes in the warm jumpsuit, all while chomping on a yummy carrot. You'll be in store for one wacky evening when you're outfitted as the Looney Tunes' central character. You'll have a blast pulling pranks as the animated mischievous trickster while wearing this Bugs Bunny costume. In fact, you can meet up with Taz or Marvin the Martian for one eventful night, filled with lots of excitement and wacky shenanigans (just make sure Elmer leaves his shot gun as home.) This Bugs Bunny costume comes with the plush zip-up jumpsuit and the character mask, so all you'll need to supply is the silly sense of humor!
White Rabbit Adult Costume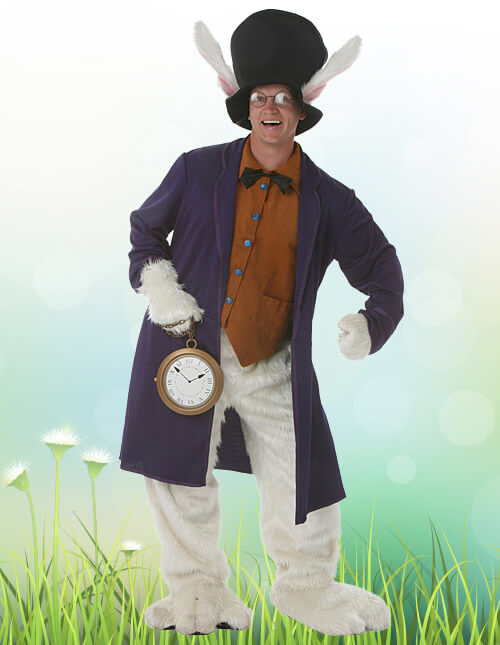 Hurry up, don't let time run out! If you're a fan of Alice in Wonderland and your favorite character happens to be the infamous White Rabbit, then you better add this costume into your cart, and hop to it. As you know, the White Rabbit just cannot be late (hence the huge golden clock he carries around) because the future of the legendary Wonderland tea party rests on his furry little shoulders. His promptness simply cannot be compromised! If you hate being late and you have the natural tendency to bounce from place to place, then this costume is perfect for you. You'll feel warm and cozy once you put on the furry pants and matching gloves. Before you know it, you'll look ready to hang out with the Cheshire Cat and the Mad Hatter!
Tux Tails Bunny Costume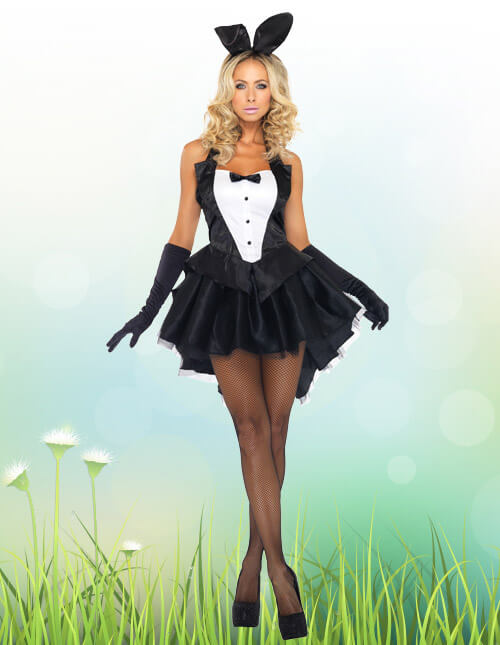 When you hear the word, "bunny," do you picture a woman wearing glittery bunny ears and stilettos while parading around a lavish Los Angeles mansion? If so, then you should probably ditch all the fuzzy rabbit costumes you've been browsing and check out this Playboy Bunny costume. It's a different take on a bunny costume, but it's sure to make you "somebunny" special. Plus, this particular costume is more appropriate to wear to over-the-top parties than the usual white shaggy frock because you'll be completely dressed to the nines. No need to worry about dress codes because this tux and tails bunny costume will give you a professional, yet playful, appearance. This tuxedo inspired costume comes with a formal black and white halter-style top and a hi-low cut skirt, and of course, a headband with attached large pointy ears. You'll give a new meaning to what everyone would consider a "classic bunny costume!"
Christmas Story Bunny Costume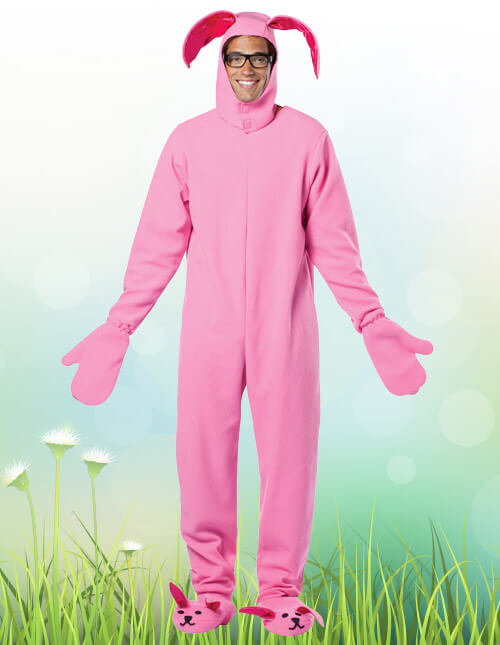 If you're a lover of white cottontails and floppy rabbit ears, then you were most likely very jealous of Ralphie because he was gifted the pink bunny footie pajamas from Aunt Clara. We can understand why! Those jammies looked so cozy, plus the attached bunny slippers made us say, "awww!" When reminiscing over The Christmas Story, many remember the iconic leg lamp or the coveted Red Ryder BB gun, but nope, not us. The pink bunny pajamas are what stick out in our mind. If you were feverishly jealous of Ralphie's Christmas present, then maybe you should give yourself a little treat and purchase the Christmas Story Bunny costume. Plus, this fleece zip up jumpsuit is so cozy that you could even sleep in it! It looks just like the one that Ralphie grudgingly stomps down the steps wearing, complete with pink bunny ears and matching shoe covers. You'll feel like a kid on Christmas morning when this bunny costume arrives at your door.