Made By Us Cat Costumes
Suiting up in a cat costume? That's an awesome choice! Millions and millions of people choose to live with cats, and many who don't are still cat admirers. From house tabbies to the mighty tigers of the jungle, most folks agree that cats are pretty bomb diggity. So, with an animal that popular, we're confident you'd make quite an impression in a cat Halloween costume. And that's where we come in. Not only are we one of the web's top retailers of costumes, but we also make and design our own exclusive styles. That's right, these cat Halloween costumes are Made By Us! They get extra attention from our artists, developers, and designers, all to make costumes that are simply the best found online. Check out some of these exclusive cat costumes to see if any of them are just the style you're looking for this Halloween!
Black Cat Costume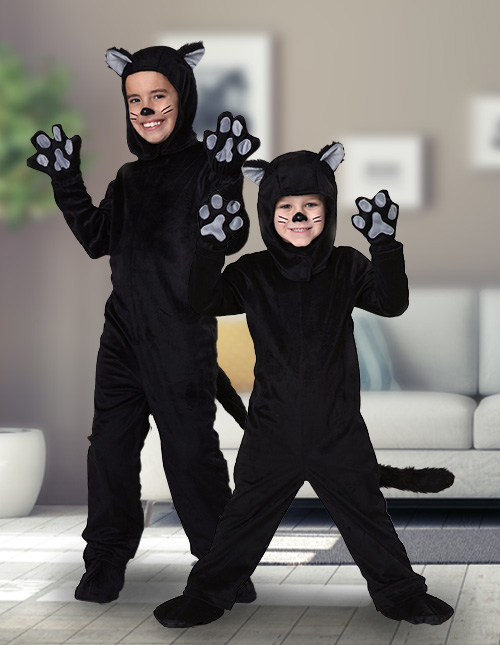 Who's got black cats? We do! We do! And you're about to as well when you suit your kids up in our exclusive Black Cat Costume. Made By Us in our very own costume design studios, this stylish costume has thick, luxurious black velour fabric along with gray accents and touches of black faux fur, too. Available in both toddler and kid's sizes, any child's sure to love the simple and effective styling of a black house cat. Available in adult sizes as well, you can suit your whole family up in our matching black cat Halloween costumes and you'll be ready to go out on the prowl. Meow!
Women's Black Cat Costume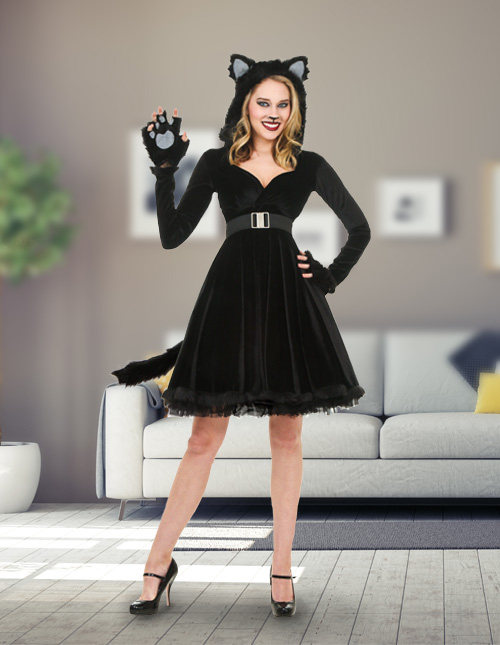 Women might prefer a slight style upgrade over a costume jumpsuit as their Halloween choice, which is exactly why we made this Women's Black Cat Dress Costume. A furry headpiece, mitts, and tail do the heavy lifting of the costume duty, while the cute dress will have you feeling like a svelte feline. Animal costume dresses are, of course, de rigueur for any costume party, but you're sure to stand out amongst your fellow party-goers when you choose this Made By Us design. Just be sure to add some makeup on your face to complete the style. A black nose and whiskers are essential for this cute costume!
Siamese Cat Costume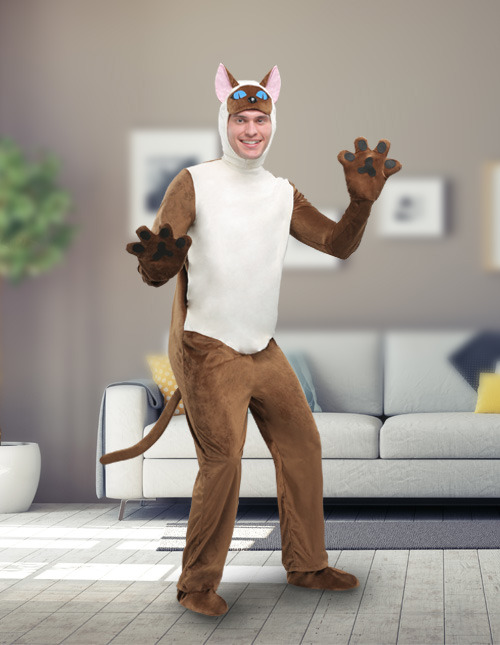 If you'd like a different cat breed to get your cat costume vibes set to 10, well, we've created plenty of other cat costume styles to get you feeling feline, too! We thought it might be a good idea to get some new styles into the costume mix, which is exactly why we created this Made By Us Siamese Cat Halloween Costume. With the signature eyes, ears, and color scheme of the Siamese featured, it's a stand-out style for any costume party. (And it's also available in kids!) Created by our team of artists, designers, and developers, this Siamese Cat Costume is sure to give you a unique, stand-out style for Halloween.
Cheetah Costume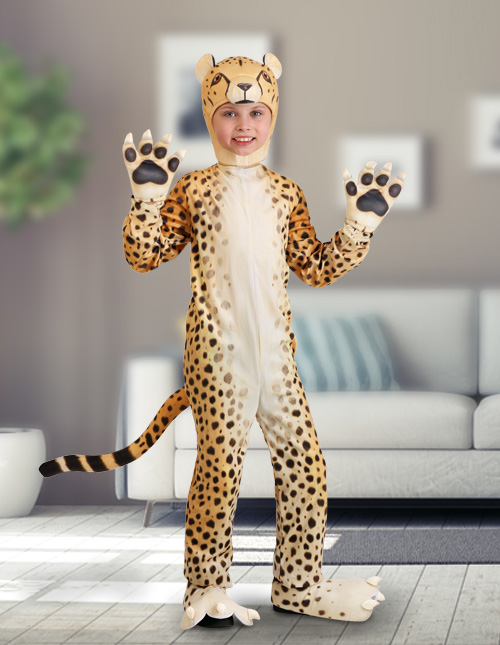 When trivia time comes around, inevitably someone's going to ask: which is the fastest cat of them all? The answer, of course, would be the speedy cheetah of Africa. You know we've got the perfect costume to go as a blistering fast cheetah, too, and it's another one that's crafted exclusively in our own Made By Us studios. This super detailed Cheerful Cheetah Costume comes with a realistic printed fleece jumpsuit and a character hood with extra attention to facial details. It's safe to say when your child's spotted out in the streets trick-or-treating, everyone will say that they just had a high-speed cat encounter!
Cat Halloween Costumes
When you're in search of a cat Halloween costume, you've probably already got something specific in mind. You know what we're talking about, your favorite cat pop culture characters! You can bet that we've got plenty of options when that's the case, because we love pop culture costumes, and cat movies and cartoons are pretty much universally regarded as awesome. Check out some of these top-selling licensed cat Halloween costumes, including some more of our own Made By Us exclusive styles!
Cheshire Cat Costume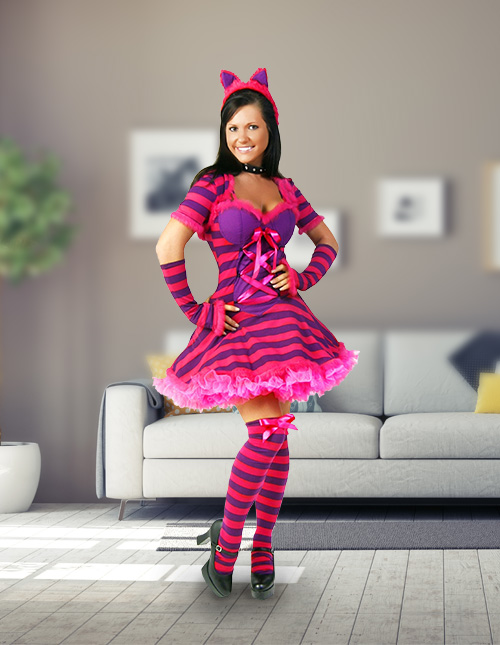 One of our all-time, most favoritest costume themes? Alice in Wonderland! Fans sure know that a certain cat plays a pretty important role in Wonderland, too, with the Cheshire Cat stealing the scene no matter which iteration of Wonderland you've got in mind. Of course, we have top-flight Cheshire Cat costumes available in several styles. Our most popular choice is an iconic Wonderland Cat dress costume. This intricate style is loved by fans, and the brilliant pink and purple color scheme is sure to help you stand out!
Tony the Tiger Costume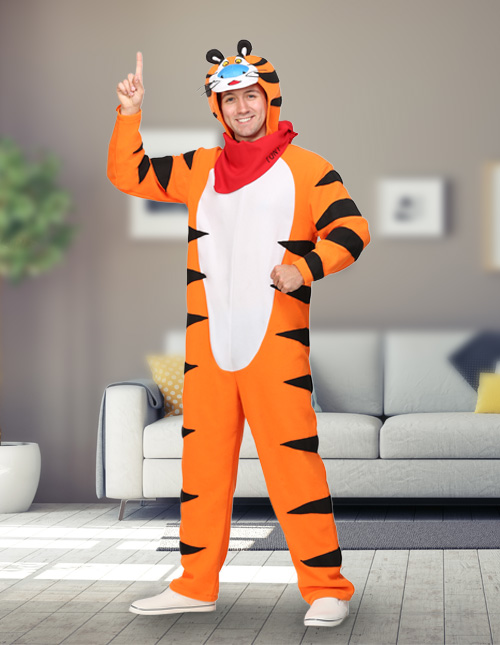 What do we think about cat Halloween costumes? They're Grrreat! Which is also true of Frosted Flakes, of course, and we're happy to let you know that we've teamed up with Kellogg's to create our very own, officially licensed Tony the Tiger Costume. This costume puts the mascot's signature style into a fun-to-wear costume jumpsuit. You'll be instantly recognizable when you wear this costume out, and the best part of all, you'll only have to remember one catchphrase. "They're Grrreat!"
Garfield Costume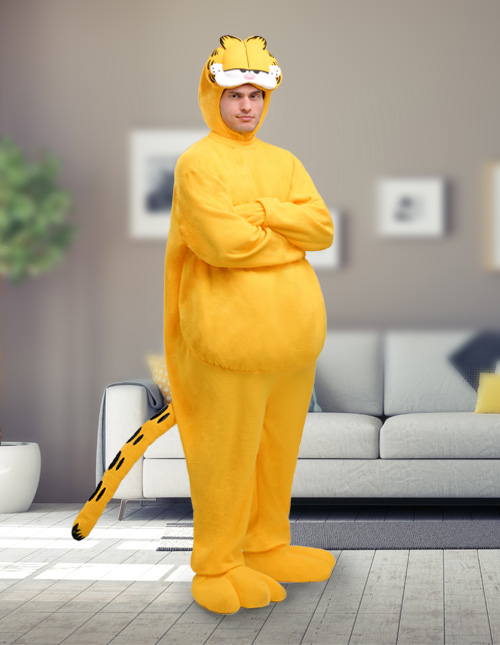 Lasagna, please! Most everyone grew up with the beloved, albeit grouchy Garfield. He's been the star of the comic page of the paper since 1978, and he's been featured in plenty of animated specials and even feature films, too. Well, now we've got your chance to suit up as the lazy lasagna-loving cat himself. With our exclusive, officially licensed Garfield Costume! Our Garfield costume is an excellent fit for anyone looking for a fun Halloween costume choice.
Cat in the Hat Costume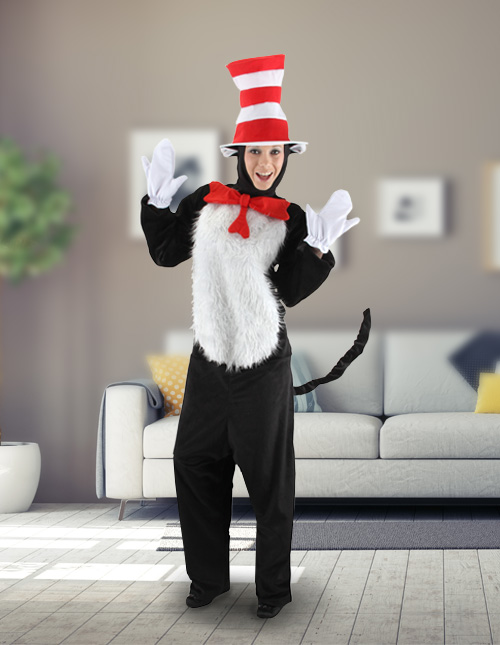 You can't talk cat Halloween costumes without broaching the subject of one of the most revered children's authors of all-time. And that would be Dr. Seuss, of course! Relevant here because of The Cat in the Hat, who is perhaps the most beloved Seuss character of all time. You can suit up as the memorable rhyming cat yourself when you pick up this deluxe Cat in the Hat Costume. With his iconic top hat and bow tie (along with plenty of faux fur, too!) you'll have no trouble playing the part.
Catwoman Costumes
When it comes to cats and costumes, it's probably not a reach to assume that you may have one very specific character in mind. Catwoman! This notorious Batman villain has been everything from a cat burglar to an antihero in her various incarnations, and no matter what your intentions are, we're sure you'll have a fantastic time suiting up as her for Halloween. Shop some of these top-selling Cat Woman costumes to see if any of them are just what will suit your style. There is a reason this character is a popular choice year after year, after all!
Catwoman Costume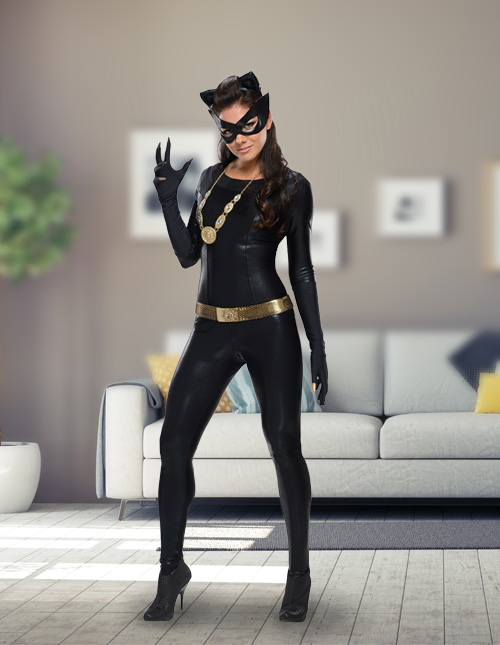 Truth be told, and despite the various versions over the years, there's only one Catwoman for us. The one from the Batman television series! That's right, Batman 1966 was a campy creation, but the Catwoman played by Julie Newmar, Lee Meriwether, and Eartha Kitt is still our favorite when compared to others. If you feel the same way, well, then there's only one costume for you, too. This Catwoman Grand Heritage Costume! Directly designed to recreate the classic style from TV, this costume will have you ready to set a trap for Batman or indulge in some very punny lines.
Sexy Fierce Feline Costume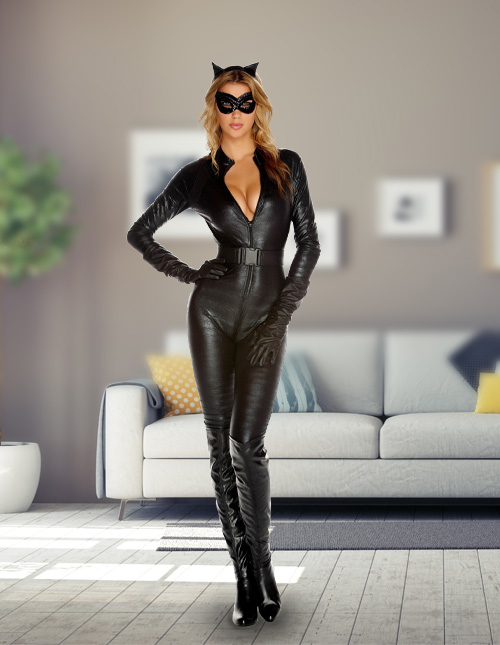 Decidedly Catwoman inspired, you could choose to use this Fierce Feline Costume as a Catwoman costume, or you could use it to create a story for your own unique superhero or supervillain! And no matter if you choose to use your powers for good or evil, we're sure you'll want a suit capable of standing up to serious missions and tough battles. This costume is made from a jet black wet-look vinyl. Just slip this sexy suit on, settle on your own backstory, and you'll be ready to hit the town when costume time arrives.
Wicked Kitty Costume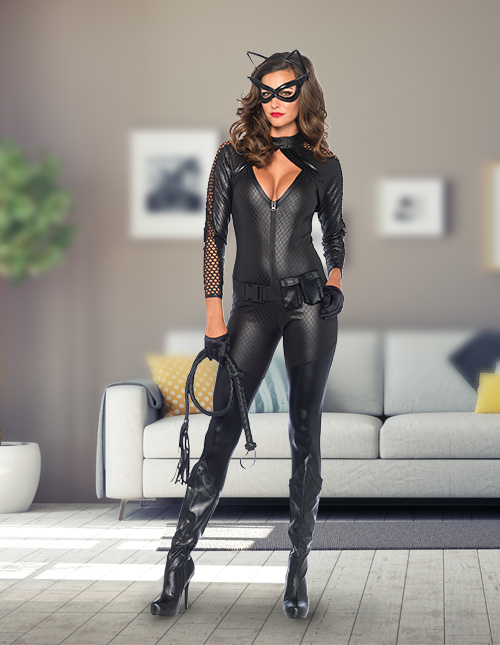 So, your ideal Cat Woman character is into cat burglary and…hmm, we'll just say other activities. Fine by us! You can get an all-of-the-above costume style when you pick this sexy Wicked Kitty Costume. It comes from our friends at Leg Avenue, and they know just a thing or two about creating scintillating costume styles. This elaborate catsuit features netting in the shoulder and sleeves and a choker-type collar. It even comes with a utility belt and a mask, so you'll be ready to go on your big heist!
Girls' Cat Costume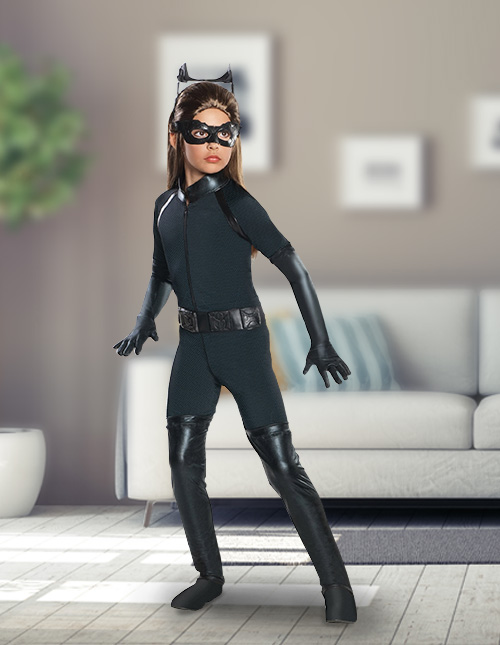 Of course, girls can suit up as Catwoman, too, and when they do so in this Deluxe Catwoman Costume, they might even be able to do a better job at saving the day than the boys. And that's because this costume is based on the one worn by Anne Hathaway in The Dark Knight Rises. An iconic choice for kids to let them get their first taste of being a superhero, we're sure any little lady will be super proud to sport this costume at Halloween.
Girls' Cat Costume Ideas
Little ladies pretty much universally love animal costumes, and we're sure if we conducted some polling, we're sure cats would easily be a top result. And that's why we have a wide selection of cats costume for kids! From unisex jumpsuit styles to cat dress costumes designed just for girls, we're sure to have something that she'll be super excited to wear. For dress up day at school, playtime, or for Halloween, shop these costumes to get a kitty cat costume she'll love!
Sassy Wonderland Cheshire Cat Costume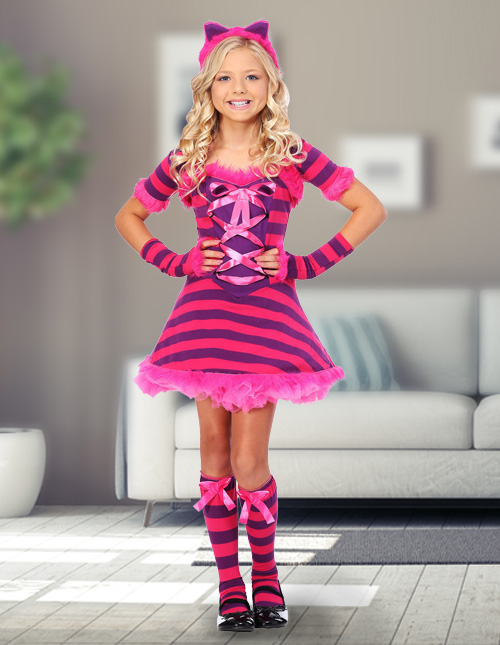 Hmm, remember that top-selling Cheshire Cat costume we mentioned just a little bit ago? Well, as it happens, it comes in girl's sizes, too! That's right, we just made a few minor style changes to adapt this girls' sassy Wonderland cat costume into a style for little ladies, and it's the perfect way to let any girl have some serious Alice in Wonderland fun.
Kids' Cat Costume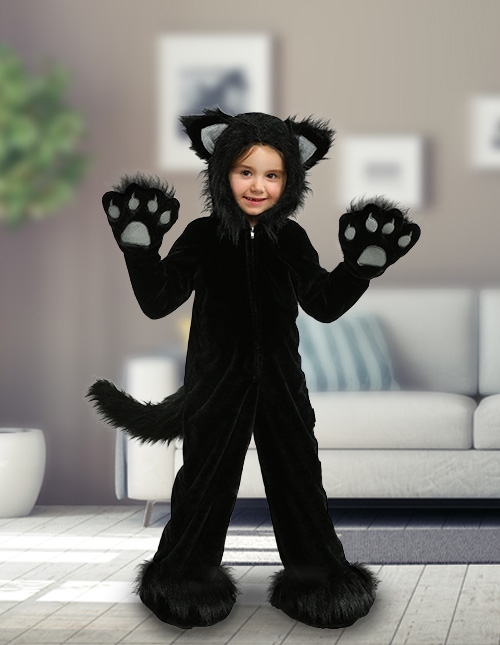 There's nothing wrong with being a regular, everyday house cat, and when that's the costume she's looking for, we have lots of fantastic options. This premium Black Cat Costume for kids is one of our top choices, with luxurious faux fur, and oversized ears, mitts, and shoe covers, she'll be purr-fectly adorable!
Girls' Leopard Costume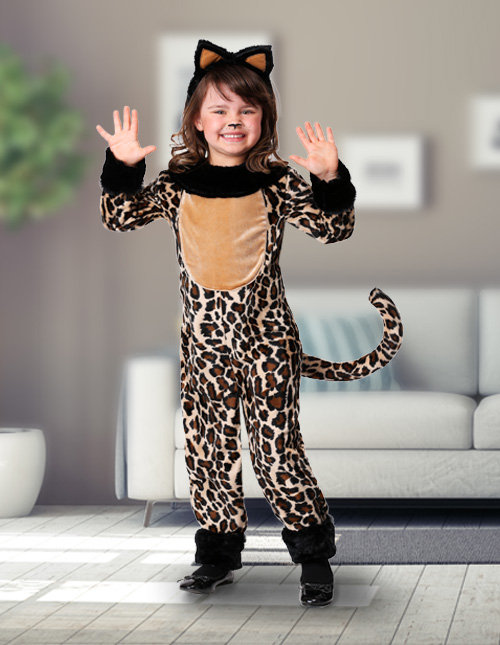 Leopards rule the jungle, and while your child might still be working her way up the food chain, that's no reason not to suit up as a mighty leopard. Fake it till you make it, as they say, and she can look like a pretty adorable predator cat when she slips into this deluxe Girl's Leopard Costume. Black faux fur cuffs and collar look great offsetting the leopard spot printed fleece. The headband is also included to give her the signature cat ears!
Caterina Costume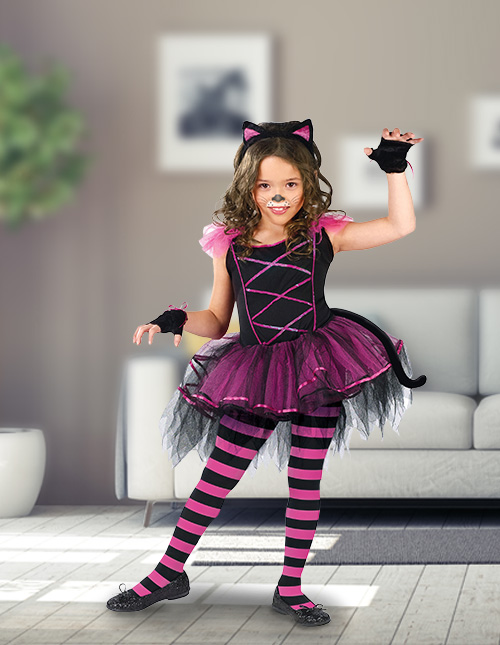 Part cat, part ballerina. What's not to love! She can be a feline inclined dancer when she's all done up in this fantastic Caterina Costume. The sequin bedazzled bodice and multi-layered tulle skirt will give her a stage ready look, and the tail and ears headband will have her looking like a decidedly fun feline. The striped tights and ballet flats are sold separately, but we recommend both items to complete the theme!
Cat Halloween Costumes for Toddlers and Infants
Kitten time! You can't talk cat costumes without talking about toddlers dressing up in cute furry creations. Especially when you paint on the li'l whiskers and a nose to complete their kitten costume style. It's simply adorable! Kids and kittens just go together, so try dressing up your kiddos in kitten costumes! Of course, we can help you find the best toddler cat Halloween costumes to get them all done up in kitty style!
Toddler Cat Costume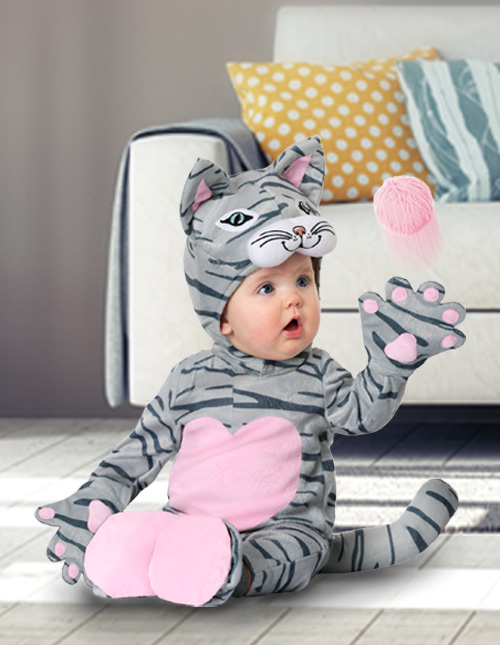 Okay, we'll admit, we're biased. Because this Lovable Kitten Costume is one of our all-time favorites! It is one of our Made By Us designs, which might be the reason we hold it in high regard. But equally as important, toddlers look outright fantastic in it! We're sure your tot will look super adorbs as a little gray kitty with stripes and a pink tummy, and the cat face features on the hood will seal the deal!
Toddler Miss Kitty Costume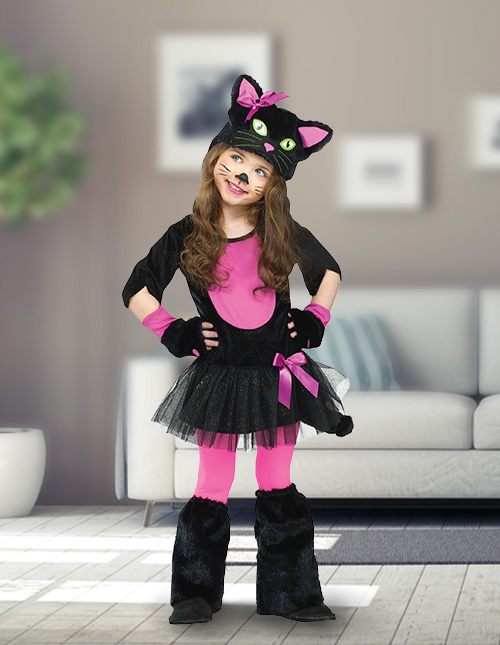 She's not just a kitty when she goes in this costume. She's Miss Kitty! And we're totally on board with that. Of course, suit her up in this too-cute pink-and-black Miss Kitty Costume, and she'll be quite the little character. A character complete with a furry hood, tail, and tulle skirt! It features pink ribbons and a touch of sparkle in the tulle, too, so she'll have some glam to go with her kitten fun.
Bubble Body Black Kitty Costume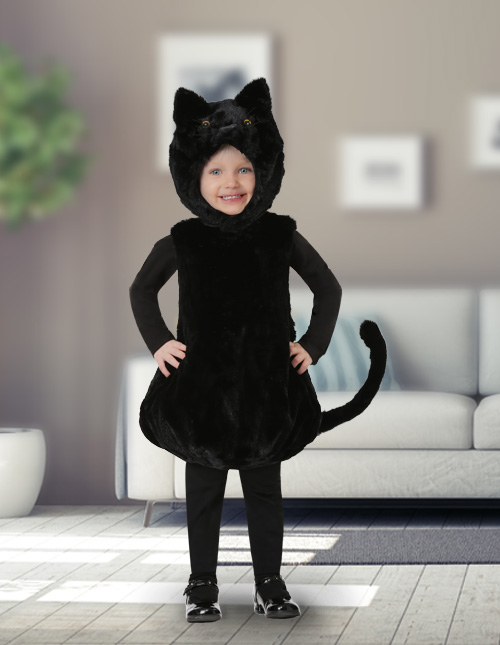 Jumpsuit costumes are great, but sometimes you might be in search of a style that has just a little more shape. Well, our costume designers are privy to that, and we've got this Bubble Body Black Kitty Costume to turn your toddler into an adorable rotund little kitty! This costume is designed as a sleeveless tunic, so it can be worn with black sleeves and leggings or without for a simple costume look.
Lovable Lion Infant Costume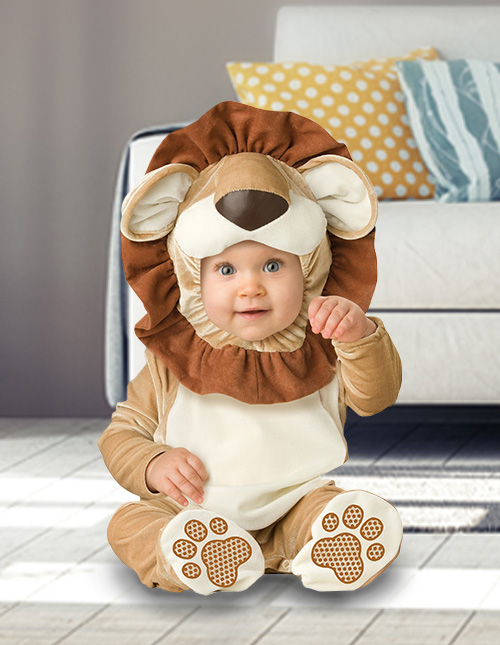 Being King of the Jungle would be a pretty tall task for a newborn. But simply being a lovable lion? Well, that's totally doable! Doable, anyways, when you get your baby into this Infant Lovable Lion Costume. It's designed as a simple velour romper and a hood that features adorable plush lion features. An infant cat Halloween costume that really roars, your tot will be ready to work their way up to being King of the Jungle in style!