How to be Ariel
Would you trade your legs for a pair of iridescent fins? If you are leaning toward sporting some shiny scales, we urge you to check out our Little Mermaid costumes. Before making a dangerous deal with a buxom sea witch, you can see what it's like to be half-lady/half-fishy without giving up your legs for life! Just browse our Ariel costumes and then check out this media page for ideas on what mermaid accessories to add to your Little Mermaid outfit. You don't even have to take the plunge into the deep blue sea in order to make your transformation a reality because you can get everything from a mermaid shell bra to a seaweed boa right here. Your Halloween adventures will go "swimmingly" when you're dressed as Disney's Ariel!
The Little Mermaid Halloween Costume Ideas
Ariel is one mesmerizing mermaid. Her red hair and flashy green tail make her quite the catch so we can see why you want to emulate her classic look. We assembled our favorite The Little Mermaid costume ideas so you can look these over and choose the one that is most flattering for you. All of these costumes feature feminine frills, pretty sparkly accents, and elegant form-fitting skirts. Choose the ensemble that you want to make a part of YOUR world then meet up with Scuttle and the gang!
Ariel Little Mermaid Costume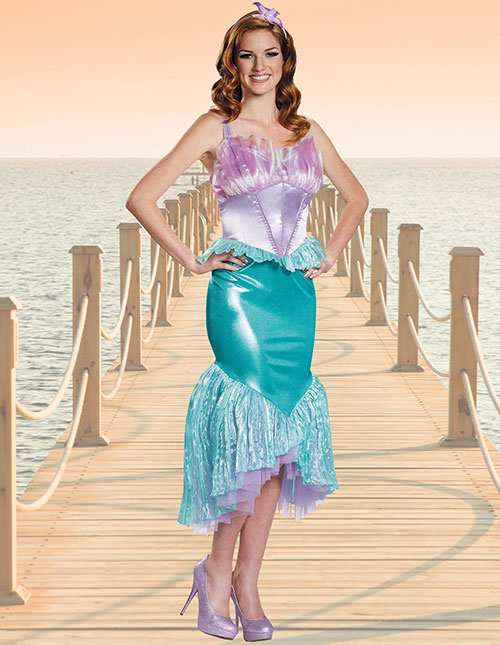 You'll look like the beautiful red-headed daughter of King Triton when you wear this lovely Little Mermaid costume. You'll dazzle the entire sea when you are outfitted in a purple sequined corset with teal ribbon lacing. The iridescent sparkly skirt fans out toward the bottom to create the beautiful shape of a little mermaid tail. Add some glittery high heels to your look and you'll be ready to start sifting through your hair with a "dinglehopper"!
Ariel Costume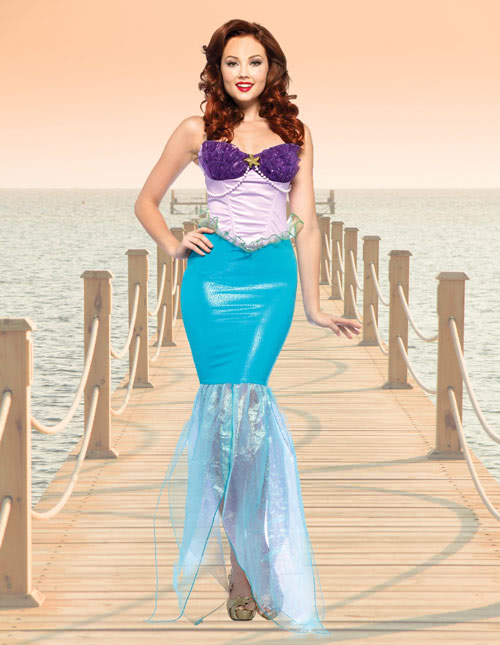 Now you can jam out with a cool crustacean band while looking like Prince Eric's main squeeze. Just slip on this Ariel mermaid costume, which consists of a long mermaid dress featuring pearl décor and frilly embellishments. The green trim around the waist and the sleek shimmering skirt will completely revamp you into Disney's number one sea siren.
The Little Mermaid Ursula Costumes
Are you ready to upstage all those "poor unfortunate souls" out there? Say what you want about Ursula, the sea witch, but she's a great businesswoman. She made a deal with Ariel to take her voice in exchange for a shapely pair of legs, and even though the deal didn't work out for her in the long run, we admire her bold attempt to take the trident and rule the ocean. If you were secretly rooting for Ursula the whole time, or just enjoy playing the villain, then you'll love our selection of women's Ursula costumes!
Ursula Halloween Costume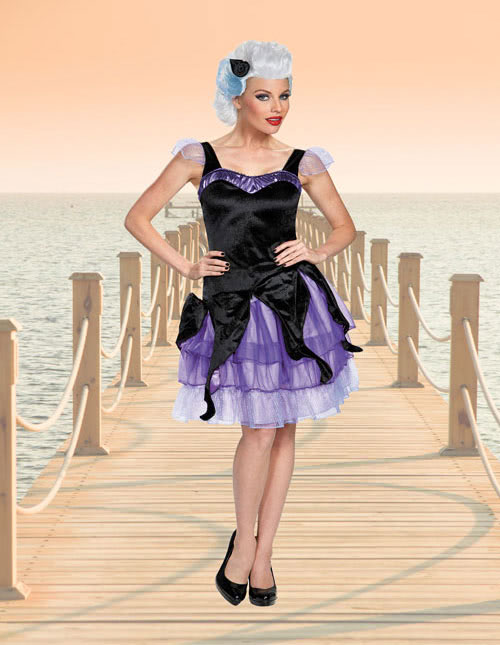 If you are looking for a costume that says you are both dark and mysterious then you'll love slithering into this Ursula Halloween costume. The tank top style dress features sequin trim, an enchanting layered skirt, and tentacle-like drapes that create the perfect sexy Ursula costume. This The Little Mermaid adult costume comes with the multi-layer lavender petti-skirt and a white wig with an attached sea urchin hair clip.
Prestige Ursula Costume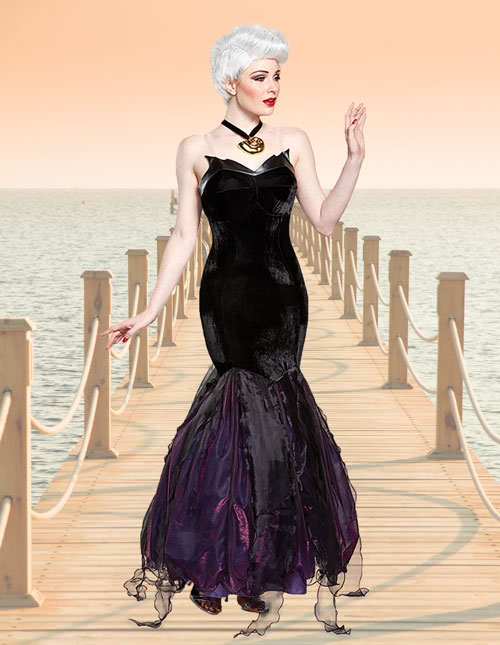 We'll be surprised if Prince Eric doesn't fawn over you when you're outfitted in this Ursula costume! You'll look like Atlantica's most seductive sea witch when you're wearing this black dress with clear straps and purple ribbon accents. The attached tentacle skirt is stuffed with malleable wire so you can shape the tentacles to your liking. Meet up with Flotsam and Jetsam and start devising your next plan to make the entire sea your domain!
Going Under the Sea is Better with a Friend
Ariel couldn't have succeeded in her desire to be human, capture Eric's attention, and eventually marry him if it weren't for her fishy friends and some other unsavory underwater characters. We have thought of some cute duo costumes that fans of The Little Mermaid will love to wear. Browse over these ideas and let them inspire your Halloween costume so you and your guest can walk into the party and create a tidal wave that even Ursula would be jealous of!
Ariel and Sebastian Costume Idea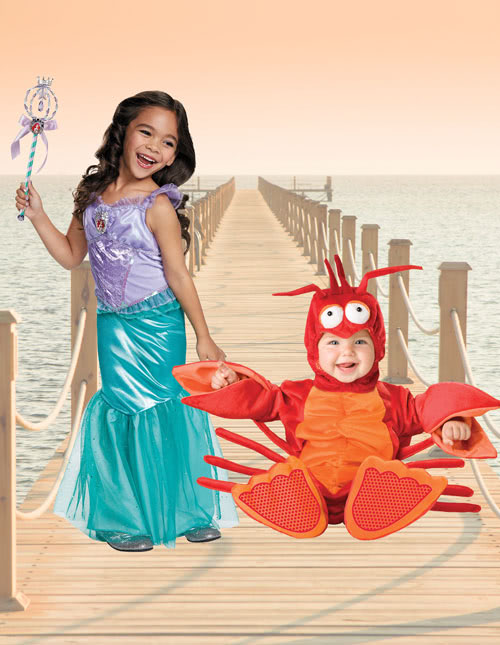 There's no denying that Sebastian is one cool crab. He sings, dances, and keeps his mermaid bestie in check. Inspired by the anthropomorphic aquatic critter, these lobster costumes are definitely your best bet for a Sebastian costume. Dress your daughter in our Disney Ariel costume, then have your underwater pair pose next to one another.
Ariel and Ursula Frenemy Costume Idea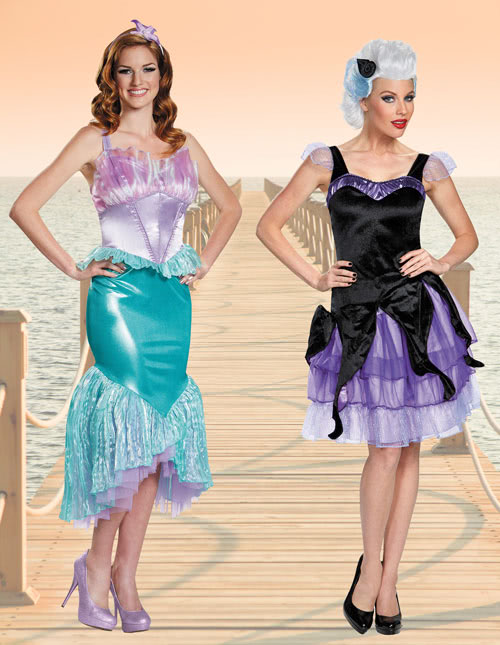 Before Ariel and Ursula had bad blood between them, they used to be cool with one another. Grab your BFF and have them pretend to be your "frenemy." You can dress in an adult Little Mermaid costume and wage an imaginary war while your pal is in an Ursula costume. You two can just walk into the party together to create an epic splash!
Ariel and Prince Eric Costume Idea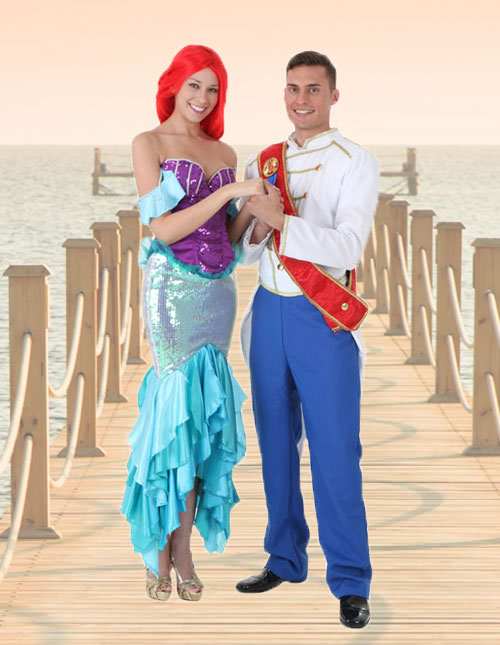 We are not going to deny that Ariel and Eric make a very cute couple. It was basically love at first sight with these Disney characters and we were rooting for their relationship to succeed from the start. Plus, their romantic boat ride through the blue lagoon seems like the perfect date to us, especially since they were serenaded by Sebastian, Scuttle, and the rest of the underwater choir. If you and your beau love Disney and you'd like to recreate the whimsical boat ride then why not dress as the characters that you love? Have your partner dress in a Prince Charming costume and you can wear an adult Ariel costume. Your date might prefer you to speak up during the date, but that's merely a suggestion. Good luck trying to find a wingman as awesome as Sebastian!
Disney Princess Ariel Costume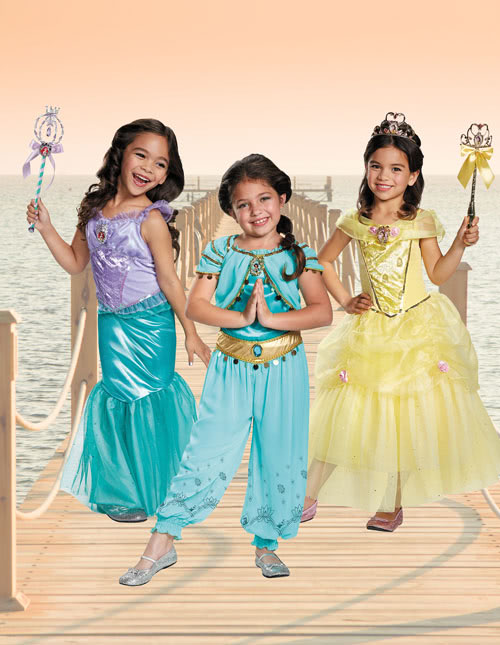 Did you know that all the Disney princesses are besties? If your little girl has her heart set on turning into the iconic mermaid, then she'll love it if her friends dress up as other famous Disney princesses. You'll love the photo opportunity it will create too! Make sure to take tons of pictures of your little girl dressed in her Ariel The Little Mermaid costume surrounded by Jasmine and Belle. This is a perfect group costume for little girls who love to get together and pretend they are royalty!
Mermaid Accessories
You may have the beautiful sparkling tail that transforms you into a sea siren, but if you really want to become Ariel then you are going to need more than that. Add some of these mermaid accessories to your look in order to make your mermaid costume appear more authentic. The more seashells you are sporting, the more you will look like you just got done exploring the sunken treasure ship!
Ariel Mermaid Wig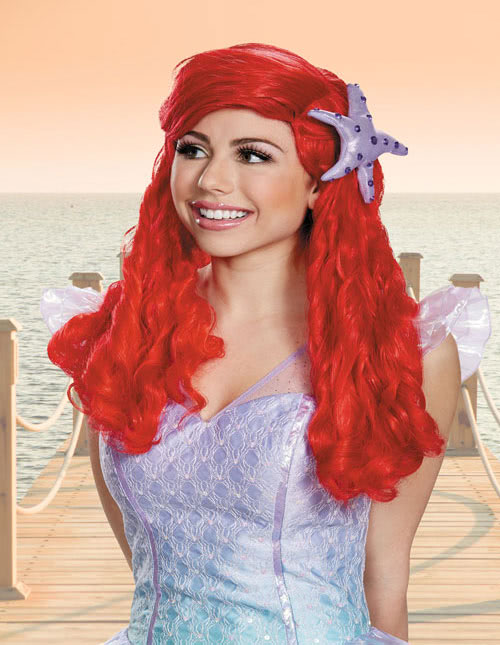 Mermaids are not only known for being half human, half fish! They are also infamous for their beautiful long locks. Because they're always swimming in the sea, the salt water gives them a luscious mane. If you want to look like everyone's favorite animated mermaid, then you better add a Little Mermaid wig to your look. We recommend wearing this prestige wig if you want to embody Princess Ariel because it will instantly give you her signature fire engine red locks.
Sea Shell Purse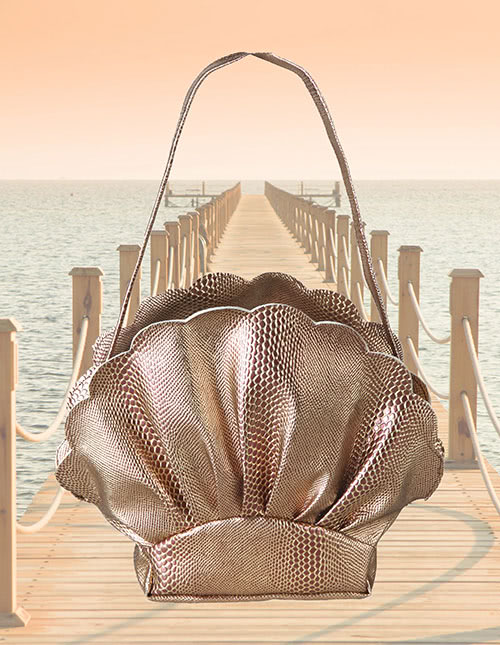 *Ring ring* is that your "shell phone" ringing? You better pick it up because it may just be Prince Eric. It's a good thing that you keep your shell phone inside your sea shell purse because it's not like you have any pockets when you're wearing your mermaid outfit! You can keep your wallet, cell, cosmetics, and keys inside this handy sea shell purse. This cute handbag is shaped like a seashell so it will compliment your mermaid costume perfectly. Throw all of your essentials inside then head down to Ariel's secret grotto!