Mermaid Costumes
How to Be a Mermaid
If you've decided to trade your legs for a sea worthy tail and take the plunge in a Mermaid costume, there are a few things to learn about how to pose and speak in order to be as convincing as possible as a half fish – half human. Don't worry; you're not making some crazy deal with Ursula where you're getting the chance to be a part of their world with the risk of giving up your soul for eternity. This is just us helping you get the most out of your mermaid experience. Enjoy!
Mermaid Costume Ideas
Featuring holographic fabrics, sequins and iridescent details, our mermaid costume ideas make women feel confident and fierce. We have mermaid costumes for all shapes and sizes, each featuring different styles and silhouettes to flatter your figure, so becoming the sea's most famous mermaid is simple- as long as you wear a women's Ariel costume. You're in for a mer-mazing time this year because feeling down in the dumps is impossible when you're swishing your tail back and forth on the dancefloor. (We're trying to keep the mermaid puns to a minimum but they're just too much fun!)
Mermaid Costumes
Ring! Ring! It looks like someone is calling your shell-phone. Surprise, it's us! We want to give you the low-down on all of our most fashionable mermaid costumes. Perfect for trendsetters, mermaid costumes are great for glamorous women who want to look alluring but have grown tired of dressing as a queen. (Besides, you're a queen every day, right?)
Under the Sea Mermaid Costume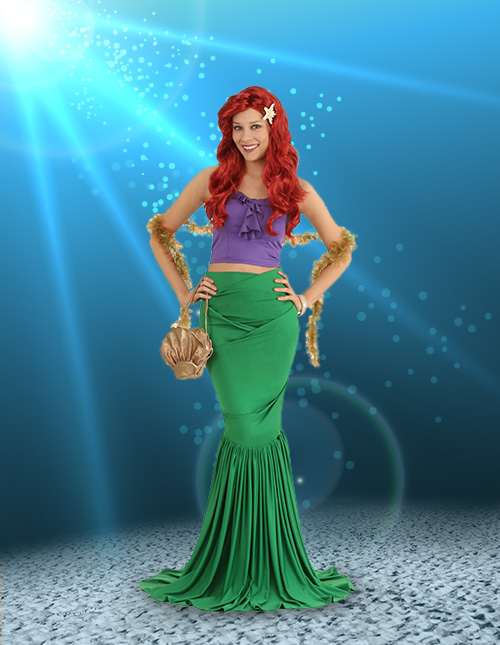 They say life under the sea is more fun so we're taking the plunge. If you want to take the dive too then the under the sea mermaid costume is a prime choice. Ideal for transforming into the most iconic of Disney princesses, this costume is perfect for embodying the Little Mermaid because it features a purple crop top and a green floor-length skirt. Strike a sassy pose with both hands on your hip. Accentuate this pose with a boa so it looks like you're draped in lush leafy seaweed.
Fantasy Mermaid Costume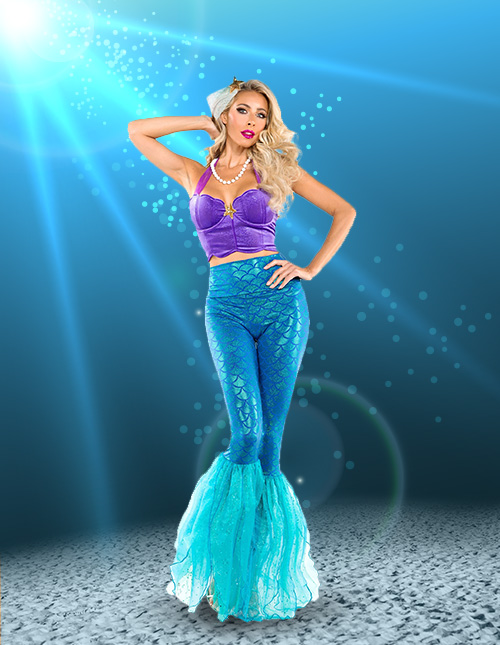 It looks like Ariel has undergone a glow-up recently and we're here for it! The fantasy mermaid costumeis a quintessential sexy Ariel costume, just add a red women's wig to your cart. Featuring intense, sparkly flared bottoms paired with a bra-style top, this womans mermaid costume is great for fashion-loving ladies bold enough to rock this sexy mermaid costume.
Deluxe Classic Mermaid Costume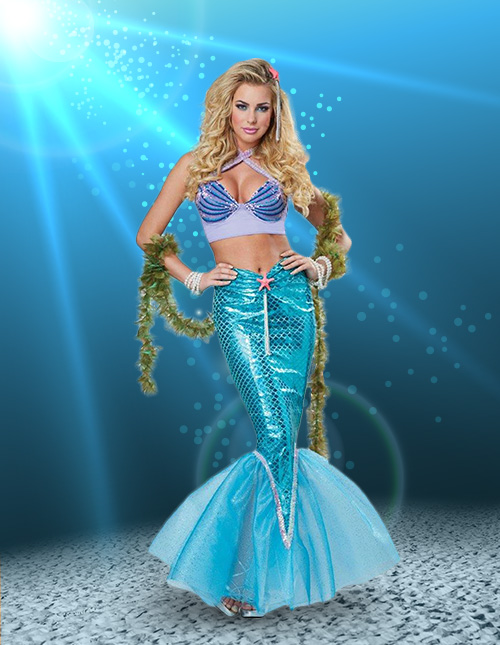 This deluxe classic mermaid costume is the woman's Ariel costume you've been wishing on a starfish for. The long skirt features light-blue shiny scales and has a flared hemline creating the quintessential silhouette of a mermaid. Sequins, rhinestones and pearls are some more examples of flashy details displayed on this garment. Carrying valuables around, like a cellphone, wallet and keys may be difficult because there aren't any pockets but that's always a great excuse to shop for a coordinating purse!
Aqua Warrior Costume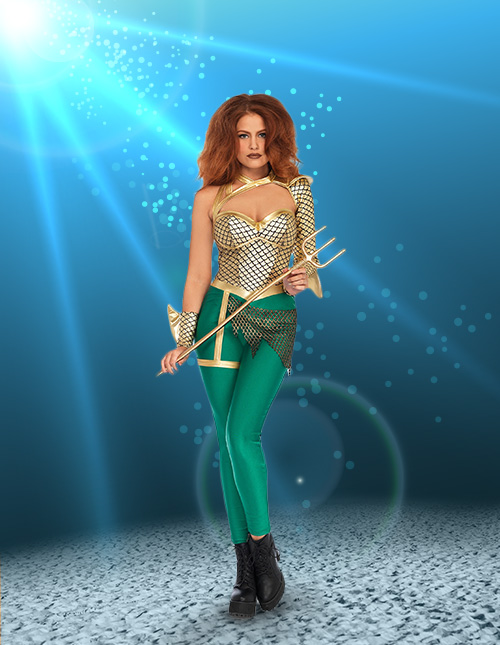 Swim into Atlantis like a boss! The aqua warrior costume is great for those who want an athletic mermaid costume. You'll look like you could be Aquaman's wife, Mera. Add authority and prestige to the gold and green costume by adding a trident to the ensemble. Now you truly wield all the power so get ready for a tidal wave of compliments!
Hipster Mermaid Costume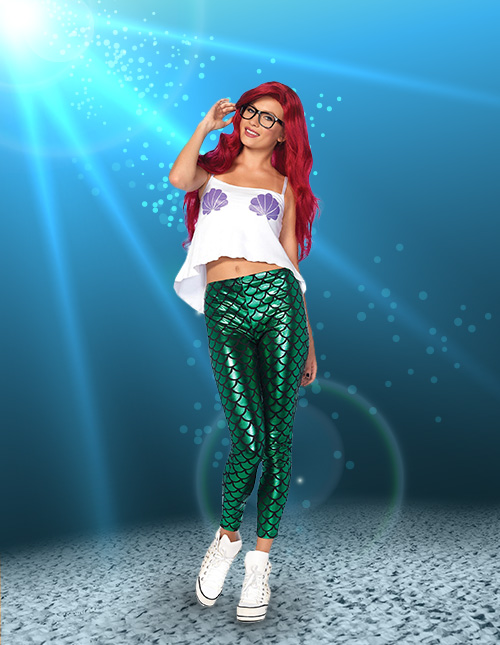 Hipster mermaids are a thing now. The Little Mermaid traded in her dinglehopper for a pair of black frame glasses resulting in the coolest makeover since Ursula transformed into her alter ego, Vanessa. This mermaid outfit is cute and stylish! The hipster mermaid costume comes with a pair of stretchy, glittery green leggings with printed scalloped shapes throughout to look like scales. The shark-bite style tank top has glittery purple shells printed on front while the included glasses finish out the hipster Ariel costume.
Goth Mermaid Costume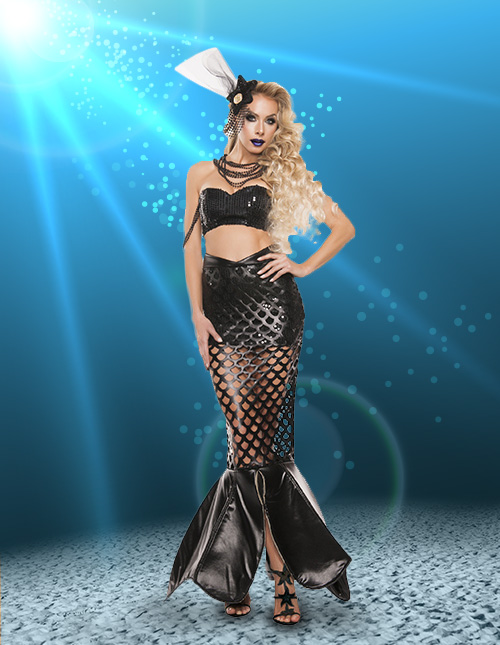 There's no such thing as wearing too much black, right Goths? If you want to hide out in a dark grotto all day instead of basking in the sunshine then the Goth mermaid costume is the perfect sexy Ariel costume for you. The all-black bra-top and high-waist fin skirt comes with a matching headpiece and necklace. Amplify your mermaid costume with a dark makeup application to create a seductive, yet spooky sea siren look that's impossible to ignore.
Want 20% Off?