Mermaid Costumes
How to Be a Mermaid
Ideas, Tips & Tricks
If you've decided to trade your legs for a sea worthy tail and take the plunge in a Mermaid costume, there are a few things to learn about how to pose and speak in order to be as convincing as possible as a half fish – half human. Don't worry; you're not making some crazy deal with Ursula where you're getting the chance to be a part of their world with the risk of giving up your soul for eternity. This is just us helping you get the most out of your mermaid experience. Enjoy!
Mermaid Poses
"Swim"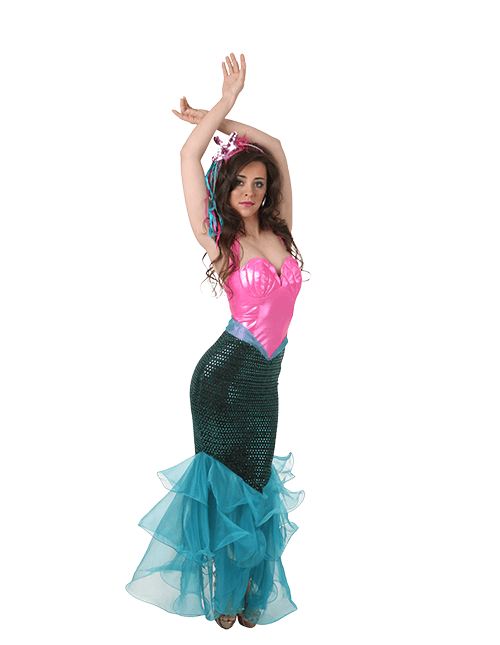 "Splash"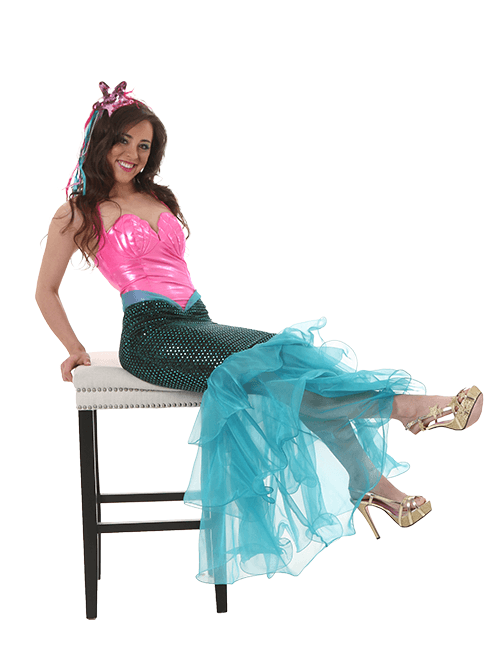 "Wave"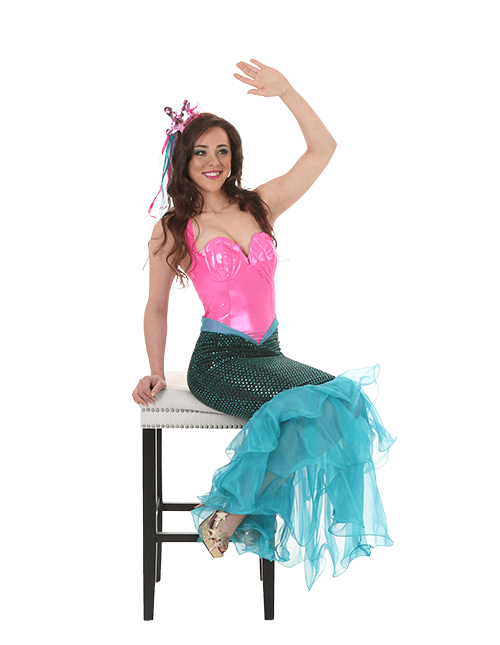 "Mystery"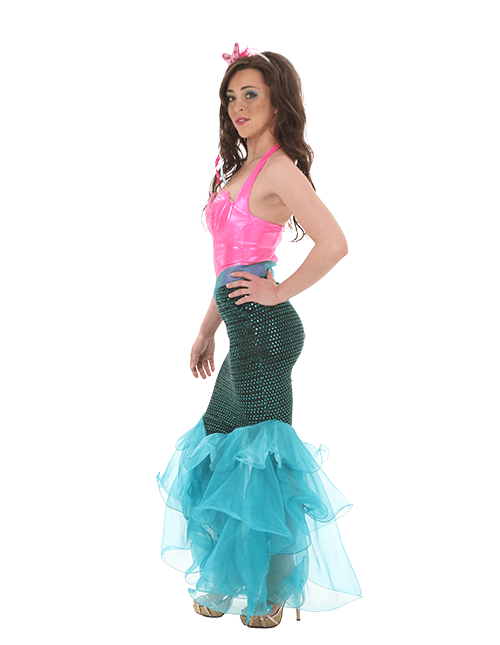 How do you want to be remembered in your mermaid costume? We're guessing you want to appear in pictures like the ultimate sea goddess and that means you have to know how to strike the right pose. We've put together a collection of some of the most popular ways to pose and show off your costume's full potential. With your arms overhead you show off a long, sleek silhouette. Kick your feet out as if you're splashing in the water or wave to passing sailors! Finally, we borrowed our "mystery" pose from Kim Kardashian because if anyone knows how to pose for pictures, it's her!
Mermaid Couples
Mermaid and Diver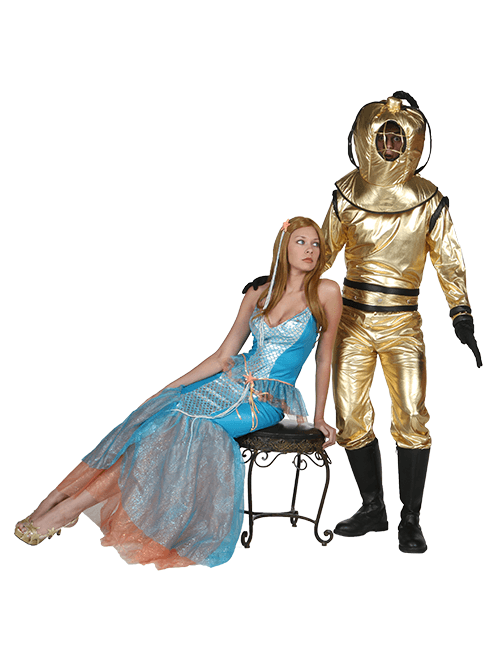 Mermaid and Sea King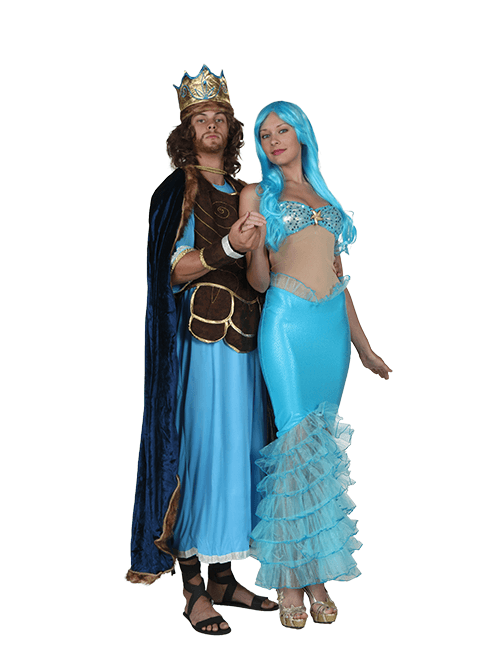 Ariel and Eric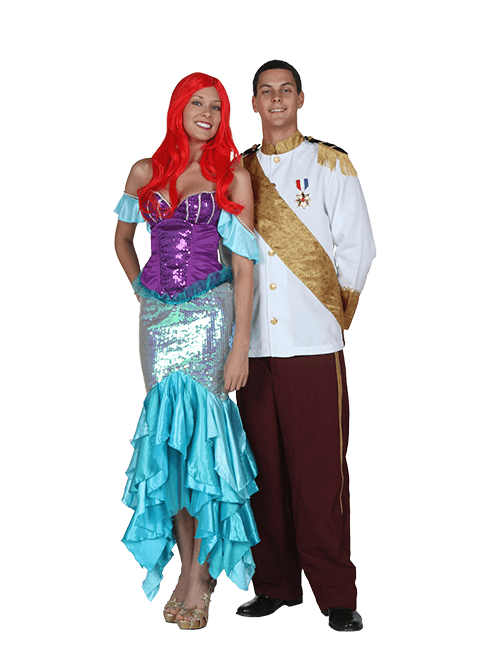 Mermaid and Sailor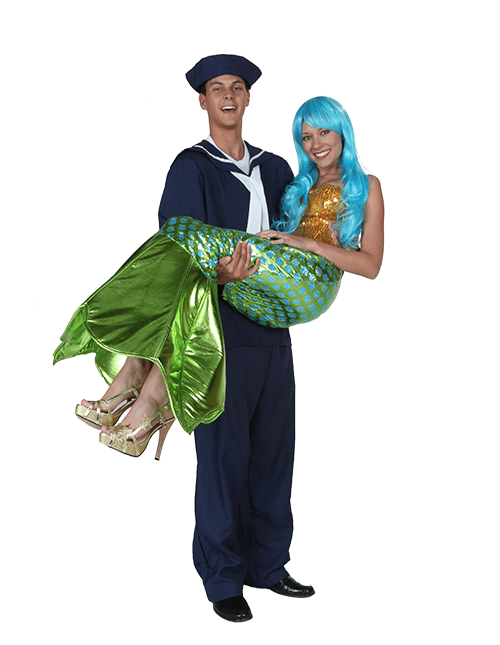 There are lots of possibilities when it comes to choosing a partner for your mermaid look! Other underwater characters, such as a deep sea diver or a sea king, make perfect sense to have along size a mermaid! Then there's the fairytale pairing of Prince Eric and Ariel from The Little Mermaid. You two can show everyone what happily ever after looks like! Finally, if you want your guy to let everyone know he's scored the catch of a lifetime, dressing him in a sailor uniform is a great choice.
Mermaid Costume Makeup Application
Our resident makeup expert returns to show you a new look for the mythical mermaid. Teal shadows are used for the eyelid color (a common color found in mermaid costumes) along with purple and magenta eyeliner for an accent. Pink is added into the blush and lips to round this pastel color palette. As an added step, take a pair of fishnets over you forehead and use the same color shadows to create a fish scale effect. Add our red siren wig to complete this makeup application for your mermaid costume.