Many Ways to Dress Up for Mardi Gras
You may not have the luxury of traveling to the Big Easy to celebrate Carnival, but with our collection of Mardi Gras costumes for men and women you can bring the party to wherever you are! Make your own Fat Tuesday celebration more memorable when you wear any of these colorful options.
Men's Mardi Gras King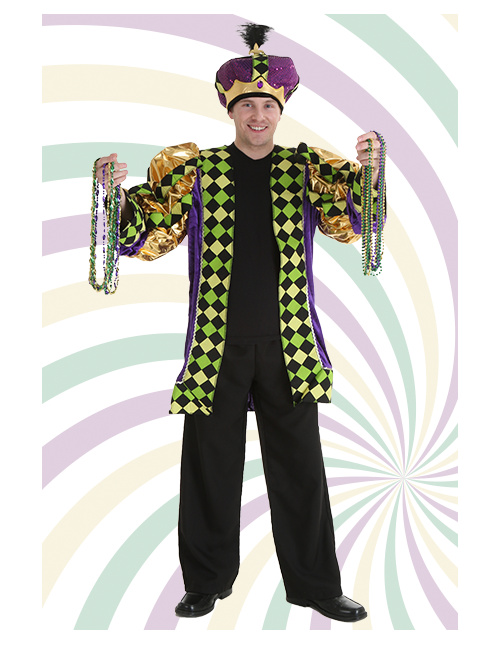 Accept the title of Mardi Gras King and preside over the festivities that none of your friends will soon forget. With this elaborate jacket and hat set, you'll look regal while tossing beads and queueing up your favorite party play list.
Women's Mardi Gras Jester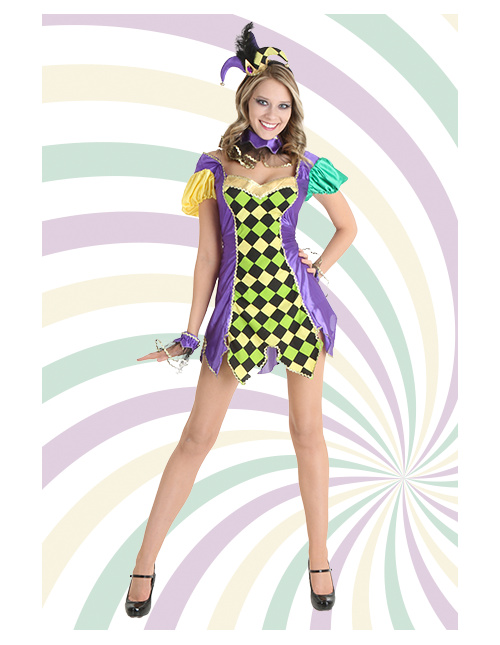 If you're thinking of playing the role of hostess, this Mardi Gras Jester costume for women is a great choice that features the official colors of green, gold and purple. It perfectly coordinates with the Mardi Gras King costume so you'll also have the option for a couple's look too.
Men's Mardi Gras Vest & Tie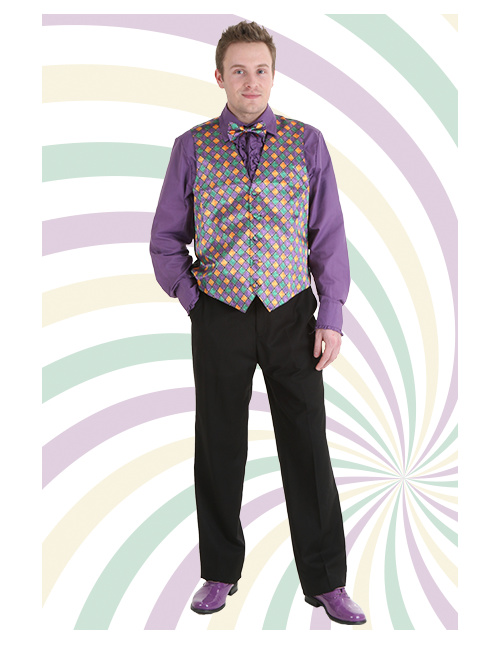 If you are after something that's more formal, this exclusive Mardi Gras Vest and Tie set for men is a must have. It looks great with our purple or green tuxedo shirts or can be worn with your favorite suit for a more subtle look.
Women's Harlequin Costume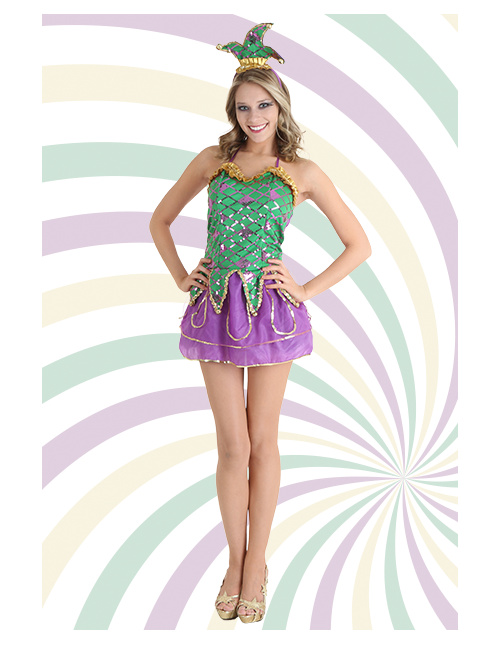 This Harlequin Shine costume for women is a dazzling choice that includes a matching jester-style headpiece. Guys will be making fools of themselves not only to get into the spirit of the occasion; they'll be hoping to get the attention of the prettiest jester at the party!
Masks: A Mardi Gras Must Have
The quintessential accessory of any Mardi Gras look has to be the Mardi Gras mask. There are so many styles and colors to pick from that it's almost too hard to know where to begin in selecting the right one. Check out a few of our favorite masquerade masks below.
Carnival Mardi Gras Mask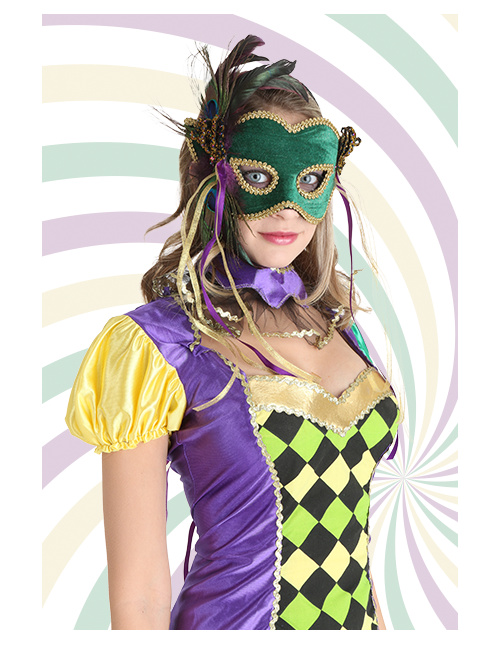 This elaborate green velvet mask has ribbons and feathers attached to the sides for a highly detailed look. It is supported by an attached headband for additional comfort.
Color Change Mardi Gras Mask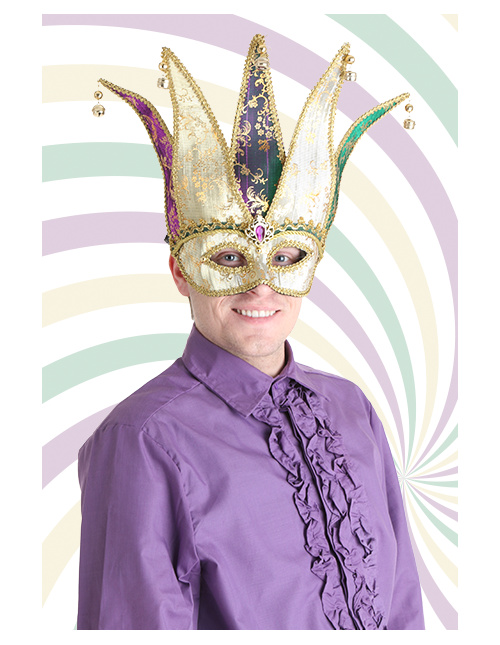 This unique mask is inspired by a jester's hat and has fabric that appears to change color as you turn in the light. It has bells attached at the tops and a headband with mesh support to keep the mask comfortably in place.
Deluxe Mardi Gras Mask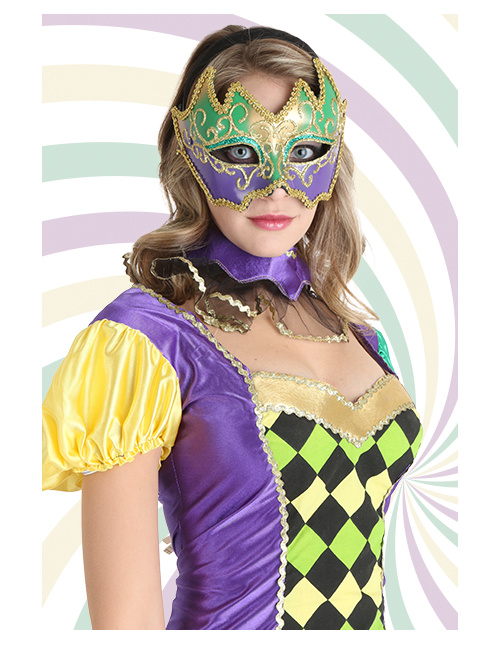 This mask has a simple design that is enhanced by its colors and details. It fades from green to purple and is covered in golden lines for an intricate look.
Black Velvet Mardi Gras Mask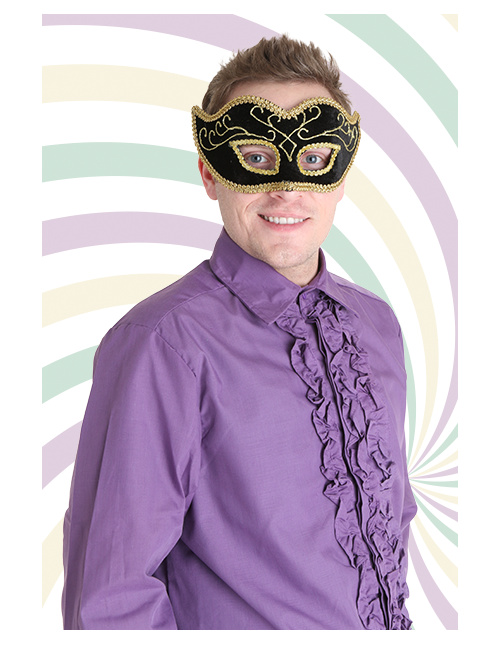 If you're after a mask that is a bit less overwhelming than the others, this handsome black velvet Mardi Gras mask is perfect. It will add a festive look without lots of extra flair so that you can either let your costume be the star or keep your overall party appearance a little more low key.
Colorful Mardi Gras Accessories
Whether you are looking for party favors or the finishing touch to your costume, these Mardi Gras accessories are going to grant you an extra good time. Put the finishing touches on your Fat Tuesday celebration to make sure it's every bit as fun as a trip to New Orleans!
Mardi Gras Beads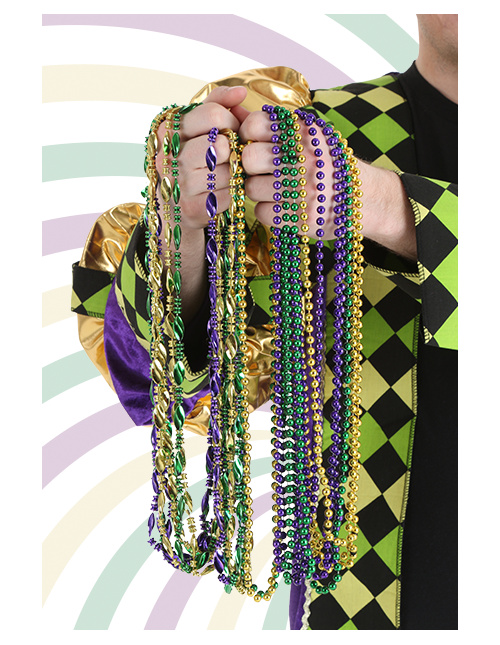 One of the best parts of attending a parade in New Orleans is catching all of the beads and throws. Don't miss out just because you can't travel, bring the swag to you with our Mardi Gras beads. There are more than enough to share with your party guests too!
Jester Hat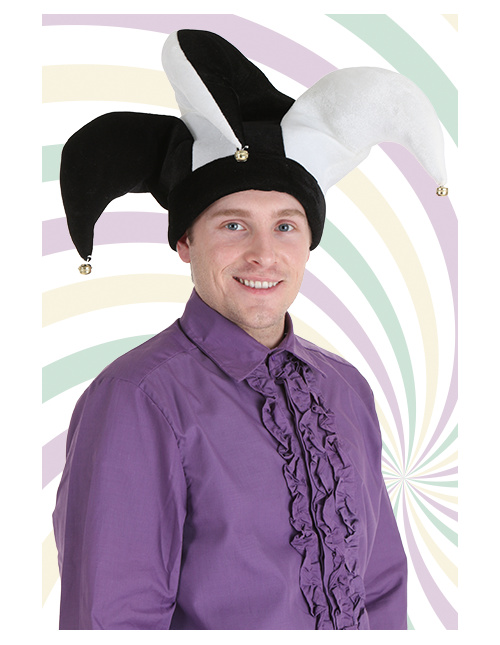 Jesters are a Mardi Gras classic so you'll want to be sure to include one at your event. It can be as easy as adding this festive hat to your party outfit, and then of course acting accordingly!
Mardi Gras Tinsel Wig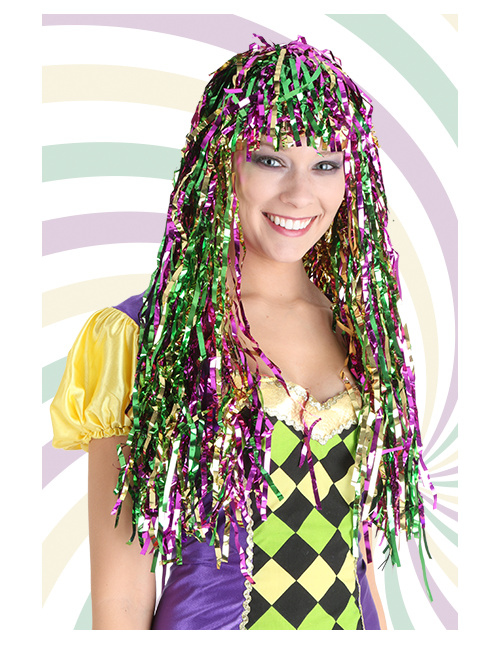 This inexpensive Mardi Gras Tinsel Wig was made for partying! It's lightweight, shiny and can be worn with any outfit or costume to add some fun.
Multi-Colored Wigs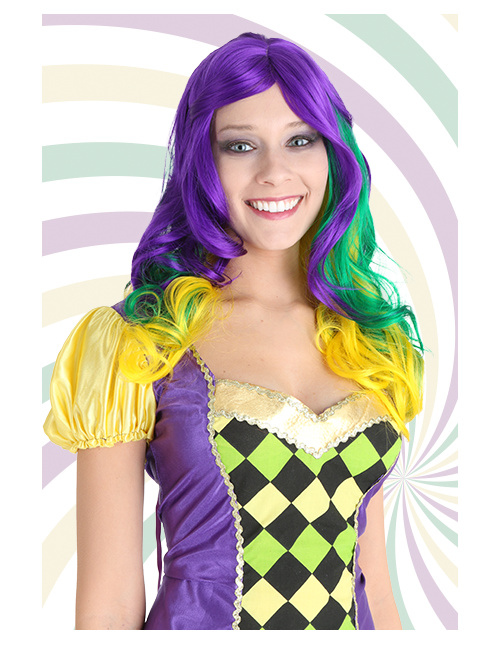 With this tri-color wavy wig, you can take your Mardi Gras hairstyle to the next level in an instant. Featuring gorgeous purple, green and yellow waves, it is practically guaranteed to turn you into a Carnival goddess.