Justice League Costumes
The Justice League of America debuted in the pages of The Brave and the Bold comics in 1960. DC Comics' greatest superheroes united to stop a threat too big for one hero alone. Hundreds of comics, a few cartoon series, and a blockbuster movie later, the DC team is still going strong. The JLA started with Superman, Flash, Wonder Woman, Batman, Aquaman, Martian Manhunter, and Green Lantern, but has grown to include a wide roster of characters, like Green Arrow and even the charismatic magician, Zatanna. If you're looking for a top notch outfit to wear, then maybe it's time for you to join the Justice League! No super powers necessary and no wild backstory about being from another planet. All you'll need is a little helpful advice from this guide and one of our many Justice League costumes!
Batman Costumes
It's hard to believe that a guy with no super powers can hang with the likes of Superman and Wonder Woman, but he's got determination, a ridiculously high IQ and a bunch of cash. Those might not be super powers in and of themselves, but they make for a pretty formidable combination. We'd say that he's earned his place on the Justice League. If you want to be the brooding genius with all the gadgets, then it's safe to say that you'll be dressing up like Batman! Here are some of the great Batman costumes that we offer.
Justice League Batman Suit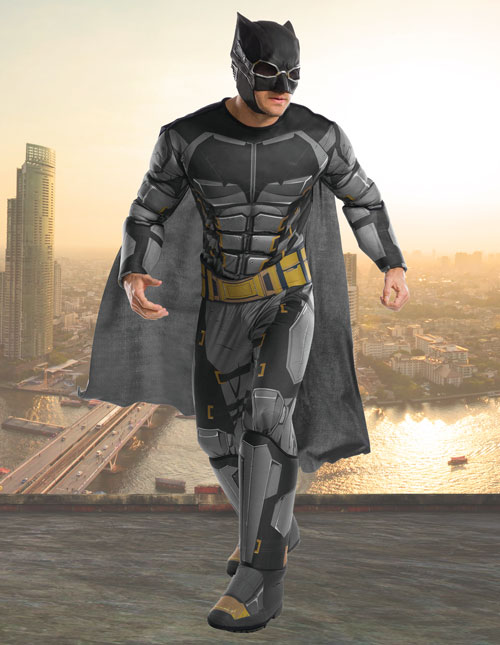 If you want to tango with bad guys like Steppenwolf, then you'd better have a tactical outfit that looks like it can take a few hits! This Justice League Batman suit is based on the military-esque one worn by Ben Affleck in the 2017 movie and it looks like serious business! Even if you don't have billions of dollars at your disposal, this Batsuit will have you looking technologically advanced enough to trade blows with the baddest of baddies. You might even make Superman jealous with this tactical style!
Women's Batgirl Costume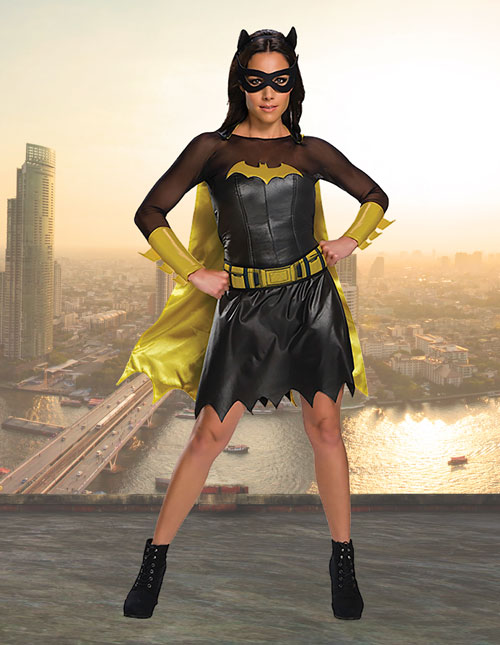 Bruce Wayne isn't the only member of the Bat-family. Of course, there's Robin, but Batgirl has also been a mainstay in Batman lore since the early days of the comic books. Dressing up in this women's Batgirl costume is your ticket to becoming the iconic hero. Whether you decide to just battle it out with Joker in the streets of Gotham City, or you head to fight against the bigger foes by joining the League is completely up to you! Just make sure you take a few Batarangs with you.
Toddler Batgirl Costume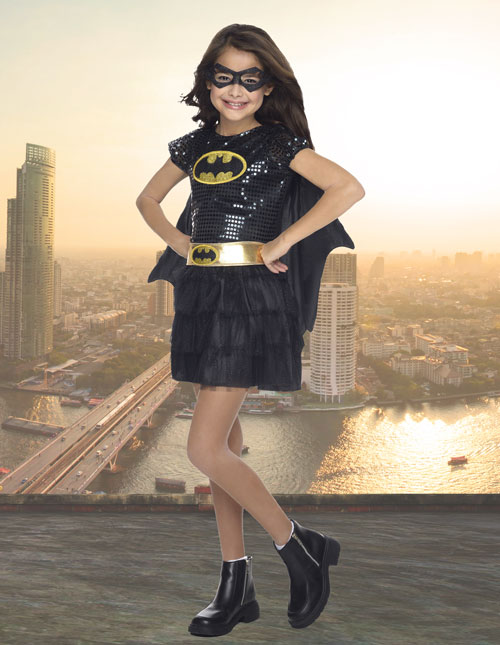 Does your little girl wish to become the hero that Gotham needs, not the hero that Gotham deserves? Well, maybe it's time you trained your child to become the Batman…er, well, maybe Bat-kid is more like it? This child Batgirl costume will have your little one assuming the role of the mightiest hero in Gotham City! Even if you need to hold her hand when she crosses the street, she'll still be ready to defend you against any supervillains who might try to cause trouble.
Boys Justice League Batman Costume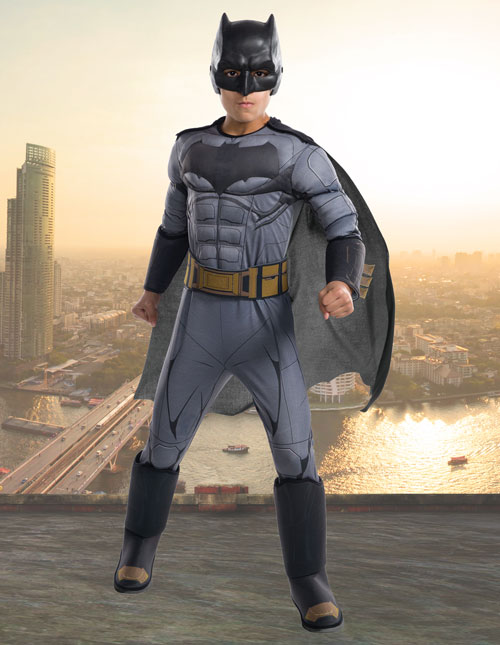 All kids dream of growing up to be Batman, and your kid is, most likely, no different. Batman has tons of money, a cool car, and he fights bad guys with his bare hands, so it's not really surprising. Unfortunately, becoming Batman takes a lot of time training and a tragic backstory, but the good news is that your child can skip all that nasty business by wearing this boys' Justice League Batman costume. The outfit is based on the one worn by Ben Affleck in the Justice League movie. Just make sure you teach him a few ninja moves so he can go toe to toe with any bad guy!
Superman Costumes
Anyone who's ever heard of a comic book knows about the feats of Superman. He's faster than a speeding a bullet. He's more powerful that a locomotive. He can leap over a skyscraper in a single bound. He's been the iconic hero that generation after generation has looked up to, so dressing up like him is a pretty obvious choice. Just check out some of our licensed Superman costumes, which come in styles and sizes for anyone looking to cosplay as the Kryptonian powerhouse.
Authentic Superman Costume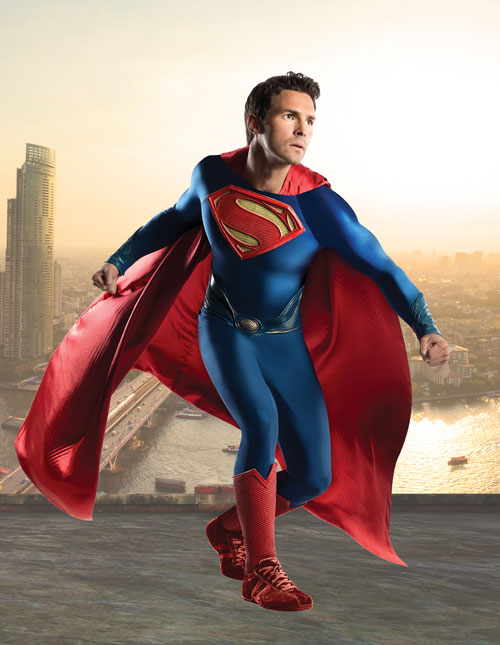 When selecting a Superman costume, the Grand Heritage series is the clear choice when you want high quality. Based on the film, this authentic Superman costume isn't simply a suit of tight spandex. It comes with plenty of details designed into the outfit, making sure that you look as close to Henry Cavill's portrayal of the hero as possible. Of course, you might want to work on that beard if you want the "Man of Steel" look!
Boys' Justice League Superman Costume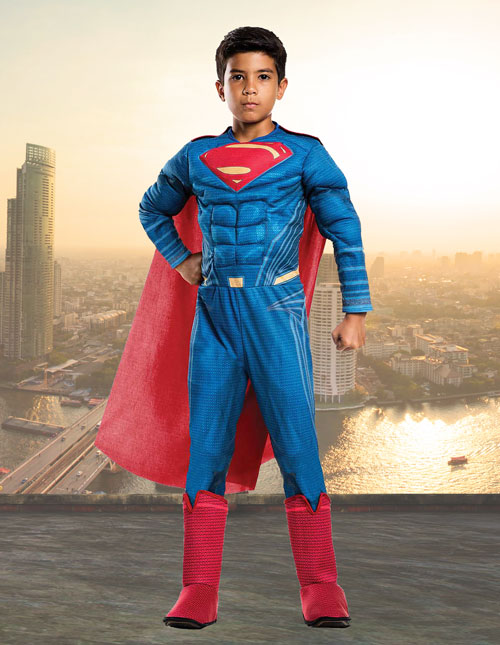 If you want your child to become a founding member of the Justice League, then you'd better start preparing him now! This boy's Justice League Superman costume will have your child ready to team up with Wonder Woman, Flash, and (begrudgingly) Batman. Just make sure to remind him that he doesn't have any super powers, so he'd better think twice before starting a fight with Lex Luther or Steppenwolf.
Clark Kent Superman Costume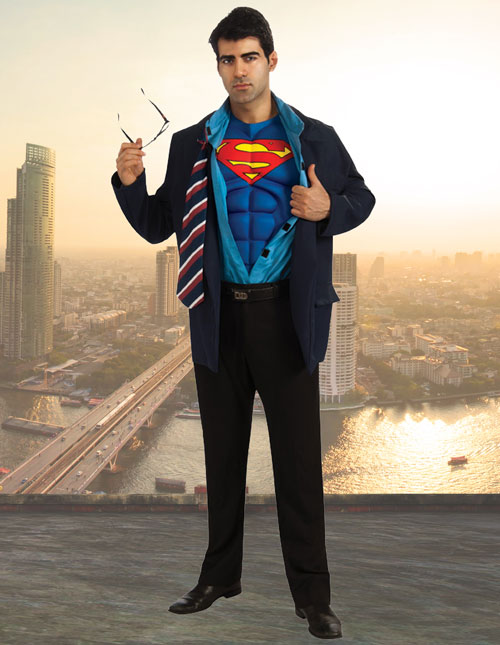 Superman does a pretty good job of saving the world from imminent disaster, but do you think that pays the bills? Certainly not! Even the Last Son of Krypton needs to earn a few bucks, so he uses his secret identity of Clark Kent to do it! This Clark Kent costume helps you transform into Supe's alternate ego, so you can go from mild-mannered news reporter to ultra-powered superhero in a matter of minutes.
Superman Costume T-Shirt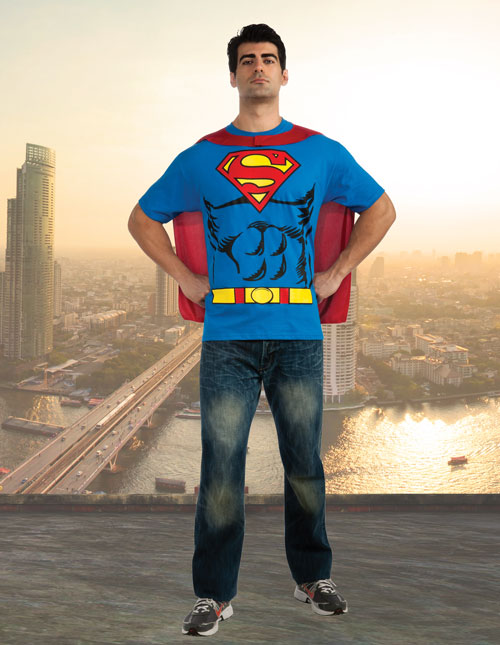 Maybe fighting supervillains in a full spandex suit works for the real Superman, but not everyone likes to parade around in skin-tight clothing. Some people like to take a more relaxed approach to the whole crime-fighting business. This Superman costume t-shirt works for anyone who wants that superhero style that's as comfortable as everyday wear!
Wonder Woman Costumes
Wonder Woman has been carving a path for female superheroes ever since her humble beginnings back in 1941. She used to be the sole force representing women in comic books, which paved the way for some of the later heroes. Comic books owe a lot to Wonder Woman and there's no greater way to pay homage than to dress up as her! Here, we've gathered a few of our favorite Wonder Woman costumes based on the iconic hero.
Wonder Woman Movie Costume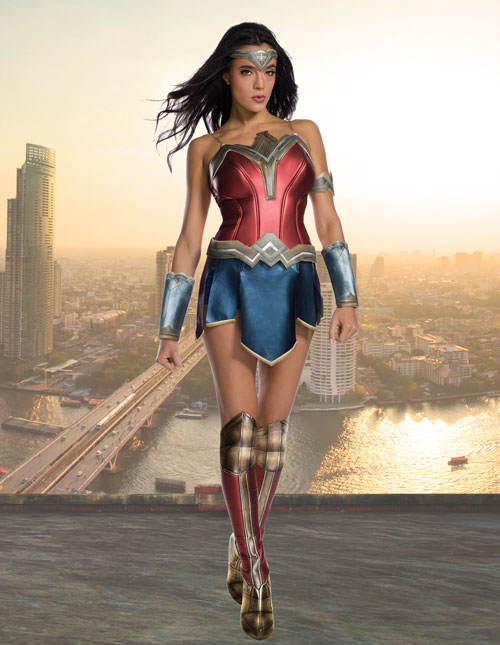 Wonder Woman may have been the best superhero film of 2017. It might have even been the best film in all of 2017! Gal Gadot kicked butt, while also showing the world that compassion and love are the answers, not violence and war. This Wonder Woman movie costume helps you create a look based on the most heroic scenes in the movie.
Kids' Wonder Woman Costume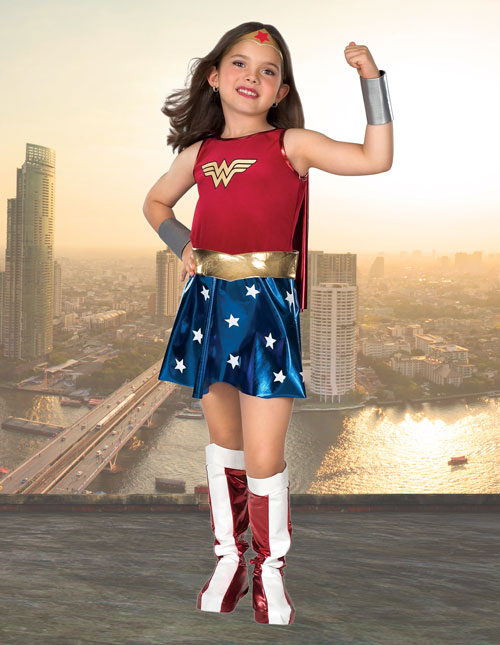 If you want your child to grow into the role of being a superhero, then you'll need to choose the right costume for her now! This kids' Wonder Woman costume gives your child a cute yet classic style. Complete with a star-spangled skirt and a red top, it'll be easy for your child to feel the courage to stand up to evil while wearing it!
Girls Wonder Woman Costume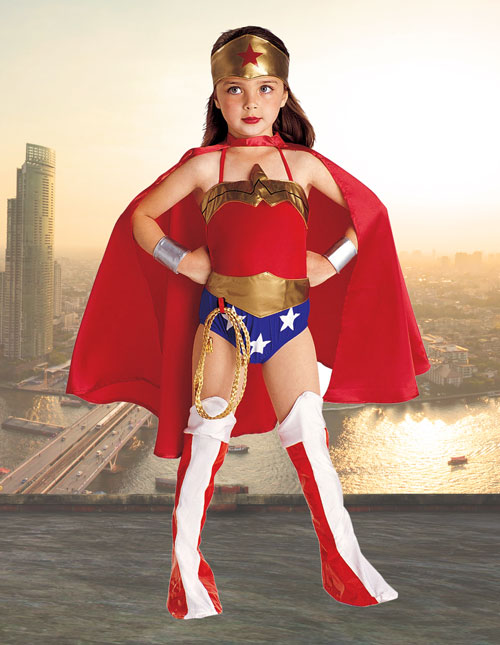 If you really want your child to stand out when she joins the Justice League, then you'll want an outfit of absolutely out-of-this world-heroic proportions! The girls' Wonder Woman costume takes cues from some of Wonder Woman's classic style and it comes with plenty of accessories! Once you child has it on, the rest of the team will be begging her to become the new leader of the group.
Modern Wonder Woman Costume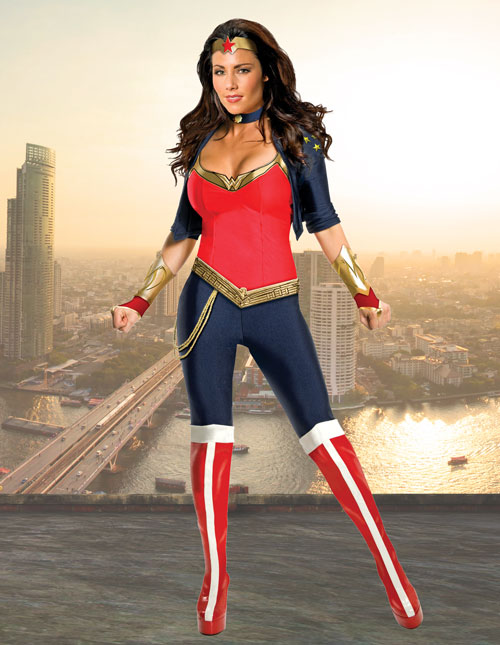 Wonder Woman has gone through a ton of different iterations over the years. Skirts, one-pieces, full battle armor (like some kind of medieval knight), and a white jumpsuit have all been a part of her repertoire. She even went through a Mod phase decades ago! This Modern Wonder Woman Costume recreates her look from Issue #600, which has her wearing a modern take on her classic battle armor.
Flash Costumes
Many people have taken on the mantle of Flash in the years since the first comic book was printed. Jay Garrick was Flash back in the 1940s, but it wasn't until Barry Allen took up the name that we got the costume style that we've all come to know. Wally West, the former Kid Flash, took the on the responsibility of being Flash from 1986 to 2009, but when DC reset their universe, they gave the title back to Barry Allen. Of course, Bart Allen and a myriad of others have been the Flash for different periods of time as well, which means you'll have some pretty big shoes to fill if you plan on becoming the renowned hero. You'd better choose the right costume. Just check out these Flash costume options below and we're sure you'll have no problem stepping into the role!
Boys' Justice League Flash Costume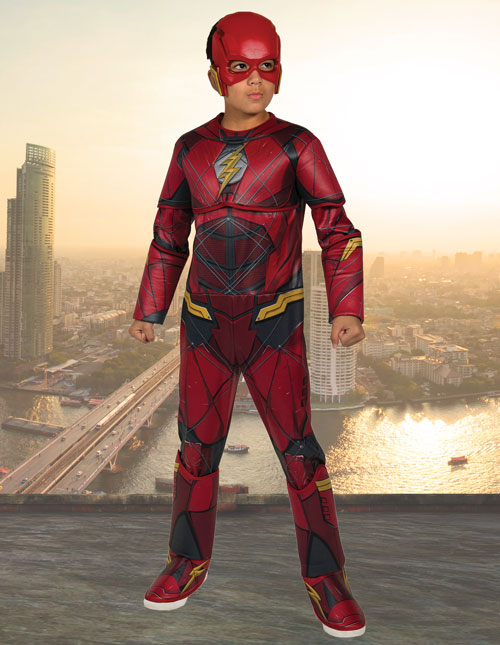 It's no question that Ezra Miller's version of Flash from the Justice League movie was a total scene stealer. His whimsical banter and light-footed heroism was definitely a highlight of the film. Well, if your little one is a scene-stealer at parties and social gatherings, then perhaps it's time to dress him up in this boys' Justice League Flash costume, which is designed to look like the one in the film.
Deluxe Adult Flash Costume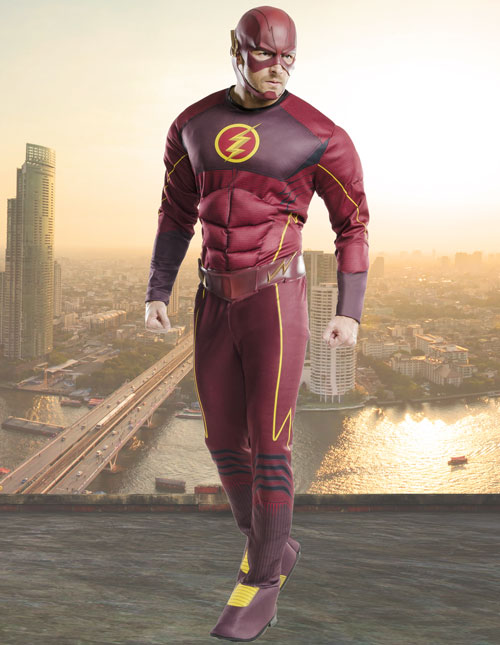 Having a connection to the Speed Force would be completely awesome! You wouldn't need to sit around in traffic jams or even drive a car. You could just dash anywhere that you need to go and be there in an instant. Think of how much time you could save! Well, unless you've been involved in a fortunate laboratory accident, you probably won't be gaining those kinds of powers just yet, but you might as well be prepared with this deluxe Flash costume for adults just in case!
Women's Flash Costume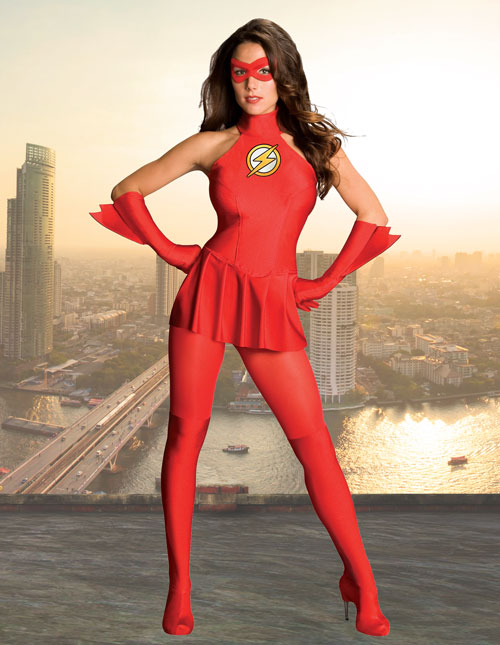 Most of the DC speedsters have been men, but women like Sela Allen and Jesse Chambers have performed as Flash on different occasions. And there's no reason that women shouldn't be able to cosplay as their favorite DC superhero, which is why this women's Flash costume is great! It combines the classic symbol and flair of Flash with women's fashion for a look that's both heroic and stylish.
Adult Justice League Flash Costume
What's not to love about the silver screen adaptation of Flash's costume? It combines a real world sensibility without sacrificing any of the comic book's iconic style. The adult Justice League Flash costume is made from a polyester material and it even has armor pieces designed into the jumpsuit, giving you a heroic look in a matter of seconds. No laboratory accidents necessary in this rad look!