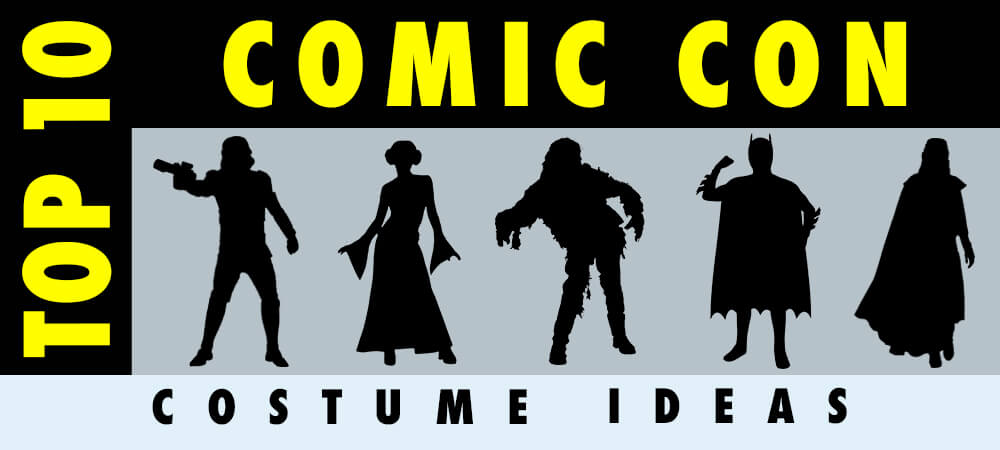 Attention comic book fans, cosplayers, and all-around nerds: convention season is here! While San Diego Comic-Con is the greatest destination of the year for those who eat, sleep and breathe pop culture, there are so many other conventions taking place throughout the summer (and the rest of the year) that anyone can attend. Comic conventions provide an excellent opportunity for wearing cosplay costumes as your favorite characters from pop culture. We've put together a list of the 10 best costume ideas to give you all the inspiration you need when picking out your Comic-Con cosplays.
1. Marvel Comics Costumes
The buzz around Marvel movies is simply unmatched. While many get excited about the latest entry in the MCU, it's just as easy to be blown away by some of the crazy cool Marvel costumes that people show up in. Whether it be a real-life Iron Man costume, an ultra-realistic Spider-Man suit, or some really cool Hulk makeup, you'll be able to find someone in the Marvel universe. These are some of the most popular Comic-Con costumes, so even if you're attending alone, there are tons of photo opportunities to be included in someone else's cosplay group! And if these costumes aren't your style, we also have a complete guide to Marvel costumes!
Marvel Comics Costumes for Women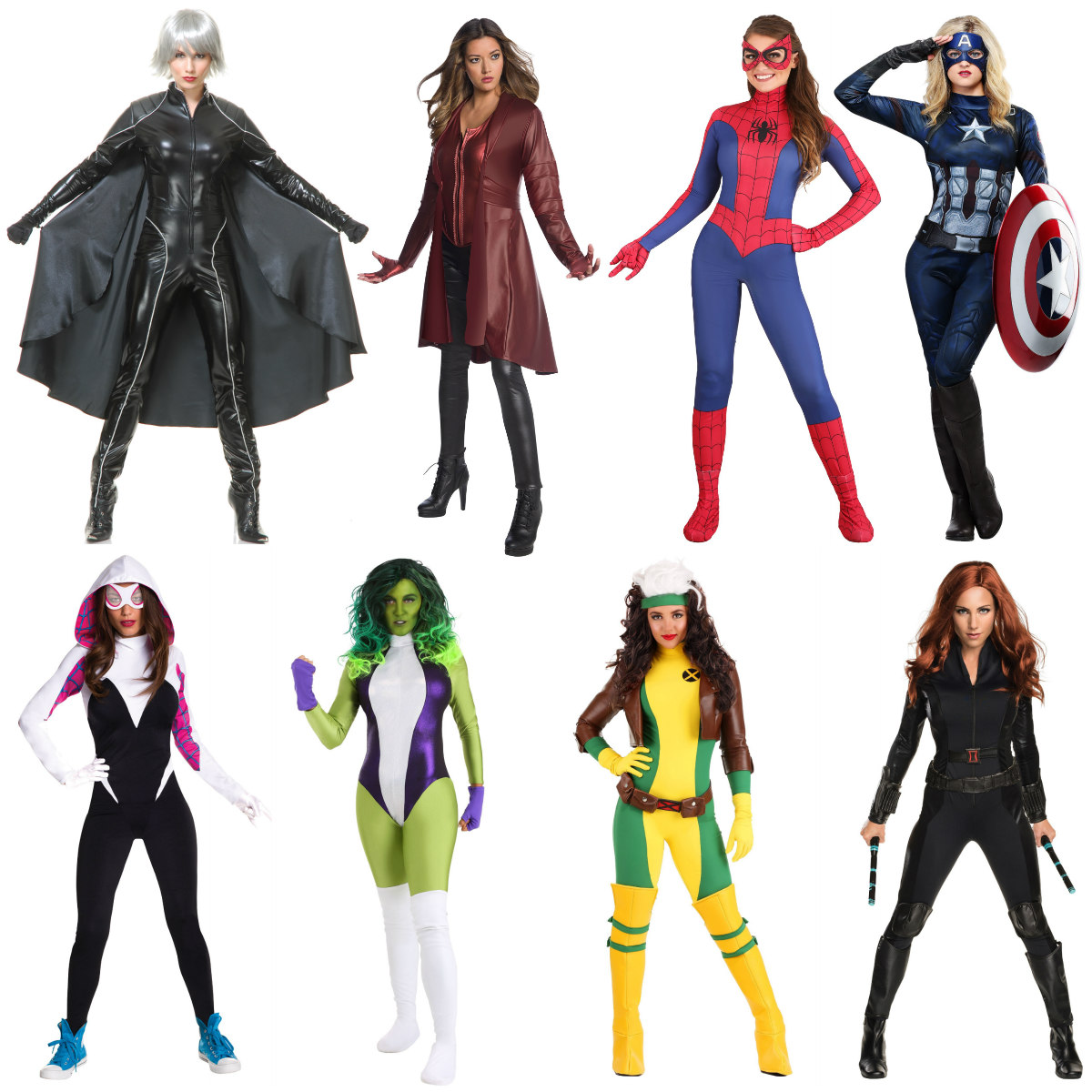 Of course, you should expect to find a huge focus on superhero cosplay costumes at comic book conventions. Marvel has tons of great comic book character costume ideas for women, whether you're looking for their movie looks or something straight from the comic books. Classic X-Men characters like Rogue and Storm are fairly common to spot at Comic-Con. But with the introduction of new Marvel movies and television series, other female characters are getting their chance in the spotlight, too!
Marvel Comics Costumes for Men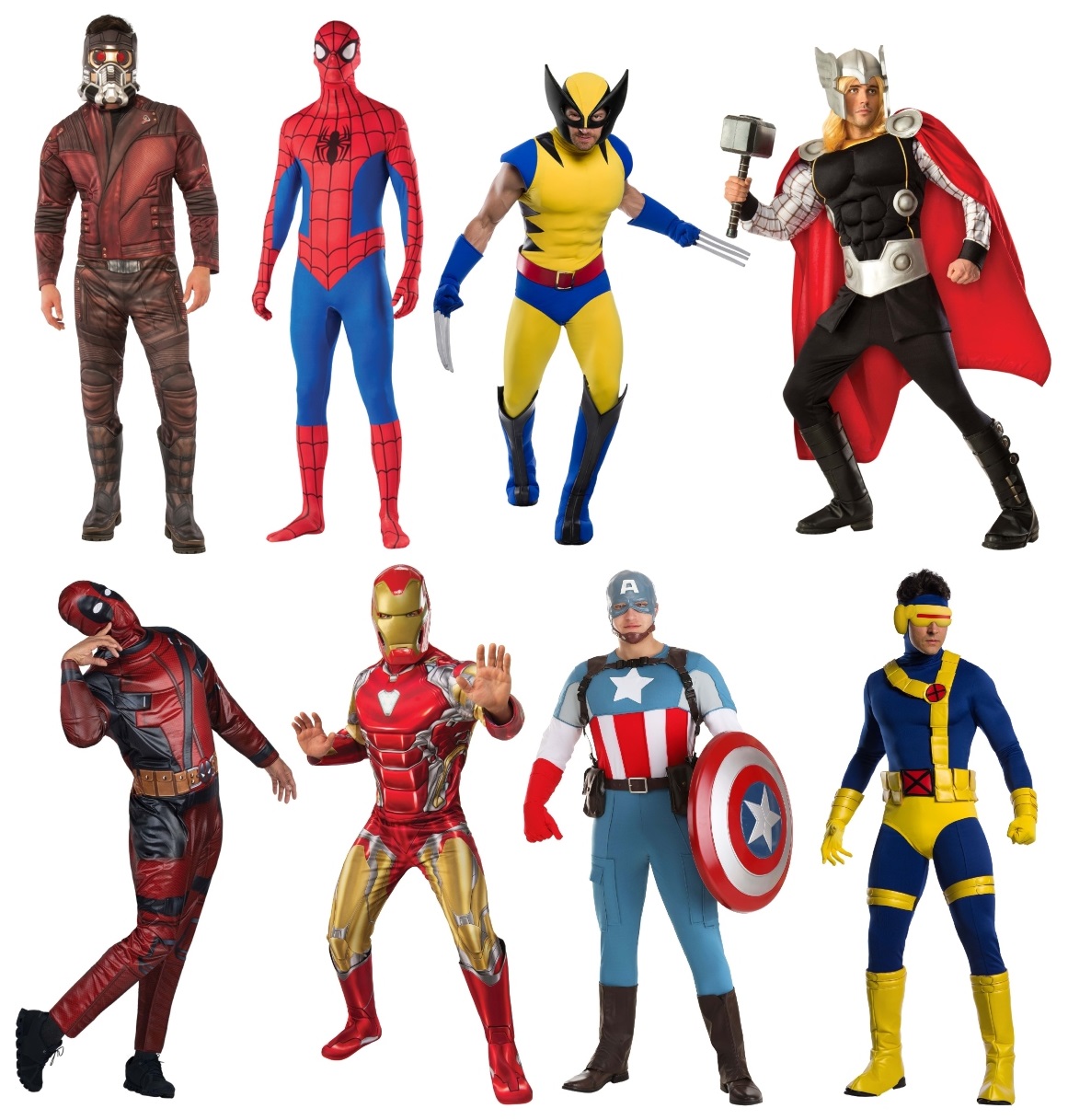 Marvel Comics costumes are some of the best cosplay ideas for guys. They're easily recognizable, make you stand out from the crowd, and you can usually gather a group of cosplayers together for a photo op. Characters like Spider-Man, Deadpool, Iron Man and Star-Lord also have an arsenal of great one-liners, so keep some of these in mind while you're in costume. You're bound to make someone's day!
2. DC Comics Costumes
Batman is not only the king of comic book superheroes, but he's also one of the most popular cosplay ideas. Even though you're wearing an all-black, heavy suit with limited mobility, so many people dress up as the Caped Crusader for conventions. Aside from Batman and Robin, another popular duo for DC fans is the Clown Prince of Crime, the Joker, and his hard-hitting love interest, Harley Quinn. However, DC has so much to offer for other comic costumes! Check out these superhero costumes if you're looking for other options.
DC Comics Costumes for Women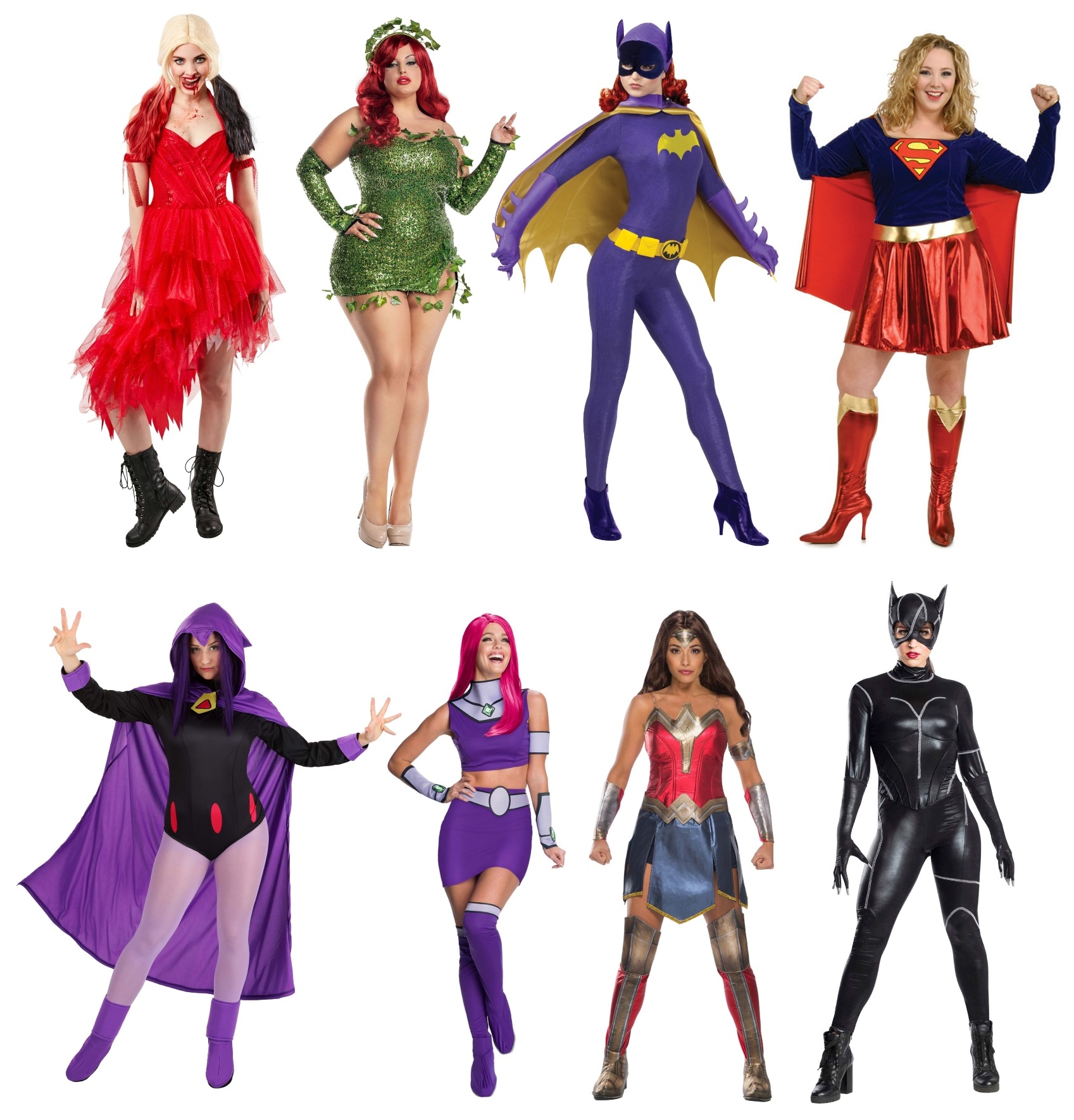 As we mentioned, Batman is a popular DC costume choice, so you can't go wrong with anyone that might rub elbows with Batman and fam. Newer comic books, movies and television series have updated outfits for a handful of lovely DC ladies as well. Whether you prefer their classic superhero outfits or the modern versions, you can find plenty of DC comics costumes for women to show off your personal style.
DC Comics Costumes for Men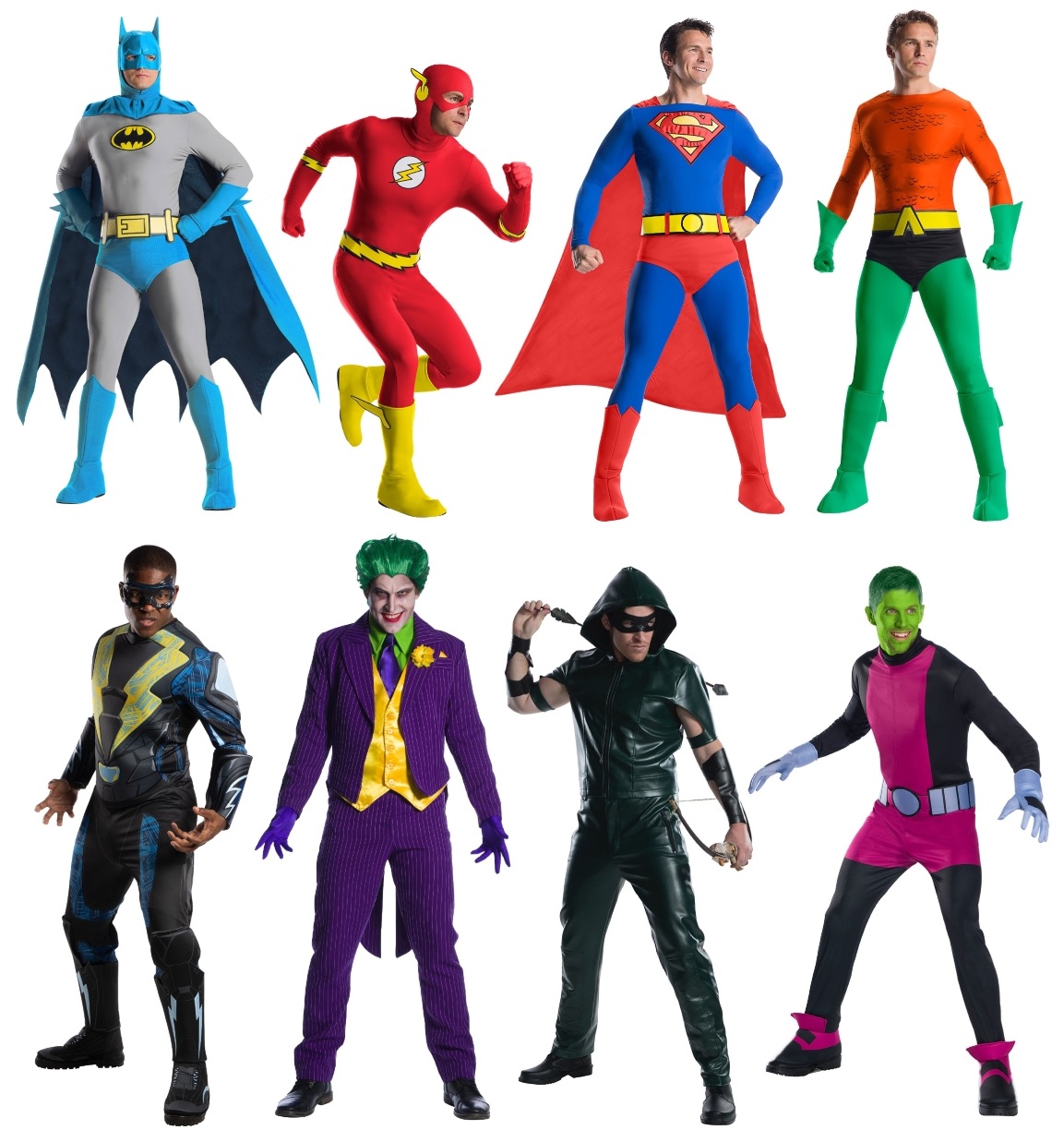 While Marvel may have had more wins at the box office, DC comics have their fair share of good superhero movies as well. The Dark Knight series is still iconic years later, but newer movies like Justice League and Shazam! have had an impact, too. We're certainly ready to see what else DC has in store for us! Many famous DC comics characters have been popular for decades, so classic DC costumes are sure to delight people of all ages and backgrounds.
3. Star Wars Costumes
Most (probably all) comic book conventions occur here on Earth, not in a galaxy far away. But that doesn't mean you can't bring the galaxy to the convention! When it comes to Star Wars costumes, you can go as a Jedi, a Sith, or you can go full Droid if you like. There are plenty of intergalactic options, but we'd advise against Jabba the Hutt. You could get awfully tired lugging that costume around.
Star Wars Costumes for Women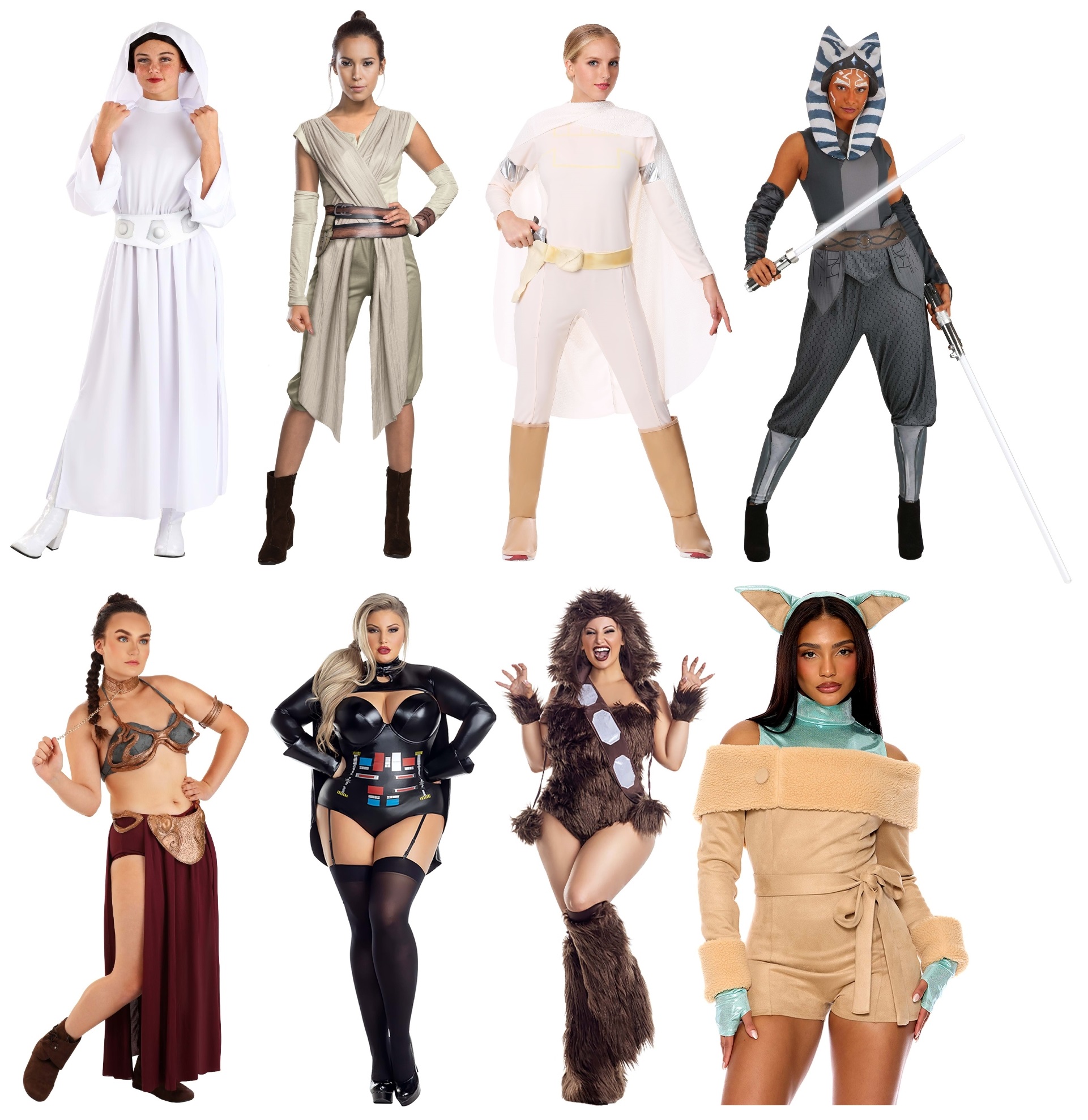 Like many science-fiction movies and television shows, Star Wars has a wide range of roles for female characters. (It's not fun to be the damsel in distress 24/7!) The ever-popular Princess Leia is a woman of many outfits, from an ambassador to a general. There are also several female Jedi, like Rey. Check out these and other popular women's Star Wars costumes and you're sure to make a splash at your next Comic-Con!
Star Wars Costumes for Men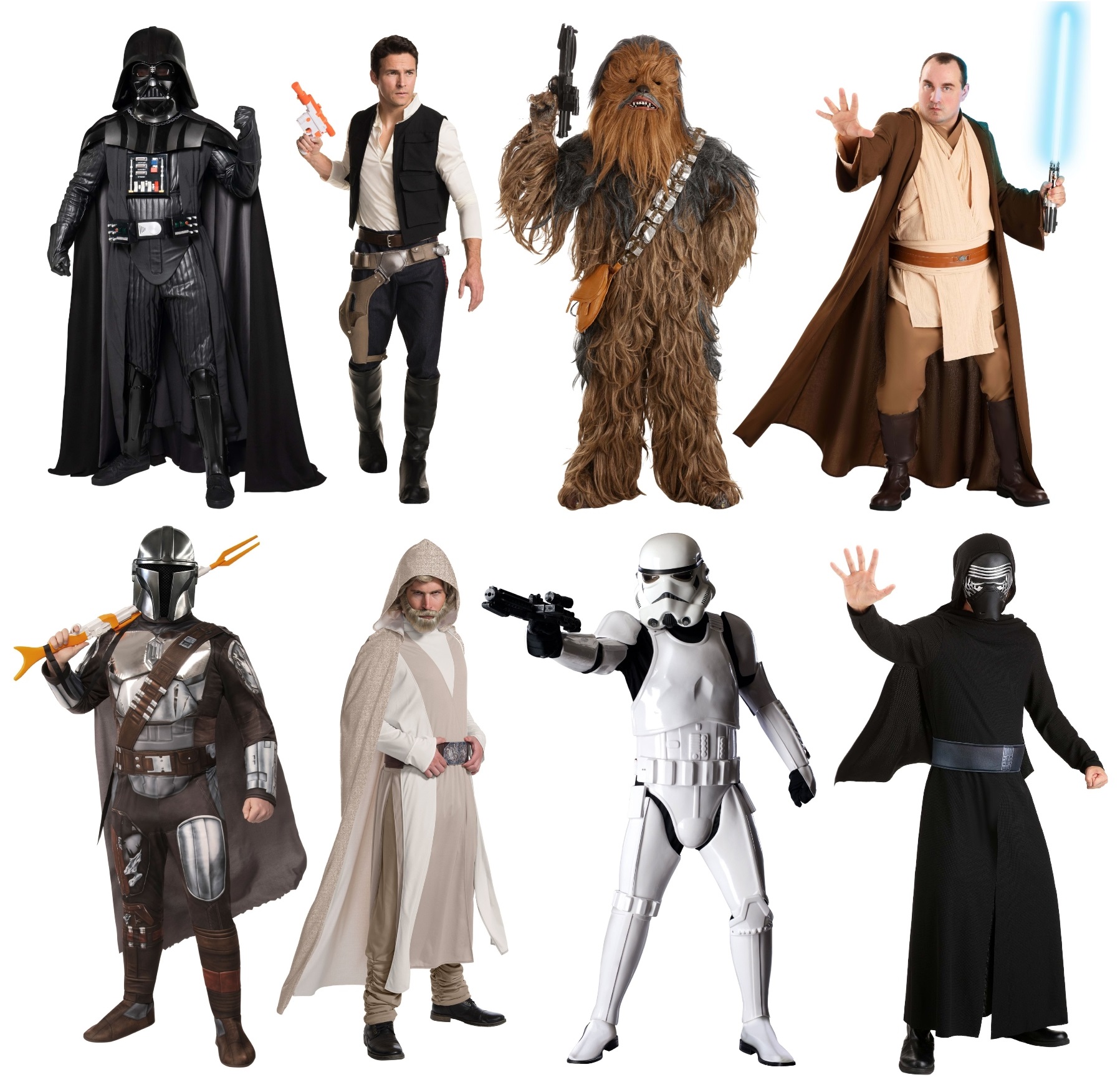 Star Wars is full of easy cosplay ideas for guys. With so many male characters to choose from, you won't have to think too hard about what you could possibly be. (You might just have a hard time deciding with so many great ideas!) Star Wars is so popular that you can find a bunch of high-quality cosplay costumes, which means that there are a plethora of last-minute costumes for guys. You got frustrated trying to learn how to sew and you don't have any time to make that screen-accurate Han Solo costume? We're there for you!
4. Disney Character Costumes
Comic-Con might have been founded with comics in mind, but the possibilities are endless. You can spot tons of other non-comic book characters from movies, television and more. You're going to see plenty of people wearing costumes of their faves, including Disney characters! If you're looking for some Disney costumes for adults for your next convention, you're going to want to check out these awesome Disney costume ideas.
Disney Character Costumes for Women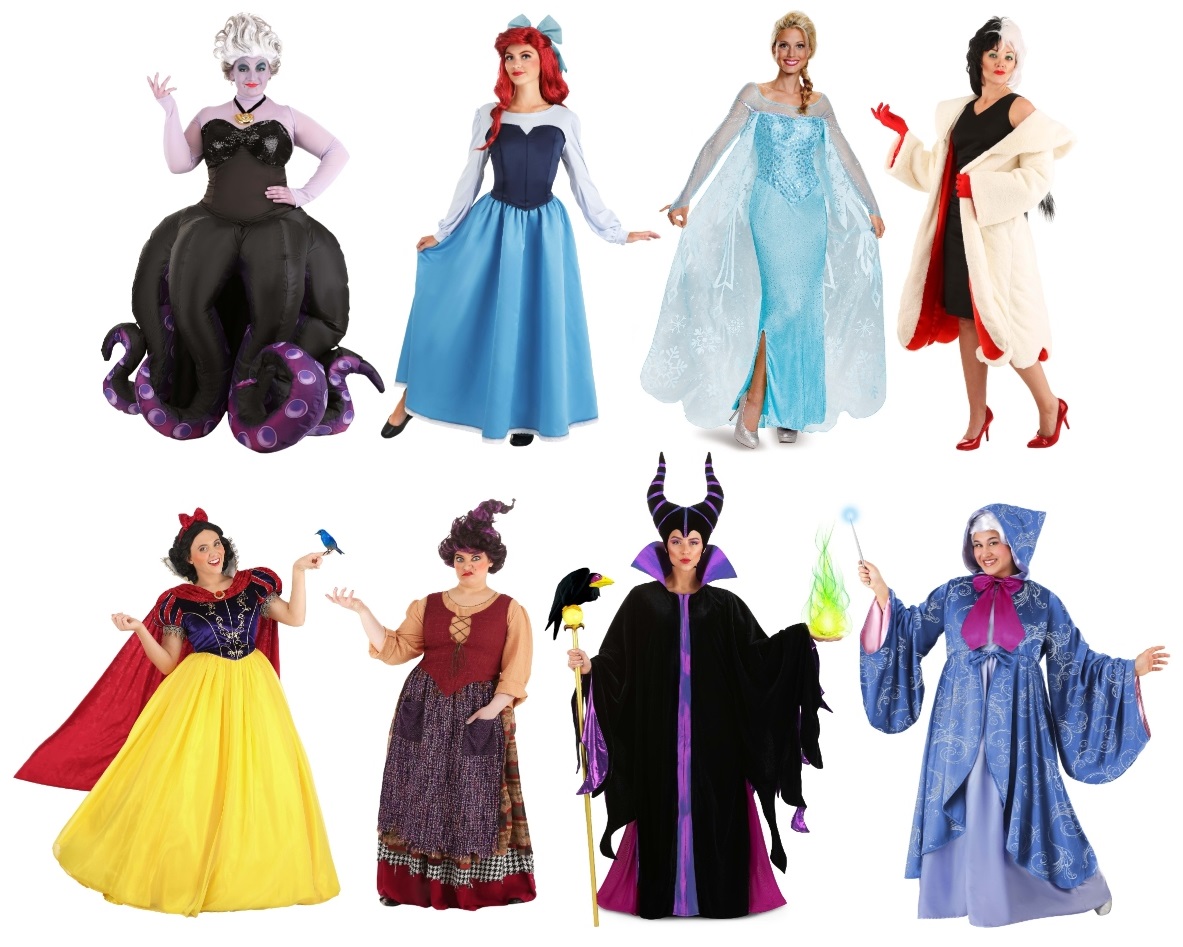 You might not have realized it, but there are TONS of adult Disney costumes, especially for women. Granted, Disney has so many great female characters that it should be of little surprise. Whether you're into classic Disney characters like Princess Belle and Ariel or newer Disney characters like Elsa and Anna, you can find these and other costumes at HalloweenCostumes.com! You're sure to be cosplay-ready in no time.
Disney Character Costumes for Men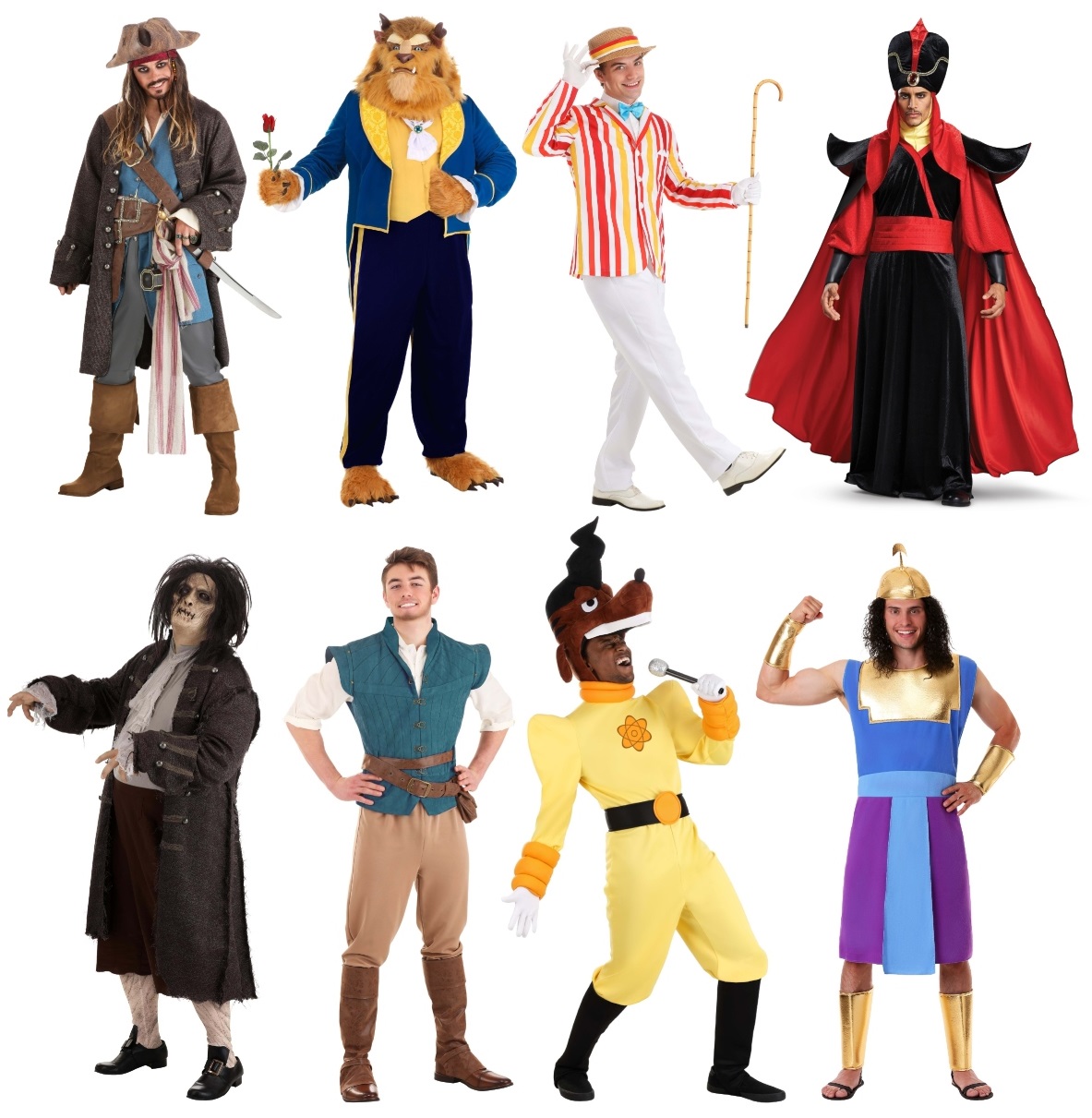 Because Disney has tons of popular characters, you might be looking at a Disney costume for yourself or as a couple or group costume. If you like to be the center of attention, a Disney costume might just be perfect for you. Just remember that these characters are easily recognizable, so don't be surprised when you get stopped for photos!
5. TV Costumes
Online streaming services are making television more accessible for everyone. You can watch TV shows on your cell phone, tablet and of course the television. Whether the series you enjoy is wildly popular or more niche, TV shows are ripe for the picking as Comic-Con costume ideas. Some can be fairly simple cosplay ideas that you can throw together with normal clothes and a few accessories, while others require full costumes. But honestly, the sky is the limit!
TV Costumes for Women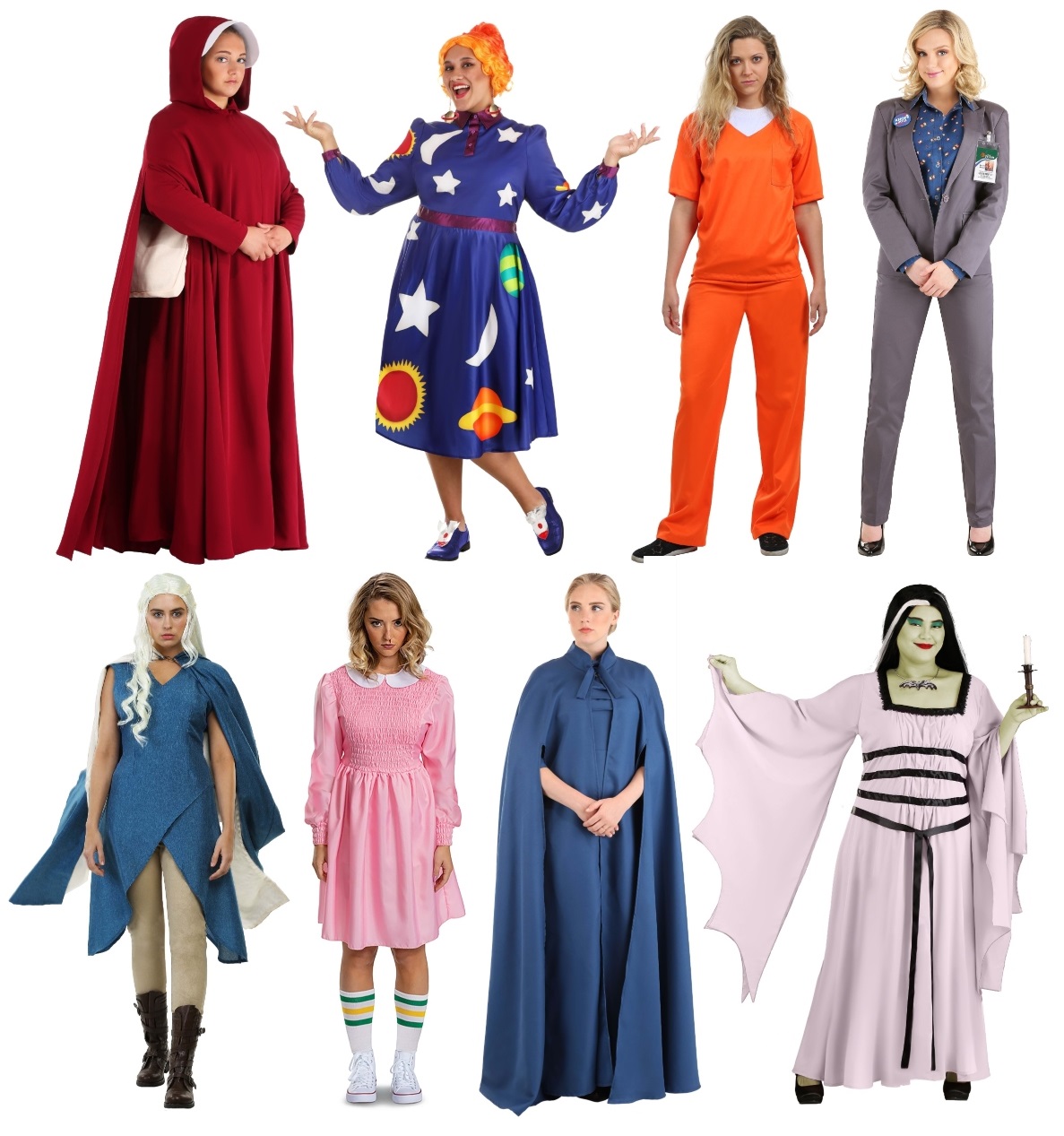 There are tons of great female characters on television. Historical figures, fantasy characters, superheroes—the list could go on. Pick whatever television costume suits your fancy, and you're sure to find other like-minded fans with which to discuss your favorite episodes. It's a great way to break the awkward silence and make a new friend!
TV Costumes for Men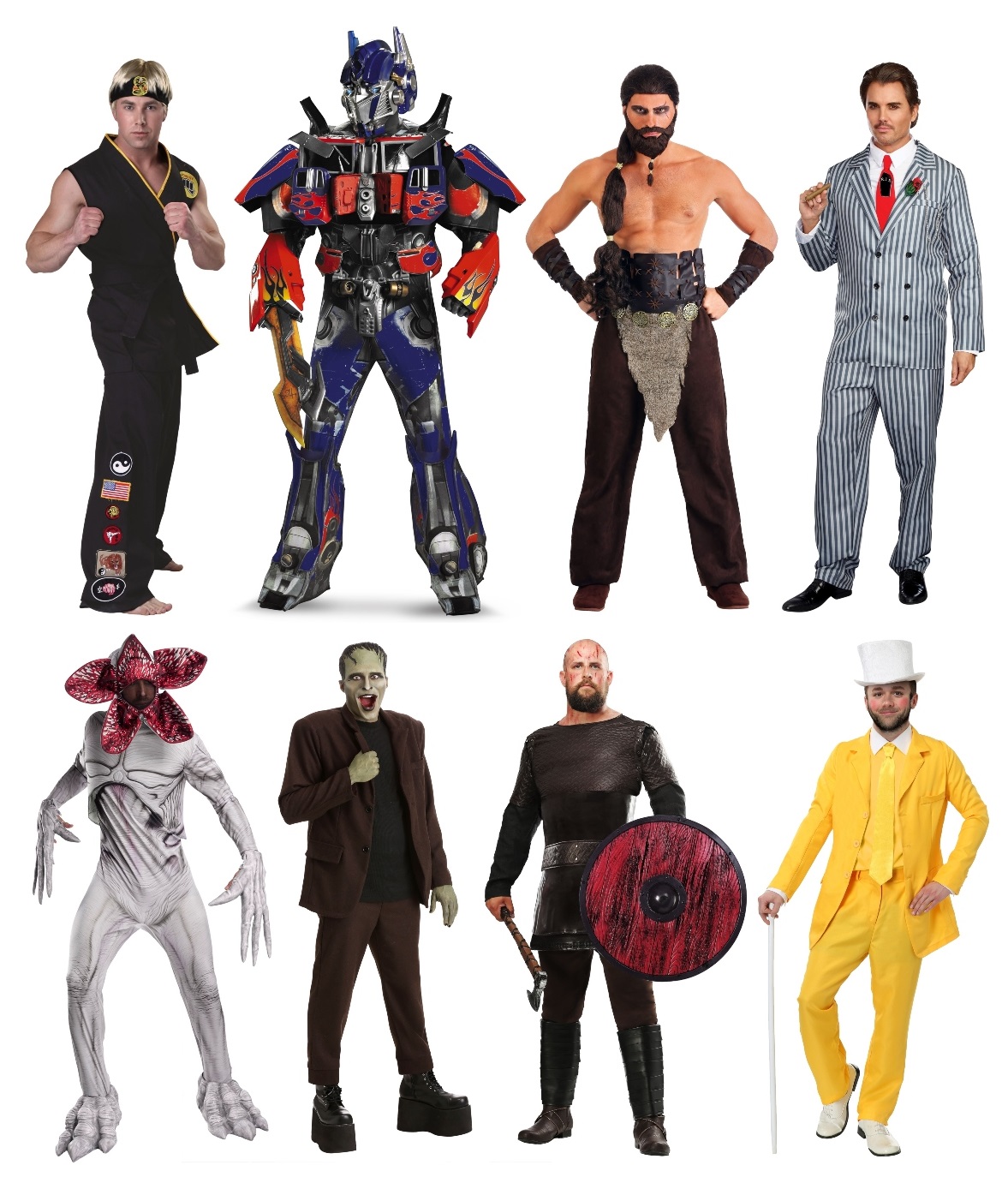 While there are plenty of wonderful ladies on the small screen, we can't forget some of our favorite male characters, either. You can easily attend solo or as part of a couple or group costume. There's also the possibility to take your outfit and make it into a group costume by adding more Karate Kid or Stranger Things costumes. (But that's a whole other rabbit hole you can fall into later!)
6. Video Game Costumes
E3, the biggest gaming convention of the year, provides a great opportunity for cosplay. However, video game cosplay is also well-represented at comic conventions all over the place. Some recent cosplay faves have been from Overwatch, like D.Va (pronounced "Deeva"), Mei, and Tracer. Other prominent gaming cosplay at conventions includes popular Nintendo characters like Link and Mario.
Video Game Costumes for Women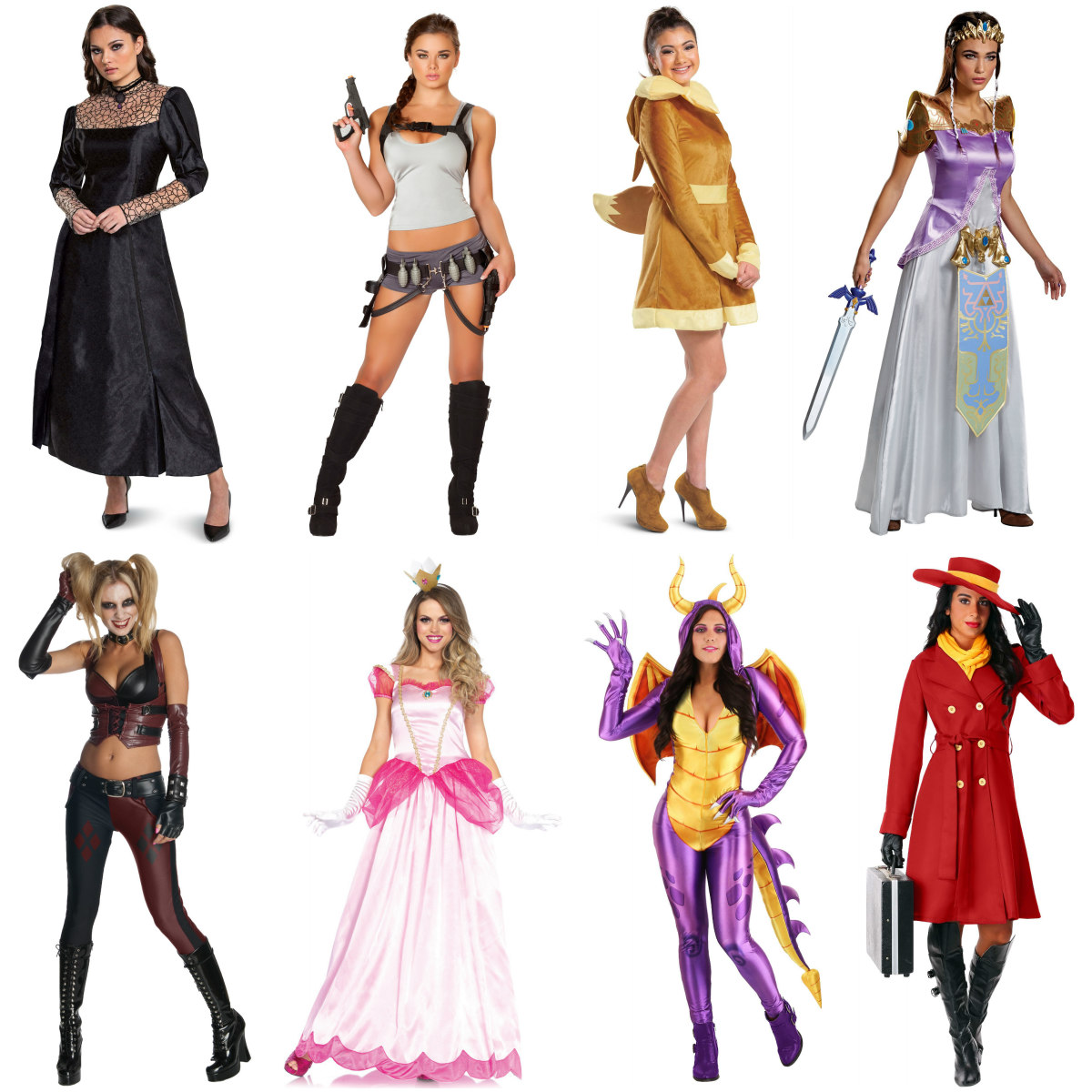 There are so many wonderful female video game characters that we hardly know where to start! Classics like Carmen Sandiego, Lara Croft and Zelda are sure to grab the attention of fellow gamers, but don't be afraid to try something new! Characters from games like Overwatch have tons of incredible looks as well, from their classic outfits to a variety of fun and unique skins.
Video Game Costumes for Men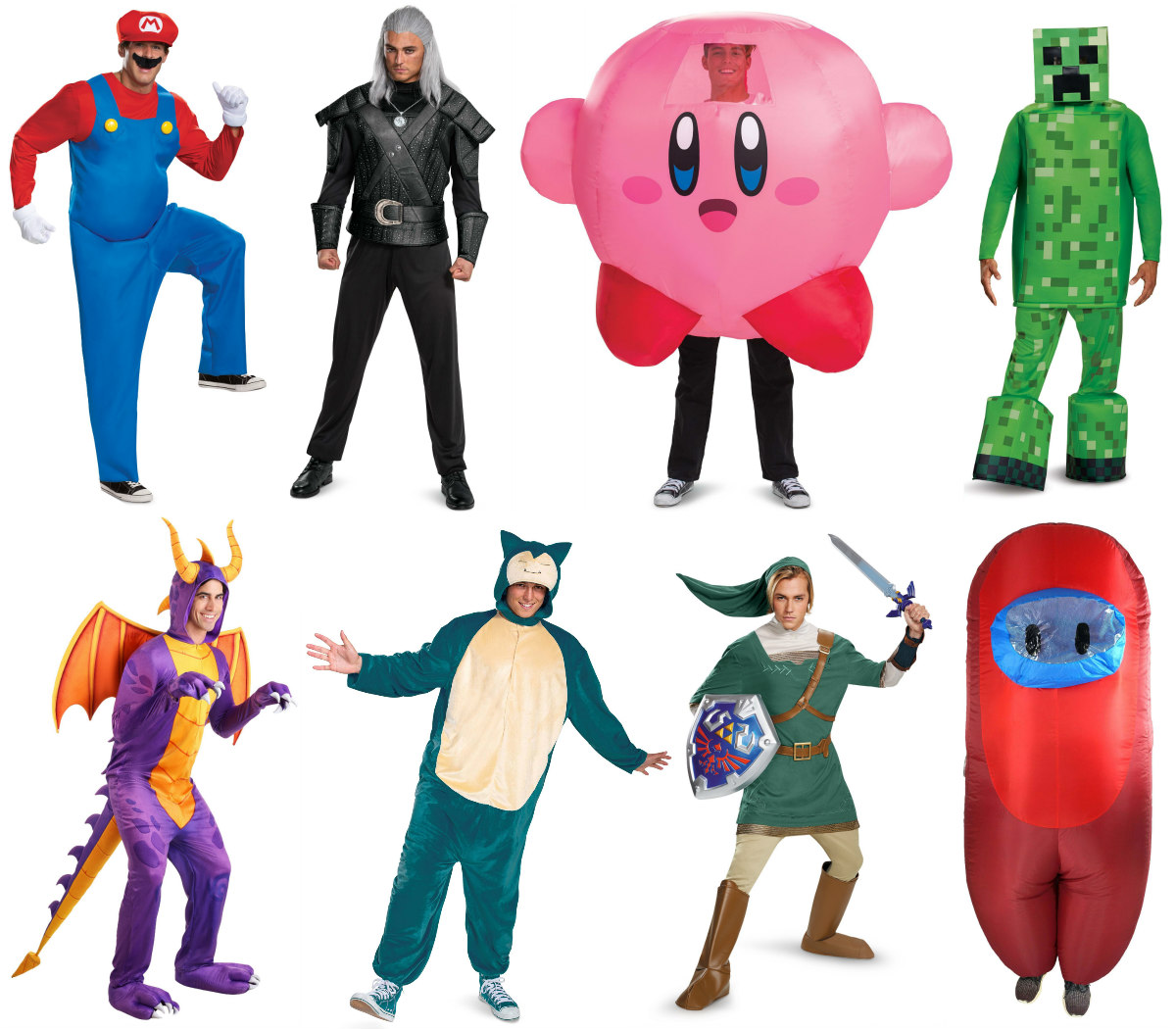 It should be of little surprise that there are tons of video game cosplay ideas for guys. Some of the most well-known video game characters of all time are dudes, after all. Whether you want to stick to the classics or try something new, a gaming Halloween costume makes for a simple cosplay. (Not everyone is skilled with fabric, thermoplastic or EVA!)
7. Movie Costumes
If you're excited by the thought of movie popcorn, theater screens and surround sound, perhaps a movie costume might be up your alley. There are tons of iconic characters to choose from, whether you're enamored with the classics or you enjoy the latest movie characters. You're bound to see all of the above and even obscure movie costumes from cult classics at conventions this year, so check out these movie costume ideas to get those little grey cells working.
Movie Costumes for Women
We know that we mentioned quite a few movie characters already—but there are so many MORE movie costume ideas! You might be into horror or comedy, sci-fi or fantasy, and when you wear your favorite movie character costume, you're bound to bump into like-minded fans, too! We love our on-screen ladies, and you're sure to find the perfect convention outfit for you.
Movie Costumes for Men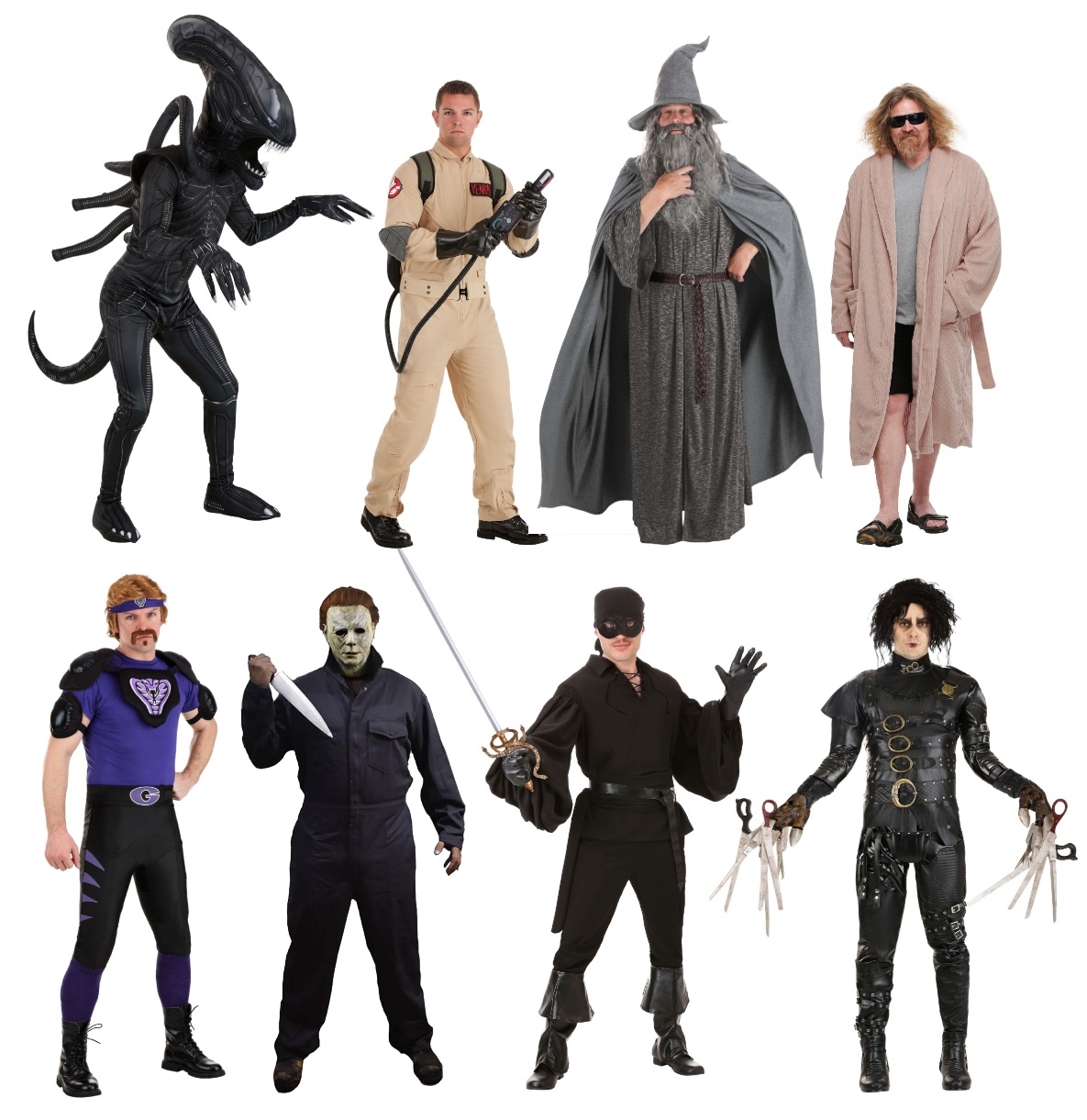 Movies are full of great outfit ideas for Comic-Con, especially if you're looking for a silly costume idea. Comedies like The Big Lebowski and Scooby-Doo have costume ideas certain to make people smile. However, you're free to explore any genre! Don't be surprised to bump into Gandalf or Michael Myers, along with other popular movie characters.
8. Harry Potter Costumes
There's no shortage of wizards at any convention. While some are game to round up a group for a spirited game of Quidditch, others intend to use magic to get their hands on some sought-after merch or autographs. You can find quite a few exclusive Harry Potter costumes here at HalloweenCostumes.com, from house robes to character costumes.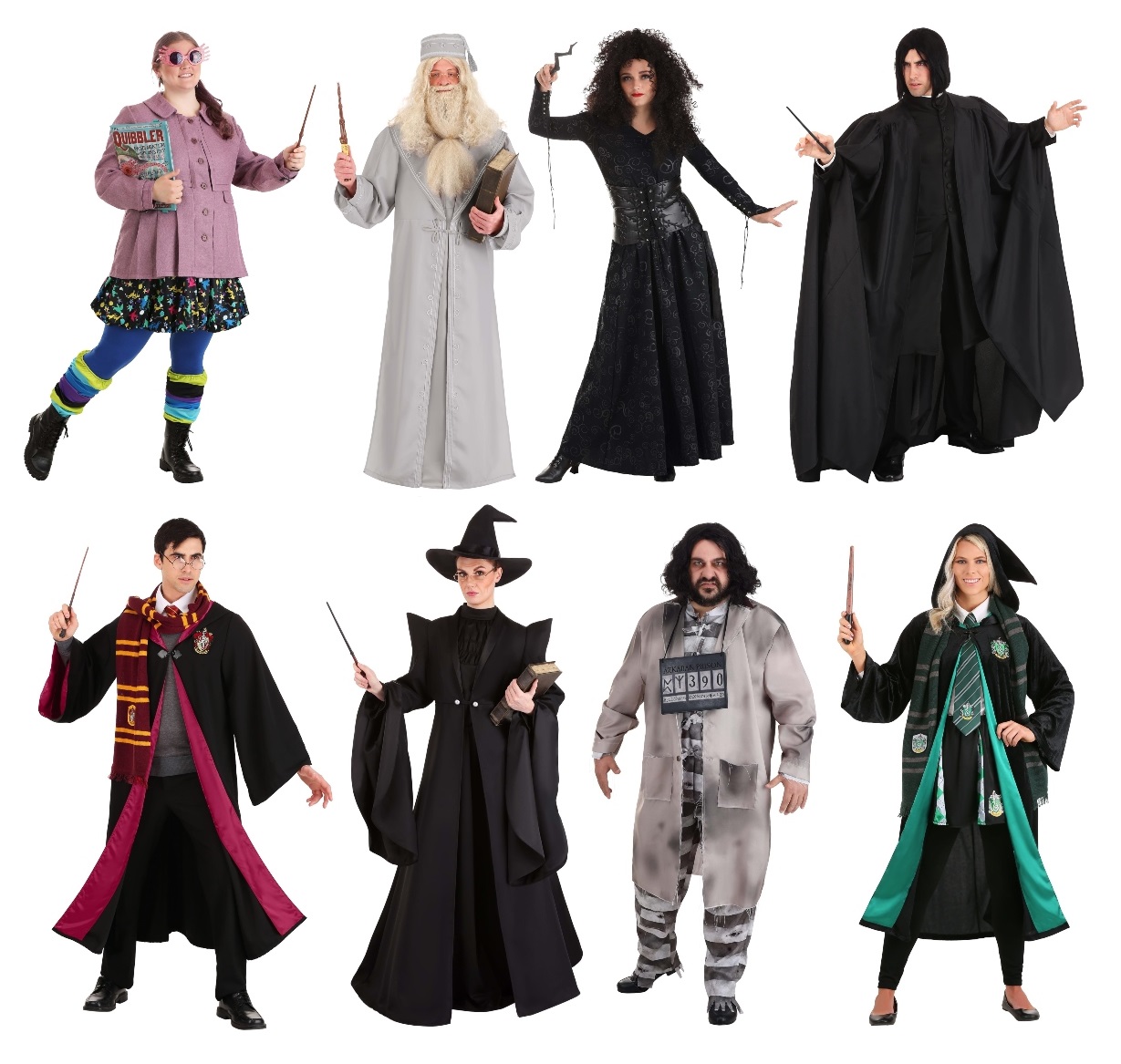 When it comes to Harry Potter costumes, there's more than just house robes. Sure, you can make your own wizard character, but there are also options to dress like your favorite Harry Potter characters! Give or take away points from other convention-goers as Professor McGonagall or have the craziest looking spectacles as Luna Lovegood. You're free to dress your way, and we're sure that you'll have fun no matter what!
9. Cartoon and Anime Costumes
Among the guests featured at comic convention panels and booths are voice actors of current and classic animated favorites. Usually, these guests are thrilled to see people dressed as characters they provide voices for. Other favorite animated characters to cosplay include those from shows aimed at adults, like Bob's Burgers and Rick & Morty. If you're looking for something else, there are plenty of anime characters from the likes of Dragon Ball Z, Attack on Titan, or Sailor Moon (to name a few) to choose from!
Cartoon and Anime Costumes for Women
Relive some of your favorite Saturday morning cartoon moments with a variety of cartoon and anime costumes. The 80s and 90s were undoubtedly packed with great animated shows, but you can find inspiration outside of those decades, too! Fight villains as Sailor Moon, unmask fake ghosts as Velma or Daphne, or instigate some drama as Louise Belcher. The possibilities are endless, and we hope that you walk away with all of the autographs!
Cartoon and Anime Costumes for Men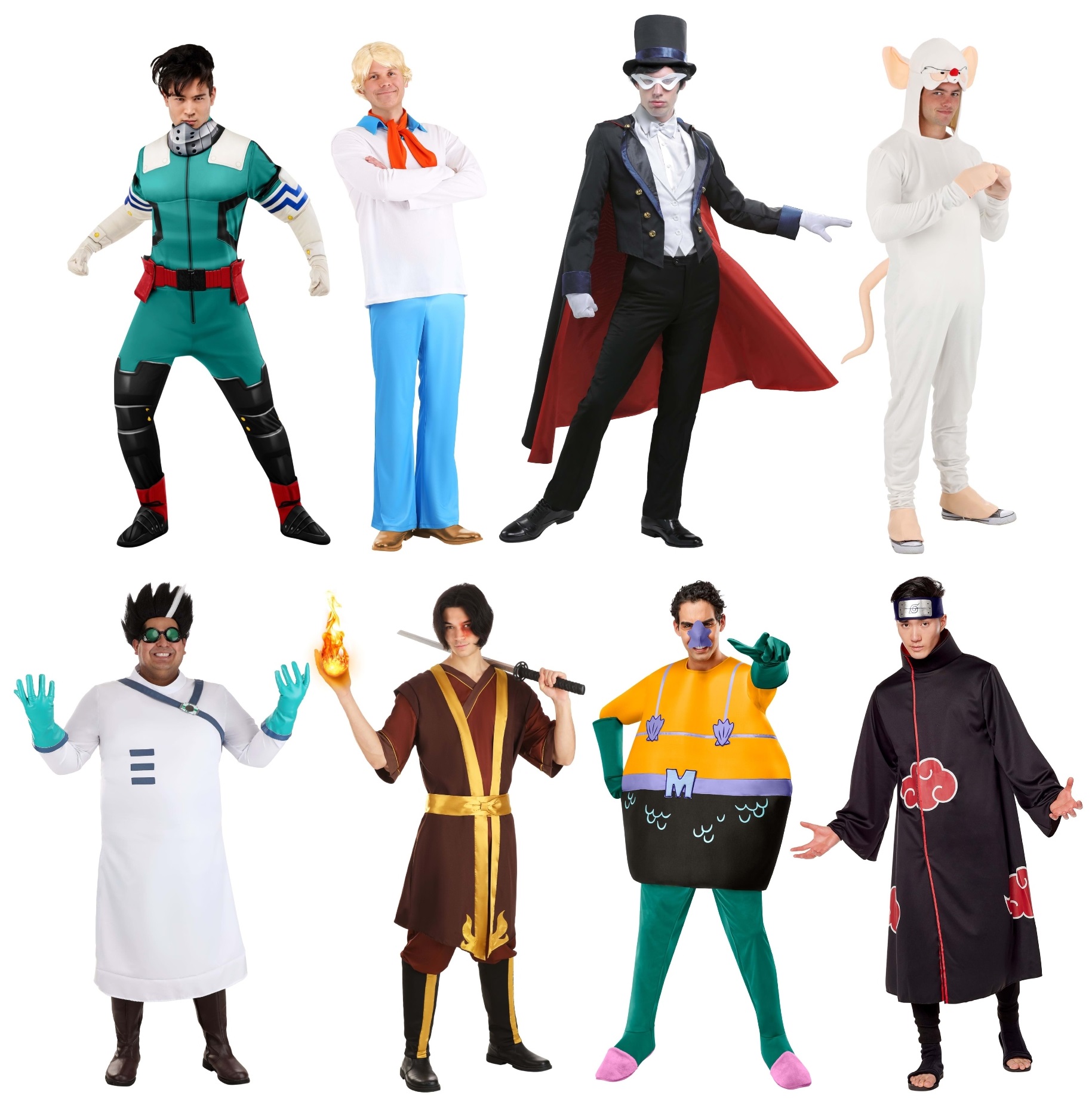 You probably fought your sibling over the remote to watch your favorite shows, but now the joke's on them! That's because you can simply get your favorite cartoon costume and spout all of your favorite quotes. It's time to duel as Yugi, or yabba-dabba-doo like Fred Flintstone. You're bound to bump into someone who's also a fan, perhaps even wearing the same cartoon character costume!
10. Nostalgia Costumes
There's nothing quite like being that unexpected blast from the past at your local convention. Perhaps you won't be recognized by everyone, but those people who do get it will love you for it! Whether your costume is from the 90s, 80s, or even earlier, older pop culture characters are iconic in their own way. Check out these nostalgic character costumes for ideas from older movies and tv shows!
Nostalgia Costumes for Women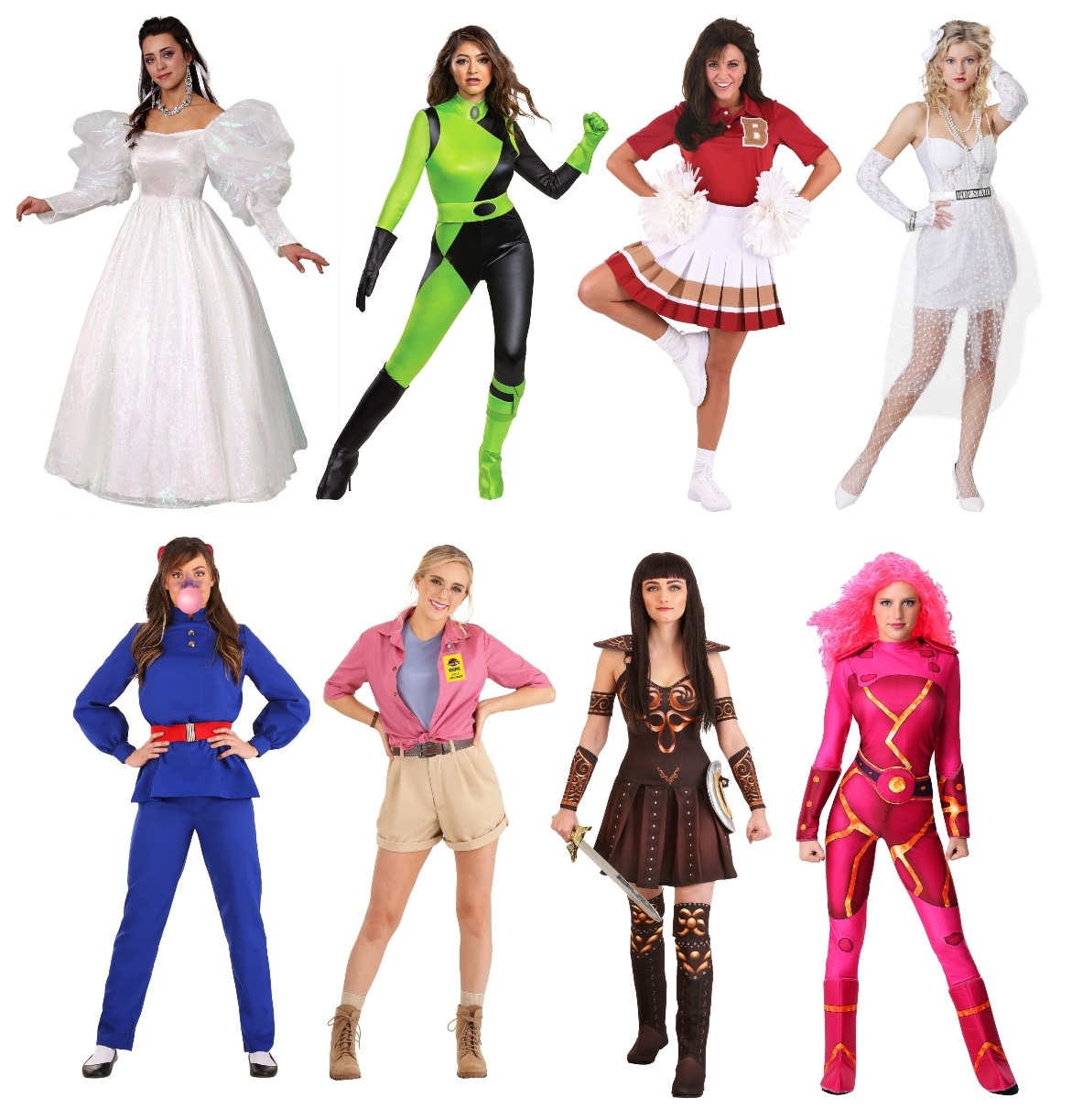 What can we say—we love classic television and movies! Sure, the fashion was kind of wild, but that's why nostalgia is a thing. Movies like Jurassic Park and Labyrinth are still enjoyable to watch today. Today's films and television shows still draw inspiration from the classics. While you might not bump into a whole lot of these characters, sometimes it feels good to be unique!
Nostalgia Costumes for Men
If you're looking for something different but still iconic, look no further. Nostalgia is where it's at! Recite all your favorite catchphrases as Ron Burgundy or make some underhanded deals as Dennis Nedry. You can even don a comfy Ferris Bueller bathrobe as the king of skipping school himself, or wear it again with the Deadpool costume we mentioned earlier! Ultimately, you get to decide what you want to wear for Comic-Con, so make sure to have loads of fun with it!
Will you be attending any conventions this year? Are you planning on dressing up? What are some of your favorite Comic-Con characters to take pictures with? Tell us in the comments! And if you're looking for more inspiration, you can check out our full selection of Halloween costumes that would make for a perfect convention costume!