Star Wars: The Rise of Skywalker! The Mandalorian! Galaxy's Edge! Star Wars is pretty much everywhere right now, not that we're complaining. We're obviously huge fans. When it's Halloween, we wear our Star Wars Halloween costumes…and when it's not Halloween they become regular ol' Star Wars costumes! We wear them to movie premieres and conventions and just because. So get comfortable and we'll show you all the most popular designs, plus an accessory or three. That's right, these are the Star Wars costumes you're looking for!
We'll look at some Star Wars party ideas first, but click here to jump right to the costumes.
Star Wars Costume Party Ideas
There are so many reasons to wear Star Wars costumes. Obviously, we love Star Wars costumes for Halloween. However, you can also attend a comic convention, partake in a May the 4th party or attend a Star Wars-themed birthday party! Below we'll be sharing a few of our favorite party ideas and the costumes you need to make your next Star Wars event a success!
Star Wars Food and Drinks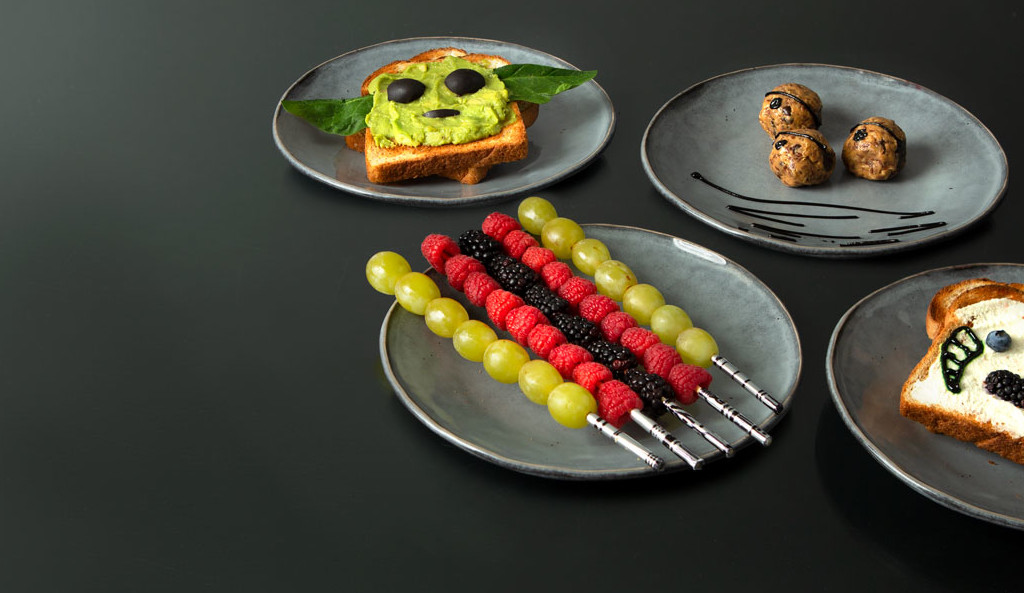 Get ready to play with your food because Star Wars food and drink recipes are so much fun! You can make plenty of in-universe beverages at home, with cocktails for adults and alcohol-free drinks for kids. But don't just stop at the beverages! Everything from desserts to healthy snacks can be made with a Star Wars twist. We love these fruit kabob lightsabers, and who could resist a TIE Fighter Oreo pop? Of course, you're also encouraged to create unique Star Wars snacks on your own!
Star Wars Party Favors
Party favors and gift bags are great items for guests to enjoy at the party and take home. Generally, you'll fill a bag with small, inexpensive things such as candy or little toys and mini figures. These silly Star Wars glasses are also excellent for one larger item to give guests, or perhaps a lightsaber so you can have lightsaber battles at the party! Bonus points for you if you can get Star Wars-themed gift bags to hold it all together.
Star Wars Decorations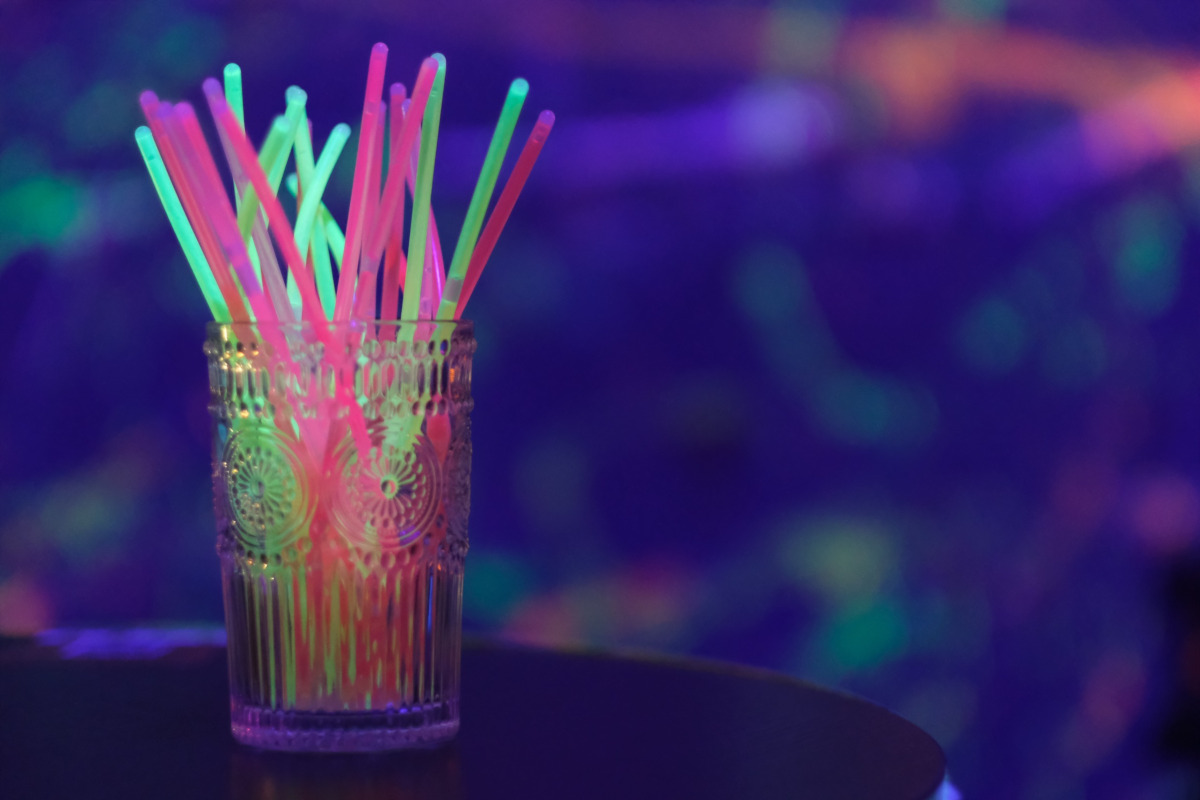 Depending on your budget, there are so many ways to do Star Wars decorations. Do you want to go all-out with Star Wars string lights and character cardboard cutouts? What about a white and black scheme with the dark side vs. the light side? Even something as simple as jars of glowsticks in lightsaber colors and black lights can evoke a sci-fi feel. What are some of your favorite Star Wars decorations?
Star Wars Activities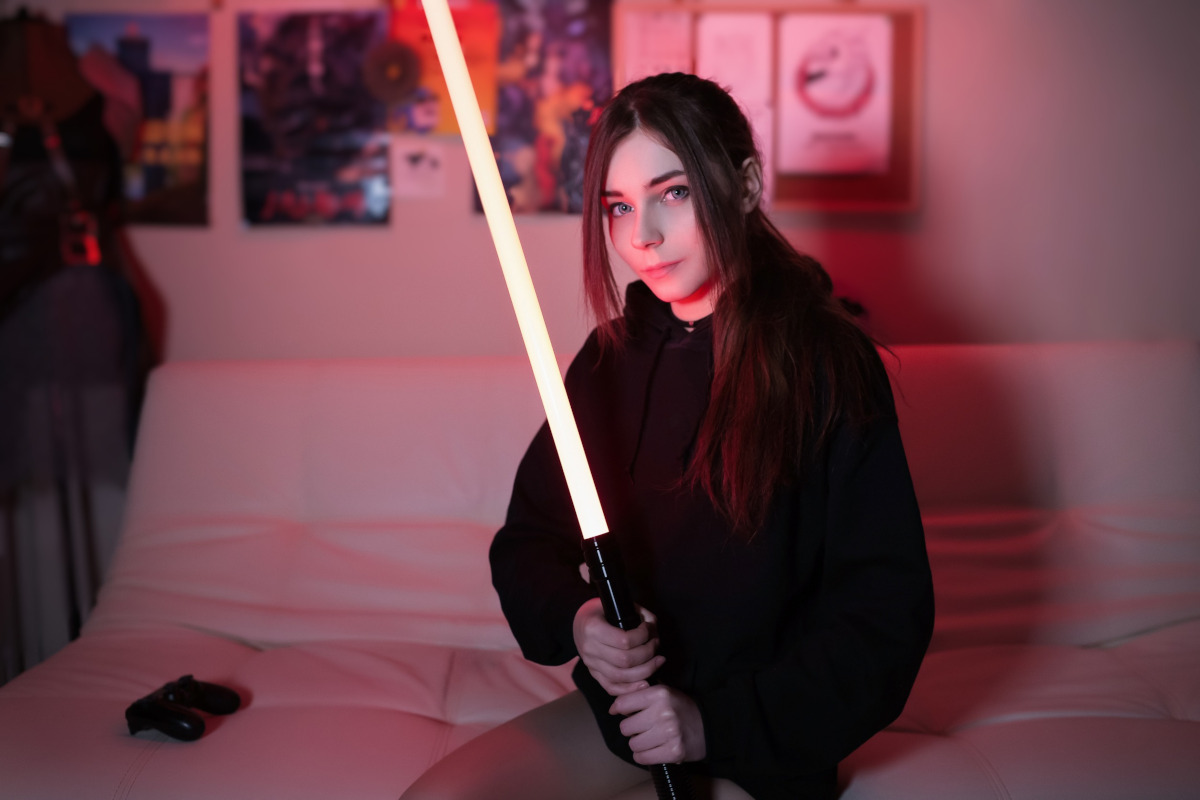 The activities you have planned for your Star Wars party will vary greatly depending on the type of party you're hosting and the age of the attendees. A child's birthday party may be great with a Star Wars pinata hit with a lightsaber, while teens and adults may enjoy a Star Wars watch party. Watch parties can also engage the audience with a Star Wars bingo game, or a drinking game. There are also activities like Star Wars coloring pages or laser tag. The possibilities are only limited by your imagination here!

Star Wars Costumes for Adults
Let's start by looking at the biggest Star Wars costumes for adults. Not "big" like size—although we did include a few plus-size Star Wars costumes—we're talking more about popularity. From Luke and Leia in the original trilogy to Rey and Finn in the sequel trilogy to Ahsoka in The Clone Wars and The Mandalorian, these are the most popular Star Wars Halloween costumes out there.
Women's Star Wars Costumes
Star Wars features plenty of women protagonists and antagonists and their outfits change throughout the films and TV series, which means there's quite a variety of women's Star Wars costumes to choose from. When it comes to a Rey costume, for example, there's Rey's The Force Awakens costume and Rey's The Last Jedi costume. Soon enough we'll have Rey's The Rise of Skywalker costume! Then you've got Princess Leia's costume from A New Hope and her costume from Hoth in The Empire Strikes Back. What we're saying is that there not just one Rey "Star Wars costume" or "Princess Leia costume". (We think you get the idea!) Of course, Star Wars isn't only about Leia and Rey. You can also buy a Darth Vader or Stormtrooper costume for women, or an Ahsoka costume. It's always good to have options, right?
Men's Star Wars Costumes
Did someone say options? Just like with the women's costumes, our men's Star Wars costumes come in all kinds of varieties. You can get the Luke Skywalker costume from The Last Jedi, or remove the beard and swap for a Jedi robe and look like a younger Luke. (Add some regular black clothing for Luke Skywalker's Return of the Jedi costume.) Then there are classic Han Solo costumes or the slightly more colorful Solo costume. Our Darth Vader costumes range from a basic top and mask to the "authentic" costume that looks great on Halloween or in a display case. And then there are Stormtroopers, again with a range of qualities, including plus-size Stormtrooper costumes. We don't want to beat the same old thunder drum here, but it's all about options, options, options!
Star Wars Costumes for Kids
Let's move on to the Star Wars costumes for kids. You'll find much of the same variety as the adult costumes, but with kids' Star Wars costumes there's definitely more of a cute factor! Plus there are more side characters, especially when it comes to toddler Star Wars costumes!
Boys' Star Wars Costumes
First up are the boys' Star Wars costumes. For older boys, you've got a variety of Kylo Ren costumes, Praetorian Guards from The Last Jedi, and even a Boba Fett costume. With The Mandalorian on Disney+, expect Boba Fett costumes to get more popular. (Sure, he's not in it, but it's still an iconic look and Mandalorian costumes are all reasonably similar. Plus there are plenty of DIY costume options!) It looks like C-3PO will have a pivotal role in The Rise of Skywalker, so don't overlook the boys' C-3PO costume! For toddlers, there are all kinds of Droid costumes like R2-D2 and BB-8, plus Porg and Chewbacca costumes.
Girls' Star Wars Costumes
Next are the girls' Star Wars costumes. Much like the women's costumes, there's plenty of variety here. You can choose Rey's costume from The Force Awakens or The Last Jedi, and Leia costumes from A New Hope or The Empire Strikes Back. Then you can find a girls' Darth Vader costume or a Queen Amidala dress, not to mention R2-D2 and BB-8 costumes! Girls can also get Ahsoka costumes, Stormtrooper costumes, and sometimes even dress versions of the costumes we've already mentioned.
The Mandalorian Costumes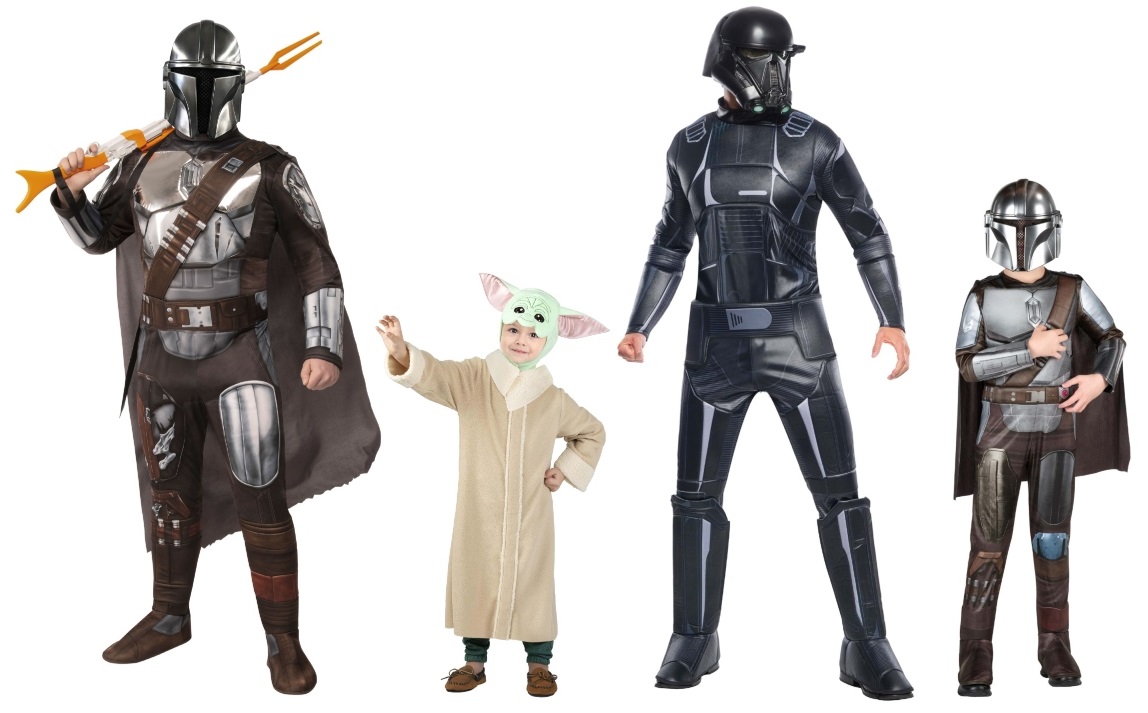 One of our favorite Star Wars spinoff series is The Mandalorian. At its release, Baby Yoda costumes were in high demand, and we love all the Mandalorian outfits. They also put the spotlight on one of our favorite Stormtrooper variants—the Death Trooper. These all-black Stormtrooper costumes are made for stealth, and they're super cool. We hope to see even more new Star Wars costumes as we get more shows and movies!
Star Wars Costume Accessories
You can't forget about the Star Wars accessories, right? Whether you're putting together screen-accurate outfits or just need props for low-key, easy Star Wars costumes, then we can help you out. Most characters carry a lightsaber or a blaster—and sometimes both—so start there. You can pick from basic light-up lightsabers to high-end Black Series Force FX lightsabers! You can also use these accessories to augment or upgrade your current costume. For example, you can add a wig or Rey's mask and hood, or replace a less-expensive mask with this Kylo Ren helmet. Another option is to get Yoda hands and feet and a walking stick to complete your adult or Baby Yoda "The Child" costume!
Pet Star Wars Costumes
Okay, we know what you're thinking! "Pet Star Wars costumes? That seems far-fetched." But Star Wars costumes for pets are all the rage because everyone loves putting their pooch in something adorable. Plus they're paw-some and paw-fect and plenty of other dog puns that we can't think of at the moment. You can find costumes for many of the main characters, from Darth Vader to Princess Leia. Then there are the much-loved Porgs, Yoda, and Wicket. There's even an adorable Tusken Raider riding a Bantha and your doggo gets to be the Bantha!
Did you find the Star Wars costume that you're looking for? Maybe some Mandalorian costumes, or kicking it back old school in original trilogy costumes? Perhaps some Force Awakens costumes? If not, be sure to check out all of the Star Wars costumes we carry! And please mention what we overlooked in the comments so we can include it in our next blog. You can also mention what you think of The Mandalorian and how excited you are for all of your favorite new Star Wars live-action series!